DEA Task Force Backs Group Fighting Medical Marijuana in Utah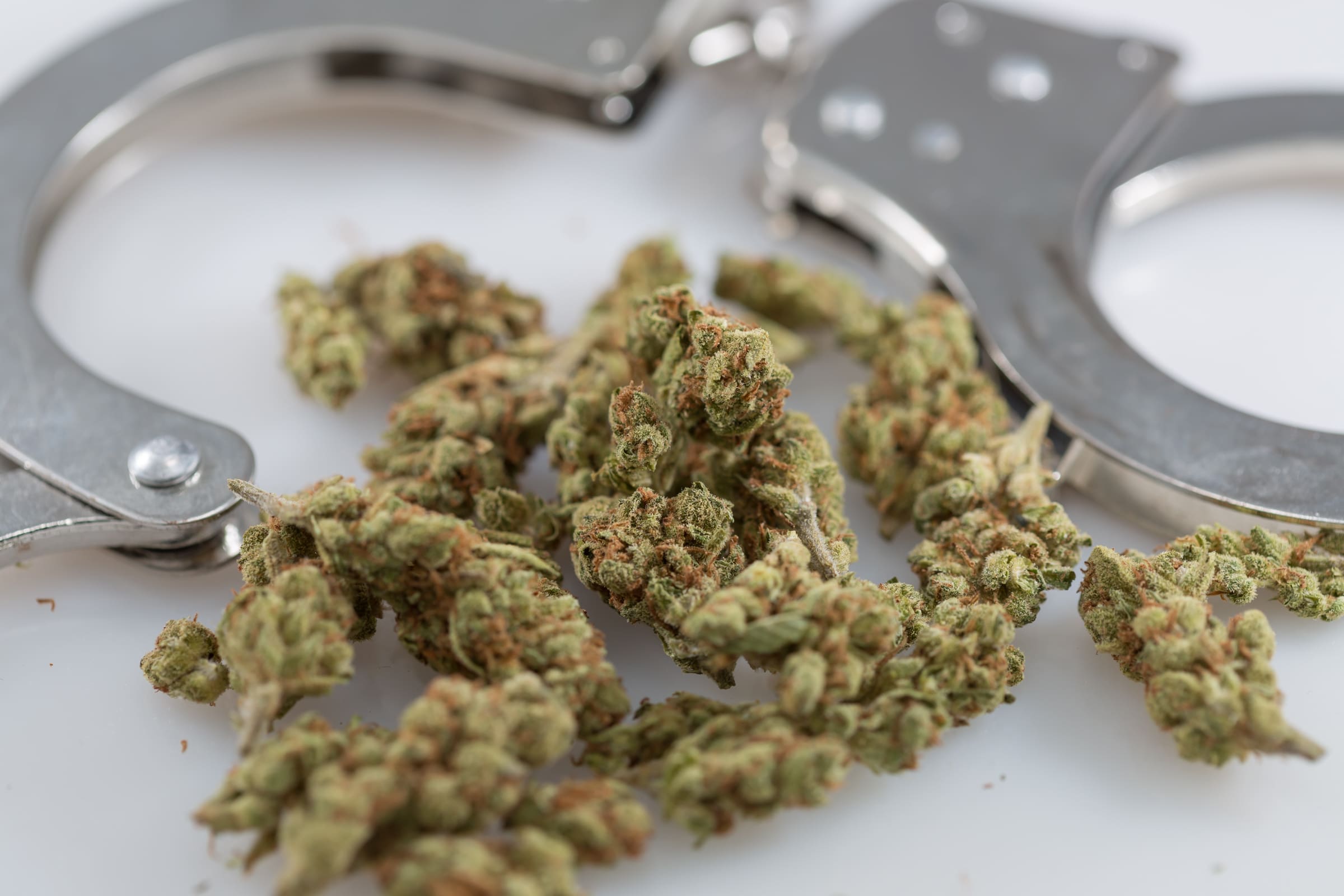 Are federal agents trying to interfere with a state medical cannabis effort despite President Trump's pledge to respect local marijuana policies?
New public documents show that a U.S. Drug Enforcement Administration (DEA) task force is officially affiliated with a group that's doing everything it can to derail a proposed Utah initiative to legalize medical marijuana.
Drug Safe Utah, an organization representing opponents of the initiative such as the Utah Medical Association and the DEA Salt Lake City Metro Narcotics Task Force, is actively recruiting paid canvassers to encourage voters who signed the cannabis ballot petition to rescind their signatures. The Salt Lake Tribune first reported the DEA task force's affiliation on Thursday.
Last month, organizers behind the proposed Utah medical cannabis initiative met two key requirements to qualify the measure's inclusion on the state ballot in November: They collected received more than 113,000 total signatures and exceeded the signature threshold in more than 26 of the state's 29 Senate districts, according to county clerks.
Days later, Sen. Orrin Hatch (R-UT), who recently came out in support of medial cannabis access and research, met with representatives from the Utah Medical Association. The discussion centered on "medical marijuana research, puns, and finding real alternatives to addictive opioids," according to a tweet from Hatch's official account. Drug Safe Utah's primary officer, Michelle McOmber, is also the CEO of the Utah Medical Association.
Senator Hatch meeting with representatives of the Utah Medical Association about medical marijuana research, puns, and finding real alternatives to addictive opioids. #utpol pic.twitter.com/0aJWbnnI6y

— Senator Hatch Office (@senorrinhatch) May 2, 2018
"While there has been opposition [to legalization initiatives] in other states, the opposition we're seeing here, we think, is unprecedented," DJ Schanz, director of the Utah Patients Coalition told Marijuana Moment in an interview. "It's just kind of bizarre that a federal agency can weigh in like that."
The DEA task force was not immediately available to comment on the nature of its involvement in the anti-legalization group, but it is listed as "an organization affiliated with the [political issues committee]" in a statement of organization filed on April 27.
Statement of Organization by KyleJaeger on Scribd
The apparent endorsement of an anti-legalization group by the DEA comes at a time when the executive branch is moving in the opposite direction, with President Donald Trump pledging to back congressional efforts to protect states where marijuana is legal. The president has also repeatedly said that he supports medical marijuana "100 percent" and knows people who have benefitted from it.
Then There's the Ethics Question
It's unclear whether DEA affiliation with a political campaign to block medical marijuana legalization amounts to a violation of the Hatch Act, which prohibits certain types of partisan political activity by federal employees.
Kathleen Clark, an ethics law professor at Washington University in St. Louis, told Marijuana Moment that the "key word" was "partisan." 
"I believe that in general, it does not reach ballot initiatives that aren't associated with a party," she said. However, she expressed uncertainty over the involvement of a federal agency in state-level ballot initiatives, and questioned whether the 1986 Anti-Drug Abuse Act, which formally established the DEA's task force program, permits this type of activity. 
Marijuana Moment reached out to the Justice Department for clarification, but it did not respond by the time of publication. Drug Safe Utah also did not acknowledge requests for comment.
UPDATE: Marijuana Moment obtained a copy of a document that appears to contain the script that Drug Safe Utah's operatives are using when knocking on doors and asking voters to rescind their ballot signatures. The guidance offers dramatically different talking points based on the perceived age of voters. See below:
UPDATE 5/7/2018 8:48am PST: A spokesperson for the Utah Medical Association reportedly denied providing paid canvassers with the script featured above, according to a journalist from local radio station KUER.
Utah Medical Association spokesman says UMA did not circulate this tip sheet. @KUER_FM https://t.co/JuWFKd1dWp

— Whittney (@WhittneyE) May 7, 2018
Marijuana Moment has still not received comment from Drug Safe Utah.
UPDATE 5/7/2018 2:29pm PST: Video obtained by the pro-legalization advocacy group TRUCE Utah appears to show a canvasser making a series of false or misleading claims about the medical marijuana initiative in an effort to get the signee to remove her signature.
A spokesperson for the Utah Medical Association, the main backer behind an effort to get signatures off the petition, told Fox13 that the organization "doubts seriously that the video is one of our people," but added that UMA does not have "any control" over who is hired or trained by a third-party firm UMA hired to orchestrate the anti-legalization campaign.
"Together what the video and the scripts show about this cynical campaign changes the terms of the debate," TRUCE executive director Christine Stenquist said in a press release.  "[The video is] simply filled with fanciful confabulations, outright untruths and attempts to manipulate the person being visited."
Utah Medical Marijuana Measure Has Enough Signatures For Ballot
O'Rourke And Cruz Clash On Marijuana And Drugs At Senate Debate
Candidates in one of the most contentious U.S. Senate races in the country this year clashed about the issues of marijuana legalization and drug policy reform during a debate on Friday night.
"I want to end the war on drugs and specifically want to end the prohibition on marijuana," Democratic Congressman Beto O'Rourke said in response to an attack on his drug policy record from Republican Sen. Ted Cruz, whom he is seeking to unseat in November.
During one of the most heated exchanges of the hour-long debate, the GOP incumbent slammed O'Rourke for sponsoring an amendment as an El Paso city councilman in 2009 that called for a debate on legalizing drugs as a possible solution to violence along the Mexican border.
"I think it would be a profound mistake to legalize all narcotics and I think it would hurt the children of this country," Cruz argued.
He also criticized a bill the Democrat filed in Congress to repeal a law that reduces highway funding for states that don't automatically suspend drivers licenses for people convicted of drug offenses. "That's a real mistake and it's part of pattern," he said.
"There's a consistent pattern when it comes to drug use, that in almost every single instance, Congressman O'Rourke supports more of it."
Calling the issue "personal to me," Cruz spoke about his older sister, who died of a drug overdose.
"To be clear, I don't want to legalize heroin and cocaine and fentanyl," O'Rourke countered.
"What I do want to ensure is that where, in this country, most states have decided that marijuana will legal at some form—for medicinal purposes or recreational purposes or at a minimum be decriminalized—that we don't have another veteran in this state, prescribed an opioid because the doctor at the VA would rather prescribe medicinal marijuana but is prohibited by law from doing that," he said.
It's time to end the war on drugs. That starts by ending the federal prohibition on marijuana.

— Beto O'Rourke (@BetoORourke) September 21, 2018
Enumerating other potential beneficiaries of cannabis reform, the Democrat also referenced an "older woman with fibromyalgia" and "an African-American man, because more likely than not, that's who will be arrested for possession of marijuana, to rot behind bars, instead of enjoying his freedom and the opportunity to contribute to the greatness of this country."
Cruz, who called O'Rourke, "one of the leading advocates in the country for legalizing marijuana," said that he thinks ending cannabis prohibition "is actually a question on which I think reasonable minds can differ."
"I've always had a libertarian bent myself," he said. "I think it ought to be up to the states. I think Colorado can decide one way. I think Texas can decide another."
But despite his support for letting states set their own cannabis laws, which he also voiced during his failed candidacy for the 2016 Republican presidential nomination, Cruz hasn't cosponsored a single piece of legislation during his time in the Senate that would scale back federal marijuana prohibition.
Ted Cruz accidentally advocating against marijuana legalization, an incredibly popular policy in the country and in Texas…

— Texas College Dems (@CollegeDemsTX) September 21, 2018
Earlier in the debate, the two sparred over the killing this month of Botham Jean, an African-American man shot in his own apartment by a Dallas police officer, a subject about which O'Rourke recently made headlines by calling out in a fiery speech to a black church.
Marijuana In Texas: Where Ted Cruz And Beto O'Rourke Stand On Legalization
Photo courtesy of NBC News.
Lawmaker Pushes For Marijuana Legalization In Kenya
A Kenyan lawmaker is introducing legislation to legalize marijuana nationwide.
Member of Parliament Kenneth Okoth wrote a letter to the National Assembly speaker on Friday, requesting help to prepare the legislation so that it can be published.
The bill would decriminalize cannabis possession and use, clear criminal records of those with prior cannabis-related convictions, enact a legal and regulated commercial sales program and impose "progressive taxation measures" in order to "boost economic independence of Kenya and promote job creation."
It's high time Kenya dealt with the question of #marijuana like we do for miraa, tobacco, and alcohol#DecriminalizeIt #LegalizeIt #RegulateIt #TaxIt #HarmReduction #PettyOffences @YoungMPsKenya @HumanRightsMPs @KEWOPA @ICJKenya @lawsocietykenya @shecyclesnbi @DavidNdii @gathara pic.twitter.com/6ISnxjt2gS

— Kenneth Okoth, MP Kibra (@okothkenneth) September 21, 2018
Currently, marijuana (or "bhang," as it's locally known) is illegal in Kenya—as it is in most of Africa.
Another provision of the draft legislation concerns "research and policy development." Okoth wants the country to conduct studies on the medical, industrial, textile and recreational applications of cannabis. And that research would have a "focus on the preservation of intellectual property rights for Kenyan research and natural heritage, knowledge, and our indigenous plant assets," according to the letter.
Kenya Gazette special issue "..Act of Parliament to decriminalize the growth and use of Marijuana.." pic.twitter.com/gXFNx8ehbC

— The African Voice (@teddyeugene) September 21, 2018
"It's high time Kenya dealt with the question of marijuana like we do for tobacco, miraa, and alcohol," Okoth wrote on Facebook.
"Legalize, regulate, tax. Protect children, eliminate drug cartels, reduce cost of keeping petty offenders in jail. Promote research for medical purposes and protect our indigenous knowledge and plants before foreign companies steal and patent it all."
Okoth's push for legalization in Kenya comes days after South Africa's Constitutional Court ruled that individuals can grow and use marijuana for personal purposes. The court determined that prohibition violated a person's right to privacy, effectively legalizing cannabis in the country.
It'll take a while for Okoth's bill to move forward. The legislation will need cabinet approval, then it must be published so that all interested parties can review the proposal before it enters into parliamentary debates. Whether Okoth's fellow lawmakers will embrace the legislation is yet to be seen.
Don't Legalize Marijuana, UN Drug Enforcement Board Warns Countries
Photo courtesy of Wikimedia.
Governor Signs Marijuana Legalization Bill, Making History In US Territory
With a governor's signature on Friday, the latest place to legalize marijuana in the U.S. isn't a state. It's the Commonwealth of the Northern Mariana Islands (CNMI)—a tiny Pacific territory with a population of just over 50,000.
Under the new law signed by Gov. Ralph Torres (R), adults over 21 years of age will be able to legally possess up to one ounce of marijuana, as well as infused products and extracts. Regulators will issue licenses for cannabis producers, testing facilities, processors, retailers, wholesalers and lounges. Home cultivation of a small number of plants will be allowed.
Please visit Forbes to read the rest of this piece.
(Marijuana Moment's editor provides some content to Forbes via a temporary exclusive publishing license arrangement.)
Photo courtesy of Max Pixel.