Congressional Bill Would Allow CBD And Other Hemp Compounds To Be Sold As Dietary Supplements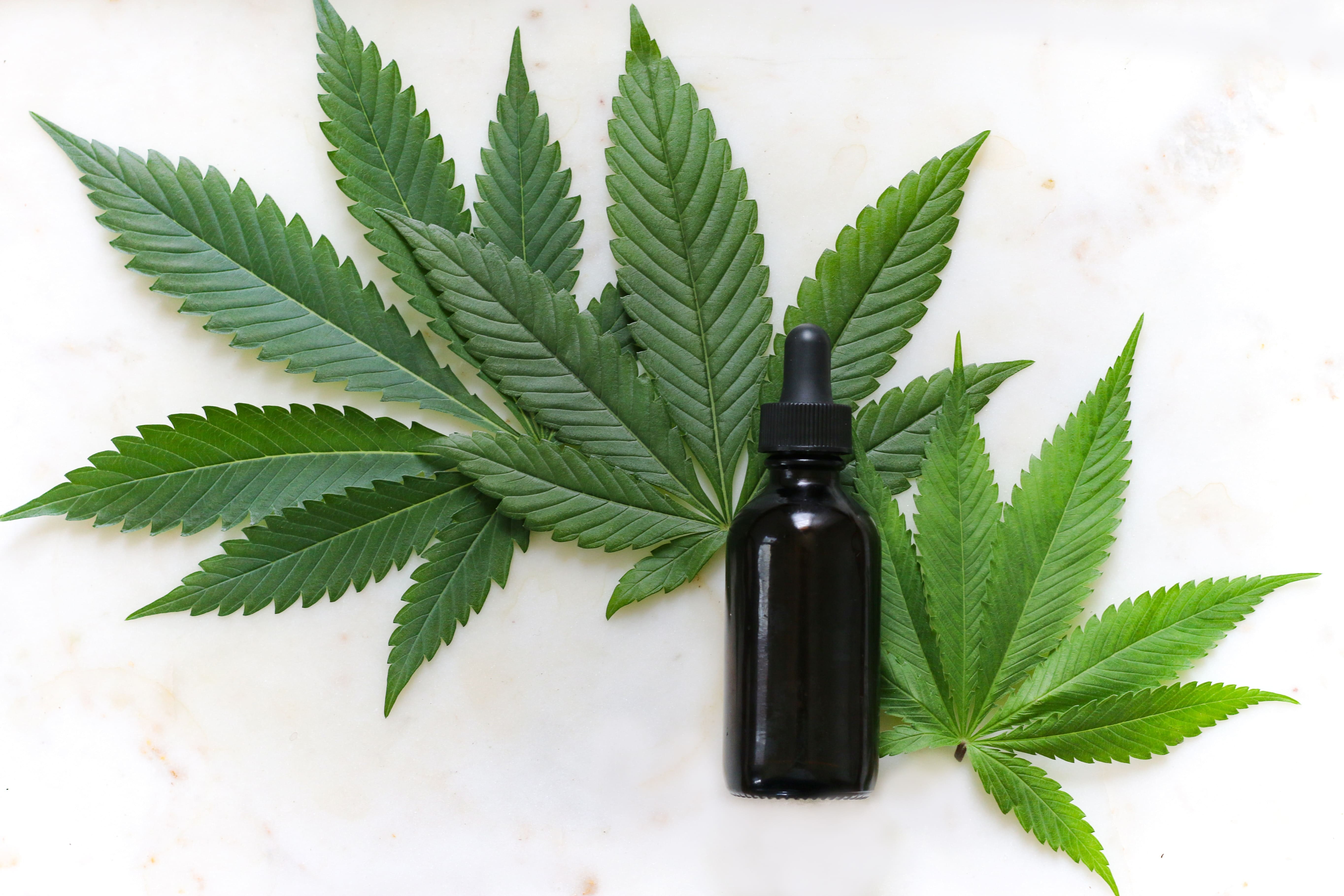 A pair of congressmen on Friday introduced bipartisan legislation to allow cannabidiol (CBD) and other hemp-derived compounds to be marketed and sold as dietary supplements—a change that could clear up legal confusion at retailers across the country.
The proposal, sponsored by Reps. Kurt Schrader (D-OR) and Morgan Griffith (R-VA), is part of an ongoing effort by the federal government to find a path forward on hemp and its derivatives after they were broadly legalized under the 2018 Farm Bill.
The new bill would make clear that Congress wants to see federally regulated CBD and other hemp products made available to American consumers.
"Hemp was historically an important crop for Virginia farmers, and dietary supplements made from it do not possess dangerous addictive qualities," Griffith said in a press release. "Nevertheless, the current state of regulation creates confusion about its legal uses. I joined this bipartisan bill to provide certainty for hemp farmers that their crop may find legal uses."
While the 2018 agricultural legislation allowed the production and sale of hemp under state-approved programs, the federal regulatory framework for products derived from the low-THC version of the cannabis plant has lagged, frustrating businesses and law enforcement. In a letter sent last year to the head of the Food and Drug Administration (FDA), bipartisan lawmakers complained that the agency's "current regulatory posture on CBD has created significant regulatory and legal uncertainty for participants in this quickly evolving industry."
Though the regulatory landscape could soon change—FDA earlier this year reopened a public comment period around how CBD should be regulated, and last month the agency submitted draft enforcement guidelines to the White House—the new bill from Schrader and Griffith would make clear that Congress wants to see action on CBD and other hemp products sooner rather than later.
The legislation, titled the "Hemp and Hemp-Derived CBD Consumer Protection and Market Stabilization Act of 2020," would mandate that "cannabidiol derived from hemp, and any other ingredient derived from hemp shall be lawful under the Federal Food, Drug and Cosmetic Act (21 U.S.C. 301 et seq.) as a dietary ingredient in a dietary supplement."
Hemp-derived dietary products would still be required to comply with federal requirements on packaging and labeling under the proposal, as well as FDA rules regarding new dietary ingredients.
Industry advocates, who have pushed hard to clear a federal path for hemp-derived CBD, say the measure would boost consumer confidence in CBD products and help businesses that poured money into hemp production early, expecting markets to open quickly.
After the 2018 Farm Bill's passage, thousands of farmers and small businesses invested in what was widely seen as a CBD boom, the U.S. Hemp Roundtable, an industry group, said in a press release on Friday. "However, public announcements by the FDA questioning the legality of ingestible hemp-derived products have hindered the progress of the industry and put at risk the livelihoods of many hemp farmers. Not only did the lack of clarity spell economic disaster, but also resulted in a lack of regulations around quality, leaving consumers unprotected," the organization said.
The Schrader/Griffith bill would ensure that #hemp-derived CBD, and other non-intoxicating hemp ingredients, could be lawfully marketed as dietary supplements. Learn more and take action here: https://t.co/vVfSNwwr6o #HempSupporters #hempCBD

— US Hemp Roundtable (@HempRoundtable) September 4, 2020
"Enabling CBD to be lawfully marketed as dietary supplements and mandating that manufacturers comply with the entire existing regulatory framework for dietary supplements would create immense confidence in hemp and CBD products, and would provide great opportunity for hemp farmers across the nation," added Jonathan Miller, the organization's general counsel. He predicted the market for products extracted from hemp would exceed $10 billion within a few years.
The group is asking supporters to encourage Congress to pass the legislation.
It's not the first time such a bill has been introduced. A different group of bipartisan lawmakers introduced a similar measure in January that would have included CBD in the definition of dietary supplements under the Food, Drug and Cosmetic Act. The House, however, hasn't held any hearings or votes vote on the proposal.
Separately on Friday, the U.S. Department of Agriculture (USDA) announced that it will reopen a public comment period on hemp production and testing, seeking additional feedback on topic areas such as interstate commerce, breeding and testing methodology. The public comment period first closed in January, but the agency said the initial round of more than 4,600 comments identified a handful of crucial issues. Industry advocates hope the agency's decision to seek further input could mean revisions to some of the agency's more onerous restrictions, such as one that requires hemp be tested only at laboratories certified by the Drug Enforcement Administration, which critics have warned could create a production bottleneck.
Miller at the U.S. Hemp Roundtable told Marijuana Moment that the group is "hopeful" that after the new comment period, USDA will arrive at a "final rule that hemp farmers and industry can embrace."
Hemp and Hemp-Derived CBD C… by Marijuana Moment
USDA Reopens Public Comment Period On Hemp Rules Following Intense Industry Pushback
Photo by Kimzy Nanney
Bank Of America Cancels Account Of Marijuana And Psychedelics Research Institute Registered With DEA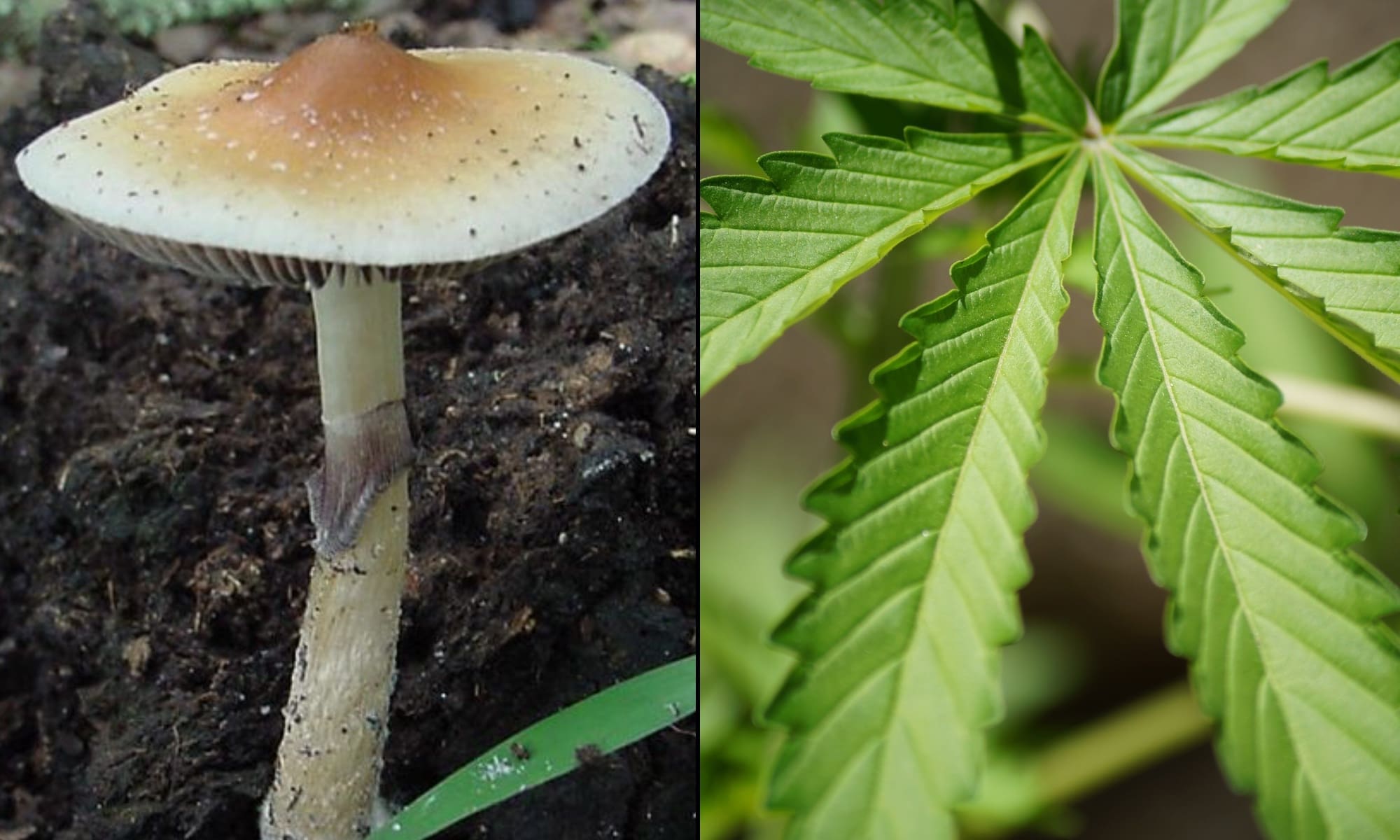 The second-largest bank in the U.S. is shutting down the account of a research institute that's federally authorized to cultivate and study Schedule I substances like marijuana and psilocybin mushrooms.
Bank of America (BoA) abruptly notified the Scottsdale Research Institute (SRI) that it would be closing its accounts last week, without a clear explanation of the reasoning. A letter from the bank that was shared with Marijuana Moment on Monday says the decision was made after "a careful review of your banking relationship" and that the action is "final and won't be reconsidered."
SRI has spent years fighting for expanded access to research-grade controlled substances to study their therapeutic potential, in part by litigating against the Drug Enforcement Administration (DEA) on issues such as cannabis scheduling. In May, it received preliminary approval from the agency to be one of the first new federally authorized cultivators of cannabis for research, effectively ending a decades-long monopoly on such manufacturing.
The institute is already getting bids from other financial institutions that want to take on the account after chief investigator Sue Sisley shared the news of the BoA closure on social media.
"We just wanted to expose wrongdoing of these big banks," Sisley told Marijuana Moment, adding that they want to "show the public that even federally legal operations are being unfairly targeted by these large banks who refuse to look at our federal regulatory documents."
Bank of America closes down account of Federally-licensed cannabis researcher. SRI conducts FDA approved controlled trials evaluating cannabis as medicine for treating pain/PTSD in military veterans & terminally ill patients this TRAGICALLY shuts down our research @BankofAmerica pic.twitter.com/Q0a2nFvIIX

— Sue Sisley, MD (@suesisleymd) October 16, 2021
It takes significant resources to obtain and maintain DEA clearance to grow and study Schedule I substances like marijuana. One theory that Sisley floated was that BoA may have decided to end the business relationship after SRI was more recently cleared to cultivate psilocybin for research, but the bank provided "zero justification."
"Maybe it was the mushrooms that freaked them out?"
Marijuana Moment reached out to BoA for comment, but representatives did not respond by the time of publication.
Sisley said the institute received "no warning," with "no ability to speak to somebody logical who could review our operating agreement with DEA. We have been plant-touching since our start with Bank of America 10 years ago" and were "always transparent about that."
"We have a contract with DEA. We are growing cannabis for [Food and Drug Administration] clinical trials and selling it to the DEA," she said. "It's unconscionable the way they are behaving—and further proof that the word 'cannabis' continues to be completely radioactive even though this is a 100 percent federally legal operation."
"Fortunately, there are banks that care about the progress of federally regulated and federally legal research and are eager to step up and support us immediately," Sisley added. "We will be moving our funding from Bank of America and never returning there. Our research continues without harm because other banks that care about scientific freedom were able to step up. Bank of America doesn't even have the decency to provide an explanation after a decade of banking with an openly plant-touching business."
SRI has been behind several legal challenges imploring the federal government to remove research barriers for Schedule I drugs like marijuana and psychedelics.
In August, a federal appeals court has dismissed SRI's petition to require DEA to reevaluate marijuana's scheduling under the Controlled Substances Act (CSA)—but one judge said in a concurring opinion that the agency may soon be forced to consider a policy change anyway based on a misinterpretation of the medical value of cannabis.
The lawsuit received oral arguments in June and largely centered on DEA's 2020 denial of a one-page marijuana rescheduling petition filed by a separate individual. In its response, the agency argued that marijuana has no currently accepted medical value.
The petitioners initially filed their lawsuit, Sisley v. DEA, against the federal agency in May of last year, contending that DEA's justification for maintaining a Schedule I status for cannabis violates the Constitution on numerous grounds. DEA attempted to dismiss the case, but the Ninth Circuit rejected that request in August.
In a separate case, the institute successfully forced DEA to issue an update on the status of its application to grow cannabis and then got the Justice Department to hand over a "secret" memo that DEA allegedly used to justify a delay in deciding those proposals.
Meanwhile, DEA is taking additional steps to promote research into the potential risks and benefits of marijuana and certain psychedelics. Last week it proposed a dramatic increase in the legal production substances like cannabis, psilocybin, LSD, MDMA and DMT to be used in research next year.
DEA had already massively upped its proposed 2021 quota for cannabis and psilocybin last month, but now it's calling for significantly larger quantities of research-grade marijuana and a broader array of psychedelics to be manufactured in 2022.
But despite these developments and the changing policy landscape surrounding marijuana and psychedelics at the state and local level, many financial institutions remain reluctant to service clients that work with these currently federally illicit products.
The number of banks and credit unions reporting that they work with marijuana businesses ticked up last quarter, according to federal data released last month.
Lawmakers have been working to to enact clear, statutory protections for banks and credit unions that work with the marijuana industry to alleviate remaining hesitation in the financial services industry about working with cannabis businesses. That would be accomplished through House-passed standalone legislation, or an amendment that was attached to a defense spending bill last month.
In the meantime, Sisley said SRI could sue BoA over the account cancelation, but it has other things to focus on.
"We have important work to do," she said. "We need to stay on our path to helping whole plant cannabis flower walk through the entire FDA drug development process."
States Promote Federal Hemp Survey Being Mailed Out This Week To More Than 20,000 Farmers
Image element courtesy of Kristie Gianopulos.
Americans Want To Live Where Marijuana Is Legal, Real Estate Survey Finds
Americans would rather live in states where marijuana is legal than in those that continue to criminalize cannabis consumers. That's according to a new survey published on Monday by real estate company Redfin.
Among those who recently moved to a new metro area, 46 percent said they prefer to reside somewhere marijuana is "fully legal," compared to just 22 percent who want to live in a place with prohibition still in effect.
The share of those who like legalized jurisdictions includes more than one in ten respondents—12 percent—who say they would only consider living in places where cannabis can be legally purchased. On the other side, 10 percent said they would rule out moving to areas that have ended criminalization.
Thirty-two percent of people taking the survey said they don't care about the marijuana issue when it comes to where to live.
The survey, which involved 1,023 U.S. residents who moved to a new home during the 18 months prior to answering the questions in August, also asked about other issues such as abortion policy, voting rights and anti-discrimination laws for gender and sexual orientation.
Redfin said that while public policies on cannabis and other issues are important factors in deciding where to move, other considerations often take precedence.
"People take the politics of a place into consideration when deciding where to move, but the truth of the matter is that other factors including housing affordability and access to jobs and schools take priority," Taylor Marr, the deputy chief economist for the company, said in a press release. "Oftentimes this means someone will move from a blue state to a red state (or vice versa), but choose a home in a neighborhood where most people hold the same political views as they do. Austin—a liberal Texas enclave that's attracting scores of left-leaning folks from pricier coastal cities—is just one example."
Prior analyses, including one published this year that uses data from online real estate marketplace Zillow, has shown that marijuana legalization is associated with higher home property values. "Home values increased $6,338 more in states where marijuana is legal in some form, compared to states that haven't legalized marijuana," it concluded.
Last year, a separate analysis from economists at the University of Oklahoma similarly found that states that legalize marijuana see a boost in housing prices, with the effect most pronounced once nearby retail outlets open for business.
Research—including a study released this month that was authored by a federal official with the U.S. Department of Agriculture—has tied cannabis legalization to lower crime rates, a key factor in home values and neighborhood desirability.
Impact Of Marijuana Legalization On Crime Reduction Is Being Underestimated, New Study Finds
Nevada Sold More Than $1 Billion In Marijuana In One Year, Officials Report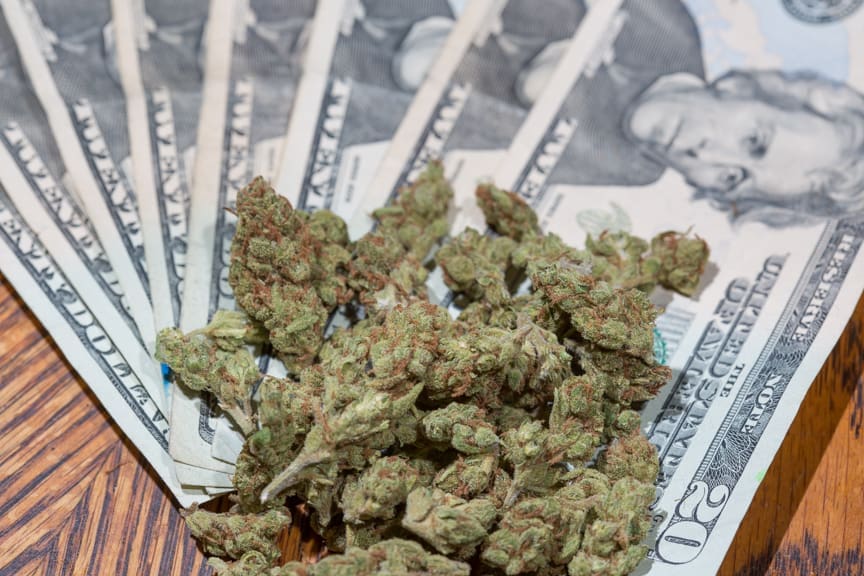 Nevada retailers sold more than $1 billion in medical and recreational marijuana over a one-year period, state officials announced on Wednesday.
The Nevada Cannabis Compliance Board (CCB) and the Nevada Department of Taxation released the data, which shows $1,003,467,655 in taxable cannabis purchases in Fiscal Year 2021, which ran from July 1, 2020 to June 30, 2021.
By contrast, total marijuana sales for the prior 2020 fiscal year amounted to $685 million.
This is what Nevadans expected since the legalization of recreational marijuana. Education remains one of my top priorities, and I'm proud to see promised tax revenue from cannabis sales directly funding our students and classrooms. https://t.co/iy64R47v4G

— Governor Sisolak (@GovSisolak) October 13, 2021
The bulk of the marijuana purchases ($791,100,017) came from Clark County, where Las Vegas is located. Another $135,326,790 of cannabis was sold in Washoe County, with Reno being the major city in that jurisdiction. The $77,040,859 remainder came from other counties.
Ten percent of tax revenue from recreational cannabis sales will support pubic education funding, as prescribed under a bill that Gov. Steve Sisolak (D) previously signed.
"This is what Nevadans expected since the legalization of recreational marijuana," the governor said in a press release about the new sales data. "Education remains one of my top priorities, and I'm proud to see promised tax revenue from cannabis sales directly funding our students and classrooms."
Sisolak also signed a bill in June to legalize marijuana consumption lounges in the state.
The new social use license types statewide and giving consumers this option—especially in the tourist-centric state—could further boost marijuana and other tax revenues.
The governor has also committed to promoting equity and justice in the state's marijuana law. Last year, for example, he pardoned more than 15,000 people who were convicted for low-level cannabis possession.
That action was made possible under a resolution the governor introduced that was unanimously approved by the state's Board of Pardons Commissioners.
—
Marijuana Moment is already tracking more than 1,200 cannabis, psychedelics and drug policy bills in state legislatures and Congress this year. Patreon supporters pledging at least $25/month get access to our interactive maps, charts and hearing calendar so they don't miss any developments.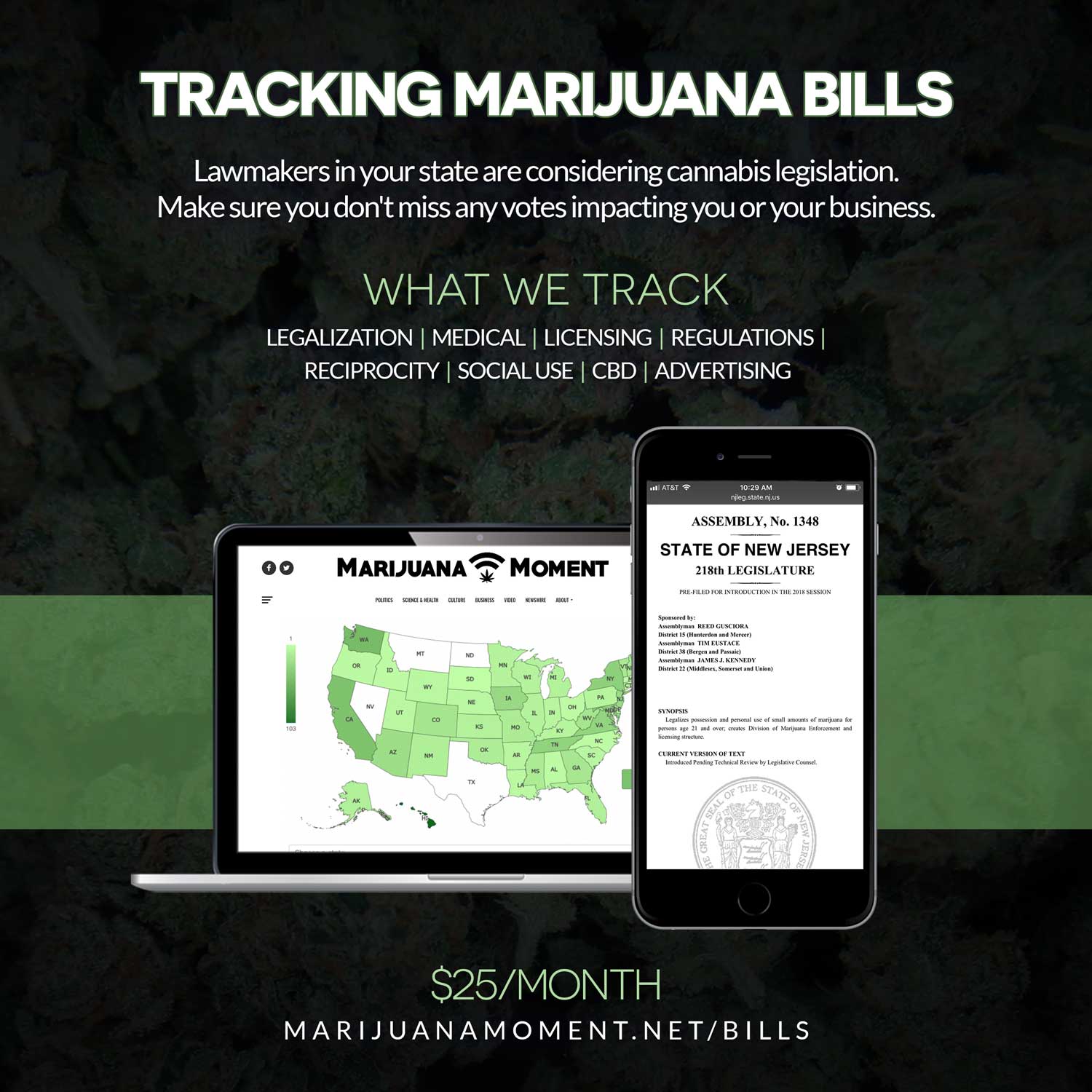 Learn more about our marijuana bill tracker and become a supporter on Patreon to get access.
—
Meanwhile, states across the U.S. have been touting marijuana sales and the resulting tax revenue as markets continue to mature.
For example, Illinois marijuana retailers have sold nearly $1 billion worth of legal recreational cannabis products so far in 2021, officials recently reported.
Maine recreational marijuana sales broke another marijuana sales record in August, exceeding $10 million for the first time since the adult-use market launched in October 2020.
Arizona brought in about $21 million in medical and adult-use marijuana tax revenue in July, state officials reported on a new webpage that enables people to more easily track how the industry is evolving.
California collected about $817 million in adult-use marijuana tax revenue during the 2020-2021 fiscal year, state officials estimated in August. That's 55 percent more cannabis earnings for state coffers than was generated in the prior fiscal year.
A recent scientific analysis of sales data in Alaska, Colorado, Oregon and Washington State found that marijuana purchases "have increased more during the COVID-19 pandemic than in the previous two years."
In July alone, at least three states saw record-breaking sales for recreational cannabis. The same goes for Missouri's medical marijuana program.
Michigan marijuana sales broke another record in July with more than $171 million in cannabis transactions, according to data from the state's regulatory body. There were $128 million in adult-use sales and $43 million in medical cannabis purchases.
Throughout the pandemic, many states allowed cannabis retailers to remain open—with governors and regulators in several markets declaring marijuana businesses to be essential services—and some jurisdictions issued emergency rules allowing curbside pickup, delivery services or other more relaxed policies in order to facilitate social distancing.
Meanwhile, New York officials are projecting that marijuana tax revenue will help keep the state's budget afloat as cigarette sales continue to decline over the coming years. But retails sales have yet to launch as of now.
Read the marijuana sales data that Nevada officials released below: 
Top Federal Drug Official Gives Maryland Lawmakers Marijuana Legalization Advice At Workgroup Hearing