Johns Hopkins University Announces Nation's First-Ever Psychedelics Research Center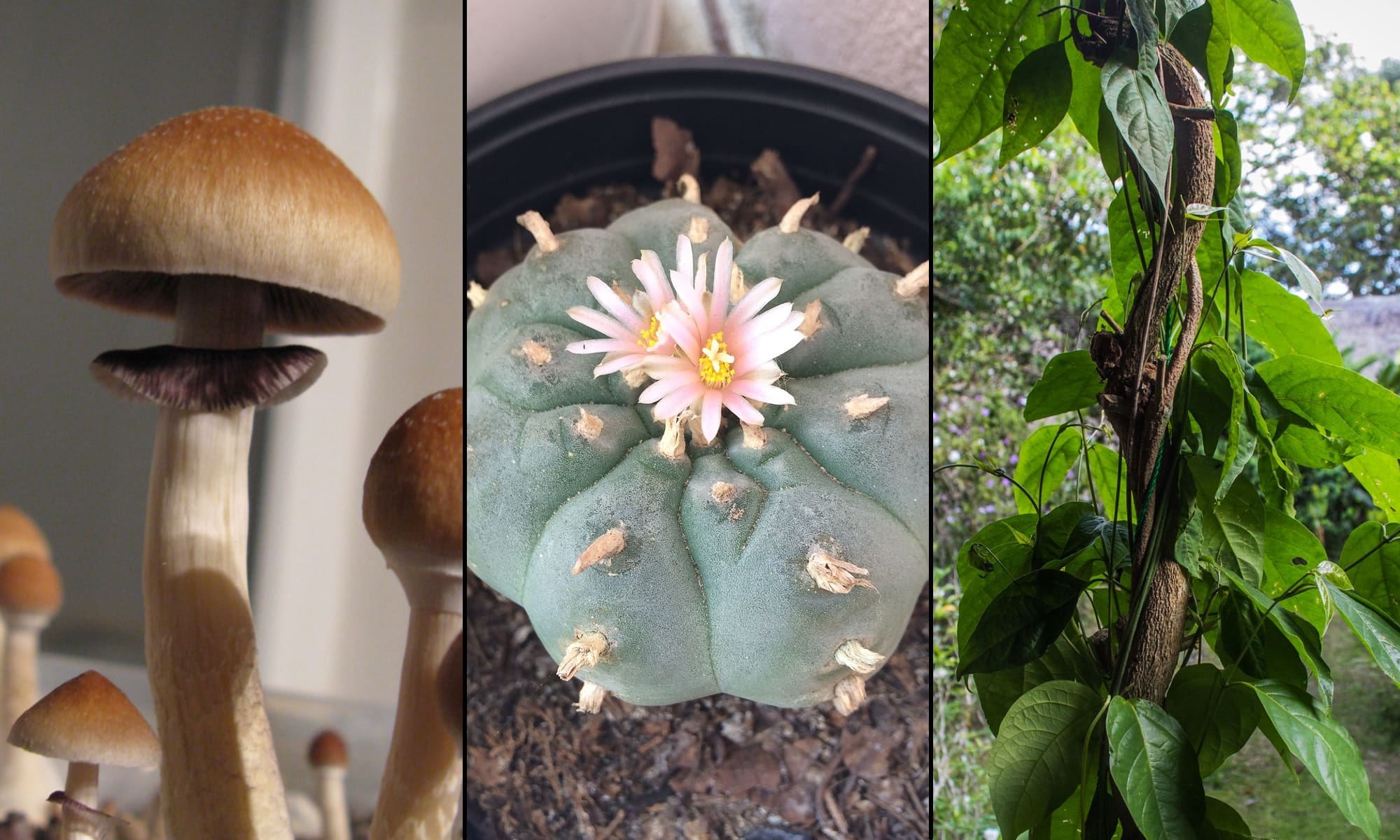 A major U.S. university announced on Wednesday that it will be launching the nation's first center devoted exclusively to researching psychedelic drugs.
Johns Hopkins University said that it received $17 million in private funding to make the facility possible. A team of six researchers and five postdoctoral scientists will conduct studies on a wide range of potential therapeutic uses of psychedelics like psilocybin, including in treatment of opioid addiction, Alzheimer's disease, depression, anxiety and post-traumatic stress disorder.
Johns Hopkins Launches Center For Psychedelic Research https://t.co/0tooZy3NTv

— Hopkins Med News (@HopkinsMedNews) September 4, 2019
The university has already produced cutting-edge research into psychedelics. In 2000, Johns Hopkins researchers were the first in the U.S. to gain federal approval to reinitiate research into the substances in individuals who didn't have prior experience with psychedelics. The institution has since published 60 peer-reviewed studies on the subject.
"The group's findings on both the promise and the risks of psilocybin helped create a path forward for its potential medical approval and reclassification from a Schedule I drug, the most restrictive federal government category, to a more appropriate level," the university said in a press release. "Psilocybin was classified as Schedule I during the Nixon administration, but research over the last decade has shown psilocybin to have low toxicity and abuse potential."
Roland Griffiths, the center's director said the its establishment "reflects a new era of research in therapeutics and the mind through studying this unique and remarkable class of pharmacological compounds."
"In addition to studies on new therapeutics, we plan to investigate creativity and well-being in healthy volunteers that we hope will open up new ways to support human thriving," he said.
Roland Griffiths: The stable funding provided by the center will allow a quantum leap in #psychedelic research as well as the ability to train a new generation of graduate and medical students who want to pursue careers in psychedelic science. #HopkinsMedicineLive pic.twitter.com/5by3SrM9ts

— Hopkins Med News (@HopkinsMedNews) September 4, 2019
He also said in response to a question from Marijuana Moment that the center is "both completely new and more of the same," referring to the university's existing research into psychedelics.
James Potash, director of the Department of Psychiatry and Behavioral Sciences, said he is "thrilled about this magnificent opportunity that has been provided by enlightened private funders."
"This center will allow our enormously talented faculty to focus extensively on psychedelic research, where their passions lie and where promising new horizons beckon," he said.
Tim Ferriss, a tech investor who said his more than $2 million contribution to the psychedelics center was the largest investment he's ever made in a single project, appeared at a press event and discussed how his personal experience witnessing people suffer from mental illnesses motivated him to donate.
"My personal experience with a number of these conditions, which have very few treatment options has driven me to look at it in the same way that I would look at investing in startups, or businesses" – @tferriss #HopkinsMedicineLive #Psychedelics pic.twitter.com/xQsmNkOwbJ

— Hopkins Med News (@HopkinsMedNews) September 4, 2019
"This represents the largest investment to date in psychedelic research, as well as in training the next generation of psychedelic researchers," Ferriss said. "I sincerely hope this ambitious Johns Hopkins center will inspire others to think big and establish more psychedelic research centers in the U.S. and overseas, as there's never been a better time to support such important work."
Ferriss also took a question via Twitter from Marijuana Moment and said that he hopes that "by facilitating this" center, it "paves the way for federal funding [of psychedelics research] within the next five years."
He added that the center's innovations could spark further investments in psychedelics research from "brand name foundations" and that the facility will demonstrate to investors that there's "more reputational opportunity than risk involved."
Federal reclassification of the substances "is something that I hope for, but it's not something I can aim for very accurately for myself," he said, adding that the center "could mark the beginning of an important, exciting and new chapter in psychedelics research."
The center practically and symbolically unlocks both enthusiasm and ambition within the psychedelic field, providing a proof point so that scientists dream bigger and ask for bigger things – @tferriss #HopkinsMedicineLive #Psychedelics

— Hopkins Med News (@HopkinsMedNews) September 4, 2019
WordPress co-founder Matt Mullenweg and TOMS founder Blake Mycoskie also made investments in the center.
"This very substantial level of funding should enable a quantum leap in psychedelic-focused research," Potash said. "It will accelerate the process of sorting out what works and what doesn't."
"Ultimately [the Food and Drug Administration] needs to sift through that data," the center's director added, referring to the results of psychedelics research. "I would guess five plus years before approval for a depression indication, but it might become available sooner if some provisions are opened up for compassionate care."
The announcement is especially timely given the rapid expansion of psychedelics reform efforts in recent months. Denver became the first city in the U.S. to decriminalize psilocybin mushrooms in May, and Oakland's City Council approved a psilocybin decriminalization measure in June.
Organizers with the groups Decriminalize Nature and the Society for Psychedelic Outreach, Reform and Education say that they are coordinating with activists all across the country to get decriminalization passed, including one effort to enact the policy statewide in California.
In Oregon, an advocacy group will be collecting signatures to legalize psilocybin for medical use, but that measure has faced criticism from reform groups because after a revision, it no longer includes broad decriminalization provisions.
Interest in lifting barriers to research into psychedelics is widespread and reached the congressional level earlier this year when Rep. Alexandria Ocasio-Cortez (D-NY) introduced an amendment to encourage such research. That measure was defeated on the House floor, however.
This story has been updated to add context about psychedelics policy reform efforts.
Oregon Psychedelics Activists Clash Over Changes To Psilocybin Mushroom Ballot Measure
Photo elements courtesy of carlosemmaskype and Apollo.
Problematic Marijuana Use Is Declining Among People Who Consume Every Day, Study Finds
Contrary to the expectations of public health experts, the rate of frequent marijuana consumers who are diagnosed with cannabis use disorder (CUD) is not increasing, a new study reports. In fact, it's actually decreasing, and that may be due to the growing number of states that have legalized access to marijuana.
According to the paper, "CUD prevalence decreased significantly across all ages reporting daily/almost daily cannabis use between 2002-2016. Cannabis dependence prevalence decreased for adolescents and young adults and was stable only among adults ages 26+ reporting daily/almost daily cannabis use."
Recent studies have had mixed results on the prevalence of CUD—a diagnosis that includes either misuse and/or dependence—in the last two decades. Because people who consume marijuana every day or almost every day are the most at risk for problematic use, researchers at Columbia University's Mailman School of Public Health set out to get a better understanding of this group's general health.
Their findings were published last month in the journal Drug and Alcohol Dependence.
The study's authors used data from the National Surveys on Drug Use and Health for the years 2002-2016. The final sample, totaling 22,651 people, included participants who were 12 and older and reported using marijuana at least 300 days in the past year.
To measure problematic marijuana use, the authors used criteria from the Diagnostic and Statistical Manual of Mental Disorders, Fourth Edition, for cannabis dependence and cannabis abuse, such as:
Spent a great deal of time over a period of a month obtaining, using, or getting over the effects of marijuana
Unable to keep set limits
Unable to cut down cannabis use
Recurrent use resulting in failure to fulfill major role obligations
Continued use despite persistent or recurrent social or interpersonal problems
Other factors considered in the research asked whether participants had a perceived need for mental health treatment, whether a doctor had indicated they had other health issues and whether or not they'd driven under the influence of illegal drugs with and without alcohol.
Over the study period, the authors found that the prevalence of CUD decreased among their sample in all age groups: For adolescents ages 12 to 17, the rate fell by 26.8 percent; for 18- to 25-year-olds, by 29.7 percent; and for adults 26 and older, by 37.5 percent.
"Among those with past-year daily/almost daily cannabis use, there were reductions in the prevalence of DSM-IV cannabis abuse across all age groups, with reductions observed for all individual abuse items in adolescents and young adults," the study states. "There were also reductions in the prevalence of DSM-IV cannabis dependence among adolescents and young adults, but not in adults ages 26+. Reductions in most DSM-IV dependence items were observed in young adults while reductions in only a few dependence items were found for adolescents and older adults."
Researchers offer several possible explanations for the declining rates, many of which point to the influence of legalization. "First, the new national cannabis policy environment, with 33 states legalizing medical use and 10 states allowing recreational use of cannabis may have played a role in reducing stigma and perceptions of risk associated with cannabis use," Silvia Martins, one of the study's authors, said in a statement. "Secondly, increasing legalization may also be associated with changes in social attitudes resulting in fewer conflicts with relatives and friends around cannabis use."
As a result, according to the paper, "[t]his could explain reductions in the abuse item 'Continued use despite persistent or recurrent social or interpersonal problems,' which reflects difficulties in interactions with others due to cannabis use."
It's also possible that "a sector of the population that is healthier overall" is starting to use marijuana more because of legal access, which "may have diluted the prevalence of cannabis abuse/dependence over time." They may use "less potent" cannabis or in lower daily amounts, researchers note. Additionally, more people may feel less afraid to admit on a federal survey that they use marijuana frequently.
Ultimately, Martins said, the study's results "contradict the predominating hypothesis that the prevalence of DSM-IV CUD would be stable, or increase, among those using with this regularity."
Here's What Researchers Know So Far About How Marijuana Legalization Affects Public Health
Photo courtesy of Sharon McCutcheon on Unsplash 
Marijuana Use Tied To Lower Rates Of Depression And Suicidal Ideation Among PTSD Patients
People suffering from post-traumatic stress disorder (PTSD) who consume marijuana experience significantly fewer depressive episodes and lower rates of suicidal ideation compared to non-users, according to a new study.
The research, published in the Journal of Psychopharmacology on Tuesday, analyzed nationally representative health data from Statistics Canada's 2012 Community Health Survey and found that people with PTSD who have not reported past-year marijuana use are much more likely to have suicidal thoughts and go through depressive phases.
"This study provides preliminary epidemiological evidence that cannabis use may contribute to reducing the association between post-traumatic stress disorder and severe depressive and suicidal states."
Among the more than 24,000 people who were eligible for the study, with was conducted by researchers at the the British Columbia Centre on Substance Use and University of British Columbia, 420 were clinically diagnosed with PTSD. Of those, 106 individuals with PTSD (28.2 percent) said they used cannabis in the past year. That's markedly higher than the average of those who don't have PTSD (11.2 percent).
"We know that with limited treatment options for PTSD, many patients have taken to medicating with cannabis to alleviate their symptoms," Stephanie Lake, lead author of the study, said in a press release. "However, this is the first time that results from a nationally representative survey have shown the potential benefits of treating the disorder with cannabis."
Those suffering from PTSD who didn't report past-year cannabis use were about seven times as likely to have experienced a recent major depressive episode, the study found. They were also 4.3 times as likely to have contemplated suicide.
"Among cannabis-using respondents, PTSD was not associated with a recent depressive episode or suicide ideation."
While the study only looked at Canadian respondents, the findings are relevant to U.S. patients as well, as members of the military stateside also experience higher rates of PTSD compared to the general population.
A former secretary of the U.S. Department of Veterans Affairs (VA), David Shulkin, has said recently that he's in favor of having the department conduct clinical research into the therapeutic benefits of marijuana for veterans with PTSD, stating that the suicide rate among the population demonstrates that ignoring the treatment option comes at the "peril" of service members.
While VA declined to support research initiatives into cannabis for medical conditions that commonly afflict veterans under his leadership, Shulkin said this week that the department "should be involved and should be open to research for anything that will help veterans improve their lives, including medical cannabis."
"We're only just beginning to understand what the therapeutic potential of cannabis may be for a variety of health conditions," M-J Milloy, senior author of the new study, said. "These findings are promising, and merit further study in order to fully understand the benefits of cannabis for people living with PTSD."
Former VA Secretary Again Calls For Marijuana Research That His Department Resisted
Photo by davide ragusa on Unsplash.
Calling It 'Cannabis' Instead Of 'Marijuana' Doesn't Boost Legalization Support, Study Finds
Some legalization proponents believe it's important to stop using the term "marijuana" and instead refer to the substance only by its scientific name, "cannabis." In order to appeal to more people, they argue, it's better to stick with a term that isn't controversial and doesn't come with ugly historic baggage. A new study, however, suggests that reframing the drug as such doesn't make much difference to the average person.
"Throughout each of our tests, we find no evidence to suggest that the public distinguishes between the terms 'marijuana' and 'cannabis,'" the study's authors wrote last week in the journal PLOS-ONE.
Many people believe "marijuana" has racist origins: The term was adopted in the 20th century by prohibitionists in part because it sounded foreign enough to scare white people away from using it. Others, however, point out that the term predates its use by anti-drug officials and doing away with it now erases its complex history.
To assess public attitudes about "marijuana" vs. "cannabis," researchers at Vanderbilt University partnered with YouGov to survey 1,600 adults in the U.S. The survey asked participants a broad range of questions to get their opinions on one of four randomly assigned terms: "marijuana," "cannabis," "medical marijuana" or "medical cannabis." Topics included legalization, moral acceptability, tolerance of drug activities, perceptions of harms and stereotypes of users.
According to the survey, 50.1 percent and 50.3 percent support the legalization of marijuana and cannabis, respectively. The authors note there is a "slight uptick" in how much they support cannabis legalization, though: 34.3 percent strongly support "cannabis legalization," compared to 26 percent who strongly support "marijuana legalization." Support for legalization also increases when the term "medical" is attached.
"In each and every test, the name frame ('marijuana' versus 'cannabis') has no impact on opinion toward the drug."
In short, the authors write, "calling the drug 'cannabis' does not boost public support for legalization of the drug."
When they analyzed the answers in other categories, researchers found similar results:
43.8 percent found marijuana "morally acceptable" while 44.3 percent said the same about cannabis.
Roughly the same number of respondents said they'd be bothered by the opening of a dispensary in their neighborhood, public use, and knowing that a teacher consumed when not working, whether the substance was referred to as "marijuana" or "cannabis.
There was also "no noticeable difference" in responses when the survey asked participants about claims of potential harms of "marijuana" vs. "cannabis," including addiction, that it leads to other drug use, that it is personally harmful to one's health and that it significantly impairs driving.
As for stereotypes, researchers found that the characteristics participants used to describe users fell in two clusters: "medical marijuana/medical cannabis" and "marijuana/cannabis." For example, users of medical marijuana/medical cannabis were seen as "sick" and "honest" while marijuana/cannabis consumers were described as "teenaged" and "lazy."
"Even though the name attached to the drug appears to have no influence on public opinion, we find consistent support for the notion that the public views the drug more favorably when told it is for medical versus unspecified purposes," the study states. "The public is much more supportive of legalization of medical use, more morally accepting of it, less bothered by activities involving it, less convinced that it is harmful, and more likely to attribute positive traits to its users when told that the drug is 'medical.'"
Ultimately, the authors write, their findings "undermine the notion — widely espoused by policy advocates — that abandoning the word 'marijuana' for 'cannabis' by itself will boost the prospects for reform or soften public attitudes toward the drug."
"We find no support for the notion that changing the name of the drug from 'marijuana' to 'cannabis' affects public opinion on the drug or the policies governing it."
"For many years," NORML Deputy Director Paul Armentano told Marijuana Moment, "this issue has been a source of passionate debate within marijuana law reform circles. There now exists some data to better focus this discussion and to provide some important insight."
"Changing the hearts and minds of the public with regard to marijuana has always been about substance, not terminology," Armentano continued. "Reformers are winning the legalization debate on the strength of our core arguments — namely, the fact that legalization and regulation is better for public health and safety than is criminalization — and not because of any particular change in the lexicon surrounding the cannabis plant."
Here's What Researchers Know So Far About How Marijuana Legalization Affects Public Health
Photo courtesy of Margo Amala