Willie Nelson Wants To Smoke Marijuana With Trump And Putin
Everyone's favorite country singer and legendary stoner Willie Nelson says he'd be glad to smoke weed with Donald Trump, Vladimir Putin and Barack Obama.
The Red Headed Stranger made the revelations in an appearance on The Late Show With Stephen Colbert this week. The host showed Nelson celebrity photos in a rapid-fire fashion and the singer had to say if he'd toke up with them or not.
Nelson doesn't say no to consuming cannabis with a single person, including the former and current presidents. When shown a picture of Putin, Colbert asks if it would help international relations if Nelson shared a joint with him, to which he replies, "There's several people I'd like to see take a hit, so to speak."
When a picture of Donald Trump immediately follows, Nelson says, "Oh yeah. He needs one bad. That could be good for him."
And capping off the round is a photo of former president Barack Obama. Nelson laughs and says, "Yeah, I think he may have already been there a time or two." Now that he's out of office, wouldn't we all love to see the former Choom Gang leader go for a session in Willie's bus?
Absent from the lineup of celebrities was Colbert himself. Is the beard the real clue we need to know The Late Show host is jumping on the pot bandwagon?
Colbert left his desk and studio audience to speak to the singer from the inside of Nelson's famous bus, which wasn't (at the time) full of marijuana smoke. After asking about the bus's name and joking about other people with named vehicles, like Batman or The Pope, Colbert complimented the smell of the "air freshener" inside the bus, saying it was "relaxing."
"Is that lavender? Is that one of the flavors?" he joked, to which Nelson laughed and replied, "If it's not, it will be. The Colbert Lavender. We'll have it," most likely referring to his marijuana company Willie's Reserve.
Colbert asks about the history of Nelson's iconic braids, and then the conversation moves to his support for Beto O'Rourke, the Democratic U.S. Senate candidate from Texas. O'Rourke, as Marijuana Moment has previously reported, wants to end the federal prohibition of marijuana and create a legal, regulated system. Colbert brings up the recently viral photo of Nelson wearing a "Beto For Texas" shirt while giving the camera his upright middle finger, a la Johnny Cash.
The pair go on to cover Nelson's latest album, My Way, which is all Frank Sinatra covers. Colbert plays an old ad for the Space Foundation featuring Ol' Blue Eyes himself and Nelson joking around.
Nelson relays a story about an astronaut recently visiting the bus and telling the country legend, "You're the only I know that's been higher than me." Maybe Nelson is working his way to a smoke session with Elon Musk.
It's not Colbert's funniest segment, but not without some laughs—and certainly respecting, and playing to, Nelson's famous relationship with the plant.
Watch the full interview below:
Photo courtesy of CBS.
Elon Musk: 'I Have No Idea How To Smoke Pot'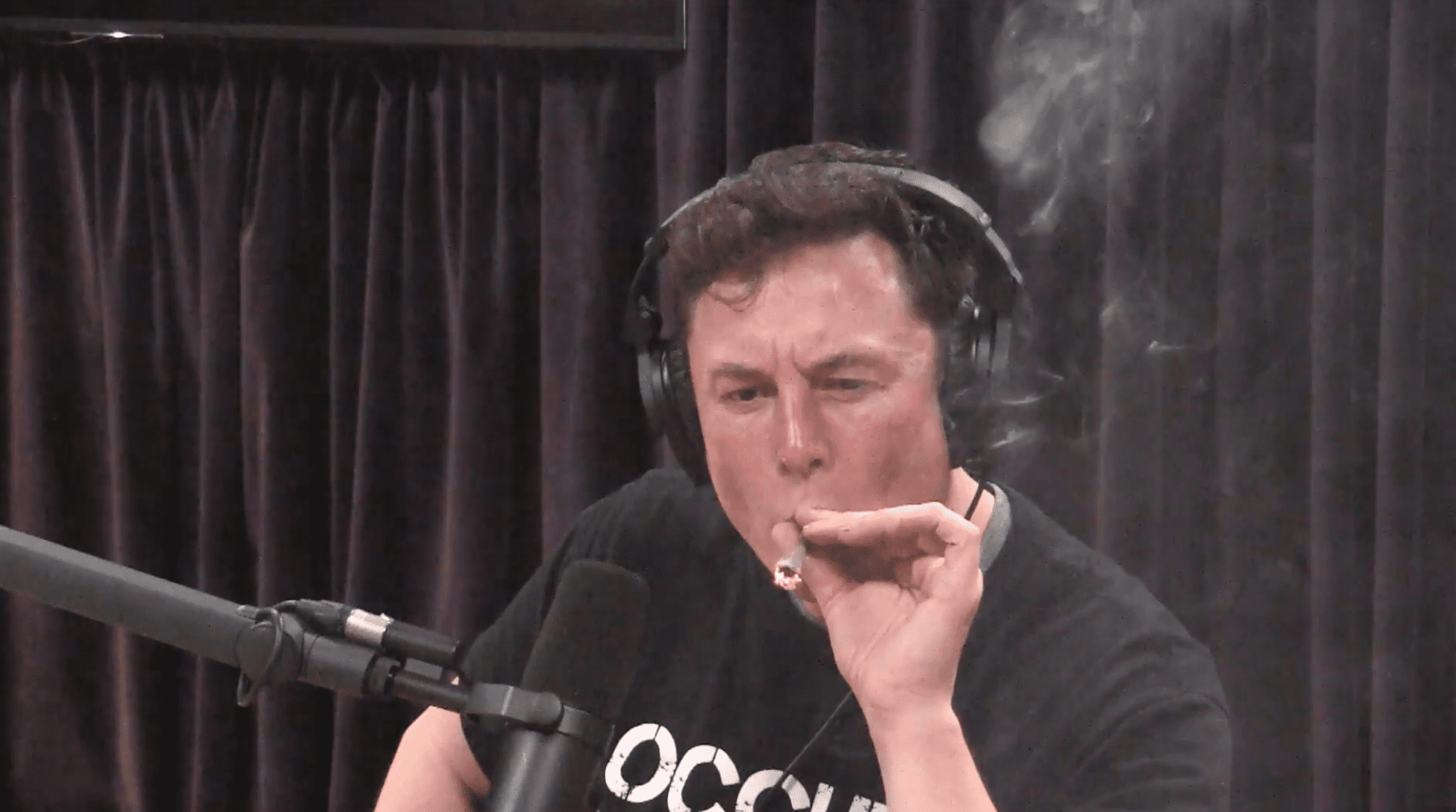 Elon Musk got himself into a bit of trouble after smoking marijuana during an appearance on Joe Rogan's podcast in September.
The move reportedly led to NASA launching an investigation into his company SpaceX's "workplace safety" and "adherence to a drug-free environment."
But now, in a new interview 60 Minutes, the Tesla founder indicated the on-camera puffing was a fluke and that he actually doesn't even know how to smoke weed.
"I do not smoke pot," he said.
"As anybody who watched that podcast could tell, I have no idea how to smoke pot or anything. I don't know how to smoke anything, honestly."
Musk seems to be telling the truth, at least judging from the widespread reaction to the fact that he didn't seem to actually inhale the blunt that Rogan passed him.
I'm sure this point has been made but @elonmusk clearly didn't inhale

— Ryan Lizza (@RyanLizza) September 7, 2018
elon musk didn't inhale lmao baby lungs

— MATT MIGGZ (@mattmiggz) September 7, 2018
"elon musk didn't inhale"

he doesn't inhale smoke

because he doesn't inhale oxygen

because he is a simulation

— kalabar's revenge (@itzthelimit) September 10, 2018
Elon Musk didn't inhale and his stock plummets 6% hahaha

— Parabolic Retard 🤪 (@Crypto_STEEZ) September 8, 2018
The full 60 Minutes interview with Musk is set to air on Sunday.
U.S. Air Force Warns About Grandma's Marijuana-Infused 'Miracle Sticky Buns'
The U.S. Air Force wants its members to be extra careful around "grandma's miracle sticky buns" that might contain marijuana.
In a post on the Air Force Medical Service site on Wednesday, the military branch reminded members that cannabis is illegal under federal law and that testing positive for THC metabolites will result in likely separation from service under "less than honorable conditions" and other possible punishments.
"Marijuana consumption is not permitted in any fashion, period."
The department stressed that with state-level legalization expanding, there's wider availability of "THC containing products," so military members "need to be extra vigilant about the foods and drinks they consume, especially during the holiday season."
"Many of us attend parties or gatherings with friends and relatives and have meals and libations prepared by others."
Maybe the Air Force got the memo from the National Highway Traffic Safety Administration, which also recently put out an advisory about holiday-related cannabis consumption and encouraged people to "#DitchDanksgiving."
While the message was serious, the warning to military members at least ended on a lighter note, seeming to acknowledge the therapeutic use of cannabis edibles, something that federal law still doesn't officially recognize:
"Your friend's grandma's miracle sticky buns might look mighty tasty and get rave reviews at the big shindig, but if you're in the military or work for the federal government you might want to think twice and make sure they weren't made to treat her bad hip first before you jeopardize your career."
To be sure, more seniors are using marijuana, primarily for medical purposes. But unless they're homemade, marijuana products are generally labeled accordingly. So federal workers should probably pay closer attention to pastry packaging if they want to avoid accidentally ingesting prohibited sticky buns.
The Feds Are Hiring Professional Marijuana Joint Rollers…Kind Of
Photo courtesy of Stacy Spensley.
Michael Moore: Put Marijuana On The Ballot To Drive Voter Turnout In 2020
Documentary filmmaker and activist Michael Moore says that if Democrats want to win in the 2020 election, they ought to put marijuana legalization proposals on the ballot in states across the country, especially in swing states.
Moore, whose home state of Michigan legalized cannabis during the midterms earlier this month, said the outcome of the election—in which Democrats won the state's gubernatorial, attorney general and U.S. Senate races—proved that ballot initiatives "are the answer" to electoral victories.
"This is what we did in Michigan two weeks ago: we had a ballot proposal to legalize marijuana," he said on MSNBC's The Last Word. "Largest turnout of young people in we don't know when came out to the polls."
It's not entirely clear how large youth turnout specifically was in the state compared to past elections. But in general, Michigan turnout reached its highest levels in 56 years—and across the country, young people did cast ballots in higher numbers.
Besides marijuana legalization, Moore said putting issues like free college and outlawing gerrymandering on the ballot will drive Democrats who "don't vote that much" or "don't like the politicians" to the polls. He emphasized the need to get those issues on the ballot in swing states.
The filmmaker also seems to be speaking from a place of experience, as he made his vote in favor of Michigan's legalization measure a late night TV spectacle when he filled out his absentee ballot in an appearance earlier this month on NBC's Late Night with Seth Meyers.
Michael Moore Votes For Marijuana Legalization During Late Night TV Appearance
There's some limited data that seems to support Moore's theory about marijuana and voter turnout, too. For example, an October survey of registered voters in Wisconsin found that 56 percent said they'd be more likely to cast their ballot if it included a cannabis-related question.
The Midwest May Be the Next Frontier In Marijuana Legalization
Photo courtesy of MSNBC.