Florida Supreme Court Hears Arguments In Case To Decide If Marijuana Legalization Will Appear On 2024 Ballot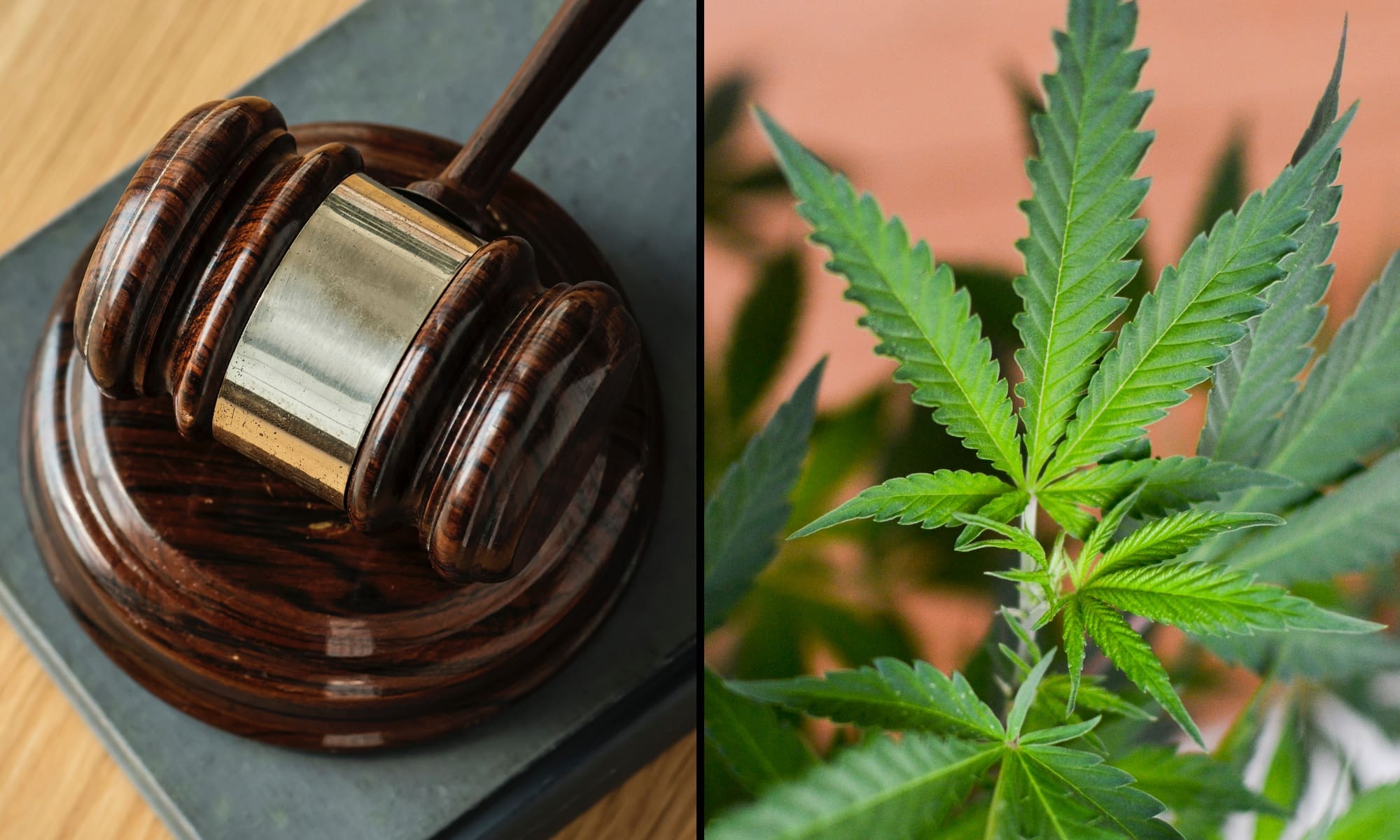 The Florida Supreme Court heard oral arguments on Tuesday in a case that will decide whether a marijuana legalization initiative can appear on the state's 2024 ballot, with justices pressing both sides on their opposing legal interpretations as they weigh whether voters will ultimately be afforded the chance to decide on the issue.
Over the past several months, the court has been receiving briefs from both the state attorney general, who filed a legal challenge against the cannabis measure and is asking for it to be invalidated, and the Smart & Safe Florida campaign, which is behind the proposed reform.
Attorney General Ashley Moody's (R) main argument is that the ballot initiative is affirmatively misleading, in part because she says voters would not be able to understand from the summary that marijuana would remain federally illegal even if Florida moved to legalize.
The state is also taking issue with language about cannabis business licensing.
"The attorney general opposes ballot placement because we think in several ways this ballot summary is misleading," Jeffrey DeSousa, the chief deputy solicitor general in the attorney general's office, said. He began by describing "what we think is the most straightforward and uncontroversial of those ways," which concerns language on the state's ability to license cannabis businesses under the proposal.
The state official argued that the measure, which is being funded by the cannabis company Trulieve, "is playing on a desire of voters to see greater competition in this marketplace because there had been public complaints that the marketplace is monopolized and thereby raising prices."
He said the summary is misleading because it indicates that "other state licensed entities" beyond current medical marijuana operators such as Trulieve may be approved to sell recreational cannabis, but does not specify that the expansion would only happen if lawmakers affirmatively passed legislation to allow it.
"At least some voters may well find it to be significant that there will now be an availability of other licenses, when in fact we know that that's really not what will happen," DeSousa said. "To the extent that this proposed amendment has any effect at all, it would only be in allowing these other entities that would like to be licensed to go and lobby the legislature, and then the legislature would have to decide if the licenses should exist."
Justice John Couriel questioned the attorney general's office's assertion that the language constitutes a "promise" to approve additional licensees. "What is the promise that the voter you say is misled by?" he asked.
Watch the Florida Supreme Court oral arguments in the marijuana legalization ballot case in the video below:
The full measure does provide a baseline explanation of the proposed licensing dynamics that would allow medical cannabis businesses to operate in the recreational market, Chief Justice Carlos Genaro Muñiz said. "It seems like it wasn't an unreasonable choice to put that in the substantive part of this itself. And so, to then expect the sponsors to go into this kind of convoluted explanation in the summary…I don't know how reasonable that is."
DeSousa replied that what the campaign should've said is that the measure would preserve the legislature's "pre-existing" authority to approve additional licenses.
"I understand, if we're having kind of a super lawyerly discussion about it, I understand that," the chief justice said. "But we're talking about, you know, a ballot summary—75 words of chief purpose material."
"Just quickly walk through the thought process of a voter, or to whom this distinction that you're raising would be material," he said, offering a hypothetical. "So I'm in there. I think the idea of allowing recreational use is good, but I would vote 'no' because the legislature might not authorize entities other than [existing medical cannabis dispensaries] to sell? I mean, who are you trying to protect?"
The state attorney also spoke about one of the office's main contentions with the summary language, arguing that "the sponsor has injected uncertainty and confusion about the interplay between the proposed amendment and federal law" even though the initiative notes that the reform Florida law would not "immunize" people from federal penalties.
Even though the summary starts by saying it would allow adults to participate in marijuana-related activity, Couriel said "we can't not read the context of the whole statement," which does address federal law. When the court invalidated a prior legalization initiative, it was partly informed by an agreement that "the ball was hidden."
"Where's the hidden ball?" he asked with respect to the current measure. "It says on the face of this that it applies to Florida law. It says it does not immunize violations of federal law."
DeSousa replied that "there was at least ambiguity in this valid summary that a reasonable voter could look to and think this will not be criminal under federal law."
But the Justice Charles Canady said he was unconvinced. "What it says is it does not immunize violations of federal law. How could a voter could be confused by that? I'm baffled by the argument," he said.
DeSousa said that what sponsors "should probably have said is that the amendment eliminates state law penalties and liability for certain uses of marijuana. That's far more accurate. Now they don't want to do that because, well, it's just less sexy, less appealing to voters."
The attorney general's office split time in its oral argument with the Florida Chamber of Commerce, which is also opposing the initiative. The chamber's representation focused on its argument that the measure runs afoul of the state Constitution's single subject rule for ballot measure.
"The amendment makes two fundamental changes in organic law: One is to immunize from legal sanction the adult recreational use of marijuana," Samual Salario, the attorney representing the chamber said. "But it accomplishes a second objective, which is not disclosed in the ballot summary, and that is to give medical marijuana treatment centers effective regulatory capture over a commercial market."
"I think the approach that is consistent with the most applicable precedents and that makes the most sense is to ask two questions," Salario said. "First, what is the main thing that the amendment does? And then second, are the secondary things that the amendment does the direct result of or direct inference from that first thing?"
Canady pressed the chamber on that argument, questioning how legalization could be effectuated at all through the ballot in light of their interpretation of the single subject restrictions.
"If someone decides that their primary purpose is to have the commercial sale of marijuana for personal use—that's their purpose, a group of citizens want to do that, there are people that sell it, okay?—and if they want to do that, is there any way they could accomplish that effectively in your view?" he asked.
The chamber attorney replied that decoupling the removal of criminal penalties and the commercial sale of marijuana would be one way, stating that they "are distinct ideas that are not connected by direct inference—that voters feel very differently about and that are bounded by different policy and analytical considerations."
John Bash, attorney for the Smart & Safe Florida legalization campaign, later added that it logically follows that "if you have a right to use a product or to possess a product, there has to be the right to purchase that product lawfully with the attendant regulation to make sure it's safe."
"An analogy that comes to mind is it would be strange if the Second Amendment to the U.S. Constitution were interpreted to create a personal right to own a firearm, but Congress could ban the purchase of any firearm," he said. "It doesn't make sense. The ability to lawfully obtain it is naturally attendant to the ability to possess it."
The chief justice seemed to agree the legalization of possession and sale of marijuana are "directly connected."
"I mean, it's hard to see how this isn't direct—allowing the possession and then setting up a scheme for how it's actually going to be obtained by people," he said. "I don't see how that's not directly connected."
Bash added that, since Ohio voters approved adult-use marijuana legalization at the ballot on Tuesday, there are now 24 states that have enacted the reform and "in virtually all of those jurisdictions, lawful commercial sale with regulation goes hand in hand with possession."
There is an exception in Washington, D.C., where a congressional rider has blocked the District from implementing commercial sales despite voters approving legalization in 2014.
"My understanding is that there's a very strange gifting economy in D.C. because you can't lawfully sell, and people do de facto sales tied to other products," he said. "I don't think any responsible legislature in the state—or the people would think that in order to amend the Constitution in this way, you have to set up a very strange bartering or gifting system so that people can possess marijuana."
Bash also spent time during the campaign's half of the oral arguments by addressing opponents' issue with the licensing language.
"This court has repeatedly said…that summary language that just tracks the language of the actual amendment typically is not misleading," the attorney said. "In this case, the language referring to [medical marijuana dispensaries] and other state licensed entities tracks the language of the operative provisions of the amendment."
"The second point I would make is that, if we had excluded other licensed entities from the summary, there is no doubt that the government would be at the podium saying that was misleading because you have essentially conveyed to voters that only entities with a medical affiliation" can operate, he argued.
"The phrase 'other licensed' itself suggests a further process that is not revealed in the summary. Everybody knows, whether you get driver's licenses or occupational licenses or business licenses or land use licenses, that agencies create requirements, that it's not certain that any given applicant will get a license," Bash said. "And so a reasonable voter reading that would think there could be some process for getting a license. It's possible that there will be other entities that get licenses. But that's simply not discussed. The details of that licensing scheme are not discussed in the 75 words."
"Another point I would emphasize is that under this court's precedents, the main purpose of this summary is to disclose the chief purpose and then, of course, not to be affirmatively misleading," he continued. "The process in which [non-medical cannabis dispensaries] may acquire licenses is pretty far from the chief purpose of this amendment, which is to ensure that adults 21 years or older can personally use and possess marijuana products. It's important, but it's attendant. It's a part of the amendment that facilitates the main right, but it's not the chief purpose."
"I think the assumption behind the Constitution and this court's cases and common sense is that voters going into the voting booth, knowing they're voting on changing the organic law of the state, will take that duty responsibly and seriously and really think about what they're reading and if this is what they want. And in our view, when it says applies to Florida law, does not change or immunize violations of federal law, the typical voter, most voters, will understand that the federal proscription on marijuana is not an issue here—this is about Florida law, not the federal proscription."
The legalization campaign attorney referred to a "roadmap" that the court set in prior cases on marijuana ballot language, saying that the current effort followed that guidance in order to be cleared for ballot access.
"How could it be that language seven members of his Court unanimously said was a 'roadmap' two years ago is now so unclear as to be affirmatively misleading?" he asked.
"This Court has said many times that it is reluctant to strike language from the ballot or strike a ballot initiative because it's a solemn responsibility of citizens and a solemn right to amend their Constitution. If there was ever a case not to do it, it's the one where the ballot sponsor looked at this court's precedents, tried to follow them scrupulously and even adopted the language that this court said is the roadmap… This is not a case where the language is misleading or that violates the single subject requirement."
The campaign and supporters have maintained that the court must respect the intent of the citizen initiative process and allow voters the opportunity to decide on the issue after they turned in nearly one million signatures for ballot placement that have been certified by the state.
Moody, the state attorney general, made the same argument about misleading ballot language against a 2022 legalization measure, and the Supreme Court subsequently invalidated it.
In order to get on the ballot, an initiative must have valid signatures from registered voters totaling at least eight percent of the district-wide vote in the most recent presidential election in at least 14 of the state's 28 congressional districts—in addition to the statewide number needed. The marijuana campaign has met the threshold in exactly 14 districts, according to the recently updated state data.
Trulieve has contributed more than $39 million to the Smart & Safe Florida campaign to date. As discussed in oral arguments, Moody has accused the company of supporting the measure in order to have a "monopolistic stranglehold" on the state's cannabis market.
If approved, the measure would change the state Constitution to allow existing medical cannabis companies in the state like Trulieve to begin selling marijuana to all adults over 21. It contains a provision that would allow—but not require—lawmakers to take steps toward the approval of additional businesses. Home cultivation by consumers would not be allowed under the proposal as drafted.
Adults 21 and older would be able to purchase and possess up to one ounce of cannabis, only five grams of which could be marijuana concentrate products. The three-page measure also omits equity provisions favored by advocates such as expungements or other relief for people with prior cannabis convictions.
Separately, economic analysts from the Florida legislature and the office of Gov. Ron DeSantis (R) estimate that the marijuana legalization initiative would generate between $195.6 million and $431.3 million in new sales tax revenue annually if voters enact it. And those figures could increase considerably if lawmakers opted to impose an additional excise tax on cannabis transactions that's similar to the ones in place in other legalized states.
A poll published in March found that 70 percent of Florida voters support legalizing marijuana. Florida voters approved a medical cannabis constitutional amendment in 2016.
Here's what the Smart & Safe Florida marijuana legalization initiative would accomplish:
Adults 21 and older could purchase and possess up to three ounces of cannabis for personal use. The cap for marijuana concentrates would be five grams.
Medical cannabis dispensaries could "acquire, cultivate, process, manufacture, sell, and distribute marijuana products and marijuana accessories to adults for personal use."
The legislature would be authorized—but not required—to approve additional entities that are not currently licensed cannabis dispensaries.
The initiative specifies that nothing in the proposal prevents the legislature from "enacting laws that are consistent with this amendment."
The amendment further clarifies that nothing about the proposal "changes federal law," which seems to be an effort to avoid past legal challenges about misleading ballot language.
There are no provisions for home cultivation, expungement of prior records or social equity.
The measure would take effect six months following approval by voters.
—
Marijuana Moment is tracking more than 1,000 cannabis, psychedelics and drug policy bills in state legislatures and Congress this year. Patreon supporters pledging at least $25/month get access to our interactive maps, charts and hearing calendar so they don't miss any developments.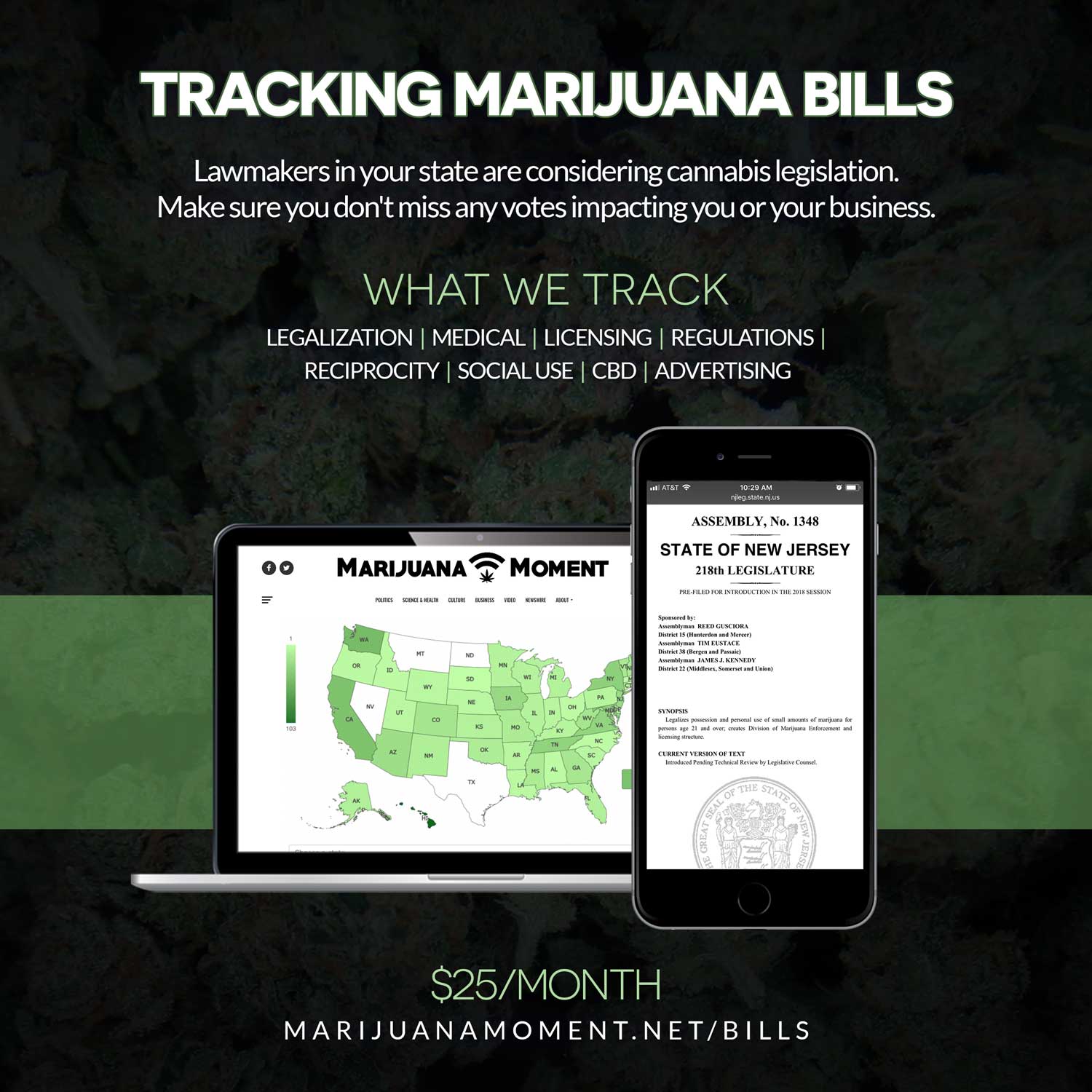 Learn more about our marijuana bill tracker and become a supporter on Patreon to get access.
—
Here's the full text of the ballot title and summary:
"Allows adults 21 years or older to possess, purchase, or use marijuana products and marijuana accessories for non-medical personal consumption by smoking, ingestion, or otherwise; allows Medical Marijuana Treatment Centers, and other state licensed entities, to acquire, cultivate, process, manufacture, sell, and distribute such products and accessories. Applies to Florida law; does not change, or immunize violations of, federal law. Establishes possession limits for personal use. Allows consistent legislation. Defines terms. Provides effective date."
Should the initiative make the 2024 ballot, at least 60 percent of Florida voters would have to approve the measure for it to be enacted.
Meanwhile, a separate campaign is actively collecting signatures for a different initiative to give adults a medical marijuana home cultivation option that would not be provided under the Smart & Safe Florida legalization measure. Signature gathering kicked off for the home grow initiative in August, with petitions available online and at certain dispensaries.
An earlier poll released in 2021 found that a majority of Florida voters (59 percent) support legalizing cannabis for adult use, so that's a slim margin that shows that advocates will have their work cut out for them if the measure qualifies.
However, the legalization campaign shouldn't expect to receive support from DeSantis, a Republican 2024 presidential candidate, who said at a recent event that he would not move to federally decriminalize cannabis if elected.
DeSantis signed a bill that took effect over the summer that added restrictions to medical marijuana advertising and manufacturing, prohibiting any products or messages that promote "recreational" cannabis use, while adding more stringent eligibility requirements for workers in the industry.
He also signed legislation in July banning sales of any consumable hemp products—including cannabis "chewing gum"—to people under 21, an expansion of an existing prohibition on young people being able to purchase smokable hemp.
Additionally, the governor approved a bill in June that expressly prohibits sober living facilities from allowing residents to possess or use medical marijuana, even if the patient is certified by a doctor to legally use cannabis therapeutically in accordance with state law. All other doctor-prescribed pharmaceutical medications may be permitted, however.
Key House Committee Blocks Amendments To End D.C. Marijuana Sales Ban And Prevent Cannabis Testing Of Federal Job Applicants
Photo elements courtesy of rawpixel and Philip Steffan.