Florida Marijuana Ballot Measure Would Net Up To $431 Million In Annual Tax Revenue, Analysts For DeSantis And Lawmakers Say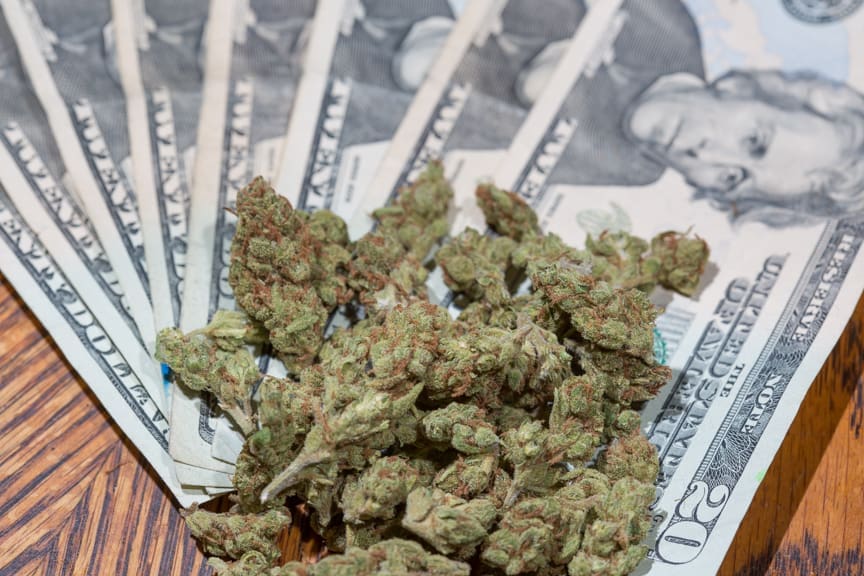 Officials from the Florida legislature and the office of Gov. Ron DeSantis (R) estimate that a marijuana legalization initiative that may appear on the 2024 ballot would generate between $195.6 million and $431.3 million in new sales tax revenue annually if voters enact it. And those figures could increase considerably if lawmakers opted to impose an additional excise tax on cannabis transactions that's similar to the ones in place in other legalized states.
On  Thursday, the state Financial Impact Estimating Conference (FIEC), which consists of economists representing the legislature, state agencies and the governor's office, held the last of four meetings to go over its analysis of the cannabis measure, producing a financial impact statement that will be provided to voters if the initiative makes the ballot.
While other officials have already certified that the Smart & Safe Florida campaign collected enough signature to qualify for ballot placement, its language is currently being reviewed by the state Supreme Court, where the attorney general is pushing for its invalidation, claiming that it misleads voters as written.
In the meantime, FIEC moved ahead with finalizing its financial analysis, giving a significant range for the possible sales tax revenue and other economic impacts. Experts looked at eight other states that have legalized recreational marijuana to develop a per capita metric for estimated revenue that was applied to Florida, assuming sales start in the 2025-2026 Fiscal Year.
The conference noted that more than half of the states that it analyzed to come up with the revenue estimates also impose a separate excise tax on cannabis on top of the usual sales tax, but doing so in Florida would require legislative action following the ballot measure's potential passage, so it was not accounted for in the financial impact statement.
However, the statement adopted at Thursday's meeting does say that cannabis legalization may have "an interaction with existing alcohol and tobacco taxes," as giving adults the option to buy marijuana from regulated shops "could impact the consumption of alcohol and tobacco, but only to the extent that it induces new usage of marijuana in the state."
FIEC—which is comprised of one member from the Executive Office of the Governor, the coordinator of the Office of Economic and Demographic Research, one person from the staff of the Senate and one person from the staff of the House of Representatives—doesn't attempt to estimate the "magnitude" of how much revenue might be potentially lost from lower excise tax dollars from alcohol and tobacco as a result of people choosing cannabis as an alternative, however.
Another section of the statement contemplates how legalization might impact criminal justice-related spending, with the officials acknowledging research on reduced costs related to possession offenses that would be made legal, for example, but also pointing to law enforcement arguments that the reform could create its own type of illicit market of people exploiting the new law.
"Given the mixed findings in the academic and technical literature and the likelihood that savings and increased costs will both result over time, the net impact is indeterminate," it said.
It reached the same conclusion about "indeterminate" economics when it comes to public health, though the panel did say it expects the impact on corporate income taxes to be "positive" as the legal marijuana industry grows.
Meanwhile, FIEC said that it is "probable" that marijuana business licensing application and renewal fees that the state collects would offset the regulatory and administrative costs of the program, which it estimates will be about $11.4 million annually. But because the legislature will need to develop parts of the regulatory framework, the fiscal impact is another area of uncertainty.
The state Department of Health, Florida Association of Counties and the Florida Sheriff's Association and the Florida Police Chief Association were among those who contributed to FIEC's analysis, providing commentary and data to inform the fiscal impact statement.
Meanwhile, the ballot measure itself still needs to clear the legal challenge from Attorney General Ashley Moody (R) in order to make the ballot in the first place.
The official submitted a brief to the state Supreme Court last month, detailing the reasons she is seeking to keep the measure off the ballot, including her argument that the ballot summary is affirmatively misleading.
Despite the attorney general's opinion, activists say that they've thoroughly vetted the measure and are confident the court will agree that it complies with constitutional requirements.
Moody made the same argument against a 2022 legalization measure, and the Supreme Court subsequently invalidated it. Now that the first briefing has been filed, reply briefs will be required to be submitted by July 19 and 26 under the extended timeline.
In order to get on the ballot, an initiative must have valid signatures from registered voters totaling at least eight percent of the district-wide vote in the most recent presidential election in at least 14 of the state's 28 congressional districts—in addition to the statewide number needed. The marijuana campaign has met the threshold in exactly 14 districts, according to the recently updated state data.
The marijuana company Trulieve has contributed more than $39 million to the Smart & Safe Florida campaign to date.
If approved, the measure would change the state Constitution to allow existing medical cannabis companies in the state like Trulieve to begin selling marijuana to all adults over 21. It contains a provision that would allow—but not require—lawmakers to take steps toward the approval of additional businesses. Home cultivation by consumers would not be allowed under the proposal as drafted.
Adults 21 and older would be able to purchase and possess up to one ounce of cannabis, only five grams of which could be marijuana concentrate products. The three-page measure also omits equity provisions favored by advocates such as expungements or other relief for people with prior cannabis convictions.
A poll published in March found that 70 percent of Florida voters support legalizing marijuana. Florida voters approved a medical cannabis constitutional amendment in 2016.
Here's what the Smart & Safe Florida marijuana legalization initiative would accomplish:
Adults 21 and older could purchase and possess up to three ounces of cannabis for personal use. The cap for marijuana concentrates would be five grams.
Medical cannabis dispensaries could "acquire, cultivate, process, manufacture, sell, and distribute marijuana products and marijuana accessories to adults for personal use."
The legislature would be authorized—but not required—to approve additional entities that are not currently licensed cannabis dispensaries.
The initiative specifies that nothing in the proposal prevents the legislature from "enacting laws that are consistent with this amendment."
The amendment further clarifies that nothing about the proposal "changes federal law," which seems to be an effort to avoid past legal challenges about misleading ballot language.
There are no provisions for home cultivation, expungement of prior records or social equity.
The measure would take effect six months following approval by voters.
—
Marijuana Moment is tracking more than 1,000 cannabis, psychedelics and drug policy bills in state legislatures and Congress this year. Patreon supporters pledging at least $25/month get access to our interactive maps, charts and hearing calendar so they don't miss any developments.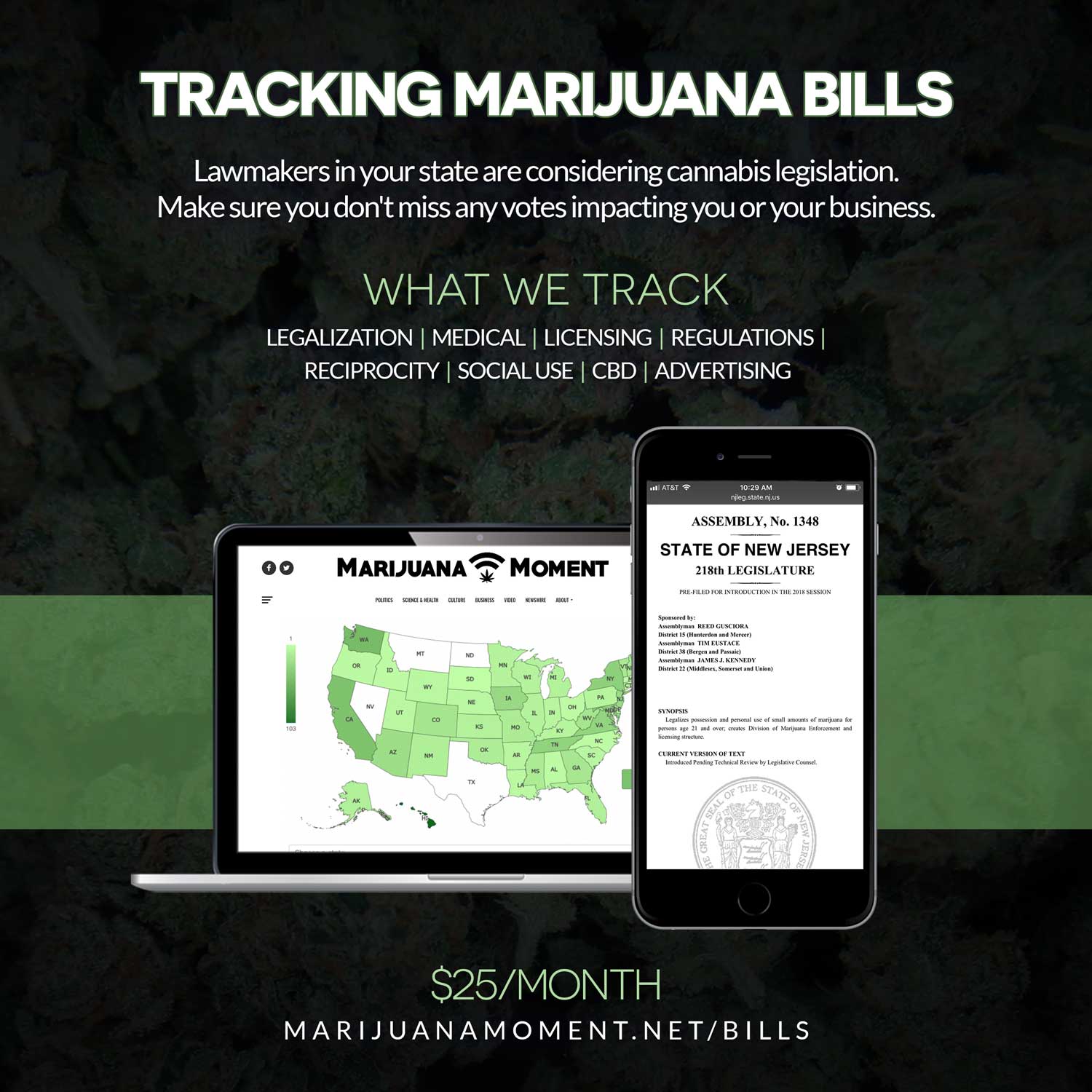 Learn more about our marijuana bill tracker and become a supporter on Patreon to get access.
—
Here's the full text of the ballot title and summary:
"Allows adults 21 years or older to possess, purchase, or use marijuana products and marijuana accessories for non-medical personal consumption by smoking, ingestion, or otherwise; allows Medical Marijuana Treatment Centers, and other state licensed entities, to acquire, cultivate, process, manufacture, sell, and distribute such products and accessories. Applies to Florida law; does not change, or immunize violations of, federal law. Establishes possession limits for personal use. Allows consistent legislation. Defines terms. Provides effective date."
Should the initiative make the 2024 ballot, at least 60 percent of Florida voters would have to approve the measure for it to be enacted.
An earlier poll released in 2021 found that a majority of Florida voters (59 percent) support legalizing cannabis for adult use, so that's a slim margin that shows that advocates will have their work cut out for them if the measure qualifies.
Meanwhile, activists that aren't directly involved in the Smart & Safe Florida campaign said last year that they were exploring plans to have voters decide on what they hope will be a complementary measure permitting adults to grow their own cannabis at home.
The legalization campaign shouldn't expect to receive support from DeSantis, a Republican 2024 presidential candidate who said at a recent event that he would not move to federally decriminalize cannabis if elected.
Michigan Marijuana Sales Hit Record High Of $261 Million In June, State Data Shows