Washington State Legislature Approves $200,000 In Psilocybin Research Funding In Budget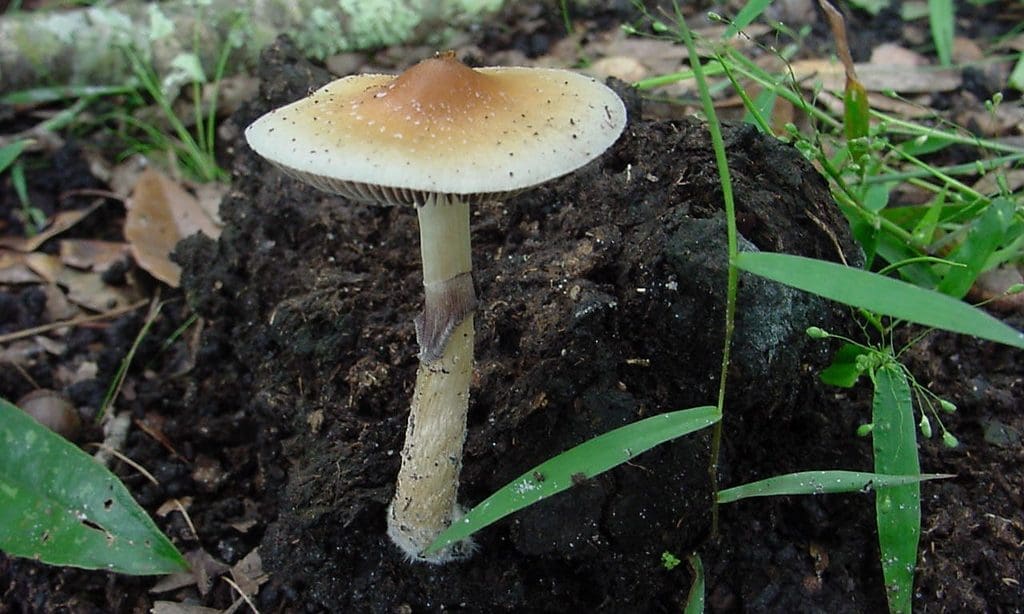 The Washington State legislature on Thursday sent a budget bill to the governor's desk that includes a proposal to direct $200,000 in funding to support a new workgroup to study the possibility of legalizing psilocybin services in the state, including the idea of using current marijuana regulatory systems to track psychedelic mushrooms.
If the legislation is signed by Gov. Jay Inslee (D), the Psilocybin Wellness Workgroup will be charged with developing a "report on psilocybin services wellness and opportunities in consultation with stakeholders," the relatively short section of the 864-page budget proposal for Fiscal Year 2023 states.
Much of the focus of the psilocybin section focuses on analysis and possible improvements to a stalled Senate bill that would have legalized so-called "supported psilocybin experiences" by adults 21 and older. That legislation would have allowed individuals to consume products containing psilocybin and psilocin under the support of a trained and state-licensed psilocybin service administrator.
The workgroup will be tasked with examining current state systems that "monitor manufacturing, testing, and tracking of cannabis to determine suitability and adaptations required for use with psilocybin"
It would also review and make recommendations on ensuring the there's "equitable access to a potential legal psilocybin industry."
This development comes shortly after activists in the state filed a proposed November ballot initiative to legalize psilocybin for use in settings with trained facilitators.
The panel will be administered through the state Health Care Authority, in partnership with other agencies, and the budget legislation spells out who will comprise the new group.
That includes representatives or heads of the Department of Health, the Liquor and Cannabis Board, the Department of Agriculture, a military veteran or representative of a veterans organization, up to two "indigenous practitioners" with experience with psilocybin or other psychedelics, a psychologist familiar with psilocybin, a nursing professional, a disability rights advocate, a mental health counselor and others.
The authority would be directed to review "proposed rules for the regulation of psilocybin and assess the impact the adoption of substantially similar laws and rules or Senate Bill No. 5660 would have in Washington state, and identify specific areas where a different approach may be necessary or desirable."
While SB 5660—which was based largely on an Oregon therapeutic psilocybin law passed by voters in 2020—failed to advance out of committee, the legislature evidently agrees that the proposal has potential.
Here are some of the  additional responsibilities spelled out in the legislation: 
Assess functional requirements of Senate Bill No. 5660 that would exceed the expertise and capacity of the department of health and identify opportunities for development or collaboration with other state agencies and entities to meet the requirements.
Discuss options to integrate licensed behavioral health professionals into the practice of psilocybin therapy under the framework of Senate Bill No. 5660 where appropriate.
"The authority must convene the first meeting of the stakeholder group no later than June 30, 2022," the text of the bill says. "The authority must provide a preliminary brief report to the governor and appropriate committees of the legislature by December 1, 2022…and a final report by December 1, 2023. The authority may form subcommittees within the stakeholder group and adopt procedures necessary to facilitate its work."
The advocacy group Psychedelic Medicine Alliance Washington (PMAW) celebrated the inclusion of this psilocybin-related funding in the budget.
"PMAW is extremely pleased that the Washington State Legislature has listened to the overwhelming support of their constituents by fully funding this budget proviso studying psilocybin services," Co-Director Kody Zalewski said in a press release.
Meanwhile, another ballot measure planned for Washington's ballot in November, backed by the advocacy group Commit to Change WA, would decriminalize possession of small amounts of any drug and pour nearly $150 million into expanded outreach and long-term recovery services for people with drug use disorders. Oregon voters passed a similar all-drug decriminalization measure in 2020.
Last year Washington's Supreme Court overturned the states felony law against drug possession completely, sending lawmakers scrambling to replace the law. Ultimately they approved a modest reform, reducing the state's felony charge for drug possession to a misdemeanor and earmarking more money for treatment. But the law's criminal penalties will expire in 2023, an effort to encourage lawmakers to revisit the policy.
The law, which took effect in May, was widely seen by advocates as a half-step toward meaningful reform. Many called on lawmakers to further invest in outreach and recovery and urged further dismantling of the criminal drug war.
At the municipal level, Seattle recently became the largest U.S. city to decriminalize psychedelics following a City Council resolution in October.
New Orleans City Council Urges End To Marijuana Testing For Government Employees
Image courtesy of Kristie Gianopulos.