Washington State Ballot Initiative Would Legalize 'Facilitated' Psilocybin Sessions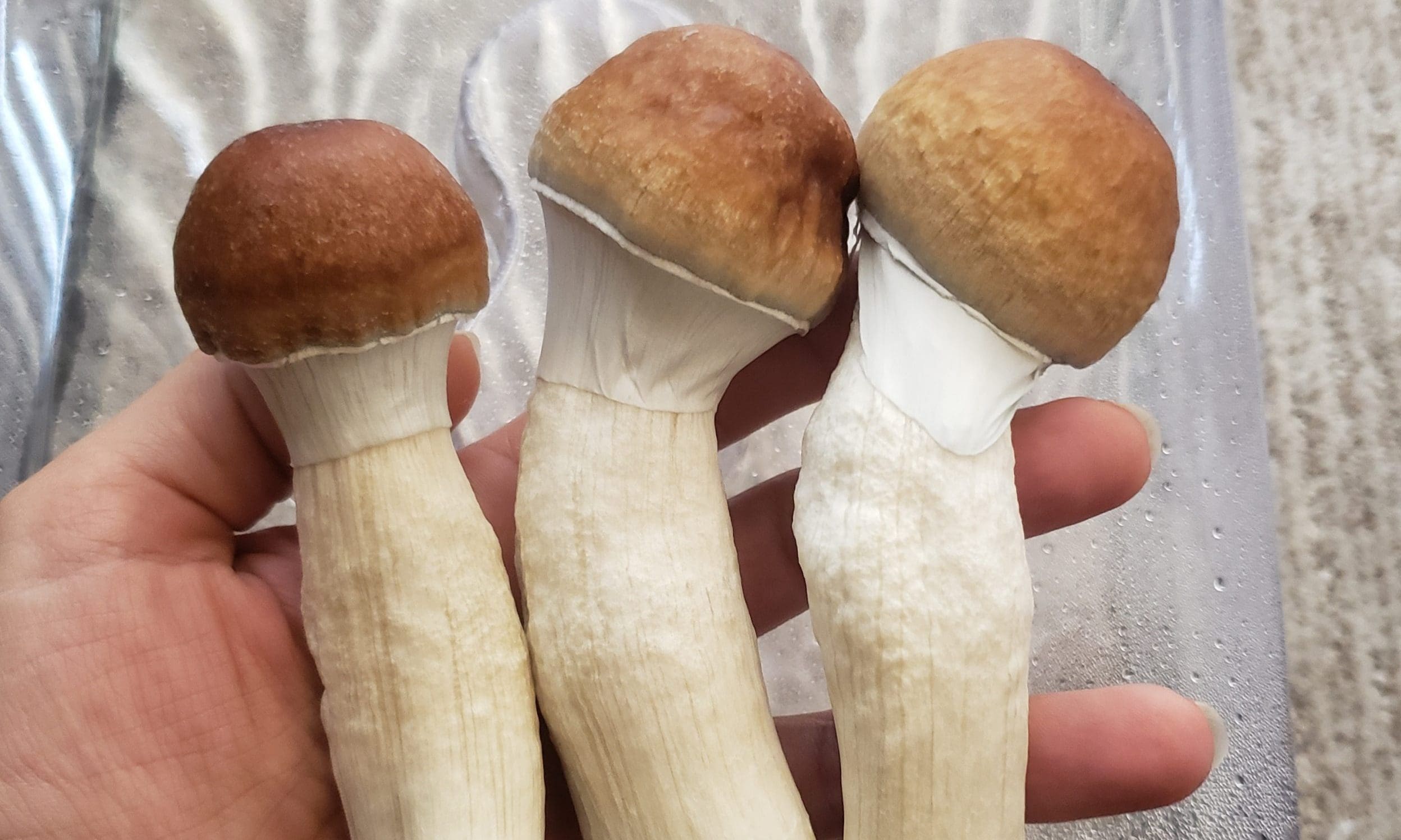 A proposed Washington State ballot measure would legalize psilocybin, the main active component of psychedelic mushrooms, for use in settings with trained facilitators. Adults 21 and older would be eligible to participate after completing a screening process intended to avoid negative side effects.
Supporters at the political action committee ADAPT-WA filed the proposal month and are now working to raise money and signatures to qualify it for November's ballot. If passed, the measure would "establish safe, equitable, and legally sanctioned access to psilocybin services," the group said in a press release this week.
Though the initiative would not require that participants be diagnosed with any specific condition in order to legally use psilocybin, advocates frame the policy change as a way to provide more effective treatment options for mental health. The campaign cites recent studies showing that psilocybin is a promising treatment for depression, anxiety, post-traumatic stress disorder (PTSD) and substance use disorder.
"As a Licensed Mental Health Therapist, Chemical Dependency Specialist, and Social Worker on the front lines of our mental health and chemical dependency epidemic for the last twenty years," ADAPT-WA board member Leonora Russell said in the release, "I have seen the failed systems up close and their impact on our most vulnerable populations. Psilocybin offers a natural treatment option, to those who qualify, and there is broad based support for psilocybin on both sides of the aisle."
The proposal, Initiative 1886, is broadly similar to a "supported psilocybin services" bill introduced at the beginning of the year by two Washington lawmakers, Sens. Jesse Salomon (D) and Liz Lovelett (D). But that measure, which was based largely on an Oregon therapeutic psilocybin law passed by voters in 2020, failed to advance out of committee.
Under the new initiative proposal, the state Department of Health would oversee the new program. During an 18-month development period, the department would promulgate rules and training requirements for facilitators as well as the regulatory framework for psilocybin producers, distributors, testing laboratories and clinics.
An advisory board made up of political appointees and subject experts would provide guidance and recommendations to the Health Department, including advising on available research around psilocybin, how the psychedelic should be administered in a clinical setting, necessary information for safety screenings, dosage amounts and myriad other issues.
The rulemaking process would unfold over a period of nearly two years, meaning clinics likely wouldn't open until late 2024 at the soonest. The advisory board would need to meet by March of next year, distribute a public report by the end of June and then adopt rules for the new program by July 4, 2024. The state would be required under the law to begin accepting license applications by July 10, 2024.
The state could impose taxes on psilocybin products, the measure says, although municipalities would be prohibited from adding additional local taxes.
Russell at ADAPT-WA, who filed the prospective amendment, told Marijuana Moment in an email that it's "basically a very similar initiative" to Oregon's therapeutic psilocybin law, Measure 109. One difference is that Washington's law would allow sublingual psilocybin products, Russell said.
Pat Donahue, a Spokane attorney who drafted the initiative language, told Marijuana Moment there are two key differences between the new ballot plan and Washington lawmakers' facilitated-use bill, SB 5660. First, rather than a single class of facilitators, the initiative would have two: community facilitators and medical-specific facilitators. It also allows a broader range of people with felony convictions to apply for licenses and participate in the new psilocybin industry.
The two classes of facilitators would have separate educational requirements. Community facilitators would only need a high-school diploma or equivalent, Donahue said, while medical licenses would be available to physicians, physician assistants, nurse anesthetists and other health professionals, and they would allow care providers to give clients microdose-amounts of psilocybin for personal use outside the clinic.
"I am extremely excited to see the recent surge in America's willingness to explore alternative approaches to prohibition and the failed war on drugs," Donahue said in an email. "Now more than ever it is important for individual states to put forth the hard work necessary to open the doors for robust legal frameworks providing access to demonstrably safe molecules like psilocybin."
Donahue noted that this November will be the 10-year anniversary of Washington and Colorado voters approving cannabis legalization, but federal authorities still consider that drug a Schedule I controlled substance. "Our recent history shows we cannot wait for trickle down action from the federal government," he said. "Psilocybin is safe. Study after study repeatedly shows psilocybin assisted therapy helps our suffering brothers and sisters."
Another ballot measure planned for Washington's ballot in November, backed by the advocacy group Commit to Change WA, would decriminalize possession of small amounts of any drug and pour nearly $150 million into expanded outreach and long-term recovery services for people with drug use disorders. Oregon voters passed a similar all-drug decriminalization measure in 2020.
Both Washington campaigns say the state has historically neglected treatment of drug use disorder, especially early outreach and long-term recovery. As a result, services are often unavailable to those who need them.
As for mental health indicators more generally, ADAPT-WA says Washington ranks the top states in the country for mental illness among. At the same time, the campaign says, the state ranks among the lowest in terms of available psychiatric bed capacity.
ADAPT's press release says the group has been hosting fundraisers in Seattle, Spokane and Olympia to help build support for the campaign. So far ADAPT has raised just over $6,600 for the facilitated psilocybin measure and spent roughly half of it, according state campaign finance records.
Meanwhile, the all-drug decriminalization proposal from Commit to Change WA, which has ties to ACLU of Washington, has raised more than $880,000.
Last year Washington's Supreme Court overturned the states felony law against drug possession completely, sending lawmakers scrambling to replace the law. Ultimately they approved a modest reform, reducing the state's felony charge for drug possession to a misdemeanor and earmarking more money for treatment. But the law's criminal penalties will expire in 2023, an effort to encourage lawmakers to revisit the policy.
The law, which took effect in May, was widely seen by advocates as a half-step toward meaningful reform. Many called on lawmakers to further invest in outreach and recovery and urged further dismantling of the criminal drug war.
At the municipal level, Seattle recently became the largest U.S. city to decriminalize psychedelics following a City Council resolution in October.
Read a presentation on the Washington psilocybin ballot measure below:
Hawaii Senate Unanimously Approves Psilocybin Task Force Bill, With Decriminalization Measures Still Pending