Washington Officials Step Up Push For Federal Marijuana Banking Reform Following String Of Deadly Robberies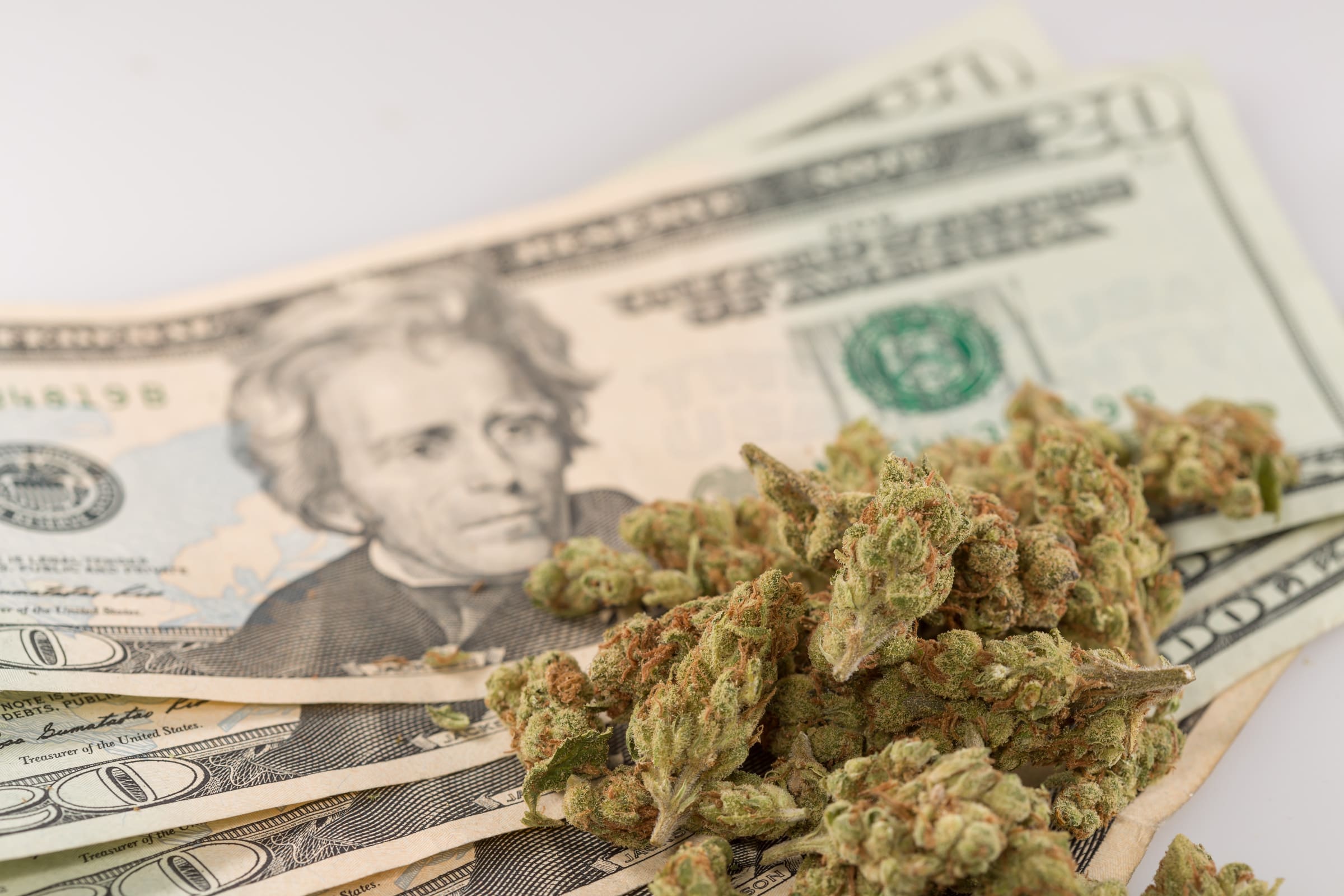 Washington State officials on Tuesday held a virtual roundtable to address the recent spate of deadly robberies targeting marijuana retailers, with regulators reiterating their call for a federal policy change and discussing steps the state can take on its own while Congress fails to act.
Lawmakers, advocates and representatives of cannabis businesses that have been recently robbed took part in the event, which was organized by the state's Liquor and Cannabis Board (LCB) after at least three people were killed within the span of four recent days at three different Washington cannabis retailers.
"This issue has been brought to the forefront of the public's attention in recent weeks because of the the horrific natures of that robberies sort that have occurred—but it's just a reminder that every robbery that occurs is a traumatic situation for those who are involved in it," Washington State Treasurer Mike Pellicciotti said at the event.
Looking forward to the #Cannabis Retail Safety Forum, hosted by Washington State Liquor and Cannabis Board, coming up at 10:15 am (PST). Watch live on TVW: https://t.co/zvwkZUNObw or watch via Teams here: https://t.co/IGvfpir5RM
#cannabisindustry

— WA State Treasurer (@WaTreasurer) March 29, 2022
Pellicciotii said it's become obvious that the problem comes back to the fact that "the cannabis businesses and retailers in our state and around the country are unable to bank and have to rely on cash."
While passing congressional legislation to protect banks that choose to service state-legal marijuana businesses "might not be the full fix for the situation," there's widespread recognition that the lack of protections is "a major contributing factor" to these violent robberies, he said.
"A decade of congressional dithering is enough," Pellicciotti said, referring to the fact that the House has six occasions approved marijuana banking legislation in some form, only to have it continually stall in the Senate. "We are at a point where Congress needs to pass the SAFE Banking Act."
UPDATE on the Cannabis Retail Safety Forum:
World of Weed Owner Alden Linn recounts the heartbreaking loss of Jordan Brown, one of his dedicated #cannabis dispensary employees who was shot and killed during a recently robbery, and the need for increased safety. pic.twitter.com/G48Kgonpy8

— WA State Treasurer (@WaTreasurer) March 29, 2022
Pellicciotti made similar remarks at a recent conference of the National Association of State Treasurers (NAST). And Colorado Treasurer Dave Young echoed that sentiment in a recent interview with Marijuana Moment.
"Since Washington State was such a leader in creating a legalized, regulated market for cannabis, I feel it's Washington State's role to be stepping forward and doing everything we can to really go to Congress and say, 'enough congressional deferring on this issue, and it's time to finally pass this,'" referring to the bipartisan Secure and Fair Enforcement (SAFE) Banking Act from U.S. Rep. Ed Perlmutter (D-CO).
State Treasurer Mike Pellicciotti joins the #Cannabis Retail Safety Forum to talk about his efforts to pass the #SAFEBankingAct and create a safer working environment for so many industry workers across the nation. pic.twitter.com/BQiWQFkoNt

— WA State Treasurer (@WaTreasurer) March 29, 2022
David Postman, chair of LCB, said that "we're running up against a wall from Congress that says, 'no, you can't do it all—we're not going to let you do that—even though your voters want to do that.'"
"We're going to have to keep hitting on that really hard," he said.
Aaron Varney of Dockside Cannabis told participants at the event that one thing state officials could do in the absence of federal reform would be to create a tax credit to help offset security costs for cannabis businesses, which can run as high as $70 per hour for on-site guards.
A representative of the World of Weed dispensary in Tacoma, which recently saw one of its employees killed during a robbery, also participated.
Tuesday's roundtable also included an advisor to Gov. Jay Inslee (D), National Cannabis Industry Association's (NCIA) Michael Correia, state Sen. Karen Keiser (D) and other stakeholders.
Perlmutter, for his part, is committed to getting something done before his retirement. He's even made a point to talk about enacting the reform legislation during committee hearings on ostensibly unrelated or wider-ranging legislation, like at a recent House Rules Committee hearing.
At a recent event hosted by the American Bankers Association (ABA), the congressman said that he will "continue to be a real pest, and persistent in getting this done" before he leaves Congress.
Following the bipartisan House passage of the banking bill, Perlmutter said he naively expected it "to sail through the Senate, which is always a bad assumption, because nothing sails through the Senate."
But he's taken pains to build support, including from current Senate leadership that has insisted on enacting comprehensive legalization with firm equity provisions in place before advancing a bill viewed as friendly to the industry.
Despite recently saying that he's "confident" that the Senate will take up his bill this session, the congressman recognized that while he's supportive of revisions related to criminal justice reform, taxation, research and other issues, he knows that "as we expand this thing, then we start losing votes, particularly Republican votes and we got enough votes in the Senate to do it" as is.
Perlmutter also brought up the fact that Treasury Secretary Janet Yellen has addressed the federal-state marijuana banking conflict and "she wants to get this off her plate and get it done."
Ahead of the ABA event, the financial group released a poll that it commissioned showing that a strong majority of Americans support freeing up banks to work with marijuana businesses without facing federal penalties.
Meanwhile, the number of banks that report working with marijuana businesses ticked up again near the end of 2021, according to recently released federal data.
It's not clear if the increase is related to congressional moves to pass a bipartisan cannabis banking reform bill, but the figures from the Financial Crimes Enforcement Network (FinCEN) signal that financial institutions continue to feel more comfortable servicing businesses in state-legal markets.
Some Republicans are scratching their heads about how Democrats have so far failed to pass the modest banking reform with majorities in both chambers and control of the White House, too. For example, Rep. Rand Paul (R-KY) criticized his Democratic colleagues over the issue in December.
In the interim, federal financial regulator Rodney Hood—a board member and former chairman of the federal National Credit Union Administration (NCUA)—recently said that marijuana legalization is not a question of "if" but "when," and he's again offering advice on how to navigate the federal-state conflict that has left many banks reluctant to work with cannabis businesses.
Georgia Lawmakers Approve Bill To Create Psychedelic Study Committee