VA opening up to cannabis? (Newsletter: Feb. 20, 2018)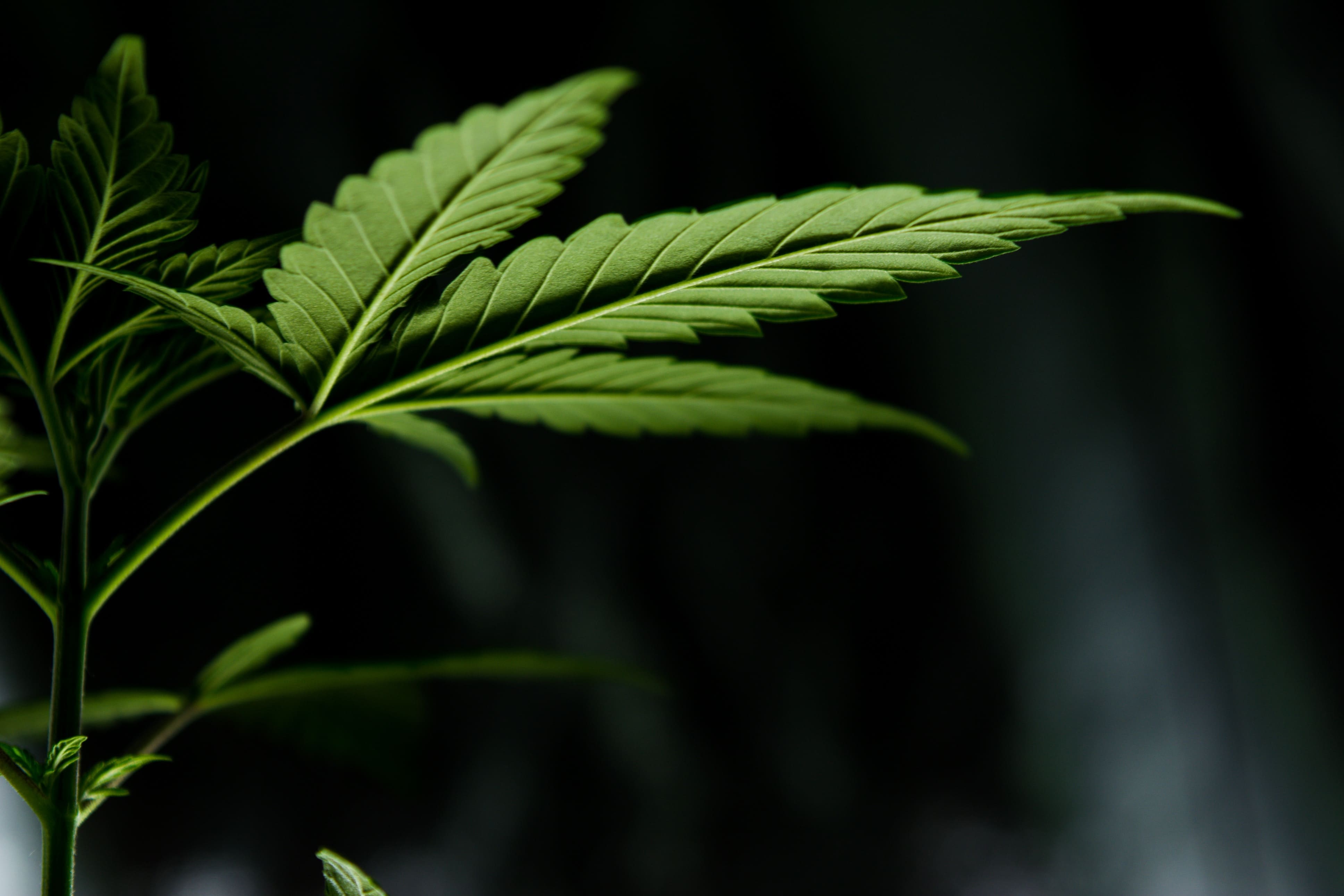 Subscribe to receive Marijuana Moment's newsletter in your inbox every weekday morning. It's the best way to make sure you know which cannabis stories are shaping the day.
NBA players push league for marijuana changes; AL decrim hearings; Bill Nye talks legalization
Your support makes Marijuana Moment possible…
Thanks so much to the folks at Canna Advisors for becoming the latest Marijuana Moment readers to start a monthly pledge to support my ongoing cannabis advocacy journalism…
"Because we work with clients across the country and the cannabis industry is in such a dynamic phase, we made a monthly pledge to Marijuana Moment because their reliable, consolidated industry information helps us stay current. Their mix of content has made Marijuana Moment a daily favorite across the Canna Advisors' team."
Subscribers who value this daily dispatch enough to show their support with a few dollars help me keep doing this. Please chip in and help ensure Marijuana Moment's continued operations.
http://patreon.com/marijuanamoment
/ TOP THINGS TO KNOW
A little-noticed update to a U.S. Department of Veterans Affairs webpage admits that it "can look at marijuana as an option for treating Veterans." And new documents reveal that Veterans Affairs Sec. David Shulkin discussed medical cannabis as part of an overseas trip.
/ FEDERAL
President Trump tapped a Pennsylvania state representative who vigorously opposed medical cannabis to serve as a regional director for the U.S. Department of Health and Human Services.
Pennsylvania congressional candidates Conor Lamb and Rick Saccone debated about medical cannabis.
/ STATES
A Virginia  bill allowing doctors to recommend CBD/THC-A medical cannabis oil for any condition is on its way to Gov. Ralph Northam's (D) desk.
The Alaska House of Representatives approved an industrial hemp bill.
An Indiana court ruled that admitting to past possession of marijuana — even in a state where doing so is legal — is sufficient justification for police to deploy a drug-sniffing dog.
A report concluded that fewer than one percent of California's marijuana growers have been licensed by the state.
The Maryland Senate Judicial Proceedings Committee will hear a marijuana legalization bill on Tuesday.
Alabama's House and Senate Judiciary Committees will hear marijuana decriminalization bills on Wednesday.
Maine lawmakers are considering reducing the number of marijuana plants people can grow at home.
Colorado regulators released a bulletin about upcoming changes to marijuana packaging and labeling requirements.
A Tennessee judge is allowing stores that were shuttered by police for selling CBD products to reopen.
Tuesday is Arkansas regulators' deadline for reviewing and scoring medical cannabis cultivation license applications. Winners will be announced next week.
Oklahoma senators debated medical cannabis in a TV appearance.
Here's a look at competing Missouri medical cannabis ballot measures that may qualify for the ballot this year.
Wisconsin Supreme Court candidate Rebecca Dallet said marijuana doesn't bother her. (About 18:00 into the audio.)
/ LOCAL
The Louisville, Kentucky Metro Council is holding public hearings on medical cannabis this and next week.
Activists behind Detroit, Michigan medical cannabis ballot initiatives that were overturned by a judge are considering whether to appeal the ruling.
/ INTERNATIONAL
The European Parliament's Committee on the Environment debated medical cannabis.
The New Zealand House of Representatives will debate a bill to increase drug penalties this week.
/ SCIENCE & HEALTH
A study concluded that "the oral fluid test is a highly valid method for detecting the presence of THC in the blood but cannot be used to accurately measure the blood THC concentration."
UC San Diego Health hasn't seen a rise in marijuana-related hospitalizations since legalization went into effect in California.
/ OPINION & ANALYSIS
The Boston Herald editorial board is criticizing legalization advocates' reaction to officials' suggestion that rules for marijuana delivery services and social use areas be slowed down.
/ CULTURE     
The National Basketball Players Association is pushing the NBA to allow medical cannabis use.
Scientist Bill Nye spoke with Rolling Stone about his support for legalizing marijuana.
MMA fighter Nate Diaz was shown lighting a joint on a UFC TV broadcast.
Comedian Seth Rogen posted a video of himself using a high-tech gravity bong.
Make sure to subscribe to get Marijuana Moment's daily dispatch in your inbox.
Legal cannabis could be on Missouri 2020 ballot (Newsletter: January 20, 2020)
Gabbard backs legalizing drugs; Biden reiterates legal marijuana opposition; Record expungement movement grows
Subscribe to receive Marijuana Moment's newsletter in your inbox every weekday morning. It's the best way to make sure you know which cannabis stories are shaping the day.
Your support makes Marijuana Moment possible…
This issue of Marijuana Moment, and our original reporting that is featured in it, are made possible by the generous support of 445 Patreon sponsors. Cannabis industry professionals receive valuable rewards for pledges of $25 and up.
Michael Mendez: "This is the best resource for cannabis news and policy. Thank you guys so much for everything you do! I wish I had more to pledge!"
Check out the perks of being a sponsor on our Patreon page.
https://www.patreon.com/marijuanamoment

/ TOP THINGS TO KNOW

Rep. Tulsi Gabbard (D-HI), a presidential candidate, is calling for the U.S. to legalize currently illicit drugs.
"If we take that step to legalize and regulate, then we're no longer treating people who are struggling with substance addiction and abuse as criminals and instead getting them the help that they need."
Former Vice President Joe Biden (D), a presidential candidate, reiterated his opposition to legalizing marijuana in an interview with the New York Times editorial board.
"What I'm arguing is there have been studies showing that it complicates other problems if you already have a problem with certain drugs."
Missouri activists are taking steps to place a marijuana legalization measure on the state's November ballot.

A new report on National Expungement Week shows that efforts to help people clear past marijuana records are rapidly growing.

/ FEDERAL

First daughter Ivanka Trump and her husband Jared Kushner reportedly attended a fundraising dinner with marijuana industry professionals in October 2018,

The Food and Drug Administration approved an expanded access protocol allowing a small number of patients to treat PTSD with MDMA-assisted psychotherapy.

The U.S. Department of Agriculture is being asked to let states continue structuring their hemp programs under the more limited provisions of the earlier 2014 Farm Bill through 2020.

The Supreme Court declined to take up a case concerning a tax fine against a marijuana business.

Sen. Elizabeth Warren (D-MA), a presidential candidate, sent a letter welcoming members of the National Cannabis Industry Association to a conference in Boston.

Sen. Bernie Sanders (I-VT), a presidential candidate, tweeted, "The criminalization of marijuana has been a disaster. We need to legalize it. We need to expunge past convictions.And we need to invest in communities destroyed by the war on drugs."

Sen. Ted Cruz (R-TX) tweeted about the 100-year anniversary of alcohol prohibition, saying, "Let's raise a glass and toast one of the least successful government regulatory schemes ever enacted. Turns out, Liberty works; statism, not so much."

Rep,. Dwight Evans (D-PA) tweeted about smokable hemp, saying, "Seems like it would be easier just to legalize marijuana for adult use already."

Here's a look at where members of the Illinois congressional delegation stand on marijuana.

The House bill to deschedule marijuana and fund expungement efforts got one new cosponsor for a total of 40.

The House resolution calling for marijuana legalization and decriminalizing addiction got 12 new cosponsors for a total of 15.

Alabama Republican congressional candidates said they oppose marijuana legalization but support medical cannabis.

/ STATES

New Mexico Gov. Michelle Lujan Grisham (D) is stepping up her push to legalize marijuana within the next month, though some leading Republican lawmakers are expressing concerns.

North Dakota Gov. Doug Burgum (R) pardoned 16 people for low-level marijuana offenses.

California's attorney general tweeted, "Illegal cannabis grows on California lands are damaging wildlife habitats, poisoning our water, and hurting our communities." Separately, lawmakers filed legislation to simplify and reduce marijuana taxes.

Rhode Island's House speaker said "this is not the year" for legalizing marijuana.

Kansas's House majority leader acknowledged broad public support for medical cannabis.

A Missouri judge issued a temporary restraining order blocking regulators from acting on a medical cannabis dispensary license application.

Arizona activists have so far collected more than 150,000 signatures in support of a proposed marijuana legalization ballot measure, and so far there's no well-organized opposition.

Oregon regulators issued a recall of marijuana products that failed pesticide testing. Separately, a report found that marijuana sales in the state "along the Idaho border are 420% the statewide average."

Michigan regulators issued a health and safety bulletin about the recall of marijuana products that failed safety compliance testing. Officials are also under fire for new public service ads that perpetuate anti-cannabis stereotypes.

—
Marijuana Moment is already tracking more than 1,000 cannabis bills in state legislatures and Congress this year. Patreon supporters pledging at least $25/month get access to our interactive maps, charts and hearing calendar so they don't miss any developments.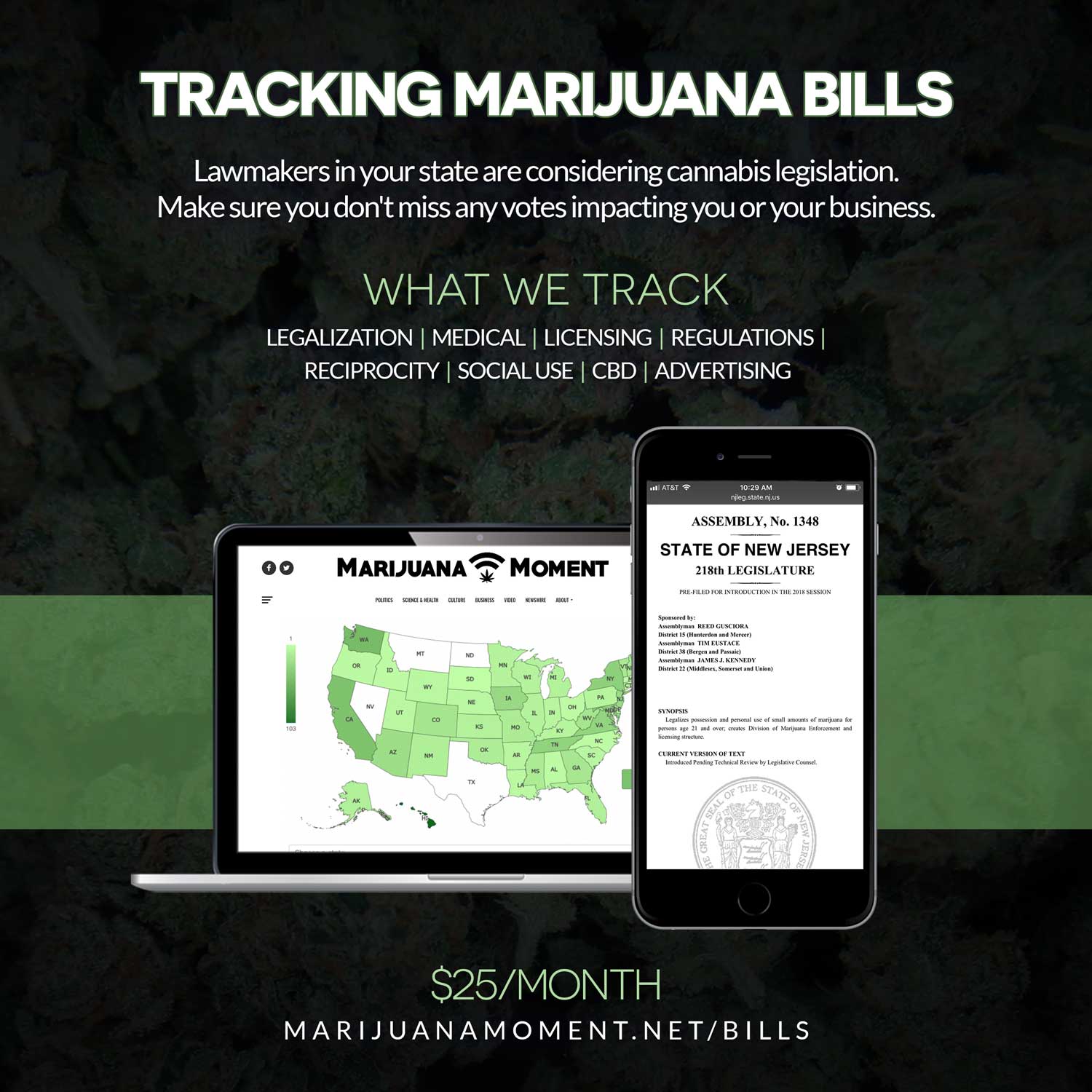 Learn more about our marijuana bill tracker and become a supporter on Patreon to get access.
—
/ LOCAL

The Las Cruces, New Mexico mayor is urging state lawmakers not to legalize marijuana.

/ INTERNATIONAL

Thailand's first medical cannabis clinic has seen thousands of patients in its first 10 days of operation.

Veterans Affairs Canada is considering is considering adding disposable cannabis vaping pens to a reimbursement program.

/ SCIENCE & HEALTH

A review concluded that "cannabinoids demonstrate some efficacy in the treatment of pain and chemotherapy-related nausea; limited data suggest potential benefits in the treatment of spasticity and anxiety" and that "risks of cannabinoids in older patients appear to be moderate, and their frequency comparable to other analgesic drug classes."

A study found that "chronic, heavy, recreational cannabis use was associated with worse driving performance in non-intoxicated drivers, and earlier onset of use was associated with greater impairment."

/ ADVOCACY, OPINION & ANALYSIS

The Virginia Sheriffs' Association is speaking out against legalizing marijuana.

A report from New Mexico Ethics Watch examines marijuana industry campaign contributions in the state.

/ BUSINESS

Fyllo acquired CannaRegs.

Canopy Growth Corporation is delaying the launch of its cannabis-infused beverages.

Union workers at Vireo Health New York ratified a new three-year contract.

Canopy Growth, Aurora Cannabis and Hexo Corp. are all facing potential class-action lawsuits.

/ CULTURE

The National Football League and NFL Players Association are close to an agreement on "significant modifications to the drug and disciplinary policies," with sources saying that a less punitive marijuana policy is likely to be enacted.
Make sure to subscribe to get Marijuana Moment's daily dispatch in your inbox.
China will import more U.S. hemp under Trump trade deal (Newsletter: January 17, 2020)
RI gov wants state-run marijuana stores; Congressman backs psilocybin ballot measure; NFL panel says CBD is "hype"; NM legal cannabis bill filed
Subscribe to receive Marijuana Moment's newsletter in your inbox every weekday morning. It's the best way to make sure you know which cannabis stories are shaping the day.
Your support makes Marijuana Moment possible…
By starting a $10 per month pledge on Patreon—or about 45 cents per issue of this newsletter—you can help us rely less on ads to cover our expenses, hire more journalists and bring you even more marijuana news.
https://www.patreon.com/marijuanamoment

/ TOP THINGS TO KNOW

Rhode Island Gov. Gina Raimondo (D) submitted a 2021 budget proposal to lawmakers that includes a plan to legalize marijuana and sell it through state-run stores.

China has agreed to import more hemp from the U.S. over the next two years under the trade deal President Trump this week. Historically, the U.S. has purchased a lot of the nonintoxicating cannabis crop from China.

Rep. Earl Blumenauer (D-OR), who has been a leading cannabis reform champion on Capitol Hill, told Marijuana Moment in an interview that he supports a 2020 ballot measure to legalize psychedelic mushrooms for therapeutic use in his home state of Oregon.

One day after New Mexico Gov. Michelle Lujan Grisham (D) put marijuana legalization on the legislature's 2020 agenda, lawmakers filed a new bill to make it happen. With a short 30-day session starting next week, votes will likely happen soon.

An expert committee created by the National Football League and NFL Players Association published a report saying that CBD is mostly "hype" instead of a proven treatment for the pain experienced by football players, and also taking the stance that medical cannabis itself is "a substance to approach with extreme caution."

/ FEDERAL

The U.S. Department of Agriculture filed a Federal Register notice about a new data collection system it is creating to keep track of hemp production license applications.

The Government Accountability Office found that the quality of information in Treasury Department reporting about individuals and entities sanctioned for involvement in narcotics trafficking could be improved.

The Drug Enforcement Administration published a guide aimed at helping to reduce drug misuse by college students.

The Federal Bureau of Investigation tweeted, "Raise a glass—today is the 100th anniversary of Prohibition, which led to the #FBI's pursuit of the American gangster. During the Roaring Twenties, mobsters spent their profits from bootlegging & speakeasies on 'Tommy' guns & bribes."

Rep. John Sarbanes (D-MD) tweeted, "At a House Subcommittee on Health hearing, I voiced support for medical cannabis research and highlighted the obstacles that current federal regulations pose to universities and research institutions hoping to study the health benefits of cannabis."

Rep. Jan Schakowsky (D-IL) tweeted, "We must decriminalize cannabis & expunge the records of those unfairly harmed by outdated and racist cannabis policies. We must also ensure adequate scientific research around the potential effects and benefits of cannabis use."

Rep. Barbara Lee (D-CA) tweeted, "As the first woman and African American co-chair of the Congressional Cannabis Caucus, I'm fighting with everything I've got to update our nation's outdated and discriminatory marijuana laws."

Rep. Tony Cárdenas (D-CA) tweeted, "Nearly 75% of all people arrested for cannabis related offenses are under the age of 30. 1/4 of those are 18 or younger. That's almost a quarter of a million teenagers arrested for these types of offenses each year."

Rep. Ann Kirkpatrick (R-AZ) is seeking treatment for alcohol dependence.

The House bill to deschedule marijuana and fund programs to repair the harms of the drug war got one new cosponsor for a total of 68.

The House bill to require the Department of Veterans Affairs to study medical cannabis got one new cosponsor for a total of 102.

The House bill to legalize medical cannabis for military veterans got one new cosponsor for a total of five.

The House bill to remove barriers to marijuana research got one new cosponsor for a total of 17.

California Democratic congressional candidate Emanuel Gonzales tweeted, "Legalize marijuana across the USA, expunge previous offenses, use tax revenue to fund infrastructure projects and apprentice programs, put marijuana dispensaries in @DeptVetAffairs hospitals and clinics."

New Jersey Democratic congressional candidate Hector Oseguera tweeted, "Many lives have been ruined by the failed #WarOnDrugs & I sincerely look forward to destroying that unjust & racist policy."

/ STATES

New Jersey Gov. Phil Murphy (D) tweeted a video about a man who benefits from medical cannabis, saying, "We've made incredible strides expanding access to medical marijuana to help patients like Darren live fuller, healthier lives. We will continue to expand access to medicine and compassionate care."

Utah's Senate majority leader is supporting forthcoming legislation to remove special medical cannabis packaging requirements and allow patients to have prior marijuana convictions expunged.

An Ohio legislative committee approved hemp rules. Meanwhile, the state's medical cannabis program has 78,000 registered patients one year into legal sales.

New Mexico regulators held a public hearing on proposed medical cannabis rules changes.

California's Osteopathic Medical Board discussed guidelines for recommending medical cannabis.

Illinois regulators approved another group of medical cannabis dispensaries to sell recreational marijuana.

Nevada regulators released an annual tax report that includes information on marijuana revenue.

Pennsylvania regulators are conducting a survey of medical cannabis patients and caregivers.

Oklahoma lawmakers have filed several bills to enact medical cannabis restrictions.

The Massachusetts legislature's Joint Committee on Cannabis Policy will hold a hearing on January 28.

/ LOCAL

Kansas City, Missouri's mayor spoke about his move to pardon thousands of misdemeanor marijuana convictions before the Missouri Black Legislative Caucus.

/ INTERNATIONAL

Canada's health minister said it is premature to consider decriminalizing drugs.

Malta's parliamentary secretary predicted that marijuana will be legalized within two years.

The UK's justice secretary said the government will not legalize marijuana anytime soon.

/ SCIENCE & HEALTH

A study of cannabis laws in the Netherlands found that zero tolerance policies are "related to a reduction in jobs and a growth in crime related to hard drugs."

A study suggested that "psilocybin-assisted psychotherapy holds promise in promoting long-term relief from cancer-related psychiatric distress."

/ ADVOCACY, OPINION & ANALYSIS

The National Cannabis Industry Association, Cannabis Trade Federation and dozens of other industry groups sent a letter responding to Senate Banking Committee Chairman Mike Crapo's (R-ID) concerns about marijuana banking legislation.

A top staffer for prohibitionist group Smart Approaches to Marijuana stepped down to work for the presidential campaign of former New York City Mayor Michael Bloomberg (D).

Students for Sensible Drug Policy is partnering with Fight for the Future on a campaign to ban facial recognition technologies from college campuses.

Several Mississippi doctors issued a response to the state Board of Health's opposition to a medical cannabis ballot measure.

/ BUSINESS

As Eaze plans to soon announce a pivot to launching its own marijuana products, the company has reportedly undergone unannounced layoffs and scrambled to raise a round of funding to address low cash reserves.

High Times plans to open marijuana dispensaries in Los Angeles and Las Vegas.

Arcview Market Research and BDS Analytics published a report finding that global cannabis sales rose 48% to $15 billion in 2019.

​​​​​​Wikileaf Technologies Inc. has a new CEO.

/ CULTURE

Actor Brian Cox was dumped as a patron of an elderly care center over his admission that he enjoys consuming marijuana.

Make sure to subscribe to get Marijuana Moment's daily dispatch in your inbox.
Photo courtesy of Mike Latimer.
Congressional cannabis hearing planned with prohibition victims (Newsletter: January 16, 2020)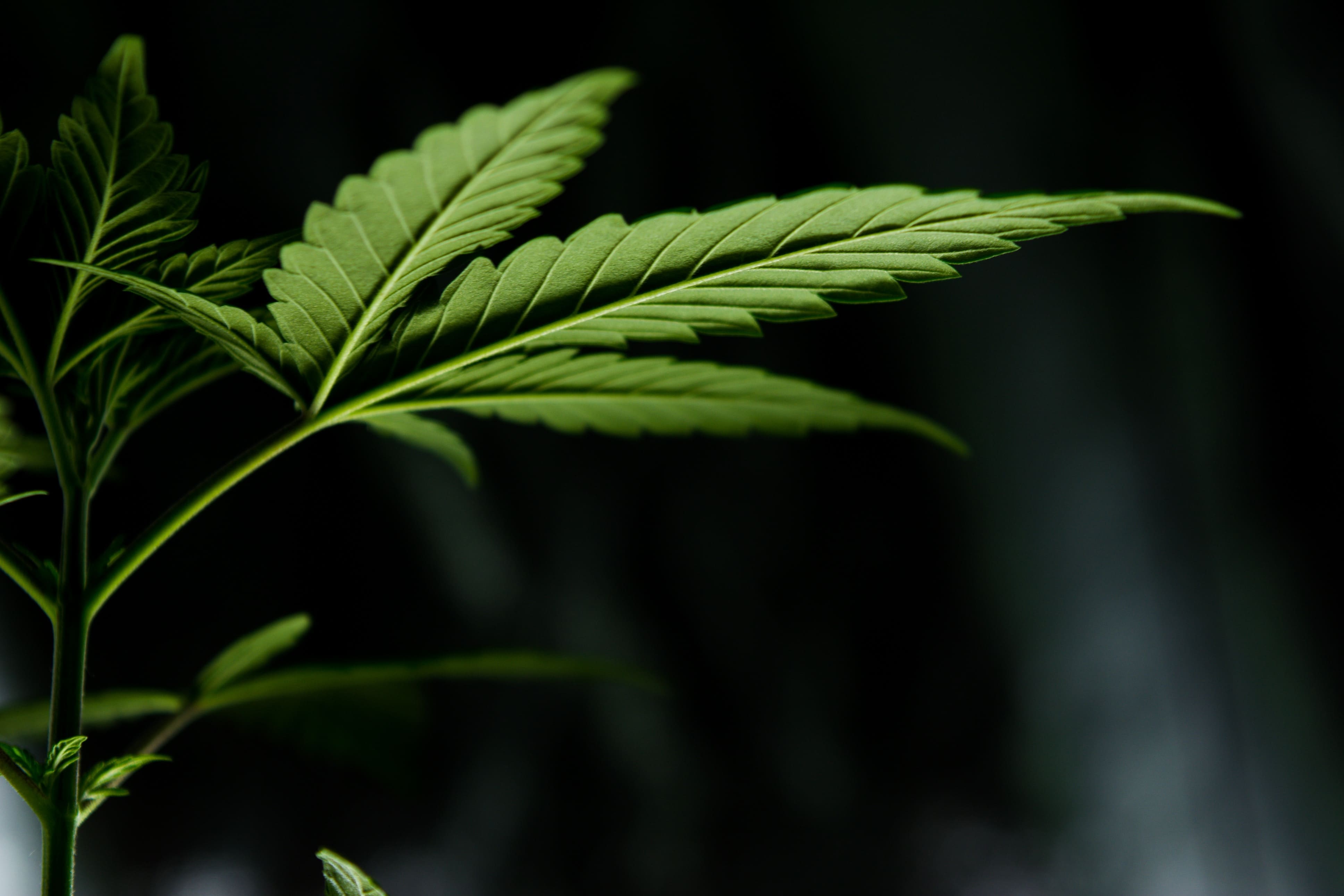 NM gov presses lawmakers to legalize marijuana in 2020; VT gov more open to legal cannabis sales; VA decrim bill advances
Subscribe to receive Marijuana Moment's newsletter in your inbox every weekday morning. It's the best way to make sure you know which cannabis stories are shaping the day.
Your support makes Marijuana Moment possible…
There are now 975 cannabis-related bills moving through state legislatures and Congress for 2020 sessions.

Never let a marijuana bill catch you by surprise with exclusive access to Marijuana Moment's custom-built cannabis legislation tracker for just $25/month.
https://www.patreon.com/marijuanamoment

/ TOP THINGS TO KNOW
The House Energy and Commerce Subcommittee on Health held a hearing on six marijuana bills, including two that would federally legalize cannabis. Much of the focus was on research, with the Drug Enforcement Administration revealing that it has a cultivation licensing proposal pending before the White House Office of Management and Budget, and the National Institute on Drug Abuse decrying roadblocks created by marijuana's Schedule I status.

At the hearing, formerly anti-legalization Rep. Joe Kennedy III (D-MA) announced that committee leadership has agreed to hold a second yet-to-be-scheduled committee discussion focused on people harmed by cannabis prohibition.
"There are also critical stakeholders who are missing: those whose lives have been directly touched by our broken marijuana policies, people unjustly incarcerated, patients who rely on medical cannabis, researchers with expertise who are yearning to learn more, small business owners trying to find fair footing in a new industry."
New Mexico Gov. Michelle Lujan Grisham (D) formally asked lawmakers to legalize marijuana during the short 30-day legislative session beginning this month by including the issue in her written session call, meaning that the state could be the next in the U.S. to end prohibition. She is also pushing for legislation to limit the state's medical cannabis program to residents only.

Vermont Gov. Phil Scott (R) seems more and more open to legalizing marijuana sales after years of reluctance, and now appears to be counting on cannabis revenue to support an after-school program he's pushing. One key lawmaker said he wants to get a bill to the governor's desk by early March.
The Virginia Senate Judiciary Committee referred a marijuana decriminalization bill to a subcommittee with an expectation it will be amended to address certain issues and return to the full panel for a vote on moving it to the floor. The development comes despite the state ACLU chapter taking the position that the "status quo" would be preferable to simple decriminalization.

/ FEDERAL

Surgeon General Jerome Adams said he is worried about syringe exchange programs being harmed by getting conflated with supervised injection sites, and said he has visited one of the former facilities in Canada.

A federal judge is considering a request to issue a final judgement declaring that a proposed safe consumption site for illegal drugs would not violate federal law.

Former South Bend, Indiana Mayor Pete Buttigieg (D), a presidential candidate, spoke about his support for decriminalizing drug possession and said that people would "be much better off, frankly, with regular marijuana" than using synthetic cannabinoids.

Sen. Brian Schatz (D-HI) said that Attorney General William Barr did not respond to a letter from lawmakers about improving marijuana research.

Sen. Jeff Merkley (D-OR) announced that Oregon State University's Global Hemp Information Center is receiving $2.5 million in federal funds.

Rep. Jared Huffman (D-CA) is circulating draft legislation that would federal direct federal agencies to develop plans to address illegal water diversion for marijuana cultivation and create a structure for funding remediation of cannabis grow sites that threaten to impact watersheds and water quality.

Rep. Jan Schakowsky (D-IL) spoke about the racially disproportionate harms of the war on drugs and the need to treat addiction as a health issue.

The House bill to make it easier for scientists to study marijuana got one new cosponsor for a total of 16.

/ STATES

Illinois Gov. J.B. Pritzker (D) said he hasn't used marijuana since its legalization, and he also discussed the importance of equity in the industry. Separately, the state Supreme Court heard arguments in a case on whether the smell of marijuana grants police the right to conduct warrantless vehicle searches.
Alaska Gov. Mike Dunleavy (R) appointed a new member to the state's marijuana regulatory body.

California's attorney general tweeted about the state's Campaign Against Marijuana Planting, which he said is "the nation's largest illegal #marijuana eradication team" that works to "destroy illegal grow sites on public and private land."

Pennsylvania's agriculture commissioner spoke about the state's history with hemp prior to prohibition.

Kentucky's House speaker said that if medical cannabis is legalized it won't be taxed.

Tennessee's House speaker discussed his opposition to medical cannabis.

New York's Assembly speaker tweeted, "Industrial hemp has become an important part of our agricultural economy, growing in 4 years from 60 to 20,000 acres farmed by 480 growers. We'll keep working to attract processors & manufacturers of popular hemp products and invest in our agriculture & upstate economy."

A New Jersey court said regulators cannot review new medical cannabis business licenses while applicants who were rejected on technicalities challenge the process.

The South Carolina House Medical, Military, Public and Municipal Affairs Committee's Health and Environmental Affairs Subcommittee will hold a hearing on a medical cannabis bill on Tuesday.

Oregon regulators will consider marijuana rules changes and violation stipulated settlement agreements on Thursday.

—
Marijuana Moment is already tracking more than 900 cannabis bills in state legislatures and Congress this year. Patreon supporters pledging at least $25/month get access to our interactive maps, charts and hearing calendar so they don't miss any developments.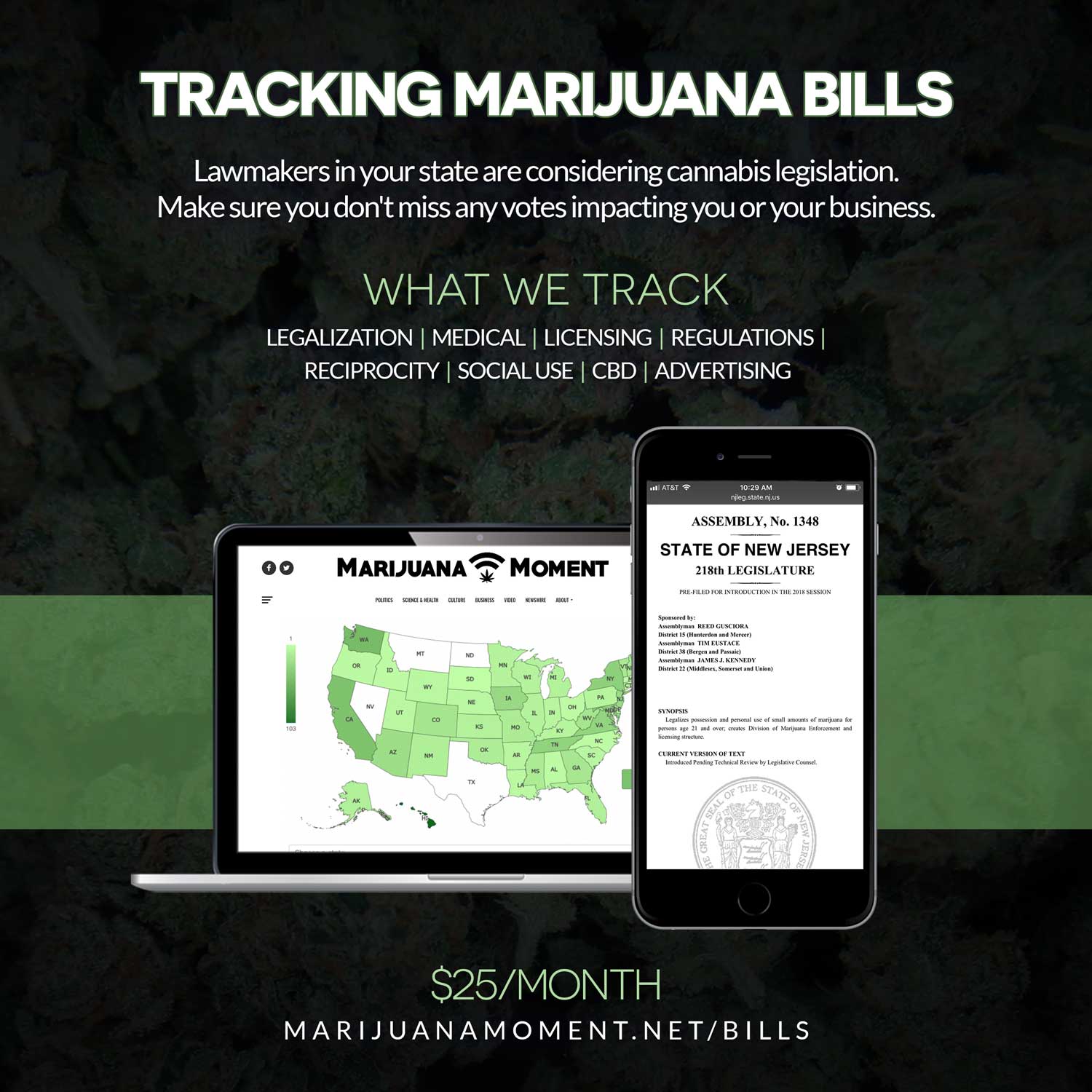 Learn more about our marijuana bill tracker and become a supporter on Patreon to get access.
—
/ LOCAL

The Cleveland, Ohio City Council's Safety Committee unanimously approved a marijuana decriminalization proposal.

/ INTERNATIONAL

The European Commission is proposing a unified European Union vote on pending World Health Organization cannabis scheduling recommendations.

French lawmakers launched a fact-finding mission on cannabis.

Bahamas Prime Minister Hubert Minnis said he is "very disturbed" that a draft marijuana commission report leaked.

The Australian Capital Territory government launched a public education campaign about marijuana in advance of a local legalization law taking effect.

/ SCIENCE & HEALTH

A review concluded that "pre-clinical research using animal models of innate fear and anxiety-like behaviors have found anxiolytic, antistress, anticompulsive, and panicolytic-like effects of CBD" and that "preliminary evidence from human trials using both healthy volunteers and individuals with social anxiety disorder, suggests that CBD may have anxiolytic effects."

Researchers developed a process that "furnishes psilocybin in five steps in 23% overall yield from an inexpensive acetoxyindole starting material" that us "amenable to providing high-quality psilocybin."

/ ADVOCACY, OPINION & ANALYSIS

The American Psychological Association is calling on Congress to remove roadblocks to marijuana studies, and specifically wants the Drug Enforcement Administration be relieved of its role in reviewing requests to conduct such research.

/ BUSINESS

Cornbread Hemp announced it is the first Kentucky CBD company to have received organic certification from the U.S. Department of Agriculture's National Organic Program.

Curaleaf Holdings, Inc. announced it closed a $300 million Senior Secured Term Loan Facility from a syndicate of lenders.

COMPASS Pathways announced that it received a patent relating to methods of treating drug-resistant depression with a psilocybin formulation.

Michigan retailers have sold more than $10 million worth of recreational marijuana products in the first six weeks of legal sales.

/ CULTURE

Musician Carlos Santana is partnering with Left Coast Ventures to develop CBD products.
Make sure to subscribe to get Marijuana Moment's daily dispatch in your inbox.