The Feds Are Hiring Professional Marijuana Joint Rollers…Kind Of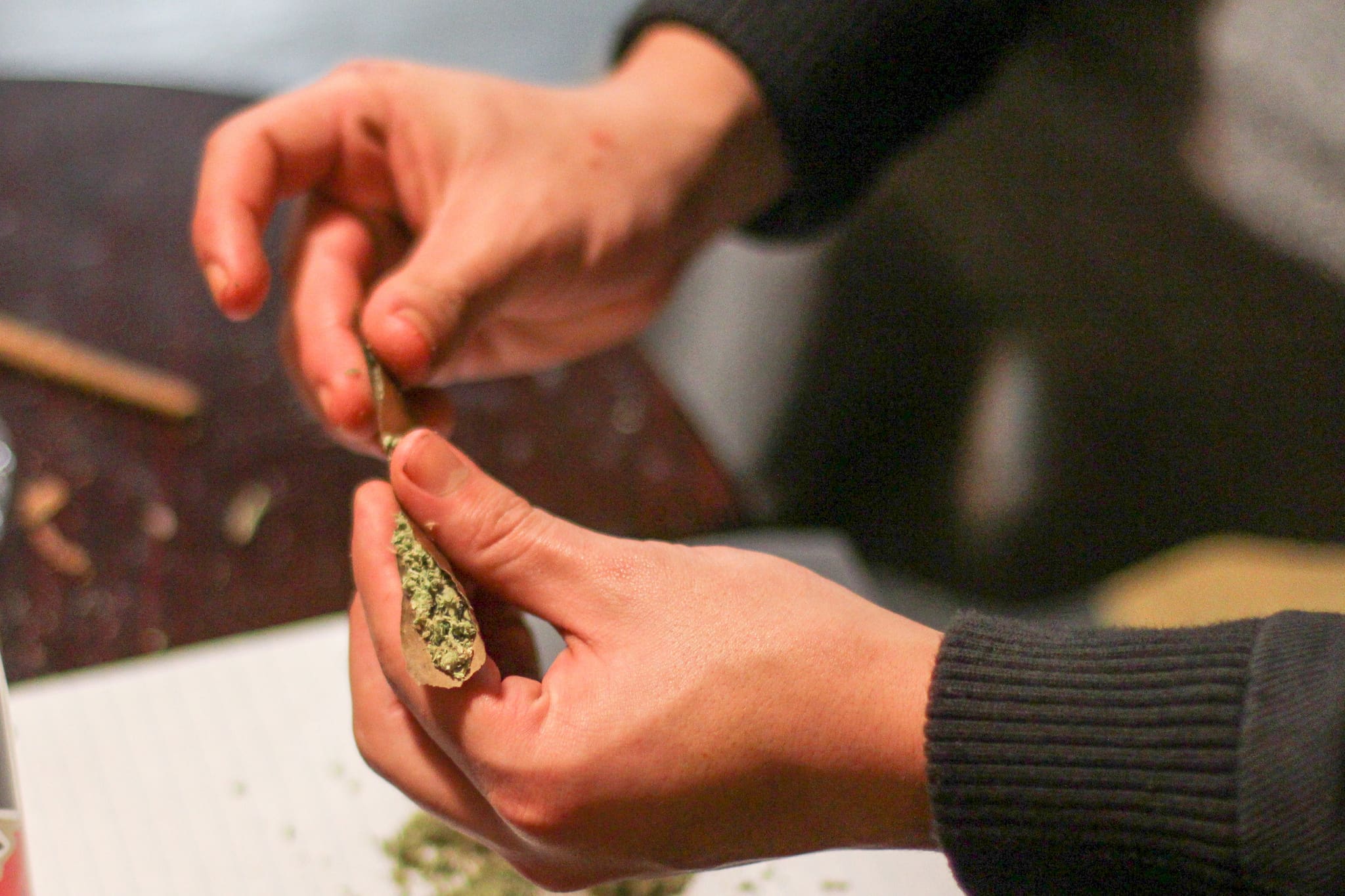 The federal government is hiring professional joint rollers, according to a recent notice published by the National Institute on Drug Abuse (NIDA).
OK, that's oversimplifying the job quite a bit. But twisting up "standardized marijuana cigarettes" with strains of various potencies will be one of the responsibilities of whatever small business lands a contract with NIDA to prepare and distribute research drug products.
If your business is capable of analyzing cannabinoids and research chemicals, creating "drug dosage forms" for compounds like THC and producing marijuana and nicotine research cigarettes "of varying strengths and specifications," this could be the gig for you. Applicants must also obtain licenses to manufacture, research, distribute and export and import Schedule I and II drugs before the time of the contract award, which is estimated to be July 2019.
Here's the full description of the job responsibilities:
-Acquire hard-to-find controlled and uncontrolled drug compounds and/or drug dosage forms and analyze purity, authenticity, and stability of these compounds while storing them in a secure and DEA-approved facility and having the capability to ship these compounds to research investigators.
-Manufacture standardized marijuana cigarettes within a range of varying concentrations of delta-9-THC and analyze strength and stability of them at various intervals while having the capability to maintain a secure shipping facility and to ship marijuana cigarettes to research investigators.
-Manufacture nicotine research cigarettes and analyze them for required chemical constituents at various intervals while having the capability to store and ship securely these nicotine research cigarettes to research investigators.
The successful applicant must be able to demonstrate "extensive experience with and the ability to perform the above tasks," NIDA's notice says.
There's no information available in the federal posting about how much the contract award is worth—but the pay is presumably higher than what rapper Waka Flocka Flame offered for a full-time blunt roller position in 2015.
Here Are The DEA's Newest Slang Terms for Marijuana: 'Shoes,' 'My Brother' And More
Photo courtesy of Martin Alonso.
Sierra Club Gives Tips On Using Marijuana In An Environmentally Friendly Way
A leading environmental conservationist group wants to help you sustainably and safely consume marijuana.
The Sierra Club, which has not historically weighed in on cannabis issues, released a guide last week that makes a series of recommendations about how to source marijuana in a way that's healthy and good for the environment.
They said that, absent regulations from federal agencies like the Food and Drug Administration or U.S. Department of Agriculture, consumers are left in the dark when it comes to best practices. And the 129-year-old environmental nonprofit is here to help.
"The majority of Americans now live in states where they can legally consume medicinal or recreational cannabis," the new guide published this month in the Sierra Club's print magazine says. "As more ways to lawfully partake become available, the choices can be confusing."
The medicinal and recreational cannabis industry is in many ways opaque and in flux. Here are some best practices for consuming safely and sustainably: https://t.co/0BYXguLoME via @Sierra_Magazine

— Sierra Club (@SierraClub) January 4, 2021
The article lists five tips for marijuana enthusiasts during a time when more and more state-legal markets are coming online.
–Buy organic—or "organic-ish." Because marijuana remains federally illegal, there isn't an opportunity for cannabis companies to obtain a standard organic certification. But consumers should look for a Clean Green or Sun+Earth label, as these third-party organizations also maintain strong standards and help businesses gain formal certification.
–Buy outdoor-grown marijuana. The carbon footprint for indoor-cultivated cannabis can be significant, as the process relies heavily on electronic lighting. That's not the case for outdoor-grown flower. Sierra Club said "the production of one kilogram of indoor-grown cannabis results in 4,600 kilograms of carbon dioxide emissions, the equivalent of driving the United States from coast to coast 11 times."
–Familiarize yourself with the marijuana producer. The illicit market doesn't disappear when a state launches a legal cannabis market. And because illicit sellers are unregulated, they may be using harmful pesticides, or cultivating their products on public lands in ways that can hurt surrounding wildlife. That said, a 2019 study did find that illegal cultivation in national forests declined post-legalization in Oregon and Washington State.
The guide also notes that certain states encourage cannabis companies to enroll in energy-saving programs. Colorado has taken it a step further, with the governor announcing last year that the state was rolling out pilot programs to promote sustainability cooperation between the cannabis and alcohol markets by using carbon dioxide from the brewing process to stimulate marijuana plant growth.
–Look for a Certificate of Analysis. That's easier said than done in states where marijuana remains prohibited, but for consumers in legal states, it's an important component, as it means the products have been tested for heavy metals, mold and other potentially dangerous substances.
–Be wary of packaging. As in other industries, plastic and packaging is an environmental problem. Seeking out products with low-waste packages can help mitigate that issue, Sierra Club said. For example, there are some companies that use recycled plastics recovered from the ocean. Alternatively, consumers could try to find hemp-based packaging.
The guide also offers tips for specific types of cannabis products.
For example, when it comes to edibles, consumers should seek out vegan goodies. Beyond arguments that a plant-based diet represents a humane alternative, it's also the case that animal agriculture is overly polluting and resource intensive.
For smoking, the group says that glass pipes are "inherently earth-friendlier" than rolling papers, as they cut down on waste and production. The environmentally conscious cannabis consumer should also buy flowers in jars instead of as single pre-rolls, "to reduce throwaway packaging."
As far as vaping goes, Sierra Club recommends spending your money with companies that offer recycling programs for used cartridges.
Meanwhile, activists in Montana are also seeing a link between environmentalism and marijuana. A voter-approved initiative to legalize cannabis in the state calls for a significant amount of tax revenue from marijuana sales to be allocated to conservation programs.
Biden AG Pick Merrick Garland Wants To Defer To DEA On Marijuana Science And Classification
Photo by davide ragusa on Unsplash.
Killer Mike Challenges Joe Biden To Adopt Bernie Sanders's Marijuana Legalization Plan
Rapper and activist Killer Mike is challenging President-elect Joe Biden to take a note from Sen. Bernie Sanders (I-VT) and use executive authority to broadly reform federal marijuana laws as soon as he takes office.
In an interview with TMZ that was released on Wednesday, the artist stressed the need to legalize cannabis and do it in a way that lifts up communities that have been disproportionately impacted by the war on drugs. He said Biden can help facilitate that by federally descheduling marijuana through executive action on day one—a proposal Sanders pitched during his presidential run.
"I want to challenge Joe Biden to do what Bernie Sanders did," Killer Mike, who served as a campaign surrogate for the senator, said. "He would have descheduled it the first day of his presidency. You have the power of that pen to invoke things like gun laws. You should have the power of that pen to take it off the Schedule I list so that, if nothing else, it is decriminalized to the point that kids' lives aren't being ruined today."
But Biden has not indicated that marijuana reform would be an immediate priority for his administration. In fact, he remains opposed to adult-use legalization despite supermajority support within his party.
The president-elect has only gone so far as to back modest cannabis rescheduling, decriminalizing possession, expunging past records, legalizing medical marijuana and protecting states' rights to enact their own policies. Biden did select a head of a major federal health agency who is amenable to reform, however, and in his role he could help facilitate rescheduling.
As far as Biden in concerned, he feels marijuana should be placed in Schedule II, the second most restrictive category under the Controlled Substances Act, along with cocaine. But advocates argue that does not go far enough and could have an inadvertent, adverse impact on state-legal markets. They're pushing him to adopt a policy of complete descheduling, which would be accomplished if a bill approved by the House earlier this month makes it through the Senate and onto the president's desk.
With respect to executive action, it should be noted that experts have raised questions about the feasibility of unilaterally ending prohibition through that process, much less on the first day of a presidency.
In the TMZ interview, Killer Mike also talked about local reform in his home state state of Georgia, stating that he will be pushing the governor and legislature to enact legalization. The policy change is inevitable, he said, but lawmakers must ensure that there's "a presence of African-American ownership in Georgia for marijuana."
"We have had young men serve 10, 20, 30, 40 years and then they get out and they cannot participate in the trade that they help build," he said. "That's like a moonshiner who moonshined through prohibition not getting the chance to have a liquor license. We've done that mistake before so I want to demand NORML and other marijuana organizations out there to get people of color on the forefront."
"I'm going to be frank and say Black folks deserve it. We deserve at least 25 percent of the marijuana industry because it has truly been built on our backs, and we need more MedMen that are owned by men that look like me," he added. "I want to demand that progressives, and especially Black Democrats that are out there, start to demand locally marijuana policy on a state level that is inclusive of the people."
Georgia is at the center of national attention right now, as two Democratic Senate hopefuls enter into a runoff election next week. And the outcome of those races could determine the fate of federal marijuana policy because if both Democrats win, the party will retake the Senate and would be in a much better position to advance reform.
New York Lawmakers Prefile Eight Marijuana Bills For 2021 As State Pursues Legalization
NBA Could Permanently End Marijuana Tests So It Doesn't Become 'Big Brother,' Commissioner Says
A temporary NBA policy not to randomly drug test players for marijuana may well become permanent, the league's commissioner said this week.
"We decided that, given all the things that were happening in society, given all the pressures and stress that players were under, that we didn't need to act as Big Brother right now," Commissioner Adam Silver told NBC's Today. "I think society's views around marijuana has changed to a certain extent."
Rather than mandate blanket tests, he said the league would be reaching out to players who show signs of problematic dependency, not those who are "using marijuana casually."
"I'd say the same thing about alcohol or any other substance," Silver said.
He made similar remarks in a recent interview with The Sports Daily, stating that he's "not sure whether marijuana should be treated differently than other substances, including alcohol, that are otherwise legal that players could be using and creating issues around."
"I recognize that society's views around marijuana use have changed dramatically since these rules were put in place, and in many ways the suspension of random testing this season is a recognition of that," he said. "If our players are traveling from jurisdiction to jurisdiction—from jurisdictions that do not have prohibitions to jurisdictions where there's still criminal penalties for possession and use of marijuana—we want to make sure we're not creating a trap for our players and putting in place rules that will put them in the crosshairs of the law."
"It doesn't mean there isn't still a concern from the league that marijuana, no different than alcohol, can be abused," he added. "It's something that we want to play close attention to, especially given the incredible stress that our players are often under, and particularly given the stress of playing in a pandemic."
NBA initially announced a temporary suspension of cannabis drug testing earlier this year, as players finished out their season in the so-called "bubble" arena in Orlando. That was later extended to the entire 2020-2021 season following an agreement between the league and the players' union
Michele Roberts, the head of the National Basketball Players Association (NBPA) who also joined the board of the major cannabis company Cresco Labs this year, predicted in a recent interview that a formal change to codify the policy indefinitely could come as early as "next season."
While NBA won't be subjecting players to random drug testing for THC, they will continue to test "for cause" cases where players have histories of substance use, for example.
If NBA does ultimately end marijuana testing, it would be another example of evolving drug policies within national sports leagues. Earlier this year, the MLB announced that players would not longer be tested for cannabis, though they're barred from being sponsored by marijuana companies.
The NFL also made the decision to end suspensions for positive drug tests as well as limiting the testing window.
Georgia Senate Candidate Pitches Marijuana Legalization Plan To Young Voters On TikTok