Texas Lawmakers Approve Marijuana And Psychedelics Reform Bills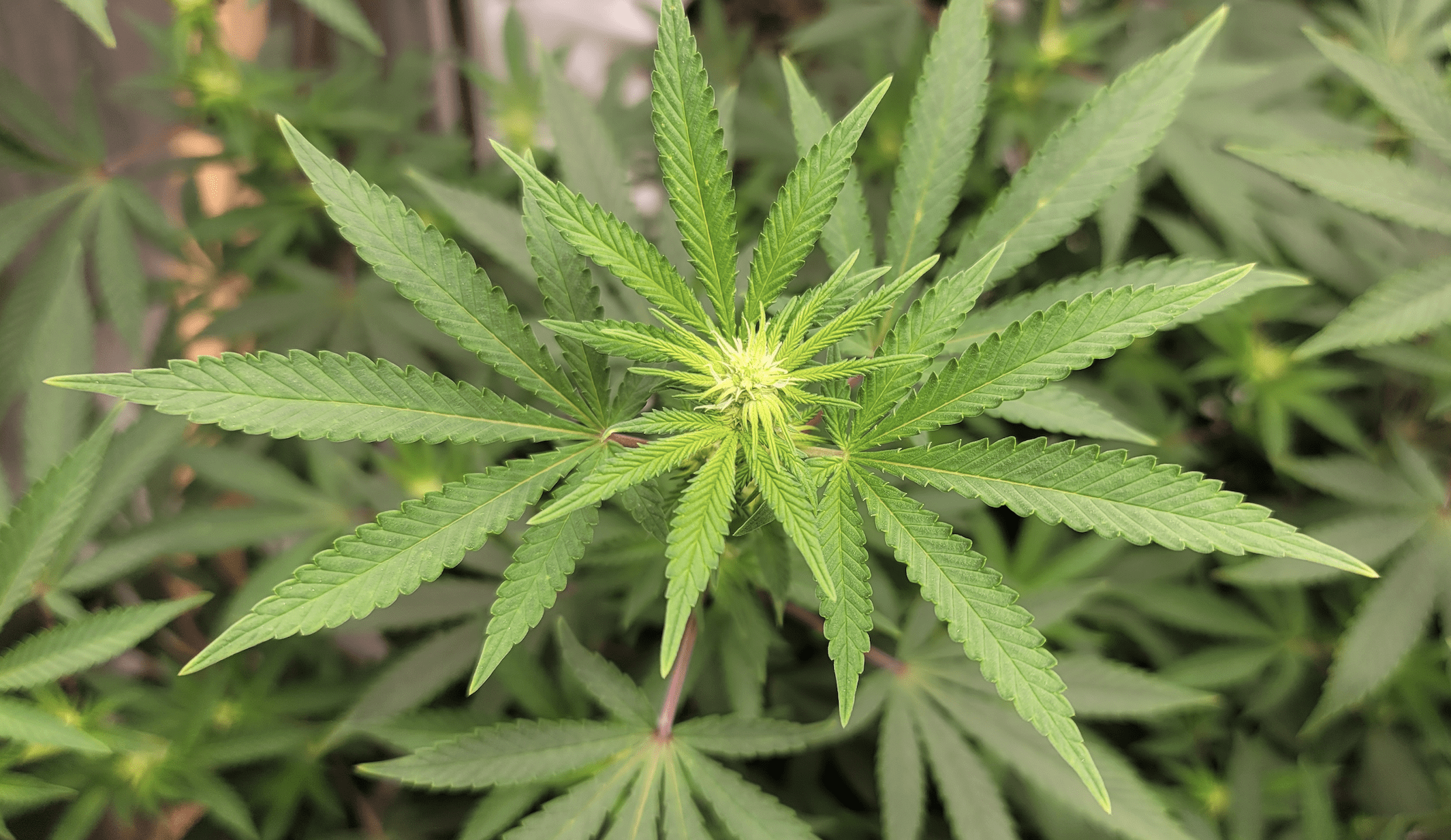 The Texas House of Representatives on Tuesday approved a bill to reduce penalties for possession of marijuana concentrates—and lawmakers separately advanced legislation to require studies on the therapeutic potential of certain psychedelics for military veterans.
These actions come at the beginning of a busy week for drug policy reform in the legislature. Additional proposals to decriminalize cannabis possession and expand the state's medical marijuana program are set to be considered on the House floor over the coming days.
The cannabis concentrates measure would make it so possession of up to two ounces of those products would be downgraded to a class B misdemeanor. The bill cleared the House Criminal Jurisprudence Committee earlier this month, and now it's been approved on second reading in the full chamber, with a final vote to send it to the Senate expected as early as Wednesday.
"With about 30 days left in the legislative session, we are so pleased to see the Texas House advancing meaningful changes to our state's marijuana laws," Heather Fazio, director of Texans for Responsible Marijuana Policy, told Marijuana Moment. "Now the focus shifts to the Senate, which has historically been a steep uphill battle."
Meanwhile, the psychedelics research legislation from Rep. Alex Dominguez (D) passed in the House Public Health Committee on Monday. The panel approved amendment that includes changes limiting the scope of the state-funded study to focus on military veterans with post-traumatic stress disorder (PTSD), rather than a broader list of conditions attached to the initial bill.
The legislation would require the state to study the medical risks and benefits of psilocybin, MDMA and ketamine for veterans in partnership with Baylor College of Medicine and a military-focused medical center. It was also amended to mandate a clinical trial into psilocybin for veterans with PTSD, in addition to a broader review of the scientific literature on all three substances.
The Health and Human Services Commission would have to submit quarterly reports on their progress, with a full report on the panel's findings be due by December 2024.
But while both of these bills represent significant developments in drug policy in Texas, they're just the first pieces of legislation on the issue that will be taken up by lawmakers this week.
—
Marijuana Moment is already tracking more than 1,000 cannabis, psychedelics and drug policy bills in state legislatures and Congress this year. Patreon supporters pledging at least $25/month get access to our interactive maps, charts and hearing calendar so they don't miss any developments.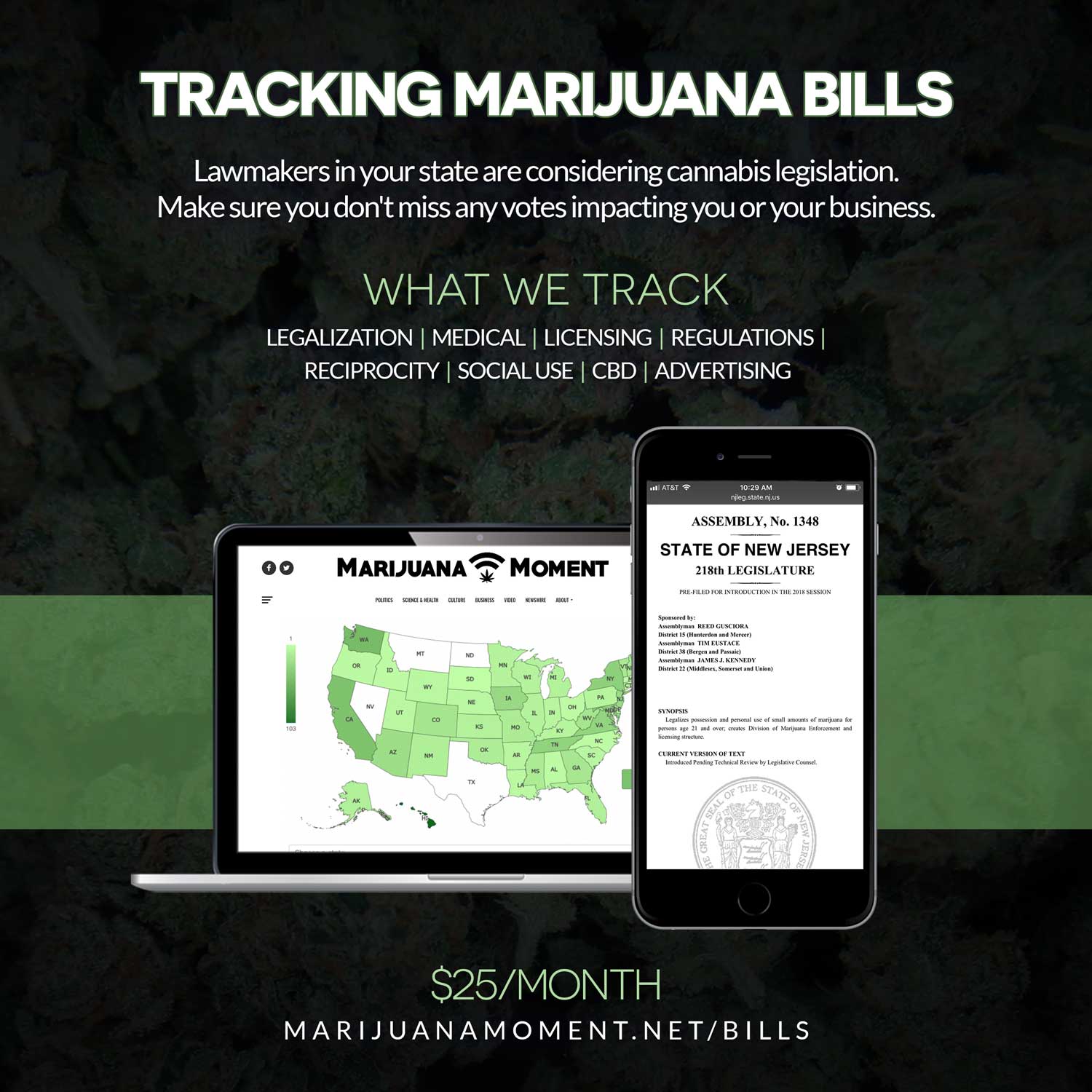 Learn more about our marijuana bill tracker and become a supporter on Patreon to get access.
—
On Wednesday, the House will consider a bill that would add cancer, chronic pain and post-traumatic stress disorder (for veterans only) as conditions that could qualify people for the state's limited medical cannabis program. It passed in the House Public Health Committee earlier this month.
The legislation would further allow the Department of State Health Services to add more qualifying conditions via administrative rulemaking. And it would also raise the THC cap for medical marijuana products from 0.5 percent to five percent.
"We are poised for a busy week," Jax Finkel, executive director of Texas NORML, told Marijuana Moment. "We are hopeful that friendly amendments can continue to improve this important legislation. We will be handing out one pagers with our recommendations to all offices at the Capitol."
Finkel said advocates are also preparing for House consideration of a measure to make possession of up to an ounce of marijuana a class C misdemeanor that carries a fine but no threat of jail time. The chamber is scheduled to take up that decriminalization bill on Thursday.
The full House approved a cannabis decriminalization bill in 2019, but it did not advance in the Senate that session.
"I hope that today's movement is setting the stage for what it to come the rest of the week," Finkel said.
Earlier this month, the House Agriculture and Livestock Committee also discussed legislation that would make certain changes to the state's hemp program, including imposing rules related to the transportation and testing of consumable hemp products.
While the Texas legislature has historically resisted most cannabis reforms, there are signs that this session may be different.
House Speaker Dade Phelan (R) said during a Texas Young Republicans event last month that while he wouldn't be able to distinguish marijuana from oregano, he said, "I understand the issue."
The speaker said that he voted for a limited medical cannabis legalization bill during his freshman year in the legislature, and his support for the reform is partly based on the fact that he has a "sister with severe epilepsy, and small amounts of CBD oil makes a big difference in people's lives."
Phelan also noted that he was a "joint author—no pun intended" of cannabis decriminalization legislation last session.
"I was able to go back home and explain it, and it wasn't a big deal," he said. "To me, it's a reasonable criminal justice reform issue."
Texans' support for legalizing marijuana has grown significantly over the past decade, according to a poll released last month.
Sixty percent of state voters now back making cannabis legal "for any use," the University of Texas and Texas Tribune survey found. That compares to just 42 percent who said the same back in 2010.
Leaders in both chambers of the legislature have recently indicated that they anticipate more modest proposals to be taken up and potentially approved this session, particularly as it concerns expanding the state's limited medical cannabis program.
Phelan said he thinks "the House will look at" reform measures this year, including bills to legalize for adult use. He said the lawmakers will likely "review those again, and some will get traction, some will not." However, the Senate remains an obstacle for comprehensive reform.
Legislators in the state prefiled more than a dozen pieces of cannabis legislation ahead of the new session. That includes bills that would legalize recreational marijuana, allow high-THC cannabis for medical use and decriminalize low-level possession of marijuana.
That said, Lt. Gov. Dan Patrick (R), who presides over the Senate, has killed prior efforts to enact reform in the state, raising questions about the prospects of far-reaching changes advancing in the chamber.
Louisiana Lawmakers Approve Marijuana Legalization Bill In Committee
Photo courtesy of Mike Latimer.
New Connecticut Marijuana Equity Council Approves Map Of Drug War-Impacted Areas At First Meeting
Just weeks after Connecticut Gov. Ned Lamont (D) signed a marijuana legalization bill into law, the state's newly formed Social Equity Council met for the first time on Thursday to discuss its approach to fostering a diverse, equitable cannabis industry that benefits those most harmed by the war on drugs.
Among other agenda items, the 15-person group approved a list of geographic areas disproportionately impacted by the drug war, which will be used to determine eligibility for social equity business licenses. Under the state's new cannabis law, half of all licenses must go to equity applicants, who may also qualify for lower licensing fees, technical assistance, workforce training and funding to cover startup costs.
A portion of tax revenue from the eventual sale of legal cannabis—expected to begin sometime next year—is also set to be reinvested into communities in the affected areas.
A cornerstone of CT's legalization of adult-use cannabis is the Social Equity Council.

This talented group — who met today for the first time — will break down barriers for a lot of Black & Brown folks who have traditionally, and unfairly, not been given a seat at the table. pic.twitter.com/sTB0XAstRu

— Governor Ned Lamont (@GovNedLamont) August 6, 2021
"We've got a group of folks who have investment experience, management experience, understanding of the communities and the importance of social justice," Lamont said at Thursday's meeting, "and we're gonna make sure that the revenues from the legalization of cannabis go to the communities hardest hit."
The impacted areas were determined through historical drug-related conviction rates and unemployment rates among U.S. Census tracts in the state. The 200 qualifying Census tracts across the state span 35 cities and towns. Together they account for about 23 percent of the state's current population, noted local reporter John Craven, but are responsible for more than two-thirds of past cannabis convictions.
The tracts include sections of big cities with larger Black and brown populations, who have disproportionately borne the brunt of the war on drugs nationally, as well as towns that have smaller communities of color but higher unemployment rates.
Municipalities with areas included in the designation are Ansonia, Beacon Falls, Bloomfield, Bridgeport, Bristol, Danbury, Derby, East Hartford, East Haven, Enfield, Fairfield, Groton, Hamden, Hartford, Manchester, Meriden, Middletown, Morris, New Britain, New Haven, New London, Norwalk, Norwich, Plainvill, Shelton, Stamford, Stratford, Torrington, Vernon, Wallingford, Waterbury, West Hartford, West Haven, Windham and Windsor.
The Social Equity Council was initially supposed to adopt the list of areas over the weekend, but the action didn't happen until Thursday. At the meeting, the council also pushed back a separate deadline related to selecting an independent third party to prepare a report on the historical and present-day consequences of cannabis policy.
The council was supposed to move forward on that selection process within 45 days of the cannabis legalization bill becoming law, but members delayed that deadline until mid-September.
State Treasurer Shawn Wooden (D) acknowledged at Thursday's meeting that while there's still controversy around legalization, "we're here now, and the objective now is to get it right."
"Let's be honest, folks, the war on drugs failed. And it did more than fail: It harmed [and] incarcerated generations of predominantly Black and brown people," Wooden said. "As someone…born and raised from a community in which I saw it, and how it ravaged a community, I saw how ineffective the policies the policies of the past were."
HAPPENING NOW: The Social Equity Council, which was established by the recent enactment of legislation on adult-use cannabis, is holding its first meeting.

📺Watch live: https://t.co/CGuYmEVunU

📰Learn more about the council: https://t.co/aqugJLUFMa

— Governor Ned Lamont (@GovNedLamont) August 5, 2021
Jason Ortiz, executive director of Students for Sensible Drug Policy and a member of a legalization working group assembled by Lamont that last year issued recommendations on social equity, described the meeting as a positive step but stressed that there's far more work to be done.
"It's exciting to see a cannabis equity-focused board form in Connecticut," Ortiz told Marijuana Moment. "That alone is a huge step forward and serves as a positive example that public pressure can create structures for justice. Now it's on all of us to hold their feet to the fire to ensure the implementation matches the stated goals of ensuring our most impacted communities benefit the most from legalization."
Other elements of the Connecticut's new marijuana system are also coming together. Last month the state launched a website with up-to-date information about what's legal and what isn't. While retail sales have yet to begin, for instance, other changes took effect immediately. Adults 21 and older, for example, are free to possess up to 1.5 ounces of cannabis. And beginning in July 2022, individuals with past cannabis convictions will be able to ask state courts to erase those convictions.
Homegrow also takes a phased-in approach. Medical patients will be able to cultivate cannabis at home in Connecticut beginning in July 2022, but adults won't be allowed to grow for personal use until a full year later.
Virginia regulators similarly launched a web page in June that breaks down the various provisions of the adult-use legalization law that was enacted in April and also took effect on July 1. New Mexico and New York, meanwhile, also launched websites this year to detail the provisions of their new cannabis programs.
In Connecticut, officials recently updated their revenue projections for the legal marijuana market over its first five years. The state Office of Fiscal Analysis said that the state could earn $4.1 million in state and local taxes for the 2022 fiscal year, which would rise to $73.4 million by fiscal 2026.
New Marijuana And CBD Research Amendment Could Be Added To Senate's Infrastructure Bill This Week
New Marijuana And CBD Research Amendment Could Be Added To Senate's Infrastructure Bill This Week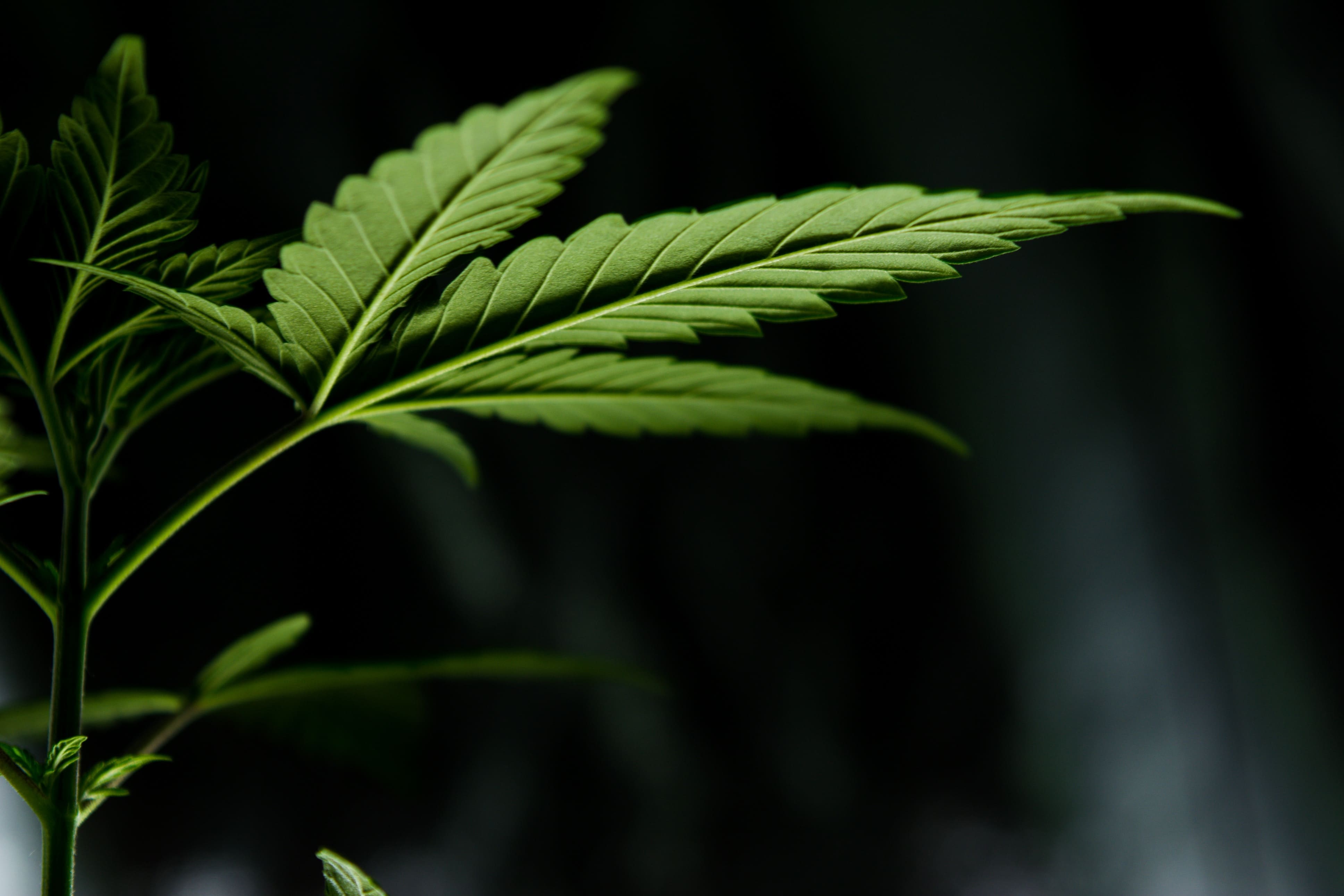 A new proposed amendment to a bipartisan infrastructure bill on the Senate floor this week would significantly expand federally approved research into marijuana as well as the popular cannabinoid CBD—changes aimed at providing a better understanding of cannabis's effects and speeding development of new therapies.
As introduced by Senate leaders early this week, the massive legislation already contains a number of cannabis provisions. One would direct federal agencies to create a plan to allow researchers to study cannabis products that consumers are purchasing from state-legal retailers, while another would encourage jurisdictions that have legalized marijuana to educate people about impaired driving.
The new amendment, proposed Wednesday by Sen. Dianne Feinstein (D-CA), would streamline the application process for researchers who want to study cannabis as well as manufacture the plant for research purposes. It's titled the Cannabidiol and Marihuana Research Expansion Act and has bipartisan support in cosponsors Sens. Chuck Grassley (R-IA) and Brian Schatz (D-HI), who were added in a handwritten note.
The proposal resembles a standalone Senate bill that Feinstein introduced in February along with Schatz and Grassley. The Senate unanimously passed an identical form of that legislation late last year, but it was not taken up by the House by the end of the session.
Among other changes, the amendment would adjust rules to the application process for institutions seeking federal authorization to study marijuana. The U.S. attorney general would be given a 60-day deadline to either approve a given application or request supplemental information from the applicant. A wider array of institutions would also be eligible to study the drug.
—
Marijuana Moment is already tracking more than 1,200 cannabis, psychedelics and drug policy bills in state legislatures and Congress this year. Patreon supporters pledging at least $25/month get access to our interactive maps, charts and hearing calendar so they don't miss any developments.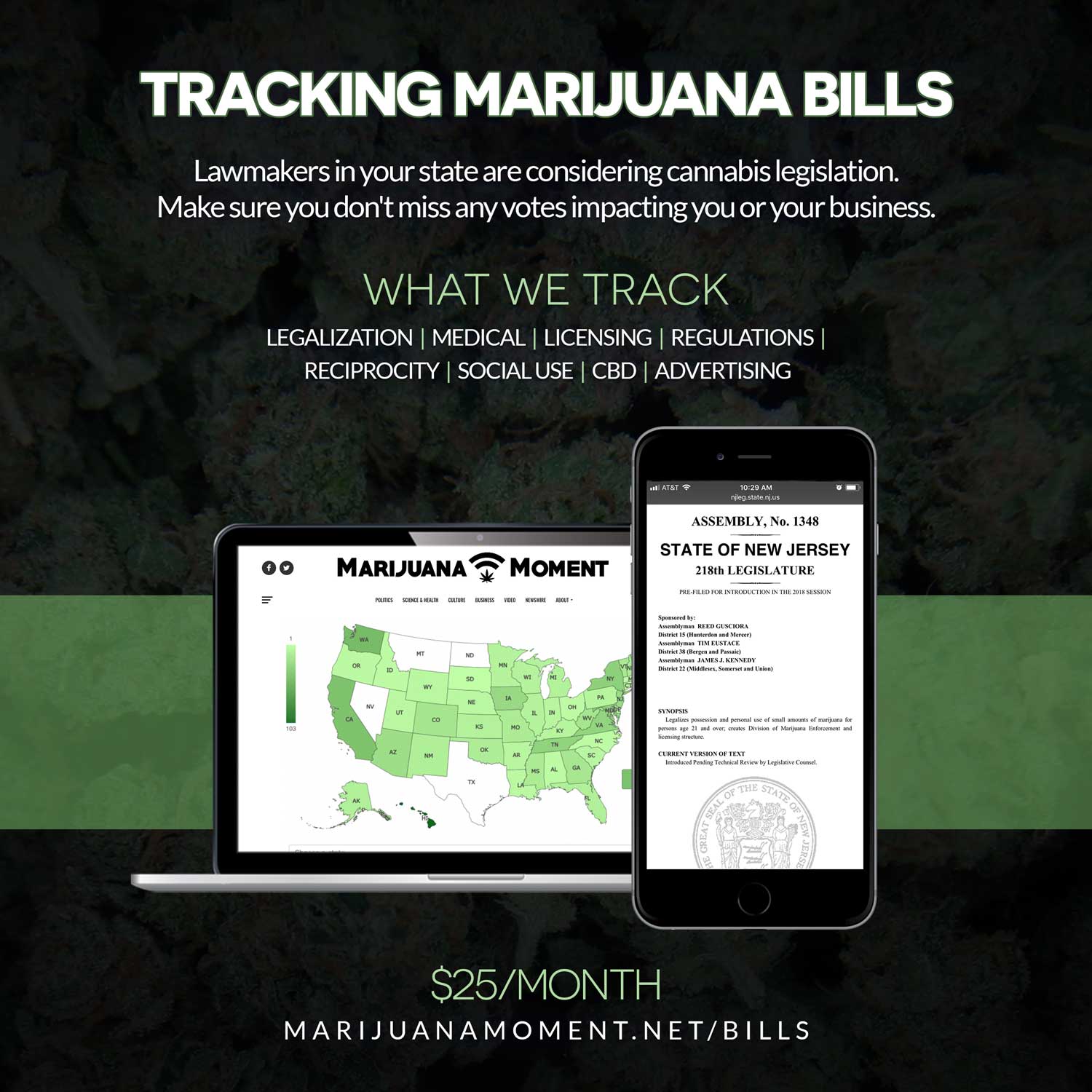 Learn more about our marijuana bill tracker and become a supporter on Patreon to get access.
—
The amendment would also create an expedited pathway for researchers who request larger quantities of Schedule I drugs, and it would reduce the need for researchers to re-apply for authorization when modifying certain details of their research.
On the patient side, it would clarify that doctors can freely discuss with their patients the potential benefits and harms of cannabis products without violating the federal Controlled Substances Act.
Feinstein's amendment would also require that the secretary of health and human services, in coordination with other federal agencies, provide a report within one year on various scientific questions around cannabis, such as the potential therapeutic effects of CBD or marijuana, possible impacts of THC on adolescent brain development and cognitive abilities, remaining barriers to research as well as any additional recommendations.
Sponsors have argued that expanding scientific knowledge around cannabis is essential as more patients use the drug for therapeutic purposes and more states legalize it for adult use. Federal prohibition, however, has long stymied research.
"Because of restrictive regulations, we still do not understand exactly how medical marijuana can be used to safely treat a variety of conditions where it may be far more useful than current treatments," Feinstein said in a press release earlier this year in support of the proposal.
She added that the legislation "would streamline the research process to allow FDA-approved marijuana-derived medications to be used to treat serious medical conditions. Millions may ultimately benefit from a new, safe treatment for conditions like intractable epilepsy once this bill becomes law."
House lawmakers, for their part, also passed legislation last year to expand cannabis research, but that bill did not advance in the Senate.
It's not yet clear if or when the Senate will take up Feinstein's research amendment, which is one of several introduced by lawmakers on Wednesday. Some are expected to receive votes on the Senate floor, while others may not be taken up at all.
Senate leaders, however, are reportedly eager to quickly pass the infrastructure bill and could take a final vote on the full package as soon as the end of this week.
If it passes the chamber, the amended legislation would then need to go back to the House for consideration before heading to President Joe Biden's desk.
Since the introduction of cannabis research legislation, the federal government has already taken some initial steps to promote research. Most notably, the Drug Enforcement Administration (DEA) recently notified several companies that it is moving toward approving their applications to become federally authorized marijuana manufacturers for research purposes.
That marks a significant development—and one of the first cannabis-related moves to come out of the Biden administration. But the move still does not free up researchers to access marijuana products from state-legal retailers in the way the new infrastructure bill would encourage.
Read the full cannabis amendment below:
Marijuana Research Amendment by Marijuana Moment on Scribd
Senate Committee Urges Rethink Of Hemp THC Limit And Pushes CBD Regulations
Senate Committee Urges Rethink Of Hemp THC Limit And Pushes CBD Regulations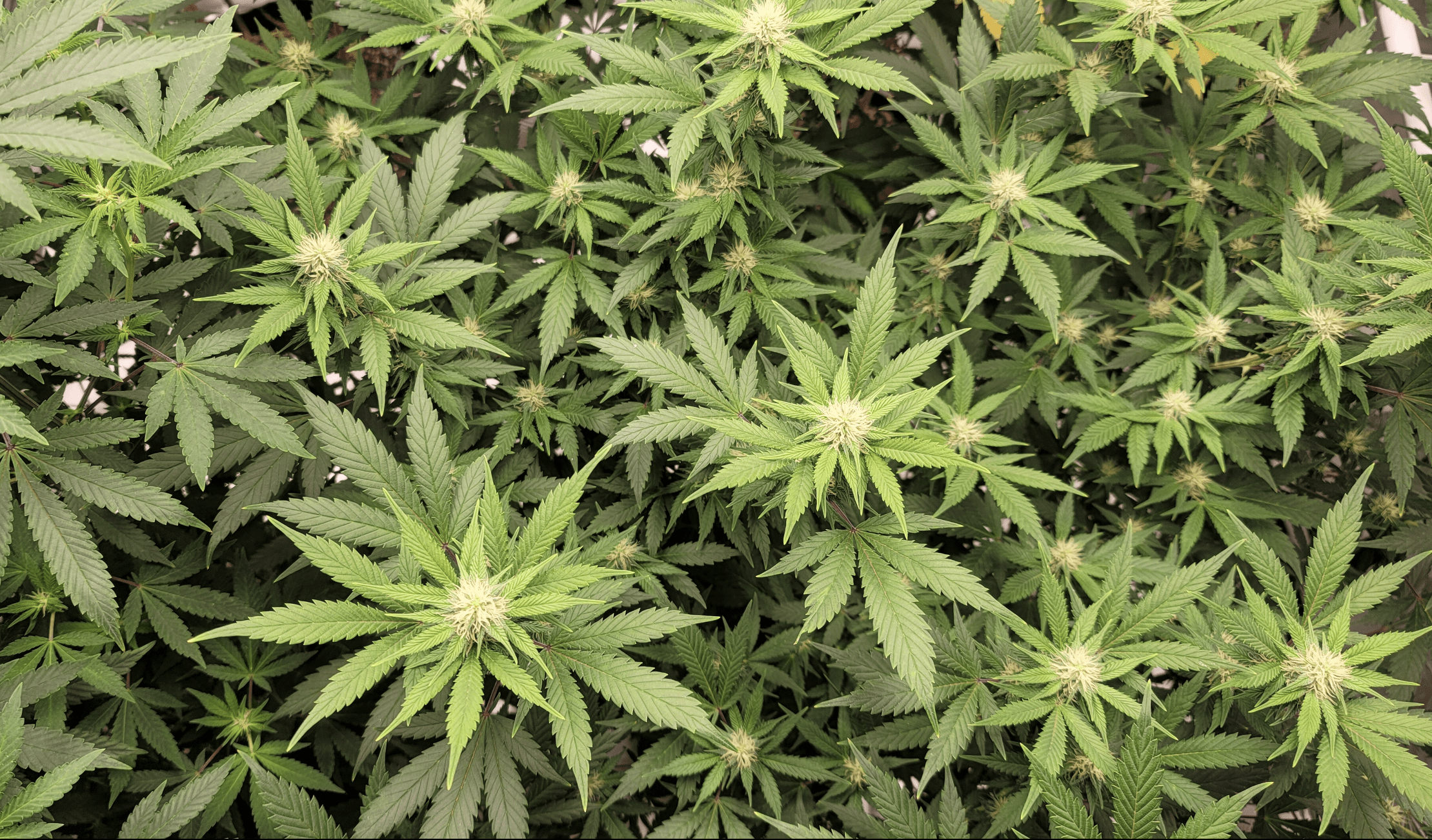 An influential U.S. Senate committee on Wednesday voted to advance funding legislation and attached report language that encourages the federal government to reconsider "arbitrary" THC restrictions on hemp and continue efforts to develop a regulatory pathway for CBD products.
Those provisions, among others, were approved by the Senate Appropriations Committee as part of legislation to fund the U.S. Department of Agriculture (USDA), Food and Drug Administration (FDA) and other federal agencies for Fiscal Year 2022.
The legislation would also continue a rider that protects state hemp programs from federal interference and extend the terms of an earlier pilot program under which some U.S. states began cultivating the plant for CBD and other uses.
Here's a look at the cannabis-related provisions approved by the panel, several of which are similar to measures that advanced though the House last month:
Senators took issue with the 2018 Farm Bill's 0.3 percent THC cap for lawful hemp products and directed USDA to work with the other federal agencies on a study of whether that threshold is scientifically supported:
"Hemp.—The Committee is concerned that the level of allowable THC content in hemp may be arbitrary and pose a burden on hemp producers that is not supported by scientific evidence. The Committee directs USDA to work with the Department of Health and Human Services and the Drug Enforcement Administration to study and report to Congress on whether there is scientific basis for the current limit of 3 percent THC in hemp and suggest alternative levels if necessary."
(The report language misstates the current 0.3 percent THC threshold as 3 percent.)
The report also pushes FDA to continue developing regulations to allow CBD products and, in the meantime, to issue a policy of enforcement discretion for such products:
"Cannabis and Cannabis Derivatives.—The Committee notes that budget did not request additional resources for Cannabis and Cannabis Derivatives activities, and therefore directs the FDA to maintain funding levels to support regulatory activities, including developing policy, and for the FDA to continue to perform its existing regulatory responsibilities, including review of product applications, inspections, enforcement, and targeted research for cannabis-derived substances, such as cannabidiol [CBD]. Within 90 days of enactment of this Act, the FDA shall issue a policy of enforcement discretion with regard to certain products containing CBD meeting the definition of hemp as defined by section 297A of the Agricultural Marketing Act of 1964 (7 U.S.C. 1639). Such enforcement discretion shall be in effect until the FDA establishes a process for stakeholders to notify the FDA of use of CBD in products that include safety studies for intended use per product and 112 makes a determination about such product. In addition, the FDA is encouraged to consider existing and ongoing medical research related to CBD that is being undertaken pursuant to an Investigational New Drug application in the development of a regulatory pathway for CBD in products under the jurisdiction of the FDA and to ensure that any future regulatory activity does not discourage the development of new drugs. The Committee also encourages the FDA to partner with an academic institution to expand sampling studies of CBD products currently on the market."
The Appropriations Committee further wants to make sure that hemp farmers and businesses are eligible to participate in insurance and loan programs that are available to operators in other sectors of the economy:
"The Committee is concerned that producers of high value, horticultural hemp are being prevented from accessing USDA programs designed for specialty crops, including the Specialty Crop Block Grants and crop insurance. Within 90 days of enactment of this Act, the Committee directs the Secretary to establish a dual designation for hemp as a specialty crop based on the manner and purpose for which it is grown."
…
"Hemp-Based Products.—The Committee recognizes the growing interest for U.S. hemp and hemp-based products for a variety of uses and directs FCA to work with the institutions under its jurisdiction to provide access to guaranteed loans for hemp producers and businesses."
—
Marijuana Moment is already tracking more than 1,200 cannabis, psychedelics and drug policy bills in state legislatures and Congress this year. Patreon supporters pledging at least $25/month get access to our interactive maps, charts and hearing calendar so they don't miss any developments.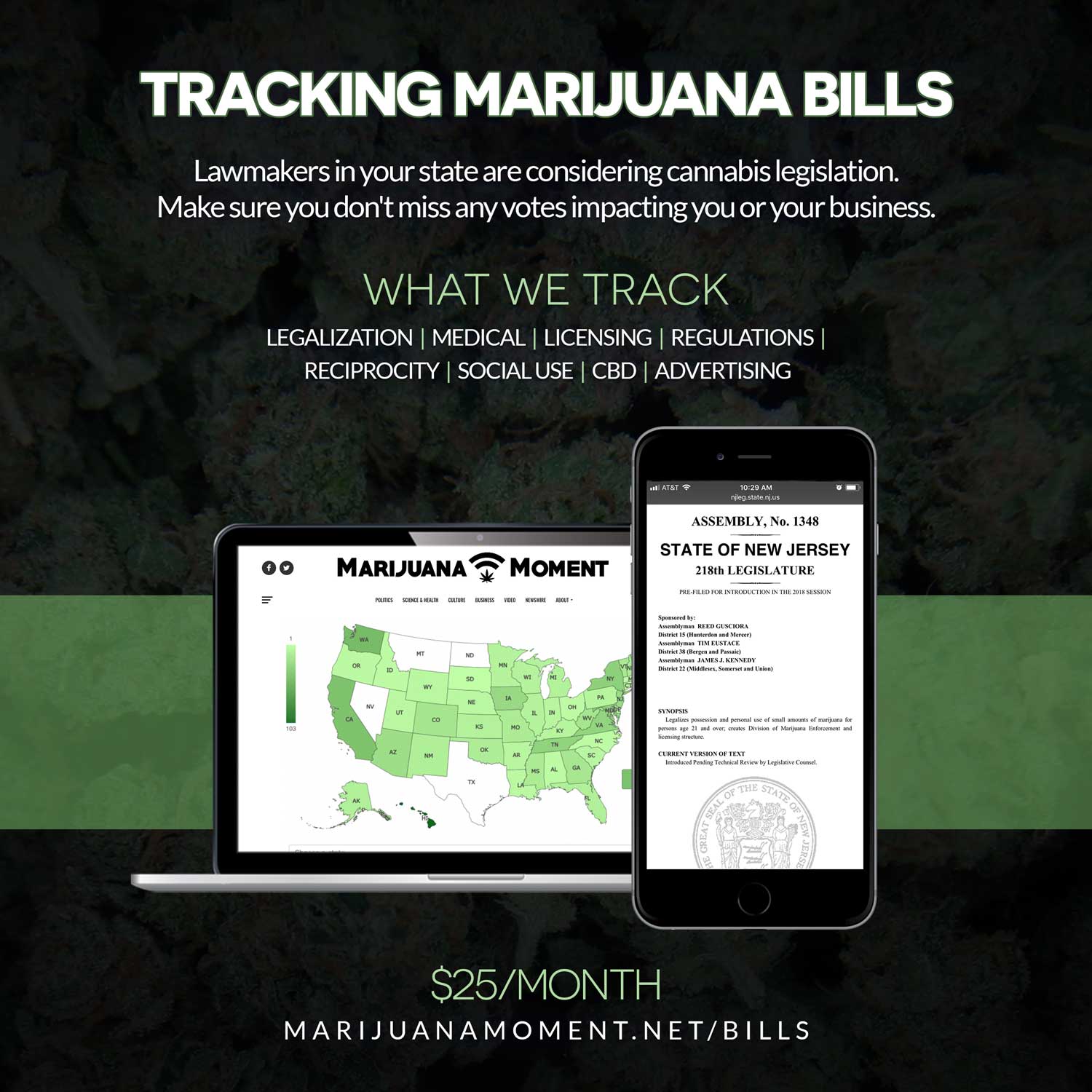 Learn more about our marijuana bill tracker and become a supporter on Patreon to get access.
—
As in the House version of the legislation, the Senate bill includes a provision that would prevent federal money from being spent to interfere with implementation of state hemp programs. It also extends a 2014 hemp pilot program, under which some states began cultivating hemp prior to federal legalization under the 2018 Farm Bill:
"SEC. 741. None of the funds made available by this Act or any other Act may be used—
(1) in contravention of section 7606 of the Agricultural Act of 2014 (7 U.S.C. 5940), subtitle G of the Agricultural Marketing Act of 1946, or section 10114 of the Agriculture Improvement Act of 2018; or
(2) to prohibit the transportation, processing, sale, or use of hemp, or seeds of such plant, that is grown or cultivated in accordance with subsection section 7606 of the Agricultural Act of 2014 or Subtitle G of the Agricultural Marketing Act of 1946, within or outside the State in which the hemp is grown or cultivated."
…
"SEC. 760. Section 7605(b) of the Agriculture Improvement Act of 2018 (7 U.S.C. 5940 note; Public Law 115–334) is amended by striking 'January 1, 2022' and inserting 'January 1, 2023.'"
Senators also encouraged USDA's Agricultural Research Service (ARS) to work on hemp cultivar and germplasm development:
"Hemp Cultivar Development.—The Committee encourages ARS to conduct biotechnology and genomics research in collaboration with capable institutions to elucidate the genetic control of key production and product quality traits in hemp to facilitate cultivar development. In addition, the Committee provides $2,500,000 for ARS to partner with institutions already engaged in such research to conduct hemp genetic improvement research and breeding with new breeding and editing techniques."
"Hemp Germplasm.—The Committee recognizes the increasing demand for hemp for a variety of uses and its growing importance as a crop for U.S. farmers. When the Nation's hemp germplasm was destroyed in the 1980s, researchers lost access to publicly available germplasm for plant breeding purposes. The Committee directs ARS to establish and maintain a hemp germplasm repository at the Plant Genetics Resources Research Unit and provides no less than the fiscal year 2021 level for this purpose. The Committee also encourages ARS and the Plant Genetics Resources Research Unit to partner with 1890 institutions that have existing institutional capacity on hemp germplasm research, education, and extension capabilities."
The report additionally recognizes the "emerging market potential for U.S. hemp and hemp-based products for a variety of uses" and pushes USDA to conduct research and outreach on integrating the crop into existing markets:
"Hemp Production Systems.—The Committee recognizes the emerging market potential for U.S. hemp and hemp-based products for a variety of uses. The Committee directs ARS to conduct regionally-driven research, development, and stakeholder engagement to improve agronomic and agro-economic understanding of effectively integrating hemp into existing agricultural cropping, processing, and marketing systems. The Committee provides no less than the fiscal year 2021 level for this purpose. Research, engagement, and technology transfer shall be conducted in strict accordance with all applicable Federal and State authorities and regulations."
Finally, the panel included hemp production in a list of areas on which it does not want federal officials to impose new user fees:
"Proposed User Fees.—The Committee continues to reject past proposals to administratively implement new user fees to cover the government's full cost for providing services to certain beneficiaries, including licenses for…domestic hemp production… The Committee strongly believes that USDA should not propose new user fees without taking into account the full impact on farmers, ranchers, and beneficiaries who would be forced to contend with rapid changes in these programs and additional burdensome costs without prior notice."
Some lawmakers touted the hemp provisions in the legislation after it advanced.
"The bill provides $2.5 million for Agricultural Research Services to partner with institutions conducting biotech and genomics research to improve hemp genetic research and breeding with new techniques," the office of Sen. Jeff Merkley (D-OR), who is on the Appropriations Committee, said in a press release. "Hemp has already quickly become one of Oregon's leading cash crops, and many feel it has the potential to bring in more than $1 billion in sales to Oregon in the coming years with a fair and reasonable regulatory framework."
Also on Wednesday, the committee approved a spending bill for the U.S. Department of Veterans Affairs (VA), which includes a new amendment from Merkley to allow VA doctors to issue cannabis recommendations in legal states.
The House, for its part, has attached a number of cannabis and drug policy provisions to appropriations bills this year. Those measures would provide protections for banks that work with state-legal cannabis businesses, allow the legalization of marijuana sales in Washington, D.C., criticize restrictive hemp regulations, encourage CBD to be allowed in foods, urge expanded research psychedelics and recognize the value of safe consumption sites for illegal drugs, among other reforms.
Another House amendment, yet to be voted on, would expand a current rider that protects state medical cannabis laws from Justice Department interference to cover all state and tribal marijuana laws—including those that allow recreational use and sales.
Federal Agency Loosens Marijuana-Related Grant Funding Restrictions For Mental Health Treatment
Photo courtesy of Mike Latimer