States With Medical Marijuana Laws Saw 20% Drop In Some Opioid Prescriptions
States with active medical marijuana laws saw certain opioid prescription rates drop nearly 20 percent compared to prohibition states, a first-of-its-kind study out of Columbia University's Irving Medical Center has found. Authors said the findings underscore the importance of providing patients with pain management alternatives, such as cannabis, in efforts to reduce opioid use.
Drug overdoses remain a leading cause of injury-related death in the United States, and the U.S. Centers for Disease Control and Prevention reports that 68 percent of those deaths involve illicit or prescription opioids. The new study examines opioid prescriptions made specifically by orthopedic surgeons, who it notes are the nation's third-highest prescribers of opioids.
"Although our study does not support a direct causal relationship, these population-level findings show that legalization of medical cannabis and patient access to dispensaries may be associated with reductions in opioid prescribing by orthopaedic surgeons," the study's authors concluded. "The observed trends reported in this study may be a reflection of growing availability of alternative pain management options for patients."
"We found that overall opioid prescribing by orthopaedic surgeons in this cohort was reduced in states permitting patient access to medical cannabis, compared with those who do not."
Analyzing nationwide Medicare Part D prescription drug data, researchers measured the aggregate daily doses of opioid medications prescribed by orthopedic surgeons in each state annually. They then looked for associations between that state-level data and the legal status of medical marijuana in each state.
As with past studies examining correlations between medical marijuana and opioid prescriptions, the Columbia analysis found a marked drop in prescriptions among states with medical cannabis laws (MCLs). "State MCLs were associated with a statistically significant reduction in aggregate opioid prescribing of 144,000 daily doses (19.7% reduction) annually," the study, published this month in the Journal of the American Academy of Orthopaedic Surgeons, says.
Medical cannabis laws "were associated with a statistically significant reduction of 72,000 daily doses of hydrocodone annually."
Not all state legal marijuana programs operate the same way, of course. It can also take years after a state adopts a medical cannabis law before its program is up and running. So the researchers looked at various specific factors, including when storefront dispensaries opened, whether state laws allowed home cultivation by patients, and whether recreational cannabis was legal for adults in each state.
Of the relationships that the researchers found were statistically significant, two stood out most clearly: States with active medical cannabis laws saw a 19.7 percent reductions in Medicare Part D opioid prescriptions made by orthopedic surgeons compared to states without medical cannabis laws. On a more granular level, states with operating storefront dispensaries saw a 13.1 percent reduction in those prescriptions.
Other relationships found by the researchers were just as likely to be due to chance. States with restrictive medical cannabis laws that allowed access only to low-THC products, for example, saw small, statistically insignificant increases in opioid prescriptions.
Researchers also "did not observe any significant association between total opioid prescriptions and home cultivation–only" medical cannabis laws, and concluded that "no significant association between recreational marijuana legalization and opioid prescribing was found."
In "states that allow physicians to recommend medical cannabis to patients for any reason, there was a significant reduction in prescriptions for fentanyl…"
Cannabis is a particularly appealing alternative pain medication to study the effect of, the authors wrote, "because of its efficacy in treatment of chronic and acute pain and its potential for replacing and/or reducing opioid treatment."
Researchers adjusted some of their data to better reflect not just the laws on the books but the actual accessibility of medical marijuana in each state. New York, for example, adopted a medical cannabis law in 2014, but home cultivation was prohibited and dispensaries didn't open until 2016. "As such," the authors wrote, "we did not classify New York as an MCL state or a dispensary-based MCL state until 2016."
The study also cautions that its results only mean so much. Because it relied on population-level data and didn't track individuals' opioid or medical marijuana use, "we could not make any conclusions about any direct effect of substitution of opioids for cannabis by patients on prescription trends." the authors wrote. "As such, our study does not draw conclusions of direct causation, but reports observed associations over time using a nationwide cohort database and multivariable regression analysis."
Still, the study's results contribute to a growing body of research indicating that medical cannabis accessibility significantly reduces statewide opioid use—and even opioid deaths. As the Columbia authors note in their report, "Multiple large nationwide database studies have shown that states with the legalization of medical marijuana have seen reductions in the opioid prescription rates and opioid-related mortality rates. The authors of these studies have theorized that in states where medical cannabis is more available, patients are likely to substitute cannabis for opioids in their pain management."
For example, a meta-study that was recently published also signaled that marijuana shows promise as a treatment option for chronic pain and could serve as an alternative to opioid-based painkillers.
Last month, researchers released a study that found cannabis can mitigate symptoms of opioid withdrawal.
In December, researchers determined that states with legal marijuana access experience decreases in opioid prescriptions, and a separate study released the previous month showed that daily marijuana consumption is associated with reduced opioid consumption among chronic pain patients.
Marijuana Seems To Reduce Opioid Use Among Chronic Pain Patients, Meta-Study Finds
'Lazy Stoner' Stereotype Smashed By Study Finding Marijuana Consumers Exercise More
Does marijuana ruin an exercise routine? You might be surprised. A new study of older Americans found that cannabis consumers tended to do more formal exercise and engage in more physical activities than non-consumers during the course of a four-month trial.
While authors cautioned the findings are preliminary, they contribute to a growing body of evidence challenging the lazy-stoner stereotype.
"Compared to older adult nonusers," says the study, out of the University of Colorado at Boulder, "older adult cannabis users had lower [body mass index] at the beginning of an exercise intervention study, engaged in more weekly exercise days during the intervention, and were engaging in more exercise-related activities at the conclusion of the intervention."
In other words, not only were adults over 60 who used marijuana generally in better shape than their peers who abstained from cannabis, they were also more responsive to an assigned four-month "exercise intervention trial"—essentially a regimen of physical activity prescribed by a clinician.
"These findings suggest that it may be easier for older adults who endorse using cannabis to increase and maintain their exercise behavior, potentially because cannabis users have lower body weight than their non-using peers," wrote the study's authors, a team at CU's Department of Neuroscience and Psychology. "At minimum, the evidence suggests that cannabis use does not hinder older adults' ability to engage in physical activity, to participate in a supervised exercise program, or to increase their fitness as a result of physical activity."
"In this study, current cannabis use was associated with lower BMI and more exercise behavior in healthy older adults wishing to increase their physical activity."
Researchers said the analysis, published this month, is especially important because more and more older Americans are consuming marijuana for medical or personal use. "Adults over the age of 50," the study notes, "are the fastest-growing population of cannabis consumers in the US, with national prevalence rates estimated at up to 9.1% in 2013." Of that group, people 65 and older showed even greater increases in use.
While those numbers may be several years old, the trend of rising marijuana use among older adults has continued.
"We haven't seen a big spike in consumption" across most age groups, then-Colorado Gov. John Hickenlooper (D) told Rolling Stone in 2018. "The only increase in consumption is among senior citizens, which we think is either Baby Boomers coming home to roost or arthritis and the aches and pains of growing older—people finding that marijuana is better pain solution than opioids or other things."
Yet with so many older Americans failing to meet recommended daily activity levels, the researchers in the new study wanted to better understand how cannabis might affect exercise routines.
"Given the plethora of negative health consequences associated with inactivity and the protective factors associated with exercise," they wrote, "efforts must be made to understand factors, like cannabis use, that may affect older adults' engagement in exercise."
The study looked at American adults age 60 and older who researchers classified as sedentary, defined as completing less than 80 minutes of moderate physical activity per week. Some were assigned to a training program of moderate physical activity, while others were put in a program with low-intensity exercises. A total of 164 participants completed the study through the eight-week checkpoint, with 153 making it through the 16-week timepoint.
Researchers measured participants' body mass index (BMI) and other health parameters at the beginning, midpoint and end of the study period. Participants also self-reported their exercise behavior in journals. All participants' exercise programs included supervised training at the research facility three days per week, the paper notes. "Thus, we would expect both groups to be exercising a minimum of 3 days per week."
"These preliminary data suggest that current cannabis use status is not associated with a negative impact on fitness and efforts to increase exercise in sedentary older adults."
Researchers admit they're not entirely sure why cannabis use is associated with lower BMI scores or why people who consumed marijuana were better at sticking to their workout schedules. "Future work," the paper says, "should employ methods that allow for a target exploration of the mechanisms by which cannabis might be associated with exercise, be it via lower body weight, increased enjoyment, decreased pain, or faster recovery." All of those potential factors, the team noted, have been hinted at by existing research.
A separate study out of the University of Colorado published last year found that a majority of marijuana consumers reported that cannabis use before or after exercising improves the experience and aids recovery.
The new study highlights an association between cannabis use and exercise, but it leaves many questions unanswered. Researchers didn't ask participants, for example, about whether they used marijuana before, during or after their exercise. And the study's measure of cannabis use, the authors wrote, "was coarse and lacked detail," such as how often and how much marijuana each participant consumed.
"We did not query what form of administration (ie, smoked, vaporized, edible, topical) or cannabinoid content (ie, THC and/or CBD potency) was used," the study says. "We also did not query whether users' perceptions of any relationship between cannabis use and exercise, such as increased enjoyment of and/or recovery from exercise, or decreased perceptions of pain, might be driving the association between cannabis group membership and exercise."
Nor did the researchers ask participants about any negative side-effects of their marijuana use.
Limitations aside, the researchers argue that their findings should encourage further research into how marijuana and exercise might coexist. "It may be that different types of exercise, such as those that that require minimal fine motor coordination or present low injury risk, might be most positively associated with cannabis use," they write.
Perhaps most optimistically, the authors suggest cannabis could even be used to encourage older adults to stay active. "Whereas the results are preliminary," the study says, "with both more extensive and rigorous additional research needed, the discovery of a role for cannabis as a potential facilitator of physical activity among older adults may hold promise."
The paper begins on page 420 of the July edition of the American Journal on Health Behavior.
Study Finds Marijuana Motivates People To Exercise, Smashing Lazy Stoner Stereotype
Photo courtesy of the Drug Policy Alliance, Sonya Yruel.
Military Invests $27M To Develop New Class Of Psychedelics-Inspired Drugs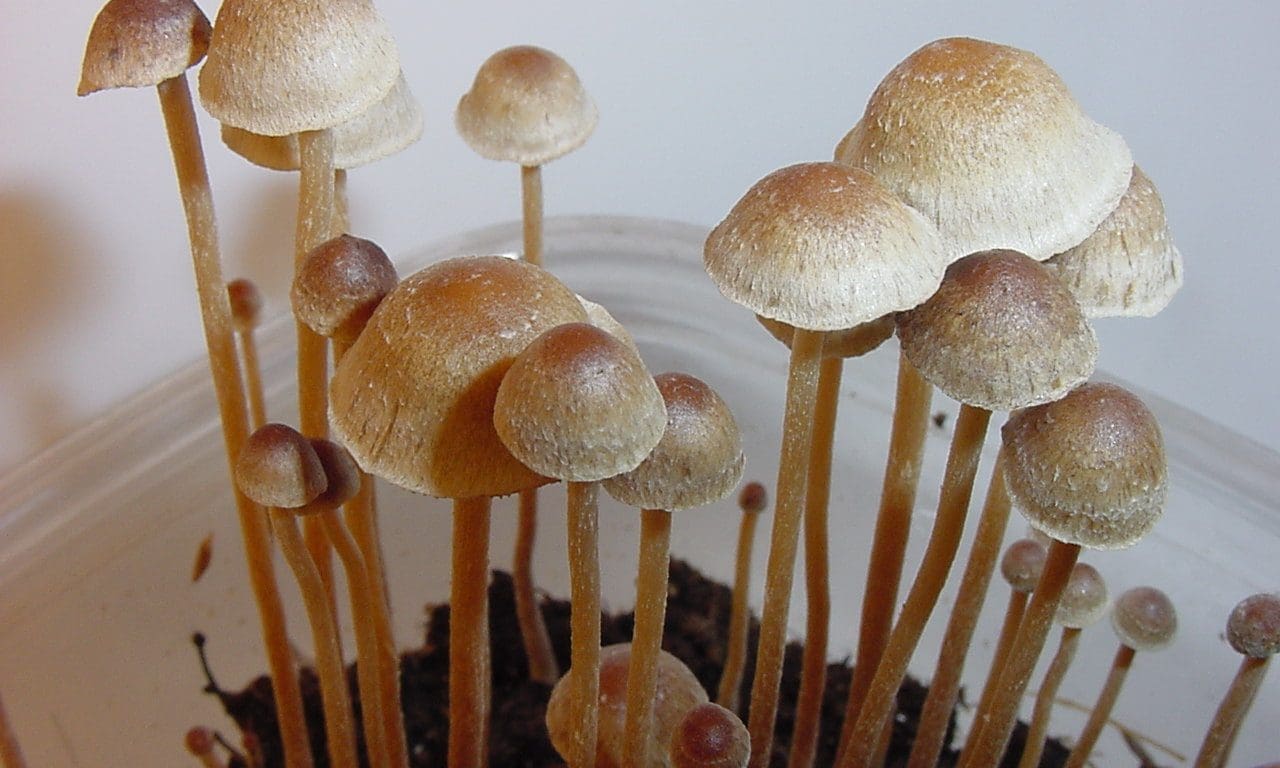 The successful use of controlled substances such as ketamine and psilocybin mushrooms to treat mental health issues like depression and anxiety has ushered in a new era of interest in psychedelic drugs. But for researchers and clinicians eager to expand such therapies, an obvious question remains: Does treatment with psychedelics necessarily require a psychedelic experience?
An international research team hopes to answer that question by researching and developing a new class of drugs that offers the same fast-acting mental health benefits as traditional psychedelics without the disorienting, sometimes uncomfortable effects of a full-blown trip. Funded by $26.9 million from the U.S. Department of Defense's Defense Advanced Research Projects Agency (DARPA), a new project announced this month "aims to create new medications to effectively and rapidly treat depression, anxiety, and substance abuse without major side effects," according to a University of North Carolina (UNC) School of Medicine press release.
"Although drugs like ketamine and potentially psilocybin have rapid antidepressant actions, their hallucinogenic, addictive, and disorienting side effects make their clinical use limited," said Bryan L. Roth, a professor of pharmacology at UNC School of Medicine and the research project's leader. "Our team has developed innovative methods and technologies to overcome these limitations with the goal of creating better medications to treat these neuropsychiatric conditions."
Research into the possible therapeutic effects of currently illicit drugs such as ketamine, psilocybin, MDMA and others has expanded tremendously during the past decade. Nonprofit groups such as the Multidisciplinary Association for Psychedelic Studies have led the way, with university researchers and drugmakers entering the mix more recently.
In September of last year, Johns Hopkins University announced the launch of the nation's first-ever psychedelic research center, a $17-million project to study the use of psychedelics to treat conditions such as opioid use disorder, Alzheimer's disease, depression, anxiety and post-traumatic stress disorder (PTSD).
Government interest in psychedelic drugs has also grown. Also in September, DARPA, a federal agency that exists to support the development of emerging technologies for use by the U.S. military, announced its Focused Pharma program, meant to develop drugs "that work quickly and deliver lasting remedies for conditions such as chronic depression and post-traumatic stress."
While that DARPA announcement didn't mention specific substances or even use the word "psychedelics," it referred to "certain Schedule 1 controlled drugs that engage serotonin receptors" and that have "significant side effects, including hallucination."
The press release for the new DARPA-funded project, lead by Roth at UNC, mentions ketamine and psilocybin specifically. The team will use both biological modeling and sophisticated computational approaches in an effort to design fast-acting drugs inspired by psychedelics but free from what researchers call "disabling side effects."
"Depression, anxiety, and substance abuse affect large segments of the population," Roth said. "Rapidly acting drugs with antidepressant, anti-anxiety, and anti-addictive potential devoid of disabling side effects do not exist, not even as experimental compounds for use in animals. Creating such compounds would change the way we treat millions of people around the world suffering from these serious and life-threatening conditions."
At DARPA, Dr. Tristan McClure-Begley, Focused Pharma's program manager, said last fall that the agency's interest in developing such drugs is due to the country's large number of veterans with PTSD and other mental health conditions.
"It is research we need to undertake given the scale of the mental health crisis our veterans face," he said in September, "and if it works, the payoff is a completely new, safe, and effective therapeutic option that transforms complex and previously intractable mental conditions into something more acutely treatable."
Along with Roth at UNC Chapel Hill, the newly announced research project includes members Georgios Skiniotis and Ron Dror of Stanford University, Jian Jin of Icahn School of Medicine at Mt. Sinai, Brian Shoichet and Nevan Krogan of University of California at San Francisco and William Wetsel of Duke University.
Do Highly Potent Marijuana Concentrates Get Users More High? Not Exactly, Study Finds
Photo courtesy of Wikimedia/Workman
Do Highly Potent Marijuana Concentrates Get Users More High? Not Exactly, Study Finds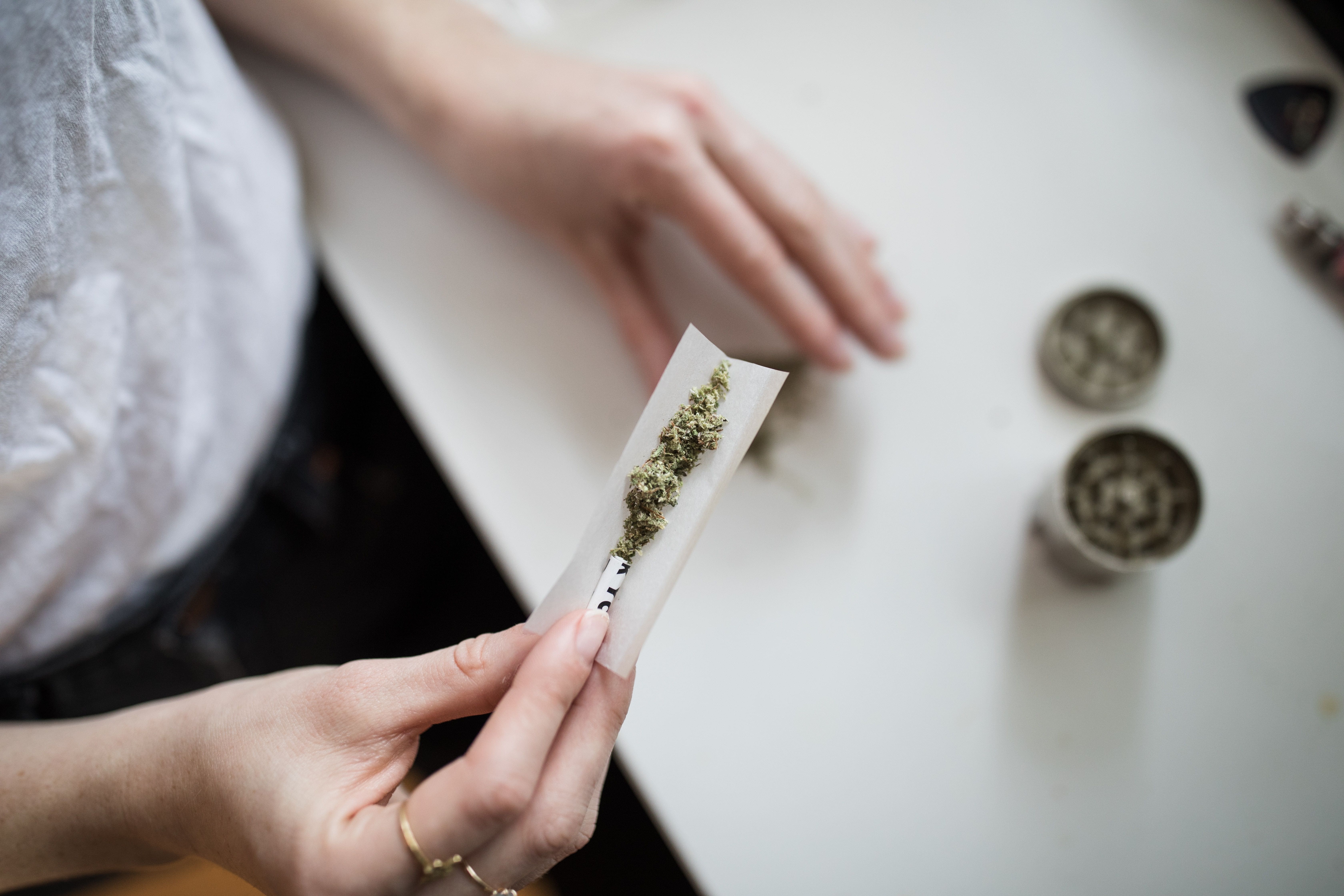 High-potency marijuana concentrates on today's legal markets can contain upwards of 90 percent THC, so one might reasonably expect them to pack a greater psychoactive punch than typical flower, which tops out around 30 percent.
But that may not be the case, according to a new study out of the University of Colorado at Boulder.
Researchers found that while THC blood levels spiked after users consumed concentrates, impairment levels didn't significantly differ from participants who used flower.
"Surprisingly, we found that potency did not track with intoxication levels," said lead author Cinnamon Bidwell, an assistant professor in CU's Institute of Cognitive Science. "While we saw striking differences in blood levels between the two groups, they were similarly impaired."
The study, published Wednesday in JAMA Psychiatry, involved 121 Colorado adults who were regular marijuana consumers. Participants were randomly assigned to consume either relatively low-THC marijuana flower, which ranged from 16-24 percent THC, or higher-potency concentrates, which ranged from 70-90 percent. At various points, researchers tested participants' blood plasma THC levels, surveyed their mood and subjected them to an array of neurobehavioral tasks meant to test attention, memory, inhibitory control and balance.
Researchers used a mobile pharmacology lab they dubbed the "cannavan" to study participants' cannabis while complying with federal law, the University of Colorado said.
"Most neurobehavioral measures were not altered by short-term cannabis consumption," the study found. "However, delayed verbal memory and balance function were impaired after use. Differing outcomes for the type of product (flower vs concentrate) or potency within products were not observed." Impairment faded after about an hour.
"Despite differences in THC exposure, flower and concentrate users showed similar neurobehavioral patterns after acute cannabis use."
A University of Colorado at Boulder press release calls the paper "the first to assess the acute impact of cannabis among real-world users of legal market products" and says the findings "could inform everything from roadside sobriety tests to decisions about personal recreational or medicinal use."
Lawmakers and police departments who assume higher THC blood levels correlate with greater impairment, for example, may need to re-educate themselves on how to measure impaired driving. Consumers hoping that high-THC products will mean more mind-blowing highs, on the other hand, may ultimately be putting that extra THC—and the money spent on it—to waste.
"It raises a lot of questions about how quickly the body builds up tolerance to cannabis and whether people might be able to achieve desired results at lower doses," Bidwell said.
As more states have opened legal marijuana markets, high-potency concentrates have become more widely available. Critics of marijuana legalization, as well as some health experts, have worried that those products could unleash health hazards on both individual users and broader society. While the University of Colorado paper doesn't answer questions about potential long-term side effects of THC exposure, its findings indicate short-term impacts of concentrates don't necessarily warrant additional concern.
"People in the high concentration group were much less compromised than we thought they were going to be," said co-author Kent Hutchison, a professor of psychology and neuroscience at CU Boulder who also studies alcohol addiction. "If we gave people that high a concentration of alcohol it would have been a different story."
One reason that higher THC blood levels didn't translate to higher highs could be that the body's finite number of cannabinoid receptors, which THC molecules bind to, become saturated regardless of whether higher- or lower-THC products are used. Any excess THC in consumers' blood plasma, in that case, would be metabolized and not contribute to further impairment.
"Cannabinoid receptors may become saturated with THC at higher levels," the study says, "beyond which there is a diminishing effect of THC."
That's not to forget the "striking differences in blood levels" the study observed between the two groups of participants. Researchers cautioned that while short-term effects of higher-potency cannabis consumption don't seem to differ much from more traditional methods, we still don't know much about how elevated cannabinoid levels affect health over time.
"Does long-term, concentrated exposure mess with your cannabinoid receptors in a way that could have long-term repercussions?" asked Hutchison. "Does it make it harder to quit when you want to? We just don't know yet."
The controversy—and uncertainty—around how cannabis affects driver safety has long been a sticking point for legalization. And given the ongoing difficulty in associating THC levels with impairment, it's unlikely to be resolved anytime soon.
As legalization spreads, however, more and more studies are examining marijuana-related impairment. A study published last year found that drivers who tested at the legal limit in many states (2-5 nanograms THC per milliliter of blood) were statistically no more likely to cause a crash than people who had not consumed cannabis, concluding that "the impact of cannabis on road safety is relatively small at present time."
Earlier this month, Democratic leadership in a House committee introduced a bill that would require states with legal cannabis programs to consider creating programs "to educate drivers on the risks associated with marijuana-impaired driving and to reduce injuries and deaths resulting from individuals driving motor vehicles while impaired by marijuana."
A congressional report from a year earlier, however, suggested that much of the alarmism about cannabis-impaired driving was unfounded.
"Although laboratory studies have shown that marijuana consumption can affect a person's response times and motor performance," the Congressional Research Service wrote, "studies of the impact of marijuana consumption on a driver's risk of being involved in a crash have produced conflicting results, with some studies finding little or no increased risk of a crash from marijuana usage."
NORML Pushes Top Federal Health Official To Admit Criminalization Is More Harmful Than Marijuana