State Lawmakers Already Filing Marijuana Bills For 2018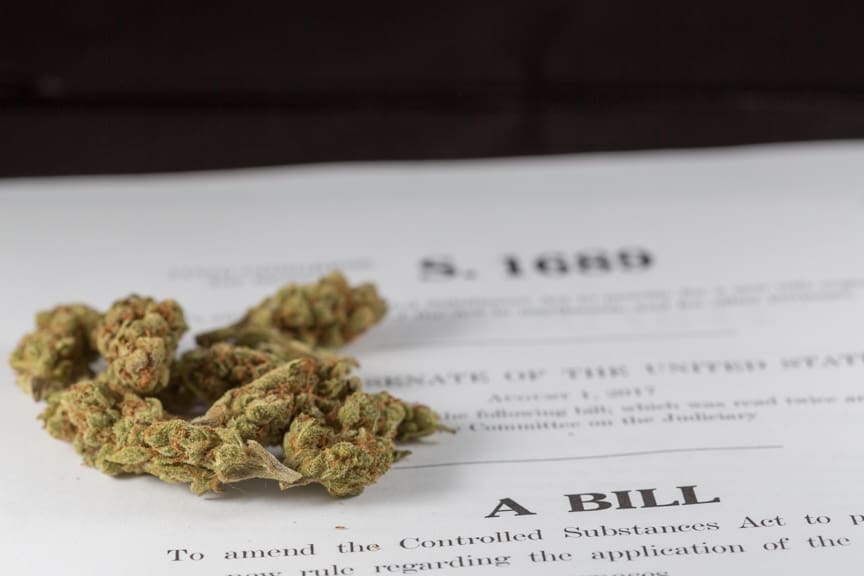 There is widespread anticipation among marijuana policy watchers that 2018 could finally be the year that states begin legalizing cannabis by acts of lawmakers.
All eight states that have ended marijuana prohibition to date have been directed to do so by voters at the ballot box.
But not all states allow for ballot initiatives, and so at some point the fight to legalize cannabis will shift in earnest to legislative chambers, just as lawmakers began taking medical marijuana reform into their own hands after the first wave of voter-enacted laws in the 1990s demonstrated the popularity of the issue.
There are growing indications that the shift for recreational legalization is happening now.
In Vermont, House and Senate leaders and Gov. Phil Scott (R) have signaled in recent weeks that they are prepared to legalize marijuana very soon after the legislature reconvenes on January 3. Because the state operates on a biennium, all that is needed is one more House vote in favor of a previously-Senate-passed bill that the governor has pledged to sign.
New Jersey Gov.-elect Phil Murphy (D) campaigned on legalization, and the Senate president says he's ready to pass a bill in 2018.
While many observers of cannabis policy are already aware the the Green Mountain State and Garden State are vying to be the first to legalize marijuana legislatively, lawmakers in other states are already making moves to prepare for anti-prohibition efforts in 2018.
On Thursday, a New Mexico senator prefiled a proposed constitutional amendment to legalize cannabis.
Also on Thursday, New York lawmakers announced that three Assembly committees will hold a joint hearing on marijuana legalization in January.
In New Hampshire, an early January floor vote could breathe new life into a marijuana legalization bill that was voted down in committee this year.
Missouri representatives have already prefiled two separate cannabis legalization bills.
These examples are just the earliest indications of what could be the busiest year on record for state cannabis lobbying efforts.
In 2017, Marijuana Moment tracked 59 separate marijuana legalization bills in state legislative chambers. (Overall, we tracked more than 300 marijuana bills ranging from penalty reforms to medical cannabis to licensing tweaks to nonbinding resolutions calling for federal action, and more.)
Marijuana Moment makes legislative tracking tools available to Patreon supporters pledging at least $25 per month to support our ongoing cannabis reporting work.
Supporters get access to custom interactive maps and charts so they always know where key bills are in the legislative process — in Congress and in all 50 states. The tools include full bill text, sponsor lists, amendments, vote tallies and more — on an automatically updated basis
Heat maps show concentrations of relevant bills in each state and Congress:
Click a state to see a sortable list of bills we're tracking:
Click a bill to see detailed information on legislative progress, including scheduled hearings:
Access full bill text and compare amended versions:
A Patreon pledge to support Marijuana Moment not only helps us continue our reporting work, but gets you access to these tools that make it easy for your business or organization to track legislation that impacts what you're working on.
Legislatures aside, five or more states could vote on marijuana legalization or medical cannabis ballot initiatives in 2018.