Rob Kampia Leaves Marijuana Policy Project
Marijuana Policy Project founder Rob Kampia is no longer employed by or serves on the board of the organization.
He is starting a new cannabis policy group called Marijuana Leadership Campaign (MLC), structured as a for-profit LLC consulting firm.
The new company "will focus almost exclusively on changing U.S. laws," Kampia said in a relatively unusual memo shared with Marijuana Moment late Saturday night, which also says that the firm has lined up "nearly $500,000 in seed money" from "a marijuana investment firm in Los Angeles, a major marijuana dispensary in Colorado, Kampia's wealthy friends in Texas (where he lives half-time) and a coalition of new donors in South Carolina."
The split with MPP is occurring as greater attention is being paid to past allegations of sexual misconduct by Kampia amidst a national backlash against workplace sexual harassment and abuse.
In 2010, a lengthy Washington City Paper story reported that Kampia had sex with an intoxicated MPP employee, an incident after which a staff revolt nearly led to his ouster from the organization. He later took a leave of absence to seek therapy, telling the Washington Post that he was "hypersexualized."
Now, Kampia's departure from MPP comes as several sources tell Marijuana Moment that a major newspaper is working on a story about previously unreported allegations against the former executive director. It is unknown when that article will be published, but its existence has been an open secret in cannabis reform circles for weeks.
Formally leaving the organization is the second and final wave in Kampia's diminishing role at MPP, which he co-founded in 1995.
In November, days before Thanksgiving, MPP announced that Kampia had stepped down from his role as executive director but would remain at the organization in a new capacity focused on fundraising and strategy.
The new memo, shared with Marijuana Moment just before midnight on the day before Christmas Eve, says that the first announcement "opened new business opportunities for Kampia" and that while he "initially proposed splitting his time equally between MPP and the new MLC, Kampia and his fellow MPP board members reached a second milestone by voting unanimously on Dec. 20 to end his full-time status at MPP this weekend."
It was also revealed this week that Kampia is no longer a member of Students for Sensible Drug Policy's Advisory Council. Kampia said in an interview with Marijuana Moment on Sunday that he remains a member of the National Cannabis Industry Association (NCIA) board of directors.
The memo appears to lay out the case that Kampia's departure from MPP has nothing to do with any old or new allegations of sexual misconduct, and he said in the interview that conversations among the organization's board "about me shifting into lesser roles at MPP extend all the way back into late October."
"We didn't even talk about the s-word at all," he said, referring to sex. "It wasn't even on our minds, which I think was kind of naive of us given the stuff that's happening with all of these celebrities."
But Kampia acknowledged in the interview that he "did know that there was a story in the works somewhere" at the time he registered the domain name www.marijuanaleadershipcampaign.com on December 5.
"I didn't know which publication. I didn't know any of the questions. I didn't know the name of the reporter. I didn't know anything," he said. "I just knew that people were sort of talking about how there's a story in the works."
Kampia has been a key architect of many of the most significant marijuana policy victories over the past two decades, and has arguably been the legalization movement's best fundraiser.
In the memo, he says that MLC "will work alongside the institutions he views as most effective in each sector" of the movement and industry. While the document names MPP, NCIA and New Federalism Fund as "leading the charge," and says that the new company will "provide substantial funding" for Doctors for Cannabis Regulation (DFCR), the Law Enforcement Action Partnership (LEAP) and Clergy for a New Drug Policy, Kampia said in the interview that he hasn't "cleared the fact that I want to give them money" with those groups.
LEAP and DFCR did not respond to requests for comment.
The memo says Kampia will divide his time between work on Texas, South Carolina, Michigan and congressional cannabis policy reform efforts as well as "raising money to make MDMA (known as 'Ecstasy') available as a prescription medicine for the treatment of PTSD and end-of-life anxiety."
He plans to raise more than $2 million in 2018 from steering committees comprised of donors contributing at least $100,000 each.
When asked if the investors who have already committed nearly half a million dollars to the new venture are aware of the looming newspaper story on sexual misconduct allegations, Kampia said that "they know about the worst allegations that have ever been made about me, and I have no reason to believe that the [newspaper] story will be worse than that, so these guys are friends of the family and they're not going to be surprised by anything in the [newspaper] and in fact they might be pleasantly surprised."
Several of the projects mentioned in the MLC document are campaigns that Kampia had been raising money to support through MPP, but he rejected the idea that his outside efforts would drain the nonprofit of resources.
"Are there people that want to fund Texas where they might otherwise be nervous about writing a check to MPP, where they might have to pay for payroll for Rhode Island, Vermont and the national operation?" he asked, suggesting that his new outfit would be "value-added" rather than competition.
"One thing for sure that no one would do if not for the fact that I'm going to agitate for it, is to take out Congressman Pete Sessions," he said, referring to the Republican House Rules Committee chairman who has consistently blocked marijuana amendments from being voted on. "Take out, meaning not to date him," he said, but to un-elect him.
In the memo, Kampia twice offers quotes that he suggests are in jest, at least in part.
In the first instance, he jokes that working full-time for nonprofit organizations is "a good way to avoid amassing wealth," while working on marijuana policy reform through an LLC will allow him to form business relationships with for-profit institutions.
Kampia, who owns a Washington, D.C,. row house that he has often referred to as "The Purple Mansion," dismissed concerns that people might take offense to his quip about amassing wealth.
"It depends on what your definition of wealth is. I don't have cash," he said in the interview. "All my money goes into my mortgage. So you could say that I have wealth or not, depending on your perspective. I don't mind if that offends people or not, because socialists who are averse to wealth probably already hate me."
He also "half-jokingly" wrote that he hopes "to be standing behind President Rand Paul during his bill-signing ceremony [for 'the ultimate bill to legalize marijuana on the federal level'] in the White House in 2022."
"I don't think Trump is going to survive reelection," he said when asked what Paul's path to the presidency in the 2020 election would be. "I would like to see [Trump] impeached…and I think Mike Pence is tainted as a result of being in bed with Trump. So I think that you are going to see a bunch of challengers… Rand Paul was obviously my favorite candidate last time around and so I'm cheering him on. I don't have any inside knowledge, though. I haven't talked to him personally."
The memo mentions Kampia's holiday vacation plans in the Caribbean and says that when he returns to the country the new organization will hold a series of leadership meetings in Austin, Dallas and Washington, D.C.
He will also write a book that "provides an insider's look at the marijuana-legalization movement." He told Marijuana Moment that the working title is, "How We Legalized Marijuana."
The memo offers a very specific account of the book's progress to date.
"I'm particularly excited about writing my book, which will be nonfiction but will oftentimes read like fiction, as my life is strewn with outrageous experiences that are sometimes relevant to readers who have an interest in politics generally and marijuana policy specifically," Kampia wrote. "The book is already one-eighth written, and I'm planning to spend my time in the Bahamas and other sunny islands writing another three- eighths of the book. In fact, one reason I'm leaving MPP is to write this book, with an aggressive book tour planned for the fall of 2018."
As of Sunday afternoon, Kampia was still listed as an employee and board member on MPP's website.
An MPP communications staffer could not be reached for comment by publication time, but a board member who did not wish to be named said, "I can confirm that we have been negotiating his permanent separation from the org for weeks and that he is no longer conducting any MPP business."
Read Kampia's full three-page memo on the new firm below:
Rob Kampia Memo by tomangell on Scribd
Photo courtesy of ReasonTV.
House Includes Marijuana Protections For States, Banks And Universities In Funding Bills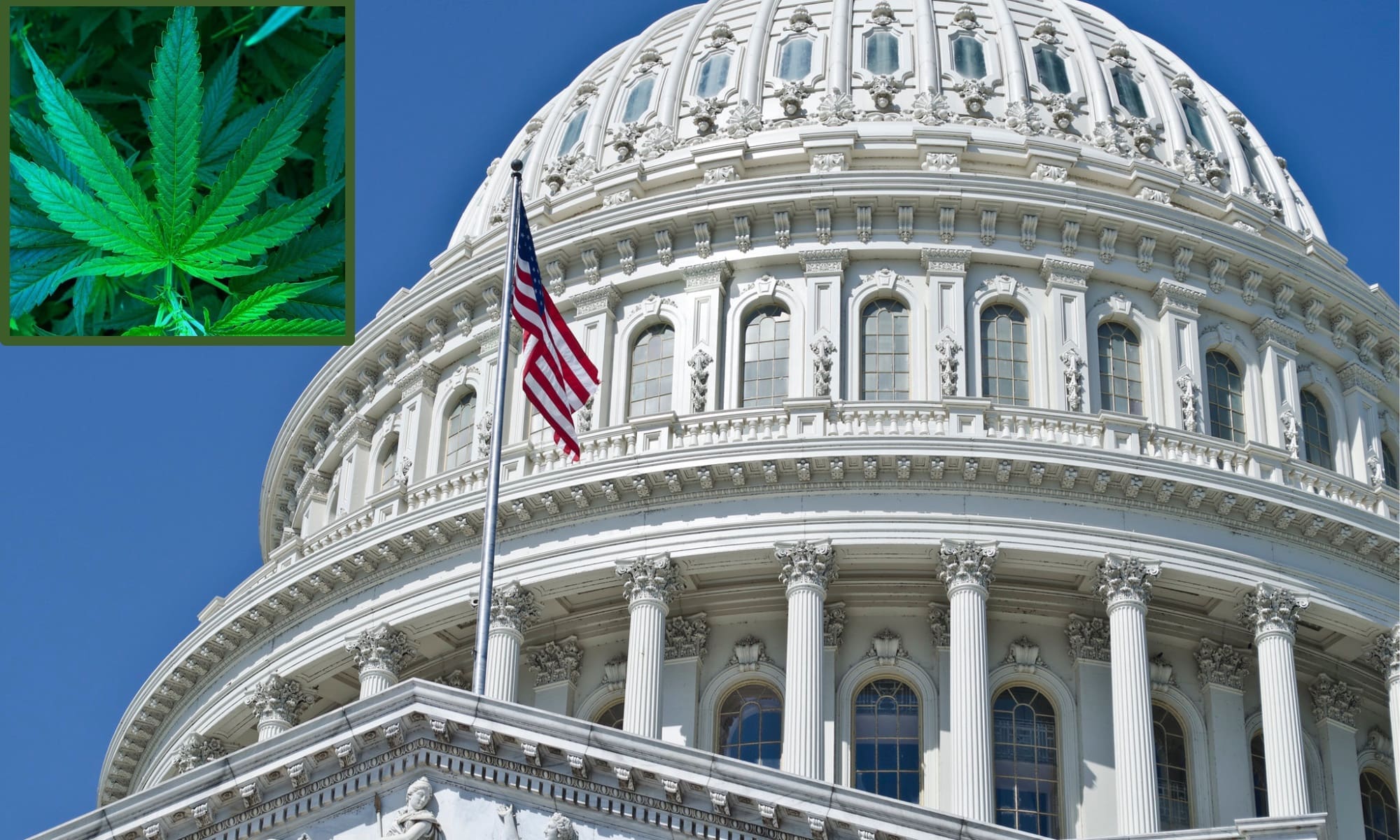 As Congress prepares large-scale legislation to fund federal agencies for the next year, marijuana reform seems to be making progress. House versions of spending bills unveiled this week include provisions to protect medical legalization laws from federal interference, ease marijuana businesses' access to basic banking services, expand cannabis research, oversee the country's fledgling hemp and CBD industries and finally grant Washington, D.C. the ability to legalize recreational sales.
The specific provisions are still subject to change over the course of the legislative process, but as introduced in subcommittees this week, they signal a meaningful shift by lawmakers: Key cannabis provisions, once relegated to a convoluted amendment process, have been included in the base versions of the new bills. Some activists see the change as a sign that marijuana is no longer an afterthought in Congress.
"More and more, cannabis provisions are becoming a normal staple of federal appropriations packages," Justin Strekal, political director for NORML, told Marijuana Moment on Tuesday. "This bodes well for our opportunity to receive a vote on standalone marijuana legislation in the near future."
Cannabis Banking
Among the most notable inclusions in the new spending bills for Fiscal Year 2021 is a provision that would remove some roadblocks to banking and financial services for state-legal cannabis businesses. Cannabis firms have been pushing lawmakers to allow such access for years. The House has passed standalone banking legislation, later inserted into a recent coronavirus bill and approved again, but so far the matter has stalled in the Senate and is yet to become law.
The new spending rider suggests House lawmakers aren't giving up. As introduced, the spending bill introduced Tuesday to fund fiscal and general government matters restricts Department of Treasury funds from being used "to penalize a financial institution solely because the institution provides financial services to an entity that is a manufacturer, a producer, or a person that participates in any business or organized activity that involves handling hemp, hemp-derived cannabidiol products, other hemp-derived cannabinoid products, marijuana, marijuana products, or marijuana proceeds" that is legal under state or tribal law.
Marijuana businesses and some public safety officials have complained that lack of banking services for the cannabis industry leaves businesses vulnerable to robbery and other property crimes. All-cash transactions can make it easier for businesses to engage in unsavory practices, such as money laundering, tax evasion and bribery.
The spending bill's banking provision, a similar version of which was also included in last year's House appropriations proposal, is a watered-down form of a standalone banking measure the industry has lobbied hard for. That bill, the Secure And Fair Enforcement (SAFE) Banking Act, would add robust legal protections for cannabis financial services, while the appropriations rider simply says the Treasury Department would be unable to punish banks themselves for working with state-legal firms. The Justice Department could still prosecute both banks and businesses under the measure, for example.
Protecting State Medical Marijuana Laws
A separate spending bill introduced this week, which funds the Department of Justice, would extend legal protections granted to states with medical marijuana programs. The provision, once known as the Rohrabacher–Farr amendment after its longtime sponsors, prevents the Justice Department from using federal funds to interfere with legal medical cannabis laws. For years, the measure was one of the few legal protections for medical marijuana states and their patients.
Though the language has been part of federal law since 2014, supporters have traditionally had to fight for its inclusion as an amendment to the spending bill. This is only the second year the measure has been adopted as part of the base bill itself upon initial introduction, which advocates see as an indication the policy is here to stay.
The measure applies only to state medical cannabis programs, however, and doesn't to broader recreational marijuana laws despite attempts in past years to expand the policy. In 2019, the House approved a floor amendment that would have broadened the protection to adult-use cannabis programs but the Senate did not follow suit and the expanded rider didn't make it into the final legislation signed by the president, nor did another House-passed provision covering legalization laws enacted by Indian tribes.
Cannabis Research
Another provision in the new spending bills would protect public colleges and universities that conduct research on marijuana. A provision in House the spending bill that covers the Departments of Labor, Health and Human Services and Education would prevent schools from losing funding simply for researching the plant or its applications.
No monies could be "withheld from an institution of higher education solely because that institution is conducting or preparing to conduct research on marihuana," it says.
Advocates hailed the measure as a common-sense reform to expand researchers' understanding of marijuana.
"The time for willful ignorance is over," said Strekal of NORML. "The enactment of this language would provide more certainty and legitimacy to the emerging educational efforts regarding cannabis and its properties. For too long, the federal government has deliberately prevented America's brightest minds from conducting even basic research."
Bipartisan House members, led by Reps. Joe Neguse (D-CO) and Kelly Armstrong (R-ND), tried and failed to include similar protections in last year's spending bill. Despite scholarly interest in studying cannabis and other drugs, they said, the threat of losing funding presented "an undue hurdle for many academic institutions."
No Legalization Advocacy
Schools receiving federal funds would be prevented from actually advocating for legalization, however, under another provision of the Labor-HHS-Education bill, which also extends an existing 1990s-era provision barring the use of funds "for any activity that promotes the legalization of any drug or other substance included in schedule I" of the Controlled Substances Act. Marijuana and most medically promising psychedelics are classified as Schedule I substances.
Rep. Alexandria Ocasio-Cortez (D-NY) called last year for that obstacle to be removed, ostensibly to make it easier to study psychedelic drugs, but her amendment to accomplish it was soundly defeated by House colleagues in a floor vote.
Letting D.C. Legalize Marijuana Sales
The Financial Services and General Government spending bill, which also covers matters relating to the District of Columbia, would finally remove a budget rider that for years has prevented Washington, D.C., from legalizing recreational marijuana sales.. The District legalized low-level marijuana possession and home cultivation under a voter initiative in 2014, but Congress through a budget rider has prevented D.C. Mayor Muriel Bowser (D) and local leaders from legalizing and regulating commercial sales.
Removal of the restrictive provision, as proposed in the House legislation, would mean D.C. leaders could finally act on Bower's plan to allow marijuana sales. The mayor filed a bill to legalize sales in 2019, but that legislation has stalled due to the congressional interference.
The House also removed the rider in the 2020 spending bill but the Senate included it and that chamber's version won out in negotiations on the final package sent to the president.
Hemp and CBD Regulation
The new Justice Department spending bill also includes another longstanding rider meant to protect state hemp research programs established under the 2014 Farm Bill, which launched research and commercial ventures in a number of states.
Congress has since more broadly legalized the regulated production of the crop, and nearly every U.S. state has established its own hemp program. Another House spending bill introduced this week, which funds the Department of Agriculture, sets aside $16.5 million to oversee those programs.
The bill funding the Department of Agriculture, Rural Development and the Food and Drug Administration (FDA) contains "funding to develop a framework for regulating CBD products." FDA's slow movement toward creating a process to allow hemp-derived cannabidiol as a food product or nutritional supplement has frustrated lawmakers and industry advocates alike.
Military Veterans
Another new spending bill covering the Department of Veterans Affairs (VA) doesn't contain any cannabis language as introduced, but advocates may try again to attach language allowing VA doctors to recommend medical marijuana to military veterans in states where it is legal. Both the House and Senate have passed differing versions of that provisions in the past, but none have ever been enacted into law.
Next Steps
None of the proposals included in this week's bills are final. The appropriations process, one of the most crucial tasks undertaken by Congress every year, is a complicated tangle of bureaucratic procedure. The bills introduced this week are still being considered by House subcommittees and may still change significantly as they get worked through the full Appropriations Committee and make their way to the House floor.
And even if cannabis provisions do get a nod from the full Democratic-controlled House, the Republican-run Senate will also have to approve them or agree to let House language advance in subsequent bicameral conference committee negotiations. Disagreements could mean provisions are added, removed or otherwise changed on their path to becoming law on the president's desk.
Whatever happens in the final bills, it's clear that marijuana is having a moment. Advocates for decades have struggled even to get an audience in Congress. Now, with every passing year, lawmakers appear more and more willing to listen.
DC Activists Submit Signatures To Put Psychedelics Decriminalization On November Ballot
Image element courtesy of Tim Evanson
New York City Adds More Exceptions To Pre-Employment Marijuana Testing Ban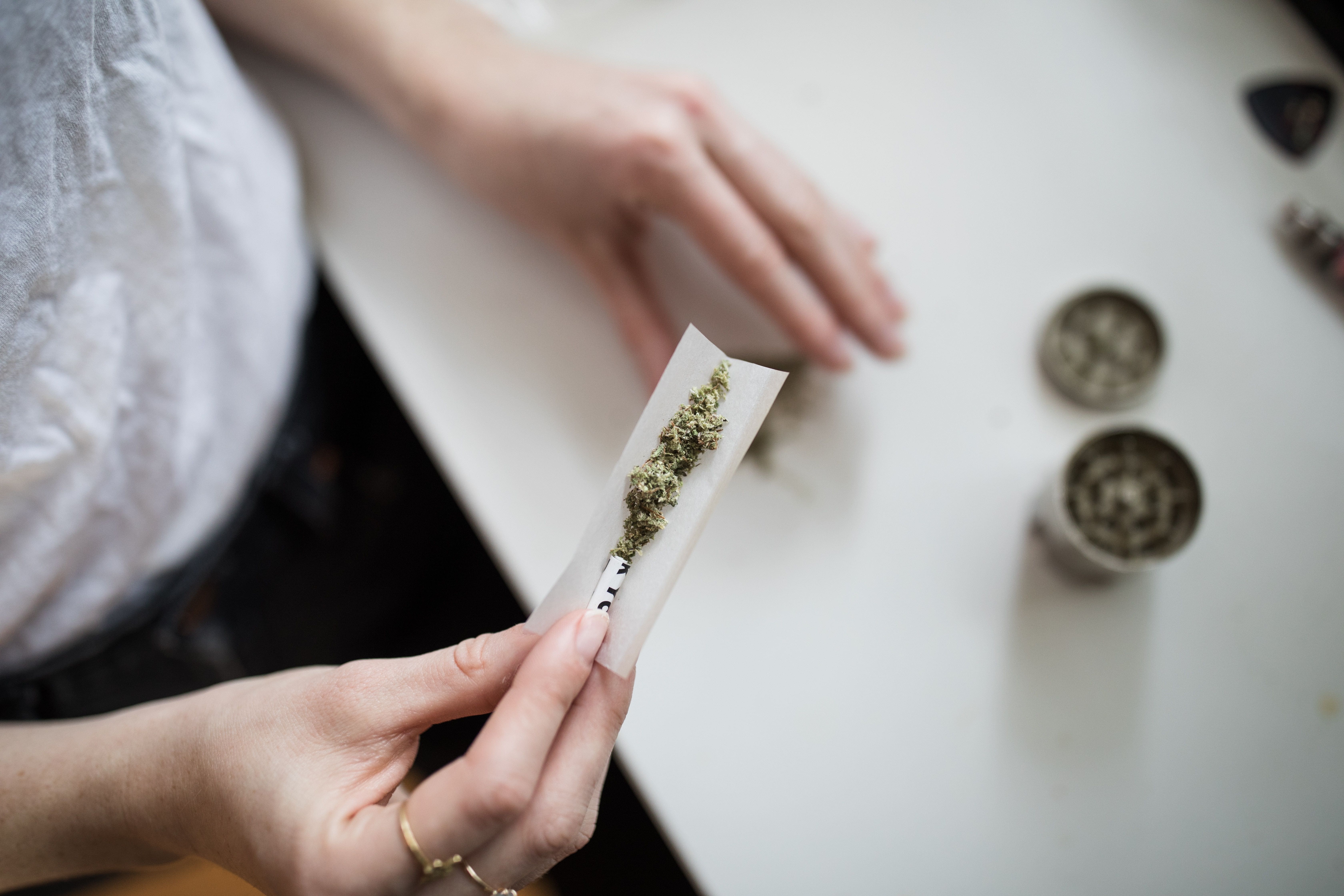 New York City officials have finalized rules for a local ban on pre-employment drug testing for marijuana, and they added additional exemptions that will allow an even greater number of workers to be screened for cannabis before they are hired.
The City Council approved the ban last year, and it was enacted without Mayor Bill de Blasio's (D) signature. It stipulates that, generally speaking, companies in the city can't conduct pre-employment tests for THC metabolites unless the position is safety sensitive. The policy took effect in May.
As originally written and passed, the bill included language carving out exceptions from the prohibition on testing for those applying to certain jobs such as police officers and people charged with supervising or caring for children, as well as positions "tied to a federal or state contract or grant."
However, it also contained a provision that allowed the New York City Commission on Human Rights to expand the list of excepted jobs. That body proposed its own set of regulations in April and has been in the process of finalizing those rules in the months since.
On June 16, the commission voted unanimously to approve the finalized rules, including new exemptions on top of what they initially proposed.
Workers who use heavy machinery, spend a significant amount of time at a construction site, work on or near power or gas utility lines or regularly operate a motor vehicle for work would still be subject to pre-employment drug testing for cannabis. The language around working "near" utility lines wasn't in the original proposal, and the motor vehicle stipulation was loosened to cover workers who drive "on most shifts" rather than just those who do so "on an approximately daily basis."
The commission also added a new section stating that those with "work relating to fueling an aircraft, providing information regarding aircraft weight and balance, or maintaining or operating aircraft support equipment" will also be exempt from the cannabis testing ban.
A catch-all for workers whose marijuana consumption "would interfere with the employee's ability to take adequate care in the carrying out of his or her job duties and would pose an immediate risk of death or serious physical harm to the employee or to other people" remains in the finalized rule, which takes effect on July 24.
Reform advocates have widely celebrated the policy overall, applauding local lawmakers for taking steps to protect cannabis consumers against discrimination. But some—including the Marijuana Policy Project—argue that the exemptions are excessively broad.
New York City Public Advocate Jumaane Williams (D), who sponsored the legislation that created the ban, previously said he's opposed to adding any exemptions to the law because he believes that "no individual should be tested for THC, and I stand firmly against any expansion of exemptions to Local Law 91."
Of course, cannabis remains illegal for recreational use in New York despite efforts from Gov. Andrew Cuomo (D) and legislators to enact it through the state budget over the past two years. But the City Council did draft the testing ban with the expectations that marijuana would eventually become legal for adult use in the state.
"It was introduced by the public advocate in the context of legalization of marijuana [which] had a lot more momentum. There was an assumption that that would be in place by the time this went into effect," a member of the commission said prior to the body's vote on the final rule last month. "But the intent as we understand it behind the law was to lower barrier to entry for folks."
Some lawmakers recently called for legalizing cannabis to be a part of the state's policing reform efforts amid protests over police killings of black Americans.
Austin Police Will Stop Marijuana Possession Arrests And Citations
Feds Hire Hazmat Firm For Marijuana Eradication Training
The U.S. Forest Service will spend nearly $50,000 to hire a hazardous materials consulting firm to train employees how to safely remove marijuana grown on public lands under a newly awarded government contract.
The agency says the training is needed to protect employees, some of whom reportedly have been taken to emergency rooms after being exposed to hazardous chemicals while clearing marijuana plants in years past.
"Before 2016 we had numerous number [sic] of our Agents and Officers getting sick in our marijuana cultivation sites on our public lands requiring trips to emergency rooms with possible long term health effects," says a typo-ridden document filed in support of the contract that was posted last week to the U.S. General Services Administration website. "In 2016 we received our fist [sic] citation from OSHA for not providing our personnel the training and PPE needed to operate in this environment."
Training of agents with the Forest Service's Pacific Southwest Region will be conducted by NES, a leading hazardous materials consultant and training company that works extensively with law enforcement. In the document, the government says the NES program "is the ONLY training course in the U.S. available that meets our needs, and has met OSHA standards." The course is estimated to cost taxpayers $44,732, and there will be no bidding process or consideration of competing firms under the single source award.
Going forward, employees will need to pass the hazmat class before they can participate in cannabis-clearing operations.
While marijuana has been grown clandestinely across the continent for generations, large-scale commercial grows hidden on public lands ramped up in the early 2000s, especially in California. Much of the marijuana fed the nation's illicit market, but some also made its way to medical dispensaries, which were largely unregulated at the time.
Cannabis can be cultivated successfully in most environments without pesticides or chemical fertilizers, but many of the unregulated growers cut corners. They apply dangerous chemicals that pollute nearby waterways and fell entire sections of national forest to clear land.
The other potential contaminants at illegal grow sites appear to be the Forest Service's chief concern. The document notes that many cultivation plots run by drug trafficking organizations "use hazardous chemicals not allowed for use in the United States."
The Forest Service itself has come under fire for its handling of the sites. In April 2018, a watchdog report from the U.S. Department of Agriculture's inspector general found that the Forest Service "does not always reclaim and rehabilitate marijuana grow sites after plants are eradicated, and FS is unaware of the overall impact these marijuana grow sites pose to the forest ecosystems."
"As a result," the watchdog said at the time, "trash and chemicals such as pesticides and fertilizers are still present on these grow sites, thereby putting the public, wildlife, and environment at risk of contamination.
It's not clear from the new contract whether the CES-led training will include information on how to effectively remediate cultivation sites after marijuana plants have been cleared. The documents specifically mentions the health and safety of Forest Service employees but is silent on broader environmental impacts.
Opponents of marijuana prohibition have for years argued that many of the environmental and health threats posed by chemical contaminants could be effectively eliminated through legalization. Though enforcement is inconsistent, most states that have legalized cannabis for adults have set strict limits on pesticides and other chemicals that can be used by licensed growers.
"It is hardly a surprise that those who elect to clandestinely cultivate cannabis on federal lands engage in practices that provide greater potential risks to both the environment and to the end product itself," Paul Armentano, deputy director for the advocacy group NORML, told Marijuana Moment. "By contrast, a legal market provides regulatory oversight and demands that those engaged in these activities be licensed and utilize best practices."
"While legalization itself will likely not entirely eliminate the illicit market, just as, for instance, broader alcohol legalization has not eliminated moonshining in its entirety," Armentano added, "the reality is that it will continue to severely curtail these activities and the involvement of criminal entrepreneurs."
Even many in federal law enforcement officials seem to agree on that point. In February, the head of the union for U.S. Border Patrol agents acknowledged that state-level cannabis legalization is forcing criminal cartels out of the market.
"The states that have legalized marijuana," said National Border Patrol Council President Brandon Judd, "have done more damage to the cartels than the [Drug Enforcement Administration] could ever think about doing."
Virginia Lawmakers Announce Plans To Legalize Marijuana, One Day After Decriminalization Takes Effect
Photo courtesy of Nicholas C. Morton