New Yorkers Want Marijuana Legalization With Home Grow And Deliveries, Poll Finds As Negotiations Proceed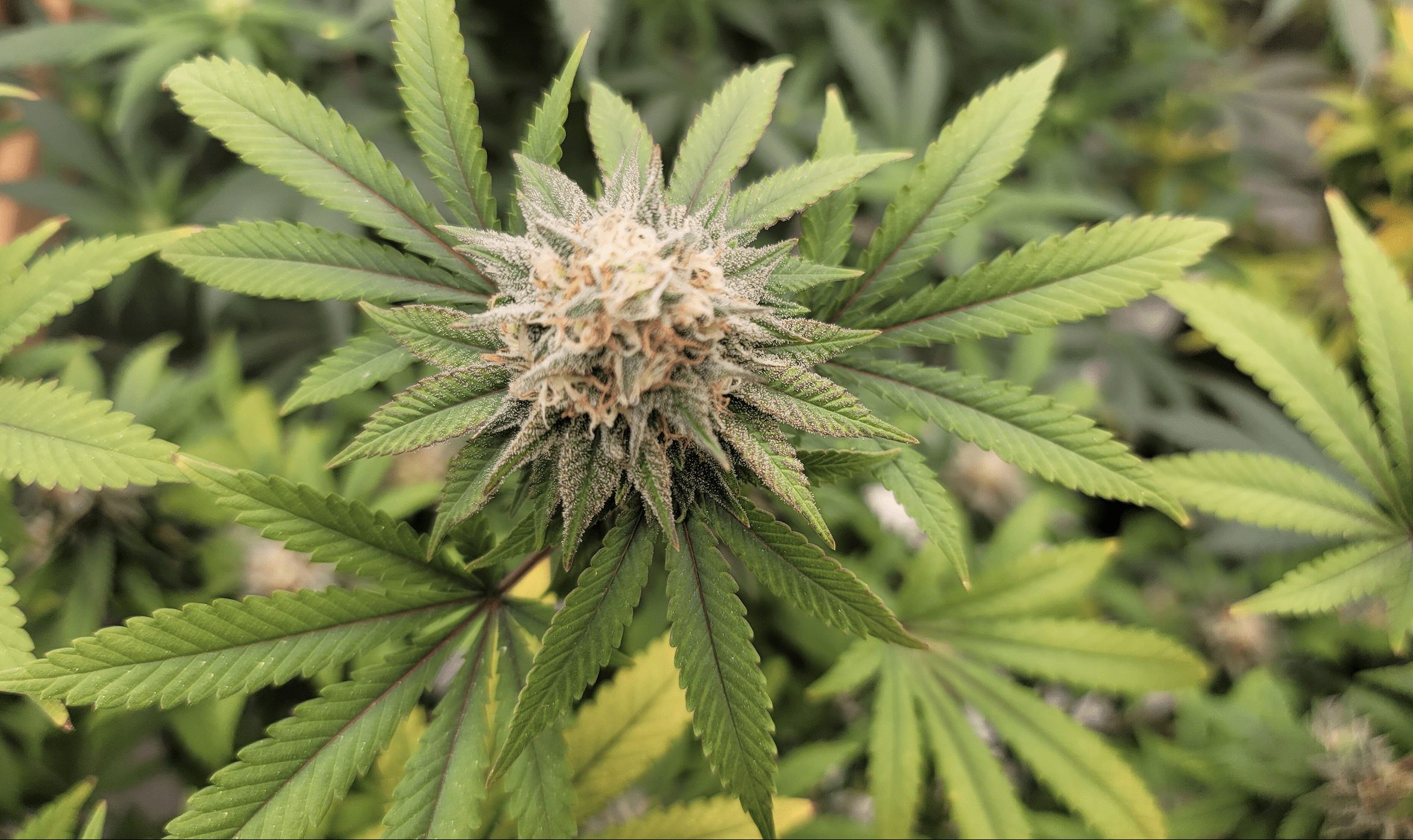 A majority of New Yorkers want marijuana to be legalized for adult use, according to a new poll—and they further favor allowing for home delivery, cultivation for personal use and letting retail and cultivation facilities operate in their neighborhoods.
The poll from Consensus Strategies asked New York residents about a variety of cannabis-related issues, including those related to social equity and licensing. At a top level, it showed that people in the state are ready for a policy change that largely aligns with proposals moving through the legislature this session.
It found, for example, that 61 percent of New York adults support recreational marijuana legalization. But it also offered unique insights into the specifics of what residents hope to see out of a legal cannabis market.
Fifty-six percent of respondents said they would be OK with having retail marijuana businesses in their communities, while 53 percent support allowing cultivation facilities near their homes. Another 53 percent said they favor permitting cannabis businesses to deliver products to consumers.
A slim majority (51 percent) said that people from areas most impacted by the drug war should have licensing priority, and about half (50 percent) said people with prior convictions for selling cannabis should be able to operate a legal marijuana business.
A majority of respondents said that local jurisdictions should have opt-out authority enabling them to ban cannabis shops from operating in their areas.
In terms of home cultivation, 52 percent said that adults should be able to grow a limited number of plants for personal use. That's notable in the context of legislative negotiations over measures to legalize cannabis, as the Gov. Andrew Cuomo's (D) plan omits a home cultivation option whereas a bill sponsored by Assembly Majority Leader Crystal Peoples-Stokes (D) and Senate Finance Chairwoman Liz Krueger (D) would allow home grow.
About three-in-four respondents said that selling marijuana to those 18-21 should be a misdemeanor offense, compared to 22 percent who said it should be considered a felony.
As originally drafted, the governor's plan would have made selling cannabis to those under 21 a class D felony—but he later submitted an amended version that lowered that penalty to a misdemeanor following pushback. Advocates said the provision was counterproductive to the goal of ending marijuana criminalization and would disproportionately impact black New Yorkers.
The survey also asked about proposals to earmark a portion of marijuana tax dollars to support community reinvestment for those disproportionately harmed under criminalization. Fifty-nine percent said they agreed that some revenue should be allocated for that purpose.
Not everyone who said they support legalizing marijuana would visit a legal retailer, the survey found. About half of respondents (49 percent) said they were either "likely" or "very likely" go to a cannabis store at least once, and the other half said they weren't likely to participate in the market.
When narrowing on on just New York City respondents, the poll found that while 53 percent back legalization, 52 percent said they would not want a marijuana retailer to open in their neighborhood, and 58 percent said they wouldn't want a cultivation facility, either. Sixty-one percent in the city said that individual jurisdictions should have an opt-out option.
Support for legalization is strongest upstate, where 67 percent back the reform.
"Legalization is only the beginning of the battle," Patrick Fox, CEO of Consensus Strategies, said in a press release. "The fight to find viable sites will be intense. We often hear from cannabis entrepreneurs who think that the level of support for legalization will translate into support for siting a retail or cultivation facility. It often does not."
The survey involved interviews with 515 New Yorkers from March 5-7.
Overall, what the poll findings demonstrate is that there's broad support for ending cannabis criminalization and thoughtfully constructing a regulated market that does not put restrictions on consumers and gives them a range of options when it comes to obtaining marijuana products.
That could largely be accomplished under a bill that could get a vote in the state legislature in the coming days.
While a top senator said on Tuesday that negotiations with Cuomo over legalization legislation have "reached a little bit of an impasse" over a provision related to impaired driving, lawmakers and the administration have touted progress in their recent talks.
Impaired driving policy seems to be a sticking point, but Senate Majority Leader Andrea Stewart-Cousins (D) still said she's "optimistic it will be resolved sooner than later."
Assembly Speaker Carl Heastie (D) said on Monday that action is imminent and that lawmakers are aiming to advance legalization before passing the budget, which is due by April 1. When Cuomo unveiled his reform proposal, he insisted that it needed to be approved as part of the budget, but he seems to have backed down on that strategy.
Heastie said that he thinks "the executive is moving closer to where" the sponsors of a separate piece of legislation to end prohibition are. That bill from Assembly Majority Leader Crystal Peoples-Stokes (D) and Senate Finance Committee Chairwoman Liz Krueger (D) is favored by advocates who feel it more comprehensively addresses issues of social equity.
—
Marijuana Moment is already tracking more than 800 cannabis, psychedelics and drug policy bills in state legislatures and Congress this year. Patreon supporters pledging at least $25/month get access to our interactive maps, charts and hearing calendar so they don't miss any developments.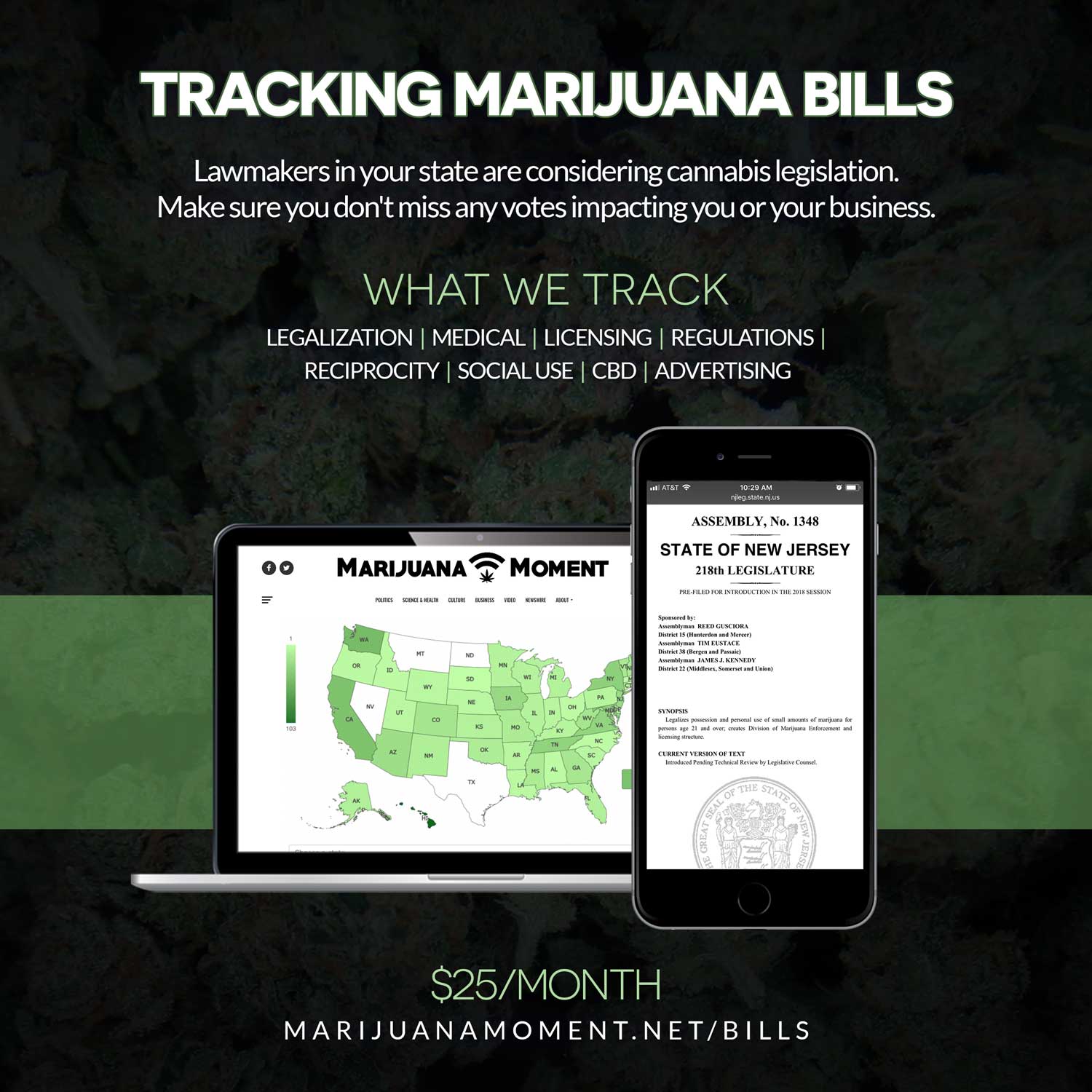 Learn more about our marijuana bill tracker and become a supporter on Patreon to get access.
—
Cuomo said on Monday that the sides are "very close" to reaching a deal. "We've tried to do that for the past three years, we have to get it done this year."
Unlike past years, however, the legislature has made clear it intends to approve the policy change outside of the budget. That position was included in a Senate budget resolution, which also kept the governor's proposal to increase funding for the state Division of Alcoholic Beverage Control to support the establishment of an office to regulate an adult-use cannabis market.
Another policy that was reportedly at issue in the legalization talks concerns the number of plants that adults could cultivate for personal use. Cuomo's plan omitted a home grow option entirely, but advocates say it provides an important access point for people who don't want to buy cannabis from stores.
Public defender and activist Eli Northrup said on Monday that he's heard from sources that Cuomo is pushing to have the legislation make it so police could continue to justify stops and searches based on the odor of cannabis alone, regardless of its legalization. Advocates strongly oppose that policy.
On Tuesday morning, however, Scott Hechinger, a senior attorney with the Brooklyn Defender Services, said signals indicate that the pushback to that proposal was being felt by negotiations working on the cannabis legislation.
Details of the final legislation might be pending, but polling shows that New Yorkers are ready for cannabis reform. A Siena College survey released on Monday found that 59 percent of residents support adult-use legalization, compared to 33 percent who are opposed.
"We've been working on a marijuana bill. I've had a number of conversations with members," the governor said last week. "We've been making good progress."
Krueger also said that lawmakers were "working hard on a three-way agreed upon bill that could pass the legislature before we get to the budget." She added: "I feel like we are 95 percent there. We have taken some big steps towards getting this done."
Peoples-Stokes said last week that talks "are really good and really fruitful and I'm really encouraged." In fact, "I've never felt this encouraged before." That's despite her saying just days earlier that talks with the governor's office over the legalization legislation had become heated to the point of screaming.
A state budget spokesperson said that the "administration is working with all parties to pass a comprehensive regulatory structure for adult-use cannabis that prioritizes social equity, social justice, economic development, and the public health and safety of all New Yorkers."
There's been speculation that the growing number of sexual harassment allegations against the governor—in addition to controversy over the state's handling of nursing home COVID-19 death data—would leave him with less political clout to negotiate on behalf of his proposal over that of the lawmakers. Peoples-Stokes said previously that she wanted the legislature to take up the Marijuana Regulation and Taxation Act (MRTA) first and then consult the governor's office about his plan.
Cuomo proposed amendments to his legislation last month that he hoped would address certain concerns from lawmakers and advocates. The changes primarily concern that issues such as social equity funding and criminal penalties for underage marijuana possession.
Another factor working against Cuomo is that Democrats now have supermajority control over the legislature, which could empower them to override a potential veto if they were to pass the MRTA against the governor's wishes.
U.S. Senate Majority Leader Chuck Schumer (D-NY) is threw his support behind the legislature on Tuesday, applauding the MRTA sponsors for moving to advance the reform. He said he's "hopeful a deal can be reached soon that will provide a boost to our recovering economy and end over-criminalization."
The majority leader, who is in the process of drafting a bill to end federal marijuana prohibition, did not acknowledge the governor by name, though he said he was "glad that all sides are working hard to push this over the finish line."
New York lawmakers last month held the first public hearing of the year on proposals to legalize cannabis, specifically focusing on budget implications.
Legislators heard testimony during the joint session from two pro-legalization industry representatives and one opponent. Despite their ideological differences when it comes to legalization in general, all three panelists were critical of Cuomo's reform proposal. The two reform advocates said they would prefer to advance the MRTA over his legislation.
Last month, Lt. Gov. Kathy Hochul (D)—who would become governor is Cuomo were to resign or be impeached—told Marijuana Moment in an interview that there would be room for revisions to the current governor's plan, stating that "much of it is going to be negotiated with the legislature, and all these details can be resolved with their input as well."
Cuomo said that the changes in his bill reflect "the conversations we've had, but I'm hopeful that we can come to an agreement and we can get it done. He added that he believes, "because I've seen this movie before, "if we don't get it done by April 1, we won't get it done."
This is the third year in a row that Cuomo has included a legalization proposal in his budget plan. The last two times, negotiations with the legislature stalled amid disagreements over certain components such as the tax structure for the market and funding for social equity programs.
Regardless of which direction the legislature ultimately goes on this issue, there's growing recognition in the state that legalization is an inevitability.
The top Republican in the New York Assembly said in December that he expects the legislature to legalize cannabis this coming session.
Stewart-Cousins said in November that she also anticipates that the reform will advance in 2021, though she noted that lawmakers will still have to decide on how tax revenue from marijuana sales is distributed.
Cuomo also said that month that the "pressure will be on" to legalize cannabis in the state and lawmakers will approve it "this year" to boost the economy amid the health crisis.
Schumer Weighs In On New York Legal Marijuana Talks, Applauding Legislature And Snubbing Cuomo
Photo courtesy of Mike Latimer.
Kansas City Mayor Files Ordinance To Ban Pre-Employment Marijuana Testing For Most City Workers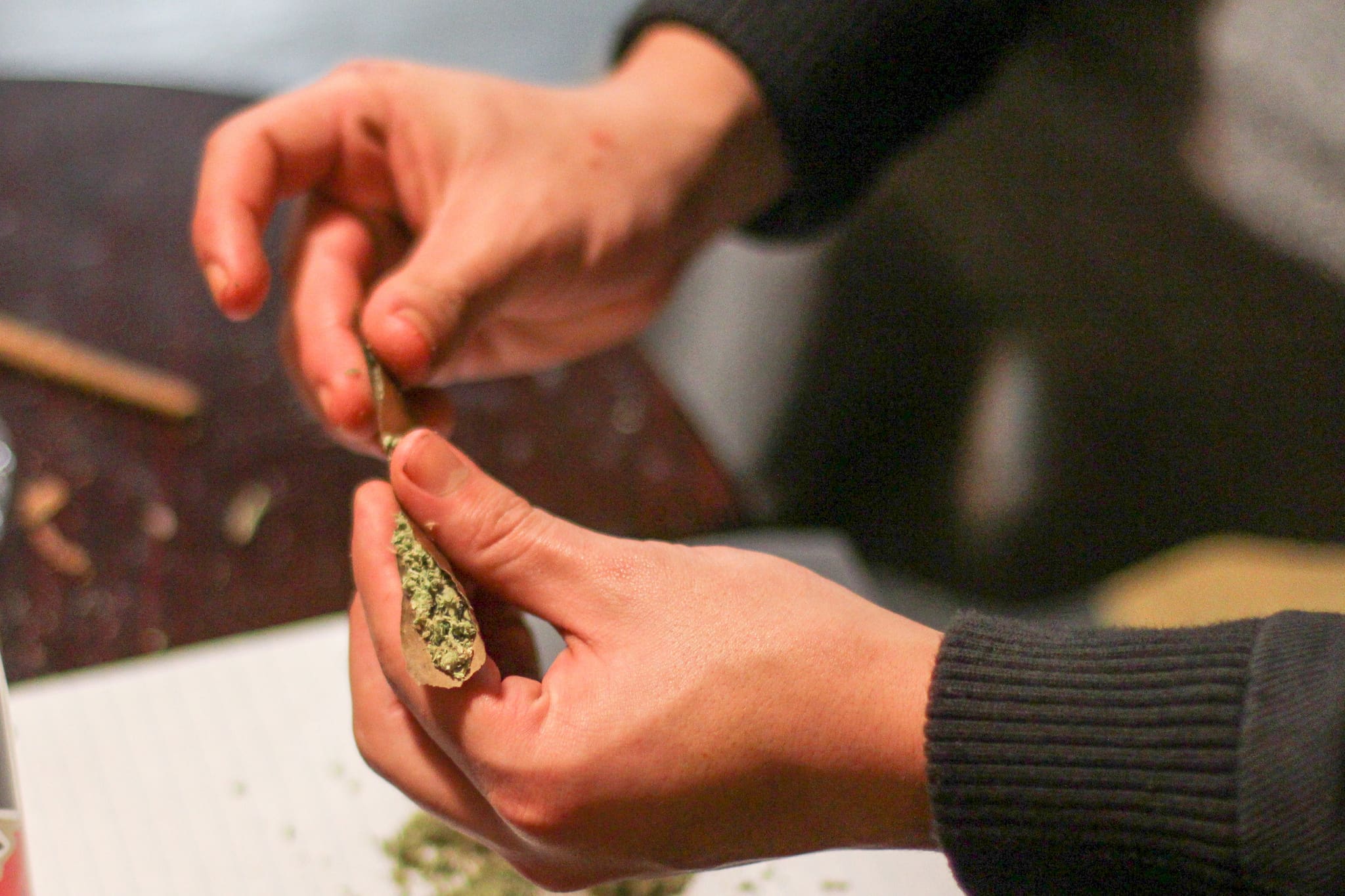 The mayor of Kansas City, Missouri on Thursday introduced a proposed ordinance that would make it so applicants for most city government positions would not be drug tested for marijuana as a pre-employment condition.
Mayor Quinton Lucas (D) has been a notable advocate for reform. Last year, he filed a since-enacted measure to remove all local criminal penalties for cannabis possession.
This latest proposal would "prohibit the City from conducting pre-employment testing for marijuana," with certain exemptions.
"It shall be unlawful for the City of Kansas City to require a prospective employee to submit to testing for the presence of marijuana in the prospective employee's system as a condition of employment," the text of the measure states.
Exceptions would be made for law enforcement, jobs requiring a commercial driver's license or that involve supervision of "children, medical patients, disabled or other vulnerable individuals" and positions where the "employee could significantly impact the health or safety of other employees or members of the public, as determined by the City Manager and set forth in regulations pursuant to this Chapter."
Kansas City government should not freeze qualified individuals out from government jobs due to marijuana usage, especially with medicinal marijuana legalized in Missouri and recreational marijuana legalized in surrounding states.https://t.co/pe3Q5D5oQB

— Mayor Quinton Lucas (@MayorLucasKC) July 22, 2021
"Kansas City government should not freeze qualified individuals out from government jobs due to marijuana usage, especially with medicinal marijuana legalized in Missouri and recreational marijuana legalized in surrounding states," Lucas said in a Twitter post.
The proposed ordinance has been referred to the Special Committee for Legal Review.
—
Marijuana Moment is already tracking more than 1,100 cannabis, psychedelics and drug policy bills in state legislatures and Congress this year. Patreon supporters pledging at least $25/month get access to our interactive maps, charts and hearing calendar so they don't miss any developments.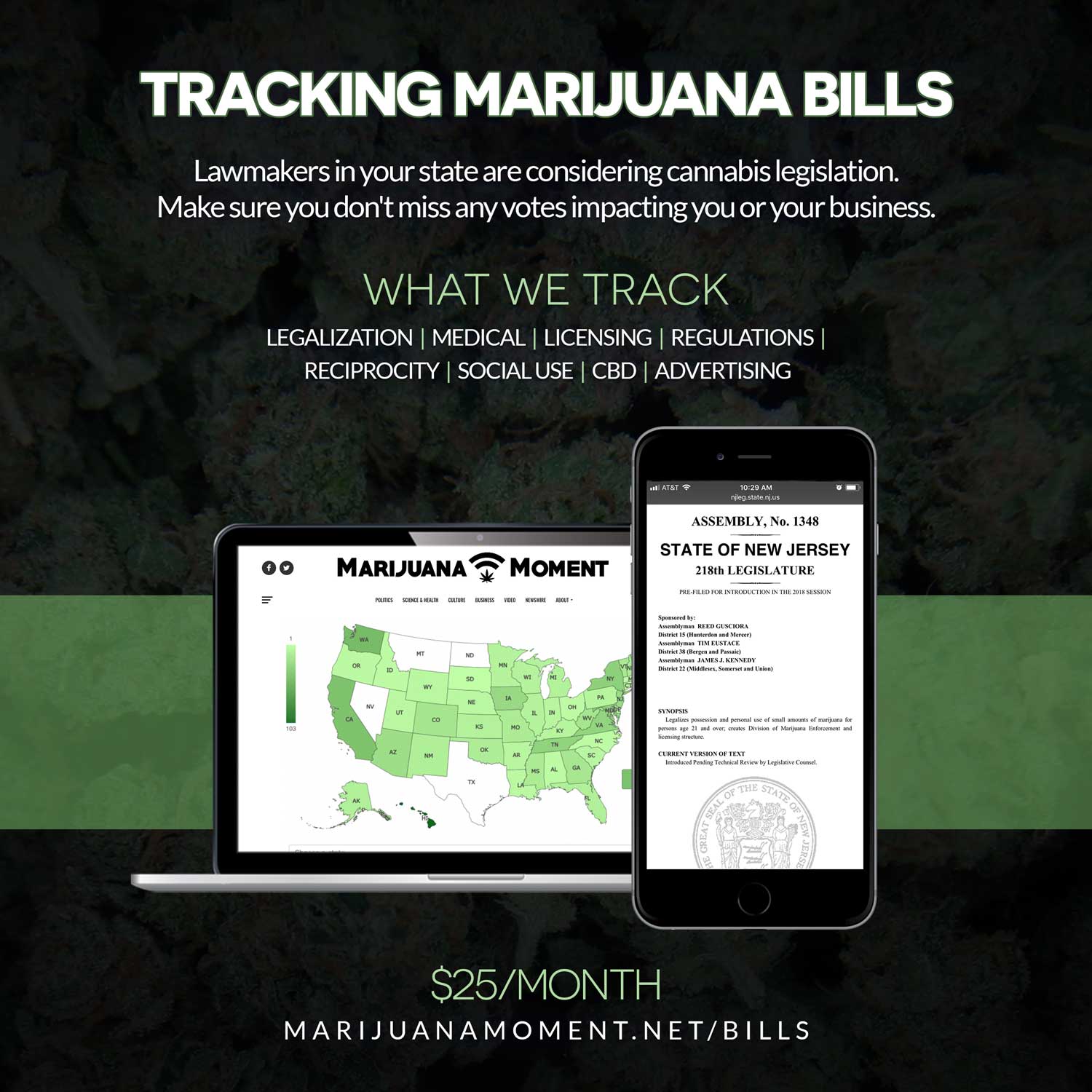 Learn more about our marijuana bill tracker and become a supporter on Patreon to get access.
—
Last year, Lucas announced a pardon program for those with previous convictions for possession of marijuana or paraphernalia.
"Working to eliminate pre-employment marijuana testing from the City application process is one of several common-sense steps I'm proud my administration has taken to build an inclusive City workforce and ensure employment opportunities exist for more Kansas Citians—particularly for hourly workers who disproportionally come from Kansas City's Black or brown communities," the mayor said in a statement about the new move.
Drug testing for cannabis has become a hot topic of late since the Olympics suspension of U.S. runner Sha'Carri Richardson, with more people arguing that use of the plant shouldn't lead to punishments, especially given the ongoing rise of the legalization movement.
For example, the Biden administration has come under fire this year for terminating or otherwise punishing staffers who were honest about their past cannabis use as part of the background check process.
White House Press Secretary Jen Psaki has said that nobody in the White House was fired for "marijuana usage from years ago," nor has anyone been terminated "due to casual or infrequent use during the prior 12 months." However, she's consistently declined to speak to the extent to which staff have been suspended or placed in a remote work program because they were honest about their history with marijuana on a federal form that's part of the background check process.
Last month, a powerful congressional committee released a report that urges federal agencies to reconsider policies that result in the firing of employees who use marijuana legally in accordance with state law.
Separate standalone legislation has been previously introduced by Rep. Charlie Crist (D-FL) to provide protections for federal workers who consume cannabis in compliance with state law, but it never received a hearing or a vote and has not been refiled so far this Congress.
As of last year, New York City employers are no longer able to require pre-employment drug testing for marijuana as a part of the hiring process—though there are a series of exemptions to the policy. The City Council approved the ban in 2019, and it was enacted without Mayor Bill de Blasio's (D) signature.
Back in Missouri, a group of activists recently filed four separate initiatives to put marijuana reform on the state's 2022 ballot, a move that comes as other advocacy groups are preparing separate efforts to collect signatures for cannabis ballot petitions of their own.
Meanwhile, still other activists are focusing on getting the legislature to pass a resolution to place the question of legalization before voters next year.
Lucas told Marijuana Moment last year that he'd "absolutely sign" a legalization initiative "because I think, you know, this is the way things should go and it's going to be essential for us."
U.S. Sports Authority Backs 'Liberalization' Of Marijuana Laws, Official Tells Lawmakers
Photo courtesy of Martin Alonso.
Senators And Federal Officials Discuss Marijuana Legalization And Drug Harm Reduction At Overdose Hearing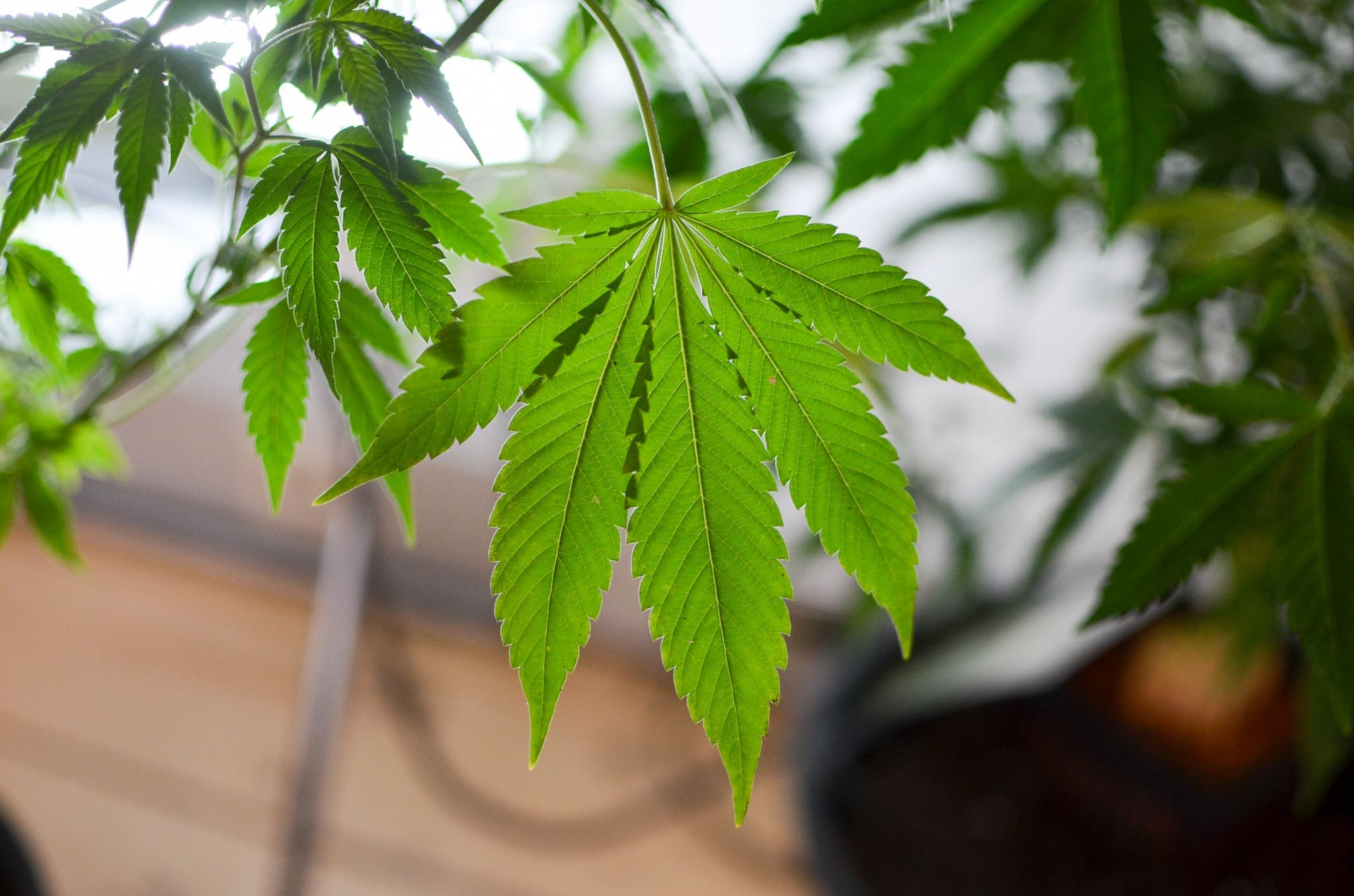 Marijuana and broader drug policy issues were discussed by lawmakers and top federal health officials at a Senate narcotics commission hearing this week, with conversations revolving around everything from THC concentrations and cannabis research to syringe exchange programs and the need to end racially disparate criminal enforcement.
The point of the Senate Caucus on International Narcotics Control meeting was to address the drug overdose epidemic and shifting trends that emerged out of the coronavirus pandemic. But while the chairman of the panel, Sen. Sheldon Whitehouse (D-RI), represents a state that recently took the historic step of legalizing a key harm reduction program that allows people to consume illegal drugs under medical supervision, members notably did not breach that specific topic.
A Rhode Island Health Department official and a former Rhode Island state lawmaker also testified at the Wednesday hearing, yet they also offered no statements about the harm reduction potential of the safe injection sites that were legalized in their home state as a measure to curb overdose deaths.
Rhode Island Sen. Josh Miller (D), sponsor of the safe injection legislation, told Marijuana Moment that he "was not disappointed" that the topic wasn't specifically addressed by any of the three Rhode Islanders at the federal overdose hearing and believes "there will ample opportunity in the coming months" to tackle it.
"The issue has gained much attention. It will be critical to discuss a range of issues on the federal level about legal and funding challenges facing expanded harm reduction that includes supervised consumption," he said. "I am confident effective progress will be made to support RI's pilot project, along with similar initiatives across the country."
But while Miller said he would've preferred some specific discussion of the issue at the hearing, the harm reduction conversation among U.S. senators this week instead largely revolved around access to the anti-overdose drug naloxone and syringe exchange programs.
Nora Volkow, director of the National Institute on Drug Abuse (NIDA), did offer written testimony that touched on a key policy of interest for advocates: decriminalizing drugs. She noted that the COVID-19 pandemic "highlighted the large racial health disparities in the United States" and that black people "have experienced worse outcomes during the pandemic, continue to die at a greater rate than white Americans, and also suffer disproportionately from a wide range of other acute and chronic illnesses."
"Abundant data show that Black people and other communities of color have been disproportionately harmed by decades of addressing drug use as a crime rather than as a matter of public health," she said. "Not only does incarceration fail to address [substance use disorder] treatment needs, but congregate settings increase risk for COVID-19 transmission and other harms."
The NIDA director made a similar point in an essay published in the journal Health Affairs, laying out the case against incarcerating people over low-level drug offenses and looking at the issue as a public health matter.
Separately, Volkow responded to a question from Sen. John Cornyn (R-TX) on the need to investigate the impact of "high concentrations of THC on people with perhaps mental health challenges or on the developing juvenile brain."
"Do you agree that it's important before we legalize marijuana at the federal level—should Congress decide to do so that—we get this kind of research performed so we actually know what we're doing?" Cornyn asked, implicitly recognizing that efforts to end federal cannabis prohibition are gaining momentum.
"I think it's 100 percent necessary that we actually have an understanding of the consequences of legalizing marijuana are going to have into the children and adolescent brain and what are the consequences," Volkow replied. "We owe it to the public to actually provide that information."
Chuck Schumer Discusses Strategy For Getting Enough Votes To Pass Marijuana Legalization Bill
Photo courtesy of Philip Steffan.
Biden's White House Drug Czar Nominee Worked For A Marijuana Business, Records Show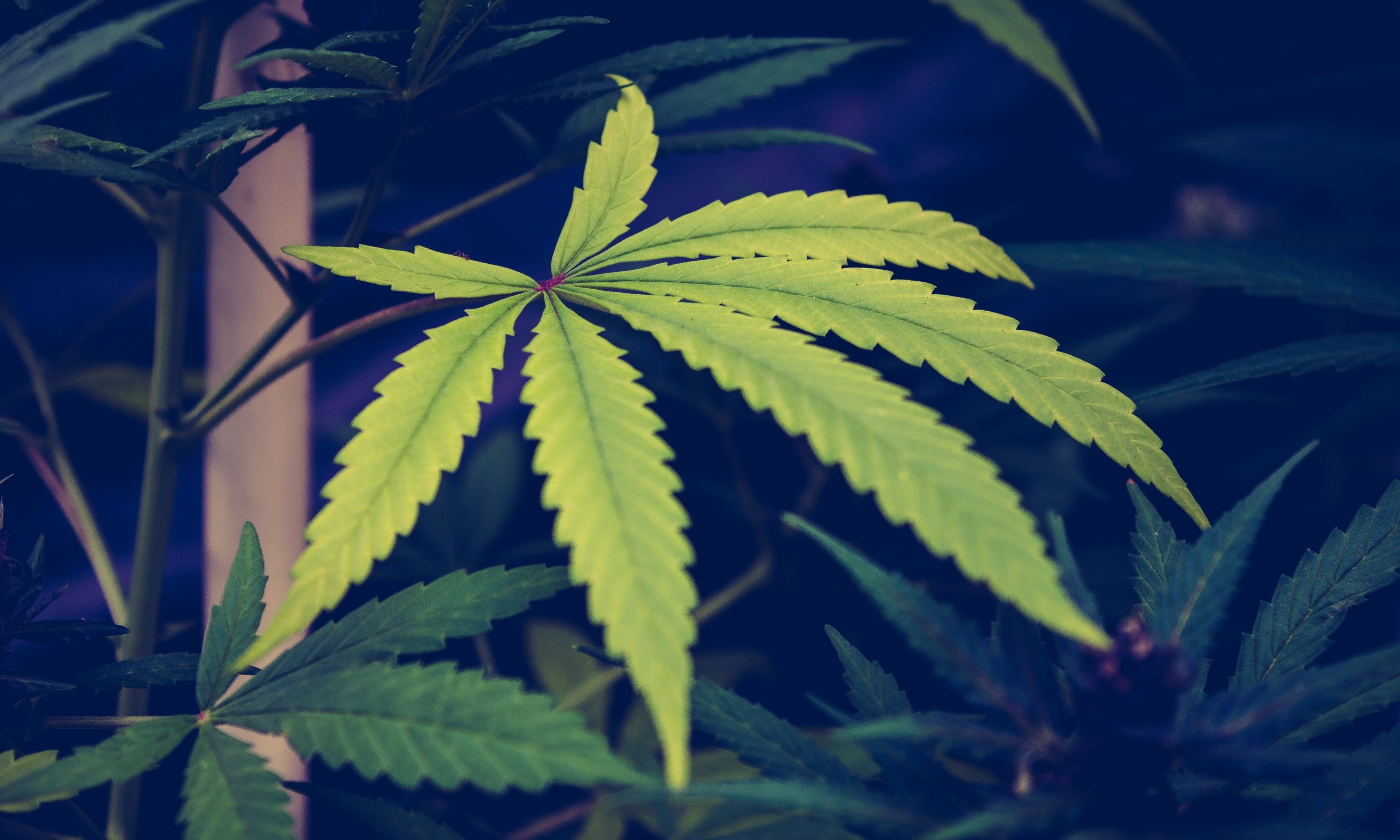 President Joe Biden's pick to head up federal drug policy worked for a major marijuana business last year, according to his financial disclosure reports.
Rahul Gupta, the nominee for director of the White House Office of National Drug Control Policy (ONDCP), worked as a consultant to Holistic Industries, a multi-state cannabis operator, for nine months in 2020.
This adds to the novelty of this particular administration pick, who had already caught the attention of reform advocates given his record overseeing the implementation of West Virginia's medical marijuana program as state health commissioner and chair of a key advisory board. He's also publicly recognized both the therapeutic and economic potential of cannabis reform.
For a person who would be expressly tasked with maintaining the status quo of prohibition as the nation's drug czar, this is unconventional—but generally welcomed by marijuana advocates nonetheless. Gupta has frustrated harm reduction activists, however, because as a state official he oversaw the decertification of a syringe access program.
At Holistic, Gupta's role was to consult on compliance issues, according to CNN, which was first to report on the disclosure documents. And Holistic WV Farms I, LLC—which is affiliated with Holistic Industries—evidently succeeded in demonstrating its compliance with state regulations in West Virginia, earning 10 medical cannabis retail permits, as well as cultivation and processor permits.
On the retail side, only one other company has received as many permits as Holistic did under the state program that its consultant Gupta once oversaw.
It's unclear at this point what role, if any, Gupta played in helping Holistic to secure those approvals. According to the disclosure documents, he earned $10,000 for his services to the company.
"Dr. Gupta's work for Holistic Industries involved consulting on regulatory compliance matters for prescribing medicinal cannabis in West Virginia where medical cannabis had already been legalized," a White House spokesperson told CNN. "He had overseen the development of such a program in the state as required by state law."
Holistic Industries describes itself as "one of the largest and fastest growing private MSOs (Multi-State Operators) in the country."
In a disclosure document section on his work for Holistic, Gupta says that, per federal statute, he agrees not to "participate personally and substantially in any particular manner involving specific parties in which I know that client is a party or represents a party, unless I am first authorized to participate" for one year after he last provided services. In this case, he worked for the medical cannabis company from March through December 2020.
It's uncertain what the probationary period would mean for the prospective drug czar's work on marijuana policy issues if he is confirmed by the Senate.
In any case, the ONDCP director is explicitly required under statute to oppose efforts to legalize currently controlled substances, including cannabis.
Prohibitionists had held out hope that the president would select someone whose views more closely align with their own, such as former Rep. Patrick Kennedy (D-RI), a cofounder of anti-legalization organization Smart Approaches To Marijuana (SAM), who had personally lobbied for the nomination.
When the Gupta nomination was announced, however, they expressed optimism about the choice and said they feel he will maintain the status quo, regardless of his record on cannabis. It's unclear whether the new reports about him directly working with, and profiting from, a marijuana business will make them less sure about that.
It also remains to be seen whether Gupta will face a grilling over his work in the cannabis industry from senators who oppose legalization during his confirmation hearing in the Senate Judiciary Committee, as Associate Attorney General Vanita Gupta (no known relation to Rahul) did over her past remarks supporting drug decriminalization.
Gupta's views on adult-use legalization are not clear, but he was proactive in promoting patient access to medical cannabis before leaving the state government to join the nonprofit March of Dimes, which is focused on public health issues related to mothers and children.
Rusty Williams, who served as a patient advocate on the West Virginia medical marijuana board alongside Gupta, told Marijuana Moment in an earlier interview that he once had a personal conversation with the official about the origins of marijuana prohibition. He said that the then-chair broached the topic of why marijuana was criminalized in the first place, and then agreed that federal officials intended to use prohibition as a tool to oppress communities of color.
Gupta was "willing to make things happen a year early," Williams said at the time, referring to the issuance of the board's report on the state medical cannabis program. "I was encouraged with the conversation that he and I had about the roots of prohibition."
In 2018, the West Virginia medical marijuana board released a report that included series of recommendations on the state program. Led by Gupta, the body advised that patients should have access to marijuana in flower form for "administration by vaporization or nebulization"—something that was not initially allowed in the program as approved by lawmakers.
When it comes to smoking that raw plant material, Gupta noted, that patients "can combust themselves if they want, but that's not what we're advocating or recommending."
The report also called for the removal of "limitations on the number of permits the Bureau for Public Health may issue for growers, processors, and dispensaries," as well as the removal of "the limitation that a grower or processor may not also be a dispensary to permit the vertical integration of growers, processors and dispensaries."
When medical marijuana legalization was approved by the West Virginia legislature in 2017, Gupta said that, like most people, he was "surprised."
"It's an understatement," he said at the time. "However, what we have in front of us today is a law as it stands in an attempt to compassionately address a number of disorders with chronic pain at the heart of it."
When members of the state medical cannabis advisory board were appointed, the official said the panel will help facilitate "a transparent and accountable process critical to ensuring a comprehensive system that will help citizens suffering from debilitating diseases like cancer."
"I am fully committed to making this particular piece of legislation successful," he said of the medical marijuana legalization bill. "This bill was put together very quickly and, obviously, no bill is perfect. We certainly discussed the shortcomings, but that doesn't mean the program won't be successful and be on track."
"We want to do it because lives are at stake. They are depending on the program to be successful," he added. "Many people are in chronic pain. We want to take on that challenge."
Gupta said that the board had received feedback from a range of stakeholders interested in the implementation of the cannabis program, but they'd also "received calls from people who are suffering who want to have some sort of relief. They are asking when they can get their patient ID card and go to their doctors to get certification."
"The human side of it—you can't ignore that piece," he also said. "Science explains some of it, but not all of it." He went on to say that there is a potential economic benefit to legalize for medical use, noting that "rarely are there policies enacted that are win-win," and if done right, "you can actually get a true win-win on this."
But Gupta isn't necessarily a fan of marijuana use for everyone. In 2019, he teamed up with then-Surgeon General Jerome Adams on a public education campaign meant to warn against the use of cannabis during pregnancy and adolescence.
"March of Dimes applauds today's release of the US Surgeon General's Advisory on the dangers of marijuana use during pregnancy for both mom and baby," he said. "The evidence clearly shows that no amount of marijuana has been proven safe to use during pregnancy or while breastfeeding. Unfortunately, this message is not resonating with all expecting women and maternity care providers, and marijuana use among pregnant women has doubled between 2002 and 2017."
Gupta has also periodically posted on social media about marijuana policy developments, such as the enactment of regulations for Colorado's marijuana program and a 2010 report that more teens were smoking cannabis than tobacco.
Colorado Signs Marijuana Regulations Into Law http://t.co/AfEnPDD9tK via @rttnews

— Rahul Gupta, MD, MPH, MBA (@DrGuptaMD) May 29, 2013
More teens smoke marijuana than cigarettes http://usat.ly/frkZ7N

— Rahul Gupta, MD, MPH, MBA (@DrGuptaMD) December 15, 2010
Part of the reason that advocates are monitoring each of Biden's nominations is because skepticism prevails about how his administration will approach cannabis policy considering that the president remains opposed to legalization, and so each development sheds light on what to expect in the coming years.
Attorney General Merrick Garland made clear during his oral and written testimony before the Senate, for example, that he does not feel the Justice Department should use its resources to go after people acting in compliance with state marijuana laws. He reiterated the point in May.
U.S. Sports Authority Backs 'Liberalization' Of Marijuana Laws, Official Tells Lawmakers