New York Governor Reveals Amendments To Marijuana Legalization Plan Weeks Before Budget Deadline
New York Gov. Andrew Cuomo (D) has released the full text of amendments to his marijuana legalization plan that he hopes will resolve disagreements with legislative leaders over his original proposal.
The main changes would allow cannabis delivery services, specify how social equity grant funding is distributed and lower the proposed penalty for selling marijuana to people under 21, all of which were previewed earlier last week.
The governor's revised proposal also includes "technical changes such as modify the adult-use cannabis retail dispenser definition, require returns to be filed electronically, establish the ability to revoke a registration for possession of illicit cannabis and exempt cannabis sold to a person with a research cannabis license from sales and excise taxes," a summary states.
Cuomo first announced that he would be sending a revised version of his reform proposal to the legislature last Monday and then provided an outline of the changes the next day.
The decision to revise his plan to lower penalties for selling cannabis to those under 21 is directly responsive to criticism from advocates over his original plan. Advocates and legislators said that making such activity a class D felony punishable by up to 2.5 years in prison, as it was initially drafted, was counterproductive to the goal of ending marijuana criminalization and would disproportionately impact black New Yorkers.
Here's the new text of the penalties provision: 
"A person is guilty of criminal sale of cannabis in the third degree when he knowingly and unlawfully sells any amount of cannabis or concentrated cannabis to any person under twenty-one years of age. In any prosecution for unlawful sale of cannabis or concentrated cannabis to someone under twenty-one years of age pursuant to this section, it is an affirmative defense that: (a) the defendant had reasonable cause to believe that the person under twenty-one years of age involved was twenty-one years old or more; and (b) such person under twenty-one years of age exhibited to the defendant a draft card, driver's license or identification card, birth certificate or other official or apparently official document purporting to establish that such person was twenty-one years old or more. Criminal sale of cannabis in the third degree is a class A Misdemeanor."
As far as delivery services are concerned, Cuomo said adding the licensing option will open up opportunities to participate in the industry with a lower cost of entry. There would be a local opt-out option for individual jurisdictions to ban delivery services, however. Meanwhile, advocates say that allowing delivery is a crucial component of any legalization plan amid the coronavirus pandemic.
Here's the text of the cannabis delivery amendment: 
"No adult-use retail dispensary may engage in the home delivery or retail delivery of adult-use cannabis products unless they are specifically approved and licensed to do so, or have contracted with a third-party home delivery licensee. All home delivery operations must be separately approved and licensed by the office and must comply with minimum application, licensing and operation requirements required by the board in regulation. The board may approve adult-use retail dispensaries which engage solely in the retail delivery of adult-use cannabis products without an approved storefront location."
The amended legalization plan doesn't seem to increase grant funding as advocates had called for; rather, the governor laid out specifics on how the funds will be managed and what those dollars will specifically support.
Here's the text of the social equity revision:
"The moneys in the 'cannabis social equity fund' shall be administered by the urban development corporation and allocated by the department of state in collaboration with the office of children and family services, the department of labor, the department of health, the division of housing and community renewal, and the office of addiction services, and approved by the director of the division of the budget, to provide grants for qualified community-based nonprofit organizations and approved local government entities for the purpose of reinvesting in communities disproportionately affected by past federal and state drug policies.
Such grants shall be used, including but not limited to, to support job placement, job skills services, adult education, mental health treatment, substance use disorder treatment, housing, financial literacy, community banking, nutrition services, services to address adverse childhood experiences, afterschool and child care services, system navigation services, legal services to address barriers to reentry, including, but not limited to, providing representation and related assistance with expungement, vacatur, substitution and resentencing of marihuana-related convictions, and linkages to medical care, women's health services and other community-based supportive services. The grants from this program may also be used to further support the social and economic equity program created by article four of the cannabis law and as established by the cannabis control board."
It remains to be seen whether these amendments will meet the standards of legislative leaders who've strongly pushed back against Cuomo's initial proposal.
Advocates say the changes address some key concerns but don't go far enough. Under the amendments, for example, home cultivation of cannabis would still be criminalized and there would be no automatic expungements of past convictions.
"It's good to see that the governor is responding to the concerns being raised, but even with the recent amendments, his proposal falls well short of what's needed," Eli Northrup, a New York public defender and member of the reform coalition Smart START NY, told Marijuana Moment.
Bizarrely, Gov. proposal would expand the definition of the term "drug" in the Vehicle & Traffic Law to include "any substance or combination of substances that impair, to any extent, physical or mental abilities." This is ridiculously broad and unnecessary. Does Red Bull count? pic.twitter.com/YpnA9NpKdA

— Eli Northrup (@EliNorthrup) February 19, 2021
Northrup also took issue with a part of Cuomo's original proposal that would broadly expand the definition of a "drug" under the state's impaired driving laws.
"It's really nonsensical and has no place in a legalization bill," he said.
A separate, comprehensive bill supported by top lawmakers and advocates that's been introduced in the legislature does include a home grow option—one of several differences that could make or break an agreement ahead of the April 1 budget deadline.
"It is my hope and desire that New York will legalize adult-use of cannabis this current session in 2021," Assembly Majority Leader Crystal Peoples-Stokes (D)—who has been especially critical of the governor's proposal and wants to move forward with the separate legalization bill in the legislature first before starting negotiations with the administration about Cuomo's plan—recently told Cheddar.
The majority leader has been especially forceful in her call for increased and stable funding for social equity, though she said there could be room for compromise with the governor after lawmakers approve the Marihuana Regulation and Taxation Act (MRTA).
"He wants to allocate some dollars out of the general fund, and my legislation says that there should be in the statute a percentage of the resources that go directly to the communities that have been negatively impacted," she said in the interview that was posted on Friday. "The legislation calls for 50 percent reinvestment in communities that have been harmed, but that's the starting point. But until we get to have the conversation, we can't negotiate by ourselves. We have to negotiate jointly with [Cuomo]. We haven't gotten to that point yet."
Earlier this month, Lt. Gov. Kathy Hochul (D) told Marijuana Moment in an interview that there would be room for revisions to the governor's plan, stating that "much of it is going to be negotiated with the legislature, and all these details can be resolved with their input as well."
Cuomo made clear when announcing the amendments that he sees the budget process as the way to enact the policy change.
"It is a controversial topic. It's a controversial and a difficult vote. I get it," he said. "I believe if we don't have it done by the budget, we're not going to get it done. And I think it would be a failing if we don't get it done this year and I think that would be a mistake."
"We're setting up a new bill that reflects the conversations we've had, but I'm hopeful that we can come to an agreement and we can get it done," he added. "But I believe—because I've seen this movie before—if we don't get it done by April 1, we won't get it done."
This is the third year in a row that Cuomo has included a legalization proposal in his budget plan. The last two times, negotiations with the legislature stalled amid disagreements over certain components such as the tax structure for the market and funding for social equity programs.
Regardless of which direction the legislature ultimately goes on this issue, there's growing recognition in the state that legalization is an inevitability.
The top Republican in the New York Assembly said in December that he expects the legislature to legalize cannabis this coming session.
Senate Majority Leader Andrea Stewart-Cousins (D) said in November that she also anticipates that the reform will advance in 2021, though she noted that lawmakers will still have to decide on how tax revenue from marijuana sales is distributed.
Cuomo also said that month that the "pressure will be on" to legalize cannabis in the state and lawmakers will approve it "this year" to boost the economy amid the health crisis.
The push to legalize in New York could also be bolstered by the fact that voters in neighboring New Jersey approved a legalization referendum in November.
Separately, several other bills that focus on medical marijuana have been filed in New York, and they touch on a wide range of topics—from tenants' rights for medical cannabis patients to health insurance coverage for marijuana products.
This story has been updated to clarify that the expanded definition of "drug" was included in Cuomo's original proposal and is not part of the new amendments.
Lawmakers Voted To Approve Marijuana Legalization Bills In Four States This Week
Virginia Lawmakers Send Marijuana Legalization Bill To Governor's Desk Just Hours Before Deadline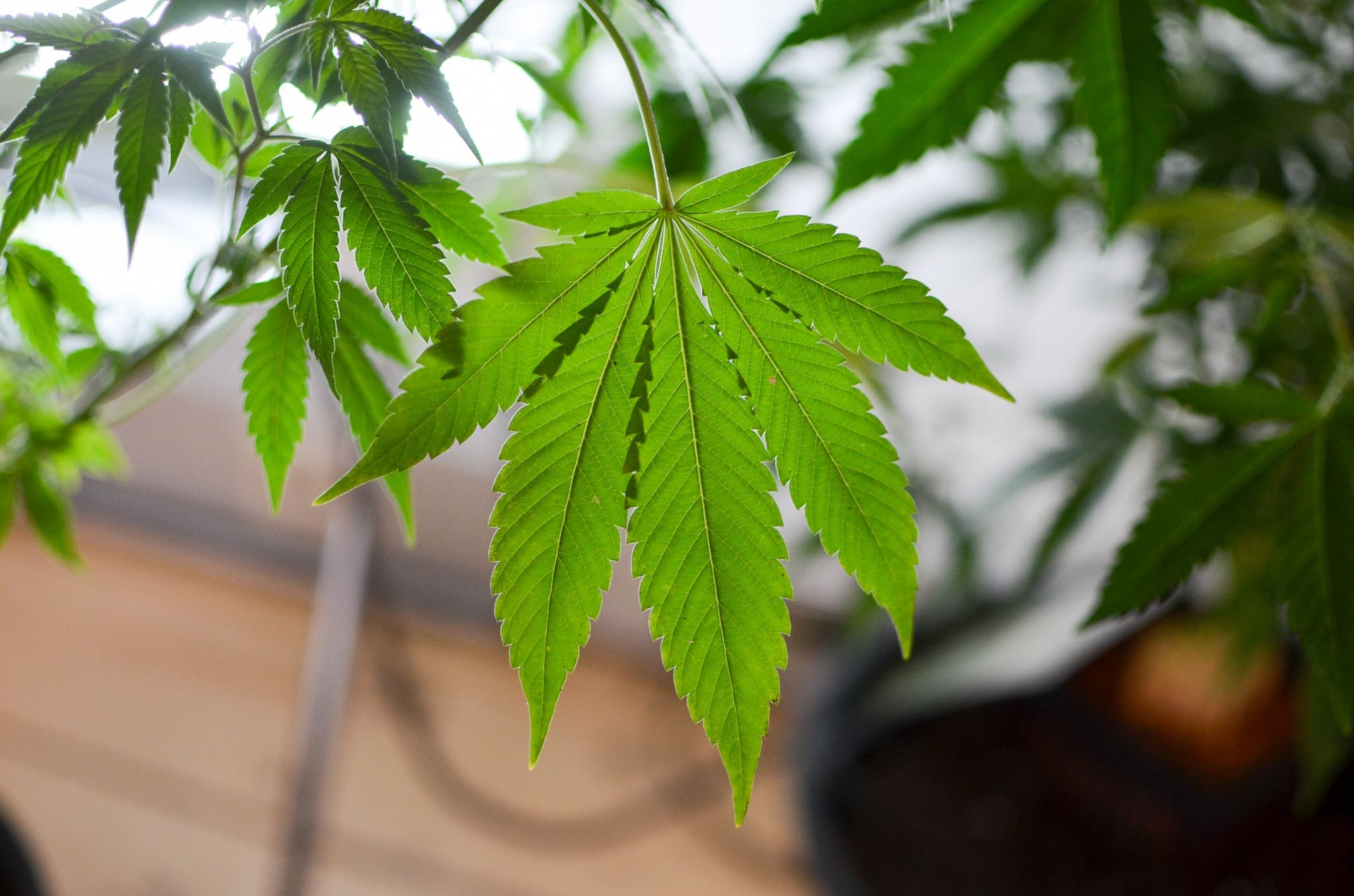 Virginia lawmakers approved a bill to legalize marijuana with just hours left before the deadline to get legislation to the governor this session.
The Senate and House of Delegates approved differing reform proposals earlier this month, and negotiators have since been working to reconcile the bills in conference committee—a contentious process that at times appeared as if it would end without a deal.
But on Saturday, lawmakers agreed to the bicameral compromise plan.
The Senate voted 20-19 to approve the conference committee report on its bill as well as the identical version for the House legislation. The House voted to approve the conference report on its bill, 48-43, with two abstentions. When considering the Senate version, the House voted 47-44, with one abstention.
"It's been a lot of work to get here," Sen. Adam Ebbin (D), the lead sponsor of the Senate version of the legislation, said prior to the Senate vote. "But I would say that we're on the path to an equitable law allowing for responsible adults to use cannabis."
House Majority Leader Charniele Herring (D), the chief sponsor of the her chamber's legalization bill, said that "racial justice is about more than addressing penalties for simple possession."
"It is about reformative justice that provides equitable and social economic opportunity for individuals and communities which have been harmed by disproportionate policing and prosecution of cannabis," she said. "Legalizing cannabis does not end systematic racism but it does remove one of the tools used in advancing systematic racism."
The compromise legislation now goes to the desk of Gov. Ralph Northam (D), who supports ending cannabis prohibition.
Among the most pressing issues for lawmakers to negotiate in recent weeks was the timeline for crafting regulations for the cannabis market. The Senate has pushed for a reenactment clause to be included which would extend the process into next session, whereas the House side wanted to complete legislative work during the current session, arguing that enough research has already been done to effectively decide the issue. But Senate negotiators won out, meaning that the legislature will revisit cannabis regulations and post-legalization penalty structures next session.
Another major area of contention dealt with how the state would approach cannabis possession in the time between the bill's signing and implementation of legal sales going into effect. Under both versions, the adult-use market wouldn't launch until January 1, 2024 to give the state time to establish a regulatory agency to oversee the program. While the Senate had wanted to make the legalization of simple possession and home cultivation take effect starting on July 1 of this year, negotiators ultimately agreed to delay it to coincide with commercialization in 2024.
In the meantime, under the deal, a new Virginia Cannabis Control Authority will begin work this July to lay the ground for a legal marijuana industry.
Here are some of the other major provisions that were resolved in conference: 
Referendum—The Senate version of the bill would have asked voters to weigh in on legalization through a nonbinding referendum on this November's ballot. But the issue became increasingly contentious in recent days and conference negotiators decided to drop the idea.
Local control—Whereas the Senate measure called for individual cities to be able to ban marijuana businesses from operating in their area, the House version did not include an opt-out provision. Conferees decided to allow municipalities to elect to ban cannabis commercialization, but they must do so by December 31, 2022.
Penalties for youth—Under the House bill, minors caught possessing cannabis would be subject to a $25 fine with a referral to substance misuse treatment. The Senate, meanwhile, proposed a $250 fine for youth possession for the first offense and then criminal charges and even jail time for subsequent convictions. The agreed-upon final legislation would continue the current approach of treating youth possession as a delinquency, subject to a civil penalty of up to $25, but add a mandatory substance misuse treatment or education program or both. There would be no interaction with courts for such youths. For people between the ages of 18 and 20, the conference deal would continue the existing $25 fee that exists under the state's decriminalization law and add that they may be ordered to enter a treatment or education program or both.
Social equity—Both versions of the legislation called for licensing priorities for social equity businesses, but there were differences in how each chamber defined what constitutes a social equity applicant. The final legislation defines an equity business as one that has at least 66 percent ownership by people who have been convicted of misdemeanor marijuana offenses (or have family members with such convictions) or people who live in a geographic area that is economically distressed or has a disproportionate rate of cannabis policing. People who graduated from a historically black college or university located in the state would also qualify. Also, beginning on July 1, the state would establish Cannabis Equity Reinvestment Fund and a Cannabis Equity Business Loan Fund.
Vertical integration—The House's measure would ban vertical integration, a process that would allow a single company could control aspects of growing, processing and selling marijuana products. The Senate, meanwhile, wanted to allow vertical integration only if a cannabis business paid a $1 million fee into a state equity fund. Under the final legislation, vertical integration will be generally limited but will allow existing medical cannabis and hemp businesses to partially vertically integrate. Micro-businesses will also be able to vertically integrate.
In general under the legislation, adults 21 and older would be able to purchase and possess up to one ounce of cannabis and cultivate up to four plants for personal use. It also allows people to petition for suspended or modified sentences for marijuana convictions and establishes criteria for sealing past records.
The bill would set a cannabis excise tax of 21 percent and allow localities to add an additional 3 percent tax on top of the state's existing 6 percent retail sales tax. Revenue would partly fund pre-K education programs for at-risk youth and would support the new equity funds as well as addiction prevention and treatment services and public health initiatives.
—
Marijuana Moment is already tracking more than 700 cannabis, psychedelics and drug policy bills in state legislatures and Congress this year. Patreon supporters pledging at least $25/month get access to our interactive maps, charts and hearing calendar so they don't miss any developments.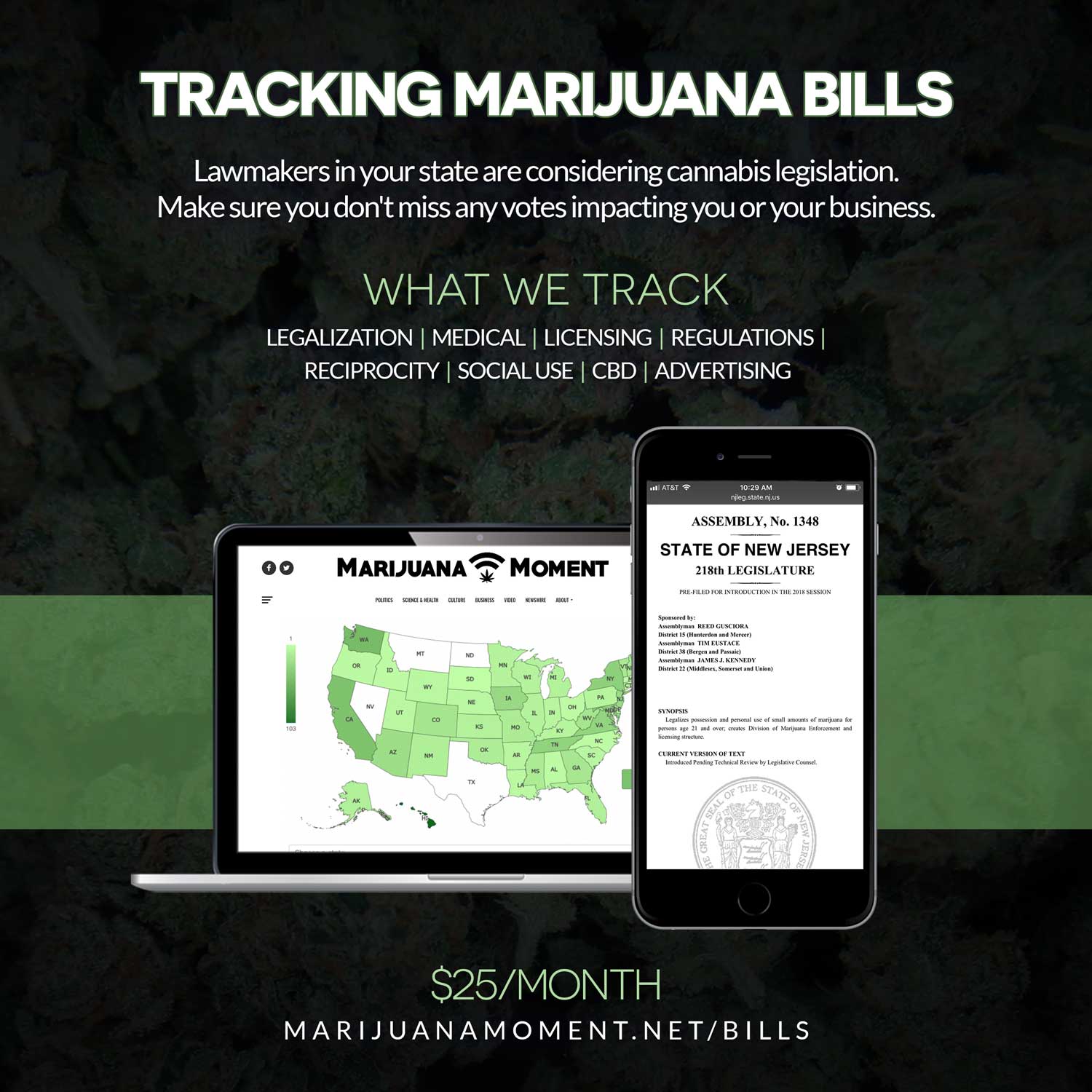 Learn more about our marijuana bill tracker and become a supporter on Patreon to get access.
—
The proposal would create a new cannabis-focused state agency to regulate the legal market as opposed to having it fall under the existing alcoholic beverage authority as was the case under the governor's original plan.
Post-legalization penalties set to go into effect in 2024, which are subject to renewal by the legislature next session, would include a $25 fine for possessing between one ounce and one pound in public. For public consumption, there would be a civil penalty of no more than $25 for first offense. A second offense would come with a $25 civil penalty and an order to enter a substance misuse treatment or education program, or both. Third or subsequent offenses would constitute a Class 4 misdemeanor with no possibility of jail time. Meanwhile, bringing marijuana across state lines would be a Class 1 misdemeanor.
Now that the final bill is headed to Northam's desk, the governor will have the opportunity to suggest amendments to lawmakers, who can then adopt the suggestions as is or change or reject them, at which point the bill would go back to the governor for final action.
Jenn Michelle Pedini, executive director of Virginia NORML, said the bill's passage "is another historic step for cannabis justice" that will "replace the failed policy of cannabis prohibition with one that promotes Virginia's economy as well as Virginians' public health and safety."
"This effort remains a work in progress and our efforts in Virginia are far from over," Pedini, who also serves as NORML's national development director, said. "NORML is dedicated to continuing our work with lawmakers and regulators to advance legislative reforms that are most closely aligned with the views of the majority of Virginians who desire a safe, legal cannabis market. In particular, we hope to expedite the timeline with which Virginia adults will no longer face either criminal or civil penalties for the personal possession and cultivation of cannabis."
Matt Simon, senior legislative analyst for the Marijuana Policy Project, said it's "exciting that Virginia is on track to end cannabis prohibition and replace it with sensible regulation."
"Lawmakers in other states are already taking notice and seeking to learn from Virginia's example," he said.
Earlier on Saturday, the ACLU of Virginia and other groups had urged lawmakers to defeat the final proposal prior to the release of its actual text, saying that the provisions as described in media reports showed it to be a "symbolic marijuana legalization bill made behind closed doors that does not advance the cause of equal justice and racial justice."
BREAKING: We, @thcjusticenow, @RISEforYouth, and @JusticeFwdVa urged Virginia lawmakers to vote no on a symbolic marijuana legalization bill made behind closed doors that does not advance the cause of equal justice and racial justice in Virginia. https://t.co/kS47X9qK7g

— ACLU of Virginia (@ACLUVA) February 27, 2021
The Virginia NAACP argued that the bill, based on press accounts, "includes Systemically Racist probable cause provisions" and pledged that its members "will not stand by while Jim Crow's sister Jane tries to creep her way into Virginia law."
We will not stand by while Jim Crow's sister Jane tries to creep her way into Virginia law."
2/2

— Virginia NAACP (@NAACPVirginia) February 27, 2021
But after the bill's text came out, NAACP issued an updated statement saying that while the final legislation "is not perfect, it's a step in the right direction."
The Virginia NAACP will not rest until full equity and restorative justice is achieved."
2/2

— Virginia NAACP (@NAACPVirginia) February 28, 2021
The ACLU, for its part, maintained its opposition, saying that lawmakers "failed to legalize marijuana for racial justice" and "paid lip service to the communities that have suffered decades of harm caused by the racist War on Drugs with legislation that falls short of equitable reform and delays justice."
The new changes, which would not legalize simple possession until 2024, do nothing to break the chains of marijuana prohibition.

It would delay & deny justice to all those whose lives have been upended & who are still being harassed by police on the streets every day.

— ACLU of Virginia (@ACLUVA) February 28, 2021
All of this legislative action comes a little over a month after Northam and top lawmakers initially unveiled their legalization proposal.
The cannabis legislation's structure was informed by separate studies conducted by a legislative research body and a working group made up of state cabinet officials.
Support for legalizing marijuana is strong in Virginia, according to a poll released this month. It found that a majority of adults in the Commonwealth (68 percent) favor adult-use legalization, and that includes most Republicans (51 percent).
The legislature has also taken up a number of other more modest cannabis reform proposals this session.
Bills to allow medical patients to access whole-flower cannabis in addition to oils, facilitate automatic expungements for certain marijuana convictions, protect employment rights of medical cannabis patients and allow those in hospice and nursing facilities to access medical marijuana have also advanced this session.
Virginia lawmakers passed separate legislation last year that decriminalized possession of up to an ounce of marijuana, replacing existing penalties with a $25 civil fine and no threat of jail time. The law took effect last July.
Read a summary of the provisions of the Virginia marijuana legalization conference report below:
Virginia Marijuana Legalization Conference Details by Marijuana Moment on Scribd
New Mexico House Approves Marijuana Legalization Bill, With Senate Action Imminent
Photo courtesy of Philip Steffan.
New Mexico House Approves Marijuana Legalization Bill, With Senate Action Imminent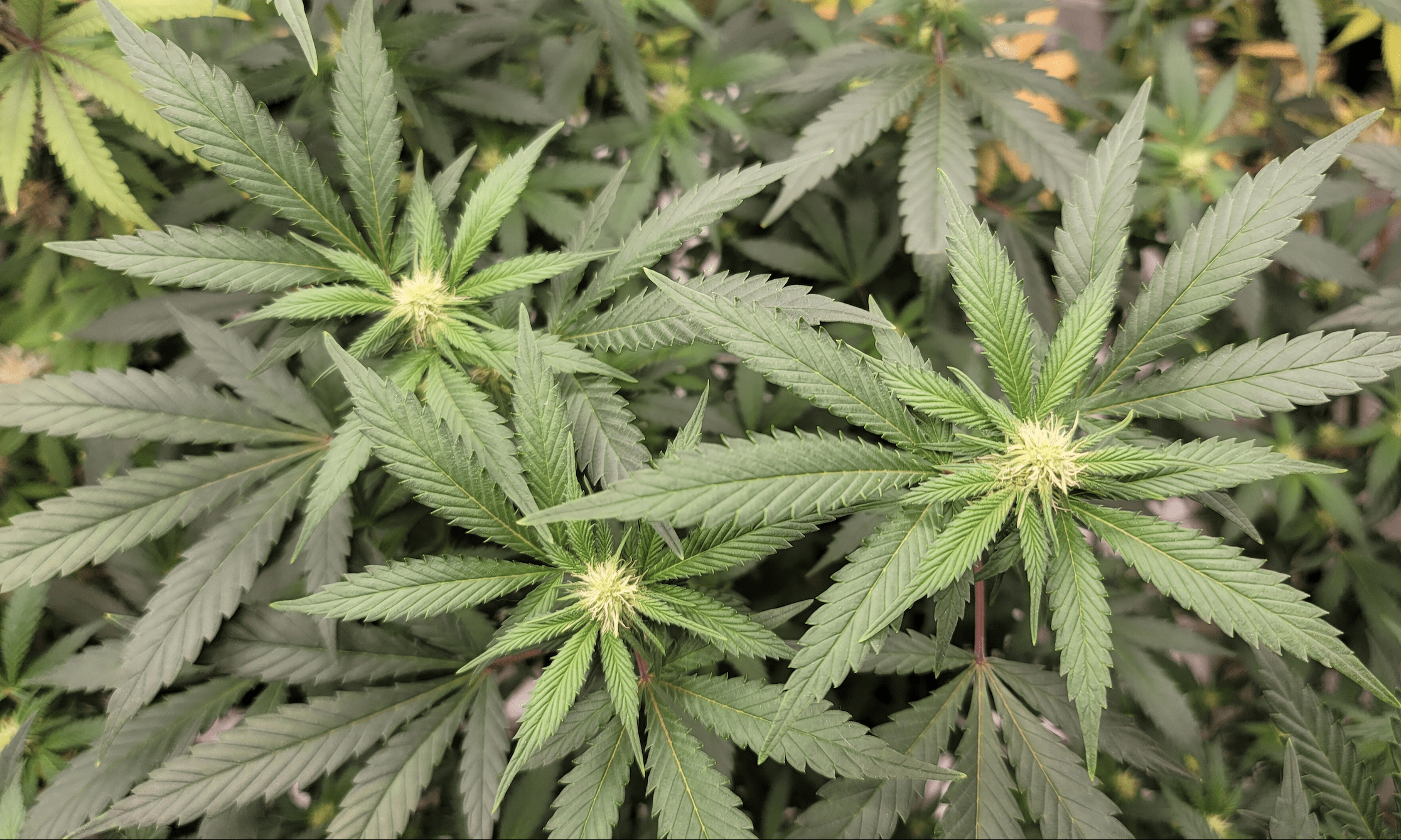 The New Mexico House of Representatives on Friday approved a bill to legalize marijuana in the state, one day ahead of a scheduled Senate committee hearing on that chamber's separate proposals to end cannabis prohibition.
The legislation that cleared the House—which would allow adults 21 and older to possess "at least" two ounces of cannabis and grow up to six mature and six immature plants for personal use—recently sailed through two committees before moving to the floor, where it was approved in a 39-31 vote.
The measure is favored by reform advocates because—unlike other House and Senate reform measures that have been introduced this session—it would prioritize using tax revenue from marijuana sales to support reinvestments in communities most impacted by the war on drugs. It also stands out for including provisions to automatically expunge prior cannabis convictions.
Meanwhile, the Senate Tax, Business & Transportation Committee will take up three separate legalization bills on Saturday.
Rep. Javier Martinez (D) introduced the House legislation, which would establish a system of regulated marijuana sales. It would require rules for the market to be implemented by January 2022.
"As I dove into this work years ago, I realized that, to me, legalizing recreational cannabis is not about the money," Martinez said on the floor prior to the vote. "It's a great revenue source for the state, but that's not why I'm doing it."
"Legalizing adult use of cannabis is probably going to be good for tourism. Legalizing is probably going to be good in terms of creating jobs and a new homegrown industry," he said. "But really when you get to the core of why I'm doing this and why I've worked on this for so long, it's because I have seen the faces of the people who have most been impacted by this terrible and unwinnable war on drugs. It's one that we cannot win."
The Taxation & Revenue Committee approved a substitute version of the measure on Wednesday that includes a number of changes, including moving the start of legal sales back to January 1, 2022 from October 1 of this year. That would apply to existing medical cannabis dispensaries and microbusinesses, with sales for other retailers set to start September 2022.
Language was also removed in committee that earmarked tax revenue for a community reinvestment fund and a low-income patient subsidy program. The fund accounts will still be created, but it would be up to lawmakers to steer money to them in future sessions once cannabis revenue starts coming in.
Other modifications include language on regulatory authority for the cannabis market, allowing health and safety inspections of businesses, addressing workplace and employment issues, replacing fines and fees for youth who violate the law with a civil infraction penalty, stipulating that people can petition for resentencing for offenses made legal and adjusting the state excise tax on marijuana from nine percent to eight percent while giving local jurisdictions the option to levy an additional four percent tax.
On the floor on Friday, members additionally accepted a technical amendment to add back in a section of the bill that had been inadvertently deleted by committee staff.
Rep. Randal Crowder (R) offered an amendment to allow local jurisdictions to opt out of allowing marijuana businesses. But after it was pointed out to him that its broad language would have unintentionally impacted medical cannabis operations as well as recreational ones, he withdrew it. A second, revised version, was more narrowly drafted to focus only on adult-use operations, but it was blocked by a successful motion to table it.
"Cannabis legalization in New Mexico is one step closer to the finish line," Emily Kaltenbach, senior director of resident States and New Mexico for the Drug Policy Alliance, said after the vote. "After tonight's debate, we're even more optimistic that this bill has a path to the governor's desk."
She argued that the House bill is superior to the three measures the Senate panel will take on Saturday.
"Given HB 12 puts the lives of New Mexicans ahead of solely business interests, it is critical it be the vehicle for legalization as the issue moves forward," she said. "HB 12 legalizes cannabis in an equitable way that begins to repair the harms that have disproportionately impacted Hispanic/Latinx, Black, Native and Indigenous people in New Mexico. New Mexicans are absolutely ready to see marijuana legalization become a reality in the state, but they have made it clear that repairing the damage done by the drug war is non-negotiable."
For her part, Gov. Michelle Lujan Grisham (D) has repeatedly talked about the need to legalize as a means to boost the economy, especially amid the coronavirus pandemic. She said during a State of the State address last month that "a crisis like the one we've experienced last year can be viewed as a loss or as an invitation to rethink the status quo—to be ambitious and creative and bold."
The governor also included cannabis legalization as part of her 2021 legislative agenda that she released last month and said in a recent interview that she's "still really optimistic about cannabis" this session.
That optimism is bolstered by the fact that several anti-legalization Democrats, including the Senate president pro tem and the Finance Committee chair, were ousted by progressive primary challengers last year.
Additional pressure to end cannabis prohibition this year is coming from neighboring Arizona, where voters approved legalization in November and where sales officially launched earlier this month.
New Mexico shares another border with Colorado, one of the first states to legalize for adult use. Cannabis is also expected to be legalized across the southern border in Mexico, with lawmakers facing a Supreme Court mandate to end prohibition by April.
Last year, a bill to legalize cannabis for adult use passed one New Mexico Senate committee only to be rejected in another before the end of the 30-day session.
Earlier, in 2019, the House approved a legalization bill that included provisions to put marijuana sales mostly in state-run stores, but it died in the Senate. Later that year, Lujan Grisham created a working group to study cannabis legalization and issue recommendations.
Polling indicates that voters are ready for the policy change. A survey released in October found that a strong majority of New Mexico residents are in favor of legalization with social equity provisions in place, and about half support decriminalizing drug possession more broadly.
Last May, the governor signaled that she was considering actively campaigning against lawmakers who blocked her legalization bill in 2020. She also said that she's open to letting voters decide on the policy change via a ballot referendum if lawmakers can't send a legalization bill to her desk.
Washington Supreme Court Strikes Down Criminalization Of Drug Possession
Photo courtesy of Mike Latimer.
Connecticut Marijuana Hearing Shows Governor's Legalization Bill Likely To Be Amended After Equity Pushback
Connecticut lawmakers took a full day's worth of public testimony on Friday about Gov. Ned Lamont's (D) plan to legalize and regulate marijuana for adults. The legislation has drawn harsh criticism from social equity advocates since its unveiling earlier this month as part of the governor's budget, and the bill's supporters said at Friday's hearing that they're open to making changes to address those concerns.
"This is not a final bill," Lamont's chief of staff, Paul Mounds, told equity advocates during his testimony to the legislature's Judiciary Committee. "We want to sit at the table. We want you at the table."
Before Friday's official legislative hearing, a group of reform advocates critical of the governor's proposal held a press conference to bring attention to what they say are shortcomings of the bill's licensing, equity and criminal justice provisions. Among them, they argue the governor's plan, SB 888, would give an overwhelming advantage to businesses in the state's existing medical marijuana system by allowing them early control of the legal adult-use industry. That would likely make it hard for smaller applicants or Black and brown people trying to enter the new market as business owners rather than as employees.
One speaker at the press conference, Rep. Anne Hughes (D), said she would be willing to vote against the governor's bill if it doesn't end up including a stronger emphasis on equity.
"If we put equity applicants at the back of the line," Hughes said, "I don't think we can ever repair that. I don't think we can catch up."
Critics of the governor's plan have drawn attention to a separate legalization bill, HB 6377, which includes additional equity measures, such as early registration for equity license applicants and funding for low-interest business loans.
Supporters of the governor's bill struck a conciliatory tone at Friday's hearing, denying that the two proposals are in conflict. "These bills aren't competing," said Jonathan Harris, a senior advisor to the governor. "They're actually complementary."
Jason Ortiz, a drug policy advocate and president of the Minority Cannabis Business Association who served as chair of the governor's cannabis licensing working group last year, has been critical of Lamont's proposal, arguing that the administration effectively ignored his suggestions for how to build an equitable industry. In a Facebook post on Thursday, he said the governor's legalization plan "creates a white only market for an indefinite period of time."
At Friday morning's press conference, Ortiz said equity advocates would be happy to help strengthen Lamont's proposal.
"We were available months ago and we're available now. The governor just needs to pick up his phone and call Reps. [Robyn] Porter and her colleagues," he told Marijuana Moment after the event, referring to backers of the separate legalization bill, HB 6377.
State Senate Majority Leader Bob Duff (D), meanwhile, has said the cannabis legalization bills need to be "pulled apart and put back together," according to The Connecticut Examiner, adding that there's still "a lot of work to be done."
"We need to be start taking all of these different ideas and putting them together," House Speaker Matt Ritter (D) told the Examiner, "so we can have an actual bill to rally the votes behind.
For her part, Porter, who chairs the Labor Committee, said during Friday's hearing that she's confident that HB 6377's provisions will be considered in an eventual compromise bill.
As introduced by Lamont in his budget proposal earlier this month, SB 888 would allow adults 21 and older to possess up to 1.5 ounces of cannabis and purchase products from licensed stores, which would be scheduled to open in May 2022.
Homegrow would be forbidden under the plan, and some but not all marijuana-related convictions from before October 2015 would be automatically expunged. Fiscal estimates project the market could make the state more than $33 million in revenue in fiscal year 2023, growing to $97 million by 2026. Beginning in 2024, half of all state excise tax would be earmarked for municipal aid and equity spending.
Ortiz—whose criticisms were acknowledged by Lamont advisor Harris at Friday's hearing—identified a number of criminal justices areas of the bill he said were "lacking" during his testimony to the panel, noting that SB 888 does not decriminalize home cultivation or expunge an array of cannabis convictions, including for possession of more than for ounces of cannabis.
"At the core of equity is decarceration, getting folks out of prison; decriminalization, making sure we're not putting more people in prison; and expungement, making sure the records of whatever interaction they have don't follow them," he said. "SB 888 acknowledges the need for all of those, but then doesn't actually do it in policy."
Fascinating to watch what's unfolding in Connecticut between the cannabis bill that represents equity (HB 6377) and the cannabis bill that represents a whole lot of lip service and nothing else (SB 888, hearing now). Follow @therealcurect to stay updated and show support. https://t.co/UB6AxrC8wv

— Shaleen Title (@shaleentitle) February 26, 2021
Friday's hearing—the first to consider the governor's legalization proposal—drew extensive written and oral testimony. Among those who submitted statements ahead of the hearing were a number of state officials expressing their support for legalization, which is expected to bring tens of millions of dollars in state revenue.
"S.B. 888 will help create jobs, foster an emerging and growing industry in our state, and help support the state and local tax base—all areas that are critical as our state emerges from the pandemic," wrote David Lehman, commissioner of the state Department of Economic and Community Development and a senior economic advisor to the governor.
Officials also said the policy change would align Connecticut with other nearby states, ensure limits on advertising and products designed to appeal to children, protect the rights of employers to prohibit cannabis use and support social justice.
"Legalizing cannabis means taking meaningful strides to address our state's criminalization of cannabis to date and the disproportionate impact this has had on communities of color," said Marc Pelka, undersecretary for criminal justice policy and planning at the Office of Policy and Management.
Commissioner of Consumer Protection Michelle Seagull and others noted that nearby sources of legal, regulated cannabis are increasingly available to state residents. "Massachusetts, Maine, and Vermont already have some form of a market for adult-use cannabis," she wrote, "bills were just signed into law by New Jersey's Governor, and New York and Rhode Island are poised to legalize adult-use this year. We cannot ignore or avoid this fact."
That was a sentiment echoed by Department of Emergency Services and Public Protection Commissioner James Rovella, who pointed out that surrounding states are enacting legalization and that "cannabis is already among us and law enforcement is dealing with it and expending resources on it."
Department of Banking Commissioner Jorge L. Perez similarly said the governor's proposal "recognizes that the trend nationally and in nearby states is to legalize the adult use of recreational cannabis" and that it regulates marijuana in way that "prioritizes public health, public safety, and social justice."
Department of Mental Health and Addiction Services Commissioner Miriam Delphin-Rittmon said she appreciates that the bill "protects public health by providing adult access to safe products and preventing advertising and retail locations that would appeal to children."
Others who submitted testimony in support include Department of Revenue Services Commissioner Mark D. Boughton, Department of Labor Commissioner Kurt Westby and Department of Motor Vehicles Commissioner Sibongile Magubane.
Some in law enforcement and health care submitted testimony against the legalization plan.
"The rush towards legalization of recreational marijuana ignores how profit-driven corporations hooked generations of Americans on cigarettes and opioids, killing millions and straining public resources," said the Connecticut State Medical Society. "Connecticut has an obligation to protect the health and welfare of its citizens and rushing to legalize a potentially unsafe drug abdicates this responsibility."
The state Police Chiefs Association, meanwhile, said it opposes the bill primarily because no qualified roadside test exists to detect cannabis-impaired driving. "While the presence of a police officer trained in Advanced Roadside Impairment Driving Enforcement (ARIDE) or the presence of a Drug Recognition Expert (DRE) may potentially assist in the evaluation of a motorist," the group said, "there is presently no legal device in which to test such operators. The DRE evaluation mentioned in this [bill] is a process which occurs after the arrest is made."
The governor's own written testimony ahead of Friday's hearing underscored the drug war's failure. "The war on cannabis did little to protect public health and safety, and instead caused significant injustices for many residents, especially people in black and brown communities," Lamont wrote.
"One thing on which most of us agree is that social equity must be included in any adult-use market we create. While there is significant consensus around that goal, there are many different approaches as to how to best accomplish it," he added. "This hearing is the continuation of this critical conversation."
Despite disagreement over policy details, many expect legalization to happen Connecticut's near future. Ritter, the speaker, said in November that legalization in the state is "inevitable." He added later that month that "I think it's got a 50–50 chance of passing [in 2021], and I think you should have a vote regardless."
Should this year's effort fail, Ritter said he will move to put a constitutional question on the state's 2022 ballot that would leave the matter to voters. A poll released last year found that nearly two-thirds of voters (63.4 percent) either "strongly" or "somewhat" supported recreational legalization.
Marijuana Use Won't Automatically Block People From Federal Jobs, Biden Administration Memo Says
Photo courtesy of Rick Proctor