New Sessions Memo: Does It Impact Marijuana?
Cannabis industry insiders are wondering how a new memo issued late last week by U.S. Attorney General Jeff Sessions could impact marijuana enforcement.
Under an Obama-era directive to federal prosecutors that Sessions himself recently said remains in effect, states can generally implement their own cannabis law without much federal interference, as long as they abide by certain guidelines set out by the Department of Justice.
But in a new document released on Friday, Sessions is asking Associate Attorney General Rachel Brand to review existing department guidance that "effectively bind[s] private parties without undergoing the rulemaking process."
It's unclear whether the new move puts the so-called "Cole memo" (named for the then-deputy U.S. attorney general who authored it in 2013) at risk.
"Guidance documents can be used to explain existing law," Brand said in a press release issued along with Sessions's new memo. "But they should not be used to change the law or to impose new standards to determine compliance with the law… This Department of Justice will not use guidance documents to circumvent the rulemaking process, and we will proactively work to rescind existing guidance documents that go too far."
Could that apply to the Cole memo, which some critics have viewed as an inappropriate unilateral workaround of federal prohibition without actually changing federal law?
On the one hand, the new Sessions directive seems mostly aimed at preventing federal agencies from issuing memos that directly tell entities outside the government what to do, rather than internal guidance about how Justice Department personnel should enforce the law.
The new memo "does not address documents informing the public of the Department's enforcement priorities or factors the Department considers in exercising its prosecutorial discretion," Sessions writes. "Nor does it address internal directives, memoranda, or training materials for Department personnel directing them on how to carry out their duties…"
But the wording of a few provisions of Sessions's new directive seems to leave its potential effects for the Cole memo within reach.
"To the extent guidance documents set out voluntary standards (e.g., recommended practices), they should clearly state that compliance with those standards is voluntary and that noncompliance will not, in itself, result in any enforcement action," one of its bullet points reads.
The Cole memo says states that don't effectively prevent impaired driving, youth access to cannabis or interstate diversion of marijuana, among other criteria, are at risk of federal interference.
While the directive was addressed to federal prosecutors, its language sends a clear warning to local officials that they'd better follow the letter of the memo lest they be invited to federal court by the Department of Justice.
"The Department's guidance in this memorandum rests on its expectation that states and local governments that have enacted laws authorizing marijuana-related conduct will implement strong and effective regulatory and enforcement systems," it read.
"Jurisdictions that have implemented systems that provide for regulation of marijuana activity must provide the necessary resources and demonstrate the willingness to enforce their law and regulations in a manner that ensures they do not undermine federal enforcement priorities," Cole warned. "If state enforcement efforts are not sufficiently robust to protect against the harms set forth above, the federal government may seek to challenge the regulatory structure itself in addition to continuing to bring individual enforcement actions, including criminal prosecutions, focused on those harms."
That passage could also implicate two other bullet points in Sessions's new directive.
"Guidance documents should not be used for the purpose of coercing persons or entities outside the federal government into taking any action or refraining from taking any action beyond what is required by the terms of the applicable statute or regulation."
"Guidance documents should not use mandatory language such as 'shall,' 'must,'
'required,' or 'requirement' to direct parties outside the federal government to take or
refrain from taking action, except when restating—with citations to statutes, regulations,
or binding judicial precedent—clear mandates contained in a statute or regulation."
There is nothing in the Controlled Substances Act or any other federal law that requires states to enact or spend resources to enforce bans on cannabis use or distribution.
The Drug Enforcement Administration remains free to go after people for violating federal marijuana prohibition regardless of state law, but federal authorities cannot force local officials to assist them in those actions.
But an argument could be made that the not-strictly-binding Cole memo effectively "coerces" them into doing so by making federal cannabis actions contingent on local officials' efforts to cut down on certain federal enforcement priority areas.
It is unclear if Sessions intends for the new memo to flag the Obama-era marijuana policy, but that could be one implication of a process that will not take place outside of his office.
"I direct the Associate Attorney General, as Chair of the Department's Regulatory Reform Task Force, to work with components to identify existing guidance documents that should be repealed, replaced, or modified in light of these principles," Sessions writes in the new document.
Of course, as attorney general, Sessions could rescind the Cole memo himself at any time, or direct a subordinate to replace it with a new policy. He doesn't need the new review process created by Friday's document to justify its deletion.
But by directing Brand to lead a review of existing guidance, Sessions could put a layer of political insulation between himself and an eventual flagging and rescinding of Obama-era cannabis enforcement policy that remains popular among voters and lawmakers of both parties.
Last week, Sessions testified at a House hearing that the Trump administration's cannabis policy "is the same, really, fundamentally as the Holder-Lynch policy, which is that the federal law remains in effect and a state can legalize marijuana for its law enforcement purposes but it still remains illegal with regard to federal purposes."
On the campaign trail, then-candidate Donald Trump repeatedly pledged to respect state marijuana laws.
But in April, Sessions directed a Justice Department task force to review the Obama administration memo and make recommendations for possible changes.
However, that panel did not provide Sessions with any ammunition to support a crackdown on states, according to the Associated Press, which reviewed excerpts of the task force's report to the attorney general.
It remains to be seen whether the Cole memo will be flagged during the new review.
Senate Votes To Send Hemp Legalization To President Trump's Desk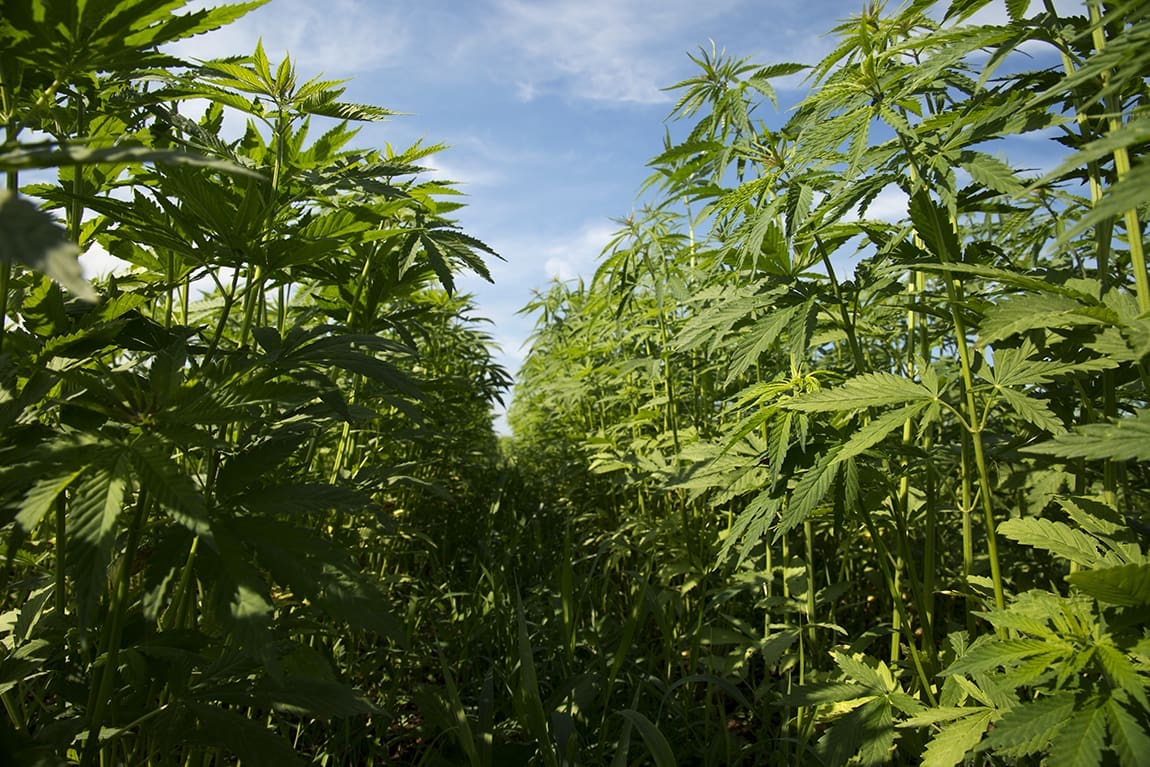 The Senate approved a far-reaching agriculture bill that includes a provision to legalize industrial hemp on Tuesday.
The vote gets the U.S. one step closer to ending its decades-long prohibition of a non-psychoactive plant in the cannabis family, empowering farmers to cultivate and sell a lucrative crop that can be used to create an exceptional range of products—from cosmetics to concrete.
The Senate and House Agriculture Committees had reconciled their respective versions of the 2018 Farm Bill last month, and lawmakers said they hoped to get it passed before the year's end.
It seems Congress is positioned to meet that projection. The bill passed 87-13 in the Senate, and the House is expected to take it up soon. If the House approves the bill, it will be sent to President Donald Trump's desk to be signed into law.
While debate on the legislation extended over several months, it quickly became apparent that the hemp legalization provision had bipartisan support. Separately, a compromise was reached over a provision that would ban people with felony convictions from participating in the hemp industry. The ban would be lifted after 10 years under the current legislation.
Hemp would no longer be controlled by the Justice Department if it's ultimately approved. Instead, the U.S. Department of Agriculture would lightly regulate the crop.
Senate Majority Leader Mitch McConnell (R-KY), Sen. Ron Wyden (D-OR) and others cheered the inclusion of legal hemp in the Farm Bill.
At a time when farm income is down and growers are struggling, industrial hemp is a bright spot of agriculture's future. My provision in the Farm Bill will not only legalize domestic hemp, but it will also allow state departments of agriculture to be responsible for its oversight

— Leader McConnell (@senatemajldr) December 11, 2018
You can read the full text of the hemp legalization provisions in the Farm Bill here.
Next House Agriculture Committee Chair Might Grow Hemp On His Farm
Photo courtesy of Brendan Cleak.
Trump Threatens Government Shutdown, Raising Concern For Legal Marijuana Industry
President Donald Trump is threatening to shut down the government if Democrats refuse billions of dollars in funding for a border wall—but the consequences of that action would extend far beyond border security.
WASHINGTON (AP) — Trump threatens gov't shutdown in heated meeting with Dem leaders over border wall, squabbling over election results.

— Zeke Miller (@ZekeJMiller) December 11, 2018
If the president makes good on his promise to withhold his signature from essential appropriations bills this time, that could inadvertently leave the legal marijuana industry vulnerable to federal drug enforcement actions. A spending bill rider that has protected state medical cannabis programs from federal intervention since 2014 would expire, while the Justice Department and prosecutors would generally remain operational.
That's because the Department of Justice has a contingency plan in place in the event of a government shutdown, and it exempts many employees, including U.S. attorneys and those who work for the Drug Enforcement Administration (DEA), from furlough.
"Criminal litigation will continue without interruption as an activity essential to the safety of human life and the protection of property," the Justice Department explains in its contingency plan. U.S. attorneys are protected because they're presidentially appointed and "are needed to address ongoing criminal matters and civil matters of urgency throughout the nation."
"All agents in DEA field organizations are excepted from furlough because they support active counternarcotics investigations," the document says.
The so-called Rohrabacher-Farr amendment would not be exempted, though. The legislation—which bars the Justice Department from using federal funds to interfere with state medical cannabis laws—is part of the the Commerce, Justice, Science, and Related Agencies (CJS) appropriations bill. While five out of the 12 annual appropriation bills for Fiscal Year 2019 have already been signed into law by the president, the CJS bill is yet to receive House of Senate floor votes.
Typically, the deadline to get appropriations passed is the end of the preceding fiscal year, September 30. But rather than hold a vote or allow federal departments to lose funding, lawmakers have passed a series of continuing resolutions this year, providing temporary funding and pushing back the deadline. The most recent two-week continuing resolution passed on December 7, so the new deadline is December 21.
It lawmakers don't pass, or President Trump doesn't sign, either a full-year or temporary extension of funding by then, the medical cannabis rider will expire, but federal drug enforcement capabilities will not. And that would leave medical marijuana patients and the businesses that serve them in a dicey position.
Similar concerns about the prospect of federal marijuana enforcement have been repeatedly raised under the Trump administration. In January, things seemed especially precarious, as the president's threat of a government shutdown came weeks after then-Attorney General Jeff Sessions rescinded an Obama-era memo that provided guidance on federal cannabis enforcement practices.
That decision stoked fears that a shutdown would empower the Justice Department to act on the attorney general's vehement opposition to marijuana reform. But after fewer than three days, a continuing resolution passed and state-legal marijuana activities continued unimpeded.
This time around, as the deadline approaches, the Justice Department head is Acting Attorney General Matthew Whitaker, who had served as Sessions's chief of staff. Whitaker has said he sympathizes with medical cannabis patients, but he's also criticized the Obama administration for its marijuana enforcement policies.
There's no telling at this point whether Whitaker, the DEA or federal prosecutors would take advantage of broad exemptions from furlough and crack down on legal medical marijuana states in the event of a shutdown. But as always, the possibility puts the cannabis industry is an uncomfortable position.
Bipartisan Lawmakers Push For Marijuana Protections In Funding Bill
Photo courtesy of Gage Skidmore.
Lawmakers From Both Parties Celebrate Hemp Legalization In The Farm Bill
Members of Congress on both sides of the aisle are celebrating a hemp legalization provision that made it into the final version of the 2018 Farm Bill.
Perhaps no one is more pleased than Senate Majority Mitch McConnell (R-KY), who fought for the provision over months of debate on the wide-ranging agriculture legislation. He even signed the conference report finalizing the bill language with a hemp pen on Monday.
In opening remarks from the Senate floor on Tuesday, McConnell said the inclusion of hemp legalization is "a victory for farmers and consumers throughout our country." It builds on the progress of the hemp pilot program he helped put in the 2014 Farm Bill, the results of which he said "have been nothing short of extraordinary."
At a time when farm income is down and growers are struggling, industrial hemp is a bright spot of agriculture's future. My provision in the Farm Bill will not only legalize domestic hemp, but it will also allow state departments of agriculture to be responsible for its oversight

— Leader McConnell (@senatemajldr) December 11, 2018
"Now American-grown hemp can be found in your food, in your clothes and even in your car dashboard," he said. "The results mean jobs, economic growth and new opportunity."
"At a time when farm income is down and growers are struggling, industrial hemp is a bright spot of agriculture's future."
Sen. Ron Wyden (D-OR) helped McConnell secure hemp legalization in the agriculture legislation and said "the outrageous and outdated ban on growing hemp has hamstrung farmers in Oregon and across the country" in a press release Tuesday.
The passage of this provision is a huge win for Oregon farmers and rural communities across the country that have been hamstrung by archaic laws, and unable to pursue the opportunities for economic growth this industry has to offer.

— Ron Wyden (@RonWyden) December 11, 2018
"Hemp products are made in America, sold in America, and consumed in America," Wyden said. "Now, hemp will be able to be legally grown in America, to the economic benefit of consumers and farmers in Oregon and nationwide."
Fellow Oregon lawmaker Rep. Suzanne Bonamici (D-OR) also cheered the "good news" that the provision made the cut.
Good news. The Farm Bill includes language I fought for to legalize #hemp production! https://t.co/eV6Gy9uFlT

— Suzanne Bonamici (@RepBonamici) December 11, 2018
Sen. Michael Bennet (D-CO) touted hemp legalization in a tweet Tuesday.
This bipartisan #FarmBill will legalize hemp, conserve land and water, combat climate change & bolster economic security in rural communities. The finish line is in sight. Now Congress needs to do what's right for Colorado & send this bill to @POTUS' desk by the end of the year. https://t.co/3fzUs1nEwb

— Michael Bennet (@SenBennetCO) December 11, 2018
"The finish line is in sight," Bennet wrote. "Now Congress needs to do what's right for Colorado & send this bill to [President Trump's] desk by the end of the year."
Sen. Mark Warner (D-VA) celebrated the hemp provisions as well.
I'm proud to support this bipartisan legislation that finally puts an end to a ban that has held back our farmers from participating in the emerging industrial hemp market, an industry that will help bring new business to Virginia and create new jobs.

— Mark Warner (@MarkWarner) December 11, 2018
As did Sen. Cory Gardner (R-CO).
My provisions provide farmers & ranchers relief from drought using technology to better implement dry-land farming practices, provides resources to combat deadly diseases wiping out hop fields, & makes industrial hemp legal so CO farmers can use their land how they see fit.

— Cory Gardner (@SenCoryGardner) December 11, 2018
Lawmakers are hoping to put the Farm Bill to a full House and Senate vote and deliver the legislation to the president this week. McConnell said on Tuesday that members of Congress should be prepared to work through the holiday break to make sure this and other bills, including criminal justice reform and legislation to fund parts of the federal government for Fiscal Year 2019, are seen all the way through.
Next House Agriculture Committee Chair Might Grow Hemp On His Farm
Via YouTube/Senate Majority Leader Mitch McConnell.