New Marijuana Banking Bill In Congress Has 108 Cosponsors
A bipartisan bill that would address banking issues in the marijuana industry was officially filed on Thursday.
The legislation—led by by Reps. Ed Perlmutter (D-CO), Denny Heck (D-WA), Steve Stivers (R-O) and Warren Davidson (R-OH)—would shield financial institutions from being penalized by federal regulators for servicing cannabis and cannabis-adjacent businesses.
The bill, titled the Secure and Fair Enforcement (SAFE) Banking Act, explicitly stipulates that proceeds from transactions conducted by marijuana companies "shall not be considered as proceeds from an unlawful activity solely because the transaction was conducted by a cannabis-related legitimate business or service provider."
Nearly a quarter of the House, 108 members, has signed onto the bill as initial cosponsors, a spokesperson for Perlmutter told Marijuana Moment, and that includes nine Republicans. The last version, introduced in 2017, ended the 115th Congress with 95 cosponsors.
After the first-ever congressional hearing on #cannabis banking, I'm reintroducing the bipartisan #SAFEBanking Act to allow marijuana-related businesses access to the banking system. Congress needs to act to reduce risks for employees, businesses & communities across the country.

— Rep. Ed Perlmutter (@RepPerlmutter) March 7, 2019
Draft text of the bill was circulated last month ahead of the first marijuana hearing of the 116th Congress, which focused on how providing banking access to the cannabis industry can improve transparency and public safety.
Marijuana Moment supporters on Patreon can read the full text of the new bill as filed below:
While the prior version of the Secure and Fair Enforcement (SAFE) Banking Act didn't advance to votes in the last Congress, advocates are optimistic about the prospect of actually passing the reform legislation this session.
"If Congress fails to act, we are discouraging responsible, regulated markets and allowing a serious public safety threat to go unaddressed," Heck told Politico, which first reported on the bill's formal reintroduction.
The congressman put the situation in starker terms during last month's hearing before a House financial subcommittee, saying that the body has the power "to prevent murders and armed robberies," referring to the fact that current policy forces many cannabis businesses to operate on a cash-only basis, which can make them targets.
"We must use it and we must use it now because we are already late," he said.
"The SAFE Banking Act is an answer to the very real problem facing these businesses as they are forced to operate exclusively with cash. It makes them prime targets for violent robberies and money laundering schemes," Stivers said in a press release. "This isn't about condoning marijuana businesses, it's about creating an auditable trail and keeping our neighborhoods safe."
Today I introduced the SAFE Banking Act to allow the cannabis industry access to banking. The current system must be fixed to end this public safety issue. Add your name in support of the bill! https://t.co/khmr3Vjf9X

— Ed Perlmutter (@Ed4Colorado) March 8, 2019
"Government Regulators have deemed cannabis business owners to have certain reputational risks. From a civil liberties standpoint, I believe this is something we need to move away from," Davidson added. "There are reputational risks associated with any small business, and barring legally recognized small businesses from our financial institutions threatens the very pillars of liberty and freedom our country was founded on."
Passing marijuana banking reform could be the first in a series of more modest cannabis legislation that Congress will take up this session, with the ultimate goal of ending federal marijuana prohibition. Rep. Earl Blumenauer (D-OR) outlined a congressional blueprint to legalization last year.
Key Moments From The First Marijuana Hearing Of The New Congress
Oregon Marijuana Sales Spike Could Continue As Consumers 'Permanently Adjust Their Behavior' Following COVID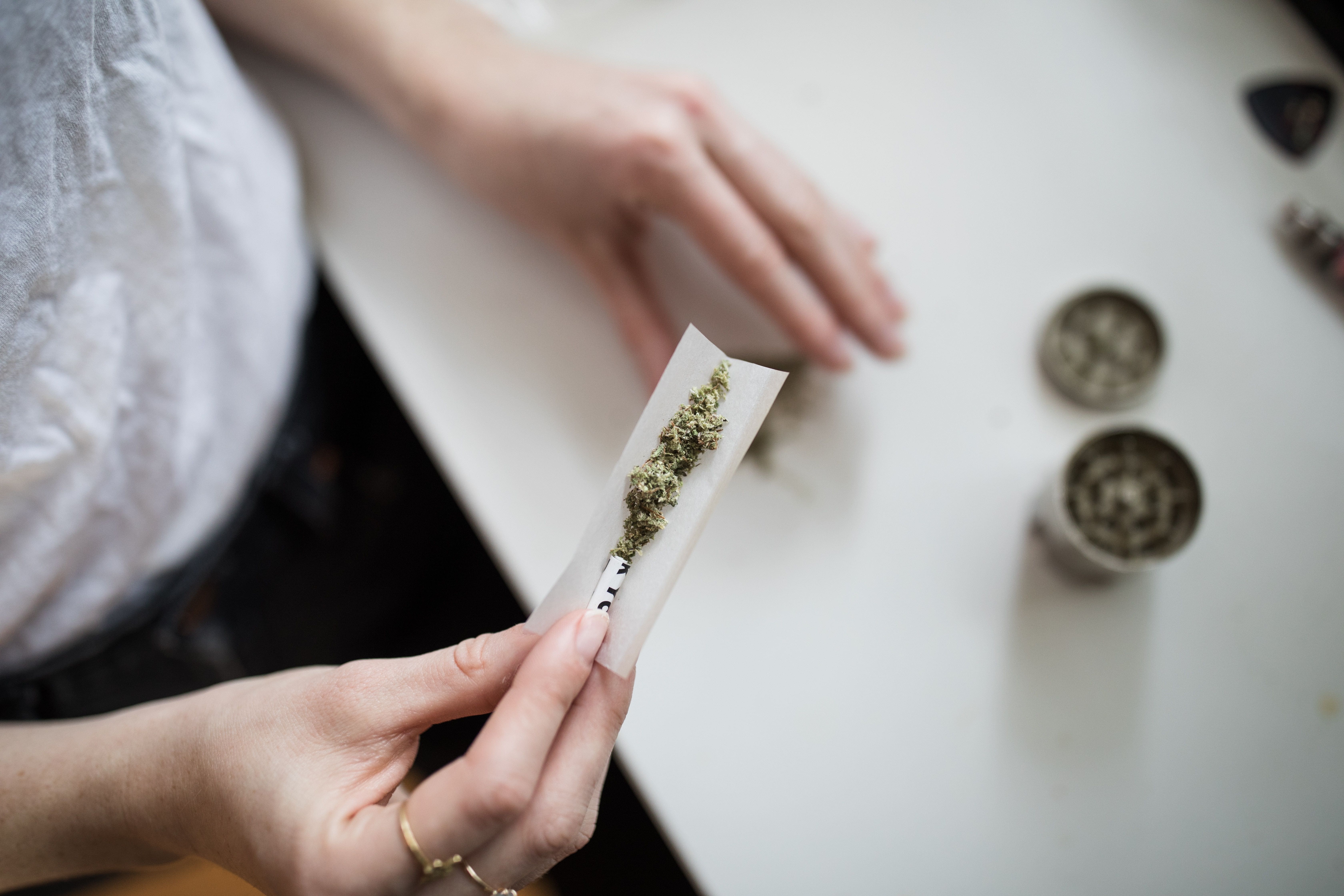 Record-setting Oregon marijuana sales continue to be a bright spot in the state's coronavirus-slowed economy, state analysts reported this week, but a convergence of unknowns—including the end of federal coronavirus relief and a possible rise in cannabis prices due to devastating wildfires—could still mean a rocky road ahead for consumers.
"Marijuana sales continue to be strong," Oregon's Office of Economic Analysis wrote in a quarterly revenue forecast published on Wednesday. "Since the pandemic began, the increase in recreational sales have been more than 30 percent above forecast."
The increase tracks with other more established cannabis markets, such as those in Colorado, Washington and Nevada, which have also seen "strong gains" since the pandemic, the office said. "There are a number of likely reasons for these higher level of sales and expectations are that some of these increases will be permanent."
Analysts also expressed a rosier outlook on the future of the state's marijuana market than they did in last quarter's report, which acknowledged a spike in sales since the pandemic began but concluded that business was eventually "expected to mellow" as incomes fell and bars reopened. Officials now forecast Oregon will see "somewhat more" in sales than previously projected.
The state has recently seen a string of record-setting months for cannabis sales. Over the summer, monthly cannabis sales had averaged more than $100 million, according to an Oregon Liquor Control Commission (OLCC) report.
The projected uptick in sales will mean an extra $30 million in marijuana tax revenue for the state during its two-year budget period ending in 2021. Total adult-use cannabis taxes for that period are now forecast to end up at more than $276 million.
"Factors leading to increases in sales include higher incomes due to federal support, increased stressors in everyday life, reductions in other forms of entertainment or recreational opportunities, and simply more time on one's hand be it due to a COVID-related layoff, or increased working from home," the report said.
"A key question is now that the federal aid is gone and other entertainment options return in the months ahead, will some of this increase in sales in recent months subside?" the Office of Economic Analysis wrote in the new report. "In a recent meeting of our office's marijuana forecast advisory group, the broad consensus was that yes, some of these sales will come off, but not entirely so. And the longer the pandemic lasts, the more likely customers will permanently adjust their behavior as they become accustomed to their new routines and buying patterns."
For now, the bulk of the increases appear to be driven by existing consumers. While "indications are that the customer base is broadening some as the market grows due to more users trying an increasingly socially acceptable product and ongoing converts from the black market to the legal market," the report said, the increase "is more likely to be due to larger or more frequent sales to existing consumers than due to more consumers alone."
"One item to watch moving forward are prices," analysts wrote. "In recent years the supply of marijuana has greatly outstripped the demand, leading to lower prices. This is great news for consumers. Given that marijuana is a normal good, lower prices have led to larger quantities sold. But now that demand has increased, while supply has held steady, and with the potential impact of the wildfires right as growers are prepping for harvest, this balance in the market may shift… As such, it may be that prices rise, or at least not decline like they have in recent years."
As far as tax revenue goes, any price increase would likely lead to more money for the state, "as the decline in quantity sold is not large enough to outweigh the price impact," the report said.
How cannabis revenue is spent would also be affected by a drug decriminalization ballot proposition, Measure 110, that voters will decide in November. While the initiative isn't expected to change the amount of taxes collected, it would redirect marijuana tax funds to expand drug treatment programs. "Whether current programs receiving marijuana tax revenue would ultimately see budgetary impacts," analysts said, "would remain up to the Legislature should voters approve the measure this fall."
Measure 110, which broadly seeks to reframe problem drug use in medical rather than criminal terms, is one of two key drug-reform measures on Oregon's ballot in less than six weeks. The other would legalize the therapeutic use of psilocybin, the main psychoactive ingredient in psychedelic mushrooms. That measure would be the first of its kind in the U.S., although Canada has recently granted some patients immunity from that country's prohibition on psilocybin.
Oregon Marijuana Businesses Impacted By Wildfires Are Ineligible For Federal Relief, Agency Confirms
Texas Ban On Smokable Hemp Lifted Until 2021, Judge Rules
A Texas ban on smokable hemp products hit another roadblock in court last week when a state judge barred officials from enforcing the prohibition until an industry challenge can be heard in court.
A group of four hemp producers sued the state last month over the ban, which began when lawmakers passed a hemp legalization bill last year that explicitly forbade the production of products intended for smoking or vaporization. State health authorities extended its reach earlier this year to prohibit the sale and distribution of such products made outside Texas, a move the hemp companies claim was an unconstitutional overreach of their authorities.
In a ruling issued Thursday, Travis County Judge Lora Livingston wrote that the hemp companies may have a point. Writing that the plaintiffs "have demonstrated a probable right to relief," Livingston granted a temporary injunction that effectively voids the ban on production, distribution and sale of the products until the conclusion of a trial set to begin in February.
Livingston had previously issued a temporary restraining order in the case last month that had a similar but shorter effect, preventing the state from enforcing the ban for a matter of weeks. The new ruling freezes the ban for at least four months, and potentially longer.
Opponents of the ban said that while the issue is far from over, Livingston's recent decisions are a sign the challenge could ultimately succeed.
"So far, the rulings relating to this lawsuit are very encouraging," said Heather Fazio, director of Texans for Responsible Marijuana Policy, which opposes the ban and has organized hundreds of supporters to submit comments to regulators.
"Advocates in Texas have remained vigilant, with both legislative engagement and regulatory oversight," Fazio said in an email to Marijuana Moment. "Now, Texas businesses are challenging our state's poorly designed policies in the courts. And they're winning!"
Plaintiffs are challenging both the legislature's initial ban on production and processing of smokable hemp as well as the Department of State Health Services (DSHS) added ban on distribution and sale, which they claim violate the state constitution's protections for economic freedom. They also maintain that DSHS lacked the authority to extend the production ban to retail sales.
The companies also point to logistical problems caused by the ban. Because smokable hemp flower is indistinguishable from hemp grown for other purposes, they argue, the ban will encourage bad actors to mislabel products in order to avoid the prohibition. That could put consumers at risk by exposing them to chemicals and other adulterants not intended for consumption.
Banning smokable hemp would also hurt the state economically, the producers claim, as Texas hemp companies wouldn't be able to compete with out-of-state producers that can already make and sell anything from hemp joints to CBD vape cartridges.
"The law does not ban the use or consumption of smokable hemp products. As such, Texas consumers will simply buy smokable products made out-of-state," the lawsuit says. "If Texas had banned the processing and manufacture of cheese in Texas, Texans wouldn't stop eating cheese."
Meanwhile, the state's legalization of hemp for other purposes has caused headaches in the criminal justice community. Because hemp looks and smells similar to marijuana, law enforcement agencies have struggled to know whether individuals have a banned substance until they can chemically analyze a seized product. But state testing labs are overburdened, and in February the state Department of Public Safety said it would "not have the capacity" to perform testing in misdemeanor cases. Prosecutors as a result have dismissed hundreds of low-level cannabis cases.
Marijuana possession arrests fell almost 30 percent in Texas from 2018 to 2019, recently released state data shows, and that trend seems connected to hemp legalization.
Medical Marijuana Should Be Legal For Toothaches, Texas Agriculture Commissioner Says
Image by Lindsay Fox from Pixabay
Federal Workplace Drug Testing Proposal Could Discriminate Against People Of Color
A newly proposed federal rule would expand workplace drug testing programs by allowing certain employers to collect and analyze samples of workers' hair, a move critics say would lead to disproportionate job-related punishments for people of color.
Federal agencies can already test workers' urine and saliva, which provide evidence of more recent drug use, but "hair testing potentially offers several benefits when compared to urine, including directly observed collections, ease of transport and storage, increased specimen stability, and a longer window of drug detection," the Substance Abuse and Mental Health Services Administration (SAMHSA) argued in a notice of proposed rulemaking published in the Federal Register on Thursday.
If adopted, the change would affect thousands of government employees as well as private workers in certain federally regulated industries such as those who work in transportation or at nuclear power plants.
Drug reform advocates are skeptical about the move.
"It's shameful that these harmful federal drug testing guidelines are even being considered again," Rep. Barbara Lee (D-CA), co-chair of the Congressional Cannabis Caucus, told Marijuana Moment. "Not only is hair follicle testing discriminatory against people of color due to its sensitivity to melanin and darker hair, it gives no indication of someone being impaired on the job. This just goes to show how far behind the federal government is on cannabis policy."
Paul Armentano, deputy director for the advocacy group NORML, said it is "mind-boggling that, in 2020, SAMHSA is considering expanding federal drug testing guidelines."
"Hair follicle testing is highly problematic," Armentano said. "A positive test, even when confirmed, provides neither evidence of behavioral impairment nor recent drug exposure. Moreover, the sensitivity and accuracy of the test is highly variable."
Because hair exists outside a person's body, for example, it's more vulnerable to contamination—including secondhand smoke and other chemicals—than other sample types. That can put workers at risk of false positives unless results are checked through another testing method.
"Arguably most problematic," Armentano said in an email, "is the reality that these tests discriminate against certain ethnicities because it is influenced by melanin content and is thus more sensitive to those with darker hair—while far less sensitive to those with gray hair."
Other factors, such as humidity and hormones, could also affect test outcomes, Armentano added.
SAMHSA in its proposal acknowledges that numerous studies "provide scientific evidence that melanin pigments may influence the amount of drug incorporated into hair," as well as that hair products more commonly used by people of color could lead to false positives. "As noted," the filing says, "the Department wishes to solicit feedback on scientific studies comparing drug results and hair color and comparing urine to hair."
The proposal is the latest effort by SAMHSA to expand federal drug screening to include specimens besides urine, including hair, saliva and even sweat. SAMHSA initially floated the idea of hair-based testing in 1997, and the agency put forward a rulemaking proposal along those lines in 2004. Regulators ultimately rejected that proposal amid concerns over accuracy, but SAMHSA has pursued the plan ever since. In recent years, the agency expanded testing to include saliva.
Unlike urine and saliva, hair can take up to a week to show evidence of drug use, rendering it especially useless as a measure of a worker's immediate impairment. SAMHSA is proposing that hair testing be used only in pre-employment drug screening and random testing—not in cases where workers are suspected of recent use.
In an effort to protect workers from false positives and ensure that hair tests hold up in court, the proposal includes a directive that an alternate specimen, such as urine or saliva, be collected in order to verify a positive hair-test result. "This two-test approach," SAMHSA's summary says, "is intended to protect federal workers from issues that have been identified as limitations of hair testing, and related legal deficiencies."
Marijuana-related cases, however, may not qualify for that additional layer of scrutiny. "The Department is specifically requesting comments, including support from the recent scientific literature, on whether hair tests that are positive for the marijuana analyte, delta-9-tetrahydrocannabinol-9-carboxylic acid (THCA), should be excluded from the requirement to test an alternate authorized specimen," the proposal says.
Workers, some labor unions and even a Federal Drug Testing Advisory Board (DTAB) member have criticized the SAMHSA proposal as misguided, warning that the proposal is getting away from the science.
As reported in the trade publication Freight Waves, which covers the shipping and logistics industries, independent truck drivers are opposed to the rule, citing bias toward hair color and texture as well as a general lack of evidence that hair testing would improve driver safety. Major trucking companies, however, generally support the change.
DTAB member Michael Schaffer criticized the rulemaking process as "fatally flawed" because the board was left out of discussions.
"This means that these proposed guidelines were developed without the expertise needed to ensure that they are scientifically accurate and defensible," said Schaffer, a toxicologist at a drug-testing lab, according to a Freight Waves report. "I fear that these proposed guidelines are going to unnecessarily restrict the use of hair drug testing, an incredibly effective tool at detecting drug use, for reasons which have no scientific basis."
Armentano at NORML said that doubling down on a testing procedure that could exacerbate racial disparities simply doesn't make sense, especially given today's political climate.
"Given the heightened awareness surrounding the need for social and racial equity," he said, "the idea of proposing a testing procedure that will inherently deny more people of color opportunities than it would others who have engaged in exactly the same activities is beyond tone deaf and counterproductive."
SAMHSA estimates that about one percent of the 275,000 drug tests it expects federal agencies to do every year will be for hair specimens. When it comes to workers in jobs regulated by the Department of Transportation, the agency anticipates that 1.53 million of a total 6.1 million drug tests will be hair-focused. For nuclear workers, 15,000 of 150,000 total tests would be of hair specimens.
"These projected numbers are based on existing annual pre-employment testing that currently occurs in the regulated industries and current hair testing being conducted," SAMHSA wrote
The agency is accepting public comments on the proposal through November 9.
This story was updated to add comment from Lee.
FDA Teaches Marijuana Growers And Researchers How To Protect Trade Secrets From Competitors
Photo courtesy of Markus Spiske