New Jersey Senate Approves Marijuana Decriminalization Despite Contentious Psychedelics Provision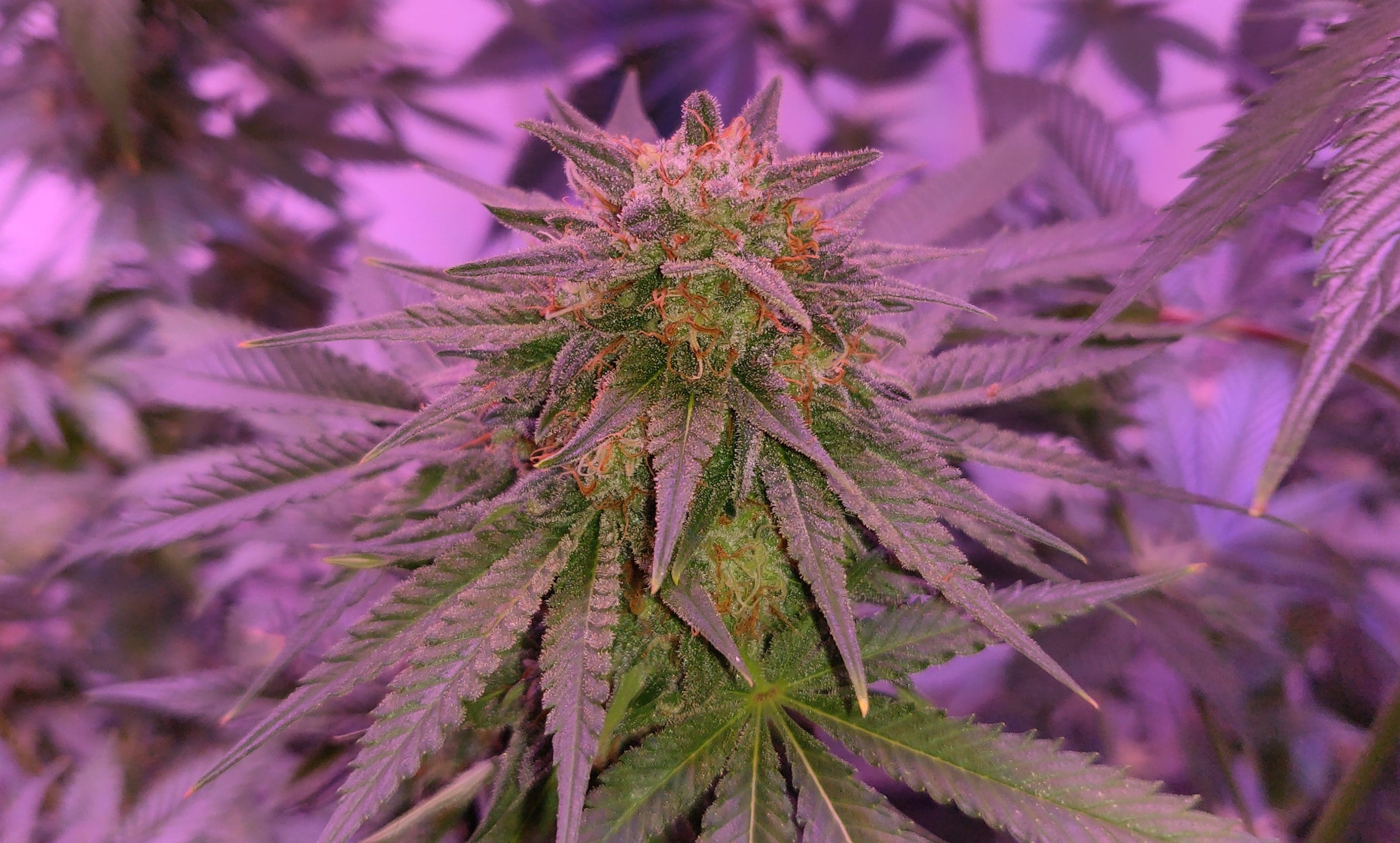 The New Jersey Senate on Monday approved a marijuana decriminalization bill as lawmakers continue to discuss broader enabling legislation to legalize cannabis following voter approval of the issue on Election Day.
Members of the Assembly were also scheduled to take up the decriminalization proposal—which would eliminate criminal and civil penalties for marijuana possession of up to six ounces. But that action was postponed, in part over disagreements about an amendment added in committee last week that would lower penalties for possession of psilocybin mushrooms.
Since the election, state legislators have been prioritizing cannabis reform. While the constitutional amendment voters passed will legalize marijuana as of January 1, it's still up to the legislature to create regulations for the program, and a bill to accomplish that was introduced days after the vote. It was approved by committees in both chambers last week, but a vote in appropriations panels was cancelled on Thursday over disputes on certain components, primarily tax-related.
Senate leaders and the office of Gov. Phil Murphy (D), who strongly campaigned in favor of the legalization referendum, have reportedly struck a deal to add an excise tax on cannabis at the cultivation level on top of the 6.625 percent state sales tax that's stipulated in the referendum. And now Senate President Steve Sweeney (D) says the planned committee votes will proceed on Thursday, with a full floor vote expected on Monday.
Sen. Pres. Sweeney says there's committee votes Thursday, full floor vote Monday for legal #marijuana bill https://t.co/P0ida8lOnp

— Daniel Munoz (@DanielMunoz100) November 16, 2020
The disagreements on marijuana tax issues are familiar disputes that played out the last time lawmakers unsuccessfully attempted to enact the reform legislatively.
Assembly Speaker Craig Coughlin (D) said he wanted to add a user fee to the legalization bill to bolster revenue for the state beyond the normal sales tax rate for purchases.
But Sweeney and lead sponsor Sen. Nicholas Scutari (D) quickly pushed back, saying in a joint statement that the state "should not impose any additional taxes that will put the cost of legally purchasing marijuana out of reach for the communities that have been impacted the most."  They also asserted that increasing the tax rate would hurt efforts to eliminate the illicit market.
Those issues appear to have been tentatively resolved—at least on the Senate side.
"We are still working on it, but there is agreement," an administration source told NJ.com.
In the meantime, decriminalization advanced in the Senate in a 29-4 vote on Monday.
The bill would make it so that possession "of up to six ounces of marijuana, or up to 170 grams of hashish would be completely decriminalized and have no associated criminal or civil penalties."
It would also provide for "virtual" expungements of cannabis possession convictions that occurred prior to the bill's enactment. And it would make it so police could not use the odor of marijuana as justification to conduct a search.
Senate President Pro Tempore M. Teresa Ruiz (D), called it "the most progressive decriminalization bill in the country."
"Not only are we decriminalizing possession but also first offenses for low-level distribution, a move which will offer individuals a second chance and ensure they do not become entangled in the system the first time they are caught selling small quantities of marijuana," she said in a press release. "This is yet another step towards bringing justice and equity to historically impacted communities."
Huge thanks to @SenTeresaMRuiz and the sponsors for recognizing the urgency of decriminalization with a strong bill.

Marijuana prohibition has harmed far too many already, and it would be unconscionable to add more devastation to people's lives when legalization is within reach.

— ACLU of New Jersey (@ACLUNJ) November 16, 2020
But it didn't pass without controversy. Of principle concern for certain lawmakers, for example, is the provision that would make low-level possession of so-called magic mushrooms a "disorderly persons offense," a significant reduction from its prior status as a third-degree crime.
A disorderly persons offense is punishable by a $500 fine and potential jail time, so advocates wouldn't consider the psychedelic "decriminalized" if the provision is enacted into law. Still, it's a notable reduction from the current penalty for people convicted of third-degree crimes, which can come with three-to-five-year prison sentences and fines of up to $15,000.
"How can we decriminalize a psychedelic drug called magic mushrooms when the basis for the decriminalization is the disproportionate impact on black and brown communities who had been arrested, or arrested, for marijuana," Sen. Nia Gill (D) said on the floor prior to the vote. "And this magic mushroom, which is a psychedelic drug, has never been established as a drug used by the affected community and they are arrested for at a rate higher than all of us."
Meanwhile, Assemblyman Jamel Holley (D) took to Twitter to slam the psychedelic provision.
"The decriminalization of marijuana debate has always been about the opportunity to address these wrongful policies & begin to reverse the damage done through decades of racial & social injustice," he said, "Not mushrooms!"
It is very irresponsible & poor judgment of the NJ Senate to include such an amendment at the last hour, now delaying the restart of thousands of New Jerseyans lives. #poisonpill

My colleagues and I will continue to fight for fairness and equality.

— Jamel Holley ♍🔌 (@jamelholley) November 16, 2020
Of course, racial disparities in drug criminalization aren't exclusive to cannabis. And, as a fellow senator noted, the revised language does not "decriminalize" psilocybin mushrooms; it simply lowers the penalty, and possession still carries the threat of jail time.
Under the decriminalization bill, distribution of "one ounce or less of marijuana, or five grams or less of hashish would become, for a first offense, an act subject to a written warning, which also indicates that any subsequent violation is a crime punishable by a term of imprisonment, a fine, or both," according to a summary of the measure.
It's not clear when the Assembly will move ahead with a vote on the bill, or if additional changes will be made that would necessitate further Senate action on a revised version.
Meanwhile, under the separate commercial legalization legislation that leadership has indicated will get committee and floor action in the coming days, adults 21 and older would be allowed to purchase and possess up to an ounce of marijuana or five grams of concentrates. Retailers wouldn't launch right away, but as the licensing system is set up, medical cannabis dispensaries would be able to sell marijuana products to adult consumers.
Local bans on cannabis shops would be permitted, but delivery services would be allowed statewide regardless of each jurisdiction's policy. Retailers could also provide for on-site consumption with local approval. Home cultivation for personal use would be prohibited, unlike in most legal states.
As legislators work through these policy disagreements, Murphy recently appointed Dianna Houenou, a current administration staffer and former policy counsel to the ACLU of New Jersey, to head the state's Cannabis Regulatory Commission (CRC). She emphasized that social justice would be a key regulatory priority.
CRC would be responsible for granting licenses to growers, processors, wholesalers, laboratory testing facilities, distributors, delivery services and retailers.
But as those are set up, the bill will let medical cannabis dispensaries sell marijuana products for the recreational market. Scutari proposed that plan last month, saying that adults could start purchasing cannabis from dispensaries within just weeks after the election. However, a top regulator pushed back on the proposal, noting that the state's existing medical marijuana have already struggled to keep up with patient demand.
The senator addressed that issue in the legislation. His bill would allow each medical producer to open two more cultivation facilities to increase the available supply. "There's no reason why, in the next 90 days, they can't grow any more product and get it out on the shelves," he told Marijuana Moment in a phone interview earlier this month. "I mean, not saying they will, but they could—it's not a physical impossibility."
Also under the legislation, 15 percent of cannabis licenses would go to for minority-owned businesses, and an additional 15 percent would be given to businesses owned by women or veterans. If an applicant pledges to hire people from communities disproportionately impacted by crime or unemployment, they would get licensing priority.
Further, the bill would establish an Office of Minority, Disabled Veterans and Women Cannabis Business Development that would be tasked with promoting participation in the industry by marginalized groups.
Meanwhile, New Jersey Attorney General Gurbir Grewal (D) is encouraging police and prosecutors to exercise discretion around marijuana offenses in the interim.
Sweeney said that the top prosecutor should "use his legal and moral authority to issue clear guidelines to all law enforcement authorities—state, county and municipal—to stop all arrests and suspend all pending criminal cases against individuals for possession of amounts of marijuana that would be considered personal use."
"It's time for these arrests that have disproportionately affected people of color to stop," he said.
Holley, the assemblyman, similarly said recently that all low-level cannabis prosecutions should be ended, stating that the referendum vote demonstrates that "there is no patience anymore for prosecuting people caught smoking and possessing marijuana."
Virginia Governor Calls For Marijuana Legalization In 2021 As Commission Issues Recommendations On Provisions
Photo courtesy of Mike Latimer.