Nevada officials weigh casinos & cannabis (Newsletter: Nov. 27, 2017)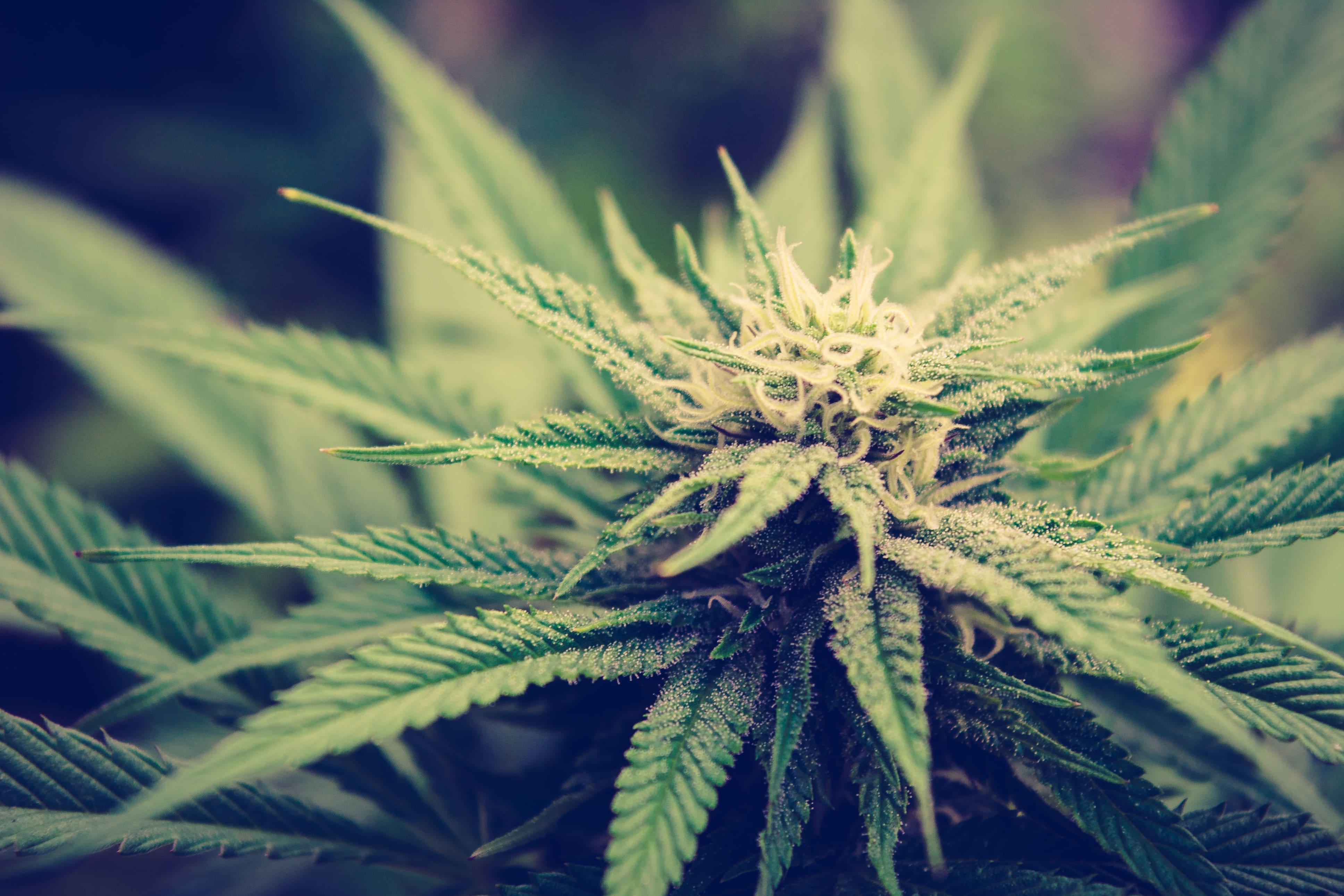 Subscribe to receive Marijuana Moment's newsletter in your inbox every weekday morning. It's the best way to make sure you know which cannabis stories are shaping the day.
Marijuana ads don't increase use; OR winery lawsuit against cannabis grower; NH & VT study commissions
TOP THINGS TO KNOW
Nevada gaming officials will discuss potential overlap between the marijuana industry and casinos on Wednesday.
https://www.reviewjournal.com/business/business-columns/inside-gaming/gaming-policy-panel-to-look-at-recreational-marijuana/
//
http://gaming.nv.gov/modules/showdocument.aspx?documentid=12519
As a tribute, I compiled videos of former Congressman Maurice Hinchey (D-NY), who died last week, debating the medical marijuana protection amendment he initially sponsored and which is now federal law.
https://www.marijuanamoment.net/federal-medical-marijuana-amendment-author-dies-79/
A new study indicates that marijuana dispensary advertisements don't convince significantly more people to try cannabis.
https://www.marijuanamoment.net/marijuana-ads-dont-increase-use-study-indicates/
FEDERAL
The Washington Post looks at U.S. Attorney General Jeff Sessions's efforts to transform crime policy.
https://www.washingtonpost.com/world/national-security/while-eyes-are-on-russia-sessions-dramatically-reshapes-the-justice-department/2017/11/24/dd52d66a-b8dd-11e7-9e58-e6288544af98_story.html
Congressman Ro Khanna (D-CA) is happy that local officials in his district rescinded a ban on marijuana businesses.
https://twitter.com/RoKhanna/status/934519308754882565
Democratic Arizona congressional candidate Billy Kovacs supports amending federal marijuana laws to let states implement their own medical cannabis policies.
https://www.kovacsforcongress.com/16498-2/
STATES
John Morgan, the attorney who largely funded Florida's medical cannabis ballot measure, says he won't run for the state's Democratic gubernatorial nomination.
http://www.miamiherald.com/news/politics-government/state-politics/article186315233.html
An Oregon judge refused to dismiss a lawsuit that a vineyard filed against a neighboring marijuana grower over "foul-smelling particles" that could allegedly damage grape crops.
http://www.capitalpress.com/Oregon/20171124/judge-no-blanket-immunity-for-aspiring-pot-growers-facing-lawsuit
New Hampshire's marijuana legalization study commission will hold its third meeting on Monday.
https://www.usnews.com/news/best-states/new-hampshire/articles/2017-11-27/marijuana-legalization-study-panel-to-hold-third-meeting
The Vermont marijuana legalization study commission's taxation and regulation subcommittee meets on Thursday.
http://marijuanacommission.vermont.gov/event/taxation-and-regulation-subcommittee-meeting-11302017
Due to a change in tax policy, Colorado marijuana revenues are expected to dip for the 2018-19 budget.
http://gazette.com/colorados-marijuana-tax-spending-could-hit-a-bump-next-year/article/1616019
A California senator is pushing to enact size limits for marijuana farms to prevent "mega industrial-scale operations."
http://www.sfchronicle.com/bayarea/article/Wiener-hopes-to-head-off-marijuana-mega-farms-12375887.php
A California political consultant who has campaigned against marijuana legalization sued an opponent who disclosed his medical cannabis use.
https://www.bakersfield.com/news/high-profile-cannabis-foe-with-medical-marijuana-card-sues-pair/article_46e9a150-cf20-11e7-b1ff-83143a3665ba.html
Here's a look at how California is leading the way in allowing people to expunge past marijuana convictions from their records.
https://www.themarshallproject.org/2017/11/27/how-do-you-clear-a-pot-conviction-from-your-record
Guam officials will hold a public hearing on proposed medical cannabis regulations next week.
http://www.guampdn.com/story/news/2017/11/27/feedback-medical-marijuana-rules-sought/896495001/
The Associated Press looks at the growing number of states allowing PTSD as a medical cannabis qualifying condition.
https://apnews.com/a70c3afbd48042e399f0578ec61896c6
INTERNATIONAL
The Canadian House of Commons is expected to dispense with an opposition amendment and vote on third reading passage of the government's marijuana legalization bill on Monday.
http://www.ourcommons.ca/DocumentViewer/en/42-1/house/projected-business
A South African Parliament committee rejected a medical cannabis bill.
https://www.iol.co.za/sundayindependent/analysis/medical-marijuana-bill-rejected-but-12157890
Colombian coca farmers are resisting U.S.-backed efforts to eradicate their crops.
http://www.latimes.com/world/mexico-americas/la-fg-colombia-cocaine-2017-htmlstory.html
ADVOCACY
NORML Women of Washington shares its experience having content blocked on Facebook.
https://www.seattletimes.com/opinion/profit-vs-access-on-facebook-our-digital-town-square/
SCIENCE & HEALTH
A study concluded that "marijuana use is associated with sensitization to specific allergens, including molds, dust mites, plants, and cat dander."
https://www.sciencedirect.com/science/article/pii/S0376871617305550
OPINION & ANALYSIS
The San Francisco Chronicle editorial board supports a ban on marijuana advertisements on public transit.
http://www.sfchronicle.com/opinion/editorials/article/Editorial-A-marijuana-prohibition-that-makes-12382341.php
BUSINESS
Marijuana testing labs in Alaska appear to be getting different results for the same products.
http://www.ktva.com/story/36902629/marijuana-testing-lab-flags-concerning-discrepancy-in-potency-results
Here's a look at how marijuana legalization boosts ancillary businesses.
https://lasvegassun.com/news/2017/nov/27/legalization-a-boon-to-more-than-just-marijuana-ma/
CULTURE     
Hockey officials should discuss updating league marijuana policies in light of Canada's impending legalization law, the NHL Players Association says.
http://www.sportsnet.ca/hockey/nhl/former-nhler-riley-cote-wants-hockey-embrace-cannabis/
Green Bay Packers player Lance Kendricks was charged with possession of marijuana and drug paraphernalia.
http://www.tmz.com/2017/11/25/lance-kendricks-busted-for-weed/
A video appears to show former first daughter Malia Obama blowing smoke rings — unclear what kind of smoke — in a bathroom.
http://dailycaller.com/2017/11/23/watch-leaked-video-alleges-to-show-malia-obama-blowing-smoke-rings/
AL gov signs medical cannabis bill (Newsletter: May 18, 2021)
MN legalizing smokable marijuana flower; LA poll: conservative districts back legalization; Debate on peyote decrim; MS special session on cannabis
Subscribe to receive Marijuana Moment's newsletter in your inbox every weekday morning. It's the best way to make sure you know which cannabis stories are shaping the day.
Your support makes Marijuana Moment possible…
They say a journalist is a machine that converts coffee into copy. But where do you think the coffee comes from? Readers like you!

Signing up for a $25/month subscription will help keep us digging, interviewing and reporting on all the cannabis news that's fit to print. And in return, you'll gain access to our Bill Tracker tool, too, so you can have the most up-to-date information on the drug policy reform efforts around the U.S.
Jocelyn Padgett of The Supreme Agency:

"I love your publication and use it regularly to keep up to date on the industry for clients. The unbiased and honest perspectives you provide both politically and business-wise are a breath of fresh air, so I'm happy I can contribute to you and the team."
Join Marijuana Moment for $25/month to support our work: https://www.patreon.com/marijuanamoment

/ TOP THINGS TO KNOW

Alabama Gov. Kay Ivey (R) signed a medical cannabis bill into law.
"This is certainly a sensitive and emotional issue and something that is continually being studied."
Minnesota lawmakers sent Gov. Tim Walz (D) a health bill that includes provisions to add smokable flower and otherwise expand the state's medical cannabis program.

Mississippi lawmakers are floating the idea of holding a special session to pass medical marijuana legislation after the state Supreme Court struck down the voter-approved cannabis program for procedural reasons.

Voters in conservative Louisiana districts that backed Donald Trump in last year's election overwhelmingly support legalizing marijuana, new polling shows as the House prepares to take up a legal cannabis bill on Tuesday. The survey was funded by the Koch-backed Americans for Prosperity.

A debate within the psychedelics movement over whether to include peyote in decriminalization measures is heating up over concerns about overharvesting and Native American culture.

/ FEDERAL

The Federal Trade Commission took action against Kushly Industries LLC for allegedly making false or unsupported claims about its CBD products.

Rep. Don Bacon (R-NE) said he thinks marijuana policy should be left to the voters and he will respect their decision, also noting that cannabis's Schedule I status has impeded research.

Rep. Pramila Jayapal (D) tweeted about a new Washington State law to recriminalize drug possession as a misdemeanor, saying, "This is a great step. The failed war on drugs was a racist and flawed policy nationwide. Sending someone to prison is not the way to treat addiction or Substance Use Disorder."

Rep. Angie Craig (D-MN) tweeted, "The GOP Senate has failed our state by refusing to pass adult-use cannabis and expungement before leaving for the year. Minnesotans who have been affected by antiquated drug laws — and entrepreneurs who were ready to build new businesses — have been abandoned."

Rep. Dave Joyce (R-OH) tweeted, "Glad to have @RepPerlmutter, a leader in the effort to end fed cannabis prohibition, as a cosponsor of my Common Sense Cannabis Reform for Vets, Small Biz & Medical Professionals Act. This is a bipartisan path forward to enact meaningful cannabis reform. Congress should take it."

Rep. Dan Kildee (D-MI) tweeted about an upcoming event to help people expunge their past marijuana and other convictions.

/ STATES

The Colorado Court of Appeals ruled that lawmakers were incorrect to impose further restrictions on marijuana cultivation beyond what the text of the constitution allows. Separately, regulators banned delta-8-THC and other isomers from hemp extracts. Meanwhile, the House Business Affairs & Labor Committee approved a bill to extend online marijuana purchasing and the ability to get medical cannabis recommendations via telehealth.

Nevada regulators issued advertising guidance for marijuana businesses.

California regulators served a search warrant on an unlicensed marijuana dispensary in San Bernardino.

The South Dakota Board of Education Standards approved rules on medical cannabis use in schools.

Maryland regulators issued guidance on pledging a medical cannabis license as collateral for a loan.

The Indiana state chemist's office says that about 20% of the state's hemp crop was destroyed last year for having too much THC.

New Mexico's Cannabis Control Division is hiring for several positions, including a director.

New York regulators posted several new fact sheets about the state's marijuana legalization law.

West Virginia regulators published a list of hemp licensees.

—
Marijuana Moment is already tracking more than 1,100 cannabis, psychedelics and drug policy bills in state legislatures and Congress this year. Patreon supporters pledging at least $25/month get access to our interactive maps, charts and hearing calendar so they don't miss any developments.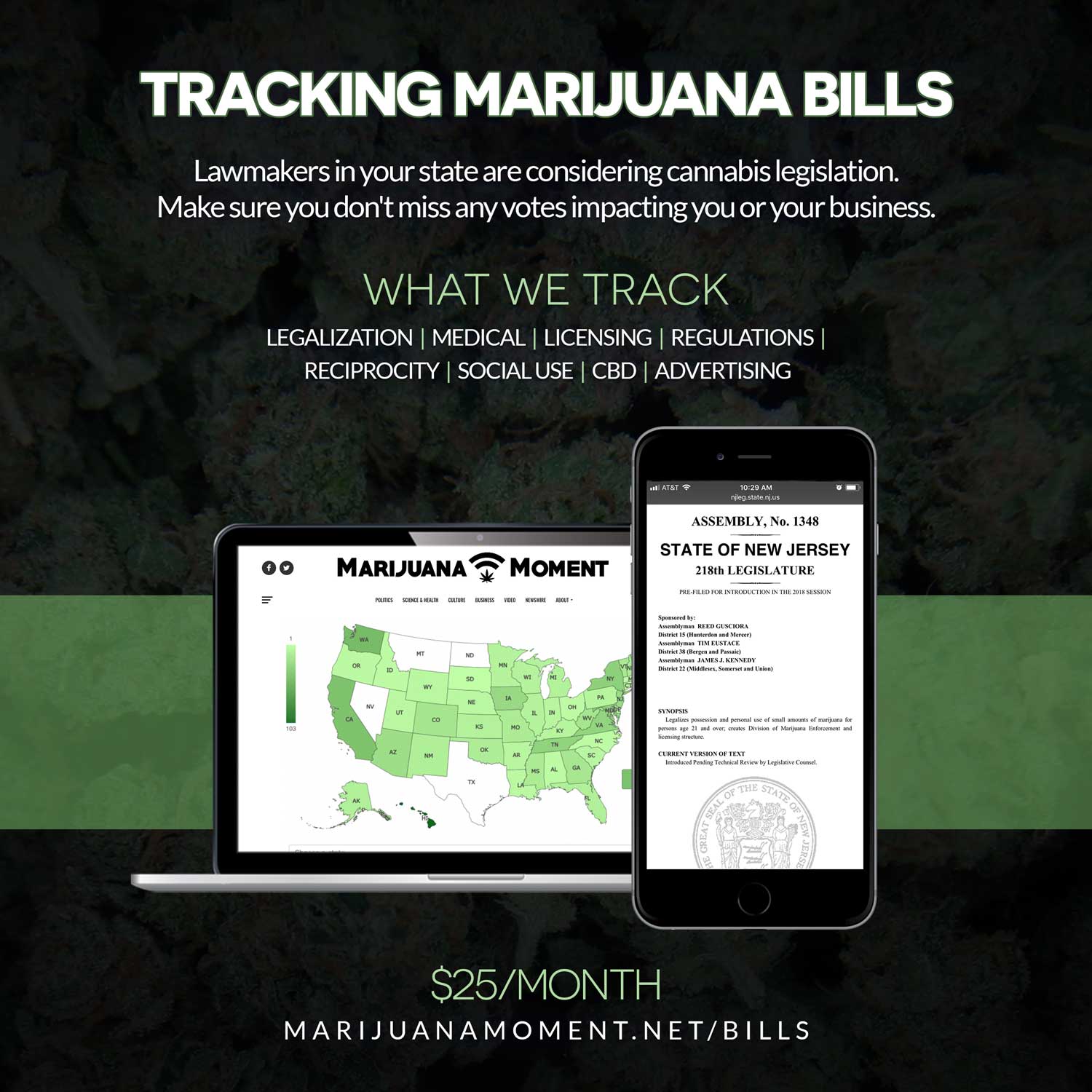 Learn more about our marijuana bill tracker and become a supporter on Patreon to get access.
—
/ LOCAL

Officials of towns in Long Island, New York have been meeting to formulate plans for how to decide on whether to allow marijuana sales.

Detroit, Michigan's mayor sent a letter asking Congress to pass marijuana banking legislation.

/ INTERNATIONAL

Nigeria's House of Representatives is moving to legalize medical cannabis and hemp.

Malta Prime Minister Robert Abela criticized the opposition party for not submitting feedback on the government's marijuana plan.

A Kenyan court is being petitioned to allow marijuana use by Rastafarians.

/ SCIENCE & HEALTH

A study found that "people with fibromyalgia are deliberately substituting CBD products for conventional pain medications."

/ ADVOCACY, OPINION & ANALYSIS

A poll found that 54% of Irish adults want to legalize medical cannabis, while 39% support allowing recreational use as well.

The Alabama Democratic Party tweeted, "Alabama will become the 37th state to legalize medical marijuana. 🩺🍃This is a big step forward for cannabis policy in Alabama. Let's #legALizeit next session."

/ BUSINESS

Rite Aid's CEO spoke about the company's introduction of CBD products in its stores, but dodged a question about psychedelics.

Columbia Care Inc. reportedly quarterly combined revenue of $92.5 million.

The Parent Company reported quarterly net sales of $39.9 million. The company is also making a $50 million strategic investment in GH Group, Inc. through a private placement offering by Mercer Park Brand Acquisition Corp.

Curaleaf Holdings, Inc. is acquiring Los Sueños Farms, the largest outdoor cannabis grow in Colorado.

HEXO Corp. is acquiring 48North Cannabis Corp.

MedMen Enterprises Inc. closed a sale of $10 million worth of shares.

Innovative Industrial Properties, Inc. launched a $200 million offering of senior notes.

The Swiss National Bank owns shares in Tilray, Inc.

/ CULTURE

Master P is pushing to designate May 20 as Cannabis Freedom Day.
Make sure to subscribe to get Marijuana Moment's daily dispatch in your inbox.
DEA finally approving cannabis grow licenses (Newsletter: May 17, 2021)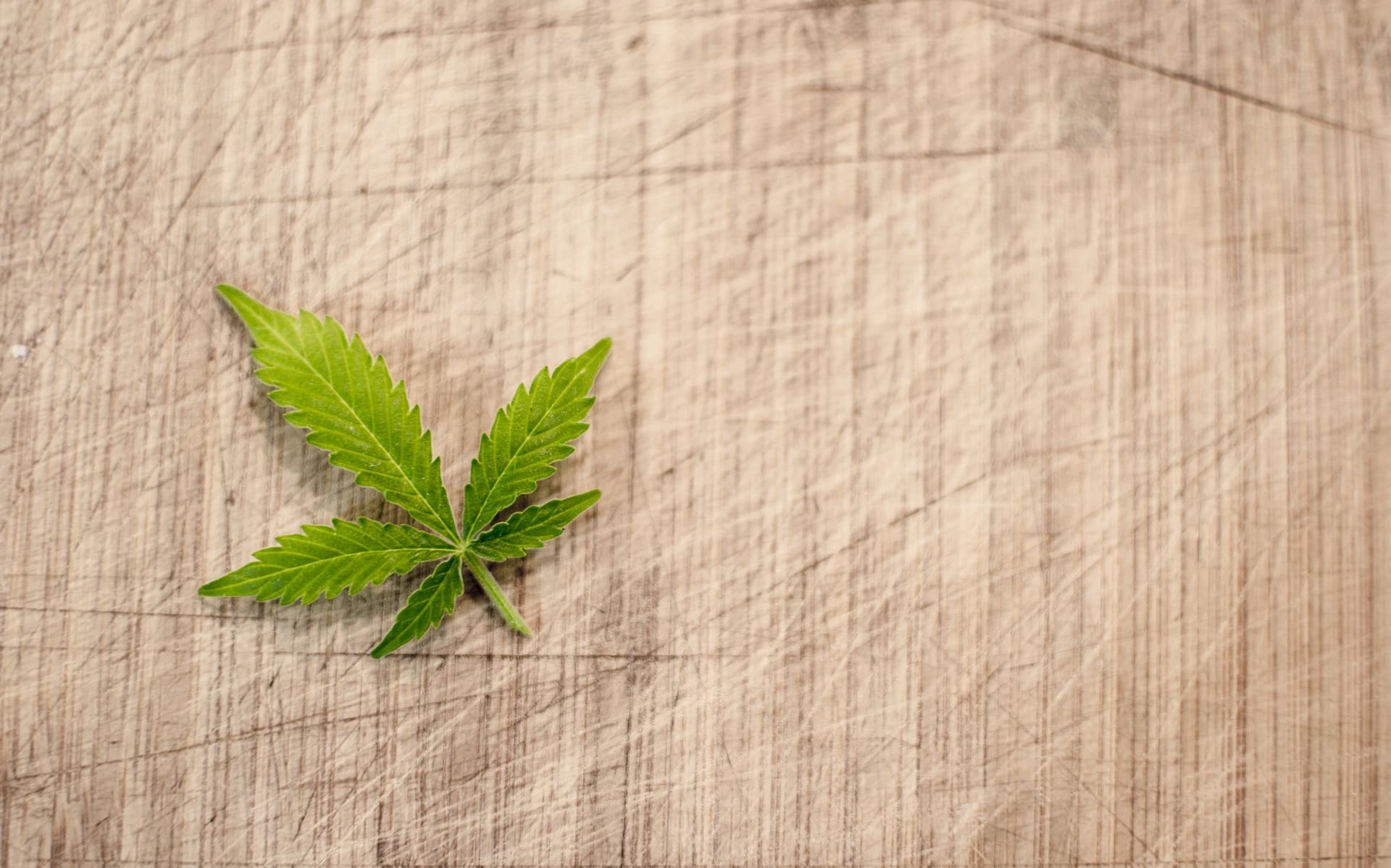 MS medical marijuana overturned; WA drug recrim bill signed; FDA OKs MDMA use by therapists study; Cannabis in public housing bill
Subscribe to receive Marijuana Moment's newsletter in your inbox every weekday morning. It's the best way to make sure you know which cannabis stories are shaping the day.
Your support makes Marijuana Moment possible…
Free to read (but not free to produce)! We're proud of our newsletter and the reporting we publish at Marijuana Moment, and we're happy to provide it for free. But it takes a lot of work and resources to make this happen.

If you value Marijuana Moment, invest in our success on Patreon so we can expand our coverage and more readers can benefit: https://www.patreon.com/marijuanamoment

/ TOP THINGS TO KNOW

The Drug Enforcement Administration is finally ending the decades-long monopoly on growing marijuana for research. At least three cultivation license applicants—and possibly more—have been notified that they're being approved under an expansion first announced in 2016.

The Mississippi Supreme Court, for procedural reasons, overturned the state's medical cannabis law, which the justices acknowledge was approved by a "strong, if not overwhelming, majority of voters."

Rep. Eleanor Holmes Norton (D-DC) filed a bill to protect people from being evicted from public housing for using marijuana in accordance with state law.

Washington State Gov. Jay Inslee (D) signed a bill recriminalizing drug possession as a misdemeanor after the Supreme Court overturned prohibition. Penalties expire in 2023, giving lawmakers incentive to craft comprehensive health-focused policy. Meanwhile, the governor partially vetoed one section of the new legislation.

The Food and Drug Administration approved research on MDMA use by therapists so that they can better administer psychedelic therapies to their patients.
"Personal experience is widely considered to be an important element in preparation and training to deliver psychedelic-assisted therapies."
The Missouri Department of Health and Senior Services derailed an effort to disclose medical cannabis business ownership information that passed the House by threatening to urge Gov. Mike Parson (R) to veto it.

The Illinois Chamber of Commerce's president says the state will "blow past" $1 billion in legal marijuana sales this year. One thing that could stop that, he says, is if neighboring states legalize cannabis and people can buy it closer to home.

/ FEDERAL

A federal jury found a former Fall River, Massachusetts mayor guilty of soliciting bribes from marijuana businesses and other charges.
Rep. Earl Blumenauer (D-OR) is hiring a new legislative assistant to "spearhead his effort to end federal cannabis prohibition."

Rep. Matt Gaetz (R-FL) reportedly consumed cocaine with a sex worker who also served as communications director for the American Medical Marijuana Physicians Association.

Rep. Mike Garcia (R-CA), House Minority Leader Kevin McCarthy (R-CA) and nine other lawmakers sent a letter urging Attorney General Merrick Garland to devote resources to combat illegal marijuana cultivation.

Rep. Ilhan Omar (D-MN) tweeted, "Yesterday, the MN House passed historic legislation to legalize cannabis for adult use and expunge non-violent cannabis convictions. Now, let's legalize cannabis and expunge records nationwide."

Rep. Angie Craig (D-MN) tweeted, "I applaud the members of the Minnesota House who took bipartisan action last night to legalize marijuana in Minnesota. Now, it's time for the Minnesota Senate to take up and pass this legislation." She also tweeted, "Congratulations to the @mnhouseDFL for passing this long overdue legislation! Legalizing cannabis use for adults will strengthen our economy and help account for historic inequities in drug enforcement. Now it's time for the Senate to step up and get this across the finish line."

The House bill to deschedule marijuana got one new cosponsor for a total of two.

The House bill to shield immigrants from being deported for marijuana got three new cosponsors for a total of five.

/ STATES

California Gov. Gavin Newsom's (D) California Comeback Plan includes a number of cannabis reforms, including the appointment of a deputy director of equity and inclusion, a pilot program for sustainable cultivation and measures to help process business licenses.

New Jersey Gov. Phil Murphy (D) announced a working group report that suggests the state "consider the opportunities that may be created by new initiatives, including the legalization of recreational use marijuana, as potential sources of political and financial support for the efforts to restart and recover Atlantic City."

A spokesperson for Mississippi Gov. Tate Reeves (R) said he is "interested and intrigued" by the state Supreme Court ruling striking down the voter-approved medical cannabis program. Meanwhile, the lieutenant governor and a senator said lawmakers will work to pass a medical marijuana program in January.

Washington, D.C. Mayor Muriel Bowser (D) signed legislation allowing people with non-violent felony records to own or work at medical cannabis businesses.

Virginia's attorney general touted his leadership on marijuana legalization during a debate.

Delaware lawmakers sent Gov. John Carney (D) a bill to let nurse practitioners and physician assistants recommend medical cannabis.

Arizona lawmakers sent Gov. Doug Ducey (R) a bill to legalize drug testing strips.

Colorado's House speaker and other lawmakers introduced a bill to enact limits on marijuana concentrates, place restrictions on medical cannabis recommendations and require the state to study the impacts of marijuana on certain health outcomes, among other changes. Former Govs. Bill Owens (R) and Bill Ritter (D) coauthored an op-ed endorsing the legislation.

The Utah Court of Appeals rejected a request to overturn regulators' medical cannabis business licensing decisions.

Ohio regulators determined that arthritis, chronic migraines and complex regional pain syndrome qualify as medical cannabis qualifying conditions.

West Virginia regulators are considering recommending allowing medical cannabis home cultivation.

Nevada regulators issued updated coronavirus guidance for marijuana businesses.

Oklahoma regulators defended the state's residency requirements for medical cannabis business owners in a federal court brief.

Arizona regulators published monthly marijuana program data.

—
Marijuana Moment is already tracking more than 1,100 cannabis, psychedelics and drug policy bills in state legislatures and Congress this year. Patreon supporters pledging at least $25/month get access to our interactive maps, charts and hearing calendar so they don't miss any developments.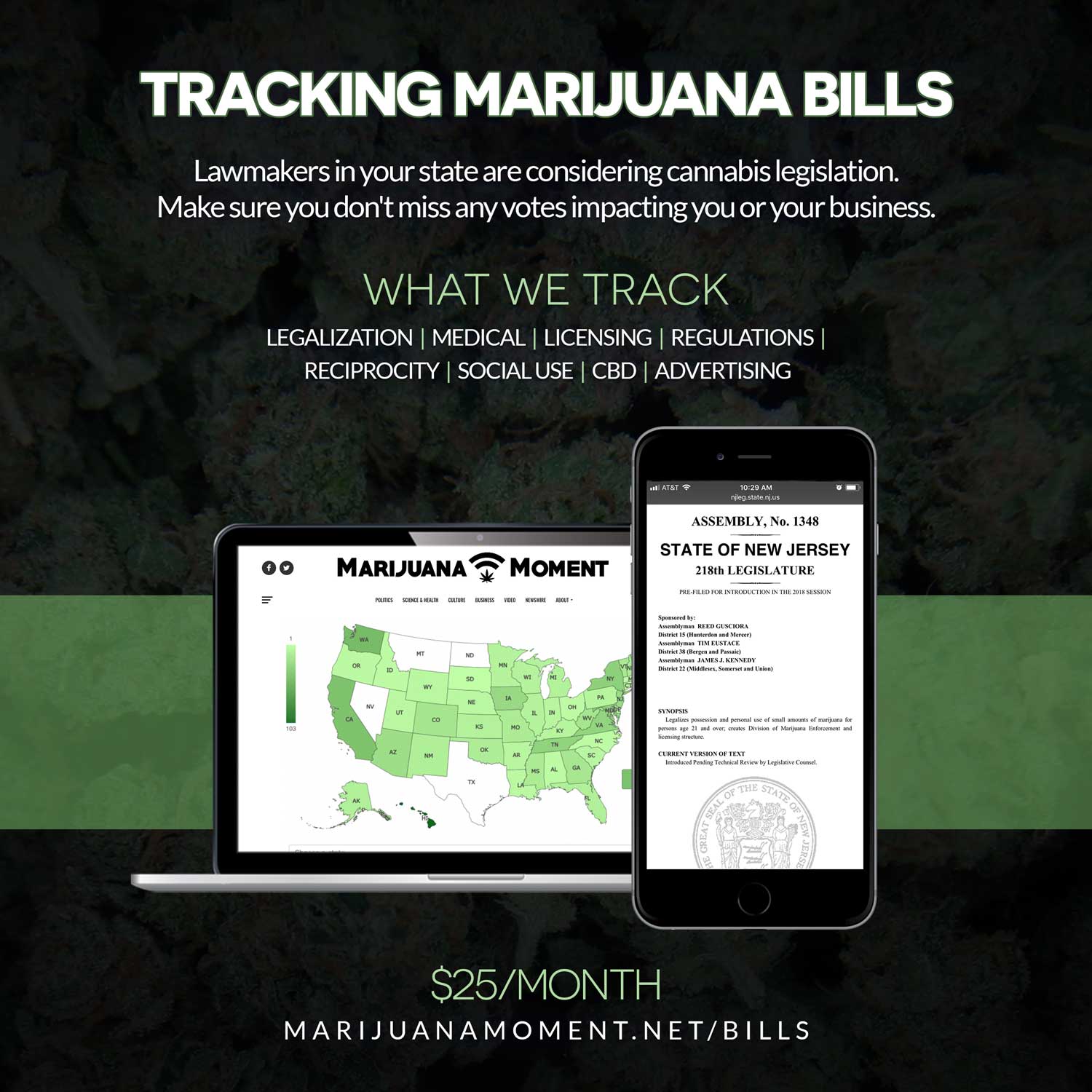 Learn more about our marijuana bill tracker and become a supporter on Patreon to get access.
—
/ LOCAL

War, West Virginia's mayor was reelected after being arrested for marijuana possession and driving under the influence, among other charges.

Hawthorne, California is considering hiring a former Los Angeles City Council member for a cannabis consulting position.

/ INTERNATIONAL

Spanish lawmakers created a subcommittee to examine medical cannabis regulations.

Japan's Ministry of Health, Labour and Welfare is preparing to approve cannabis-based medicines, but the government may also increase marijuana penalties.

South Africa's government is preparing to present a cannabis master plan by the end of the month.

/ SCIENCE & HEALTH

A review of the use of cannabis in children with Autism Spectrum Disorder found "improvement in ASD symptoms, such as social communication (core symptom), noncore behaviors (self-injury, restlessness, rage attacks, agitation, aggressiveness, irritability), and comorbid conditions (anxiety, epilepsy, sleep problems/dysregulation, ADHD/hyperactivity/concentration)" and that "an additional benefit with the improvement in comorbid conditions is the reduction of medications used in some participants."

A study suggested that "CBD presents potential therapeutic properties with respect to the treatment of obesity and related disturbances."

/ ADVOCACY, OPINION & ANALYSIS

The Minnesota Democratic-Farmer-Labor Party tweeted, "Last night, DFLers in the MN House made history by passing a bill to legalize adult-use cannabis. Unfortunately, Senate Republicans plan to block it from becoming law. Minnesotans should know that a vote for a Republican is a vote against legalizing cannabis." It also tweeted, "It's simple: DFLers want to legalize adult-use cannabis. Republicans don't. If you want to legalize and responsibly regulate cannabis in Minnesota, vote DFL."

The Washington Times editorial board seemed to blame use of marijuana and other drugs for deadly police shootings.

/ BUSINESS

Vireo Health International, Inc. reported quarterly GAAP revenue of $13.2 million and a net loss of $7 million.

Trulieve Cannabis Corp. is asking a federal judge to dismiss a lawsuit alleging that it misled investors about moldy products.

Tilray, Inc. is closing a cannabis cultivation facility in Ontario.

MedMen Opportunity Fund II LP is being sued over an alleged scheme by principal owners to sell licenses for its Los Angeles, California locations on terms that would harm investors.

Innovative Industrial Properties, Inc. closed on a property in Pittsburgh, Pennsylvania and entered into a partnership for it with a subsidiary of Parallel.

TILT Holdings Inc. has a new CEO.

Michigan retailers sold $154 million worth of legal marijuana in April.

/ CULTURE

Seth Rogen was asked by Stephen Colbert whether he would ever smoke marijuana with Sen. Ted Cruz (R-TX).
Make sure to subscribe to get Marijuana Moment's daily dispatch in your inbox.
MN House votes to legalize cannabis (Newsletter: May 14, 2021)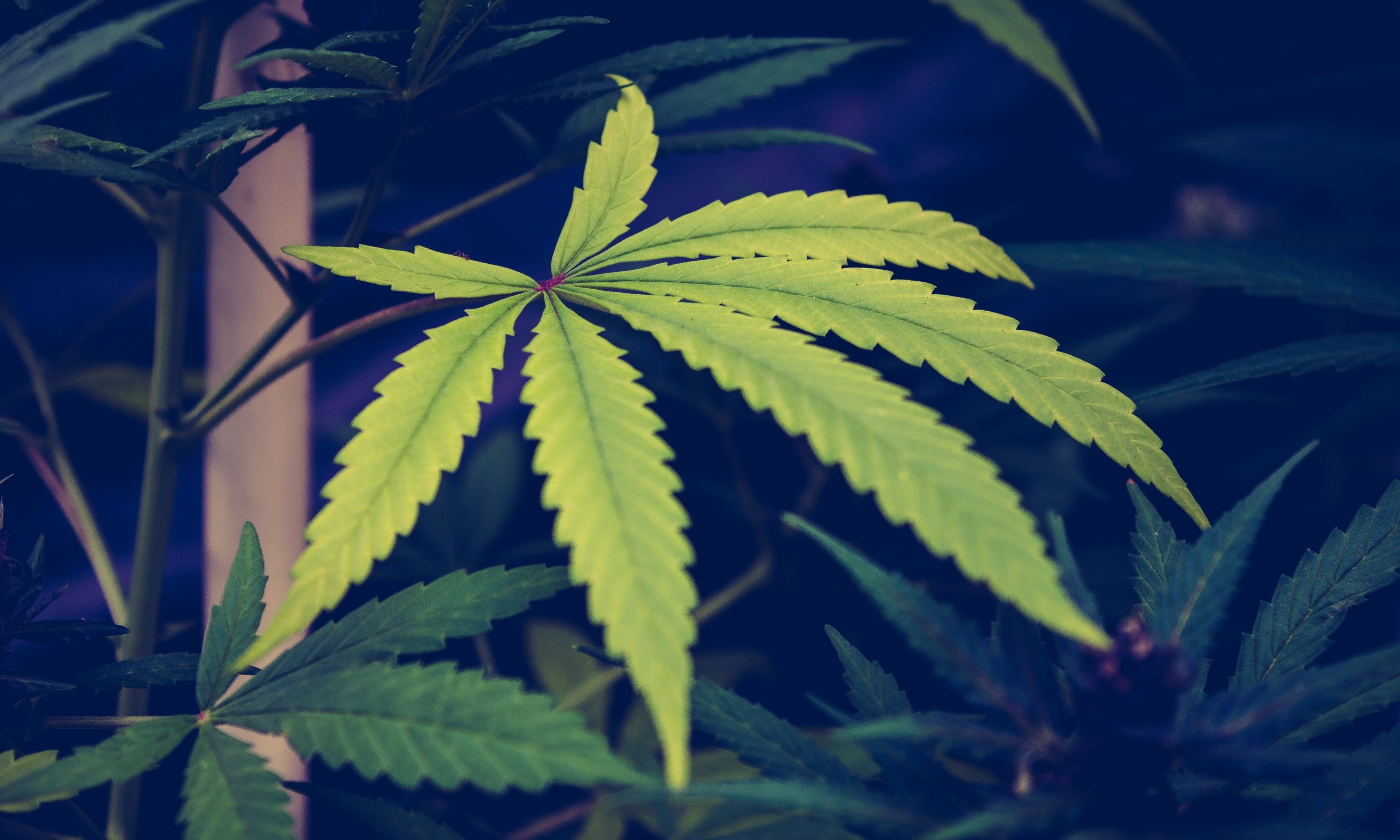 State Dept on marijuana & discrimination; NE medical cannabis ballot drive; SAFE Banking gets GOP sponsor; CO sales data
Subscribe to receive Marijuana Moment's newsletter in your inbox every weekday morning. It's the best way to make sure you know which cannabis stories are shaping the day.
Your support makes Marijuana Moment possible…
Your good deed for the day: donate to an independent publisher like Marijuana Moment and ensure that as many voters as possible have access to the most in-depth cannabis reporting out there.

Support our work at https://www.patreon.com/marijuanamoment

/ TOP THINGS TO KNOW

The Minnesota House of Representatives approved the majority leader's marijuana legalization bill. While Gov. Tim Walz (D) supports ending cannabis prohibition, leaders in the Republican-controlled Senate have indicated they're more interested in potentially expanding medical access and reducing possession penalties than they are in the expansive reform.

A new State Department report notes how marijuana reform in a growing number of countries is helping to address religious discrimination against Rastafarians and other groups—but it ignores the U.S.'s continued criminalization of cannabis.

Sen. Susan Collins (R-ME) became the 37th cosponsor of the SAFE Banking Act. That's a big shift from a few years ago, when she argued against a cannabis banking amendment, saying it would be "allowing banks to essentially finance dealers of recreational marijuana."

Nebraska activists and lawmakers are relaunching a campaign to place a far-reaching medical cannabis initiative on the 2022 ballot—one day after a minority of senators in the unicameral legislature blocked a relatively restrictive medical marijuana bill.

The Colorado Department of Revenue announced that retailers have already sold more than half a billion dollars worth of legal marijuana in the first three months of 2021. There have been more than $10.5 billion in legal cannabis sales since 2014, generating $1.7 billion in tax revenue for schools, infrastructure and more.

/ FEDERAL

Senate Majority Leader Chuck Schumer (D-NY) tweeted, "We must finally end the federal prohibition on marijuana, advance criminal justice reform, and ensure equity for communities impacted by the War on Drugs. That is why I'm working with @SenBooker & @RonWyden on legislation for comprehensive marijuana reform."

Sen. Dan Sullivan (R-AK) tweeted, "The devastating nationwide opioid epidemic has clearly shown we need to find alternatives to these pain medications, and that's certainly a priority I've heard from many of Alaska's #veterans. Medicinal cannabis is already in use by thousands of #veterans across the country, but we don't yet have the data we need to understand the benefits and side effects associated with this alternative therapy."

Rep. Dave Joyce (R-OH) tweeted, "The reality is that the federal government's continued cannabis prohibition is neither tenable nor the will of the American electorate. That's why I introduced the Common Sense Cannabis Reform for Veterans, Small Businesses and Medical Professionals Act with @repdonyoung."

Rep. Dwight Evans (D-PA) tweeted about Colorado cannabis sales, saying, "While states around PA move to legalize marijuana this is the type of revenue that the commonwealth could be missing out on."

Rep. Betty McCollum's (D-MN) campaign tweeted, "MN cannabis laws are doing more harm than good. By creating a regulatory framework, we can establish more sensible laws to improve our health care & criminal justice systems and ensure better outcomes for communities."

Rep. Angie Craig (D-MN) tweeted, "It's time to legalize marijuana in Minnesota."

/ STATES

PolitiFact ruled that a claim from Wisconsin Gov. Tony Evers (D) about the potential of marijuana legalization to raise revenue is mostly true. Separately, the lieutenant governor tweeted, "It's long past time we legalized marijuana—not just because of the revenue we'll gain—but because its criminalization will only continue to harm communities across the state."

The New Hampshire Senate tabled a bill to allow medical cannabis patients to grow their own, effectively killing it.

The Nevada Assembly Natural Resources Committee held a hearing on bills to amend hemp rules and allow CBD-infused foods.

Pennsylvania regulators published a hemp sampling protocol.

The California Osteopathic Medical Board discussed guidelines for recommending medical cannabis.

Missouri's medical cannabis patient count is growing rapidly.

Maine regulators released a list of licensed plant nurseries with hemp seedlings or clones.

Washington State regulators rescheduled a listen and learn session about draft conceptual rules for cannabis applicant or licensee background checks for June 1.

—
Marijuana Moment is already tracking more than 1,100 cannabis, psychedelics and drug policy bills in state legislatures and Congress this year. Patreon supporters pledging at least $25/month get access to our interactive maps, charts and hearing calendar so they don't miss any developments.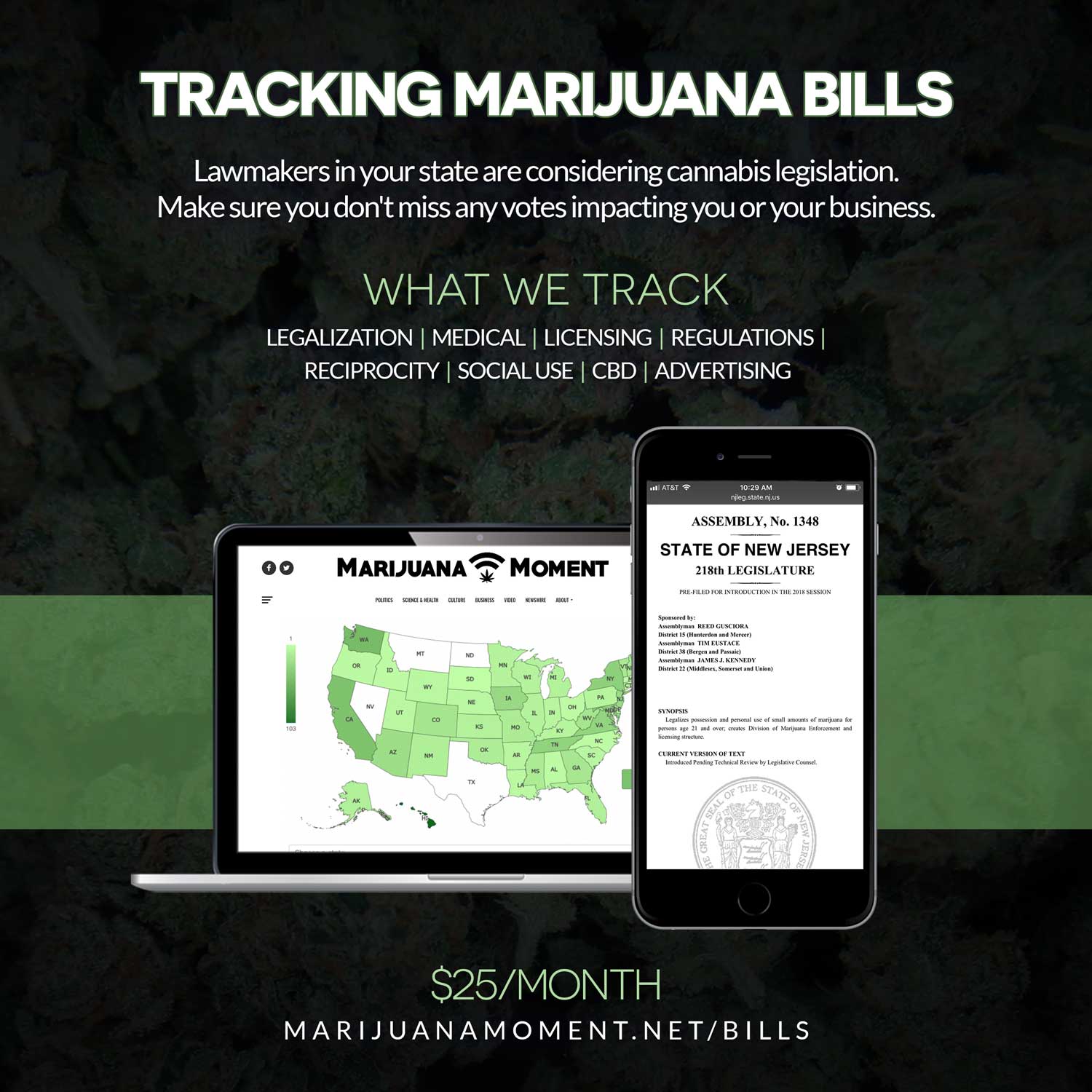 Learn more about our marijuana bill tracker and become a supporter on Patreon to get access.
—
/ LOCAL

The New Orleans, Louisiana City Council president is proposing to dismiss and pardon nearly 10,000 pending marijuana cases and convictions.

Denver, Colorado regulators are accepting applications to serve on the 2021 Marijuana Rulemaking Work Group.

/ INTERNATIONAL

Zimbabwe's government repealed a rule that required co-ownership between government and private investors for medical cannabis cultivation operations.

The mayor of Vancouver, British Columbia, Canada said there's no time to reformulate his city's drug decriminalization proposal to the federal government to address activists' concerns.

/ SCIENCE & HEALTH

A review concluded that "cannabinoids were found to be effective in the treatment of lung, colorectal, prostate, breast, pancreas and hepatic cancers."

A study found that "most participants expressed a positive attitude about CBD products as a treatment option, reported positive outcomes when used for multiple different conditions, and would prefer to obtain information about and prescription for CBD from their physicians."

/ ADVOCACY, OPINION & ANALYSIS

A poll found that UK adults support decriminalizing marijuana, 41%-36%.

A poll found that Protestant pastors oppose legalizing marijuana, 76%-18%, and that 78% think it is morally wrong to get high on cannabis.

The Minnesota Democratic–Farmer–Labor Party tweeted, "Today, the Minnesota House will take a historic vote on legalizing adult-use cannabis. While Republicans may be stuck in the past, DFLers know that our cannabis laws do more harm than good. It's time to change that." It also tweeted, "DFLers are ready to legalize adult-use cannabis in Minnesota. The vast majority of Minnesotans are ready too. It's time for Republicans to either get with the program or get out of the way."

The Louisiana Democratic Party tweeted about a pending marijuana decriminalization bill, saying it " would end harsh criminal penalties that can ruin lives and families" and "will also save taxpayer dollars."

The Collateral Consequences Resource Center and Ohio State University's Drug Enforcement and Policy Center published a report examining expungement provisions in new marijuana legalization laws.

/ BUSINESS

Trulieve Cannabis Corp. reported quarterly revenue of $194 million.

Aurora Cannabis Inc. reported quarterly net revenue of C$55.2 million and an adjusted EBITDA loss of C$24 million.

Schwazze reported quarterly revenue of $19.3 million and a net loss of $3.6 million.

ETF Managers Group's U.S. Alternative Harvest ETF began trading on the New York Stock Exchange.

Auxly Cannabis Group Inc. announced an $8 million private placement.

4Front Ventures Corp. announced that its retail brand, Mission Dispensaries, is partnering with Homegrown Detroit on initiatives to make the cannabis industry more equitable and accessible.

TweedLeaf employees are working to unionize.

/ CULTURE

The World Boxing Council is partnering with Wesana Health Holdings Inc. on a multi-year clinical research project to examine the therapeutic potential of psychedelics to reduce the effects and symptoms of traumatic brain injury.

Seth Rogen told Howard Stern that he doesn't mind if employees at his marijuana company Houseplant get high at work as long as it doesn't affect their job performance.
Make sure to subscribe to get Marijuana Moment's daily dispatch in your inbox.