Canadian lawmakers approve legalization bill (Newsletter: Nov. 28, 2017)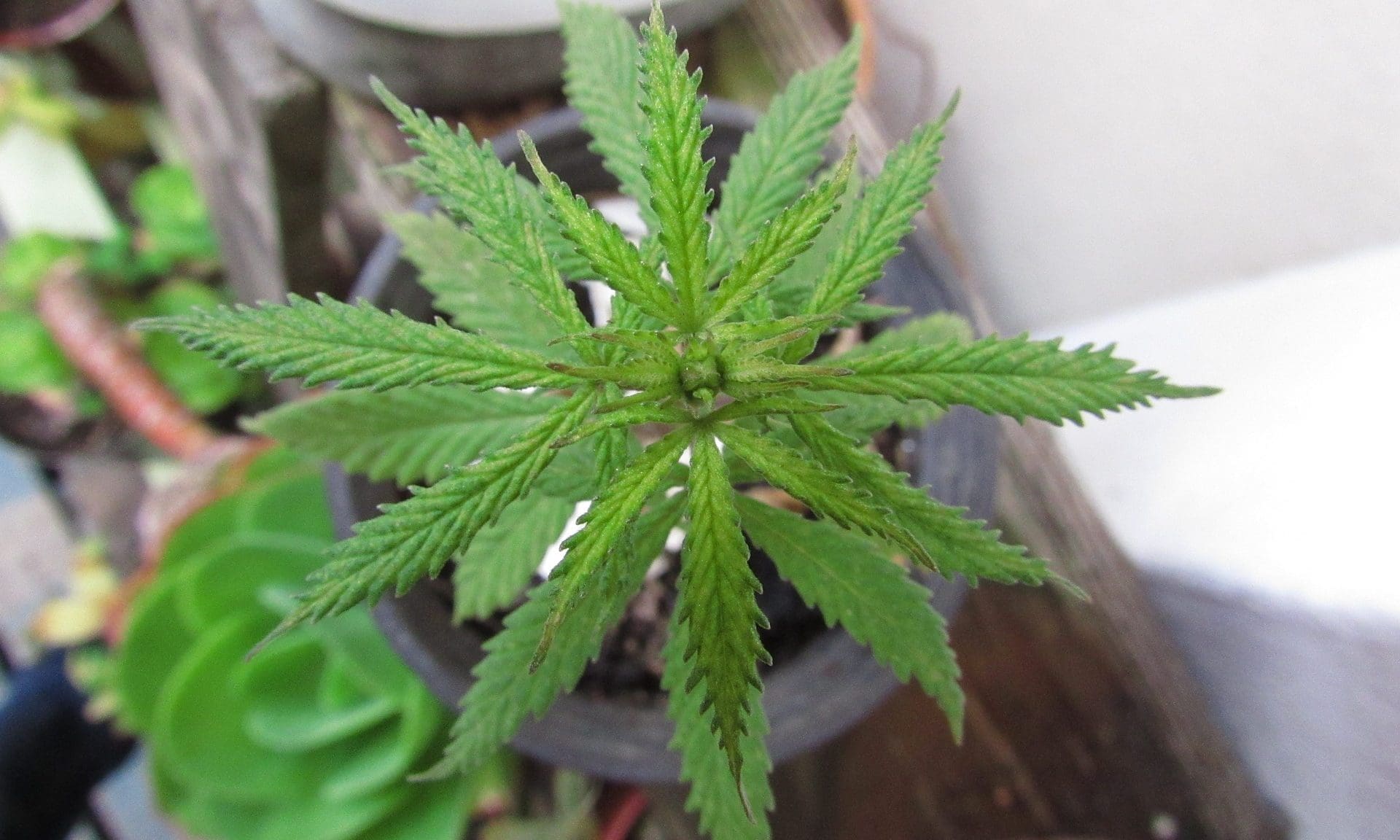 Subscribe to receive Marijuana Moment's newsletter in your inbox every weekday morning. It's the best way to make sure you know which cannabis stories are shaping the day.
CT governor candidates debate cannabis; V.A. still wrong on marijuana laws; IL legalization hearing
TOP THINGS TO KNOW
The Canadian House of Commons voted 200-82 to approve the government's marijuana legalization bill on third reading, sending it to the Senate.
http://www.cbc.ca/news/politics/cannabis-legalization-legislation-1.4421910
//
https://twitter.com/JustinTrudeau/status/935311771367227392
Conservative senators are threatening to hold up the legislation.
https://globalnews.ca/news/3884108/tories-marijuana-bill-c-45-senate/
Illinois lawmakers will hold a marijuana legalization hearing on Tuesday.
http://salsa4.salsalabs.com/o/51609/t/0/blastContent.jsp?email_blast_KEY=1365273
A survey found that more Americans think using social media and texting while driving is more dangerous than driving under the influence of marijuana.
https://www.usnews.com/news/national-news/articles/2017-11-28/new-poll-shows-americans-consider-texting-more-dangerous-than-marijuana-while-driving

FEDERAL
U.S. Special Inspector General for Afghanistan Reconstruction John Sopko testified before Congress that there is "no strategy" for countering the nation's illegal drug trade.
https://www.c-span.org/video/?437618-2/washington-journal-news-headlines-viewer-calls&start=5601
The U.S. Department of Veterans Affairs continues to incorrectly claim that "federal Law prohibits VA physicians from…completing forms/paperwork necessary for patients to enroll in State marijuana programs." No such statute exists; only internal department policy blocks its physicians from recommending state-legal medical cannabis.
http://ktvl.com/news/local/medical-consultants-and-the-va-weigh-in-on-medical-marijuana
Congresswoman Tulsi Gabbard (D-HI) spoke about efforts to reform federal marijuana laws:
"For years, Big Pharma has played a major role in preventing cannabis research by lobbying Congress for more stringent and outdated cannabis regulation laws, as well as partnering with Tobacco and Alcohol special interest groups to fund anti-legalization campaigns."
http://blog.sfgate.com/smellthetruth/2017/11/27/qa-congresswoman-tulsi-gabbard-on-the-future-of-marijuana-legalization/
A former Seattle, Washington police officer pleaded guilty to federal charges of trafficking marijuana to the East Coast.
https://www.justice.gov/usao-wdwa/pr/former-seattle-police-officer-pleads-guilty-role-drug-conspiracy-transporting-large
The U.S. Senate bill to undo the 280E tax penalty on marijuana businesses got one new cosponsor, bringing the total to six.
https://www.congress.gov/bill/115th-congress/senate-bill/777/cosponsors?pageSort=lastToFirst
STATES
In a gubernatorial campaign email, Middletown, Connecticut Mayor Dan Drew (D) wrote about the benefits of legalizing marijuana:
"By regulating our marijuana markets and ending a lengthy prohibition, Connecticut can create a new agricultural sector in the Connecticut River Valley. The state can protect the tens of thousands of Connecticut cannabis consumers from tainted products and unknown potencies. Our government can stop the destructive drug policies that disproportionately impact both poor and minority communities. Legalizing marijuana will help raise revenue to fix Connecticut's budget crisis."
https://patch.com/connecticut/middletown-ct/drew-vows-legalize-marijuana-if-elected-governor
Drew and other candidates will discuss marijuana policy at a debate hosted by pro-legalization groups on Tuesday.
http://www.wfsb.com/story/36932824/first-gubernatorial-debate-to-focus-on-marijuana
Police in Hawaii are asking medical cannabis patients to voluntarily surrender firearms to comply with state and federal gun policies.
https://www.leafly.com/news/politics/surrender-your-guns-police-tell-hawaiian-medical-marijuana-patients
A New Hampshire banking regulator testified about the cannabis industry's financial services access issues before the state's marijuana legalization study commission.
http://nhpr.org/post/marijuana-legalization-nh-banks-weigh-reputation-risk
California tax officials will hold a public meeting to "discuss developments in income tax administration relating to the cannabis industry" next Tuesday.
https://www.ftb.ca.gov/professionals/taxnews/Editions/2017/November.shtml
The Florida Legislature's Joint Administrative Procedures Committee will receive an update on medical cannabis implementation from regulators next Thursday.
https://www.flsenate.gov/Session/Calendar/2018/Interim_Calendars_2017-11-27_171129.PDF
LOCAL
The Sacramento, California City Council is expected to vote on allowing recreational marijuana businesses on Tuesday.
http://www.capradio.org/articles/2017/11/27/sacramento-to-vote-tuesday-on-legalizing-recreational-marijuana/
INTERNATIONAL
The Canadian government launched a public education campaign aimed at reducing marijuana-impaired driving.
https://news.lift.co/federal-government-launches-dont-drive-high-campaign/
ADVOCACY
This article has interesting insight into a split in the Oklahoma activist community resulting in two separate groups, both called Oklahomans for Health, campaigning for a pending medical cannabis ballot measure.
http://newsok.com/oklahoma-election-date-on-medical-marijuana-remains-hazy/article/5573329
Travel writer Rick Steves and Illinois activists will hold a press conference in support of marijuana legalization legislation that lawmakers are hearing on Tuesday.
https://twitter.com/MarijuanaPolicy/status/935202312569671680
A new book examines the the rise and fall of the marijuana law reform movement in the 1970s and 80s.
https://newrepublic.com/article/145979/promise-legal-pot
SCIENCE & HEALTH
A review found "empirical support for the antipsychotic effects of CBD and indicate[d] reduced side effects, high tolerability, and superior cost-effectiveness compared to regular antipsychotic medication."
http://openjournals.maastrichtuniversity.nl/MSJPN/article/view/278
A Kaiser Permanente survey in Washington State found that one in seven adult primary care patients — and two in five young adult patients — say they've used marijuana in the past year.
https://www.kpwashingtonresearch.org/news-and-events/recent-news/news-2017/patient-marijuana-use
//
http://www.jabfm.org/content/30/6/795.full
A study of children and adults who inadvertently ingested marijuana products found that "pediatric patients had more severe symptoms and longer hospital length of stay, and, uniquely, a majority presented with leukocytosis and elevated lactic acid levels."
http://www.annemergmed.com/article/S0196-0644(17)31657-8/fulltext
//
https://www.prnewswire.com/news-releases/edible-marijuana-products-pose-risks-to-children-annals-of-emergency-medicine-study-finds-300562094.html
A study concluded that "marijuana use appears to be associated with subclinical atherosclerosis, but only among ever tobacco users."
http://onlinelibrary.wiley.com/doi/10.1111/add.14110/full
A study tried to determine the "optimum sowing rate of industrial hemp."
http://dspace.emu.ee/xmlui/handle/10492/3498
OPINION & ANALYSIS
A poll found that New York voters support legalizing marijuana, 62% – 28%.
https://www.marijuanamoment.net/new-yorkers-support-legalizing-marijuana-budget-fix-poll-finds/
//
https://twitter.com/LizKrueger/status/935263438263275522
BUSINESS
Fourth Corner Credit Union, an aspiring state-chartered Colorado financial services provider, is scaling back its court battle to open and is now pushing only to serve advocacy groups instead of plant-touching marijuana businesses.
https://mjbizdaily.com/denver-credit-union-continues-marijuana-banking-crusade-new-lawsuit-strategy/
The Insurance Information Institute claims that legalizing marijuana could cause New Jersey car insurance premiums to rise.
http://nj1015.com/would-legal-marijuana-mean-higher-auto-insurance-rates-in-nj/
Canadian licensed marijuana producer Beleave partnered with a road safety group to rebrand some products as "consequence strains" to highlight the dangers of driving under the influence.
http://www.adweek.com/creativity/bbdo-made-marijuana-strains-whose-curious-names-will-harsh-your-mellow/
Apple removed from the app store a game that advocates said glorified the bloody Philippine "drug war."
http://www.philstar.com/headlines/2017/11/28/1763342/apple-removes-games-imitate-bloody-war-drugs
Congress to vote on cannabis, psychedelics & CBD this week (Newsletter: July 27, 2021)
Senators plan White House marijuana meetings; Top cop and Psaki on cannabis & violence; FDA wants kratom ban comments
Subscribe to receive Marijuana Moment's newsletter in your inbox every weekday morning. It's the best way to make sure you know which cannabis stories are shaping the day.
Your support makes Marijuana Moment possible…
Hold on, just one second before you read today's news. Have you thought about giving some financial support to Marijuana Moment? If so, today would be a great day to contribute. We're planning our reporting for the coming year and it would really help to know what kind of support we can count on.
SF, who asked to only use their initials:

"I've been using Marijuana Moment as a source of information for quite some time… probably years. I recognize that a lot goes into the production and dissemination of the information you publish and I want to show my support. Your website, Twitter etc., are great resources for anyone involved in the space (including the nascent psychedelics industry) even if just to educate themselves."
Check us out on Patreon and sign up to give $25/month today:
https://www.patreon.com/marijuanamoment

/ TOP THINGS TO KNOW

The House Rules Committee cleared marijuana and drug policy amendments for floor votes this week—including measures to remove roadblocks to research on the benefits of psychedelics and encourage federal regulations allowing CBD as a dietary supplement and food ingredient.
An amendment to protect people from losing public housing over cannabis use was blocked from consideration, however.
Sen. Cory Booker (D-NJ) said he and other senators sponsoring a new marijuana bill will be "having conversations with the White House" to get President Joe Biden on board with legalization. He also further addressed his cannabis banking stance in a new Twitter Q & A session.

White House Press Secretary Jen Psaki quickly pivoted away from a Fox News reporter's question about whether violent incidents in Washington, D.C. mean it's time to "get tougher on marijuana."
The

city's police chief

said after a recent shooting that the illegal marijuana trade drives violence, but advocates say a big part of the problem is that Congress keeps blocking the city from regulating cannabis sales. That could change this year.
The Food and Drug Administration is asking for public comments about a possible global ban on kratom. Advocates say it's part of a U.S. effort to restrict the natural painkiller domestically by default after a federal scheduling effort stalled.

Missouri probation and parole officers are sending patients back to prison for using medical cannabis—even though it is legal in the state.

/ FEDERAL

The Centers for Medicare & Medicaid Services said in a Federal Register filing that "untreated and inappropriately treated pain may translate to increased costs to the Medicare program" and that "additional risks in untreated pain include individuals using illicit drugs such as cannabis."

The U.S. Department of Agriculture said hemp businesses operating under the 2018 Farm Bill are eligible for the Rural Energy for America Program.

Former Labor Sec. Robert Reich tweeted, "As the Olympics officially get under way, I can't help but think about how ludicrous it is that cannabis use kept Sha'Carri Richardson from competing, when the cannabis industry is projected to rake in $70 billion by 2028."

Senate Majority Leader Chuck Schumer (D-NY) tweeted, "It's long past time to end the federal prohibition and undo the harms of the War on Drugs. That's why @SenBooker, @RonWyden, and I are working to pass our Cannabis Administration and Opportunity Act." He also tweeted, "The War on Drugs has been a war on people. @SenBooker, @RonWyden, and I released our Cannabis Administration and Opportunity Act to end the federal prohibition, enact criminal justice reforms, and invest in communities hurt by the War on Drugs."

Sen. Charles Grassley (R-IA) wrote in a constituent letter that "marijuana is illegal because it is dangerous."

Rep. Jamie Raskin (D-MD) praised the medical cannabis advocacy of a New Hampshire state representative in remarks for the Congressional Record.

Rep. Mike Walz (R-FL) tweeted, "The IOC bans a US athlete for cannabis but allows #IRGC terrorist murderers to compete?"

/ STATES

New York Gov. Andrew Cuomo (D) and top lawmakers are blaming one another for the lack of appointments to the state's marijuana regulatory bodies.

Most South Carolina senators said in a survey that they expect a medical cannabis bill will be a 2022 priority for the chamber.

A California senator spoke about his bill to legalize possession of psychedelics.

The New Mexico Court of Appeals upheld a lower judge's ruling directing regulators to designate additional medical cannabis dispensary locations for Ultra Health.

Illinois regulators awarded 40 out of 40 marijuana craft grower licenses to businesses led by military veterans.

Idaho regulators are preparing to submit a hemp plan for federal approval.

Alaska regulators proposed changes to marijuana business fine schedules.

West Virginia regulators said they will host more in-person medical cannabis patient registration events based on the turnout of one on Monday.

The Texas Medical Advisory Board discussed the issue of marijuana use by a person while driving when they have a history of alcoholism.

Ohio regulators plan to consider several rules changes related to medical cannabis at a hearing on August 19.

Oklahoma regulators sent a reminder that medical cannabis ownership attestation forms are due by August 30.

—
Marijuana Moment is already tracking more than 1,100 cannabis, psychedelics and drug policy bills in state legislatures and Congress this year. Patreon supporters pledging at least $25/month get access to our interactive maps, charts and hearing calendar so they don't miss any developments.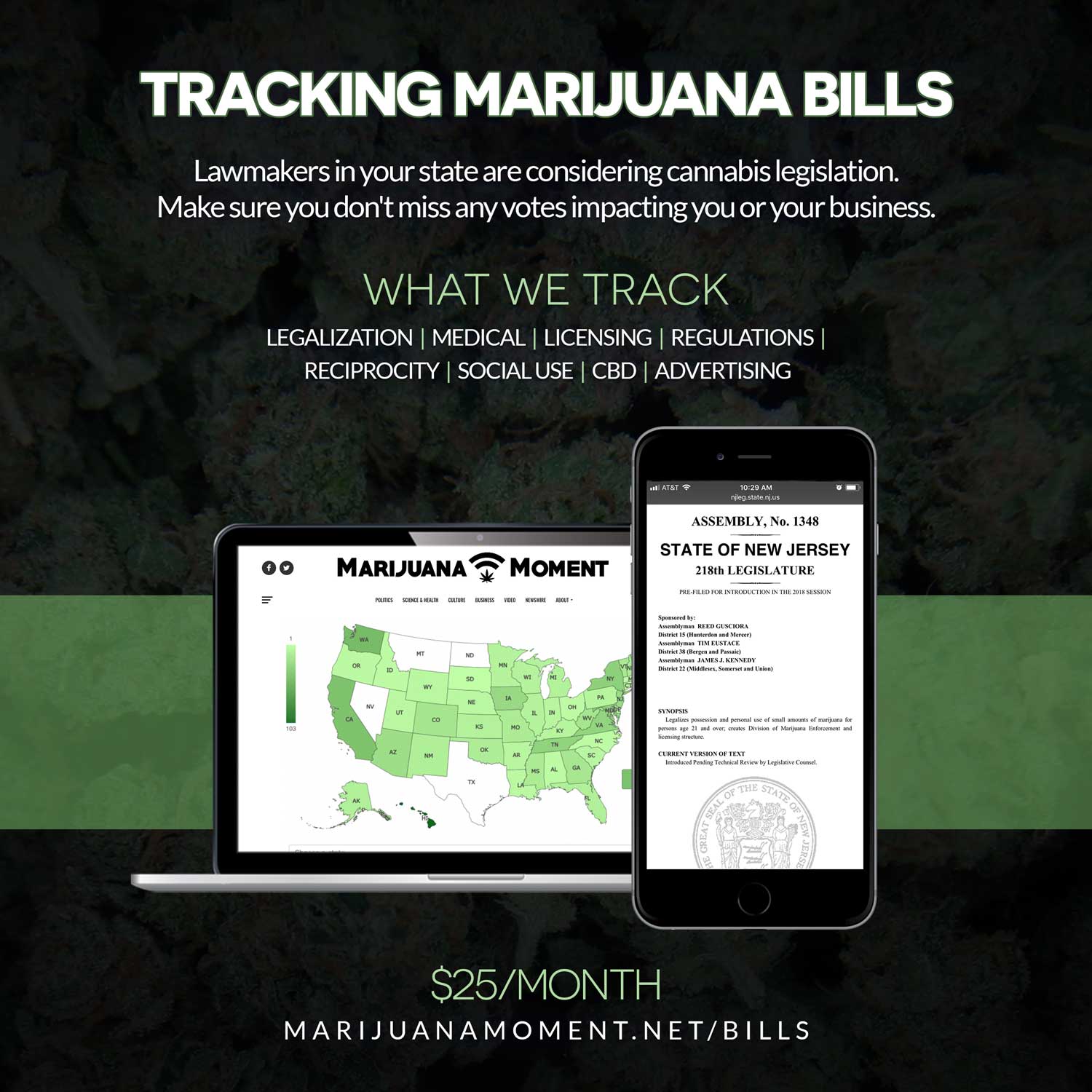 Learn more about our marijuana bill tracker and become a supporter on Patreon to get access.
—
/ LOCAL

Denver, Colorado's mayor proposed using a portion of marijuana tax revenue to fund a loan program for minority and women-owned businesses. Separately, officials will host an information session on marijuana businesses on Tuesday.

The Oakland, California City Council approved a resolution to support state legislation to prohibit employers from discriminating against potential or current workers for testing positive for inactive marijuana metabolites in their urine or hair.

The Richmond, Virginia Redevelopment and Housing Authority is being sued by a woman whose voucher for housing assistance was rejected due to a past marijuana conviction.

A Polk County, Iowa attorney candidate tweeted, "Since marijuana is trending right now, this seems as good a time as any to remind people that as Polk County Attorney it will be the presumption of the office to not prosecute low level, nonviolent offenses like pot possession."

/ INTERNATIONAL

Philippine President Rodrigo Duterte defended his nation's bloody "war on drugs" in his final State of the Nation Address.

Guernsey's government is accepting applications to cultivate medical cannabis.

The Penticton, British Columbia, Canada rejected a motion to support Vancouver's effort to decriminalize drugs.

The Israeli Defense Forces is cracking down on use of marijuana and other drugs by troops.

/ SCIENCE & HEALTH

A review concluded that "cannabinoids are a reasonable treatment modality for refractory chronic pelvic pain, especially if a neuropathic component is suspected."

A study of CBD to treat Lennox–Gastaut syndrome found that "87% or more of patients/caregivers reported improvement in the patient's overall condition on the Subject/Caregiver Global Impression of Change scale."

/ ADVOCACY, OPINION & ANALYSIS

ACT UP NY gave out free marijuana joints outside the Brooklyn apartment of Senate Majority Leader Chuck Schumer (D-NY) to people who have received coronavirus vaccines.

/ BUSINESS

Bluebird Botanicals acquired Precision Botanical.

Numinus Wellness Inc. received approval from the Canadian government for a study evaluating MDMA-assisted therapy for post-traumatic stress disorder.

Braxia Scientific Corp. established direct billing practices with Medavie Blue Cross to provide ketamine treatment to Canadian military veterans.

/ CULTURE

Joe Exotic's marijuana company is rolling out a marijuana-infused seltzer called Tiger Piss.
Make sure to subscribe to get Marijuana Moment's daily dispatch in your inbox.
Photo courtesy of Chris Wallis // Side Pocket Images.
Biden drug czar worked for cannabis firm (Newsletter: July 26, 2021)
Dueling marijuana amendments in Congress; USADA backs cannabis "liberalization"; KC mayor's marijuana test ban for city employees; Senate hearing
Subscribe to receive Marijuana Moment's newsletter in your inbox every weekday morning. It's the best way to make sure you know which cannabis stories are shaping the day.
Your support makes Marijuana Moment possible…
BREAKING: Journalism is often consumed for free, but costs money to produce! While this newsletter is proudly sent without cost to you, our ability to send it each day depends on the financial support of readers who can afford to give it. So if you've got a few dollars to spare each month and believe in the work we do, please consider joining us on Patreon today.
https://www.patreon.com/marijuanamoment

/ TOP THINGS TO KNOW

Rahul Gupta, President Joe Biden's nominee for director of the White House Office of National Drug Control, consulted for a marijuana company, new ethics disclosure documents show. Holistic WV Farms I, LLC later won the most medical cannabis licenses under the state program Gupta once oversaw.

A bipartisan group of 15 lawmakers is cosponsoring an amendment to protect all state marijuana laws from federal interference. Meanwhile, Rep. Doug LaMalfa (R-CA)—who recently published video of himself driving a bulldozer over marijuana plants—filed a separate measure to delete a current medical cannabis rider.
Both proposals could get House floor votes this week.
A U.S. Anti-Doping Agency official maintained at a hearing that the sports authority supports "liberalization" of marijuana penalties against athletes—even though the U.S. effectively bullied the rest of the world into putting cannabis on the banned list.

At a Senate Caucus on International Narcotics Control hearing on the overdose crisis, lawmakers and federal officials discussed marijuana research, racially disproportionate drug enforcement and harm reduction measures.

Kansas City, Missouri's mayor filed a new proposed ordinance to ban pre-employment marijuana testing for most city workers.

/ FEDERAL

Marijuana banking legislation was a topic of discussion at a  House Financial Services Committee hearing.

Sen. Cory Booker (D-NJ) tweeted, "Black & white Americans have the same marijuana usage rates but Blacks are 3.7 times more likely to be arrested for marijuana possession. It's time to change our broken & racist marijuana laws that don't make us safer & continue to ruin lives with unjust criminal convictions." He also tweeted, "Not only do our marijuana laws not work, they're downright hypocritical. Go to almost any college campus & you'll see marijuana is effectively legal—but for kids in communities like mine with no margin for error, a marijuana arrest can bring a lifetime of collateral consequences."

Rep. Hakeem Jeffries (D-NY) tweeted, "Billions of taxpayer dollars lost. No meaningful benefit to public safety. It's time to end the failed war on drugs."

Rep. Marie Newman (D-IL) tweeted, "The War on Drugs has been a failure for 50 years, putting millions in prison—disproportionately people of color. We need to end mandatory minimums, decriminalize cannabis, and strengthen re-entry programs for those newly released."

Rep. Andy Levin (D-MI) tweeted, "Looking forward to cheering on #TeamUSA as they take the international stage at the #TokyoOlympics, but I do wish @itskerrii was out there competing in the 100-meter dash. Let's decriminalize and de-stigmatize marijuana at every level."

Rep. Jay Obernolte (R-CA) toured illegal marijuana cultivation sites from the air alongside police.

The House bill to allow CBD as a dietary supplement got two new cosponsors for a total of 29.

/ STATES

Utah's state auditor said he supports federally decriminalizing marijuana.

New Jersey's Senate president cited Stockton University's cannabis studies program as an example of how investing in higher education pays off.

A Florida representative said he will file a marijuana legalization bill again next session.

Georgia regulators announced their intent to award  medical cannabis business licenses to six companies.

Arkansas regulators are moving to issue the remaining two medical cannabis dispensary licenses allowed under the law.

Washington State regulators issued guidance on the legality of manufacturing THC from hemp-based CBD.

California regulators filed notice to readopt emergency rules allowing cannabis businesses to authorize them to share licensee application and regulatory information with financial institutions.

Montana regulators proposed rules on medical cannabis, marijuana canopy tier increases and advertising limits.

Pennsylvania regulators issued guidance for sampling and researching hemp.

New Mexico regulators said a business that is "gifting" marijuana to people who purchase stickers or other merchandise is "not in keeping" with the intent of the law.

Connecticut regulators published a PSA urging people to store marijuana and other drugs away from the reach of children.

Oregon regulators are seeking applications to serve on the Cannabis Advisory Committee.

Nevada regulators will discuss marijuana business issues on Tuesday.

—
Marijuana Moment is already tracking more than 1,100 cannabis, psychedelics and drug policy bills in state legislatures and Congress this year. Patreon supporters pledging at least $25/month get access to our interactive maps, charts and hearing calendar so they don't miss any developments.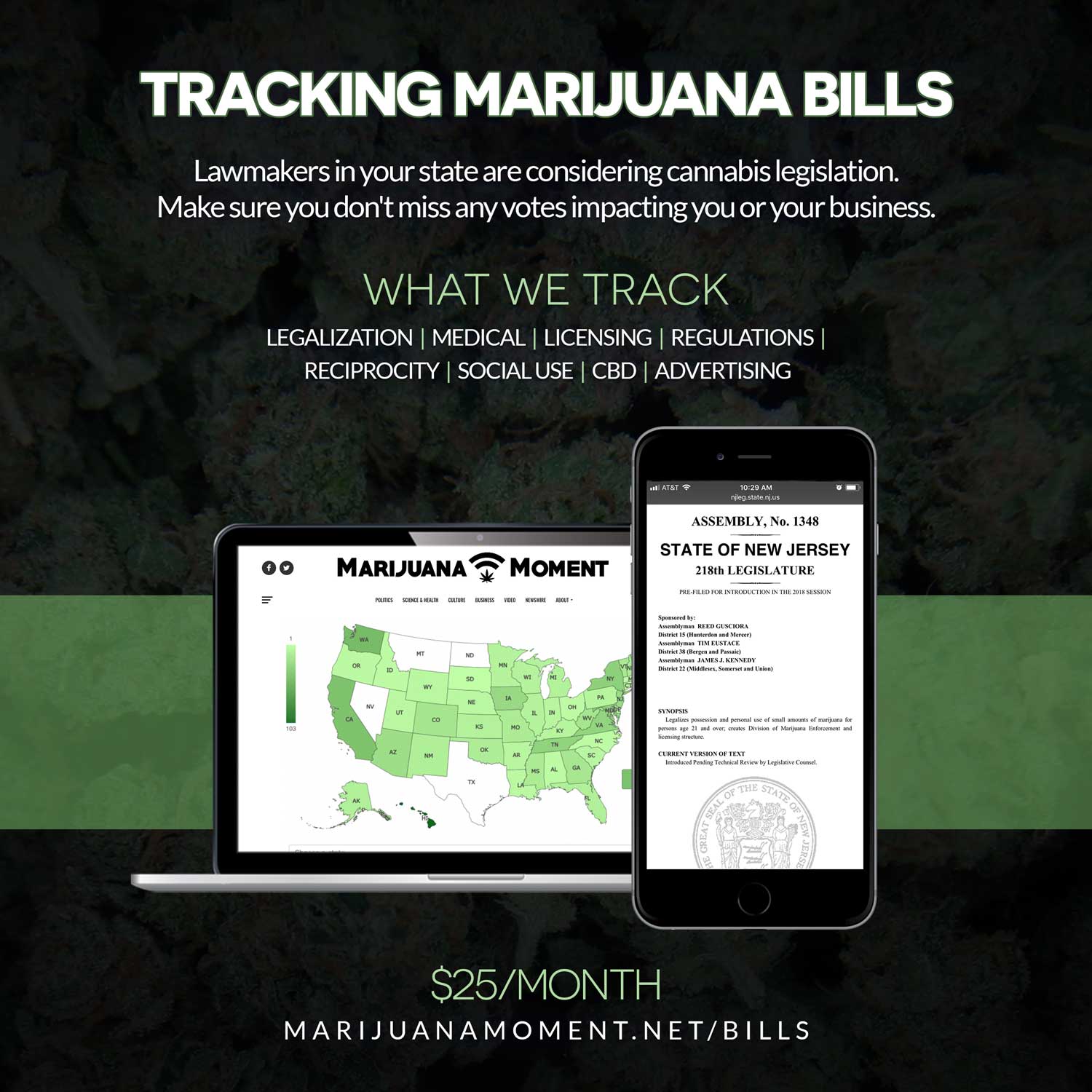 Learn more about our marijuana bill tracker and become a supporter on Patreon to get access.
—
/ LOCAL

The Arcata, California City Council took testimony on a proposal to decriminalize psychedelics and referred it to the Public Safety Committee.

/ INTERNATIONAL

Colombian President Iván Duque signed a decree allowing cannabis exports.

Peru's Congress approved legislation to allow home cultivation of medical cannabis.

/ SCIENCE & HEALTH

A study found that "liberalization of cannabis laws has not adversely affected the efficacy of tobacco control efforts."

The journal Cannabis and Cannabinoid Research issued a call for "studies aimed at understanding CBD's mechanisms of action."

/ ADVOCACY, OPINION & ANALYSIS

The National Urban League's president and CEO, a former New Orleans, Louisiana mayor, said police should not be "obsessed" with making arrests for marijuana and other low-level crimes.

The NZ Drug Foundation is pushing to build support for legislation to legalize and regulate drug checking services.
/ BUSINESS

Field Trip Health Ltd. received conditional approval to trade on the NASDAQ Global Select Market.

Schwazze closed its acquisition of Southern Colorado Growers.

A subsidiary of TILT Holdings Inc. entered into a $10 million asset-based revolving credit facility with Entrepreneur Growth Capital, LLC.

West Coast Growers, Topshelf Hemp and Fire Hemp are being sued for allegedly mistreating seasonal workers.

Slate's Thrilling Tales of Modern Capitalism podcast looks at the struggles of High Times.

Arkansas dispensaries have sold $365 million worth of medical cannabis since the program began.

Maine retailers sold nearly $6.5 million worth of recreational marijuana in June.

/ CULTURE

Snoop Dogg and Martha Stewart made references to marijuana in an ad for BIC lighters.

Soccer player Megan Rapinoe is being criticized for openly using CBD in her training regimen while runner Sha'Carri Richardson was banned from the Olympics over marijuana.
Make sure to subscribe to get Marijuana Moment's daily dispatch in your inbox.
Schumer talks legal cannabis strategy (Newsletter: July 23, 2021)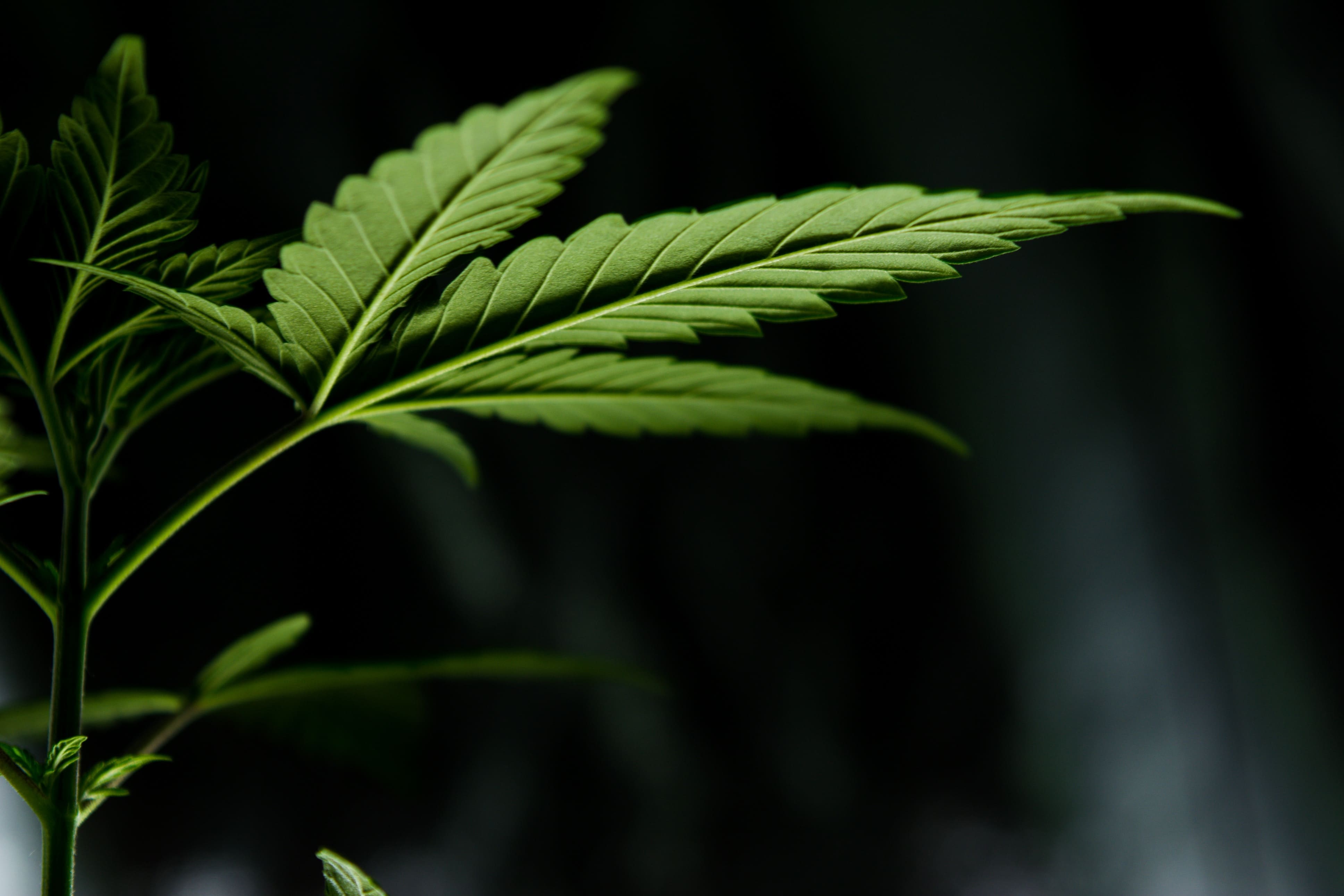 AOC's psychedelics amendment; Congressman bulldozes marijuana plants; Vote to federally protect state laws next week; MS medical cannabis negotiations
Subscribe to receive Marijuana Moment's newsletter in your inbox every weekday morning. It's the best way to make sure you know which cannabis stories are shaping the day.
Your support makes Marijuana Moment possible…
Paid for by readers like you. Marijuana Moment's newsletter and in-depth cannabis reporting is made possible by the nearly 700 people who subscribe to us on Patreon.

Support our work for $25/month and gain access to valuable insider data, exclusive interview audio, and more: https://www.patreon.com/marijuanamoment

/ TOP THINGS TO KNOW

Senate Majority Leader Chuck Schumer (D-NY) spoke to The View about his strategy to get the votes needed to pass a new federal marijuana legalization bill—including asking senators what changes they want made to the draft.
"We're now going around to our colleagues saying, 'Would you sign onto the bill? And if you don't like what's in the bill and want some modifications, tell us.'"
Reps. Earl Blumenauer (D-CA), Tom McClintock (R-CA), Eleanor Homes Norton (D-DC) and Barbara Lee (D-CA) are circulating a Dear Colleague letter to build support for an amendment to protect all state and tribal marijuana laws from federal interference. It could get a House floor vote next week.

Rep. Alexandria Ocasio-Cortez (D-NY) filed a new amendment to promote research on the medical benefits of psychedelics like psilocybin and MDMA.
Additional new proposals from other lawmakers would push the Food and Drug Administration to regulate CBD and remove protections from universities that study marijuana.
Anti-marijuana Rep. Doug LaMalfa (R-CA) posted video of himself bulldozing cannabis grow operations, delivering cheesy quotes and flexing his muscles alongside police.
"I love the smell of diesel power in the afternoon. It smells like victory."
Mississippi lawmakers are set to begin formal negotiations next week on a medical cannabis bill to replace the voter-approved program that was overturned by the state Supreme Court, and they could pass it in an August special session. The Senate Public Health Committee held a hearing on the issue on Wednesday.

/ FEDERAL

President Joe Biden reiterated his belief that "we shouldn't be sending people to jail for use. We should be sending them to mandatory rehabilitation."

The Supreme Court is again being asked by a Colorado marijuana dispensary to take up its tax dispute with the Internal Revenue Service.

Sen. Ed Markey (D-MA) tweeted, "With the pandemic accelerating the opioid epidemic, it's more important than ever to address this crisis and right the wrongs of the failed War on Drugs."

Rep. Ed Perlmutter (D-CO) tweeted, "There is a serious public safety threat that exists in our communities which we cannot wait to address. Passing the #SAFEBankingAct is the first step of many federal cannabis reforms to create a safer and more equitable industry."

Rep. Steve Cohen (D-TN) tweeted, "It feels like Groundhog Day that we're still debating crack cocaine and the War on Drugs. If we can get out of the forever war in Afghanistan, we can get out of the War on Drugs too. We need to see these issues as social and health problems, not throw millions into prison." He also tweeted, "Congress is slow as molasses in change. The citadel of cultural lag. For so long, we've tried to end sentencing disparities for crack cocaine and it's just as insane that we haven't yet descheduled marijuana. We must, at long last, end the War on Drugs."

/ STATES

Connecticut Gov. Ned Lamont (D) appointed members to the new marijuana Social Equity Council.

Maryland Democratic gubernatorial candidate John King, a former U.S. education secretary, tweeted, "If you were arrested and jailed for just a nonviolent cannabis charge your record should be expunged."

Virginia's attorney general tweeted, "I am committed to getting this right because marijuana legalization is a step in the right direction for public safety, equity, and economic opportunity for all Virginians."

The Missouri secretary of state's office issued a consent order against Green Clinic, LLC after it sold unregistered securities, and it must now reimburse a portion of investors' losses and pay a civil penalty.

The Iowa Court of Appeals upheld a police department's firing of an employee for using CBD while on the job.

Washington State regulators adopted final rules on vitamin E acetate in marijuana products.

Wisconsin regulators are considering opting for federal control of the state's hemp program.

Nevada regulators issued guidance on the use of face masks by marijuana business employees.

Michigan regulators published a bulletin about marijuana business operations questions.

Ohio's Medical Marijuana Advisory Committee will meet on August 12.

—
Marijuana Moment is already tracking more than 1,100 cannabis, psychedelics and drug policy bills in state legislatures and Congress this year. Patreon supporters pledging at least $25/month get access to our interactive maps, charts and hearing calendar so they don't miss any developments.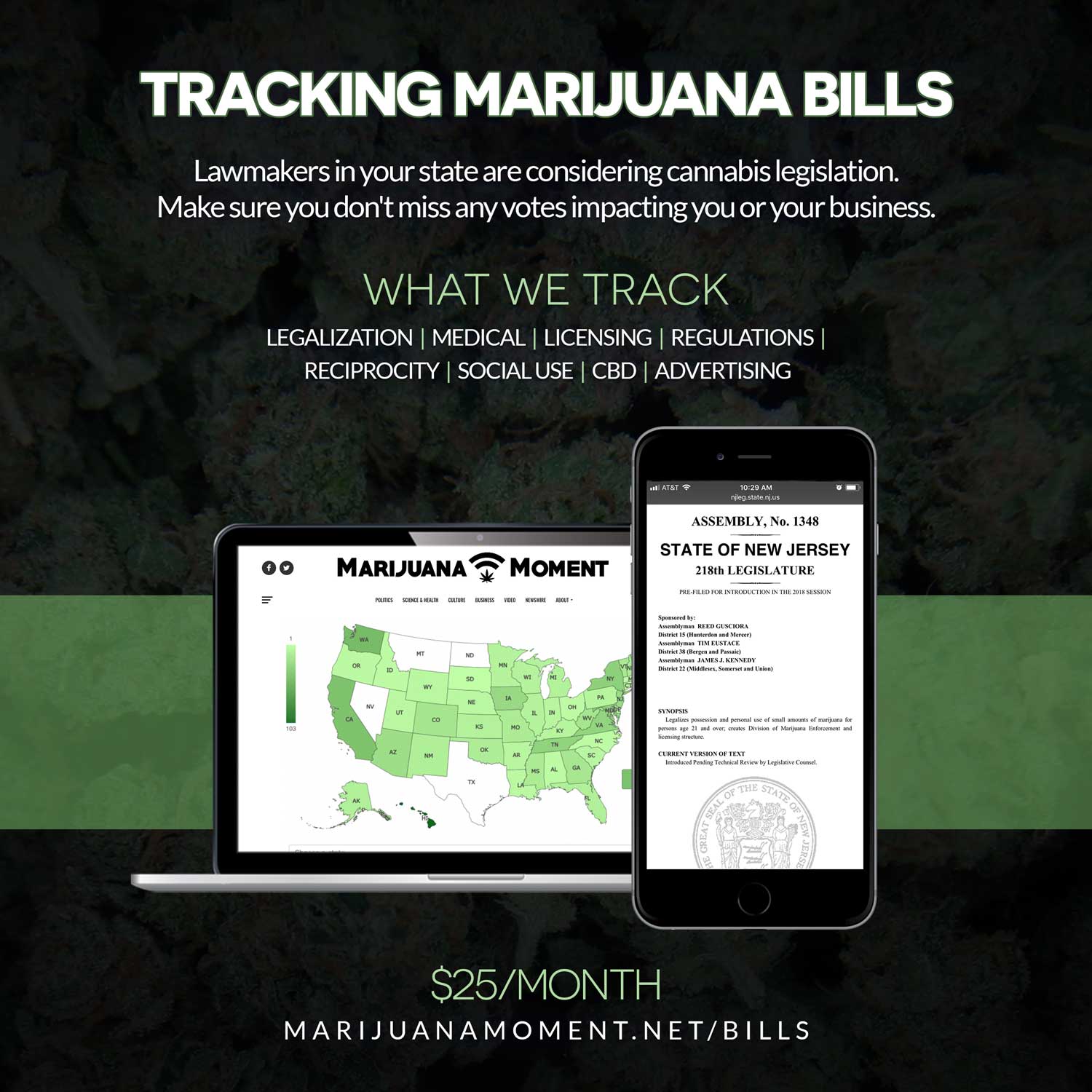 Learn more about our marijuana bill tracker and become a supporter on Patreon to get access.
—
/ LOCAL

Bridgeport, Ohio officials are being sued for not complying with the deadline to process petitions for a proposed marijuana decriminalization ballot measure.

The Atlantic City, New Jersey City Council voted to ban recreational marijuana stores from the Boardwalk, and separately voted to shut down a syringe access program.

Twin Falls, Idaho officials expressed concern about a new marijuana store opening up across the border in Nevada.

Denver, Colorado will hold a marijuana delivery service information session on Tuesday.

/ INTERNATIONAL

Ireland's government announced that patients will be able to access direct payments to help cover the cost of medical cannabis.

North Macedonia's government expects to see an economic boost from legal marijuana cultivation.

/ SCIENCE & HEALTH

A review concluded that "medicinal cannabis-based products may be cost-effective treatment options for [multiple sclerosis] spasticity, Dravet syndrome, and neuropathic pain, although the literature is nascent."

A review concluded that "using organic solvents is the most convenient method for medicinal cannabis extraction."

/ ADVOCACY, OPINION & ANALYSIS

A poll found that American adults support keeping marijuana as a banned substance for Olympic athletes, 44 percent to 39 percent.

An Associated Press analysis looks at the racially disparate impact of the war on drugs.

The Transform Drug Policy Foundation published excerpts from the upcoming third edition of its guide on regulating marijuana.

/ BUSINESS

Jushi Holdings Inc. announced that it no longer meets the definition of a foreign private issuer and will transfer to domestic issuer status at the beginning of next year.

Cybin Inc. received conditional approval to trade on the NYSE American LLC stock exchange.

Akerna issued a mid-year review of the cannabis industry.

Tower 26 Inc. and shareholders are suing the company's founder for allegedly embezzling between $1.1million and $4 million.

/ CULTURE

Method Man, Red Man and other artists will perform at the National Cannabis Festival in Washington, D.C. next month.

George Clinton spoke about his use of marijuana and abstinence from using other drugs.
Make sure to subscribe to get Marijuana Moment's daily dispatch in your inbox.