Most Doctors, Nurses And Pharmacists Support Legalizing Marijuana, Poll Finds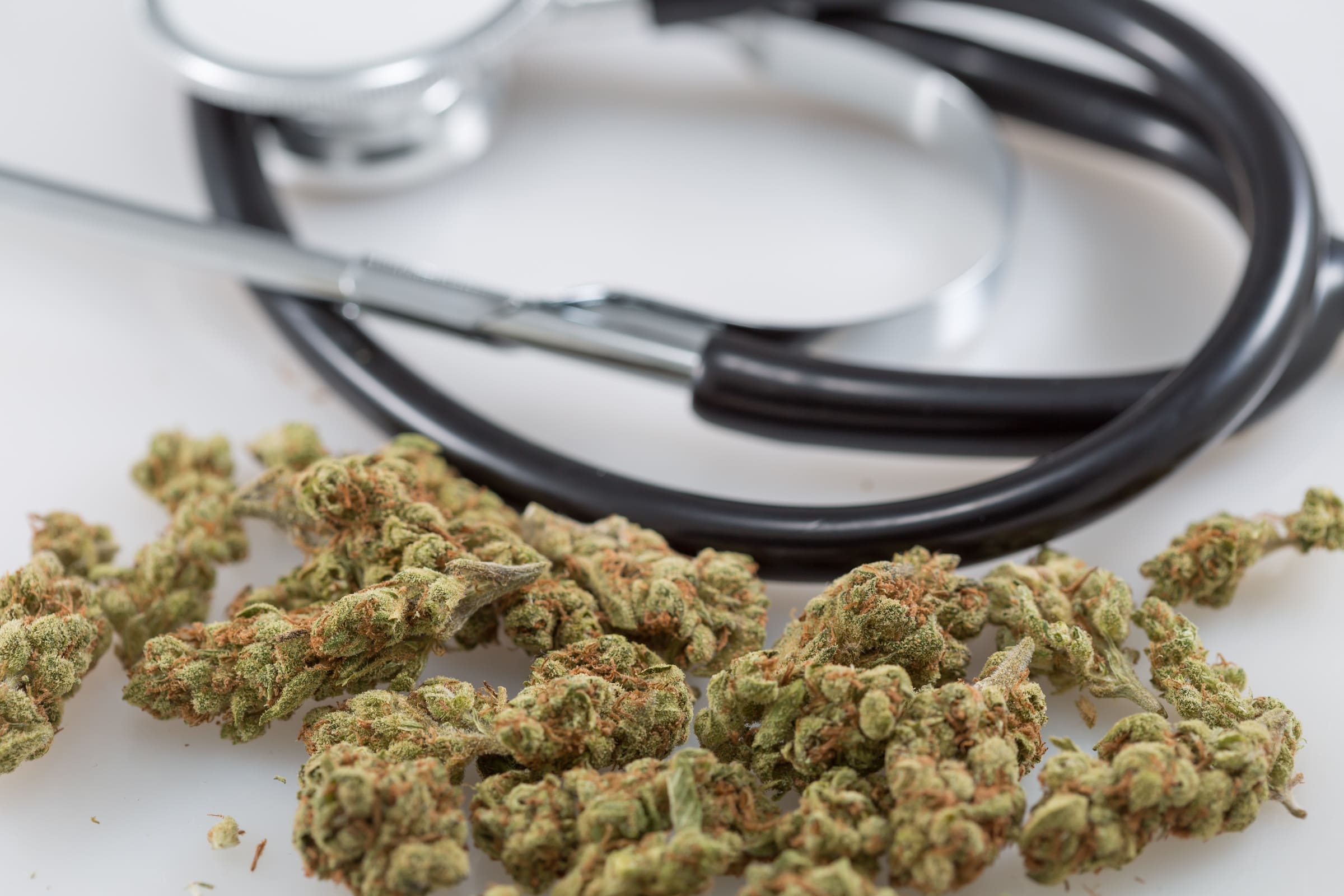 A majority of physicians are in favor of legalizing marijuana nationwide, according to a newly published survey, and an even bigger supermajority back allowing medical cannabis.
The results of the poll, which was conducted by Medscape Medical News, also show strong support for marijuana reforms from other medical professionals like nurses, pharmacists and psychologists, as well as those working in health business and administration.
Here's how the healthcare professionals responded to the question, "Should Recreational Marijuana Be Legalized Nationally?"
Physicians: 53% support
Health Business/Administration: 72% support
Nurses: 57% support
Pharmacists: 54% support
Psychologists: 61% support
And when asked, "Should Medical Marijuana Be Legalized Nationally?" they replied as follows:
Physicians: 67% support
Health Business/Administration: 88% support
Nurses: 82% support
Pharmacists: 71% support
Psychologists: 82% support
In no category did less than a majority of medical professionals support legalizing recreational or medical marijuana.
The survey, which MedScape launched in May and published on Wednesday, also asked respondents in states with legal medical cannabis whether they recommend it to patients.
Fifty-nine percent of physicians said they have recommended medical marijuana, while 59 percent of nurses and 52 percent of pharmacists said the same.
The poll, which included responses from 417 physicians, 1,054 nurses, 171 people in health business or administration, 79 pharmacists and 79 psychologists, found that minorities of each category personally engage in cannabis consumption.
Broader polling in recent years has consistently shown that a growing majority of Americans support legalizing marijuana, and the new MedScape results indicate that medical professionals' views on cannabis laws do not significantly differ from those of the general population.
Feds Award $3 Million In Grants To Study Marijuana Ingredients As Alternatives To Opioids
The federal government has awarded $3 million in grants for research into the therapeutic benefits of ingredients in marijuana other than THC, emphasizing their potential as alternatives to prescription opioids.
In a notice published on Thursday, the National Institutes of Health (NIH) explained why the studies were necessary and listed grant recipients and the subjects they will investigate. That includes research into the use of CBD for arthritis pain, which will be led by New York University School of Medicine.
"The treatment of chronic pain has relied heavily on opioids, despite their potential for addiction and overdose and the fact that they often don't work well when used on a long-term basis," Helene Langevin, director of the National Center for Complementary and Integrative Health (NCCIH), said in a press release. "There's an urgent need for more effective and safer options."
A total of nine grants were issued, with NIH stating that the funds will help identify alternative treatment options for pain and provide information about the impact of consuming cannabis compounds such as CBD and other lesser-known cannabinoids as well as terpenes found in the plant.
"The cannabis plant contains more than 110 cannabinoids and 120 terpenes, but the only compound that's been studied extensively is THC," the press release said.
But while THC is known to treat certain forms of pain, NIH is concerned that its intoxicating effects limit its medical applicability.
"THC may help relieve pain, but its value as an analgesic is limited by its psychoactive effects and abuse potential," David Shurtleff, deputy director of NCCIH, said. "These new projects will investigate substances from cannabis that don't have THC's disadvantages, looking at their basic biological activity and their potential mechanisms of action as pain relievers."
Just released: Nine new research awards, funded by our Center, will investigate the potential pain-relieving properties and mechanisms of actions of the diverse phytochemicals in cannabis, including both minor cannabinoids and terpenes. https://t.co/03MxrycfFa

— NIH NCCIH (@NIH_NCCIH) September 19, 2019
NIH first announced that it would be issuing grants for studies into minor cannabinoids and terpenes last year.
Federal health agencies aren't the only institutions interested in learning about marijuana compounds other than THC. On Wednesday, a Senate committee issued a spending report that called for research into CBD and CBG while also criticizing the federal drug scheduling system for inhibiting such research.
Read descriptions of the federal cannabinoid and terpene research grant awards below:
Mechanism and Optimization of CBD-Mediated Analgesic Effects; Boston Children's Hospital, Boston,; Zhigang He, Ph.D., B.M., and Juan Hong Wang, Ph.D. This project will investigate how the pain-relieving effects of cannabidiol (CBD) and other minor cannabinoids may be modulated by the activity of potassium-chloride cotransporter 2 (KCC2), a chloride extruder expressed in most neurons. (Grant 1R01AT010779)
Neuroimmune Mechanisms of Minor Cannabinoids in Inflammatory and Neuropathic Pain; University of California, San Francisco; Judith Hellman, M.D., and Mark A. Schumacher, M.D., Ph.D. This project will explore the effects of minor cannabinoids on inflammatory and neuropathic pain in vitro and in vivo, focusing on the interactions of the cannabinoids with the peripheral receptor called TRPV1 and a cannabinoid receptor, CB1R. (Grant 1R01AT010757)
Minor Cannabinoids and Terpenes: Preclinical Evaluation as Analgesics; Research Triangle Institute, Research Triangle Park, North Carolina; Jenny L. Wiley, Ph.D. This project will evaluate purified biosynthesized minor cannabinoids and selected terpenes alone and in planned combinations to determine their potential efficacy as pain relievers against acute thermal, inflammatory, neuropathic, and visceral pain. (Grant 1R01AT010773)
Identifying the Mechanisms of Action for CBD on Chronic Arthritis Pain; New York University School of Medicine, New York City; Yu-Shin Ding, Ph.D. This project will use neuroimaging studies and behavioral assessments to investigate the mechanisms of action of CBD in the modulation of chronic pain associated with osteoarthritis in a mouse model. (Grant 1R21AT010771)
Synthetic Biology for the Chemogenetic Manipulation of Pain Pathways; University of Texas, Austin; Andrew Ellington, Ph.D. This project will use a novel method to evolve individual variants of cannabinoid receptor type 2 (CB2) that interact with high affinity with minor cannabinoids and evaluate the new variants in a mouse model of pain. (Grant 1R21AT010777)
Exploring the Mechanisms Underlying the Analgesic Effect of Cannabidiol Using Proton Magnetic Resonance Spectroscopy; University of Utah, Salt Lake City; Deborah A. Yurgelun-Todd, Ph.D. This project will use proton magnetic resonance spectroscopy (1H-MRS) to evaluate changes in brain chemistry in critical pain-processing regions after short-term administration of a cannabis extract enriched in CBD. (Grant 1R21AT010736)
Mechanistic Studies of Analgesic Effects of Terpene Enriched Extracts from Hops; Emory University, Atlanta; Cassandra L. Quave, Ph.D. This project will take a multidisciplinary approach to investigate the analgesic effects of terpenes from Humulus lupulus (hops), a plant that is closely related to cannabis and has a very similar terpene profile. (Grant 1R21AT010774)
Systematic Investigation of Rare Cannabinoids With Pain Receptors; University of Illinois at Urbana-Champaign; David Sarlah, Ph.D. This project involves synthesizing several classes of rare phytocannabinoids, systematically evaluating their anti-inflammatory potential, and examining the effects of the compounds with the strongest anti-inflammatory potential on the major receptors involved in pain sensation. (Grant 1R21AT010761)
Analgesic efficacy of single and combined minor cannabinoids and terpenes; Temple University, Philadelphia; Sara J. Ward, Ph.D. This project will use rodent models of pain to evaluate the effects of four biologically active components of cannabis that may act synergistically to protect against pain development and to assess the interactions of these four substances with morphine. (Grant 1R01AT010778)
Senate Report Slams Drug Scheduling System For Blocking Marijuana Research
President Influences Public Opinion On Marijuana Legalization, Study Finds
When it comes to how Americans view marijuana legalization, the person sitting in the Oval Office makes a difference, a new study reports.
"Findings indicate that confidence in the executive branch, fear of crime, and presidential drug rhetoric predict attitudes toward legalization despite controls for other factors such as estimated levels of marijuana use and arrests," the paper states. The findings were published last month in the journal Deviant Behavior.
It's probably not news to anyone that the president of the United States has the power to sway public opinion—they are, after all, the most powerful person in the country and a great deal of attention is paid to messaging coming out of the White House. Like the mainstream media, POTUS can therefore help shape attitudes about marijuana and other drugs.
Researchers at Kennesaw State University and Old Dominion University, however, were interested to know just how much influence a president may have, especially when it comes to how the general public views cannabis policy.
For their analysis, the study's authors used data from the General Social Survey spanning 1972–2016 to gauge Americans' opinions on legalizing cannabis. They also reviewed reports on estimated marijuana use as well as related arrests. To get a sense of how often presidents talked about cannabis and illicit drugs during the study period, they looked at public presidential documents, including State of the Union (SOTU) addresses and other speeches, messages and executive orders.
The study's authors worked with several variables and control measures, and chose to conduct a multi-level model analysis in order to consider changing contexts over time. Here's some of what they found:
The year 2014 was a turning point for how Americans viewed marijuana legalization. For the first time since 1975, more people that year supported ending prohibition than those who didn't.
How much the president talks about marijuana and other drugs matters. The study found that "each annual percent increase in SOTU words about drugs predicts a decreased odds of favoring legalization of about 6%." Also, an increase in drug-related presidential documents led to a small decrease in favor of legalization, though the number of cannabis-related documents were not as influential.
When more people expressed having confidence in the executive branch, the odds of their supporting legalization fell about 29 percent compared to people who said they had "hardly any confidence" in the White House.
The crack-cocaine drug panic of the late 1980s—which other researchers say was created by President Ronald Reagan's anti-drug rhetoric—impacted how people felt about marijuana legalization: The odds of the public favoring legalization decreased by about 27 percent then compared to the other time periods.
As more people reported consuming cannabis, the odds of supporting legalization also increased. "For every percent increase in aggregate marijuana use, the models predict a five percent increased odds of favoring marijuana legalization," the study states.
Political party matters. "Specifically, the model illustrates that when a Republican president is in office, each increase in confidence leads to decreased odds of favoring legalization of approximately 36%. However, when a Democratic president is in office the decreased odds of favoring legalization is reduced to 24%."
Researchers also found that fear of crime was found to be positively associated with legalization. As they explain it, if two persons with the same individual level fear of crime are located in two different states, the respondent in the state with higher mean fear of crime will have a 52% increased odds of favoring legalization per unit increase in the mean fear of crime compared to the individual in the state with lower mean fear of crime."
It's possible, they added, that people have begun to question some of the fear-mongering associated with marijuana.
"While attitudes toward legalization of marijuana have varied greatly over time, so has presidential rhetoric about marijuana and drugs," the study's authors wrote. "The lowest support for legalization is consistently found during President Reagan's Just Say No era. However, beginning around the election of President Clinton, a steady increase in attitudes favoring legalization…is observed. This project supports the hypothesis that presidential drug rhetoric is related to public opinion about drugs, and more specifically, about marijuana."
As for the current occupant in the White House, President Trump has maintained that his administration will leave marijuana policy for states to decide.
What's Really Behind Americans' Increased Support for Marijuana Legalization? Study Sheds Light
Photo courtesy of Rick Proctor.
Legal Marijuana Is A 'Positive Amenity' For New Colorado Residents, Study Finds
Many people consider a number of factors before deciding to move to a new state, including the availability of jobs, the quality of schools and the cost of living, among other things. In recent years, another amenity that may attract new residents to a state, according to a recent study, is access to legal marijuana.
Specifically, researchers focused on the number of people who migrated to Colorado before and after legalization as compared with a model of what the state would look like under continued prohibition.
"We find strong evidence," the paper states, "that potential migrants view legalized marijuana as a positive amenity with in-migration significantly higher in Colorado compared with synthetic-Colorado after the writing of the [Department of Justice] memo in October 2009 that effectively allowed state laws already in place to be activated, and additionally after marijuana was legalized in 2013 for recreational use."
The findings, which were published in the journal Economic Inquiry last month, are "consistent with most previous research that has in general found positive effects of legalization, such as reductions in youth suicide, traffic accidents and crime."
Researchers in Spain and Italy used data from the American Community Survey to track how many people moved within the United States, including where they lived originally and where they migrated. To understand how local laws may help entice newcomers to an area, they focused primarily on Colorado, which legalized medical cannabis in 2000 and adult-use marijuana in 2012. For comparison purposes, they created a "synthetic Colorado" using data from 20 states where marijuana was still illegal in 2017 with a goal of creating a synthetic model of a Colorado that had not legalized marijuana.
Because legal access to medical cannabis was not widely available until after 2009—the year the Obama Department of Justice issued guidelines that made enforcement of federal law a low priority for individuals operating in compliance with state medical cannabis laws—the study's authors focused on the years 2010–2015 as the treatment period in their analysis. They compared migration numbers for 2005–2009 as the pretreatment period.
"From 2005 to 2009, on average, 187,600 people migrated to Colorado in each year," the study states. "Between 2010 and 2013, in-migration increased by 21,372 people per year (a 11.4% increase) in Colorado compared with synthetic-Colorado. After full legalization in 2013, in-migration further increased by 14,087 people per year (an additional 7.5% increase)."
"When we employ permutation methods to assess the statistical likelihood of our results given our sample, we find that Colorado is a clear and significant outlier," the researchers wrote. "We find no evidence for significant changes in out-migration from Colorado relative to synthetic-Colorado suggesting that marijuana legalization did not change the equilibrium for individuals already living in the state."
Overall, the authors write, 156,406 more people moved to Colorado after 2009 than what was predicted using their synthetic-Colorado analysis. "Given that we find no impact on outmigration, this implies that marijuana legalization increased Colorado's population by 3.2% as of 2015."
Their findings support the results of a related paper published in 2018. That analysis found that legalization in Colorado lead to a 6 percent increase in housing values, which were driven by an increase in demand.
"Taken together," the current study states, "this suggests that, at least initially, easier access as opposed to the generation of new jobs and local tax revenues, was the main driver of migration inflows to Colorado."
Colorado Has Generated Over $1 Billion In Marijuana Revenue, State Announces