Workers In These Industries Are Most Likely To Consume Marijuana
It's become increasingly clear that there's no single "type" of marijuana consumer. But research has identified certain cultural trends, including a new study that examines the prevalence of cannabis consumption among workers in different industries.
The study, published this month in the International Review of Psychiatry, demonstrates that cannabis use is represented in a wide range of employment backgrounds—and some of the industries where using cannabis is most common might come as a surprise.
Let's start with the numbers. Here's a list of industries where workers use the most and least cannabis, which the researchers compiled based on 2013 and 2014 National Survey on Drug Use and Health data. The survey asks respondents whether they've used marijuana at least once in the past year.
| | |
| --- | --- |
| Industry | % marijuana use |
| Food Services | 50.55 |
| Education/Health | 46.55 |
| Construction/Mining | 41.70 |
| Retail | 39.15 |
| Professional | 38.76 |
| Manufacturing | 21.68 |
| Finance | 15.70 |
| Transportation | 8.23 |
| Wholesale | 7.31 |
| Public Administration | 3.86 |
| Agriculture | 2.93 |
Note: Not all industries are represented in this list, which is limited by the data submitted by NSDUH respondents. Also, the study does distinguish different "job categories," but not within each specific industry.
The point of the study wasn't simply to show what kind of workers are using marijuana, but also for what purposes. If a survey respondent reported using cannabis in the past year, their use was then categorized as either medical, recreational or mixed (i.e. some of their cannabis consumption was recommended by a doctor, but not all of it).
You can see that breakdown in the table below, but in general, the study reveals a diversity of use types among different industries. People in construction tend to be mixed-use consumers, for instance, and people in food services tend to skew recreational. It's difficult to explain these sub-trends without more data, however.
That said, the researchers were especially interested in cannabis use among construction and mining employees.
"One key difference between the user groups is the higher percentage of medical cannabis users in the construction and mining industries," they wrote. "This is likely due to the higher injury rates in these industries: construction and mining work require physical stamina, often involve irregular schedules, and expose workers to weather, dangerous tools, and equipment."
The study notes that there's conflicting research about marijuana use in these industries, with some arguing that frequent use can result in increased workplace injuries and others contending that the therapeutic use of cannabis "addresses pain and other health problems… that often result from work-related injuries."
That latter point is also consistent with a study released last month showing "evidence that legalizing medical marijuana improved workplace safety."
Workplace Deaths Drop After States Legalize Medical Marijuana
Washington Still Doesn't Know What Good Marijuana Is (Or How To Test For It)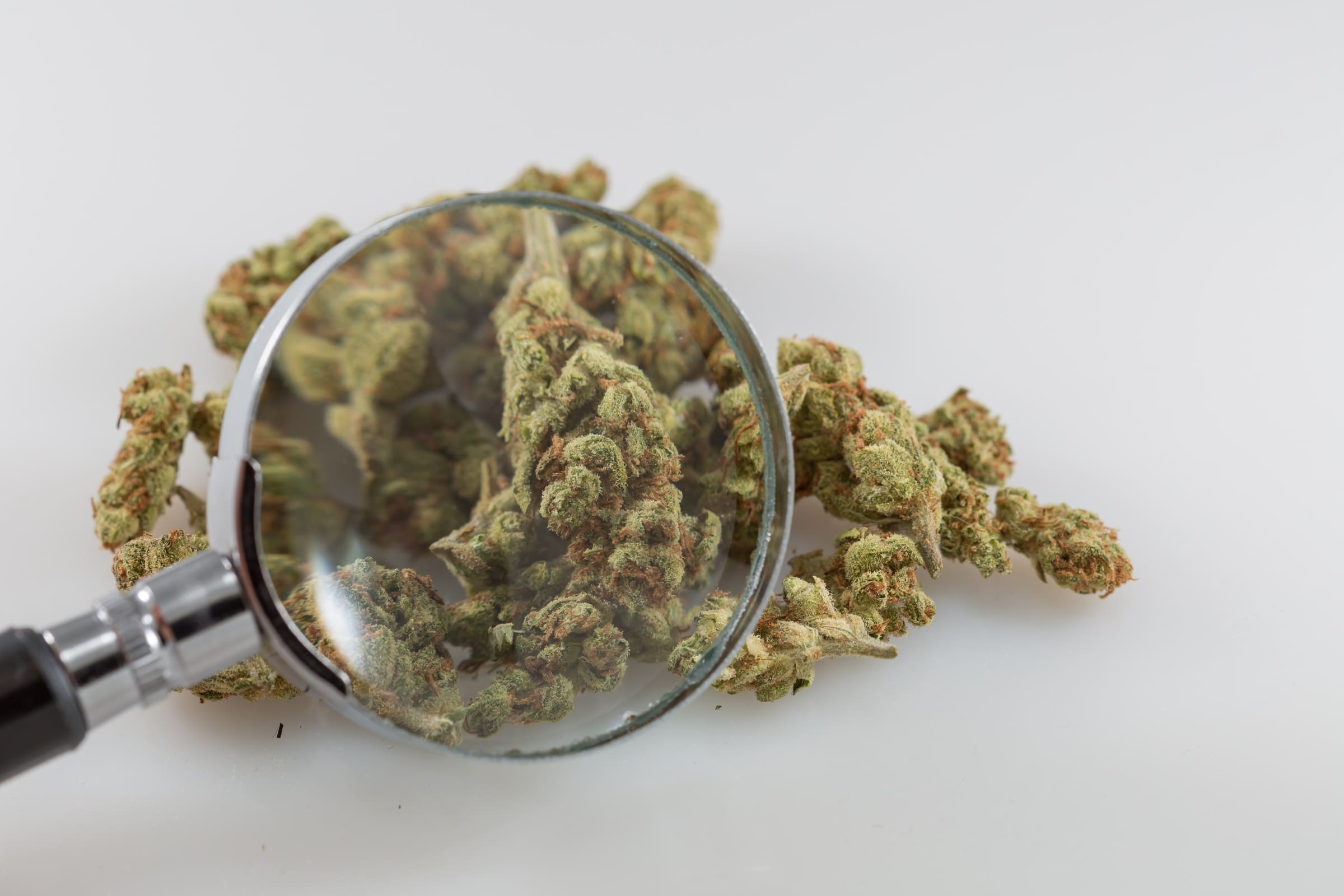 Retail sales of legal marijuana have been underway in Washington state for more than four years—and state regulators in charge of quality control still aren't sure what good cannabis is, or how to test for it.
All product sold in stores is supposed to be tested for mold, pesticides and other contaminants by labs evaluated and accredited by a private company under contract.
That will change sometime soon. The Washington State Liquor and Cannabis Board, which regulates marijuana sales, has until January 15 to come up with recommendations for how the state should begin accrediting testing labs.
But in order to do that, regulators—or state lawmakers, or both—have to decide what, exactly, makes good weed. And nobody—not in Washington state, nor elsewhere in the U.S. where marijuana is legal—can seem to agree what that is, according to a draft government report posted online Thursday.
"Current quality standards… are insufficient to support a robust, science-based cannabis laboratory accreditation program," the Washington Department of Ecology document says.
A "Cannabis Science Workgroup" comprised of experts in chemistry, biology, medicine and other fields to determine minimum standards for cannabis quality should be formed, wrote Sara Sekerak, a senior chemist and project manager at the department.
To reach this determination, researchers with the agency reviewed quality-control standards in four states. They found that "[w]idely accepted quality standards for testing cannabis and cannabis products do not yet exist."
"Accreditation does not designate product standards or quality standards," the report adds. "However, these are necessary to support meaningful accreditation."
Eventually, testing labs in Washington will be accredited by a state agency. Until that happens, quality may remain erratic.
Because of weak or nonexistent state rules, labs "are allowed to design their own levels" of quality control and quality assurance. There are no readily available samples of agreed-upon "quality" cannabis to set a basic standard by, as there is for drinking water and other consumer goods.
Untrained workers collecting samples for testing may taint the samples. And current accreditation standards applied by the International Organization for Standardization (ISO) are not sufficient, the report found.
Washington State Prepares To Rewrite Marijuana Testing And Packaging Rules
New York Liquor Stores Want To Sell Marijuana
Instead of creating a whole new system of specialized stores to distribute marijuana when it becomes legal, New York should just allow existing liquor and wine retail outlets to sell cannabis to adults. That's the position of a new advocacy effort launched by owners of booze shops this month.
"With more than 2,000 wine and liquor stores from Buffalo to Montauk, we offer existing retail space with quick and cheap access to the market in every corner of the state," reads the website for the group, which is called The Last Store on Main Street. "That means more tax revenue, and sooner, for the State to fulfill basic responsibilities and invest in the future of our neighborhoods."
The group, which previously defeated an effort to allow wine sales in grocery stores, says that its members shops "operate under a highly regulated system that can easily and reasonably be expanded to cover marijuana retail without building new bureaucracy that only serves to eat into the tax revenues the industry creates."
Jeff Saunders, the group's founder, said alcohol retailers are worried that unless they are allowed to sell cannabis, their revenues could suffer.
"Recreational marijuana sales have resulted in significant declines in wine and liquor sales in other states, resulting in job loss and even stores closing," he said, according to the news outlet New York Upstate.
On the group's website, New Yorkers who agree with the goal of allowing weed sales in liquor stores can send prewritten letters to their state lawmakers that describe the move an "obvious win-win opportunity for a bedrock industry of New York's Main Street economies and the future of our state."
The effort to shape how legalization could roll out comes as the administration of Gov. Andrew Cuomo (D) is taking steps to bring about the end of marijuana prohibition.
Earlier this year, Cuomo directed the state Health Department to study legalizing marijuana, a move that led to a report that found that doing so would have more benefits than risks.
State officials are conducting a series of listening sessions around the state on the topic, and the governor created a task force to draft legalization legislation that lawmakers can consider in 2019.
Meanwhile, lawmakers are already holding hearings on ways to end cannabis prohibition.
New York Bill Would Require Medical Marijuana Be Covered By Public Health Insurance
Photo courtesy of Marilyn Acosta.
John Boehner Is Now Selling Marijuana Stock Tips
John Boehner, who just a few years ago was two heartbeats away from becoming president of the United States, is now "all in on the cannabis industry," which he promises can "quite possibly" be worth as much as "$1 trillion" in the near future.
And the Republican former speaker of the House of Representatives wants you to join him on this gravy train. All you need to do is buy the very exclusive stock tips that Boehner is now selling.
Marijuana stocks have been in a free fall over the past few days, with formerly blue-chip Canadian companies—which saw their shares swell in value in the run up to nationwide legalization so quickly it caught the eye of Mad Money's Jim Cramer—suffering double-digit losses as amateur investors lose their nerve.
If Boehner shares their concern, he did not show it on Tuesday, when the erstwhile anti-marijuana lawmaker provided the star power for the launch of the National Institute of Cannabis Investors.
"This is the time," Boehner solemnly said, "to go all in on cannabis."
Boehner made waves earlier this year when he joined the board of advisors of Acreage Holdings, a New York City-based firm that says it runs medical marijuana dispensary and cultivation operations in 13 states. The company is now preparing to go public via a reverse takeover, plus plenty of internet hype.
That will presumably be very good news for John Boehner. In the meantime, the former speaker says he has other extremely good marijuana stock-related news to share with you—provided you pony up an untold sum of money for membership in the cannabis investors' network.
Exactly which companies Boehner suggests you invest in in order to build "the kind of wealth that lasts for generations," he did not say during Tuesday's nearly hourlong "American Cannabis Summit," an extended infomercial for the investors' network, though he and his co-presenters—veteran stock-tip salesman Mike Ward and Danny Brody, who helped take public a Canadian marijuana company that recorded $0 in sales in fiscal year 2018 and had zero kilograms of product in their inventory as of July, according to Seeking Alpha—did drop some clues.
One company manufactures the plastic containers in which retail marijuana is packaged. Another makes legal CBD oil—because, as Boehner said, he'd "think twice" before offering someone medical cannabis with more than 0.15 percent THC. Yet another could "help end our devastating opioid epidemic," Tuesday's presentation promised.
One of these companies could be "38 times bigger than GW Pharmaceuticals," the UK drug manufacturer with an FDA-approved cannabis-derived epilepsy medication. That's a bold claim, but such is Boehner's confidence. (It's also backed by "not one, but two 100 percent money-back guarantees," Ward said. So there is that.)
Other highlights from Tuesday's tease:
There is "nobody in cannabis more connected in Washington" than Boehner, whose post-retirement preparation for the cannabis industry involved playing lots of golf, smoking cigarettes and ripping in-power Republicans, including the president.
Boehner knows exactly how President Donald Trump feels about marijuana legalization but won't say, because "if I tell you about our private conversations, I won't have any more of them."
He does feel that federal legalization could happen within the next five years. "It's not a matter of if, but a matter of when," he said.
Because when has John Boehner ever been wrong about anything?
Former GOP House Speaker Backs Marijuana Descheduling, Joins Cannabiz
Photo courtesy of Gage Skidmore.