Workers In These Industries Are Most Likely To Consume Marijuana
It's become increasingly clear that there's no single "type" of marijuana consumer. But research has identified certain cultural trends, including a new study that examines the prevalence of cannabis consumption among workers in different industries.
The study, published this month in the International Review of Psychiatry, demonstrates that cannabis use is represented in a wide range of employment backgrounds—and some of the industries where using cannabis is most common might come as a surprise.
Let's start with the numbers. Here's a list of industries where workers use the most and least cannabis, which the researchers compiled based on 2013 and 2014 National Survey on Drug Use and Health data. The survey asks respondents whether they've used marijuana at least once in the past year.
| | |
| --- | --- |
| Industry | % marijuana use |
| Food Services | 50.55 |
| Education/Health | 46.55 |
| Construction/Mining | 41.70 |
| Retail | 39.15 |
| Professional | 38.76 |
| Manufacturing | 21.68 |
| Finance | 15.70 |
| Transportation | 8.23 |
| Wholesale | 7.31 |
| Public Administration | 3.86 |
| Agriculture | 2.93 |
Note: Not all industries are represented in this list, which is limited by the data submitted by NSDUH respondents. Also, the study does distinguish different "job categories," but not within each specific industry.
The point of the study wasn't simply to show what kind of workers are using marijuana, but also for what purposes. If a survey respondent reported using cannabis in the past year, their use was then categorized as either medical, recreational or mixed (i.e. some of their cannabis consumption was recommended by a doctor, but not all of it).
You can see that breakdown in the table below, but in general, the study reveals a diversity of use types among different industries. People in construction tend to be mixed-use consumers, for instance, and people in food services tend to skew recreational. It's difficult to explain these sub-trends without more data, however.
That said, the researchers were especially interested in cannabis use among construction and mining employees.
"One key difference between the user groups is the higher percentage of medical cannabis users in the construction and mining industries," they wrote. "This is likely due to the higher injury rates in these industries: construction and mining work require physical stamina, often involve irregular schedules, and expose workers to weather, dangerous tools, and equipment."
The study notes that there's conflicting research about marijuana use in these industries, with some arguing that frequent use can result in increased workplace injuries and others contending that the therapeutic use of cannabis "addresses pain and other health problems… that often result from work-related injuries."
That latter point is also consistent with a study released last month showing "evidence that legalizing medical marijuana improved workplace safety."
Workplace Deaths Drop After States Legalize Medical Marijuana
Legal Marijuana States Have Generated Nearly $8 Billion In Tax Revenue Since Recreational Sales Launched, Report Finds
States that have legalized marijuana for adult use have collectively generated nearly $8 billion in tax revenue from cannabis since legal sales first began in 2014, according to a new report from the Marijuana Policy Project (MPP).
The analysis examined the tax structure and revenue streams of all 18 states that have legalized recreational cannabis, though sales have not launched yet in seven of those states. Overall, it shows that establishing regulated marijuana markets gives states a steady and generally growing source of revenue that can support various programs and services.
Last year alone, the adult-use states collected $2.7 billion in taxes from cannabis sales. And as more markets come online and others mature, that's expected to continue to grow.
As of May 2021, states reported a combined total of $7.9 billion in tax revenue from legal, adult-use marijuana sales. Check out MPP's new report on tax revenue generated from state-legal, adult-use cannabis since sales began in 2014!https://t.co/yv4ImL2s1s

— Marijuana Policy Project (@MarijuanaPolicy) May 25, 2021
For example, California took in more than $1 billion in tax revenue from recreational marijuana in 2020—a 62 percent increase from 2019.
Illinois has consistently been breaking monthly cannabis sales records since its program started in January 2020, and if the trend keeps up, it could create upwards of $1 billion in tax revenue this year. For the first time, marijuana taxes outpaced those derived from alcohol in the state last quarter.
The report does not factor in local tax revenue that individual municipalities may impose on cannabis sales, like in Denver where residents pay an additional 5.5 percent tax that has generated hundreds of thousands of dollars for the city.
"Legalizing cannabis for adults has proven to be a wise investment," Jared Moffat, state campaigns manager at MPP, said in a press release. "Not only are states seeing the benefits of a regulated market and far fewer cannabis-related arrests—they're benefitting in a direct, economic way, too."
MPP also broke down different ways that adult-use states are using those tax dollars.
In Colorado, $404.5 million in marijuana tax revenue has supported the state's public school system. Oregon invests 40 percent of its cannabis revenue to public education, as well as 25 percent to fund mental health and treatment programs. And in California, $100 million in cannabis tax dollars have gone to community groups to help people most impacted by punitive drug laws.
"Before legalization, money from cannabis sales flowed through an underground market that endangered public safety and disrupted communities. But now, we see all across the country that revenue from the legal cannabis industry is supporting schools, health care, and a range of other beneficial public programs," Moffat said. "It's no wonder that residents in legalization states overwhelmingly see legalization as a success."
Reform advocates aren't the only ones interested in seeing how states are approaching the tax side of marijuana legalization. The U.S. Census Bureau also has plans to begin collecting and compiling data on revenue that states generate from legal cannabis.
Delaware's Democratic Governor Reaffirms Opposition To Legalizing Marijuana, Which He Says Can Be A 'Gateway' Drug
Illinois Will 'Blow Past' $1 Billion In Legal Marijuana Sales In 2021, Chamber Of Commerce President Says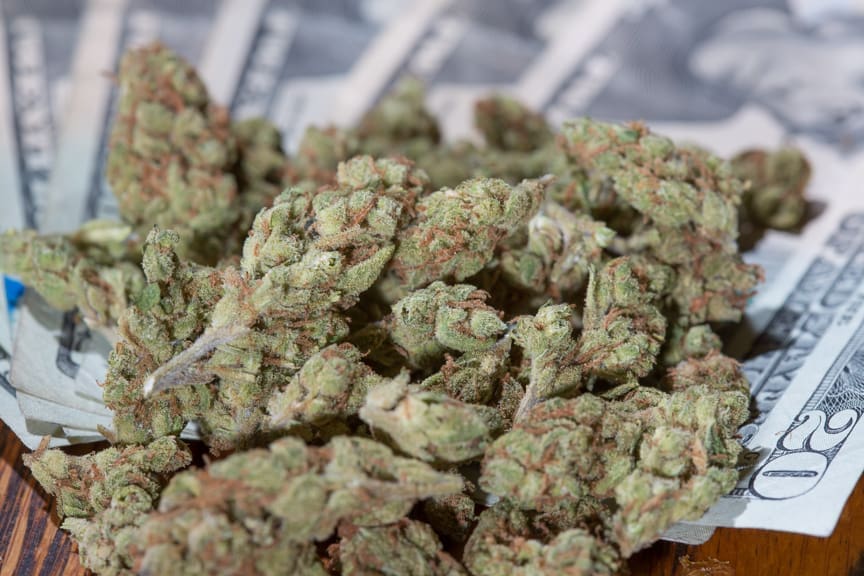 "Are we going to get to a billion dollars? I think we're going to blow past the billion dollars based on the experience in smaller states," the Chamber leader said.
By Elyse Kelly, The Center Square
Illinois's cannabis industry is growing up fast, with adult-use recreational cannabis sales expected to hit $1 billion by year-end.
In March alone, Illinoisans spent $110 million on recreational marijuana.
Todd Maisch, president and CEO of the Illinois Chamber of Commerce, said one factor contributing to Illinois' explosive growth is that most neighboring states haven't legalized marijuana yet.
"What we saw early on in states like Washington and Colorado is they did have demand come in from surrounding states, which frankly benefits our industry and benefits the taxes collected," Maisch said.
Cannabis sales have already surpassed alcohol's tax revenues for the state, and Maisch said he thinks $1 billion estimates are conservative.
"Are we going to get to a billion dollars? I think we're going to blow past the billion dollars based on the experience in smaller states," Maisch said.
There are only a couple of things that could stop Illinois' explosive cannabis market growth, Maisch said. He said that policymakers could ruin things by pushing taxes too high as evidenced by the tobacco market.
"As taxes have gone up and up and up, they've pushed people all the way into the black market or they've created this grey market in which people are ostensibly paying some of the taxes, but they're still getting sources of tobacco products that avoid much of the tax," Maisch said.
The other thing that could head off continued growth is other states opening up recreational-use markets.
"So if you start to see surrounding states go to recreational, that's definitely going to flatten the curve because we're not going to be pulling in demand from other states," Maisch said.
Maisch points out some concerns that accompany the explosion of Illinois's recreational cannabis market including workforce preparedness.
"All of those individuals who are deciding to go ahead and consume this product are really taking themselves out of a lot of job opportunities that they would otherwise be qualified, so there's a real upside and a downside," Maisch said.
While it's easy to track the revenues this industry brings into state coffers, he points out, it will be harder to track the lack of productivity and qualified individuals to operate heavy machinery and other jobs that require employees to pass a drug test.
This story was first published by The Center Square.
DEA Finally Ready To End Federal Marijuana Research Monopoly, Agency Notifies Grower Applicants
Missouri Regulators Derail Medical Marijuana Business Ownership Disclosure Effort With Veto Threat
Missouri regulators say they feel requiring medical marijuana business license ownership disclosures under a House-approved amendment could be unconstitutional, and they may urge the governor to veto the legislation. 
By Jason Hancock, Missouri Independent
An effort by lawmakers to require disclosure of ownership information for businesses granted medical marijuana licenses was derailed on Thursday, when state regulators suggested a possible gubernatorial veto.
On Tuesday, the Missouri House voted to require the Department of Health and Senior Services provide legislative oversight committees with records regarding who owns the businesses licensed to grow, transport and sell medical marijuana.
The provision was added as an amendment to another bill pertaining to nonprofit organizations.
Its sponsor, Rep. Peter Merideth, D-St. Louis, said DHSS's decision to deem ownership records confidential has caused problems in providing oversight of the program. He pointed to recent analysis by The Independent and The Missourian of the 192 dispensary licenses issued by the state that found several instances where a single entity was connected to more than five dispensary licenses.
The state constitution prohibits the state from issuing more than five dispensary licenses to any entity under substantially common control, ownership or management.
On Thursday, a conference committee met to work out differences in the underlying bill between the House and Senate.
Sen. Eric Burlison, a Republican from Battlefield and the bill's sponsor, called the medical marijuana amendment an "awesome idea. I think it's awesome."
However, he said opposition from the department puts the entire bill in jeopardy.
"The department came to me," he said, "and said they felt that this was unconstitutional."
DHSS has justified withholding information from public disclosure by pointing to a portion of the medical marijuana constitutional amendment adopted by voters in 2018 that says the department shall "maintain the confidentiality of reports or other information obtained from an applicant or licensee containing any individualized data, information, or records related to the licensee or its operation… ."
Alex Tuttle, a lobbyist for DHSS, said if the bill were to pass with the medical marijuana amendment still attached, the department may recommend Gov. Mike Parson veto it.
The threat of a veto proved persuasive, as several members of the conference committee expressed apprehension about the idea of the amendment sinking the entire bill.
Merideth said the department's conclusion is incorrect. And besides, he said, the amendment is narrowly tailored so that the information wouldn't be made public. It would only be turned over to legislative oversight committees.
Rep. Jered Taylor, R-Republic, chairman of the special committee on government oversight, said the amendment is essential to ensure state regulators "are following the constitution, that they're doing what they're supposed to be doing."
The medical marijuana program has faced intense scrutiny in the two years since it was created by voters.
A House committee spent months looking into widespread reports of irregularities in how license applications were scored and allegations of conflicts of interest within DHSS and a private company hired to score applications.
In November 2019, DHSS received a grand jury subpoena, which was issued by the United States District Court for the Western District. It demanded the agency turn over all records pertaining to four medical marijuana license applications.
The copy of the subpoena that was made public redacted the identity of the four applicants at the request of the FBI. Lyndall Fraker, director of medical marijuana regulation, later said during a deposition that the subpoena wasn't directed at the department but rather was connected to an FBI investigation center in Independence.
More recently, Parson faced criticism for a fundraiser with medical marijuana business owners for his political action committee, Uniting Missouri.
The group reported raising $45,000 in large donations from the fundraiser. More than half of that money came from a PAC connected to Steve Tilley, a lobbyist with numerous medical marijuana clients who has been under FBI scrutiny for more than a year.
This story was first published by Missouri Independent.
GOP Senator Who Trashed Marijuana Banking Amendment Years Ago Is Now Cosponsoring Reform Bill