More Than 100 Marijuana Businesses Urge Congress To Include Social Equity In Legalization
A coalition of more than 100 marijuana businesses and industry associations sent a letter to congressional leadership on Thursday, pressing them to ensure that any cannabis reform legislation include provisions promoting social equity in the industry.
The letter describes the evolution in public opinion around marijuana policy, the mass incarceration implications of prohibition and the economic potential of legalizing and regulating cannabis. It makes the case that as Congress considers various proposals to change federal marijuana laws, the work won't be complete with the mere end of prohibition.
Specifically, the signees say they are concerned that individuals from communities disproportionately impacted by the war on drugs are being "left behind because a previous [cannabis] conviction often is a disqualifying factor to become an owner or employee in the new legal 'green-rush'" and also because "they are unable to come up with the capital necessary to break into the industry."
"In 2018, combined sales of regulated medical and adult-use cannabis topped $10.4 billion, and the 7 states with active adult-use markets generated nearly $1.2 billion in tax revenue. The industry is now employing well over 200,000 people," the letter reads. "And yet, with this rapidly growing new industry and broad popular support for legalization, many of the communities who were devastated by the decades-long War on Drugs are now being left behind."
The coalition made a series of policy recommendations that aim to level the playing field and repair the social and racial harms of the drug war.
For example, the businesses said that, beyond federally descheduling marijuana, lawmakers should allow banks to service state-legal cannabis businesses, fund social equity programs to encourage those targeted in the drug war to participate in the legal market, clear the records of individuals with prior marijuana convictions and invest in efforts that lift up impacted communities.
Signees include the Minority Cannabis Business Association, National Cannabis Industry Association (NCIA), Marijuana Policy Project, Americans for Safe Access, Michigan Cannabis Industry Association, Harborside, Berkeley Patients Group, Arcview Group, MJ Freeway, Greenbridge Corporate Counsel, SPARC and 4Front Ventures, which led the letter.
"I feel the cannabis industry has a moral obligation to ensure that communities and individuals who were harmed the most by prohibition do not lose out yet again as we forge these new economic opportunities," said Mike Liszewski, 4Front's senior regulatory affairs counsel and the chief organizer behind the letter, said in a press release.
"There are many who would argue that Congress should not get into the business of picking winners and losers," the businesses wrote.
"We would argue that if Congress chooses to end federal cannabis prohibition but chooses not to address these glaring racial and economic disparities in the process, it will in fact pick those who are already the most well-financed, the least likely to have suffered an arrest and conviction, and almost certainly do not come from the communities that were severely harmed by decades of prohibition to be the winners of the new economy."
The letter comes one week after the House Judiciary Crime, Terrorism and Homeland Security Subcommittee convened for a historic meeting on ending federal marijuana prohibition, where witnesses and members discussed how to chart the best path forward toward legalization.
"As representatives of the legal cannabis industry, we have a responsibility to help undo the harms caused by prohibition and ensure that people most impacted by failed federal policies have access to the opportunities being created every day in this market," Aaron Smith, executive director of NCIA, said in a statement. "We are pleased to join this distinguished group of business leaders and advocates in calling on Congress to incorporate these ideas into legislation."
"Past Congresses have played a major role in marginalizing people of color through the war on cannabis, and it is the duty of current and future lawmakers to make up for this," Smith said.
On a related note, a separate coalition of civil rights and drug reform groups, including the ACLU, was formed last week and released a letter making similar social justice recommendations for federal cannabis legislation.
"Some in Congress may feel it is too soon to end federal cannabis prohibition or that Congress does not have a responsibility to address the harms created by how this policy has targeted certain communities," the new letter from the businesses and industry groups states. "But if Congress declines to harmonize state and federal cannabis laws or fails to take responsibility for the consequences of disproportionate enforcement, the problems caused by prohibition will continue to persist."
"The time to wait and see is over," they wrote. "Now is the time for Congress to take the bold but ultimately pragmatic step to deschedule cannabis along with approving the necessary funding and programming to support the communities that incurred the most harm because of federal prohibition."
Read the full letter from cannabis industry groups below:
Cannabis Business and Organization Sign on Letter to House Judiciary by MikeLiszewski on Scribd
This piece was updated to include comment from Liszewski.
Lawmakers And Witnesses Clash On Strategy During Congressional Hearing On Ending Federal Marijuana Prohibition
Photo courtesy of Mike Latimer.
Colorado Earned $423 Million In Marijuana Tax Revenue Last Year
More than $12 billion in marijuana has been sold since legalization in 2014, with the state collecting over $2 billion in taxes.
By Robert Davis, The Center Square
Colorado brought in a record $423 million in tax revenue from marijuana sales last year, according to the latest market report from the state's Department of Revenue (DOR).
In all, Colorado has sold more than $2 billion in marijuana through November 2021, making it the second consecutive year that the state has eclipsed that mark. In 2020, the state collected $387 million in taxes from the sales.
Colorado's tax revenue total also implies that the state beat its previous record of $2.1 billion in sales, though DOR said it will release the final numbers next month.
More than $12 billion in marijuana has been sold since legalization in 2014, with the state collecting over $2 billion in taxes.
🚨New record alert!🚨 In 2021, Colorado collected over $423 million in revenue from marijuana sales (compared to the previous record of over $387 million in 2020). Colorado also surpassed $2B in tax and fee revenue and $12B in marijuana sales to date. https://t.co/M5zrEiSNYR pic.twitter.com/XxpZzyV1XQ

— CO Dept. of Revenue (@CO_Revenue) January 12, 2022
Colorado collects its marijuana taxes from a 2.9 percent state sales tax on marijuana sold in stores, a 15percent state retail marijuana sales tax and a 15 percent retail marijuana excise tax on wholesale sales and transfers of marijuana. The state also collects fee revenue from marijuana license and application fees.
In December, Colorado collected more than $30 million in taxes, capping off a five-month streak of declining tax revenue.
The state also recorded more than $158 million in sales in November, with both medical and recreational marijuana showing significant declines in sales.
Colorado sold $131 million in recreational marijuana in November, an 11 percent drop when compared to October.
Similarly, November's medical marijuana sales totaled $26 million, representing a drop of more than 10 percent on a month-over-month basis.
The story was first published by The Center Square.
Delaware Lawmakers File New Marijuana Legalization Bill With Key Equity Revisions
Arizona Hits Recreational Marijuana Sales Record, With New Program Catching Up To Medical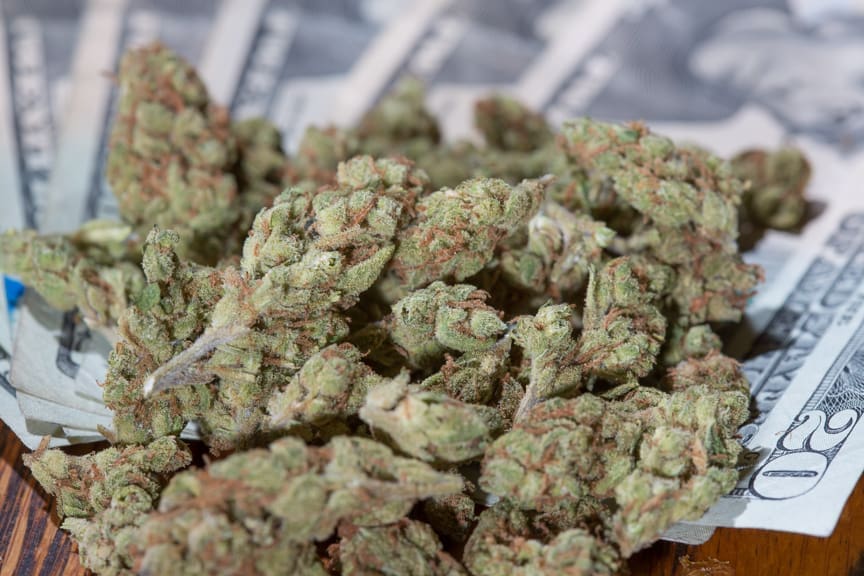 Medical cannabis sales eclipsed recreational from February through October—adult-use sales began on January 22—but in November, those numbers were almost identical.
By David Abbott, Arizona Mirror
Arizona cannabis sales continued on an upward trajectory in 2021, with the Arizona Department of Revenue reporting more than $1.23 billion in combined cannabis sales through the first 11 months of the year.
In November, adult-use recreational cannabis sales hit a new peak and crossed $60 million for the first time. Medical sales have fluctuated throughout the year, topping out at about $73 million in March and April.
Medical sales eclipsed recreational from February through October—adult-use sales began on January 22—but in November, those numbers were almost identical, with the medical program bringing in an estimated $60,365,545, while recreational sales reached $60,299,191.
In October, estimated cannabis sales for both programs were within $7 million of each other, the first time recreational sales came within $10 million of medical sales. But the adult-use market is in its infancy and is expected to match the medical program's economic heft within a few years.
Cannabis sales also provided a solid tax contribution in 2021.
TAXABLE Sales (Estimated) to date

| PERIOD COVERED | ADULT USE‐420 | MEDICAL‐ 203 | EXCISE TAX |
| --- | --- | --- | --- |
| Jan‐21 | $7,370,460 | $42,140,608 | $11,391,371 |
| Feb‐21 | $32,697,512 | $55,320,625 | $39,246,992 |
| Mar‐21 | $51,628,266 | $72,934,129 | $55,808,898 |
| Apr‐21 | $54,037,990 | $72,944,477 | $58,954,469 |
| May‐21 | $52,843,171 | $70,158,567 | $59,372,157 |
| Jun‐21 | $50,943,017 | $64,854,708 | $56,749,799 |
| Jul‐21 | $54,324,542 | $70,880,576 | $58,740,337 |
| Aug-21 | $51,877,656 | $65,492,643 | $57,675,654 |
| Sep-21 | $52,450,298 | $62,704,561 | $57,663,164 |
| Oct-21 | $59,508,253 | $65,415,461 | $62,446,719 |
| Nov-21 | $60,299,191 | $60,365,545 | $63,187,702 |
| Dec-21 | $20,922 | $591,294 | $0 |
| | $528,001,278 | $703,803,194 | $581,237,261 |
The state collects 16 percent excise tax on recreational sales in addition to the standard sales tax; medical patients pay a 6 percent excise tax. Local jurisdictions charge an additional 2 percent or so for all marijuana sales.
Taxes collected in November for recreational cannabis sales were $5,055,950, with medical slightly less at $5,026,317. The excise tax reached $10,110,032 for a total of $20,192,299 in tax revenue from November marijuana sales.
Proposition 207, which voters approved in 2020 to legalize adult use of cannabis, included specific uses for taxes collected on the recreational side. One-third is dedicated to community college and provisional community college districts; 31 percent to public safety—police, fire departments, fire districts, first responders—25 percent to the Arizona Highway User Revenue Fund and 10 percent to the justice reinvestment fund, dedicated to providing public health services, counseling, job training and other social services for communities that have been adversely affected and disproportionately impacted by marijuana arrests and criminalization.
The state collected a total of $196,447,570 in tax revenue the first 11 months of 2021 from cannabis sales, with $44,533,436 from recreational, $58,916,172 from medical and $92,997,962 from the excise tax.
This story was first published by Arizona Mirror.
Florida Marijuana Activists Pivot To 2024 For Legalization Ballot Initiative
Michigan Breaks Another Marijuana Sales Record For December, State Officials Say
Michigan closed out 2021 with another record-breaking month of adult-use marijuana sales in December, state officials say.
The state saw more than $135 million in recreational cannabis purchases and about $33 million in medical marijuana sales last month.
Andrew Brisbo, executive director of the Michigan Marijuana Regulatory Agency (MRA), said on Monday that the numbers "marked another high for the adult-use industry." The previous adult-use marijuana sales record happened in October, with about $128 million in purchases.
It's good to note that the new high is not because of increasing prices. In fact, prices in medical and adult-use continue to drop, month over month, and year over year.

Dec 2020: adult use was $350/oz & medical was $265/oz.

Dec 2021: adult-use at $185/oz & medical at $175/oz.

— Andrew Brisbo (@AndrewBrisbo) January 10, 2022
"It's good to note that the new high is not because of increasing prices," he said. "In fact, prices in medical and adult-use continue to drop, month over month, and year over year."
While December set the new record for adult-use marijuana purchases, the state saw the most combined recreational and medical cannabis sales in July, with about $171 million sold.
The latest data brings Michigan's total cannabis sales for 2021 to $1,311,951,737 for adult-use and $481,225,540 for medical marijuana. And those purchases are translating into hundreds of millions of dollars in tax revenue for the state.
About $131 million is going to a cannabis excise tax fund that supports various initiatives such as infrastructure and public education, MRA spokesman David Harns said. Another $115 million will support the state general fund.
Taxes flowing into the state of Michigan because of legalized marijuana in 2021:

$131.2 million goes to the marijuana excise fund which gets divvied up amongst local government, roads, and schools.

$115.4 million goes to the state sales tax bucket.

Almost 1/4 billion in taxes. https://t.co/kw2N4shya1

— David Harns (@DavidHarns) January 10, 2022
In nearby Illinois, December was also another record-breaking month, with $137.9 million in adult-use marijuana sales.
Last year, Illinois took in almost $100 million more in tax revenue from recreational cannabis sales than from alcohol, state data shows. And cannabis tax dollars have exceeded those for liquor every month since February.
Part of that marijuana tax revenue is actively funding equity initiatives in the state. For example, Illinois officials announced last month that applications are opening for $45 million in new grants—funded by cannabis tax dollars—that will support programs meant to reinvest in communities most harmed by the drug war.
States that have legalized cannabis have collectively garnered more than $10 billion in tax revenue since the first legal sales started in 2014, according to a report released by the Marijuana Policy Project (MPP) last week.
In Arizona, medical and adult-use marijuana sales topped $1 billion in the first ten months of the year, state tax officials said.
California collected about $817 million in adult-use marijuana tax revenue during the 2020-2021 fiscal year, state officials estimated in August. That's 55 percent more cannabis earnings for state coffers than was generated in the prior fiscal year.
A recent scientific analysis of sales data in Alaska, Colorado, Oregon and Washington State found that marijuana purchases "have increased more during the COVID-19 pandemic than in the previous two years."
In July alone, at least three states saw record-breaking sales for recreational cannabis. The same goes for Missouri's medical marijuana program.
GOP Texas Governor Says People Shouldn't Be Jailed Over Marijuana Possession, But Misstates Current Law