Marijuana Licensing Bill Has 'Negligible' Fiscal Impacts, Congressional Budget Office Says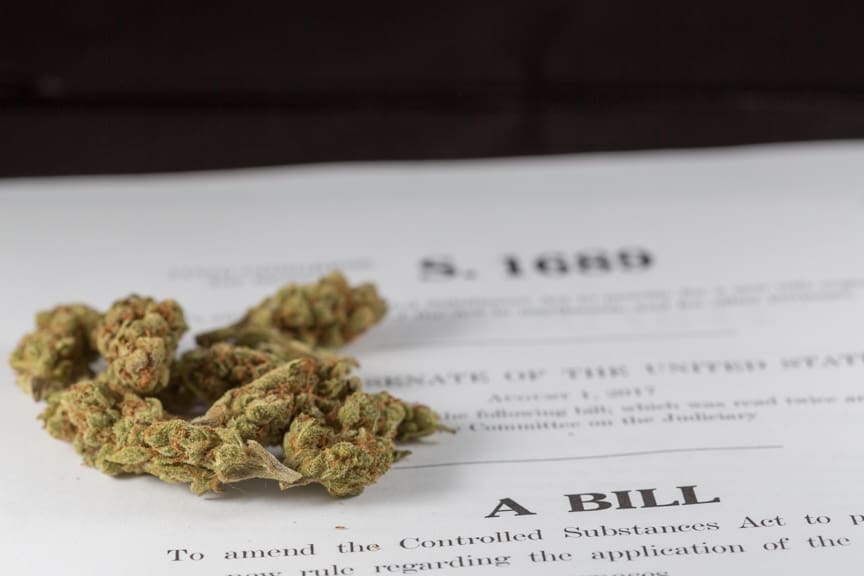 A marijuana research bill approved by a key U.S. House committee last month would have a "negligible" effect on direct federal spending, according a new analysis from Congress's official fiscal analyst.
The legislation would force the Department of Justice to begin issuing more licenses to growers of cannabis to be used in scientific research, an issue that has been a contentious one between the Trump administration and members of Congress, including Republicans.
But its fiscal impact would be slim, the Congressional Budget Office (CBO) said in a two-page cost estimate released on Wednesday.
In the closing months of the Obama administration, the Drug Enforcement Administration (DEA) created a process to expand on the sole approved cultivator that has had a monopoly on the U.S. supply of marijuana for studies for half a century. But under Attorney General Jeff Sessions, the Justice Department has refused to act on the more than two dozen applications filed through the new program by would-be legal growers.
The situation has led to a series of bipartisan sign-on letters and testy lines of questioning for Sessions during oversight hearings in both the House and Senate, culminating in the passage of the bill last month by the House Judiciary Committee to force the attorney general's hand by requiring more licenses on a certain timetable.
The long-term projection is that "enacting the legislation would not increase net direct spending or on budget deficits in any of the four consecutive 10-year periods beginning in 2029," CBO wrote in the new cost estimate about the bill.
Sponsored by Rep. Matt Gaetz (R-FL), the proposal hasn't yet been scheduled for a floor vote. But while CBO is required to evaluate all bills approved by most congressional committees, the score's release is a reminder that it's being taken more seriously than most of the hundreds of other pieces of cannabis-focused legislation that have been filed on Capitol Hill over the years.
"CBO estimates that only a few new manufacturers would be registered each year," the office reasoned, citing unspecified "information" from the Department of Justice.
Another provision of the bill would direct DEA to work with the National Institute on Drug Abuse and the Food and Drug Administration to issue recommendations for good manufacturing practices for growing marijuana.
"The administrative costs associated with publishing such recommendations within 6 months of enactment would be less than $500,000 over the 2019-2023 period," CBO found.
A third section would authorize the Department of Veterans Affairs (VA) to refer military veterans to participate in clinical trials on marijuana's potential medical benefits and encourage VA itself to conduct research on cannabis, two activities for which the department currently has authority but has been reluctant to pursue without more clear direction from Congress.
"Because VA already has those authorities under current law, CBO estimates that implementing this section would have insignificant costs," the office's report says.
The low-cost findings are similar to a previous memo the office released after separate legislation to encourage VA to study medical cannabis became the first standalone marijuana reform bill ever approved by a congressional committee earlier this year when it was reported out favorably by the House Veterans' Affairs Committee.
In that case, CBO determined that the bill would "cost less than $500,000 over the 2019-2023 period, primarily to prepare and submit the necessary reports to the Congress" regarding updates on VA's involvement in cannabis research.
The broader Gaetz legislation on research and cultivation licensing that the Judiciary Committee approved last month is only the second cannabis-focused bill to have cleared a congressional panel.
CBO report says that the Medical Cannabis Research Act will cost very little. Low cost, improves research, helps patients…let's get this passed! #medicalcannabishttps://t.co/Nc5z2Kln9u

— Rep. Matt Gaetz (@RepMattGaetz) October 11, 2018
If enacted, "DOJ would collect registration fees of about $3,000 annually from each registrant," CBO wrote in its new analysis. "Such fees are treated in the budget as reductions in direct spending, and DOJ is authorized to spend them without further appropriation."
As a result, CBO also found that the bill would not "would not affect revenues" appreciably.
Marijuana Bill Approved By Congressional Committee, Despite Drug Conviction Restriction Dispute