Marijuana Legalization Bills Already Filed In Half A Dozen Red States For 2019 Sessions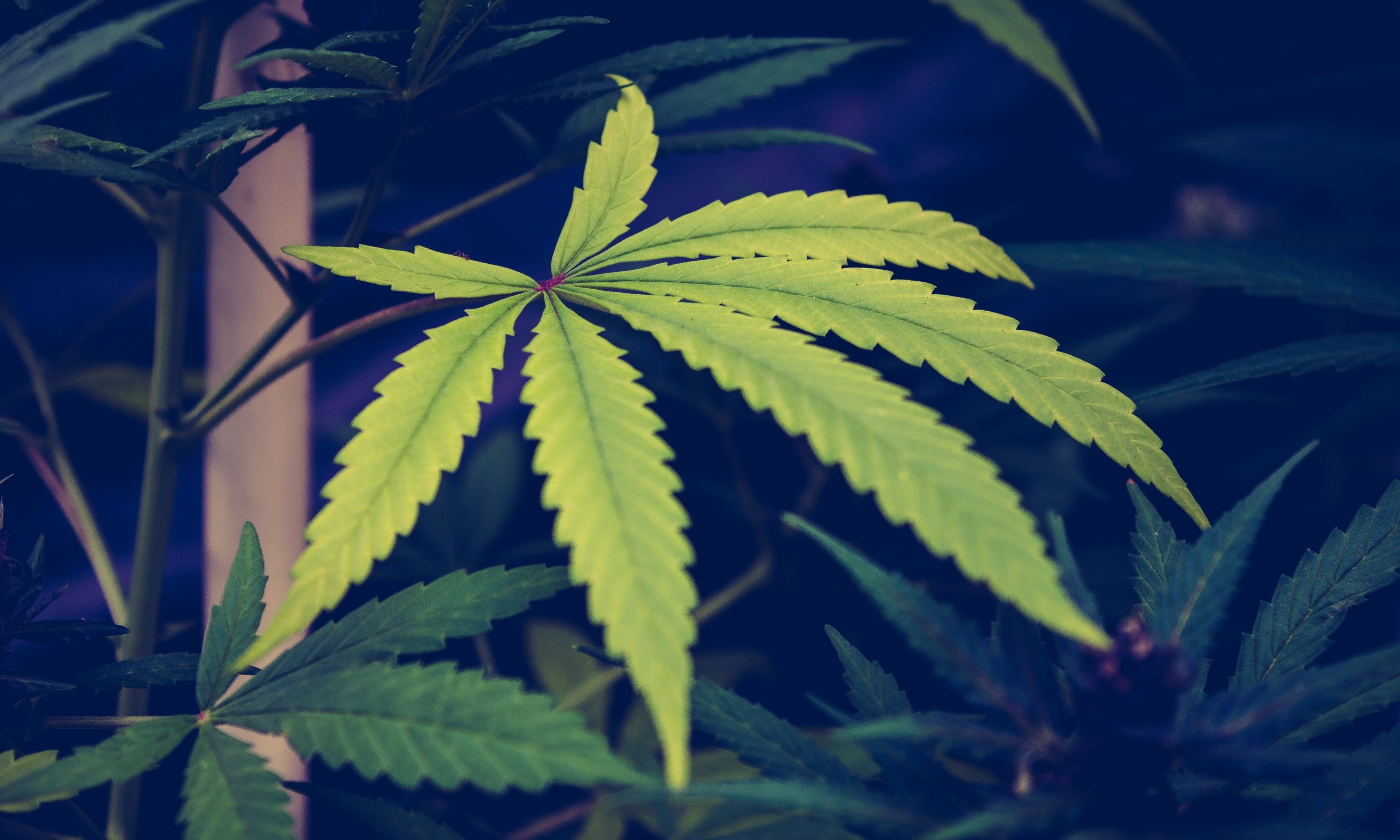 The green wave is already making splashes in multiple red states this year, with marijuana legalization bills being introduced in at least six traditionally conservative states so far for 2019 sessions.
On Wednesday, lawmakers in Kentucky and West Virginia put forward pieces of legalization legislation, the latest in a growing list of states where the thought of lawmakers even considering full legalization would have been implausible just a couple years ago.
Legislatures in Indiana, Missouri, Texas and Virginia could also vote on legalization bills that have already been introduced this year.
Whether each of these bills has enough support to pass is another question. While marijuana reform is an increasingly bipartisan issue, there are various obstacles lawmakers will have to overcome—such as anti-legalization governors in some states.
West Virginia is a good example of that problem. On the same day that Sen. Richard Ojeda (D) introduced his bill to allow adults 21 and older to consume, possess, and cultivate cannabis for personal use, Gov. Jim Justice (R) emphasized that he is "adamantly, adamantly, etched-in-stone, adamantly against recreational marijuana" during a State of the State address.
Separately, Ojeda announced that he will be resigning from the state Senate next week in order to focus on a 2020 presidential run.
In Kentucky, Sen. Dan Seum (R) also filed legislation to fully legalize cannabis in the state on Wednesday. Unlike the noncommercial approach in the West Virginia bill, however, Seum's proposal would permit and tax retail marijuana sales.
—
Marijuana Moment is tracking key cannabis bills in state legislatures and Congress. Patreon supporters pledging at least $25/month get access to our interactive maps, charts and hearing calendar so they don't miss any developments.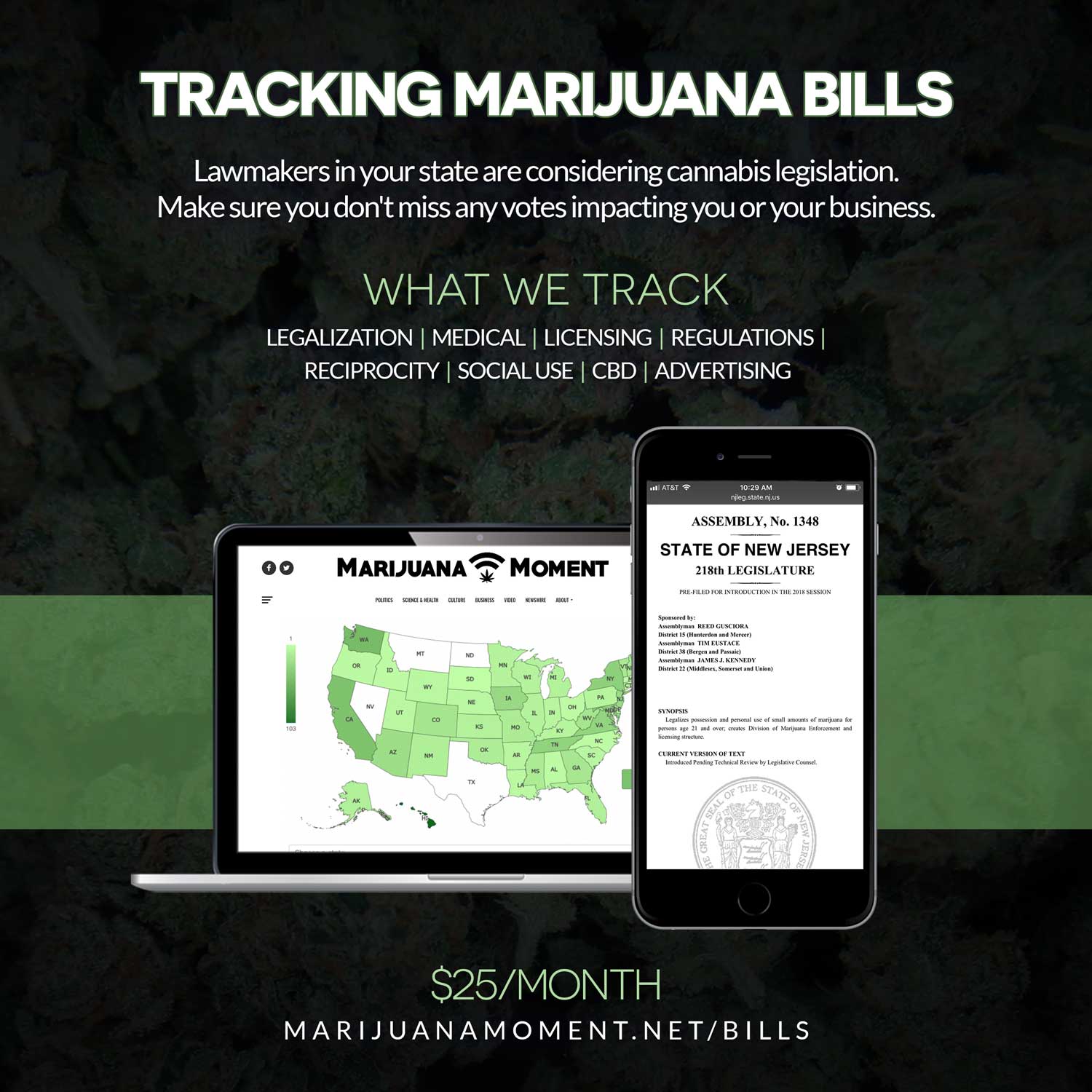 We followed more than 900 pieces of cannabis legislation in 2018. Learn more about our marijuana bill tracker and become a supporter on Patreon to get access.
—
In a floor speech, Seum said the state could collect tax revenue, address racial disparities in marijuana enforcement and reduce overcrowding in jails under his bill. He also remarked that Kentucky "grows the best" and has a unique agricultural landscape that would allow the state to "double up on this revenue."
Sen. Dan Seum on legalizing cannabis in #Kentucky

"Kentucky grows the best"#SB80 #KYGA19 #LegalizeKentucky pic.twitter.com/ETVyBoTBBW

— Jason Maynard (@KYMMJason) January 9, 2019
Earlier this week, Virginia lawmakers put forward legalization legislation—two separate new proposals out of about a dozen marijuana-related bills that have been filed in the state this session. Gov. Ralph Northam (D) reiterated his support for the more modest step of decriminalization on Wednesday, saying the policy would "ease overcrowding in our jails and prisons, and free up our law enforcement and court resources for offenses that are a true threat to public safety."
Missouri Rep. Brandon Ellington (D) wasted no time pushing for full legalization, pre-filing a bill in early December that would legalize possession, use and cultivation of marijuana.
In Texas, a proposed constitutional amendment to legalize cannabis was among multiple marijuana-related pieces of legislation that were pre-filed before the formal start of the session.
And New Jersey lawmakers are also considering several marijuana legalization bills, including one that was approved by legislative committees late last year.
"Lawmakers are increasingly finding ways to support legalization, regardless of their political ideology," Carly Wolf, who was recently promoted to state policies coordinator at NORML, told Marijuana Moment. "The debunked stigma of 'Reefer Madness' is rapidly falling by the wayside and politicians of all stripes can now support establishing a commercial cannabis marketplace in a manner that is consistent with their worldview."
Feds Award $3 Million In Grants To Study Marijuana Ingredients As Alternatives To Opioids
The federal government has awarded $3 million in grants for research into the therapeutic benefits of ingredients in marijuana other than THC, emphasizing their potential as alternatives to prescription opioids.
In a notice published on Thursday, the National Institutes of Health (NIH) explained why the studies were necessary and listed grant recipients and the subjects they will investigate. That includes research into the use of CBD for arthritis pain, which will be led by New York University School of Medicine.
"The treatment of chronic pain has relied heavily on opioids, despite their potential for addiction and overdose and the fact that they often don't work well when used on a long-term basis," Helene Langevin, director of the National Center for Complementary and Integrative Health (NCCIH), said in a press release. "There's an urgent need for more effective and safer options."
A total of nine grants were issued, with NIH stating that the funds will help identify alternative treatment options for pain and provide information about the impact of consuming cannabis compounds such as CBD and other lesser-known cannabinoids as well as terpenes found in the plant.
"The cannabis plant contains more than 110 cannabinoids and 120 terpenes, but the only compound that's been studied extensively is THC," the press release said.
But while THC is known to treat certain forms of pain, NIH is concerned that its intoxicating effects limit its medical applicability.
"THC may help relieve pain, but its value as an analgesic is limited by its psychoactive effects and abuse potential," David Shurtleff, deputy director of NCCIH, said. "These new projects will investigate substances from cannabis that don't have THC's disadvantages, looking at their basic biological activity and their potential mechanisms of action as pain relievers."
Just released: Nine new research awards, funded by our Center, will investigate the potential pain-relieving properties and mechanisms of actions of the diverse phytochemicals in cannabis, including both minor cannabinoids and terpenes. https://t.co/03MxrycfFa

— NIH NCCIH (@NIH_NCCIH) September 19, 2019
NIH first announced that it would be issuing grants for studies into minor cannabinoids and terpenes last year.
Federal health agencies aren't the only institutions interested in learning about marijuana compounds other than THC. On Wednesday, a Senate committee issued a spending report that called for research into CBD and CBG while also criticizing the federal drug scheduling system for inhibiting such research.
Read descriptions of the federal cannabinoid and terpene research grant awards below:
Mechanism and Optimization of CBD-Mediated Analgesic Effects; Boston Children's Hospital, Boston,; Zhigang He, Ph.D., B.M., and Juan Hong Wang, Ph.D. This project will investigate how the pain-relieving effects of cannabidiol (CBD) and other minor cannabinoids may be modulated by the activity of potassium-chloride cotransporter 2 (KCC2), a chloride extruder expressed in most neurons. (Grant 1R01AT010779)
Neuroimmune Mechanisms of Minor Cannabinoids in Inflammatory and Neuropathic Pain; University of California, San Francisco; Judith Hellman, M.D., and Mark A. Schumacher, M.D., Ph.D. This project will explore the effects of minor cannabinoids on inflammatory and neuropathic pain in vitro and in vivo, focusing on the interactions of the cannabinoids with the peripheral receptor called TRPV1 and a cannabinoid receptor, CB1R. (Grant 1R01AT010757)
Minor Cannabinoids and Terpenes: Preclinical Evaluation as Analgesics; Research Triangle Institute, Research Triangle Park, North Carolina; Jenny L. Wiley, Ph.D. This project will evaluate purified biosynthesized minor cannabinoids and selected terpenes alone and in planned combinations to determine their potential efficacy as pain relievers against acute thermal, inflammatory, neuropathic, and visceral pain. (Grant 1R01AT010773)
Identifying the Mechanisms of Action for CBD on Chronic Arthritis Pain; New York University School of Medicine, New York City; Yu-Shin Ding, Ph.D. This project will use neuroimaging studies and behavioral assessments to investigate the mechanisms of action of CBD in the modulation of chronic pain associated with osteoarthritis in a mouse model. (Grant 1R21AT010771)
Synthetic Biology for the Chemogenetic Manipulation of Pain Pathways; University of Texas, Austin; Andrew Ellington, Ph.D. This project will use a novel method to evolve individual variants of cannabinoid receptor type 2 (CB2) that interact with high affinity with minor cannabinoids and evaluate the new variants in a mouse model of pain. (Grant 1R21AT010777)
Exploring the Mechanisms Underlying the Analgesic Effect of Cannabidiol Using Proton Magnetic Resonance Spectroscopy; University of Utah, Salt Lake City; Deborah A. Yurgelun-Todd, Ph.D. This project will use proton magnetic resonance spectroscopy (1H-MRS) to evaluate changes in brain chemistry in critical pain-processing regions after short-term administration of a cannabis extract enriched in CBD. (Grant 1R21AT010736)
Mechanistic Studies of Analgesic Effects of Terpene Enriched Extracts from Hops; Emory University, Atlanta; Cassandra L. Quave, Ph.D. This project will take a multidisciplinary approach to investigate the analgesic effects of terpenes from Humulus lupulus (hops), a plant that is closely related to cannabis and has a very similar terpene profile. (Grant 1R21AT010774)
Systematic Investigation of Rare Cannabinoids With Pain Receptors; University of Illinois at Urbana-Champaign; David Sarlah, Ph.D. This project involves synthesizing several classes of rare phytocannabinoids, systematically evaluating their anti-inflammatory potential, and examining the effects of the compounds with the strongest anti-inflammatory potential on the major receptors involved in pain sensation. (Grant 1R21AT010761)
Analgesic efficacy of single and combined minor cannabinoids and terpenes; Temple University, Philadelphia; Sara J. Ward, Ph.D. This project will use rodent models of pain to evaluate the effects of four biologically active components of cannabis that may act synergistically to protect against pain development and to assess the interactions of these four substances with morphine. (Grant 1R01AT010778)
Senate Report Slams Drug Scheduling System For Blocking Marijuana Research
Beto O'Rourke Proposes Drug War Reparations Funded By Marijuana Taxes
Marijuana would not only be legalized under a plan proposed on Thursday by Democratic presidential candidate Beto O'Rourke, but cannabis tax revenue would be used to directly repay formerly incarcerated people through a new "Drug War Justice Grant" program.
Unlike other contenders who have come around to supporting marijuana legalization in just the past couple of years, the former Texas congressman has long called for ending prohibition—and his new plan in many respects goes further than those rolled out by other campaigns.
Please visit Forbes to read the rest of this piece.
(Marijuana Moment's editor provides some content to Forbes via a temporary exclusive publishing license arrangement.)
Support Grows For Marijuana Legalization Bill In Colombia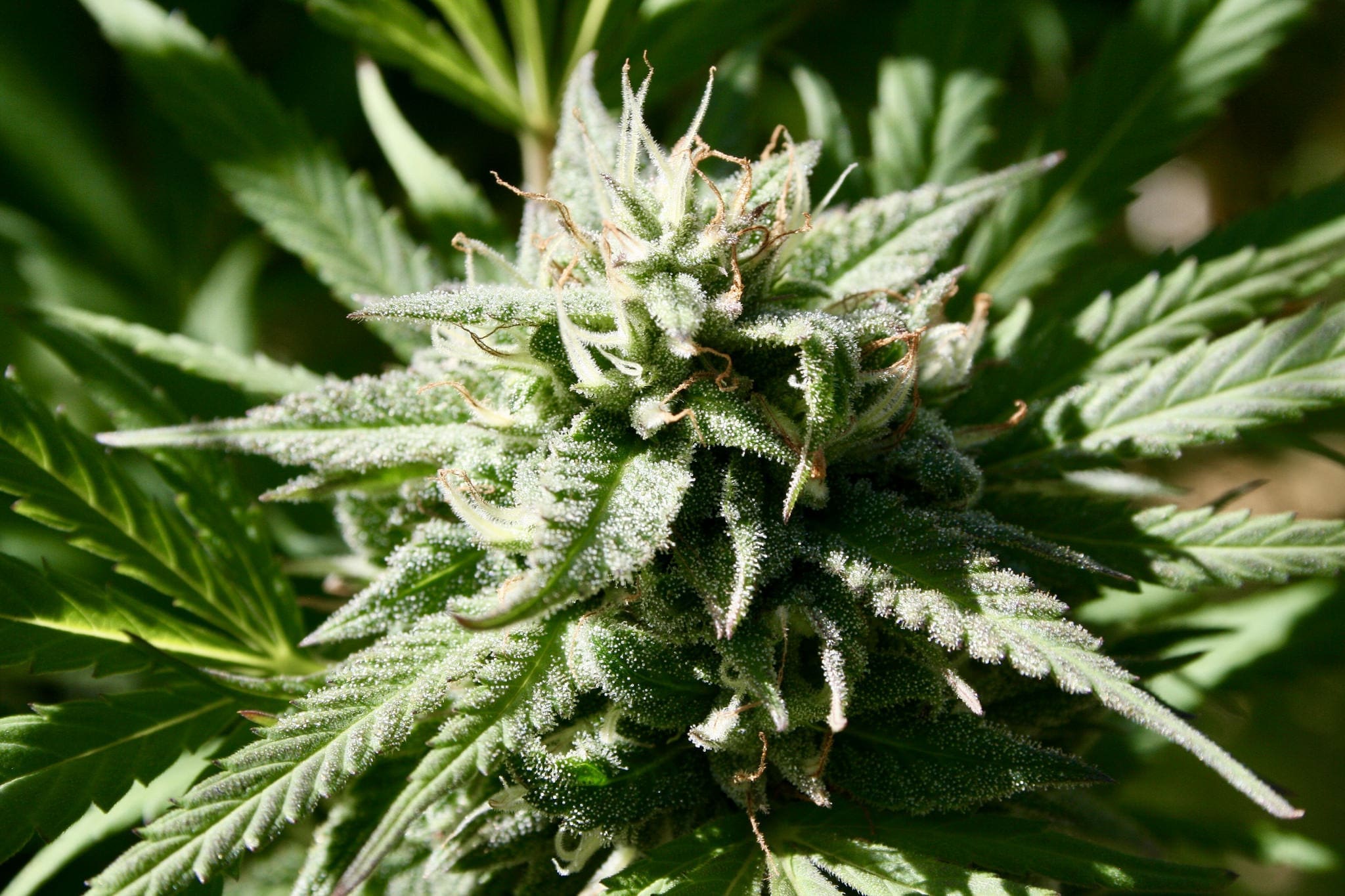 Colombia's legislature will soon take up a bill to legalize and regulate the production and consumption of marijuana for adults.
The legislation, which is being filed by Sen. Gustavo Bolivar of the opposition Colombia Humana party, seeks to end prohibition as a means of curtailing crime and supporting a public health-focused approach to drug policy.
Bolivar, an author who has written several books centered on drug trafficking, has characterized the bill as being about "regularization, not legalization," but it would provide for legal sales to adults with restrictions similar to those imposed for tobacco and alcohol. There would be penalties for selling to underage individuals and smoking wouldn't be permitted in public spaces.
The senator pointed to Uruguay, Canada and states in the U.S. as regulatory models for legalization.
"It has been proven that crime levels are lowered and public health is improved," he said, according to Colombia Reports.
Sen. Alberto Castilla Salazar of the leftist Polo Democrático party said that his coalition supports the reform measure.
Colombia debe superar el prohibicionismo y romper los vínculos de los grupos ilegales con el control del Cannabis, para que sea el Estado quien regule, defina las formas y entienda el consumo como problema de salud pública. Como @PoloDemocratico respaldamos está iniciativa. pic.twitter.com/YBDHqojENJ

— Alberto Castilla Salazar (@CastillaSenador) September 17, 2019
"Colombia must overcome prohibitionism and break the ties of illegal groups with the control of cannabis, so that it is the State that regulates, defines the forms and understands consumption as a public health problem," he said on Tuesday.
Sen. Julián Gallo Cubillos of the FARC party said his coalition supports the legislation and that it represents "a new way to fight the scourge of drug trafficking."
#Noticias// Partido FARC apoya radicación de proyecto que reglamenta el consumo de cannabis https://t.co/tBUPkG0sog pic.twitter.com/kk1zqiem1G

— Senado Colombia (@SenadoGovCo) September 18, 2019
The proposal has also garnered the support of former President Juan Manuel Santos, who has been an outspoken advocate for ending the war on drugs. His Liberal party could make or break the legislation depending on where members fall.
While left and center-left lawmakers seem largely united around legalizing marijuana, the issue will likely face resistance from President Ivan Duque, who last year signed a decree banning low-level possession of cannabis and cocaine despite court rulings that such activity is permissible.
As Colombia Reports noted, however, Duque's far-right Democratic Center party is in the minority.
"We'll have to see how many senators are left to former president Juan Manuel Santos and see how public opinion receives the idea that marijuana can be consumed in public spaces," Sen. Paloma Valencia, a member of the president's party, said.
If the country does opt to pursue a regulated cannabis program, it will join Mexico, where lawmakers are readying legislation to legalize marijuana for adult use following a Supreme Court ruling establishing that a ban on possession and cultivation for personal use is unconstitutional.
Former White House Drug Czar Offers Marijuana Legalization Advice To Mexico
Photo courtesy of Brian Shamblen.