Marijuana Businesses Don't See 280E Reform Success, But There's Still Hope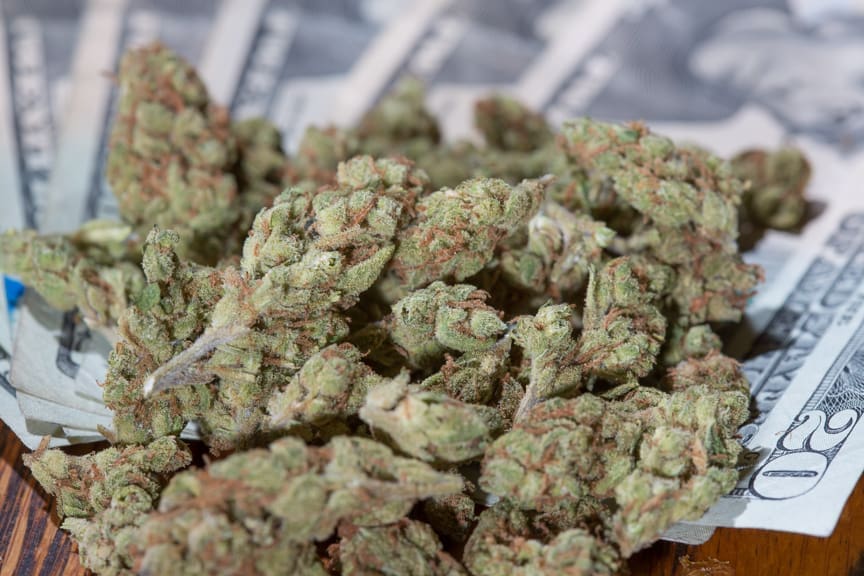 Fairness. That's what marijuana businesses say they're seeking to win as part of a broad Republican tax reform plan moving through Congress this month.
To date, they haven't had much luck, but that doesn't mean the fight is over.
Under a 1980s federal provision — known as 280E — cannabis businesses are forced to pay a much higher tax rate than companies in other industries.
The statute was originally intended to to stop drug cartel leaders from writing off yachts and expensive cars, but today its plain language means that that growers, processors and sellers of marijuana — which is still a Schedule I substance under federal law — can't take business expense deductions that are available to operators in other sectors.
Last week, those businesses could not get any member of the House Ways and Means Committee to introduce — never mind muster enough bipartisan support to pass — an amendment attaching a 280E fix to the tax overhaul bill. Amendments on other topics were adopted or rejected on party-line votes.
The legislation was then approved, with all Republicans in support and all Democrats in opposition, and sent to the House Rules Committee to make preparations for a floor vote.
On Tuesday, Congressman Jared Polis (D-CO) did file a 280E amendment in the Rules panel, intended for floor consideration. He described the proposal as "essentially revenue neutral" in comments before the committee, of which he is a member.
Referring to the up to 70 percent effective tax rate that legal cannabis businesses are forced to pay because they cannot take expense deductions, Polis said 280E makes their prices artificially high and "prevents them from being able to completely undermine the criminal cartels" because those organizations can sometimes undercut legal prices.
Repealing the outdated provision would be the "nail in the coffin of the criminal cartels that jeopardize the health of our kids and our safety," he said.
But the panel, as expected, did not allow the measure to advance before the full House, as has been the case with every marijuana amendment over the course of the past year.
What's more, the panel advanced the tax bill under a "closed rule" that blocked all 139 submitted amendments on a broad range of topics from reaching the floor.
(One of those additional measures, by Congressman Lou Correa (D-CA) would establish a 15 percent federal excise tax on legal marijuana sales with revenue earmarked toward reducing the deficit.)
Polis's motion to amend the rule to specifically allow the 280E measure to be considered on the floor failed on a party-line vote of three to eight.
The tax bill will now go before the full House later this week where it is expected to be narrowly approved.
In the meantime, advocates are hanging their hopes on the Senate, where the Finance Committee is marking up its version of the tax reform legislation this week.
Get access to this exclusive analysis for Marijuana Moment Patreon supporters that spells out which senators cannabis interests need to win over in order to approve a 280E amendment in committee. A sufficient number of GOP members of the Senate Finance Committee have supported marijuana measures in the past to put 280E reform within reach.
How Marijuana Businesses Can Win Tax Fairness Under Trump Plan
A total of 355 amendments have been filed before that panel.
While none are listed as explicitly dealing with 280E, the legislative text for the measures hasn't been posted online, and one amendment in particular from Sen. Ron Wyden (R-OR) is described in a fashion that seems as though it may concern the marijuana tax provision: "Amendment of a perfecting nature to help small business."
Wyden is the sponsor of a standalone 280E reform bill similarly titled, "The Small Business Tax Equity Act of 2017."
Advocates have had success garnering increasing bipartisan support for that bill and standalone 280E reform legislation in the House this year as compared to versions filed in the past Congress. But those bills are not going to move though committee, to the floor and to the president.
The only real hope of getting a reform enacted into law is to attach it to a broader moving vehicle like the GOP tax bill.
And now, because of the failure to approve a 280E amendment on the House side, the only hope lies in the Senate. That means either getting an amendment adopted in committee or on the floor.
The latter will be a much harder path because the bill will likely be considered by the full body under an agreement that limits the number of amendments, and Senate Democratic leaders are likely to focus their efforts on measures concerning middle-class tax relief and general tax rates for businesses.
While convincing Senate Republicans to amend their leadership's important bill in committee is a big ask, it is seen as not nearly as heavy a lift as convincing House GOP members to vote to change the bill in their chamber would have been.
So now, industry interests are hoping that Wyden's amendment is about 280E, that he can hold all the Democrats on the panel in support of it and that a select number of targeted Republicans will go along with the plan.
Find out which senators cannabis businesses need to target to win a 280E reform amendment in the Senate Finance Committee in this exclusive analysis for Marijuana Moment Patreon supporters:
How Marijuana Businesses Can Win Tax Fairness Under Trump Plan
Even if 280E language is adopted on the Senate side, it will still have to a survive a bicameral conference committee that merges the bill with the House version which does not contain the provision.
Wyden's office and cannabis business advocacy interests active on Capitol Hill did not respond to queries from Marijuana Moment for this story.
Missouri Launches Medical Marijuana Sales At State's First Dispensaries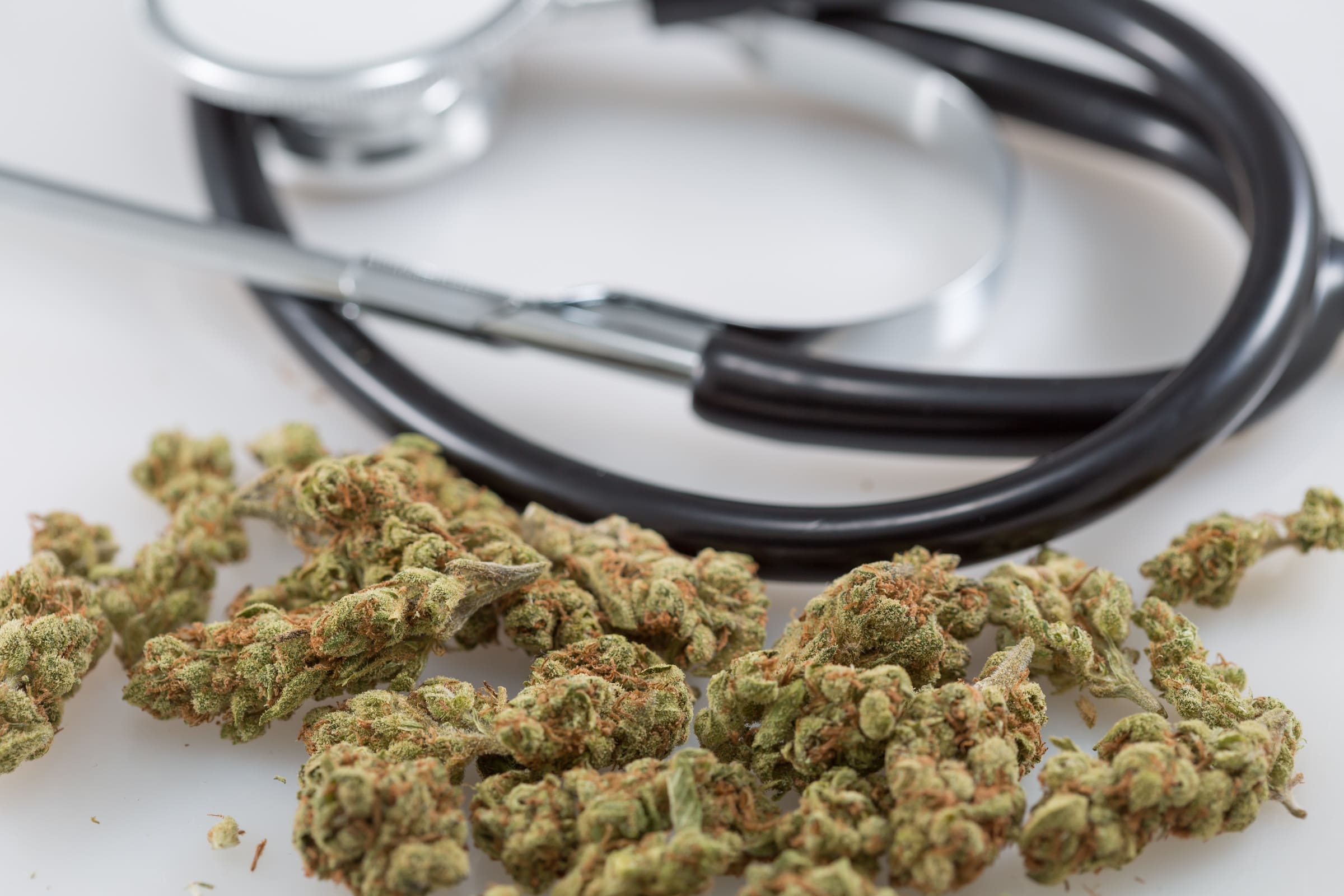 Less than two years after Missouri voters approved a ballot measure to legalize medical marijuana, dispensaries made the state's first cannabis sales to patients on Saturday.
N'Bliss Cannabis opened the doors of two separate St. Louis County locations, in Ellisville and Manchester.
I was honored to watch Larry, a cancer survivor, and his wife Sue, an RN, make the state's first legal medical cannabis purchase this morning in St Louis. @mocanntrade @NewApproachMO pic.twitter.com/rCudrkdbfI

— Jack Cardetti (@jackcardetti) October 17, 2020
"Missouri patients have always been our north star as we work to implement the state's medical marijuana program," Dr. Randall Williams, director of the Missouri Department of Health and Senior Services, said in a press release. "We greatly appreciate how hard everyone has worked so that patients can begin accessing a safe and well-regulated program."
Officials have touted the speed with which they have gotten the voter-approved cannabis program off the ground, saying it is "one of the fastest implementations of a medical marijuana program in the United States."
"A tremendous amount of work has occurred by the licensed facilities and our team to get us to this point, and we continue to hear from more facilities that they are ready or almost ready for their commencement inspection," Lyndall Fraker, director of the Section for Medical Marijuana Regulation, said in a press release. "We look forward to seeing these facilities open their doors to serve patients and caregivers."
First #medicalmarijuana sales to patients in #MO take place today.

DHSS interactive facility map: https://t.co/Os2yc0jBdU pic.twitter.com/tpzztI9sOh

— Mo Health & Sr Srvcs (@HealthyLivingMo) October 17, 2020
The impending launch of sales on Saturday was first announced by the Missouri Medical Cannabis Trade Association on Friday and reported by The Springfield News-Leader.
The wait is finally over! Tomorrow morning at 9am @NBlissCannabis will open the doors to their Ellisville and Manchester locations for the first medical marijuana sales in Missouri! Congrats to the whole N'Bliss team! The #MOMMJ industry is up and running! pic.twitter.com/wyZIcoyLBv

— MoCannTrade (@mocanntrade) October 16, 2020
The state, which has so far licensed 192 dispensaries and expects most of them to open their doors by the end of the year, posted an interactive map that tracks the status of approved medical marijuana businesses.
For months, regulators have been caught up in lawsuits and appeals challenging their licensing decisions, with revenues that would otherwise go to supporting veteran services instead being allocated to covering legal costs.
Missouri isn't the only state to see medical cannabis sales launch this weekend. Virginia's first medical marijuana dispensary also held its grand opening on Saturday.
Meanwhile, recreational sales of marijuana rolled out in Maine last week—four years after voters there approved a legalization ballot measure.
Another New Jersey Poll Shows Marijuana Legalization Passing By A Huge Margin
Illinois Continues Record-Breaking Marijuana Sales Streak, New State Data For September Shows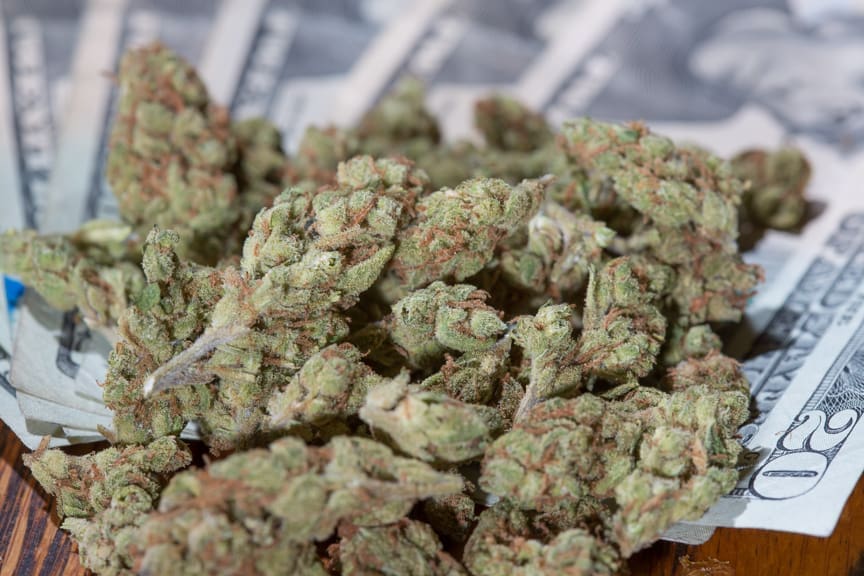 For the fifth month in a row, Illinois is again reporting record-breaking marijuana sales, the state Department of Financial and Professional Regulation announced on Monday.
Despite the coronavirus pandemic, Illinois has seen escalating cannabis sales month-over-month. In September, consumers purchased more than 1.4 million marijuana products worth a total of nearly $67 million. Almost $18 million of those sales came from out-of-state visitors.
In August, the total sales reached about $64 million—the previous monthly record. The new adult-use sales figures don't include data about purchases made through the state's medical cannabis program.
This latest data seems to support the notion that the state's marijuana market is "recession-proof" and "pandemic-proof," as a top regulator said in August.
State officials have emphasized that while the strong sales trend is positive economic news, they're primarily interested in using tax revenue to reinvest in communities most impacted by the drug war. Illinois brought in $52 million in cannabis tax revenue in the first six months since retail sales started in January, the state announced in July, 25 percent of which will go toward a social equity program.
"We were not doing this to make as much money as fast as we possibly could," Toi Hutchinson, senior cannabis advisor to Gov. J.B Pritzker (D), said. "We were actually doing this for people," with a focus on supporting communities most impacted by the drug war.
In May, the state also announced that it was making available $31.5 million in restorative justice grants funded by marijuana tax revenue.
That said, ensuring an equitable market as promised hasn't been easy. Regulators have recently faced lawsuits after dozens of would-be social equity licensees were denied an opportunity to participate in a licensing lottery over alleged problems with their applications. The state said it would approve 75, but only 21 ultimately qualified—and critics complain that the resources it takes to submit an acceptable application creates barriers for the exact people the special licenses are supposed to help.
The governor announced last month that new procedures would be implemented allowing rejected applicants to submit corrected forms. But on Monday, three investors who are finalists from the initial round filed a lawsuit against the state, alleging that the administration's decision to permit resubmissions was politically motivated and illegal.
For now, the out-of-state sales data seems to support Pritzker's prediction during his State of the State address in January that cannabis tourism would bolster the state's coffers.
Prior to implementation, the pardoned more than 11,000 people with prior marijuana convictions.
Over in Oregon, officials have been witnessing a similar sales trend amid the global health crisis. Data released in August reveals that the state saw about $106 million in medical and recreational cannabis sales, marking the third month in a row that sales exceeded $100 million.
Vote For Marijuana Legalization Referendum To Promote Social Justice, New Jersey Governor Says
California Governor Approves Changes To Marijuana Banking And Labeling Laws
California Gov. Gavin Newsom (D) signed a handful of marijuana bills into law on Tuesday, making a series of small adjustments to the nation's largest legal cannabis system. More sweeping proposals such as overhauling the state's marijuana regulatory structure will have to wait until next year, the governor said.
Among the biggest of the new changes are revisions to banking and advertising laws. With many legal marijuana businesses are still unable to access financial services, Newsom signed a bill (AB 1525) to remove state penalties against banks that work with cannabis clients.
"This bill has the potential to increase the provisions of financial services to the legal cannabis industry," Newsom wrote in a signing statement, "and for that reason, I support it."
Democrats in Congress, meanwhile, have been working for months to remove obstacles to these businesses' access to financial services at the federal level. A coronavirus relief bill released by House Democratic leaders on Monday is the latest piece of legislation to include marijuana banking protections. Past efforts to include such provisions have been scuttled by Senate Republicans.
In his signing statement on the banking bill, Newsom directed state cannabis regulators to establish rules meant to protect the privacy of marijuana businesses that seek financial services, urging that data be kept confidential and is used only "for the provision of financial services to support licensees."
Another bill (SB 67) the governor signed on Tuesday will finally establish a cannabis appellation program, meant to indicate where marijuana is grown and how that might influence its character. The system is similar to how wine regions are regulated.
Under the new law, growers and processors under the new law will be forbidden from using the name of a city or other designated region in product marketing unless all of that product's cannabis is grown in that region. Similar protections already apply at the county level.
For outdoor growers, the new law recognizes the importance of terrior—the unique combination of soil, sun and other environmental factors that can influence the character of a cannabis plant. For indoor growers, it provides a way to represent a hometown or cash in on regional cachet.
Most of the other new changes that the governor signed into law are relatively minor and will likely go unnoticed by consumers. One, for example, builds in more wiggle room on the amount of THC in edibles (AB 1458), while another would allow state-licensed cannabis testing labs to provide services to law enforcement (SB 1244).
The bills were approved by state lawmakers earlier this month, as the state's legislative session drew to a close.
Other pieces of cannabis legislation passed by the legislature this session were met with the governor's veto. On Tuesday, Newsom rejected a proposal (AB 1470) that would have allowed processors to submit unpackaged products to testing labs, which industry lobbyists said would reduce costs. Currently products must be submitted in their final form, complete with retail packaging. Newsom said the proposal "conflicts with current regulations…that prevent contaminated and unsafe products from entering the retail market."
"While I support reducing packaging waste, allowing products to be tested not in their final form could result in consumer harm and have a disproportionate impact on small operators," Newsom said in a veto statement.
Those changes to testing procedures should instead be considered next year, Newsom said, as part of a pending plan to streamline California's cannabis licensing and regulatory agencies.
"I have directed my administration to consolidate the state regulatory agencies that currently enforce cannabis health and safety standards to pursue all appropriate measures to ease costs and reduce unnecessary packaging," he wrote. "This proposal should be considered as part of that process."
Newsom also last week vetoed a bill (AB 545) that would have begun to dissolve the state Bureau of Cannabis Control, which oversees the legal industry. In a statement, the governor called that legislation "premature" given his plans for broader reform.
"My Administration has proposed consolidating the regulatory authority currently divided between three state entities into one single department," Newsom wrote, "which we hope to achieve next year in partnership with the Legislature."
Earlier this month, the governor signed into law one of the industry's top priorities for the year—a measure (AB 1872) that freezes state cannabis cultivation and excise taxes for the entirety of 2021. The law is intended to provide financial stability for cannabis businesses in California, where taxes on marijuana are among the highest in the nation.
The state's leading marijuana trade group, the California Cannabis Industry Association (CCIA), applauded the governor's moves. All the bills approved by Newsom this week had the industry group's support.
"We thank Governor Newsom for prioritizing these bills, which seek to reduce regulatory burdens, improve enforcement, expand financial services and enhance the state's cannabis appellation's program," CCIA Executive Director Lindsay Robinson said in a message to supporters on Wednesday. "Like so many, the cannabis industry has faced a series of unexpected challenges and setbacks in 2020. We look forward to continuing to work with the Newsom Administration, and the Legislature, as we pursue a robust policy agenda in 2021."
New Jersey Governor Works To Get Out The Vote For Marijuana Legalization Referendum
Image element courtesy of Gage Skidmore