Marijuana Businesses Don't See 280E Reform Success, But There's Still Hope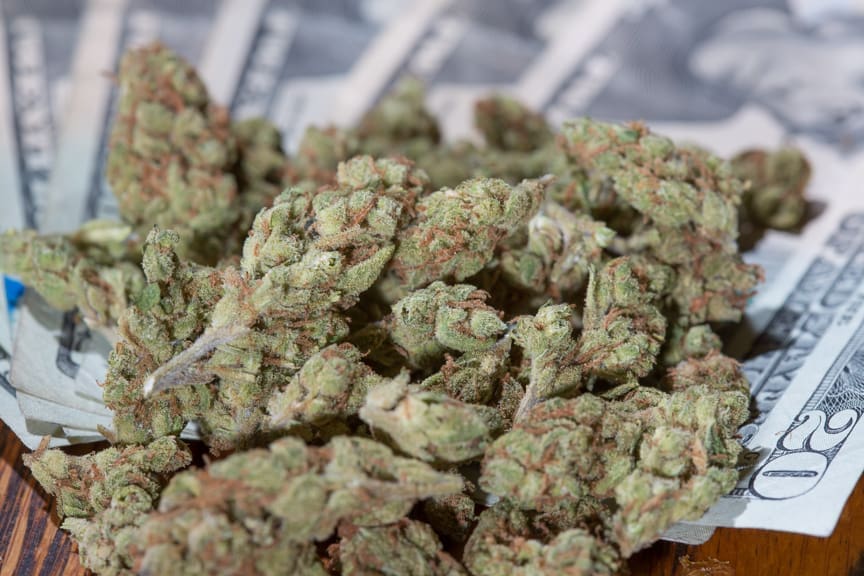 Fairness. That's what marijuana businesses say they're seeking to win as part of a broad Republican tax reform plan moving through Congress this month.
To date, they haven't had much luck, but that doesn't mean the fight is over.
Under a 1980s federal provision — known as 280E — cannabis businesses are forced to pay a much higher tax rate than companies in other industries.
The statute was originally intended to to stop drug cartel leaders from writing off yachts and expensive cars, but today its plain language means that that growers, processors and sellers of marijuana — which is still a Schedule I substance under federal law — can't take business expense deductions that are available to operators in other sectors.
Last week, those businesses could not get any member of the House Ways and Means Committee to introduce — never mind muster enough bipartisan support to pass — an amendment attaching a 280E fix to the tax overhaul bill. Amendments on other topics were adopted or rejected on party-line votes.
The legislation was then approved, with all Republicans in support and all Democrats in opposition, and sent to the House Rules Committee to make preparations for a floor vote.
On Tuesday, Congressman Jared Polis (D-CO) did file a 280E amendment in the Rules panel, intended for floor consideration. He described the proposal as "essentially revenue neutral" in comments before the committee, of which he is a member.
Referring to the up to 70 percent effective tax rate that legal cannabis businesses are forced to pay because they cannot take expense deductions, Polis said 280E makes their prices artificially high and "prevents them from being able to completely undermine the criminal cartels" because those organizations can sometimes undercut legal prices.
Repealing the outdated provision would be the "nail in the coffin of the criminal cartels that jeopardize the health of our kids and our safety," he said.
But the panel, as expected, did not allow the measure to advance before the full House, as has been the case with every marijuana amendment over the course of the past year.
What's more, the panel advanced the tax bill under a "closed rule" that blocked all 139 submitted amendments on a broad range of topics from reaching the floor.
(One of those additional measures, by Congressman Lou Correa (D-CA) would establish a 15 percent federal excise tax on legal marijuana sales with revenue earmarked toward reducing the deficit.)
Polis's motion to amend the rule to specifically allow the 280E measure to be considered on the floor failed on a party-line vote of three to eight.
The tax bill will now go before the full House later this week where it is expected to be narrowly approved.
In the meantime, advocates are hanging their hopes on the Senate, where the Finance Committee is marking up its version of the tax reform legislation this week.
Get access to this exclusive analysis for Marijuana Moment Patreon supporters that spells out which senators cannabis interests need to win over in order to approve a 280E amendment in committee. A sufficient number of GOP members of the Senate Finance Committee have supported marijuana measures in the past to put 280E reform within reach.
How Marijuana Businesses Can Win Tax Fairness Under Trump Plan
A total of 355 amendments have been filed before that panel.
While none are listed as explicitly dealing with 280E, the legislative text for the measures hasn't been posted online, and one amendment in particular from Sen. Ron Wyden (R-OR) is described in a fashion that seems as though it may concern the marijuana tax provision: "Amendment of a perfecting nature to help small business."
Wyden is the sponsor of a standalone 280E reform bill similarly titled, "The Small Business Tax Equity Act of 2017."
Advocates have had success garnering increasing bipartisan support for that bill and standalone 280E reform legislation in the House this year as compared to versions filed in the past Congress. But those bills are not going to move though committee, to the floor and to the president.
The only real hope of getting a reform enacted into law is to attach it to a broader moving vehicle like the GOP tax bill.
And now, because of the failure to approve a 280E amendment on the House side, the only hope lies in the Senate. That means either getting an amendment adopted in committee or on the floor.
The latter will be a much harder path because the bill will likely be considered by the full body under an agreement that limits the number of amendments, and Senate Democratic leaders are likely to focus their efforts on measures concerning middle-class tax relief and general tax rates for businesses.
While convincing Senate Republicans to amend their leadership's important bill in committee is a big ask, it is seen as not nearly as heavy a lift as convincing House GOP members to vote to change the bill in their chamber would have been.
So now, industry interests are hoping that Wyden's amendment is about 280E, that he can hold all the Democrats on the panel in support of it and that a select number of targeted Republicans will go along with the plan.
Find out which senators cannabis businesses need to target to win a 280E reform amendment in the Senate Finance Committee in this exclusive analysis for Marijuana Moment Patreon supporters:
How Marijuana Businesses Can Win Tax Fairness Under Trump Plan
Even if 280E language is adopted on the Senate side, it will still have to a survive a bicameral conference committee that merges the bill with the House version which does not contain the provision.
Wyden's office and cannabis business advocacy interests active on Capitol Hill did not respond to queries from Marijuana Moment for this story.
Trump Treasury Official Wants Congress To Fix Marijuana Businesses' Banking Issues
Congress needs to come up with a solution for banking access by the marijuana industry, a top federal Treasury Department official said on Wednesday. And he hopes that will happen by 2020, if not sooner.
Joseph Otting, the comptroller of the currency, told reporters that lawmakers "have to act at the national level to legalize marijuana if they want those entities involved in that business to utilize the U.S. banking system," according to PoliticoPro.
Comptroller of Currency Joseph Otting hopes for resolution to marijuana banking issues by 2020. Via @vtg2: https://t.co/G8drwnvAvM

— POLITICO Pro (@POLITICOPro) January 16, 2019
Cannabis businesses acting in compliance with state law face uncertainty when dealing with federally regulated financial institutions. And banks potentially risk being penalized for servicing those businesses, leading many to avoid the industry altogether.
That said, a steadily growing number of banks are operating accounts for cannabis companies anyway, federal data shows.
"If I'm a betting person, I'm like 25-30 percent maybe next year, but I would hope by 2020 we can get this issue resolved," said Otting, who was also recently assigned to double duty as acting director of the Federal Housing Finance Agency.
He previously called the existing situation "generally not healthy," echoing comments made by Federal Reserve Chairman Jerome Powell, who said "it would be great if [the banking issue] could be clarified."
Similarly, Treasury Secretary Steven Mnuchin has described the banking conflict as untenable. He said last year that his department was "reviewing the existing guidance," referring to a 2014 Obama-era policy memo meant to provide direction for banks on how to service marijuana businesses.
"We do want to find a solution to make sure that businesses that have large access to cash have a way to get them into a depository institution for it to be safe," he said.
More Banks Welcome Marijuana Business Accounts, New Federal Report Shows
Sen. Chuck Schumer Welcomes Major Cannabis Company To New York's Hemp Industry
Canadian marijuana giant Canopy Growth Corporation will enter the nascent U.S. hemp industry by building a massive farming and production center in southern New York, U.S. Senate Minority Leader Chuck Schumer (D-NY) announced on Monday.
Canopy has yet to finalize its plans for an exact location—a contract could be signed as soon as Monday, Schumer said—but the company could eventually support "up to 400 jobs" in hemp cultivation, processing and product manufacturing at what would be a "first of its kind" center for the just-legalized U.S. hemp industry, the senator said.
Once a key American crop—George Washington famously grew hemp at Mount Vernon, and there was a stand of hemp plants in northern Virginia where the Pentagon now stands—the U.S. now lags far behind other countries in hemp production, a result of the country's broad outlawing of cannabis decades ago.
Eventually, Canopy plans to invest "between $100-$150 million" into a New York State-based industrial hemp farm, Schumer said, with other companies potentially drawn to the sector by such a prominent anchor business.
"Hemp is a very valuable product and a burgeoning crop here" in southern New York, said Schumer, offering a very brief remedial education in the plant for those present at a press conference he convened. "I'm not kidding when I say this, but hemp is everywhere."
"This is going to be a major shot in the arm" for the area, he added.
"Hemp" is more of a legal than a botanical distinction. Under U.S. law, cannabis sativa with 0.3 percent or more THC is considered "marijuana" and falls under federal drug-control laws. Cannabis with less than 0.3 percent THC is considered industrial hemp.
Hemp has been legal to import and process, but until very recently, hemp cultivation was mostly illegal in the U.S.
That prohibition that ended when President Donald Trump signed the 2018 Farm Bill into law last month. The previous 2014 version of the Farm Bill created a pilot program for states that wished to legalize small-scale hemp cultivation as part of research programs.
Based on that success and on growing support for an end to cannabis prohibition nationwide, the 2018 Farm Bill legalized cultivation of hemp outright. Almost immediately, politicians began touting the crop's potential as a miracle product and an economic boon with enthusiasm once reserved only for acolytes of hemp evangelist Jack Herer.
Senate Majority Leader Mitch McConnell, who championed the hemp legalization provisions, signed off on the final version of the Farm Bill with a hemp pen—but for now, Schumer, his Democratic counterpart, may have stolen the top Republican's fire.
"I've always believed that states should be the laboratories of democracy," he said. "I've been very eager to have the hemp industry grow in New York and the Southern Tier."
Photo courtesy of Senate Democrats.
Alcohol Sales Aren't Impacted By Marijuana Legalization, Trade Association Finds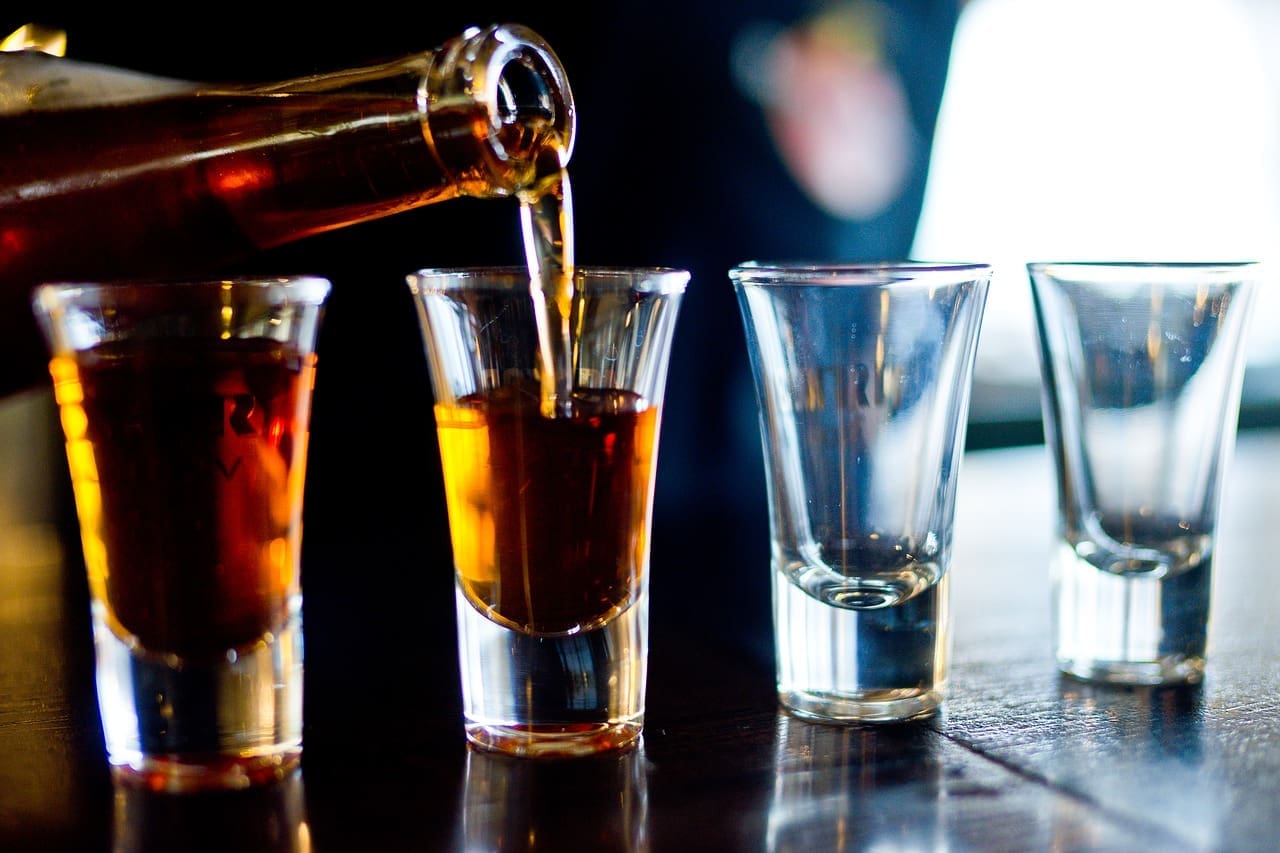 Marijuana legalization hasn't hurt alcohol sales in the years since legal markets were established in Colorado, Washington State and Oregon, according to a new study from an alcohol trade association.
The Distilled Spirits Council looked at alcohol tax and shipment data before and after legalization to determine whether cannabis reform impacted sales of spirits, beer or wine in legal states.
"Simply put, the data show there has been no impact on spirits sales from recreational marijuana legalization," the council's chief economist, David Ozgo, said in a press release on Thursday.
"We now have four years of retail recreational marijuana sales history in Colorado and Washington state, and three years in Oregon, and each of these markets remain robust for spirits sales," he said. "We did this study because there is a lot of misinformation circulating about the impact of recreational marijuana legalization on distilled spirits and the wider alcohol market."
Per capita spirits sales actually increased slightly in post-legalization years, which was consistent with national trends. Sales were up 7.6 percent in Colorado, 5.4 percent in Washington and 3.6 percent in Oregon.
The trade association also analyzed beer and wine sales during the same period. For beer, sales were down marginally, with drops of 3.6 percent in Colorado, 2.3 percent in Washington and 3.6 in Oregon. But again, that's consistent with national trends, according to the study.
Wine sales were mixed across the three states: Up 3.2 percent in Colorado, down 3.1 percent in Washington and up .7 percent in Oregon.
The Distilled Spirits Council also used their analysis as an opportunity to plug their policy recommendations to lawmakers in states considering marijuana legalization. While the association has declined to take a position on whether to legalize, it shared a list of recommendations ranging from equitable taxes on cannabis and alcohol to THC content disclosure requirements.
There is at least one major alcohol group that is willing to support states' right to legalize, though. The Wine & Spirits Wholesalers of America (WSWA) called for the end of federal marijuana prohibition last year and, in December, went so far as to host a briefing on cannabis policy for lawmakers and congressional staffers.
Reform advocates have questioned whether legal access to marijuana would adversely impact alcohol sales, with more people opting to consume cannabis over booze. There is some research that indicates the alcohol industry is being interrupted in medical marijuana states, but more data is needed.
Marijuana Is Safer Than Alcohol, Tobacco Or Sugar, Americans Say In New Poll
Photo courtesy of Pixabay.