Legalized 'Light Cannabis' Linked With Drop In Pharmaceutical Sales, Study Finds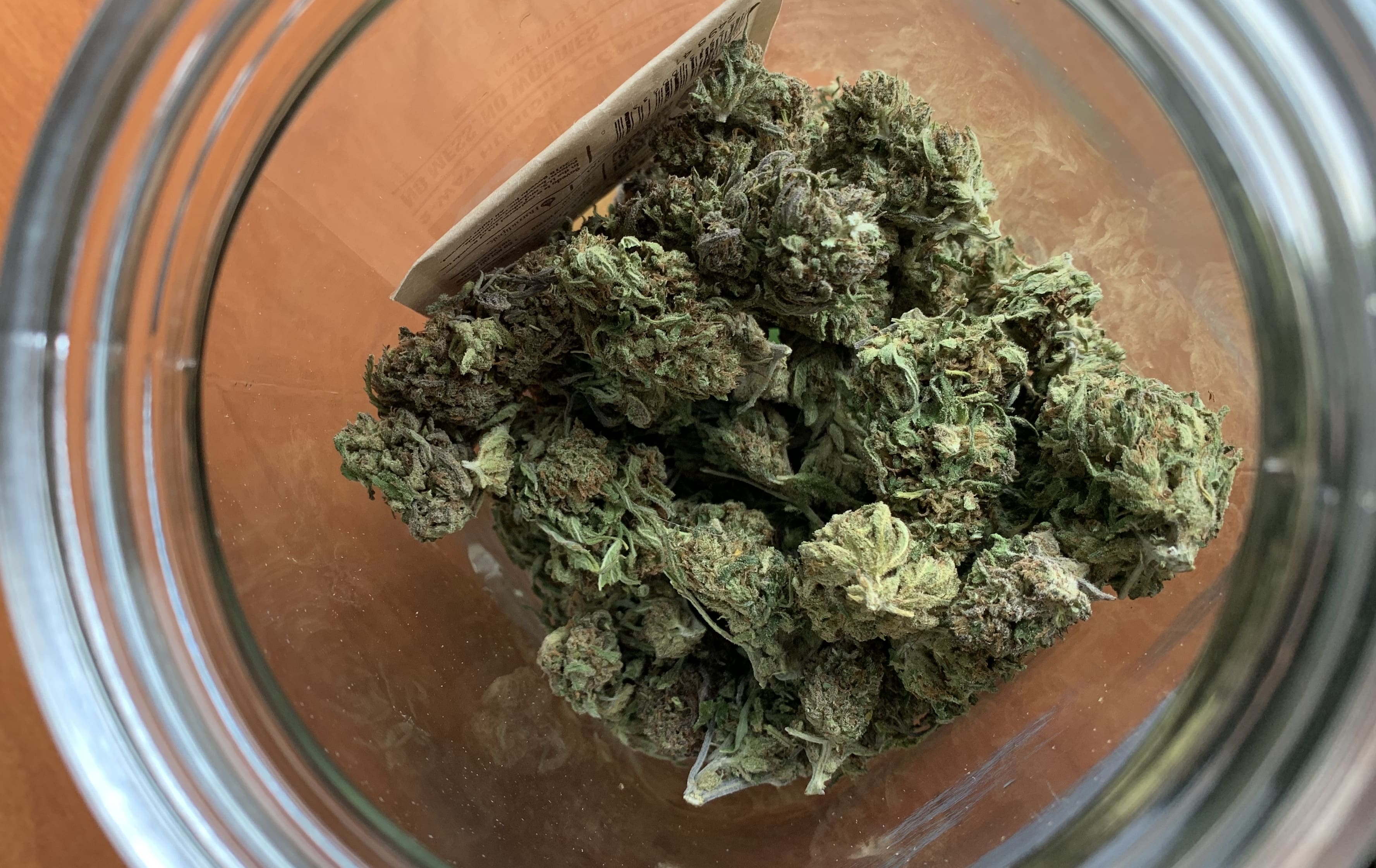 Last week, Italy's interior minister declared "war" on "light cannabis," or low-THC hemp flower that shops across the country sell to consumers using a legal loophole. It's unclear if they'll continue to do so come June, however, as the nation's Supreme Court of Cassation is expected to weigh in on the legality of selling hemp later this month.
Yet, in the first 10 months after light cannabis became available for purchase, the country's National Health Service saw a noteworthy decrease in the number of pharmaceutical drugs it dispensed, a new study reports.
"Specifically," researchers from York University in the United Kingdom wrote, "after the introduction of the policy, we find that the arrival of light cannabis in a given province led to a reduction in the number of dispensed boxes of anxiolytics by approximately 11.5%, reduction of dispensed sedatives by 10% and a reduction of dispensed anti-psychotics by 4.8%."
The study, published in the Health Econometrics and Data Group Working Paper series, is one of the first to look into how people use cannabis to self-medicate.
In 2016, a new law in Italy regulating hemp production unintentionally set off a "green gold rush": Cannabis flower with 0.2 percent THC or less became legal to purchase as a "collector's item." People can buy jars of hemp flower, but are not technically allowed to consume it. Not unlike the U.S.'s 2018 Farm Bill that federally legalized industrial hemp, Italy's law removed certain restrictions around the plant. Within months, retailers in the country were selling hemp bud as a "technical product."
The study's authors found "the unintended liberalization of light cannabis" as a great entry-point to study how accessibility to cannabis can potentially spur people to turn to cannabis as substitution for traditional drugs.
"[W]e find that the local market accessibility of light cannabis led to a reduction in dispensed packets of opioids, anxiolytics, sedatives, anti-migraines, antiepileptics, anti-depressives and anti-psychotics."
For their research, they collected monthly data on pharmaceutical drug sales for all 106 Italian provinces from January 2016 to February 2018. On a monthly average, they found the Italian health authority provides reimbursements for 28 packets of sedatives and 72 boxes of anxiolytics (or anti-anxiety medication) per province. They also documented the reimbursement of 12,610 packets for opioids, 18,460 packets for antiepileptics, 27,198 packets for anti-depressants, 4,802 packets for anti-psychotics, and 2,504 boxes for anti-migraines.
After light cannabis became readily available at retail shops, the average number of dispensed pharmaceuticals dropped by approximately 1.6 percent. Prescriptions for drugs typically used to treat anxiety and psychosis—conditions for which CBD has been found to impact—decreased the most.
"This is intuitively explained by the relaxant properties of CBD, which is often used to treat sleep disorders," the study states. "Moreover, the large coefficient we observe for sedatives and anxiolytics are also consistent with substitution stemming from self-assessment and self-medication, that is, the possibility to individually evaluate symptoms (i.e. anxiety and insomnia) and, consequently, to decide whether to take a pill."
Researchers also documented a small decrease in the average number of packets dispensed for anti-epileptics (-1.5%), anti-depressives (- 1.2%), opioids (-1.2%) and anti-migraines (approximately -1%) as well.
Ultimately, the study concludes that "even a mild form of liberalization may generate a significant spillover effect on the market for pharmaceuticals." As a result, the researchers encourage policymakers to consider regulating the light cannabis market more effectively and evaluate how hemp-derived CBD can be used medicinally.
Meanwhile in the U.S., Food and Drug Administration (FDA) officials are still trying to figure out how to regulate products containing CBD. It could take several years without congressional action, FDA's commissioner said recently.
FDA Is Taking Public Comments On CBD. Here's How To Make Your Voice Heard
Photo courtesy of Kimberly Lawson.
Study Explores How Different Marijuana Extracts Kill Types Of Cancer Cells
Marijuana extracts can impair the survival of certain types of cancer cells and inhibit their spread, according to a recent study. But the effects of those extracts vary significant based on their specific chemical makeup.
Researchers found that treating cancer cells with isolated ingredients in cannabis, such as THC alone, does not appear to be especially effective—but full cannabis extracts showed more promise. However, with the plant containing hundreds of compounds that appear in different concentrations across strains and preparations, researchers had their work cut out for them in investigating how various cannabinoid combinations treated different types of cancer cells.
The team tested the antitumor effects of 12 whole cannabis extracts on 12 human cancer cell lines in order to "determine whether whole cannabis preparations with specific phytocannabinoid profiles could be advantageous as therapy for certain cancer sub-types." The findings were published in the journal Oncotarget.
"Our results show that specific cannabis extracts impaired the survival and proliferation of cancer cell lines as well as induced apoptosis."
Each cell sample was treated with a marijuana extract in increasing doses (2-10 µg/ml) over the course of 24 hours. There were five preparations of cannabis that proved especially potent for a wide range of cancer types but, in general, the study shows there's significant variability in effectiveness for different cancer types—even when the cancers originated in the same organ.
For example, two distinct forms of prostate cancer cells were found to be most sensitive to entirely different marijuana extracts.
The cannabis preparations also ranged widely in their effectiveness in preventing the proliferation of cancer cells. When applied to multiplying cells, there were three extracts that reduced the growths to 37-51 percent of their original size, compared to 68 percent for the control group. But there were other extracts that failed to reduce the spread in a statistically significant manner.
Some commonalities shared among the most potent cannabis extracts include a high concentration of THC and large amounts of phytocannabinoids in their decarboxylated form.
"Taken as a whole, we concluded that medical cannabis does not consist of a single therapeutic agent but rather a heterogeneous array of treatments," the researchers wrote. "We propose that the fate of specific cancer cells following cannabis extract application is dependent upon the synergistic effects of its phytocannabinoid composition, concentration applied, along with the cell specific characteristics (e.g. cannabimimetic receptor expression)."
"This study demonstrates the anti-cancer activity of various whole cannabis extracts on a set of human cancer cell lines."
The study concluded that "cannabis extracts were very potent in producing cell death and some of these extracts were of [THC]-rich type" and that, as previous studies have indicated, "using whole cannabis extracts is more effective in inducing cancer cell death than applying pure [THC] on the studied cells lines."
"Furthermore, not all [THC]-rich extracts produce the same effects when applied at the same concentrations on a specific cancer cell line," the study authors wrote. "These findings indicate that compounds other than [THC] in these extracts might act together in a polypharmacology way and determine the extract efficacy as antitumor agents."
Interestingly, the researchers also theorized that the the "presence or absence of [cannabinoid receptors] in the tested cell lines may explain the differential potency of the extracts towards reducing cell survival."
The team called for further research into the "specific properties and mechanisms of cancer cell insensitivity to cannabis extract effects."
"We hope that this study will lay the groundwork for future preclinical studies and randomized controlled clinical trials in order to provide evidence for effective cannabis treatments for many cancer subtypes," they concluded.
Recreational Marijuana Store Customers Consume To Help Pain And Sleep, Study Finds
Photo courtesy of Evan Johnson.
Marijuana Legalization Associated With Decreased Interest In Alcohol, Study Finds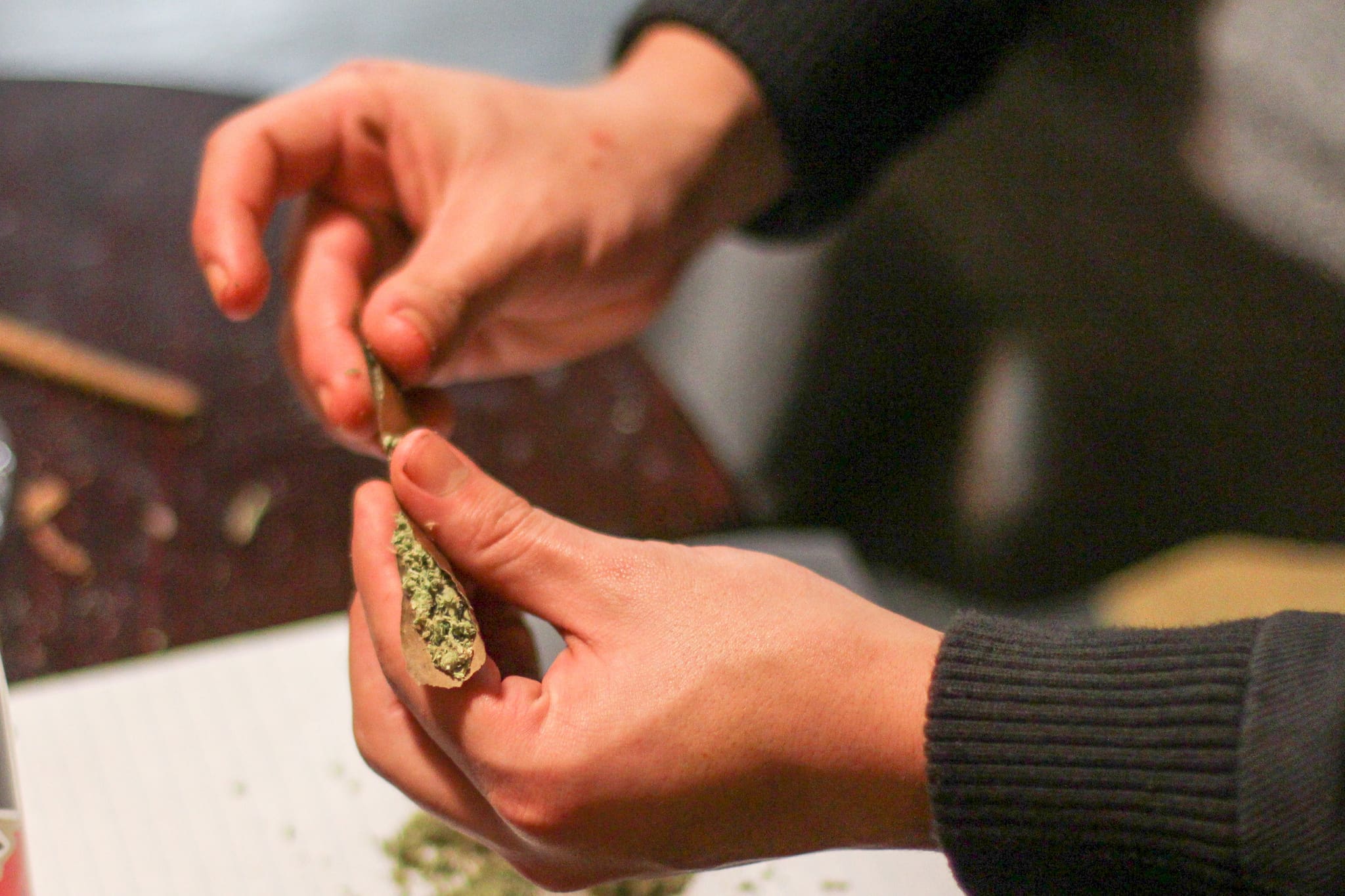 Interest in alcohol declines after states legalize marijuana, according to a new study analyzing online behavior. But for reasons that aren't entirely clear, interest in tobacco products increases following the policy change.
Another notable finding is that interest in cannabis among young people appears to decline after the end of prohibition.
Researchers from the University of Georgia and Syracuse University sought to identify the cross-commodity effects of legalization and used data from a "leading US-based web portal" from January 2014 to April 2017 to see how the implementation of adult-use legal marijuana programs in states changed online behavior such as web searches and engagement with advertisements.
The data set "covers over 28 million searches and 120 million ad impressions related to cannabis, alcohol and tobacco industries," they wrote.
Published in the journal Marketing Science, the study reveals diverging trends for alcohol and tobacco.
Legalization "reduces search volume and advertising effectiveness for alcohol, but increases those for tobacco," the authors wrote. "Hence, cannabis appears a substitute to alcohol, but not to tobacco."
It also determined that recreational marijuana legalization leads to a nearly 17 percent increase in cannabis-related searches—however, that increase was "significantly attenuated" for young people, who did not search for marijuana more post-legalization. On the contrary, the study noted a "significant decrease in cannabis search[es] among the youth after" legalization.
"Contrary to widely held public concern after recreational cannabis is legalized, teenagers appear to lose interest, rather than gain interest," study author Pengyuan Wang said in a press release. "Policymakers only concerned with an uptick in teen users, may want to rethink their stance."
That finding is supported by another recent study exploring youth cannabis consumption. An analysis of federal data from 1993 to 2017 showed that self-reported past-month youth cannabis use decreased by about eight percent in states that legalized marijuana for adult use.
Alcohol searches decreased by about 11 percent after a state legalized marijuana, the researchers behind the new study found. They argued that the results show that the alcohol industry "has valid reasons to be concerned about legal cannabis and may need creative strategies to avoid market decline if [recreational cannabis legalization] passes."
However, predictions about marijuana's potential to disrupt the tobacco industry might have been overblown, the study indicated. Searches for tobacco products increased by almost eight percent and so "tobacco companies may need to reexamine their presumption, and that anti-cannabis legalization is not in their best interest," Wang said.
It's not clear whether the analysis of tobacco search trends included cannabis-adjacent products such as blunts, rolling papers or vaporizer devices, which could overlap between tobacco and marijuana consumers. Marijuana Moment reached out to Wang for clarification but she did not immediately respond.
The research team said that their study is unique because it's the first to analyze "large-scale unobtrusive behavioral data before and after policy change to unveil the treatment effect of [recreational cannabis legalization] using a difference-in-difference approach."
"These findings on cross-commodity relationships help resolve the conflicting literature and provide distinct implications for practitioners," the study authors wrote.
Youth Marijuana Use Declined In States That Legalized, Study Finds
Photo courtesy of Martin Alonso.
Legalizing Marijuana Leads To Fewer Illegal Grow Sites In National Forests, Study Finds
In news that Smokey Bear, iconic protector of all forests, would be happy to hear, research shows that reports of illegal marijuana grow operations on federally protected lands fell after states began legalizing it for adult use.
"Arguably," the study authors write, "our models hint that outright, national recreational cannabis legalization would be one means by which illegal growing on national forests could be made to disappear."
"[W]e find that recreational cannabis legalization is associated with decreased reports of illegal grow operations on national forests."
The research, which was published in the journal Ecological Economics earlier this month, is thought to be the first of its kind to analyze the effects of legalization policies on illegal outdoor grows in national forests throughout the United States. A separate recent study found that cannabis cultivation on federal lands specifically in the Pacific Northwest declined after legalization.
Researchers with the United States Department of Agriculture's Forest Service used existing data on the number of illegal grow sites reported between 2004 and 2016 in 111 national forests. In addition to incorporating other variables into their analysis (including state marijuana policies, retail price for consumers, risk of exposure and others), they also came up with six simulated scenarios with policy changes to create random effects models of the number of reported grows.
For example, in one scenario, the study's authors estimated how many illegal grow sites would exist if current laws legalizing both recreational and medical marijuana were revoked. In another simulation, wholesale and retail sales taxes on legal marijuana were eliminated in states that had already approved the sale and consumption of cannabis in 2016.
According to the study's findings, "policies legalizing recreational cannabis production and consumption are associated with significantly lower numbers of reported illegal grows on national forests."
The study's predictive models showed that eliminating current state laws legalizing access to marijuana would result in "double-digit percentage increases in reported grows on national forests, while further expansion of the set of states with such laws passed by statewide referenda in 2016 (but only instituting applicable laws in 2017 or later, post-dating our dataset) would be expected to reduce growing on national forests by a fifth or more."
If all 23 states that had approved medical marijuana by 2016 moved to more broadly legalize for adult use, the study continues, illegal cultivation sites in national forests would decline anywhere from 35 percent to 51 percent. However, it concluded that legalization of medical cannabis across the U.S. alone would not affect grow operations in national forests.
Mere decriminalization of possession was also found to have no significant effect on the number of illegal farms, though models did show that harsher penalties for illegal production and possession of marijuana, as well as stricter regulations on CBD oil and similar products, did. Meanwhile, an increase in law enforcement presence only made a slight difference (a 2.5 percent decrease in reported illegal grows) if local agencies increased their manpower by 20 percent.
Another issue, of course, is the role of taxes. If states reduced how much they tax legal sales by 6 to 13 percent, the number of illegal grows would decline. As researchers point out, "availability of legal cannabis does not encourage illegal cultivation unless the after-tax price for legal cannabis is substantially elevated relative to the illegal product."
"As a practical matter," the study authors summarize, "the number of cannabis grows on national forests could be reduced in two opposite ways: (1) legalization, or (2) increased efforts to deter, incarcerate, and otherwise discourage participation in the illegal market. Redefining what is legal perhaps would yield reductions that are cost less for the Forest Service, at least in the narrow sense of cannabis law enforcement demands, and would reduce the damages associated with cannabis cultivation."
Ecologists have raised concerns about the environmental impact illegal marijuana cultivation sites have on national forests, such as the use of highly toxic rodenticide to ward off pests.
Illegal Marijuana Grows In Pacific Northwest Declined After Legalization, Study Finds
Photo by Aphiwat chuangchoem/Pexels.