Leading Marijuana Reform Group Hires Illinois Government Cannabis Czar As President And CEO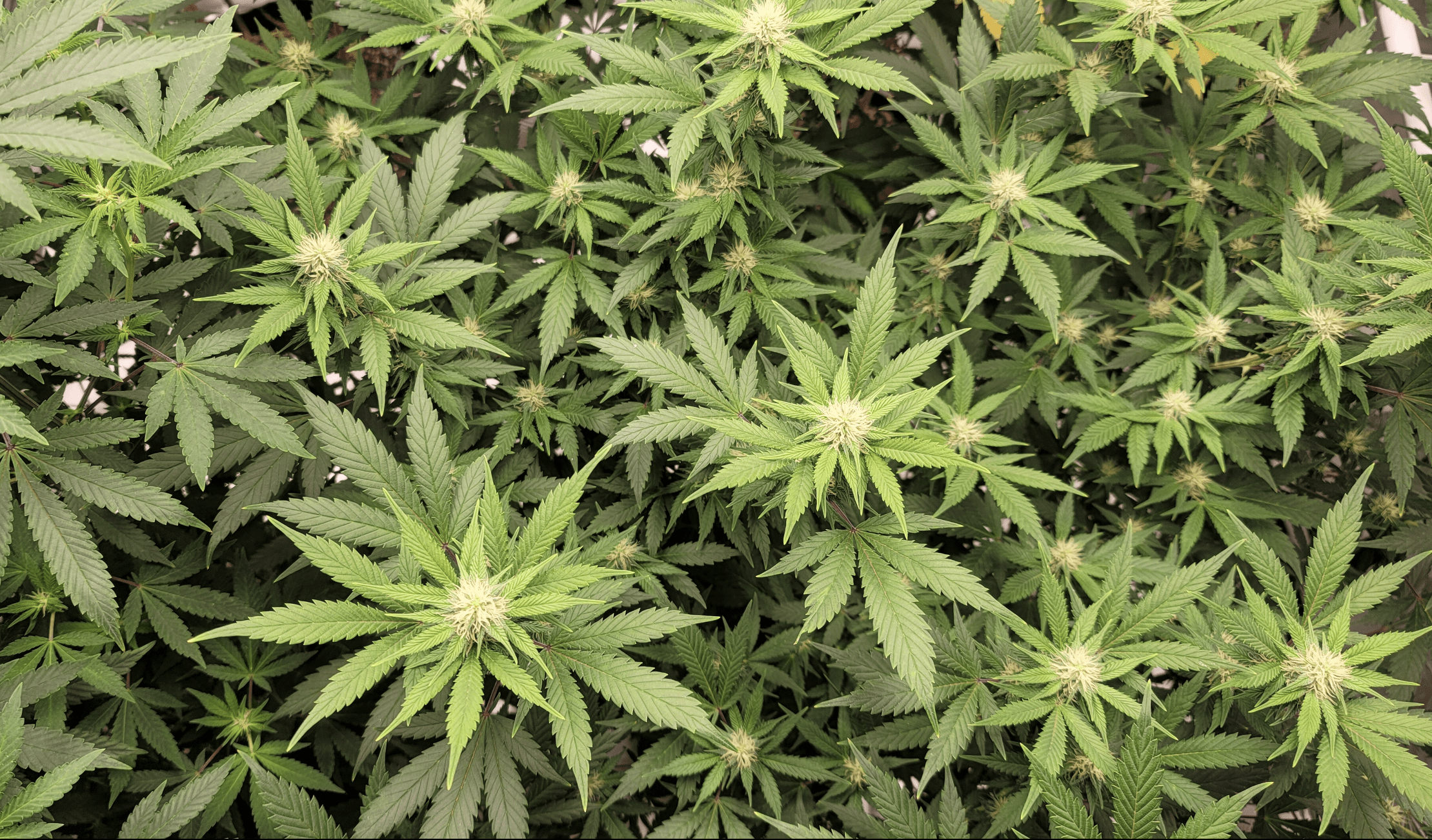 One of the nation's top cannabis reform advocacy groups—the Marijuana Policy Project (MPP)—is getting a new leader with an extensive professional background in the enactment and implementation of state-level legalization as a lawmaker and government official.
Toi Hutchinson, who most recently served as the senior advisor on cannabis to Illinois Gov. J.B. Pritzker (D), will replace Steve Hawkins and join the national advocacy organization as president and CEO.
The changeup, which was shared exclusively with Marijuana Moment ahead of the announcement, comes at a vital time in the cannabis legalization movement in which MPP has played a key role in advancing reform in states across the country.
Advocates have celebrated Hutchinson's leadership on the issue, applauding her sponsorship as a state senator of Illinois's adult-use legalization policy that Pritzker signed into law in 2019, as well as her focus on promoting social equity within the burgeoning marijuana industry.
Hutchinson told Marijuana Moment that in her regulatory capacity as Pritzker's cannabis advisor, days when she would see thousands of cannabis records cleared under the newly enacted law were the "moments that I will take with me for the rest of my life, wherever it is I go."
"It also means that this cannabis legalization work is wrapped around my soul now, so when I got the call from MPP, it was a no-brainer because we know that the march towards federal legalization is going to happen through the states," she said. "And we have to keep doing that until we get action at the federal level."
We are excited to welcome Toi Hutchinson as MPP's new president and CEO! https://t.co/COZ2HmpUet pic.twitter.com/RNFljMEnCh

— Marijuana Policy Project (@MarijuanaPolicy) December 15, 2021
From state lawmaker to administrative advisor, the official has seen the conversation around cannabis policy evolve—particularly as it concerns the importance of addressing the disproportionate consequences of marijuana criminalization.
"The discussion around cannabis has grown to the point where we have to talk about legalization with the understanding that we have an industry," Hutchinson said, adding that in the nascent stages of reform discussions "a lot of those initial conversations didn't center around equity—it was really about freeing the plant."
"What Illinois did was different," she said. "And the biggest lesson I learned—and I think what people respond to—is that if you're going to normalize and legalize a product for whom the prohibition of that exact same product destroyed generations of communities, you have to center those two things together."
Toi also served as an Illinois state senator where she was one of the initial author's of cannabis legalization legislation.

— Marijuana Policy Project (@MarijuanaPolicy) December 15, 2021
When you put equity front and center, "you really do come up with better policy proposals," she said. "If you center the people who are harmed the most by this—the communities that were harmed the most by this—then you can meet people in places where they didn't even know they were going to agree with you."
Hawkins, meanwhile, has been wearing two hats for the past year. Beside running MPP, he's also the president and CEO of the newer organization U.S. Cannabis Council (USCC), an industry-focused marijuana group that's become heavily involved in federal cannabis reform legislation.
Before joining MPP, Hawkins served as the executive director of the National Coalition to Abolish the Death Penalty (NCADP) and executive vice president of the NAACP. Colleagues praised his commitment to the movement and stressed that this staffing decision was mutual and amicable.
"The MPP board has been incredibly pleased with Steve's leadership, his ability to coalition build, to bring people together," Sal Pace, chair of the organization's board, told Marijuana Moment. "So much of the success at the state level over the last four years has been with Steve at the helm of MPP." (Disclosure: Pace supports Marijuana Moment's work via a monthly pledge on Patreon.)
Hutchinson, meanwhile, brings a whole new skill set to the organization's leadership, with important experience bringing reform to a state legislature and seeing to its coming to fruition in the governor's office. She also previously served as president of the National Conference of State Legislatures (NCSL).
"I don't think I could imagine a biography more perfectly suited for running MPP for the future," Pace said.
Pritzker recognized Hutchinson's contributions to the state's marijuana policy at a press conference on Wednesday about a new round of cannabis-funded grant funding for community reinvestment.
"For over two years, Toi has served as the premier advisor on cannabis, rolling back the injustices of criminalization, investing in the communities that needed most and making Illinois's industry the most equitable in the country," he said.
For over two years, Toi Hutchinson has been my foremost advisor on cannabis: making Illinois' industry the most equitable in the country. While I'm sad to see her go, it was an honor to have her lead this charge.
⁰Toi, Illinois is a better state because of your public service. pic.twitter.com/DaKE8JIXNA

— Governor JB Pritzker (@GovPritzker) December 15, 2021
"In her new role, Toi will be able to share on a national platform the lessons learned from passing and implementing the Illinois law," Pritzker said. "I will miss her in the governor's office. But what an honor for Illinois to have our own Toi Hutchinson leading the charge on a national scale, shaping the fight for cannabis justice—not just in our state but in all 50 states."
MPP and USCC will continue to work together in a symbiotic partnership to advance the cause. There's wide recognition that as more states move to legalize, it adds pressure on Congress to act.
"I'm proud certainly of all the accomplishments that I've had at MPP since I came on as executive director in 2018," Hawkins told Marijuana Moment. "MPP played a pivotal role with the incubation of the U.S. Cannabis Council, which launched in February, and this seemed to be the perfect time to make the move over to USCC."
"Given that MPP has identified such an incredible leader in Toi Hutchinson, this creates a real great dynamic duo, if you will, between myself and Toi," he said.
At USCC, "my vision is really to make sure that we we have some substantial cannabis reform happen in this session of Congress," Hawkins said. "There are bills pending for legalization, for banking, for expungement. And USCC is going to be continuing to advocate for substantial reform across the board."
I am proud of what we have accomplished at MPP and look forward to working alongside @ToiHutchinson in the fight to end cannabis prohibition! Toi is an incredible leader, and I know that our organizations will work tirelessly to advance our shared goals.https://t.co/6fijkitYQa

— Steven W Hawkins (@StevenWHawkins) December 15, 2021
This is the latest executive change to happen at MPP in recent years. The group's co-founder, Rob Kampia, left the organization in 2017, more than two decades after founding it. Kampia's departure was announced shortly after sexual misconduct allegations against him resurfaced amid the #MeToo movement.
Meanwhile, MPP separately hired a new director of communications last month. Denise Tolliver, a former reporter and congressional staffer. The organization also announced recently that it hired the Louisiana-based founder of CommonSenseNOLA, Kevin Caldwell, as its Southeast legislative manager.
New York Lawmaker Files Bill To Legalize Medical Psilocybin Treatments, With Focus On First Responders And Veterans
Photo courtesy of Mike Latimer.