Illinois Announces $45 Million In Marijuana-Funded Grants To Support Community Reinvestment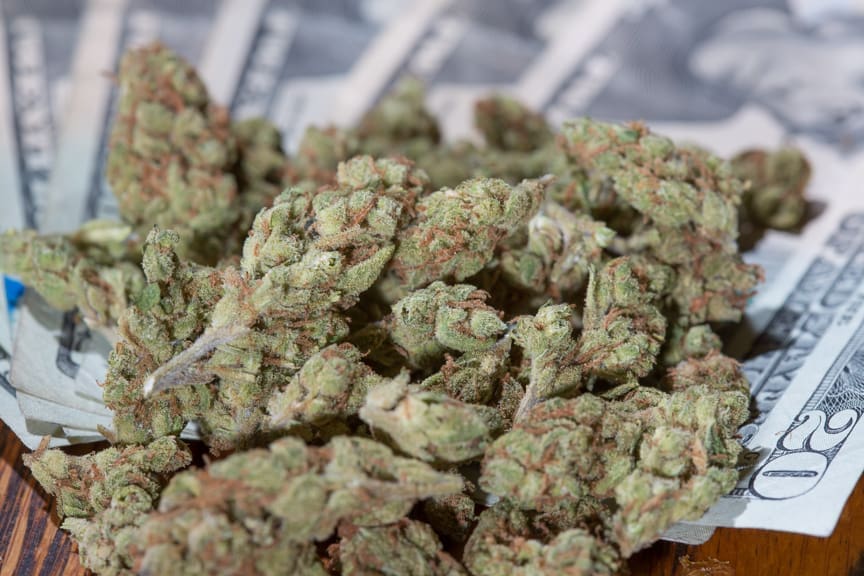 Illinois officials announced on Wednesday that applications are opening for $45 million in new grants—funded by marijuana tax revenue—that will support programs meant to reinvest in communities most harmed by the drug war.
This will be the second round of funding to be issued through the state's Restore, Reinvest, and Renew (R3) program, which was established under Illinois's adult-use cannabis legalization policy. The law requires 25 percent of marijuana tax dollars to be put in that fund and used to provide disadvantaged people with services such as legal aid, youth development, community reentry and financial support.
"In the pursuit of justice, progress isn't possible without accountability. We must acknowledge and address the trauma inflicted by the war on cannabis, which incarcerated countless nonviolent offenders and tore apart families and neighborhoods in the process," Gov. J.B. Pritzker (D) said at a press conference on Wednesday.
"That is the core tenet of Illinois cannabis legalization framework and what sets Illinois apart from other states that have legalized: we're prioritizing investments in communities that were previously harmed for what is now legal," he said.
Earlier this year, $31.5 million in R3 grants were distributed to 80 organizations. The sizable increase in funding this time around reflects the boom in cannabis sales that Illinois has seen over the past year, with multiple record-breaking months.
"The R3 program is transformative because we were intentional about putting justice-impacted people, community activists, and local stakeholders at the center of our discussions to make this program work for those it was created for," Lt. Gov. Juliana Stratton (D) said in a statement to Marijuana Moment.
In 2021, we invested 25% of the tax revenue from adult-use cannabis into Illinois communities. That's $31.5M of Restore, Reinvest, and Renew (R3) funds to 200 organizations + partners!

Follow me today for an exciting announcement about the 2022 #R3 Notice of Funding Opportunity. pic.twitter.com/7depdzmAeX

— Lt. Governor Juliana Stratton (@LtGovStratton) December 15, 2021
Organizations that received grants through the initial R3 round will have their funding renewed for another year to ensure that they can continue providing services in their communities.
"Through every step of this process, we've been very intentional about ensuring these grants go to the communities that need them and that they are used to benefit the people," Stratton said. "We've also held ourselves accountable."
Angelica Arroyo, manager at the Chicago Youth Boxing Club, spoke on Wednesday about how the organization has used cannabis revenue to grow.
"Because of the R3 grant we were able to do more," she said. "We stayed open during COVID and that gave us more community exposure. We now have more girls are boxing, too. I'm proud of that."
The #R3 grant addresses decades of disinvestment, over-incarceration, and trauma caused by the failed War on Drugs.

Want to get involved?
Either apply for or share the Restore, Reinvest and Renew (R3) grant funding opportunity. Let's make change happen!
💻https://t.co/d9HEAhhhoA

— Lt. Governor Juliana Stratton (@LtGovStratton) December 15, 2021
After issuing the first grants at the beginning of the year, officials convened a working group to make recommendations about how to most effectively disperse funding in the years to come.
They've also worked to develop a merit-based grant application review process, with an independent body comprised of people who represent R3 zones going through bias training before determining funding eligibility.
"We know these programs will have immediate and generational impact so we must be, and are, deliberate about creating a framework for long-term, sustainable funding to do this important work," the lieutenant governor said.
"Let me make this clear: We are not done. And today's announcement is a testament to that," Stratton said at Wednesday's event. "We have more work to do to repair the harm. We have more work to do to fill seats at the table. And we now have the program that was built for this journey."
Community organizations can apply for state funding here: https://t.co/7mMh6yvf9d

— Governor JB Pritzker (@GovPritzker) December 15, 2021
If 2021 is any indication, then cannabis tax revenue will continue to be a consistent source of funding for the program.
Marijuana sales in Illinois topped $1 billion this year, a major economic milestone since the state launched its retail market in 2020. The state sold about $670 million in marijuana last year and took in $205.4 million in tax revenue.
The state generated more quarterly tax dollars from marijuana than alcohol for the first time earlier this year, the Illinois Department of Revenue reported in May. From January to March, Illinois generated about $86,537,000 in adult-use marijuana tax revenue, compared to $72,281,000 from liquor sales.
In July, state officials put $3.5 million in cannabis-generated funds toward efforts to reduce violence through street intervention programs.
Awarding the new grant money is not all that Illinois is doing to promote social equity and repair the harms of cannabis criminalization. Pritzker announced in December that his office had processed more than 500,000 expungements and pardons for people with low-level cannabis convictions on their records.
Relatedly, a state-funded initiative was recently established to help residents with marijuana convictions get legal aid and other services to have their records expunged.
It's these types of initiatives that Toi Hutchinson recently told Marijuana Moment that she's most proud of as she transitions from being Pritzker's cannabis advisor to the president of the national advocacy group, the Marijuana Policy Project.
"Toi has been in immense demand for her insights and energy and enthusiasm for a long time," the governor said on Wednesday. "What an honor for Illinois to have our own Toi Hutchinson leading the charge on a national scale, shaping the fight for cannabis justice, not just in our state but in all 50 states."
Illinois isn't the only state putting cannabis tax dollars to good use.
California officials have also made millions of dollars available for grants programs to support marijuana social equity initiatives and assist localities in processing pending cannabis business license applications.
In June, the Governor's Office of Business and Economic Development said it was awarding about $29 million in grants to 58 nonprofit organizations, with the intent of righting the wrongs of the war on drugs. The funding is being provided through the California Community Reinvestment Grants (CalCRG) program.
Leading Marijuana Reform Group Hires Illinois Government Cannabis Czar As President And CEO