Key Congressmen Tell Leadership That Marijuana Banking Must Be A 'Top Priority' In Large-Scale Manufacturing Bill Heading To Conference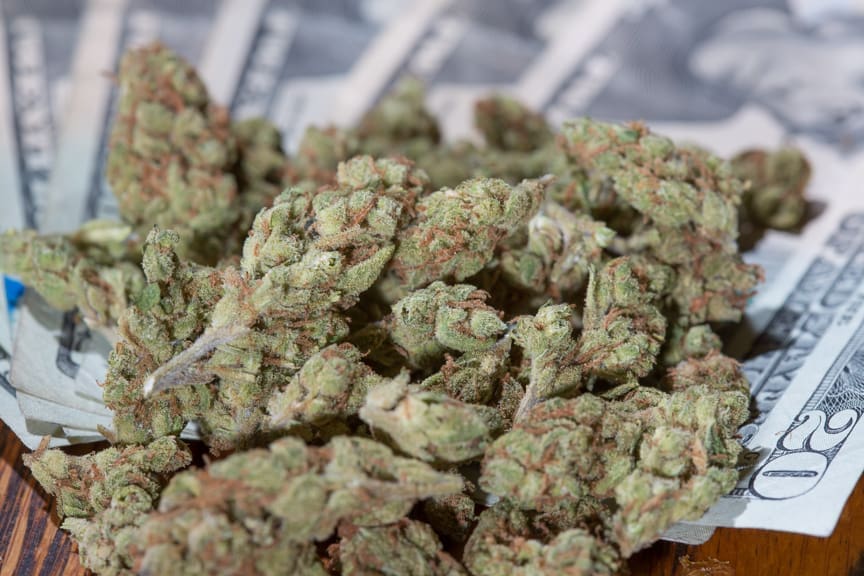 Congressional leaders and members appointed to a bicameral conference committee are facing increased pressure to include marijuana banking reform in a large-scale manufacturing and innovation bill, with two key lawmakers sending a letter on Wednesday urging its inclusion in the final package that's set to be discussed by bicameral negotiators.
Rep. Earl Blumenauer (D-OR), a longstanding champion for cannabis reform who was appointed to serve as a conferee on the America COMPETES Act, sent the letter to House and Senate leadership and conferees alongside Rep. Ed Perlmutter (D-CO), the lead sponsor of the marijuana banking legislation that's cleared his chamber in some form six times now.
The congressmen said that "it is imperative that the final conference committee report of the America COMPETES Act include the Secure and Fair Enforcement (SAFE) Banking Act in its entirety."
"As all levels of government continue to advance comprehensive cannabis reforms, addressing the irrational, unfair, and unsafe denial of banking services to state-legal cannabis businesses must be a top priority," they wrote. "The SAFE Banking Act is crucial for small operators, especially those owned and staffed by people of color and those who have already been punished during the War on Drugs."
Urging my fellow conferees to include the SAFE Banking Act in the final COMPETES conference report. The federal government's foolish cannabis prohibitions makes small, often minority-owned, cannabis businesses
vulnerable to crime. The solution: when #SAFEBanking becomes law

— Earl Blumenauer (@repblumenauer) April 27, 2022
Blumenauer isn't the only appointed conferee who views the issue as a priority.
Sen. Patty Murray (D-WA), a conferee and the third-highest-ranking Senate Democrat, recently visited a credit union for an event where she reiterated her support for passing the bipartisan cannabis banking reform bill and explained how she'll fight to get the policy change enacted sooner rather than later.
House Financial Services Committee Chairwoman Maxine Waters (D-CA), another conferee, also listed the SAFE Banking Act as a legislative priority as negotiations are set to begin.
Part of the urgency behind advancing this reform is a recent surge in crime targeting cash-intensive marijuana businesses in legal states.
"We have repeatedly seen these small businesses be denied access to the banking alternatives available to large operators and independently wealthy operators," Blumenauer and Perlmutter explained. "This leaves these local businesses and community-based entrepreneurs dependent on cash-only operations that are vulnerable targets for violent crime."
"Whereas many large operators have the privilege of banking alternatives and costly hired security, small and minority-owned businesses face this threat alone," they wrote. "The results are devastating."
"Just last month, three people were killed in one week during robberies targeting cannabis businesses in Washington State. This violence is widespread and ongoing, and it punishes the communities already most vulnerable and targeted in the War on Drugs. Expanding access to banking is a critical element of reform that centers communities disproportionately harmed by punitive drug prohibitions, and this reform cannot wait. It is imperative that the conference committee solve this horrendous problem, which threatens our underserved community members, public safety, and emerging small businesses."
As Perlmutter noted in a recent statement to Marijuana Moment, a strong majority of members appointed to the conference committee have already either cosponsored or voted for marijuana banking legislation in the past.
He and Blumenauer said the SAFE Banking Act would pass in the Senate as a bipartisan standalone bill just as it has in the House, but the chamber has yet to give it a chance as leadership work to finalize a broader bill to federally legalize marijuana.
"Congress has the opportunity and responsibility to address the violence spurred by our regressive banking prohibitions now," the new letter says. "Vulnerable communities cannot wait for the perfect solution for Congress to take substantial steps forward. The SAFE Banking Act is a critical piece of the reform our underserved communities and small businesses need."
"This legislation will make impactful progress in moving towards a fairer industry, especially for business led by lower-income community members and owners of color," it concludes. "As the conference process begins in earnest it is imperative that the final conference committee report include the SAFE Banking Act in its entirety. This is a matter of public safety, equity, and justice, and there is no longer any reason to delay."
Meanwhile, with burglaries and robberies on the rise at licensed cannabis retailers, Washington Gov. Jay Inslee (D) and other officials have convened a meeting with marijuana stakeholders and financial institutions to "discuss cash-less options for store operations," the state Liquor and Cannabis Board (LCB) said in a notice last week.
Inslee, State Treasurer Mike Pellicciotti and others will separately be sending a letter to Congress to reiterate their call for a federal fix to the state-federal policy conflict on cannabis banking issues, LCB said.
Washington State officials also recently held a virtual roundtable to address the spate of deadly robberies targeting marijuana retailers, with regulators reiterating their call for a federal policy change and discussing steps the state can take on its own while Congress fails to act.
The reluctance from the Senate to pass the SAFE Banking Act prior to enacting comprehensive legalization was also the subject of a letter from Perlmutter that was sent to Senate leadership last week.
Adding pressure to pass the marijuana banking bill as part of America COMPETES is the fact that Senate Majority Leader Chuck Schumer (D-NY) recently said that the timeline for the introduction of his legalization bill has been pushed back, despite saying previously that it would be formally filed this month.
As Congress continues to stall on marijuana banking reform, more state officials and lawmakers are taking steps on their own to resolve the issue, especially in light of the targeted crime surge.
Pellicciotti, Washington State's treasurer, has also been especially vocal about the need for congressional reform, and he wrote in a recent letter to his colleagues in other states that it's "just not safe to have this financial volume in cash."
He made similar remarks at a recent conference of the National Association of State Treasurers (NAST). And Colorado Treasurer Dave Young echoed that sentiment in a recent interview with Marijuana Moment.
The Pennsylvania Senate separately approved a bill this month to safeguard banks and insurers against being penalized by state regulators for working with state-legal medical marijuana businesses.
Perlmutter, for his part, has even made a point to talk about enacting the reform legislation during committee hearings on ostensibly unrelated or wider-ranging legislation, like at a recent House Rules Committee hearing.
At a recent event hosted by the American Bankers Association (ABA), the congressman said that he will "continue to be a real pest, and persistent in getting this done" before he leaves Congress.
Despite recently saying that he's "confident" that the Senate will take up his bill this session, the congressman recognized that while he's supportive of revisions related to criminal justice reform, taxation, research and other issues, he knows that "as we expand this thing, then we start losing votes, particularly Republican votes and we got enough votes in the Senate to do it" as is.
Ahead of last month's ABA event, the financial group released a poll that it commissioned showing that a strong majority of Americans support freeing up banks to work with marijuana businesses without facing federal penalties.
Meanwhile, the number of banks that report working with marijuana businesses ticked up again near the end of 2021, according to recently released federal data.
It's not clear if the increase is related to congressional moves to pass a bipartisan cannabis banking reform bill, but the figures from the Financial Crimes Enforcement Network (FinCEN) signal that financial institutions continue to feel more comfortable servicing businesses in state-legal markets.
Some Republicans are scratching their heads about how Democrats have so far failed to pass the modest banking reform with majorities in both chambers and control of the White House, too. For example, Rep. Rand Paul (R-KY) criticized his Democratic colleagues over the issue in December.
Read the new letter on marijuana banking in the America COMPETES Act below: 
New Jersey Governor Celebrates Adult-Use Marijuana Sales Launch While Acknowledging Delays