Kansas Governor Proposes Legalizing Medical Marijuana To Fund Healthcare Expansion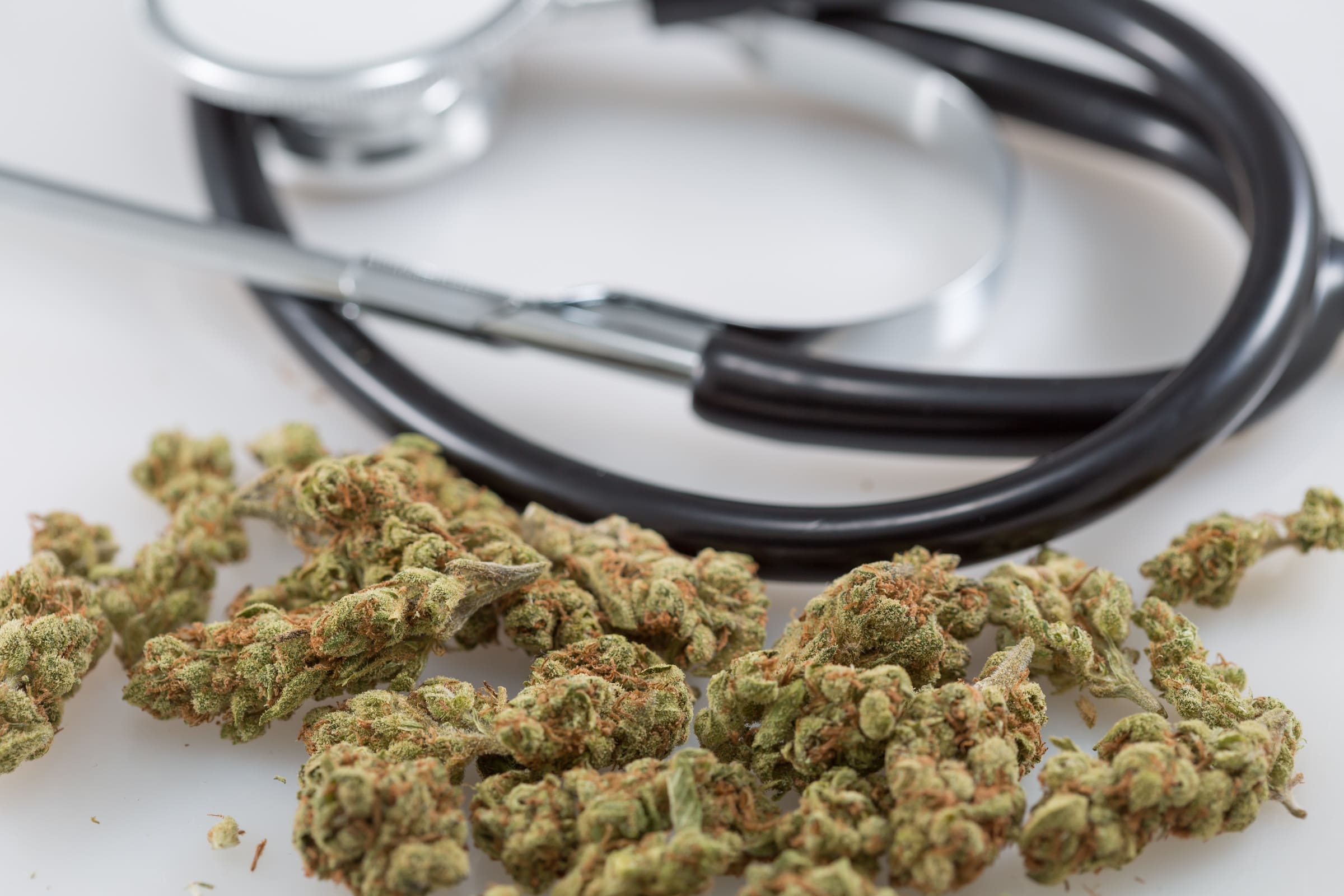 The governor of Kansas on Monday unveiled a plan to legalize medical marijuana and use the resulting tax revenue to fund Medicaid expansion. This comes as lawmakers in the state have already introduced two separate cannabis proposals in recent days.
Gov. Laura Kelly (D) held a press conference to announce her legislation, arguing that Kansans are ready for marijuana reform, which she said would provide patients with a critical alternative treatment option and would give the state the resources to expand healthcare with even more money left over.
We need to use every tool we've got to protect the health of our workforce & economy. That's why, today, I announced we will combine common sense medical marijuana policy to pay for Medicaid expansion. pic.twitter.com/B2zdlakp5c

— Governor Laura Kelly (@GovLauraKelly) February 1, 2021
"The bill establishes the regulatory framework for the cultivation, testing, distribution, prescription and purchase of medical marijuana," she said. "The introduction of this bill in itself is a win for Kansans, who will benefit from medical marijuana—something that, once again, our neighbors in Oklahoma and Missouri have already recognized and addressed."
"It's a win for our veterans, service members experiencing post-traumatic stress or fighting for safety and freedom. It's a win for Kansans seeking relief from epilepsy or other seizure disorders, cancer, Alzheimer's, Crohn's disease and other medical conditions. It's a win for our rural hospitals, for 165,000 Kansans in need who fall into the coverage gap. And it's a win for our COVID recovery efforts and the state's economic health and prosperity now and into the future. This proposal allows us to not only recover from the economic uncertainty of the pandemic but emerge from it stronger than before."
Watch the governor discuss her medical marijuana and Medicaid expansion plan below: 
Text of the legislation isn't yet available, but it's expected to be released in the coming days. The governor said that a fiscal note for the proposal is also pending, but she said medical cannabis has previously been projected to bring in about $50 million in tax revenue annually in Kansas.
"The time to expand Medicaid and legalize medical marijuana is now," Senate Minority Leader Dinah Sykes (D) said in a press release. "I look forward to working with my colleagues in the Senate to pass this sensible proposal."
In states that have expanded Medicaid, people are less likely to skip medications due to cost, more likely to seek care for ongoing health conditions, and show improvements in their overall health. #MedicaidExpansion will help all Kansans and is the right thing to do. #ksleg pic.twitter.com/KWJFF6Xef3

— Dinah Sykes (@dinah_sykes) February 1, 2021
But GOP Senate leadership is already dismissing the proposal, with Majority Leader Dan Hawkins (R) saying the governor "envisions a Kansas where you can choose not to work and the taxpayers will foot the bill for you to stay home and smoke supposedly medical marijuana."
"While the Governor is focused on high hopes and pipe dreams, Republicans continue working to create jobs and rebuild the once strong economy," he said in a press release.
Last year, lawmakers introduced bills to legalize medical cannabis, but they stalled in committee without votes.
Kelly recognized that the political dynamics that derailed those pieces of legislation still pose obstacles this session, but she said the growing movement to legalize in the region—coupled with public support for the reform—could move certain lawmakers to embrace the policy change.
The governor said she was personally compelled to back medical cannabis legalization during her time in the state Senate after hearing testimony from a family that had moved to Colorado to access the plant for their child with severe epilepsy.
"They convinced me that not only was this a good idea for people who would benefit from medical marijuana, but just from the sense of Kansas's economic wellbeing," Kelly said. "We couldn't afford to lose people—and we still can't."
The @KansasGOP's failure to expand Medicaid expansion has always been short sighted. @GovLauraKelly's proposal for Medicad expansion would

✅Expand healthcare for 165,000 Kansans
✅Create over 13,000 jobs
✅Be cost-effective
✅Legalize medical cannabis
✅Simulate our economy https://t.co/ujVJnSl51E

— Kansas Dems (@KansasDems) February 1, 2021
Asked about the prospects of broader recreational legalization during Monday's briefing, Kelly said "one thing at a time, OK?"
"I've said often that I support medical marijuana, but that I didn't believe that Kansas was ready to go forward with recreational marijuana. That's why we're doing it one step at a time." Last year, she made similar remarks but added that she'd be open to signing an adult-use legalization bill if it arrived on her desk.
The Kansas governor isn't the first to propose legal cannabis as a means to fund healthcare programs.
New Mexico Gov. Michelle Lujan Grisham (D) said last year that taxing marijuana could bolster the state's economy and partly pay for gaps in Medicaid coverage. Officials in American Samoa also said last year that they were considering legalizing medical marijuana to generate funds for the government healthcare program.
Meanwhile, as Kelly pushes this new proposal, Kansas legislators have introduced medical cannabis legalization bills in both chambers in recent days.
The Senate Commerce Commerce filed a medical cannabis legalization bill last week, with language that largely reflects legislation that was introduced in the House last year. Patients would be eligible for medical cannabis with a doctor's recommendation if they have a condition that significantly inhibits their ability to conduct daily activities or if the lack of treatment would pose serious physical or mental harm.
Registered patients would be allowed to grow and possess at least four ounces of marijuana. The bill would also establish a Kansas Medical Cannabis Agency to oversee the program.
Over in the House Federal and State Affairs Committee, separate legislation was filed on Monday that would also establish a medical marijuana program in the state. It lists 21 conditions that would qualify patients for the program, including chronic pain, HIV and post-traumatic stress disorder. Smoking and vaping products would be prohibited, however. It would also not provide for home cultivation.
Industry stakeholders at the Kansas Cannabis Business Association (KCBA) told Marijuana Moment that they are working with leadership in both chambers, as well as the governor's office, to develop a passable proposal this year.
Under Kelly's bill, the Kansas Department of Health and Environment would be responsible for regulating the cannabis market, issuing business licenses and collecting fees. It would also establish "a bipartisan medical marijuana advisory committee with appointments made by the governor, legislative leadership, and chaired by the Secretary of Health and Environment."
"Kansas is now surrounded on three sides by states that have legalized either medical cannabis or cannabis for adult use," Olivia Naugle, legislative analyst with the Marijuana Policy Project, told Marijuana Moment. "Kansas should join the majority of states and establish a well-regulated, compassionate medical cannabis program. People who could benefit from medical cannabis should not have to wait—and in some cases cannot wait—for the right to use it legally."
Top Minnesota Lawmakers File Marijuana Legalization Bill For 2021