Overregulation Drives Illegal Marijuana Market In Legal States, Study Suggests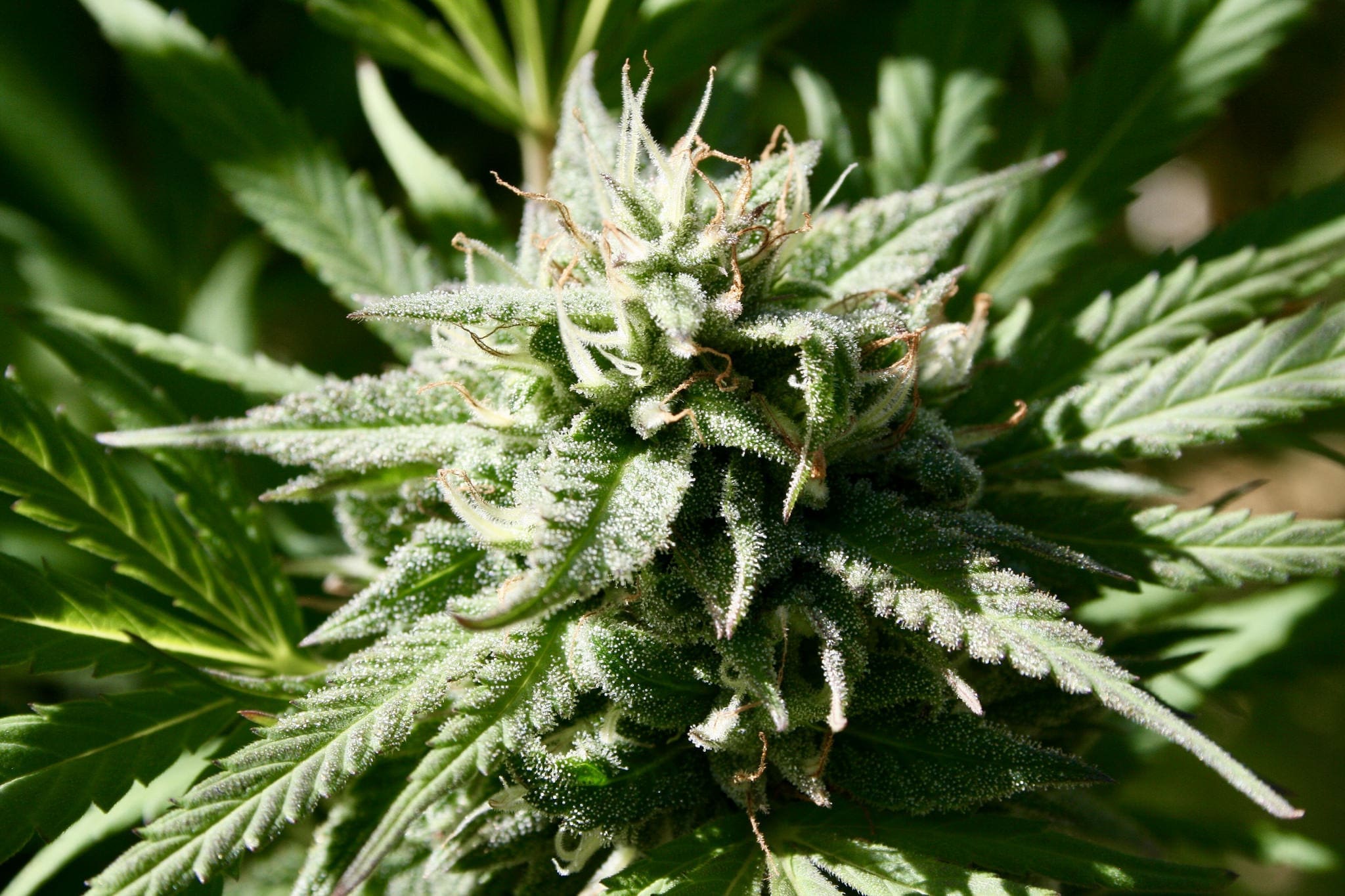 Excessive state regulations may be the reason illegal marijuana markets continue to exist after legalization, a new exploratory study found after looking at data from the first two U.S. states to end cannabis prohibition.
"The qualitative analysis of news reports reveals that regulation is one of the main reasons that people stay in the illicit market," the paper states. "The comparison of marijuana crime trends in Colorado and Washington shows mixed findings. While marijuana offense rates in Colorado largely remained steady over the years, those in Washington increased dramatically after the implementation of more intensive regulations."
Published in July, the research is the master's thesis of Sikang Song, a graduate student of the criminology and criminal justice department at Portland State University.
Song writes that he was interested in understanding why the unregulated marijuana market persists in states where cannabis is legal. Since growers, sellers and consumers have "legitimate channels" to produce, trade and obtain cannabis, these illegal avenues should presumably diminish.
Yet research shows they haven't disappeared altogether: Last year, one report found that 18 percent of cannabis consumers in California said they purchased marijuana products from an unlicensed seller.
For his analysis, Song investigated whether there's an association between how intense state cannabis-related regulations are and the extent of the remaining illegal market. First, he reviewed news articles published between late 2013 to April 2019 featuring interviews with cultivators, sellers and consumers who shared the various reasons why they remain in the unregulated market. He then looked into whether marijuana arrest rates changed in the first two legal states after new sets of regulations were installed.
In Washington, he used June 2016 as the intervention point, and in Colorado, he used November 2015 and January 2017 as intervention points. (In 2017, for example, Colorado state lawmakers passed new rules regarding labeling and packaging of all containers holding marijuana flower and trim, concentrates and other products.)
According to the study, the reasons most people said they grew or sold marijuana illegally were "strict regulations and the high cost associated with the compliance."
"Over two thirds of recording units (68%; n = 115) contain interviews and quotations from black market participants stating this reason," the paper states. "Terms such as 'overregulation,' 'cost of compliance,' 'high taxes' are frequently used in the headlines and texts to describe 'barriers' for 'small producers' to enter the legal market or 'drive' them to the black market."
Other reasons for staying in the illegal marijuana market included high taxes, market fluctuations and organized crime.
Using an interrupted-time series analysis, Song also found that Washington's crime rate increased after the state introduced more regulations. "In 2014 and 2015, the marijuana crime rates per 100,000 residents were both at around 26," he writes. "This number was increased to more than 28 incidents per 100,000 residents in 2016. In 2017, a total of 2,628 marijuana crimes were reported by law enforcement agencies in Washington, making the annual crime rates 35.96 per capita."
Colorado, on the other hand, did not see any significant short- or long-term changes to its cannabis-related crime rates after the state implemented new marijuana regulations.
"Although the findings are not conclusive, the results of Washington data show that regulation intensity may be one of the main factors that influences or explains the persistence of illegal cannabis transactions after the legalization," the study states. "The fact that Washington's marijuana black market kept growing after the implementation of more complex and sophisticated regulations at least indicates a correlation between regulation intensity and the increase of the black market in the case of Washington."
The fact that similar findings were not reported in Colorado, the study continues, suggests "the magnitude of illicit marijuana activities may be affected by regulation intensity in some states."
Ultimately, the author points out, these results raise questions about "the possible adverse effect of intensive regulations to researchers and policy makers."
If one of the goals in marijuana legalization is to eliminate the unregulated market, Song writes, it's important for lawmakers to consider the implications of unnecessarily strict state rules. Instead, they should focus on creating an "equitable and accessible market that allows the coexistence of both large and small businesses."
"The cost of compliance to regulations should be reduced to remove the barriers of establishing a legal marijuana business," Song concludes, adding that "future policies should also pay more attention to cracking down [on] persistent illegal growers and sellers and organized crime groups who are unwilling to participate the legal market."
Legalizing Marijuana Leads To Fewer Illegal Grow Sites In National Forests, Study Finds
Photo courtesy of Brian Shamblen.
Marijuana May Have Caused 12-Hour Erection, Doctors Say
Clinicians in a recently published case study have concluded that cannabis was the likely culprit behind a 32-year-old man's persistent, painful erections. It's a rare and curious example of marijuana being associated with what's known in medical jargon as priapism—an erection lasting more than four hours that's not related to sexual activity.
Priapism can have serious consequences, the report notes, including "damage to the penile tissue, with notable destruction obvious at twelve hours" and "over 90% of those remaining erect for 24 h losing sexual function." The effects can be permanent.
The patient in the case study, published this month in the Journal of Cannabis Research, had been previously treated at the hospital for an erection lasting 12 hours. In a second incident described in the report, he arrived at the emergency department with an erection that had persisted for six hours. He told doctors that he had been smoking marijuana several nights a week for the past six months and during that period experienced "four or more episodes of a persistent erection lasting close to four hours." In each case, he had smoked within a two-hour period before the erection began.
The case study's authors, a team at Coliseum Medical Centers in Georgia, call it "the first known case of cannabis-associated priapism in a patient where all other known causes of priapism have been excluded."
"The abstinence and subsequent use of cannabis were the only appreciable factors in this patient's battle with recurrent unwanted erections."
Cannabis doesn't appear often in published case studies involving unwanted erections. When it does, it's often in cases where the erections have other, more likely causes. The team conducted a literature review and "was only able to identify four distinct cases of cannabis use coinciding with priapism," the report says, "none of which were convincingly able to prove cannabis was the sole cause."
Two of the past cases involved patients with sickle-cell disease, a leading cause of priapism. Another showed concurrent use of MDMA, or ecstasy, which the report says is another proven cause. The fourth involved a patient with diabetes—another known cause—who had also used a number of other substances, including cocaine—yet another cause—and anabolic steroids.
The new patient's case is unique. "He had no medical history other than mild hypertension, he took no medications, and used only cannabis, supported by his urinary drug screen," the report says. "Further, his history exhibited a convincing correlation between his cannabis use and his episodes of recurrent priapism."
"On physical exam, the patient was mildly hypertensive with an erect, swollen, and tender penis."
The man had smoked marijuana off and on over his life, he told doctors. The periods during which he consumed cannabis seem to align with past episodes of uncomfortable erections. "He admitted a history of cannabis use at age sixteen and seventeen, during which time he had recurrent priapism lasting less than four hours and never requiring medical treatment," the report says. "He quit cannabis use in his twenties, and during this period did not have any episodes of priapism."
The report's authors were left to speculate about how cannabis could have actually caused the patient's sustained erections. Among the possibilities they identified was that cannabinoids were affecting regulatory mechanisms that would otherwise signal an erection to end. Another explanation has to do with increased blood-platelet activation, which is associated with cannabis and increased chance of heart attack for 60 minutes after consumption.
Cannabis also has direct effects of its own on the vascular system, causing blood vessels to dilate. Researchers said that effect, too, "could potentiate the unrelenting erection notable in priapism."
As with many areas of marijuana research, the drug's classification as a federally controlled substance has historically stymied research. "There is a paucity of studies investigating human erections and marijuana," researchers wrote in a separate 2008 study, "and as a result there is insufficient evidence to suggest that marijuana will cause priapism in humans." Little progress has been made since then.
A case study published in 2018 examined a patient with priapism who had consumed not marijuana but lab-created synthetic cannabinoids. Authors of the new report call that case study "supporting evidence" for the theory that cannabis caused their patient's lasting erection, although they note that synthetic cannabinoids are "100 times more potent activators" of the body's cannabis receptors.
"If synthetic cannabinoids can cause priapism, plant cannabis, affecting the same [cannabinoid receptors], would also be capable to potentiate this reaction," the report says.
Of what little research does exist on cannabis and sex, most has focused on more desirable results: making sex better. According to self-reported anonymous surveys—some more scientific than others—many people, especially women, report having more frequent and satisfying sex after consuming marijuana.
A study led by Becky Lynn, an associate professor of obstetrics and gynecology at Saint Louis University in Missouri, last year found that more than two-thirds of women (68.5 percent) who said they've consumed marijuana before sex "stated that the overall sexual experience was more pleasurable." Respondents also said they had an increased sex drive (60.6 percent) and more satisfying orgasms (52.8 percent).
Another study last year, by an Eastern Carolina University graduate student, also found that "participants perceived that cannabis use increased their sexual functioning and satisfaction," associating cannabis consumption with "increased desire, orgasm intensity, and masturbation pleasure."
A literature review published this past September in the journal Sexual Medicines Review evaluated decades of evidence and concluded a link between cannabis and libido seems to exist, but effects depend heavily on dose.
"Several studies have evaluated the effects of marijuana on libido, and it seems that changes in desire may be dose dependent," the review found. "Studies support that lower doses improve desire but higher doses either lower desire or do not affect desire at all."
Even less research has been published on marijuana and erections. Anecdotal evidence suggests that some men find that consuming cannabis is helpful in achieving and maintaining erections, but consuming too much can impede arousal. It's not clear the degree to which those effects are physiological and to what degree they are related to psychological factors like stress and anxiety.
As for the man with the 12-hour erection, it's not clear how he's fared. According to the case study, he was referred to urology and internal medicine specialists for further diagnosis, "however he was lost to follow-up in this period."
Legalizing Medical Marijuana Makes People Have More Sex, Study Shows
Photo by Sharon McCutcheon on Unsplash
Medical Marijuana Patients With ADHD Use Fewer Prescription Drugs, Study Finds
When people with attention-deficit hyperactivity disorder (ADHD) consume more medical marijuana they tend to use fewer prescription drugs, including powerful, habit-forming psychostimulants, according to a new study.
Patients who used medical cannabis components—cannabinoids themselves as well as terpenes— also "reported a higher occurrence of stopping all ADHD medications," the researchers, whose findings were published late last month in the Rambam Maimonides Medical Journal, wrote.
"In this study, we demonstrated that patients treated with [medical cannabis] stopped their ADHD medications, especially in the high MC dose and in the low ADHD symptoms frequency subgroups."
Specifically, the study found that the cannabinoid CBN, or cannabinol, which is found in the plant in only trace amounts, seemed to trigger the best results—though they conceded that "more studies are needed in order to fully understand" if cannabis and its constituents can be a workable ADHD treatment.
"These results, although not causal, might shed light on the potential beneficial effects of [medical cannabis] on ADHD symptom severity and motivate future prospective studies in order to validate our results," the researchers concluded, "and perhaps even consider making ADHD an approved indication" for medical cannabis where it is legal.
The team collected data from 53 Israeli medical cannabis patients in an existing database who had previously agreed to participate in surveys and who also had an ADHD diagnosis. Thirty-seven of the 53 patients suffered from some from of mental health condition.
Participants were asked to self-report monthly doses, how they consumed cannabis, the manufacturer or grower and the cultivar name (or strain) between October 2019 and January 2020.
"These findings reveal that the higher-dose consumption of [medical cannabis] components (phyto-cannabinoids and terpenes) is associated with ADHD medication reduction."
This is a departure from previous research into ADHD and cannabis, the researchers noted. Prior studies had "considered cannabis as a single product in ADHD research, disregarding its inherent complexities and variability between cultivars and combinations of cultivars," they wrote.
Most patients had previously obtained medical cannabis licenses (the terminology used in Israel) for chronic pain or cancer treatment rather than neurological disorders that co-exist with ADHD.
Forty-seven patients in the study, which was funded by the Evelyn Gruss Lipper Charitable Foundation, reported either smoking or vaporizing their cannabis.
The cannabis consumers were divided into two subgroups: high dose and low dose. Cultivar combinations were complicated: There were 27 different combinations of varieties but, in addition to CBN, the cannabinoids most associated with reduced or eliminated ADHD medication use including THC, THCV and CBD.
Exactly how various combinations of cannabinoids and terpenes "modulate the circuitry involved in both ADHD and comorbid psychiatric conditions" is still unclear, the researchers said. But the study also suggests that finding the proper dose and the proper cultivar—and cultivar combination—may require significant experimentation on the part of the patient.
And patients in Israel enjoy more reliable access to more regulated cultivars than patients anywhere else in the world—suggesting that most American patients, with a basic understanding of THC and CBD and not a lot else, still have a ways to go.
"This indicates a more complex story than simply stratifying treatment based on THC and CBD alone," the researchers wrote.
Businesses Are More Profitable And Innovative In States With Legal Marijuana, Study Finds
Hemp Is For Horses? New Study Examines CBD's Calming And Painkilling Effects In Animals
Imagine you're a race horse. Do you get nervous before the starting bell?
Scientists are curious to learn if CBD might help.
The hype around cannabidiol has hit the equestrian world hard since the 2018 Farm Bill federally legalized industrial hemp and its derivatives, including CBD. While federal officials have yet to finalize rules formally allowing the non-intoxicating cannabinoid in animal feed—or in food products for humans for that matter—CBD supplements have become hot products among horse owners looking to ease pain, reduce pain in muscles and joints and calm signs of stress in their animals.
Now researchers want to know if they actually work. A Texas-based team is currently collecting data on how CBD affects equine physiology. In particular, their new study is examining whether the cannabis compound can help reduce stress, inflammation and obsessive compulsive behaviors in horses.
"I had been interested in the CBD movement for a while, and primarily it is because we're in a highly horse-populated area," said Kimberly Guay, a professor at Tarleton State University in Stephenville who specializes in how stress affects animals. "A lot of the horse people I knew were already using CBD, illegally you would say, because it wasn't legal in Texas at the time."
Guay's team is experimenting by giving horses various doses of CBD, generally in the form of oils and edible pellets, and then assessing how they respond. Researchers monitor the animals' heart rates, inflammation and levels of cortisol, a hormone animals produce under stress. They also observe the horses' behavior, looking for how CBD affects behavioral indications of pain, stiffness or anxiety.
Guay herself said she has no vested interest in the outcome of the study and doesn't currently give CBD to her own horse, but she's eager to see whether the data support what she's heard from other owners. "The anecdotal evidence is incredibly strong," Guay told Marijuana Moment in an interview. "And if there is a chance to mediate stress, then I'm all for it."
The team is aiming to publish the results of the study next year, but Guay said some initial findings could be available as soon as this fall.
"I still can't say one way or the other, but I know there's no adverse effects, apparently," she said, explaining that researchers have given some animals "a significant dose, and there was no obvious adverse reactions from it."
Across the country, the U.S. Equestrian Federation, which sets the rules for most of the country's competitive horse events, noted last year that "cannabinoids have gained increased attention and have become nearly mainstream."
But the rulemaking body said that a horse testing positive for CBD violates competition rules because the cannabinoid is "likely to [affect] the performance of a horse due to its reported anxiolytic effects," referring to the compound's apparent role in reducing anxiety.
The U.S. Food and Drug Administration is responsible for regulating the country's animal feed, and so far CBD has been forbidden. Guay said that if the horse study shows positive results, CBD could also be looked at as a supplement for livestock used for food production.
"If there's some version of the byproduct of the plant in hemp that could be utilized or incorporated into feed or whatever that could help minimize stress for livestock animals, that would be a huge benefit," she said.
Currently stress in livestock is managed either with behavioral controls, such as limiting the amount of time animals spend in confined spaces, or through the use of sedative drugs. But sedatives, Guay said, can affect an animal's balance and its ability to regulate body temperature.
Anecdotally, horse owners who experimented with giving CBD to their animals continued using it "because they believed so strongly in the effects CBD was giving them without the need for sedation," Guay said.
"That intrigued me," she added. "We can get the empirical evidence, it's just going to take time and some effort."
Most horse owners she's talked to are on board with the study, Guay said, and are eager to hear the results. But stigma around CBD, even when produced from industrial hemp, remains evident in her home state of Texas, which legalized hemp and CBD production in mid-2019. Federal regulators approved the state's hemp plan last month.
Guay told Marijuana Moment that she'd been interested in studying the effects of CBD on horses prior to Texas legalizing, but the university system was wary. "I had been chasing this project for a year before it was legal in Texas, and the A&M system would not give me clearance," she said. "I knew the wave was coming."
Even today, there are still lingering fears. "People holler at [research assistants] on the phone and voice their opinion," Guay said, "and some people hang up on them because of that stereotype, that stigma that comes with CBD so far."
Among the broader veterinary community, that stigma is slowly fading. A survey last year found that most veterinarians consider themselves fairly knowledgeable about recommending cannabinoid therapy for dogs, for example. The problem? Respondents said their state veterinary associations didn't provide specific guidance on the subject, even in states where cannabis was legal. They also felt research was lacking.
More research is coming, even if it's not quite keeping up with industry hype. In his annual budget proposal released last week, President Donald Trump directed $500,000 to the FDA's Animal Drugs and Feeds program in order to "strengthen its capacity to evaluate scientific data related to the safe use of cannabis and cannabis derivatives in animal products."
Asked if she'd tried CBD herself since Texas legalized the products, Guay at Tarleton State said she had. "Of course I'm going to try it," she replied. "We're making our animals ingest it, so I wanted to see what their experience is. They can't talk."
She hasn't noticed many effects so far from cannabis oils, she said, other than "some versions taste terrible." But after recently using a topical cream, she felt the product may actually have helped. "I have tennis elbow, and I rubbed it on my elbow, and I feel like it significantly helps my elbow. It reduced the pain in my elbow," she said.
Despite a positive result, Guay knows her evidence is only anecdotal. She knows better than to put stock in what could be a placebo affect.
"I'd have to quantify it," she said. "I always need numbers."
FDA Would Be Required To Allow CBD Product Marketing Under New Bipartisan Bill