Oregon Psychedelics Activists Clash Over Changes To Psilocybin Mushroom Ballot Measure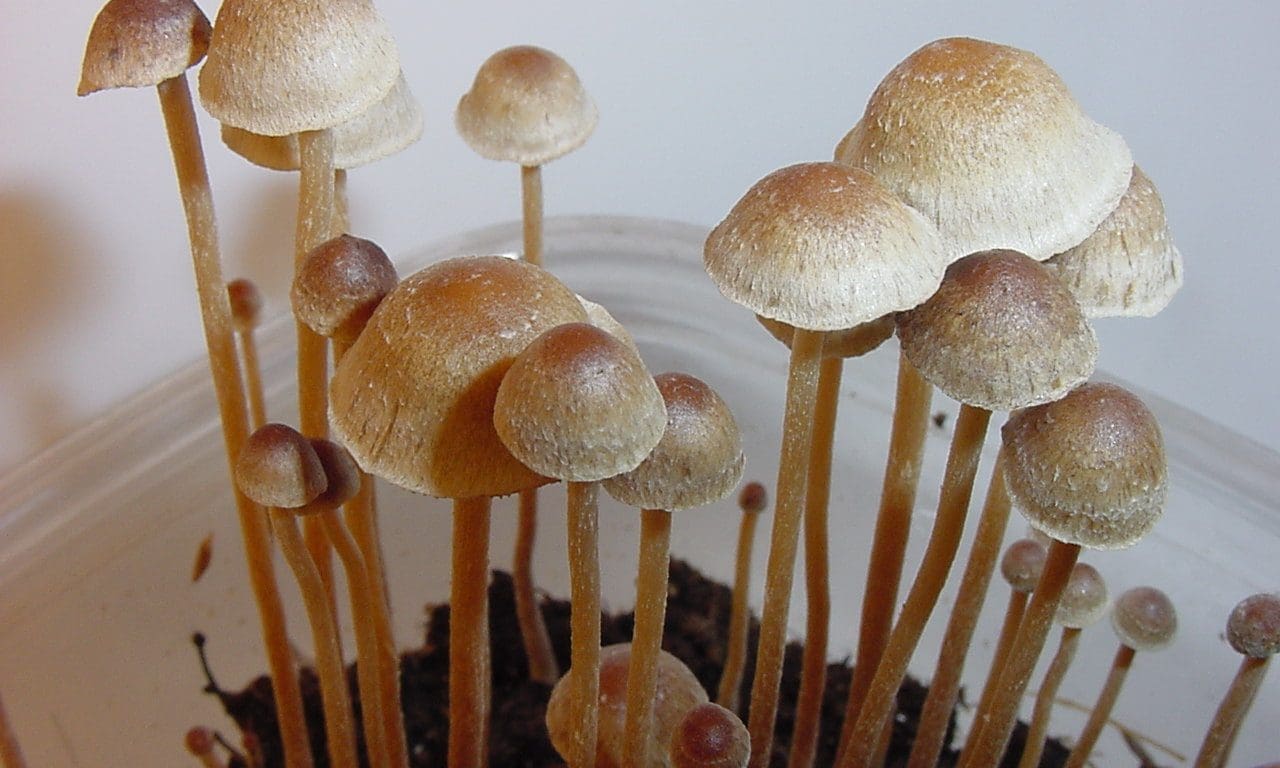 A campaign to legalize psilocybin mushrooms for medical use in Oregon is facing pushback from activists over an amended ballot measure's omission of earlier provisions that would have reduced criminal penalties associated with the psychedelic fungus.
The Oregon Psilocybin Society (OPS) originally filed a proposed initiative that called for reducing penalties for possession, cultivation and delivery of psilocybin for adults in addition to establishing a therapeutic model for the substance's legal use in a medically supervised environment. But after hearing from political advisors and funders, the group said it decided to scrap the non-medical reform aspect.
Part of the rationale was that OPS heard that the Drug Policy Alliance (DPA) is planning to introduce more sweeping drug decriminalization measures in several states including Oregon.
"We support their powerful vision of addressing drug use through a health approach instead of treating it as a criminal problem," OPS said in an email blast describing the rationale for the revisions. "So, we made up our minds. Rather than duplicate the same effort as DPA, we would produce a new and improved bill to legalize psilocybin assisted therapy and drop the decriminalization aspect."
But that decision has nonetheless drawn criticism from other psychedelics activists.
Shortly after the state attorney general proposed a draft ballot title for the newly revised measure, which is required after organizers collect a certain number of signatures, Decriminalize Nature Portland (DNP) and a political action committee called the Mushroom PAC released a statement condemning OPS's changes.
The groups said in an email newsletter and in comments submitted to the attorney general that OPS "abandoned their original intentions to pass statewide decriminalization in addition to a statewide therapy model" and added a section that "explicitly criminalizes non-therapeutic use" of psilocybin," which they characterized as a "flip-flop in direction."
"In changing course, they have not only betrayed the people who gave money to their group based on a lie of decriminalization, but they have abandoned the thousands of Oregonians who will not be able to afford access to therapeutic-only psychedelic medicine," DNP and the Mushroom PAC wrote.
The groups alleged that OPS founders "sold out their ideals in order to get ahead" by revising their initiative to create an automatic, two-year placement on a compensated advisory board and also criminalizing outdoor personal cultivation. They questioned whether the latter provision was added because, they wrote, one of OPS's $1,000+ donors "owns patents on indoor growing equipment."
"There are three key reasons why these changes deserve to be critiqued: the bill is now worse for people of color, it is worse for the poor, and it is worse for civil liberty and personal freedom," the groups alleged.
Because OPS dropped the criminal penalty reform provisions and specified there would be consequences for unsanctioned cultivation and use, DNP and Mushroom PAC argued that people of color would be disproportionately targeted for enforcement, as occurs for a multitude of crimes.
"And finally, the bill is now worse for every single Oregonian from the standpoint of civil liberties and cognitive liberty. It is no longer a combined decriminalization/therapy effort that would have created the freedom for each free-thinking person to decide how to pursue this natural medicine in relation to their health—it is now a therapy-only effort that restricts decisions about freedom to the medical system, the Oregon Health Authority, and board representatives."
Two medical professionals expressed similar reservations via a public comment period after the attorney general proposed the draft ballot title.
"I no longer support the current initiative in its form as it has veered a significant distance from its original orientation," psychologist Jeff Tarrant wrote. "The vast majority of people supporting the initiative, supported it in its original version."
"Many of those people are not even aware that it has been altered significantly. I am not alone in my disappointment of the direction this has taken," he said. "Again, it is my firm belief that many/most of the people originally supporting this initiative did so with the understanding that this would be supporting decriminalization."
OPS released a campaign update to supporters the day after DNP and Mushroom PAC published their criticism. The group's statement sought to "clarify where we are, and how we got here" and offered an explanation about the thinking behind removing decriminalization from the measure.
"We wanted to put psychedelic therapy on solid ground—surrounded by safety, best practices, and ethical standards, yet decidedly outside of the pharma-driven medical system," OPS founders Tom and Sheri Eckert wrote.  "And we wanted to reduce penalties for possession of usable amounts of psilocybin."
But as the campaign evolved, they were approved by the firm Emerge Law Group as well as executives from Dr. Bronner's Magic Soaps who raised concerns about the initiative language and pledged to providing funding to OPS if certain changes were made.
"Their points were valid and important, perhaps vital for long term success. But the thought of revising the language was hard to digest. It would mean starting the process over, including ballot titling and signature gathering. We were resistant."
"With the clock ticking, and a potential rewrite in the works, we conveyed that we'd need some assurances of financial support to help knock out the required 112,200 valid petition signatures on time. David provided those assurances," OPS wrote, referring to the Dr. Bronner's CEO and activist David Bronner.
OPS said it also consulted with Psychedelic Science Funders Collaborative Executive Director Graham Boyd, who has worked on political strategy and helped steer funding from the late Progressive insurance chairman Peter Lewis to marijuana reform efforts as well as previously serving as director of the ACLU's Drug Law Reform Project.
Between feedback from those advisors and hearing that DPA would be working to get broader decriminalization approved in Oregon, the revised measure emerged. OPS emphasized that tweaks were made to ensure that "the new language makes it impossible for pharma and big corporations to overrun this emerging space."
"We think that's worth repeating over and over, because disinformation is so rampant right now, often perpetuated by otherwise psychedelic friendly folks," the group wrote. "We get it—social media banter is confusing, often divorced from reality… and, perhaps not surprisingly, there is a dedicated disinformation campaign being waged against us."
"But let's be very clear about this. The way we talk about this initiative has real implications for the future of mental healthcare. This is not a game. The current system is broken, and real lives are at stake. If you carelessly perpetuate disinformation about the Oregon campaign, you are, wittingly or not, doing the work of those who would deny psilocybin assisted therapy to those who are suffering and are desperately in need of help."
The group listed other changes that were made following consultation with advisors.
[O]ver the course of a couple months, we drafted the most complete and dialed-in revision imaginable to legalize psilocybin therapy – a unique, world-class document. Much of the content reflects the earlier version, only cleaner, including:
—A framework for accessing psilocybin services
—Safety, practice, and ethical standards
—Services open to anyone who is not medically contraindicated
—An affordable, community-based framework outside the medical / pharma system
—Trained and competent facilitators (without requiring previous credentialing)
—Use of organic materials (mushrooms), not just synthetic psilocybin
Other inclusions were either new or augmented the previous provisions, while addressing a variety of concerns from the community. Some new highlights include:
—A strengthened Advisory Board, with directives to work with state and federal officials to create an environment of cooperation
—An extended development period so that the OHA can successfully roll out the program
—Prohibition of cannabis-style branding and marketing of psilocybin products
—Iron-clad protections against big corporate influences, including limiting business entities to a single production facility of limited size, or maximum five service centers (no big chains)
These revisions make the measure "vastly stronger," OPS argued, because it "better protects the original spirit of the initiative."
Paul Stamets, a mycologist well-known in the psychedelics community for his advocacy for the use of fungi in medicine, called the new initiative a "massive improvement," OPS said.
"The truth is, this campaign is philosophically sound and very much on track, with firepower behind it… and for good reason," they wrote, adding that OPS plans to hire management and other "key positions" as it seeks out a consulting firm to aid in signature gathering.
OPS also sought changes to the attorney general's draft ballot language, urging the official to revise the title so that there are tight restrictions and to ensure that psilocybin would only be able to be consumed in a licensed facility.
While the debate over the revised language could pose problems for the Oregon campaign as it seeks to qualify and then pass their measure, it also reflects the growing enthusiasm and organization of the psilocybin decriminalization movement, which has scored historic victories in Denver and Oakland so far this year and has plans to push a statewide decriminalization measure in California in 2020.
Group Behind Denver Psilocybin Decriminalization Takes Its Mission Global
Photo courtesy of Wikimedia/Workman.