Joe Rogan Challenges Ted Nugent Over Marijuana Views
Comedian and podcast host Joe Rogan challenged conservative musician Ted Nugent over his long-held views about recreational marijuana use on Thursday, telling the musician that his understanding of cannabis users was based on misleading stoner stereotypes.
Nugent, who maintained that he's always supported medical cannabis legalization in an editorial for The Daily Caller in 2015, told Rogan that he's "on a new council…working with President Trump to legalize medical marijuana nationwide."
"I'm all for that. I deal with a lot of terminally ill kids, and there's nothing that's off limits to take away that suffering, so I need to fight for that."
Nonetheless, during the three-and-a-half hour interview, Nugent maintained that non-medical consumption of cannabis made individuals "numb" and unreliable. The best high and lifestyle choice is sobriety, he said, which helps you "find your superior definitive, best self without any outside influence." Over the years, Nugent has made a series of disturbing racist and sexist public comments—particularly against political figures he disagrees with.
Rogan pushed back against the singer's anti-cannabis views during their discussion. The use of marijuana on its own isn't at fault, but rather it's a lack of personal discipline, he said, explaining that he knew plenty of world-class jiu-jitsu champions and CEOs who enjoy cannabis, yet work just as hard as anyone else.
"This is just a discipline issue—and it's not the marijuana or anything that gets people like that— it's a lack of discipline."
While Nugent insisted that marijuana users he's come to know have consistently demonstrated a lack of discipline or reliability, Rogan made the case that, in effect, the singer wasn't looking hard enough. Instead, Nugent was making broad assumptions based on a minority of cannabis enthusiasts who might be using marijuana as a crutch or escape, Rogan suggested.
It's kind of like how some people assume that hunters are all drunk and blood-thirsty, when in truth many are highly skilled and responsible sports enthusiasts, Rogan said—a point that Nugent, an avid hunter himself, seemed receptive to.
"What I'm saying is I know a lot of people who use—whether it's psychedelics or marijuana—and they use it to enhance their perspective," Rogan said. "It doesn't become the primary focus of their life. It doesn't consume their life. They don't allow it to consume their life. There's a whole other world of disciplined marijuana enthusiasts."
Nugent did go on to make a series of misleading points that he said informed his opposition to recreational marijuana legalization, including increased highway fatalities attributed to cannabis use in Colorado post-legalization (a claim Marijuana Moment recently explored). He also pointed to mass shootings at schools, which he linked to drug use. Rogan and Nugent seemed to agree, however, that pharmaceuticals, rather than cannabis, were to blame. (This point is also not substantiated by existing evidence).
One concession that Nugent made was that "it's inescapable that everything," including marijuana, "affects everyone differently."
U.S. Senate Votes To Legalize Hemp After Decades-Long Ban Under Marijuana Prohibition
Elon Musk: 'I Have No Idea How To Smoke Pot'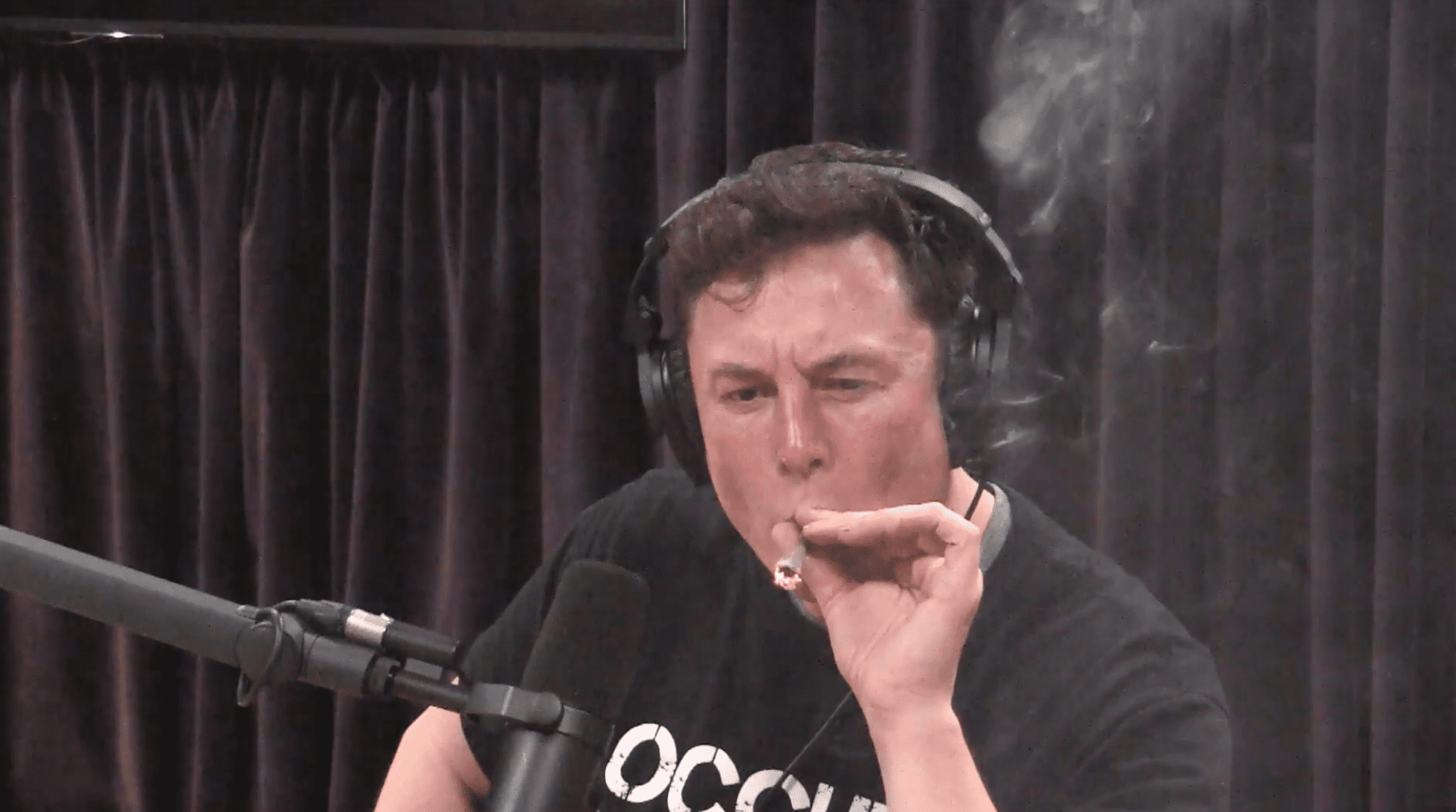 Elon Musk got himself into a bit of trouble after smoking marijuana during an appearance on Joe Rogan's podcast in September.
The move reportedly led to NASA launching an investigation into his company SpaceX's "workplace safety" and "adherence to a drug-free environment."
But now, in a new interview 60 Minutes, the Tesla founder indicated the on-camera puffing was a fluke and that he actually doesn't even know how to smoke weed.
"I do not smoke pot," he said.
"As anybody who watched that podcast could tell, I have no idea how to smoke pot or anything. I don't know how to smoke anything, honestly."
Musk seems to be telling the truth, at least judging from the widespread reaction to the fact that he didn't seem to actually inhale the blunt that Rogan passed him.
I'm sure this point has been made but @elonmusk clearly didn't inhale

— Ryan Lizza (@RyanLizza) September 7, 2018
elon musk didn't inhale lmao baby lungs

— MATT MIGGZ (@mattmiggz) September 7, 2018
"elon musk didn't inhale"

he doesn't inhale smoke

because he doesn't inhale oxygen

because he is a simulation

— kalabar's revenge (@itzthelimit) September 10, 2018
Elon Musk didn't inhale and his stock plummets 6% hahaha

— Parabolic Retard 🤪 (@Crypto_STEEZ) September 8, 2018
The full 60 Minutes interview with Musk is set to air on Sunday.
U.S. Air Force Warns About Grandma's Marijuana-Infused 'Miracle Sticky Buns'
The U.S. Air Force wants its members to be extra careful around "grandma's miracle sticky buns" that might contain marijuana.
In a post on the Air Force Medical Service site on Wednesday, the military branch reminded members that cannabis is illegal under federal law and that testing positive for THC metabolites will result in likely separation from service under "less than honorable conditions" and other possible punishments.
"Marijuana consumption is not permitted in any fashion, period."
The department stressed that with state-level legalization expanding, there's wider availability of "THC containing products," so military members "need to be extra vigilant about the foods and drinks they consume, especially during the holiday season."
"Many of us attend parties or gatherings with friends and relatives and have meals and libations prepared by others."
Maybe the Air Force got the memo from the National Highway Traffic Safety Administration, which also recently put out an advisory about holiday-related cannabis consumption and encouraged people to "#DitchDanksgiving."
While the message was serious, the warning to military members at least ended on a lighter note, seeming to acknowledge the therapeutic use of cannabis edibles, something that federal law still doesn't officially recognize:
"Your friend's grandma's miracle sticky buns might look mighty tasty and get rave reviews at the big shindig, but if you're in the military or work for the federal government you might want to think twice and make sure they weren't made to treat her bad hip first before you jeopardize your career."
To be sure, more seniors are using marijuana, primarily for medical purposes. But unless they're homemade, marijuana products are generally labeled accordingly. So federal workers should probably pay closer attention to pastry packaging if they want to avoid accidentally ingesting prohibited sticky buns.
The Feds Are Hiring Professional Marijuana Joint Rollers…Kind Of
Photo courtesy of Stacy Spensley.
Michael Moore: Put Marijuana On The Ballot To Drive Voter Turnout In 2020
Documentary filmmaker and activist Michael Moore says that if Democrats want to win in the 2020 election, they ought to put marijuana legalization proposals on the ballot in states across the country, especially in swing states.
Moore, whose home state of Michigan legalized cannabis during the midterms earlier this month, said the outcome of the election—in which Democrats won the state's gubernatorial, attorney general and U.S. Senate races—proved that ballot initiatives "are the answer" to electoral victories.
"This is what we did in Michigan two weeks ago: we had a ballot proposal to legalize marijuana," he said on MSNBC's The Last Word. "Largest turnout of young people in we don't know when came out to the polls."
It's not entirely clear how large youth turnout specifically was in the state compared to past elections. But in general, Michigan turnout reached its highest levels in 56 years—and across the country, young people did cast ballots in higher numbers.
Besides marijuana legalization, Moore said putting issues like free college and outlawing gerrymandering on the ballot will drive Democrats who "don't vote that much" or "don't like the politicians" to the polls. He emphasized the need to get those issues on the ballot in swing states.
The filmmaker also seems to be speaking from a place of experience, as he made his vote in favor of Michigan's legalization measure a late night TV spectacle when he filled out his absentee ballot in an appearance earlier this month on NBC's Late Night with Seth Meyers.
Michael Moore Votes For Marijuana Legalization During Late Night TV Appearance
There's some limited data that seems to support Moore's theory about marijuana and voter turnout, too. For example, an October survey of registered voters in Wisconsin found that 56 percent said they'd be more likely to cast their ballot if it included a cannabis-related question.
The Midwest May Be the Next Frontier In Marijuana Legalization
Photo courtesy of MSNBC.