House Includes Marijuana Protections For States, Banks And Universities In Funding Bills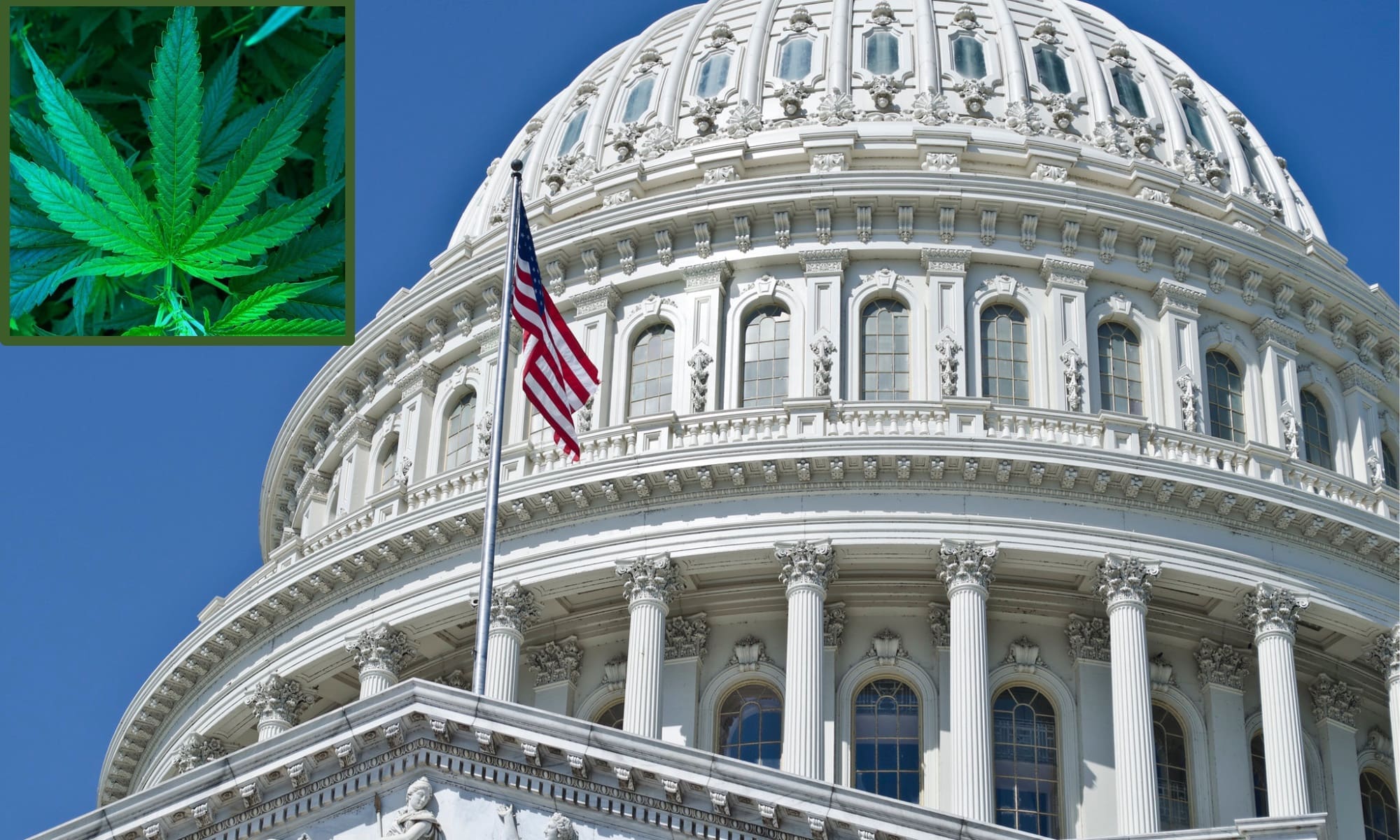 As Congress prepares large-scale legislation to fund federal agencies for the next year, marijuana reform seems to be making progress. House versions of spending bills unveiled this week include provisions to protect medical legalization laws from federal interference, ease marijuana businesses' access to basic banking services, expand cannabis research, oversee the country's fledgling hemp and CBD industries and finally grant Washington, D.C. the ability to legalize recreational sales.
The specific provisions are still subject to change over the course of the legislative process, but as introduced in subcommittees this week, they signal a meaningful shift by lawmakers: Key cannabis provisions, once relegated to a convoluted amendment process, have been included in the base versions of the new bills. Some activists see the change as a sign that marijuana is no longer an afterthought in Congress.
"More and more, cannabis provisions are becoming a normal staple of federal appropriations packages," Justin Strekal, political director for NORML, told Marijuana Moment on Tuesday. "This bodes well for our opportunity to receive a vote on standalone marijuana legislation in the near future."
Cannabis Banking
Among the most notable inclusions in the new spending bills for Fiscal Year 2021 is a provision that would remove some roadblocks to banking and financial services for state-legal cannabis businesses. Cannabis firms have been pushing lawmakers to allow such access for years. The House has passed standalone banking legislation, later inserted into a recent coronavirus bill and approved again, but so far the matter has stalled in the Senate and is yet to become law.
The new spending rider suggests House lawmakers aren't giving up. As introduced, the spending bill introduced Tuesday to fund fiscal and general government matters restricts Department of Treasury funds from being used "to penalize a financial institution solely because the institution provides financial services to an entity that is a manufacturer, a producer, or a person that participates in any business or organized activity that involves handling hemp, hemp-derived cannabidiol products, other hemp-derived cannabinoid products, marijuana, marijuana products, or marijuana proceeds" that is legal under state or tribal law.
Marijuana businesses and some public safety officials have complained that lack of banking services for the cannabis industry leaves businesses vulnerable to robbery and other property crimes. All-cash transactions can make it easier for businesses to engage in unsavory practices, such as money laundering, tax evasion and bribery.
The spending bill's banking provision, a similar version of which was also included in last year's House appropriations proposal, is a watered-down form of a standalone banking measure the industry has lobbied hard for. That bill, the Secure And Fair Enforcement (SAFE) Banking Act, would add robust legal protections for cannabis financial services, while the appropriations rider simply says the Treasury Department would be unable to punish banks themselves for working with state-legal firms. The Justice Department could still prosecute both banks and businesses under the measure, for example.
Protecting State Medical Marijuana Laws
A separate spending bill introduced this week, which funds the Department of Justice, would extend legal protections granted to states with medical marijuana programs. The provision, once known as the Rohrabacher–Farr amendment after its longtime sponsors, prevents the Justice Department from using federal funds to interfere with legal medical cannabis laws. For years, the measure was one of the few legal protections for medical marijuana states and their patients.
Though the language has been part of federal law since 2014, supporters have traditionally had to fight for its inclusion as an amendment to the spending bill. This is only the second year the measure has been adopted as part of the base bill itself upon initial introduction, which advocates see as an indication the policy is here to stay.
The measure applies only to state medical cannabis programs, however, and doesn't to broader recreational marijuana laws despite attempts in past years to expand the policy. In 2019, the House approved a floor amendment that would have broadened the protection to adult-use cannabis programs but the Senate did not follow suit and the expanded rider didn't make it into the final legislation signed by the president, nor did another House-passed provision covering legalization laws enacted by Indian tribes.
Cannabis Research
Another provision in the new spending bills would protect public colleges and universities that conduct research on marijuana. A provision in House the spending bill that covers the Departments of Labor, Health and Human Services and Education would prevent schools from losing funding simply for researching the plant or its applications.
No monies could be "withheld from an institution of higher education solely because that institution is conducting or preparing to conduct research on marihuana," it says.
Advocates hailed the measure as a common-sense reform to expand researchers' understanding of marijuana.
"The time for willful ignorance is over," said Strekal of NORML. "The enactment of this language would provide more certainty and legitimacy to the emerging educational efforts regarding cannabis and its properties. For too long, the federal government has deliberately prevented America's brightest minds from conducting even basic research."
Bipartisan House members, led by Reps. Joe Neguse (D-CO) and Kelly Armstrong (R-ND), tried and failed to include similar protections in last year's spending bill. Despite scholarly interest in studying cannabis and other drugs, they said, the threat of losing funding presented "an undue hurdle for many academic institutions."
No Legalization Advocacy
Schools receiving federal funds would be prevented from actually advocating for legalization, however, under another provision of the Labor-HHS-Education bill, which also extends an existing 1990s-era provision barring the use of funds "for any activity that promotes the legalization of any drug or other substance included in schedule I" of the Controlled Substances Act. Marijuana and most medically promising psychedelics are classified as Schedule I substances.
Rep. Alexandria Ocasio-Cortez (D-NY) called last year for that obstacle to be removed, ostensibly to make it easier to study psychedelic drugs, but her amendment to accomplish it was soundly defeated by House colleagues in a floor vote.
Letting D.C. Legalize Marijuana Sales
The Financial Services and General Government spending bill, which also covers matters relating to the District of Columbia, would finally remove a budget rider that for years has prevented Washington, D.C., from legalizing recreational marijuana sales.. The District legalized low-level marijuana possession and home cultivation under a voter initiative in 2014, but Congress through a budget rider has prevented D.C. Mayor Muriel Bowser (D) and local leaders from legalizing and regulating commercial sales.
Removal of the restrictive provision, as proposed in the House legislation, would mean D.C. leaders could finally act on Bower's plan to allow marijuana sales. The mayor filed a bill to legalize sales in 2019, but that legislation has stalled due to the congressional interference.
The House also removed the rider in the 2020 spending bill but the Senate included it and that chamber's version won out in negotiations on the final package sent to the president.
Hemp and CBD Regulation
The new Justice Department spending bill also includes another longstanding rider meant to protect state hemp research programs established under the 2014 Farm Bill, which launched research and commercial ventures in a number of states.
Congress has since more broadly legalized the regulated production of the crop, and nearly every U.S. state has established its own hemp program. Another House spending bill introduced this week, which funds the Department of Agriculture, sets aside $16.5 million to oversee those programs.
The bill funding the Department of Agriculture, Rural Development and the Food and Drug Administration (FDA) contains "funding to develop a framework for regulating CBD products." FDA's slow movement toward creating a process to allow hemp-derived cannabidiol as a food product or nutritional supplement has frustrated lawmakers and industry advocates alike.
Military Veterans
Another new spending bill covering the Department of Veterans Affairs (VA) doesn't contain any cannabis language as introduced, but advocates may try again to attach language allowing VA doctors to recommend medical marijuana to military veterans in states where it is legal. Both the House and Senate have passed differing versions of that provisions in the past, but none have ever been enacted into law.
Next Steps
None of the proposals included in this week's bills are final. The appropriations process, one of the most crucial tasks undertaken by Congress every year, is a complicated tangle of bureaucratic procedure. The bills introduced this week are still being considered by House subcommittees and may still change significantly as they get worked through the full Appropriations Committee and make their way to the House floor.
And even if cannabis provisions do get a nod from the full Democratic-controlled House, the Republican-run Senate will also have to approve them or agree to let House language advance in subsequent bicameral conference committee negotiations. Disagreements could mean provisions are added, removed or otherwise changed on their path to becoming law on the president's desk.
Whatever happens in the final bills, it's clear that marijuana is having a moment. Advocates for decades have struggled even to get an audience in Congress. Now, with every passing year, lawmakers appear more and more willing to listen.
DC Activists Submit Signatures To Put Psychedelics Decriminalization On November Ballot
Image element courtesy of Tim Evanson