HBO Teams Up With Marijuana Companies To Sell THC Gummies Promoting New TV Series
HBO is partnering up with major marijuana businesses to market a line of promotional cannabis edible gummies meant to bring attention to an animated series premiering next week, the entertainment giant announced on Monday.
The 10mg THC gummies are made by the marijuana company Kanha and will be available at select California dispensaries as well as via delivery from Eaze. Each blend was developed to produces effects the network says reflect the personalities of the four main characters from "Close Enough," which will be streaming on HBO Max starting July 9.
"It has been so thrilling for my team and I to create a campaign that feels so authentic to Close Enough," Peter Sherman, senior vice president of program marketing at HBO Max, said in a press release. "When crafting any campaign, our aim is always to create an experience for the audience that feels genuine and exciting, and this partnership with Kanha hits the nail on the head. We're so excited about this one and we can't wait to see how fans react."
What's interesting about the promotion—beside the fact that a major, international media company is working with the cannabis industry—is that the series doesn't even seem to have much to do with marijuana. It's an adult-themed comedic animated show that touches on themes like raising children and navigating careers. The trailer doesn't even mention cannabis.
So instead, it seems HBO is simply embracing the culture of consuming marijuana while enjoying TV.
"Kanha's partnership with HBO Max is an exciting opportunity to showcase our delicious, award-winning gummies to a brand new audience," Cameron Clarke, CEO of the parent company Sunderstorm, said. "We can't think of a more playful, fun collaboration to announce to our fiercely loyal fans. We're thrilled to partner with one of entertainment's biggest media giants to help bring the adult characters in their new show to life through our gummy flavors and profiles."
In celebration of the new series #CloseEnoughMax, @HBOMax releases limited edition cannabis-infused edible gummies in partnership with @bySunderstorm's @KanhaEdibles: https://t.co/J2REn3EPHj pic.twitter.com/I1u3JffGwk

— HBO Max PR (@HBOMaxPR) June 29, 2020
Here's how HBO described each of the flavors that are based on the show's characters: 
JOSH: Cool dad, husband, and future world-famous video-game designer, Josh likes to chill with his Indica Strawberry Gummies.
EMILY: Emily is logical, organized, a planner — everything her husband Josh is not. She's a loving mother and a strong working woman who tries to have it all. Busy mom Emily gets it done with her Sativa Pineapple Gummies.
ALEX: Alex is Josh's neurotic best friend from high school. He lives in the walk-in closet of the apartment he shares with Josh, Emily, Candice, and Bridgette (his ex-wife, but it's not a big deal). When Alex wants to get lost in thought, he stays cool and carries on with his Hybrid Watermelon Gummies.
BRIDGETTE: Bridgette is a glamorous social media influencer — at least in her mind. 'Working' is more of a hobby she squeezes in between partying. Bridgette stays on top of partying and her social game with her 1:1 Pink Lemonade Gummies.
Eaze CEO Ro Choy said that the partnership with HBO Max "is so exciting and it's a great way to connect with audiences."
"Eaze is all about high product standards and the best value for customers, and we're pleased to align with one of the biggest and most respected names in entertainment," he said.
The promotion begins on Monday and extends through the end of July, or until supplies run out. There are 20 California dispensaries that carry the products, and Eaze will offer them through deliveries in Los Angeles, San Francisco and San Diego.
Oregon Psilocybin Measure Has Enough Signatures For November Ballot, Activists Say
Photo courtesy of Flickr/JasonParis.
Twitter Partners With Feds On Campaign Flagging 'Marijuana' Searches While Giving 'Alcohol' A Pass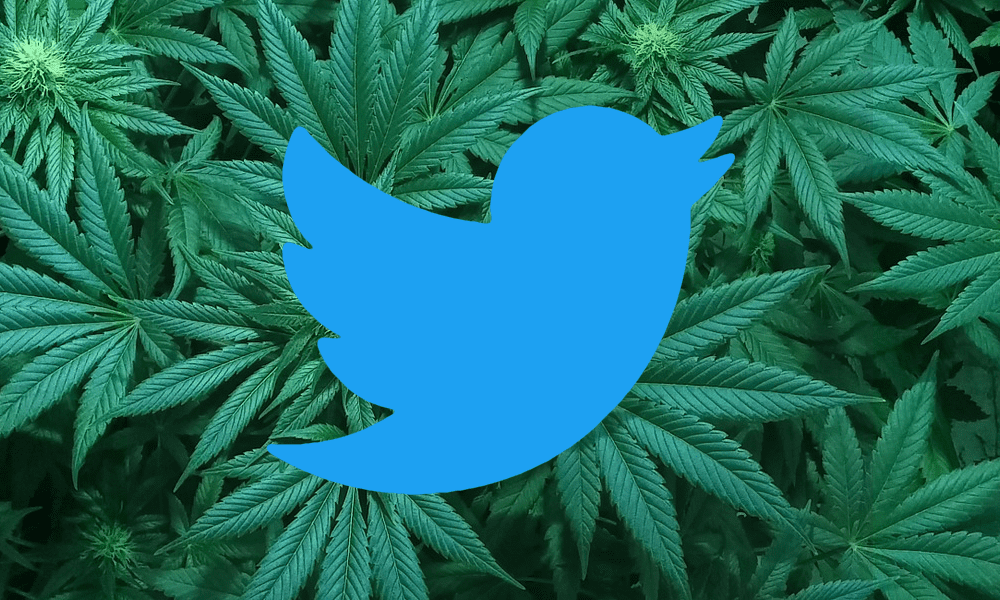 Twitter is partnering with a federal drug agency to promote substance misuse treatment resources when users of the social media platform search for "marijuana" or certain other substance-related keywords—but no such health warning appears with results for alcohol-connected terms.
In collaboration with the Substance Abuse and Mental Health Services Administration (SAMHSA), Twitter this week began adding a notification above relevant tweets on select drug terms that says, "If you or someone you know is struggling with substance use, you are not alone." It directs users to SAMHSA's help line and website.
Drug policy reform advocates have pointed out that this messaging perpetuates stereotypes about drug use, indicating that any interest in these substances signals that users may have a problem warranting treatment. But it's also the case that there's an abundance of reasons that people might enter "marijuana" into a search beyond looking for ways to score some of the product for use, including wanting to follow relevant news on public policy debates about its legalization. And besides, the vast majority of people who consume cannabis are not addicted to or dependent on it and aren't likely to appreciate the suggestion that they may need professional help.
While promoting substance misuse treatment isn't necessarily problematic in and of itself, advocates are pushing back about the fact that Twitter chose to peg these notices to cannabis and other currently illegal drugs in particular while it allows alcohol brands to be promoted on its platform. Here's what happens when you search for "vodka," for example:
Similarly, no warning is displayed alongside searches for "alcohol," "beer" or "wine."
For context, according to the World Health Organization, more than three million people die from harmful use of alcohol each year. Meanwhile, even the Drug Enforcement Administration has acknowledged that "no deaths from overdose of marijuana have been reported."
"It is not surprising that SAMHSA would be behind stigmatizing content like this, but it is surprising that a platform like Twitter would allow them to co-opt entire search terms, regardless of a person's reason for searching for them," Matt Sutton, director of media relations for the Drug Policy Alliance, told Marijuana Moment. "It goes back to the same false dichotomy that people who use drugs are struggling and need help verses the reality that most people can use drugs non-problematically, while a small portion of the population tends to struggle with substance use disorder."
Marijuana Moment reached out to Twitter about the discrepancy when it comes to alcohol-related searches, but a representative declined the opportunity to comment for this story.
"If Twitter is going to add this feature for marijuana then they should absolutely do the same for alcohol, which is a more dangerous substance," Matthew Schweich, deputy director of the Marijuana Policy Project, told Marijuana Moment.
Interestingly, while the SAMHSA treatment resources are flagged for Twitter users who search for "marijuana," "cocaine" and "heroin," searches for "cannabis," "LSD," "MDMA," "psilocybin," "pills," "adderrall" and other drug-related terms come with no such invitation to consider getting help—further highlighting the arbitrary nature of the new feature on the social media platform.
This social media policy change comes as Democratic presidential nominee Joe Biden is promoting mandatory drug rehabilitation treatment for people charged with possession crimes.
While the former vice president seems to view the policy as a progressive alternative to incarceration, many drug reform advocates feel mandatory treatment reinforces misconceptions about substance misuse, and they point out that the efficacy of forced rehabilitation programs are scientifically questionable.
"Anybody who gets convicted of a drug crime—not one that is in terms of massive selling, but consumption—they shouldn't go to prison. They should go to mandatory rehabilitation," he said last week. "Instead of building more prisons, as I've been proposing for some time, we build rehabilitation centers."
Congressional Committee Approves Marijuana Bill That Will Allow Research On Dispensary Cannabis
Drone Drops Hundreds Of Free Bags Of Marijuana In Israel
Marijuana fell from the sky in Israel on Thursday, with a drone dropping hundreds of small bags of cannabis in the streets of Tel Aviv.
The stunt attracted dozens of people, including some brazen enough to collect the free products from the middle of a busy road as drivers honked at them. A group that goes by the name "Green Drone" apparently made the aerial delivery.
Prior to the drop off, the group posted on the encrypted app Telegram: "It's time my dear brothers. Is it a bird? Is it a plane? No, it's the green drone, handing out free cannabis from the sky. Enjoy my beloved brothers, this is your pilot brother, making sure we all get some free love."
הזייה בכיכר רבין: רחפן הטיל מהשמיים עשרות שקיות של מריחואנה. מי שעומד מאחורי המיזם זאת קבוצה שמכנה את עצמה "הרחפן הירוק". בגלל שלא חישבו נכון את הרוח, רוב החומר התפזר על הכביש באבן גבירול. עוברי אורח נהנו מהשלל@ynetalerts pic.twitter.com/xeziJsH950

— איתי בלומנטל Itay Blumental (@ItayBlumental) September 3, 2020
This isn't a one-off instance of marijuana philanthropy, either. Green Drone plans to continue the "rain of cannabis" project, delivering one kilogram of marijuana broken out into two-gram baggies every week.
But the first drop-off didn't go without a snag. According to The Jerusalem Post, two people suspected of operating the drone were arrested.
While Israel is an active player in the marijuana research scene, the plant remains illegal, except for under limited medical circumstances. A bill to decriminalize cannabis and another to legalize it for adult use were introduced this year, and the legislature voted in favor of advancing both for a preliminary reading.
Marijuana certainly isn't new to the region. An ancient biblical tribe in Israel likely used marijuana to produce hallucinogenic effects as part of cultic rituals, according to a recent study that identified cannabis resin on an alter in a shrine built around 750 BCE.
Elephant Will Be Given CBD To Treat Stress After Death Of Companion, Zoo Says
Photo courtesy of Jean P Mouffe.
President Carter Talks About His Son Smoking Marijuana At The White House With Willie Nelson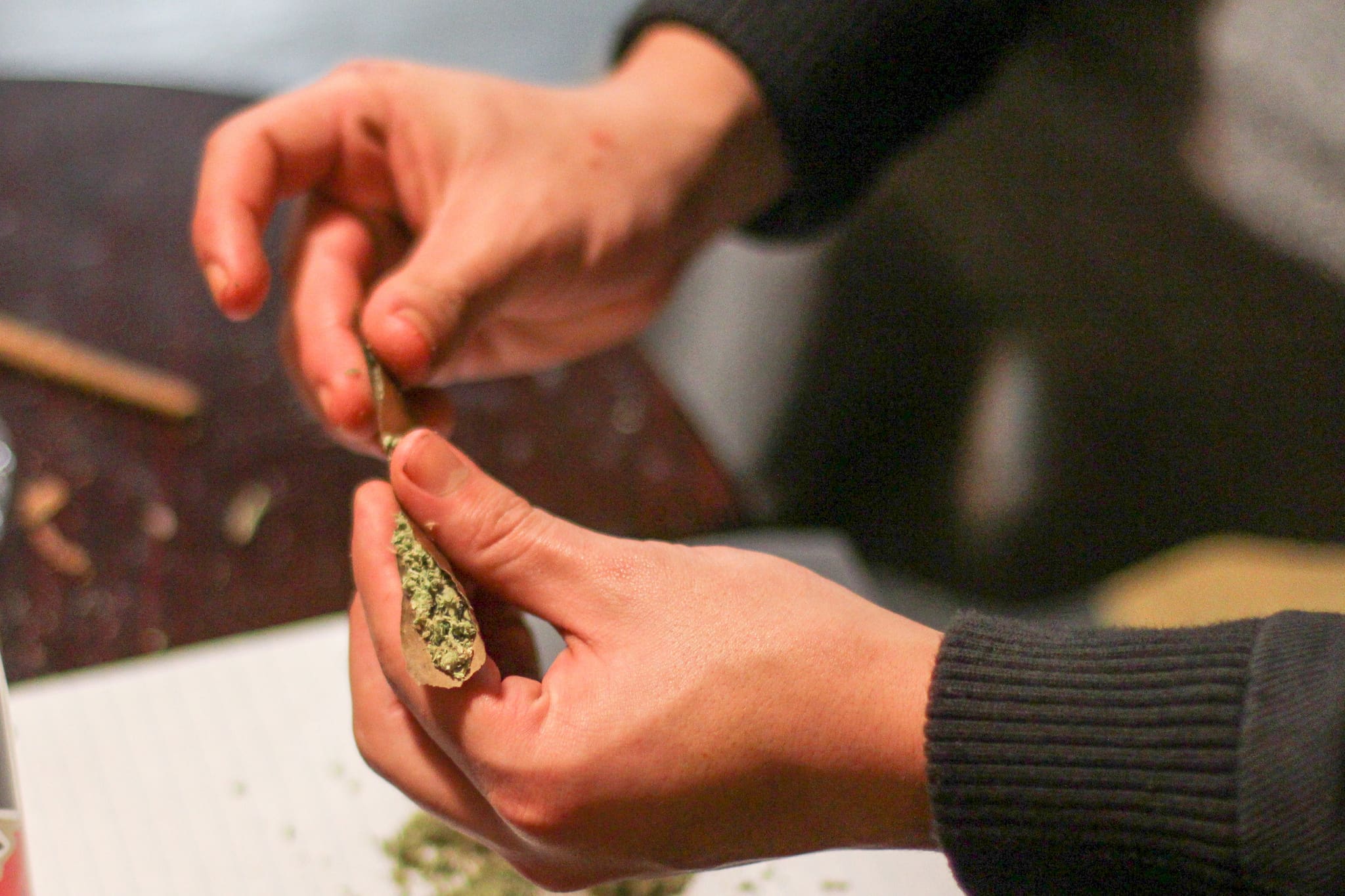 In a new documentary being released this month, Former President Jimmy Carter (D) discusses the time his son smoked marijuana at the White House with musician Willie Nelson during his administration.
In a trailer released last week, Carter is shown talking about his relationship with the music industry—including his friendship with artists like Nelson and Bob Dylan. At one point, he mentions how Nelson, a cannabis culture icon, disclosed in a biography that he smoked marijuana during a trip to the White House.
"When Willie Nelson wrote his autobiography, he confessed that he smoked pot in the White House and he says that his companion was one of the servants of the White House," Carter said, as CelebStoner first reported. "It actually was one of my sons."
Watch the trailer for "Jimmy Carter: Rock & Roll President" below:
In his 1988 book, Nelson described "sitting on the roof of the White House in Washington, DC, late at night with a beer in one hand and a fat Austin Torpedo in the other. "
"My companion on the roof was pointing out to me the sights and layout of how the streets run in Washington," he wrote, being coy about who he was with. "I let the weed cover me with a pleasing cloud… I guess the roof of the White House is the safest place to smoke dope."
It was later revealed that the 1978 cannabis session on top of the executive mansion involved first son Chip Carter.
"Getting stoned on the roof of the White House, you can't help but turn inward," Nelson wrote in a subsequent 2015 book. "Certain philosophical questions come to mind, like… How the fuck did I get here?"
During his time in office, Carter spoke in favor of decriminalizing marijuana possession and replacing criminal penalties with civil fines. But he was not able to get that policy change enacted.
"Penalties against possession of a drug should not be more damaging to an individual than the use of the drug itself," he said in 1977, adding that marijuana sales should still be strictly criminalized.
Under his administration, the Compassionate Investigational New Drug was established, providing select patients suffering from certain conditions with access to marijuana joints produced with federal authorization.
In 2011, Carter wrote an op-ed for The New York Times that criticized the drug war and stated that U.S. drug policies "are more punitive and counterproductive than in other democracies, and have brought about an explosion in prison populations."
He also said the following year that he was "in favor" of state efforts to legalize and regulate cannabis. He told a CNN interviewer at the time that "we can watch and see what happens in the state of Washington for instance, around Seattle, and let the American government and let the American people see does it cause a serious problem or not."
But in 2013, he reversed that position, saying he opposed legalization.
"I do not favor legalization. We must do everything we can to discourage marijuana use, as we do now with tobacco and excessive drinking," Carter said, according to the prohibitionist group Smart Approaches To Marijuana. "We have to prevent making marijuana smoking from becoming attractive to young people, which is, I'm sure, what the producers of marijuana…are going to try and do."
"I hope that Colorado and Washington, as you authorize the use of marijuana, will set up very strict experiments to ascertain how we can avoid the use of marijuana," he added. "There should be no advertising for marijuana in any circumstances and no driving under the influence. We need to avoid the use of marijuana, particularly among young people."
The new documentary, "Jimmy Carter: Rock & Roll President," will roll out with limited theatrical showing beginning on September 9, followed by a physical release a month later. It will then air on CNN on January 3, 2021.
California Must Turn Over Marijuana Documents To DEA, Federal Court Rules
Photo courtesy of Martin Alonso.