'Godfather' Director Francis Ford Coppola Launches Luxury Marijuana Brand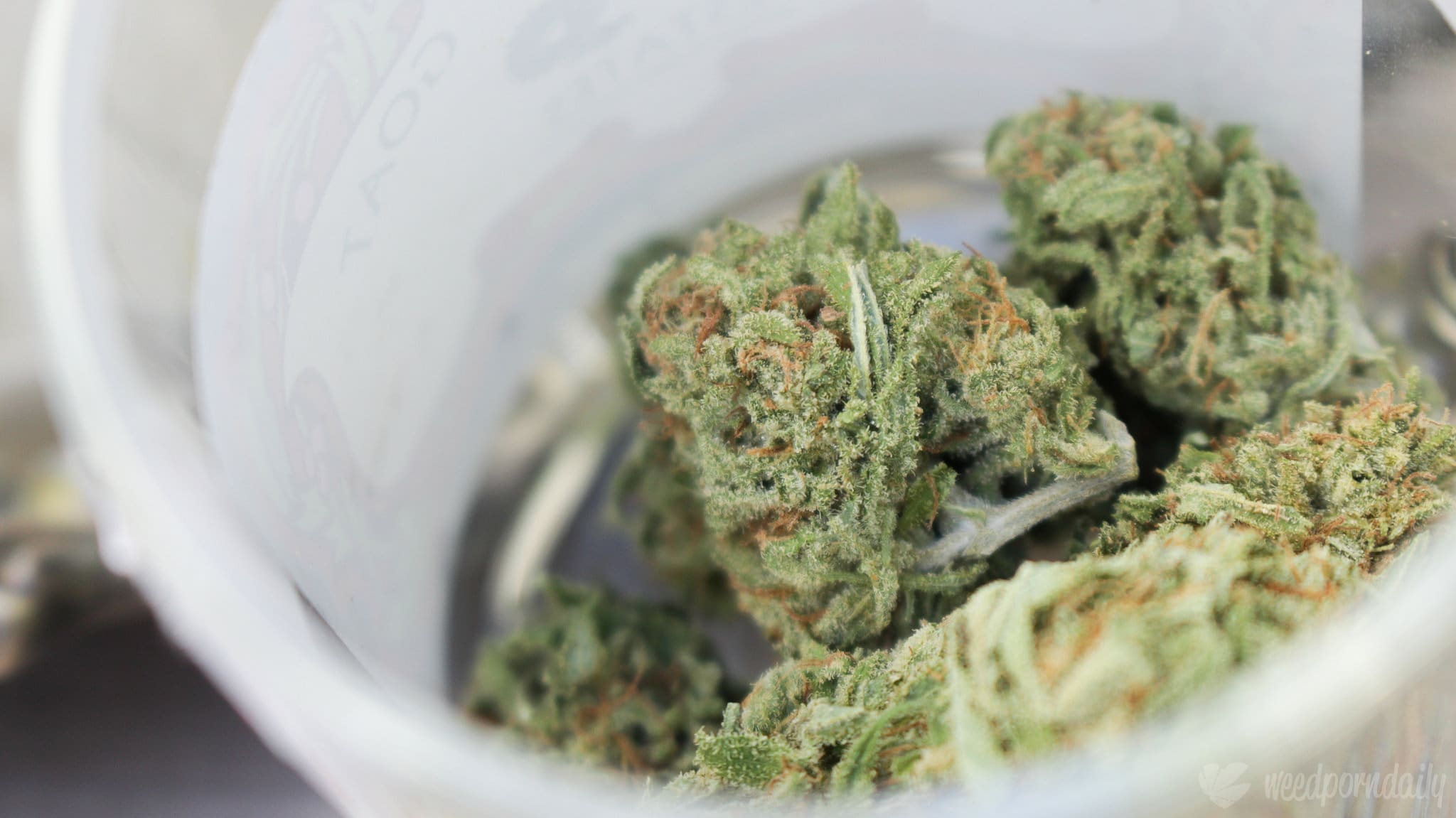 Legendary filmmmaker and winery owner Francis Ford Coppola is premiering his own marijuana line.
In collaboration with California-based Humboldt Brothers, "The Grower's Series" product line will feature three one-gram samples contained in wine bottle-shaped tins. The packaging ensures you can enjoy the sun-grown strains anywhere—like maybe on a boat traveling deep into the heart of Cambodia.
The move into the cannabis space seems natural for Coppola. The Academy Award-winning director of "Apocalypse Now" and many other top films sees wine and cannabis as closer cousins than some critics do.
"Wine and cannabis are two ancient and bounteous gifts of Mother Nature, linked by great care, terroir and temperateness," Coppola said in a press release. "Expertise making one applies to the other."
"As with growing grapes, location matters, and The Grower's Series reflects California agricultural expertise creating a true blend of art and science."
Each gram in The Grower's Series will be a different strain—sativa-dominant, indica-dominant and hybrid—which is meant to represent "the diverse Humboldt County microclimates." The strains will be grown at different farms with different elevations and climates. Just the description of the farms in the press release reads more like a wine tasting menu than your typical cannabis company literature.
"Each strain offers a unique experience that reflects the diverse Humboldt County microclimates. There is an uplifting and creative sativa-dominant strain that is cultivated at Tan Oak Farms (elevation 1,700 feet) where the climate is warm from continuous sunshine. An indica-dominant strain that relaxes the body and mind is nurtured at Benbow Farm (elevation 600 feet). And a truly hybrid experience influencing enhanced mood and focus is grown at the Salmon Creek Farm (elevation 2,400 feet) where this strain benefits from cooler temperatures and diverse soil."
Coppola's new cannabis company, Sana Company, LLC, takes its name from ancient Sanskrit texts of Hinduism, in which marijuana is referred to as a sacred plant.
If you're already thinking of what to get your favorite film buff and/or cannabis consumer for Christmas, you're in luck. Starting this month, Northern California residents can pre-order the product or find it at select California dispensaries.
Melissa Etheridge Talks Art, Culture and Marijuana Advocacy In The Legalization Era
Photo courtesy of WeedPornDaily.
Presidential Candidate Jokes About Why Denver Decriminalized Psychedelic Mushrooms
Sen. Michael Bennet (D-CO) joked on Thursday that Denver voters approved a measure to decriminalize psychedelic mushrooms because they thought the state of Colorado was running low on marijuana.
The 2020 Democratic presidential candidate made the remark during an appearance on Late Night with Seth Meyers. The host asked Bennet if it was "true that magic mushrooms are going to be legal in Colorado."
(The measure actually simply decriminalizes psilocybin mushrooms for adults, and only in the city of Denver.)
Bennet slapped his knee and quipped, "I think that our voters just voted to get Denver to do that, and I think they might've thought that we were out of marijuana all of a sudden."
"And by the way, we're not out of marijuana in Colorado," he said.
"That's what it says on the state flag now, right?" Meyers said.
"Yeah, exactly," Bennet replied.
The senator, who previously served as the superintendent of the Denver Public Schools, has cosponsored several wide-ranging cannabis bills in Congress, including legislation to federally deschedule marijuana and penalize states that enforce cannabis laws in a discriminatory way.
But before his state voted to legalize marijuana in 2012, Bennet stood opposed.
It's not clear how he voted on Denver's historic psilocybin initiative.
At least Bennet is aware of the measure and was willing to joke about it, though. Several of his colleagues who have worked on cannabis issues declined to weigh in on decriminalizing psychedelics when asked by Marijuana Moment recently.
Congressional Lawmakers Have Little To Say About Decriminalizing Psychedelics Following Denver Victory
Photo courtesy of YouTube/Late Night with Seth Meyers.
Horses Should Lay Off CBD, Equestrian Sports Regulator Says
Hay is for horses, but CBD isn't.
That's according to the U.S. Equestrian Federation (USEF), which set the rules for most horse-related sports in the country, including dressage, jumping and endurance riding.
In a press release on Tuesday, the organization clarified that just because the 2018 Farm Bill legalized industrial hemp and its derivatives such as CBD, that doesn't mean that horses competing in various equestrian events are allowed to partake.
Horses competing under USEF rules who test positive for CBD will be considered in violation of GR4 beginning September 1, 2019. Read more 👇https://t.co/6M0MHo8Vq4

— US Equestrian (@USequestrian) May 14, 2019
"From time to time, new products appear on the equine supplement market claiming to enhance a horse's performance," USEF, which does not regulate thoroughbred horse racing, wrote. "Over the last several years, cannabinoids have gained increased attention and have become nearly mainstream."
CBD, both synthetic and natural, "are likely to effect the performance of a horse due to its reported anxiolytic effects" and the products are therefore "no different than legitimate therapeutics that effect mentation and behavior in horses."
"It is for these reasons that USEF prohibits CBD and all related cannabinoids," USEF explained. "Horses competing under USEF rules who test positive for natural cannabinoids, synthetic cannabinoids and other cannabimimetics will be considered in violation of GR4 beginning September 1, 2019."
It's unclear whether USEF has already developed technology capable of testing for CBD metabolites, as standard cannabis testing instruments are generally only designed to detect for metabolites of THC, the main psychoactive ingredient in marijuana.
However, USEF said that, in fact, "analytical methods are being implemented to detect CBD and similar cannabinoids."
What about the human athletes involved in the horse sports? USEF referred anyone curious about that policy to the World Anti-Doping Code, which does allow the use of CBD while maintaining a ban on THC.
Professional golfers are also being warned about using CBD products. Last month, the PGA Tour published a newsletter urging caution when using CBD, as some products may contain trace amounts of THC that could turn up in a drug test.
As in equestrian sporting, golfers are also barred from using marijuana.
Jeopardy Contestants Are Getting Tested On Their Marijuana And LSD Knowledge
In another sign of the times, contestants on the wholesome, long-running game show Jeopardy have been challenged to answer questions about drugs like marijuana and LSD on at least three occasions in the past several weeks.
And, shocker: professional sports gambler James Holzhauer, who's on the second-longest winning streak in the game's history, got all three questions right.
Host Alex Trebek asked contestants on April 9 to name the "bitter buds" used for flavoring that are part of the cannabaceae family alongside marijuana. The first contestant to hit the buzzer guessed it was hemp. (His answer was initially deemed incorrect but he was later given credit by the show's judges because the non-psychoactive cannabis cousin is indeed used to flavor some beers.)
Check out this Jeopardy question from last night about the relationship between marijuana and beer. pic.twitter.com/0cKUhYEleR

— Tom Angell 🌳📰 (@tomangell) April 10, 2019
Holzhauer swooped in with the more obvious answer, hops. Researchers recently discovered that millions of years ago, marijuana and hops were genetically much closer—more like sisters than cousins—but they evolved to become more genetically distinct.
On April 22, Trebek said "Bubba Kush" on national television.
Today, Alex Trebek said "bubba kush" on television. #jeopardy #marijuana pic.twitter.com/qlrLgeV6PD

— Tom Angell 🌳📰 (@tomangell) April 22, 2019
"On Jan. 1, 2014 in Denver, 1/8 ounce of Bubba Kush was the USA's first legal sale of this for recreational purchases," the host said.
Again, Holzhauer was on it and quickly answered "marijuana" for a cool $800.
But Holzhauer's drug knowledge isn't limited to cannabis. One of the $2,000 challenges on a recent episode was to identify the first part of the name of a "well-known hallucinogen" that ends "acid diethylamide." The contestant said "lysergic," as in LSD.
James Holzhauer correctly answered a Jeopardy question about LSD this week. pic.twitter.com/5mDF4QtF9A

— Tom Angell 🌳📰 (@tomangell) May 3, 2019
While Trebek has a reputation as the family friendly face of one of the country's longest-running game shows, he and the show's producers are clearly not shy about incorporating drug questions into the show.
And The A.V. Club recently revealed that while Jeopardy bans contestants from wagering certain naughty sums like $69 and $666, as well as numbers associated with white supremacist groups, it's totally fine to bet $420.
Trebek, in fact, has some personal experience with marijuana, albeit during an accidental encounter. In the 1970s, Trebek visited a friend in California to have dinner and let his chocolate craving get the best of him. Seeing a plate of brownies, he dove head first and unknowingly consumed half a dozen hash-infused treats in one sitting.
"I love brownies—I'm a chocoholic—and I didn't realize that they were hash brownies," he told The Daily Beast in 2017. "And… whoa. That threw me for a loop."
"The dinner party was on a Friday, and I was not able to leave that house until Sunday afternoon," Trebek said. "I spent the next day and a half in bed. It was not a good trip, and I have not done any of that stuff since!"
UPDATE: After this story was published, Holzhauer weighed in on Twitter:
If there's no room for me on the VGK analytics team, maybe I can have a career as a counterculture icon. https://t.co/XkTuH0nBp7

— James Holzhauer (@James_Holzhauer) May 12, 2019
Facebook Uses Marijuana And Broccoli To Show Off Its AI Tech
Photo courtesy of Jeopardy!