Federal Transportation Official Says Marijuana Consumers Think They Drive Better While High
Federal research shows that marijuana consumers believe they drive better when they're high, a leader of the National Highway Traffic Safety Administration (NHTSA) said during a congressional hearing last week.
Appearing before the Senate Commerce, Science and Transportation Committee, NHTSA Deputy Administrator Heidi King testified that the department is combating impaired driving from cannabis, opioids and other drugs by issuing grants for law enforcement training and expanding public education campaigns on the issue.
Part of the reason public education is particularly necessary, she said, is because "most users of marijuana who have participated in market research we have developed are saying they believe they drive safer when they're high because they're very focused and they're being very cautious."
"We know from the driver simulator studies it's not true," she said. "We are doing everything we can, putting out more grant funds and supporting communities where the rubber hits the road to make sure we get ahead of the problem. And we educate consumers to make better decisions."
NHTSA's objective to that end is to debunk five myths: "That it's safe to drive when under the use of a substance, that they're not going to get stopped, that they're not going to be arrested, not going to be prosecuted, not going to be convicted."
But while King referenced simulator tests showing that people do not drive better under the influence of cannabis—and most advocates and opponents of legalization alike share the opinion that nobody should drive after consuming marijuana—a congressional report released in May found that the science isn't quite so clear.
"Although laboratory studies have shown that marijuana consumption can affect a person's response times and motor performance, studies of the impact of marijuana consumption on a driver's risk of being involved in a crash have produced conflicting results, with some studies finding little or no increased risk of a crash from marijuana usage," the Congressional Research Service report stated.
And several independent studies have found that legalization isn't associated with an increase in traffic fatalities.
Later in the hearing, Sen. Dan Sullivan (R-AK) asked whether NHTSA was focusing its research efforts on states that have legalized cannabis, such as his home state of Alaska.
"Yes, we have actually first traveled to Washington we later traveled to Denver in Colorado to have meetings and learn from them and learn best practices," she said. "One of the things we find is the states that have been early legalizers of marijuana products like Washington and Colorado, they have a great deal to learn. Other states that were early medical marijuana adopters like the state of California also have something to share."
Congressional Report Raises Questions About Whether Marijuana Impairs Driving
Photo courtesy of C-SPAN.
Idaho Senator Files Bill To Decriminalize Drug Possession
A new bill filed by an Idaho senator would decriminalize possession of currently illegal drugs in the state, though it also contains a provision that advocates consider troubling, allowing the government to involuntarily commit people convicted of certain offenses to treatment.
Sen. Grant Burgoyne (D) introduced the legislation, which would remove criminal penalties for drug use and possession by "requiring intention to deliver for criminal trafficking."
Burgoyne told Marijuana Moment the bill has been referred to the Judiciary and Rules Committee, where Chairman Todd Lakey (R) has agreed to hold a hearing on it.
"We have too much of a focus on prosecution and punishment and not enough on treatment," Burgoyne said in a separate interview with KTVB. "We don't have a functioning mental health treatment and substance abuse treatment capability for the needs of our people. We need new strategies, how we draw the lines between what is criminal conduct and what is not criminal conduct when it comes to drug possession and usage."
The bill sets different possession thresholds for different drugs. Having just two grams of heroin could be considered trafficking, while for cocaine and methamphetamine, the amount is set at 28 grams. One pound of marijuana, or 25 plants, could be treated as a trafficking offense.
Any amount of LSD could be considered a trafficking offense, as could any amount of a "simulated controlled substance," possibly referring to synthetic opioids like fentanyl. Using drugs with friends would also be harshly penalized, as "sharing or providing a controlled substance for use by another person shall constitute intent to deliver."
"This will reduce arrests, but how much is very hard to predict," Burgoyne told Marijuana Moment. "Unfortunately, illegal drug use, even in private, is too often accompanied by the commission of other crimes, which my bill does not excuse and which could lead to arrest."
Burgoyne's bill would also allow people using drugs to be "placed in protective custody" or "admitted for community-assisted behavioral health treatment." This would apply to people under the influence and in various circumstances, such as being pregnant, posing a risk to themselves or others or in withdrawal.
But existing research on mandatory drug treatment suggests it is not helpful for people with substance use disorder. A 2016 study published in the British Medical Journal, for example, found that when people are ordered to undergo drug treatment without their informed consent, the practice does more harm than good and does not reduce their drug use. The researchers explained that harm reduction efforts like syringe exchanges and drug education were more effective.
"Although there is some theoretical danger of adverse consequences to mandated drug treatment, we already mandate it for prisoners with drug issues," Burgoyne said. "I'd like to shift treatment out of our jails and prisons to a more appropriate place. Furthermore, a civil commitment is not an easy thing to obtain, and I think our courts will be conservative in how they handle them."
If the senator's legislation passes, it remains to be seen what effect it would have on drug arrest rates in Idaho. According to the FBI, in 2017 Idaho had 8,432 arrests for "drug abuse violations," which is a little over 16 percent of all arrests that year.
Burgoyne's reform proposal comes amid a growing national debate about the value of decriminalizing drug use over more arrests. Last year in May, Denver became the first city in the U.S. to decriminalize personal use and possession of psilocybin mushrooms. Oakland's City Council followed the next month by decriminalizing a wide range of psychedelics.
Advocates are also raising the issue on the national stage. Rep. Alexandria Ocasio-Cortez (D-NY) proposed decriminalizing drug consumption in November. Former South Bend, Indiana Mayor Pete Buttigieg, a 2020 Democratic presidential candidate, has proposed decriminalizing drug possession and reducing sentences. His primary opponent, Rep. Tulsi Gabbard (D-HI), recently called for legalizing and regulating drugs in order to treat substance misuse as a public health issue.
Photo coutersy of Markus Spiske.
U.S. Virgin Islands Governor Pushes For Marijuana Legalization In Annual Speech
The governor of the U.S. Virgin Islands (USVI) repeated his call for marijuana legalization in his annual State of the Territory address.
Gov. Albert Bryan Jr. (D), who called the legislature into a special session last month to begin taking up cannabis reform legislation, stressed that establishing a commercial marijuana market would bring in needed tax revenue to support a variety of government programs.
The proposed amendment to the territory's existing medical cannabis law, which Bryan signed last year, would allow adults 21 and older to obtain a license from the government in order to purchase and cultivate marijuana. It would also promote participation in the industry by small farmers and local businesses, as well as providing for automatic expungements of prior cannabis convictions.
"Most importantly, it creates a taxing regime for the local industry that will generate higher revenues than the current law allows," he said in the speech last Monday, noting that tax revenue will be distributed between the Government Employees Retirement System (GERS) fund (75 percent), implementation of regulations (20 percent) and services for senior citizens (5 percent).
"The revenues generated from this industry can benefit the system as a direct contribution," the governor said. "However, the goal is to create a funding stream that is reliable enough to ultimately support a revenue bond that can provide a needed cash infusion to the system."
Watch Bryan's marijuana comments, first reported by Vibe High, about 36:24 into the video below:
"This is by no means the panacea or final solution for the GERS crisis, but a small part of a larger solution," he continued. "It begins the process of generating the new revenues required to stave off the insolvency of the System. It takes existing policy, approved by this body, and leverages it to support this critical area of need."
"We must acknowledge the opportunities that regulated expansion of this industry can bring to the territory and the potential benefits to the GERS," he said. "I urge this body to take the necessary action to approve the amending legislation we have proposed."
Bryan's proposal calls for a 30 percent tax on marijuana sales, with revenue expected to be upwards of $20 million annually. His administration is also expecting the policy change to stimulate tourism, and visitors interested in participating in the market would be charged a $10 per day fee to access legal cannabis.
If approved, that would make USVI the third U.S. territory to legalize cannabis for adult use—after Guam and the Commonwealth of the Northern Mariana Islands.
This year has seen several governors voice support for marijuana reform during their high-profile annual addresses and in legislative agendas. New York Gov. Andrew Cuomo (D) reaffirmed his commitment to legalization in his State of the State speech and Virginia Gov. Ralph Northam (D) pledged to pursue decriminalization, for example.
In New Mexico, the governor included legalization in her 2020 agenda, and lawmakers followed suit by filing a cannabis reform bill on Thursday. Rhode Island Gov. Gina Raimondo (D) proposed legalizing marijuana through a state-run model in a budget proposal released on Thursday.
Rhode Island Governor's Budget Includes Legal Marijuana Sales In State-Run Stores
Photo courtesy of Nicholas C. Morton.
Tulsi Gabbard Endorses Legalizing Drugs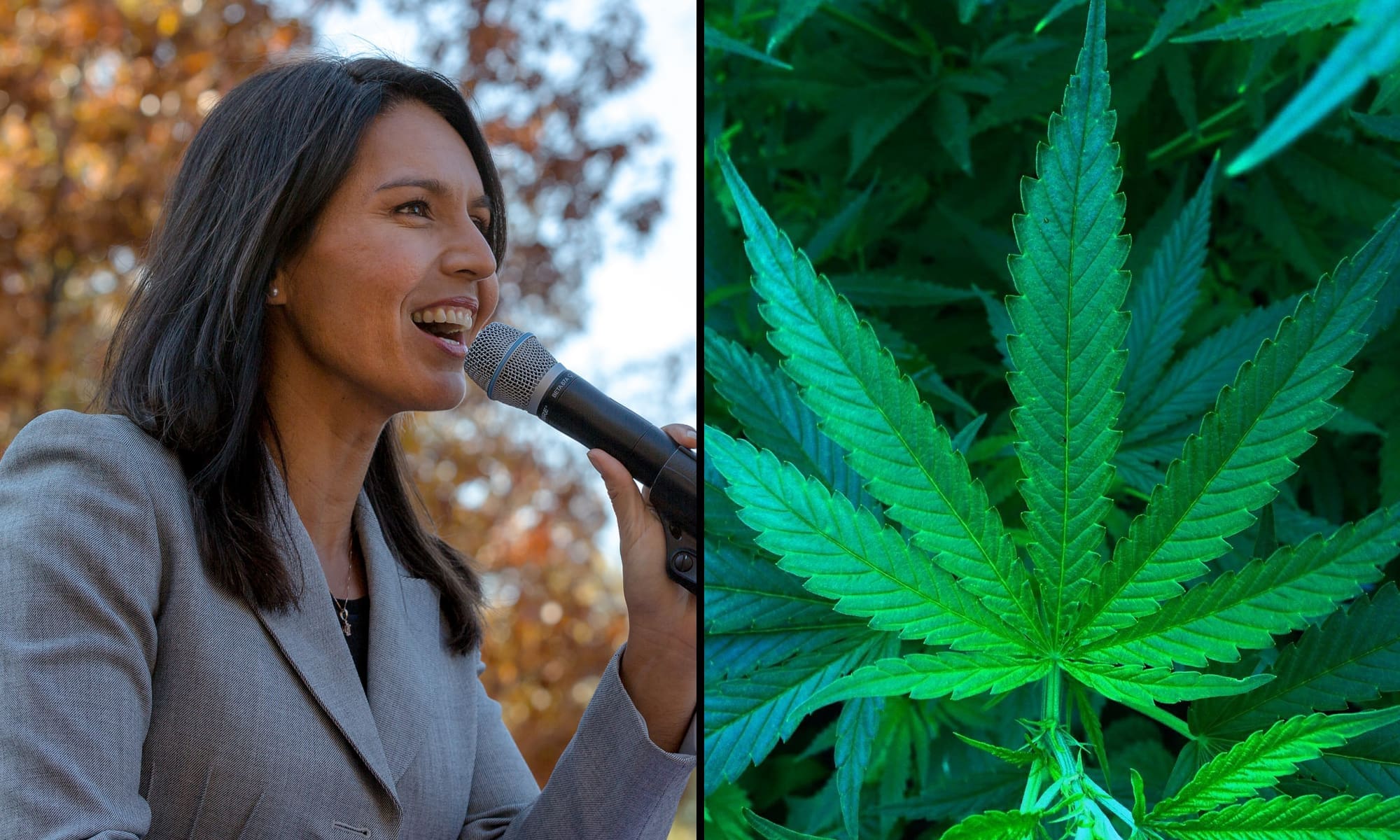 Rep. Tulsi Gabbard (D-HI) is calling for the U.S. to legalize currently illicit drugs.
"If we take that step to legalize and regulate, then we're no longer treating people who are struggling with substance addiction and abuse as criminals and instead getting them the help that they need," the 2020 presidential candidate said at a campaign stop in Merrimack, New Hampshire on Friday.
Please visit Forbes to read the rest of this piece.
(Marijuana Moment's editor provides some content to Forbes via a temporary exclusive publishing license arrangement.)
Photo element courtesy of Lorie Shaull.