Congressional Report Raises Questions About Whether Marijuana Impairs Driving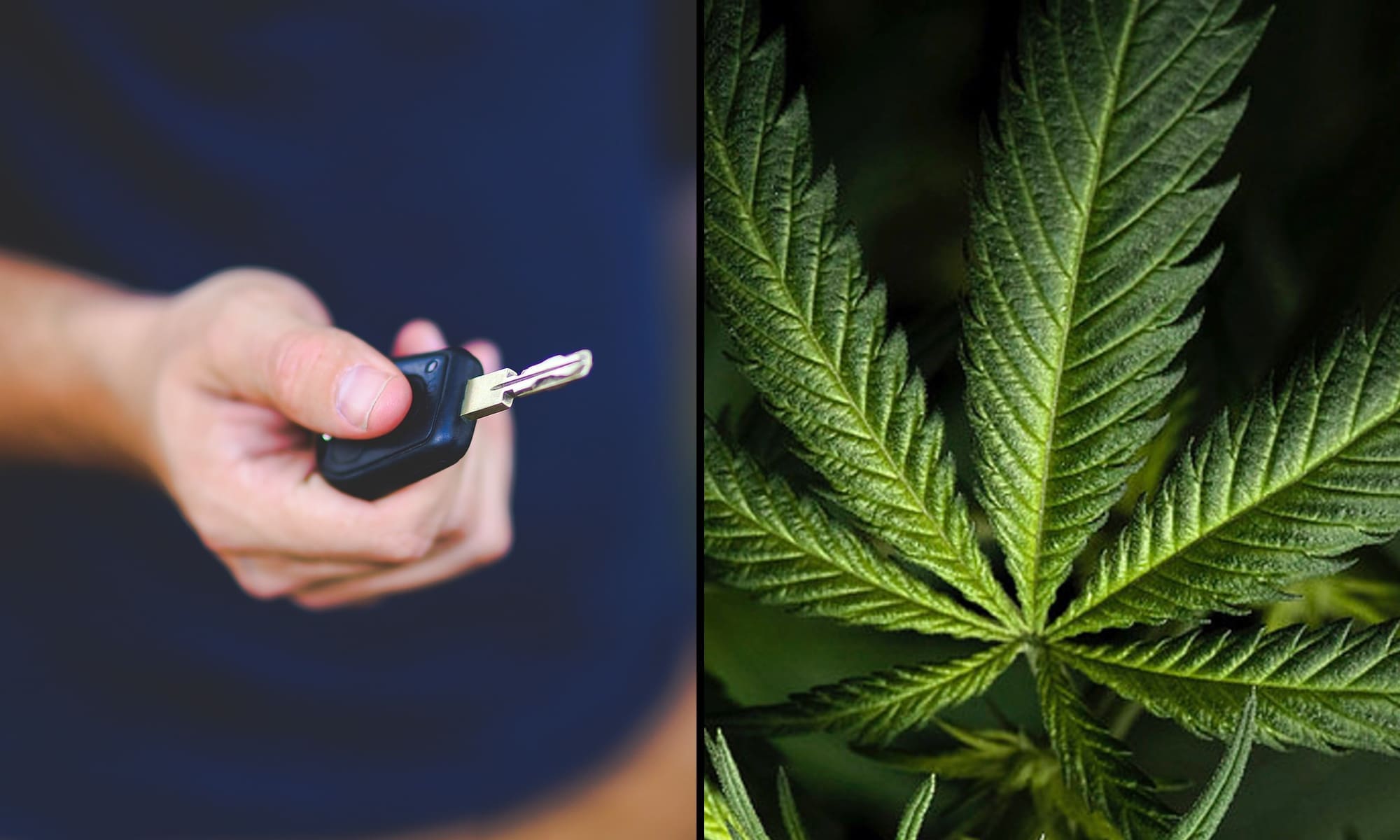 Concerns expressed by lawmakers that marijuana legalization will make the roads more dangerous might not be totally founded, a congressional research body said in a recent report. In fact, the experts tasked by the House and Senate with looking into the issue found that evidence about cannabis's ability to impair driving is currently inconclusive.
While law enforcement has well-established tools to identify impaired driving from alcohol, developing technology to do the same for cannabis has proved difficult. Not only is the technology lacking, but questions remain as to how THC affects driving skills in the first place and what levels of THC should be considered safe.
"Although laboratory studies have shown that marijuana consumption can affect a person's response times and motor performance, studies of the impact of marijuana consumption on a driver's risk of being involved in a crash have produced conflicting results, with some studies finding little or no increased risk of a crash from marijuana usage," the Congressional Research Service (CRS) wrote.
What's more, "studies have been unable to consistently correlate levels of marijuana consumption, or THC in a person's body, and levels of impairment."
Both advocates and opponents of marijuana reform strongly support finding a resolution to the impaired driving detection issue. But experts aren't so confident that researchers will be able to develop something akin to an alcohol breathalyzer, as the most promising attempts have only been able to determine whether a person has smoked within recent hours.
What's striking about the report from Congress's official research arm is that it repeatedly states it's not clear that cannabis consumption is associated with an increased risk of traffic accidents. In general, the issue has been treated as something of a given in congressional hearings, with some lawmakers arguing that loosening federal cannabis laws would lead to a spike in traffic deaths.
That argument was echoed in a separate House Appropriations Committee report that was released on Monday. A section of the document described ongoing concerns about drugged driving "due to the increase in States legalizing marijuana use" and designated funds to help law enforcement identify impaired driving from cannabis.
The CRS report, which was published last month, signals that the problem isn't quite as cut and dry as lawmakers might think.
Researchers have found on several occasions that traffic fatalities do not increase after a state legalizes marijuana.
Of course, that doesn't change the fact that both opponents and supporters of legalization generally caution against driving under the influence.
"Cannabis inhalation in a dose-response manner may influence certain aspects of psychomotor performance, particularly in those who are more naive to its effect," Paul Armentano, deputy director of NORML, told Marijuana Moment. "But this influence is typically short-lived and is far less acute than the psychomotor effects associate with alcohol."
"By contrast, THC's unique absorption profile and prolonged detection window in blood makes it so that—unlike as is the case with alcohol—the detection of THC in blood is not necessarily indicative of either recency of use or behavioral impairment," he said.
The congressional report discusses the limitations of technology in detecting active impairment from cannabis and details previous studies on traffic trends in states that have reformed their cannabis laws. It also lays out legislative options for Congress to "aid policymaking around the issue of marijuana and impairment."
As it stands, states have generally enforced impaired driving laws through one of two processes. Some states "require that the state prove that a driver's impairment was caused by the substance or behavior at issue" while others have per se laws asserting that "a driver is automatically guilty of driving while impaired if specified levels of a potentially impairing substance are found in his or her body."
But it's significantly easier to prove impairment for alcohol however you cut it, the report explains.
"Detecting impairment due to use of marijuana is more difficult. The body metabolizes marijuana differently from alcohol," the authors wrote. "The level of THC (the psychoactive ingredient of marijuana) in the body drops quickly within an hour after usage, yet traces of THC (nonpsychoactive metabolites) can still be found in the body weeks after usage of marijuana."
Further there is "as yet no scientifically demonstrated correlation between levels of THC and degrees of impairment of driver performance, and epidemiological studies disagree as to whether marijuana use by a driver results in increased crash risk."
Detecting impairment from cannabis is additionally complicated by another extraneous circumstance: variation in THC potency. The THC concentration conundrum is exacerbated by the fact that the only source of federal, research-grade cannabis "is considered by some researchers to be low quality," the report stated, referring to studies showing that the government's marijuana supply does not chemically reflect what's available in state-legal commercial markets.
CRS also looked at the "inconsistent" results of studies examining the effects of cannabis use on traffic incidents. While some have indicated that consumption poses an increased risk on the road, the report argues that some may be conflating correlation and causation.
"Relatively few epidemiological studies of marijuana usage and crash risk have been conducted, and the few that have been conducted have generally found low or no increased risk of crashes from marijuana use," CRS wrote.
After going through several other related issues, CRS laid out a couple of choices for Congress when it comes to dealing with the impaired driving issue. Those options include "continued research into whether a quantitative standard can be established that correlates the level of THC in a person's body and the level of impairment" and compiling "better data on the prevalence of marijuana use by drivers, especially among drivers involved in crashes and drivers arrested for impaired driving."
One of the last elements the report specifically focused on was federally mandated drug testing for individuals in "safety sensitive" jobs in the transportation sector. Interestingly, CRS seemed to suggest that, given the issues they outlined with respect to difficulties identifying active impairment from THC, the government should reevaluate whether suspensions for testing positive should be permanent.
"CRS could not identify any data on how many safety-sensitive transportation employees have lost their jobs as a result of positive tests for marijuana use," the report states. "Considering the length of time that marijuana is detectable in the body after usage, and the uncertainty about the impairing effect of marijuana on driving performance, Congress and other federal policymakers may elect to reexamine the rationale for testing all safety-sensitive transportation workers for marijuana usage."
"Alternatively, Congress and federal policymakers may opt to maintain the status quo until more research results become available," the report advised.
Armentano, of NORML, said that legislators should be way of enacting policies focused on levels of THC or metabolites in drivers.
"As more states consider amending their cannabis consumption laws, lawmakers would best served to avoid amending traffic safety laws in a manner that relies solely on the presence of THC or its metabolites as determinants of driving impairment," he said. "Otherwise, the imposition of traffic safety laws may inadvertently become a criminal mechanism for law enforcement and prosecutors to punish those who have engage in legally protected behavior and who have not posed any actionable traffic safety threat."
Marijuana Legalization Not Linked To Increased Traffic Deaths, Study Finds
Andrew Yang Contrasts Rampant Opioid Prescribing With Marijuana Criminalization
Andrew Yang contrasted the widespread prescribing of opioids with the ongoing criminalization of marijuana on Wednesday.
In a tweet, the entrepreneur and 2020 Democratic presidential candidate said there were "more opiate prescriptions in the state of Ohio than people in Ohio," yet "marijuana is still classified as a schedule 1 drug" under the federal Controlled Substances Act.
#DidYouKnow – There were more opiate prescriptions in the state of Ohio than people in Ohio. But marijuana is still classified as a schedule 1 drug.

— Andrew Yang🧢 (@AndrewYang) December 11, 2019
He's brought that point up before, at a presidential debate in October. Asked about his proposed to decriminalize possession of opioids to combat the drug overdose crisis, Yang brought up the statistic and criticized the government for failing to take action against pharmaceutic companies that aggressively marketed addictive painkillers.
"If the government turned a blind eye to this company, spreading a plague among its people, then the least we can do is put a resource into work in our communities so that people have a fighting chance to get well, even though this is not a money problem," he said at the time.
"The least we can do is put the resources to work in our communities so our people have a fighting chance to get well." #DemDebate #YangGang #opioidcrisis pic.twitter.com/vcYn8I1OOs

— Andrew Yang🧢 (@AndrewYang) October 16, 2019
NBC News confirmed that, in 2010, federal data shows there were 102.4 opioid prescriptions in Ohio for every 100 persons. That's decreased since then, with 2017 data showing 63.5 opioid prescriptions for every 100 persons in the state.
Yang, who supports comprehensive marijuana legalization, has also embraced other harm reduction policies. Beyond decriminalizing opioids, he said in an interview published last week that he's in favor of providing federal funding for the establishment of safe injection facilities, where individuals can use illicit drugs under medical supervision and receive assistance getting into treatment.
Yang has not yet called for decriminalization of substances beyond opioids and cannabis, however. That policy is backed by rival contenders South Bend, Indiana Mayor Pete Buttigieg and Rep. Tulsi Gabbard (D-HI).
Sens. Bernie Sanders (I-VT) and Elizabeth Warren (D-MA) and former Housing and Urban Development Secretary Julián Castro, also presidential candidates, have called for the establishment of safe injection sites.
Killer Mike Credits Bernie Sanders For Inspiring Marijuana Legalization Movement
Photo courtesy of ABC News.
Marijuana Legalization Bill Filed In Virginia Ahead Of Attorney General's Cannabis Summit
The attorney general of Virginia held a cannabis summit on Wednesday, with representatives of states that have legalized marijuana sharing their insights as lawmakers in the Commonwealth prepare to push reform legislation in the coming session.
This event came one day after a lawmaker prefiled a bill to legalize marijuana for adult use and expand the state's existing limited medical cannabis program.
The event featured panels on marijuana decriminalization, social equity, public health, hemp, CBD and creating a pathway for eventual legalization. The goal was to answer policy questions and inform legislation, which Attorney General Mark Herring (D) hopes will start with decriminalization and expungements and later adult-use legalization.
Herring: "I don't believe Virginia's current system of needlessly criminalizing cannabis is working. The negative consequences of the current approach fall disproprtionately on African Americans and other people of color."

— Martin Austermuhle (@maustermuhle) December 11, 2019
"I don't believe that Virginia's current approach of criminalizing cannabis is working," Herring said in his opening remarks. "It is needlessly creating criminals and burdening Virginians with convictions."
Today we're bringing together legislators, stakeholders, and policy experts to plot a course for a smarter, fairer, more just cannabis policy in VA. For me, that means decriminalizing now, resolving past convictions, & moving to legal, regulated adult use.https://t.co/aqWxQCVPIg

— Mark Herring (@MarkHerringVA) December 11, 2019
"The human and social costs are enormous, in addition to the millions of dollars it costs Virginia taxpayers. And the negative consequences of the current approach fall disproportionately on African Americans and people of color," he said. "It's clear to me that the time for cannabis reform has come. Justice demands it. Virginians are demanding it. And I'm going to help make sure we get this right."
Watch video of the Virginia Cannabis Summit  below: 
Representatives from Colorado and Illinois discussed law enforcement and equity in regulated marijuana markets.
The prospects of passing reform measures greatly increased in Virginia after November's election, which saw Democrats reclaim control of both chambers of the General Assembly for the first time in decades. Herring said the timing is right to "plot a course for a smarter, fairer, more just cannabis policy" in the state.
Sen. Dave Marsden (D), co-founder of the legislature's recently established Cannabis Caucus, said at the summit that ensuring that the legal market is equitable is paramount.
.@SenDaveMarsden, who co-founded the new Cannabis Caucus, says focusing on equity will be important. "We can't substitute a civil process for a criminal one and not expect it to lead to disparities," he says of decriminalization, noting how people of color still impacted most.

— Martin Austermuhle (@maustermuhle) December 11, 2019
"We can't substitute a civil process for a criminal one and not expect it to lead to disparities," he said.
"Following several years of forming consensus around medical cannabis products, we have to be ready to take action in the upcoming legislative session to further reform our laws in this arena," he said in a press release. "This effort will include a more robust medical cannabis program and Attorney General Herring's summit is a big step in ensuring we are knowledgeable on the issue and prepared to do this right."
"Virginia is ready for evidence-based reform and that is what we will provide."
Del. Stephen Heretick (D) said the summit "is a great opportunity for me and my fellow legislators to learn from the experiences of other states as we consider how to create more fair, just, equitable, and effective cannabis laws here in Virginia."
Decriminalization is the first proposal on the agenda when the next session starts, the attorney general said. That would fulfill a campaign promise of Gov. Ralph Northam (D), who ran on the issue in 2017 and talked about in his State of the Commonwealth address this year.
"It's time for public policy to catch up with public opinion, and NORML applauds Attorney General Herring for his efforts to foster and advance evidence-based cannabis laws," Jenn Michelle Pedini, executive director of Virginia NORML said. "We look forward to supporting the attorney general and the Virginia Cannabis Caucus in their work reforming marijuana laws for a safer Commonwealth."
While Northam hasn't voiced support for recreational legalization, Herring said last week that Wednesday's summit is one resource that will help the state move toward comprehensive reform.
"Criminalizing marijuana possession is not working." Attorney General @MarkHerringVA said he will host a #cannabis summit to advance decriminalization in Virginia. #CheddarLive pic.twitter.com/ecB4BSQo5w

— Cheddar (@cheddar) December 3, 2019
"Based on my conversations, he supports decriminalization," Herring, who is also running for governor in 2021, said. "Like a lot of people, I think they'd like to get more information about what legalization and what regulated, adult-use would look like."
A bill to decriminalize marijuana and make possession of up to one ounce punishable by a maximum $50 civil penalty was prefiled in the legislature last month.
This latest legalization bill, introduced by Del. Lee Carter (D), will likely be a heavier lift. It would allow adults 21 and older to possess and purchase cannabis from licensed retailers, and it would impose a 10 percent tax, revenue from which would go toward a veterans fund, transportation and local municipalities that allow marijuana businesses to operate.
"While a majority of Virginians agree with Attorney General Herring that marijuana should be legal for responsible use by adults, it may take a bit more work to convince the Virginia General Assembly to send such a bill to the governor's desk," Michelle Pedini told Marijuana Moment. "Todays summit is an important, and historic, step toward that goal, and NORML is proud to be a part of it."
Vermont Should Legalize Marijuana Sales, Top Health Department Official Says
Photo courtesy of Nicholas C. Morton.
Thailand Prime Minister Uses Medical Marijuana At Event With Ganja Mascot
Top officials in Thailand are getting the word out about medical marijuana—in part by distributing cartoon cannabis dolls and publicly using marijuana oils.
Prime Minister Prayut Chan-o-cha announced the launch of the government's medical cannabis education site on Wednesday and appeared at an event alongside a person wearing a spectacled marijuana leaf costume called Dr. Ganja. Children were also present, carrying their own Dr. Ganja dolls.
The Thai government officially launches its medical cannabis "educational" website today.https://t.co/zhzZU61q3c

The Prime Minister gets a ganja doll, kids get a ganja doll, everybody gets a ganja doll!

Photo credit: Bhumjaithai Party pic.twitter.com/lVf1WTguqQ

— Prim Chuwiruch (@prim_chuwiruch) December 11, 2019
Prayut argued in favor of the therapeutic use of cannabis, stating that it represents a potential treatment option for low-income people in particular. According to The Nation Thailand, he also demonstrated marijuana products, inhaling an oil and applying some to the back of his ears. The prime minister also said he plans to purchase some oils himself.
The government's education site features information about where to find cannabis clinics, what kinds of products are available and infographics laying out basic research into marijuana.
Thai lawmakers have made clear their excitement about medical cannabis, with several filmed participating in a ritual dance in August to celebrate the first batch of marijuana oil.
Funcionarios tailandeses bailan antes del lanzamiento del primer lote de aceite de cannabis tras la aprobación de la #marihuana medicinal en el país pic.twitter.com/ygrpiwveB6

— Reuters Latam (@ReutersLatam) August 8, 2019
Months after Thailand opted to legalize medical marijuana, the ruling party unveiled draft legislation in September that allows individuals to cultivate up to six cannabis plants for personal use.
GOP Senator Shares Photo Of His Dad Harvesting Hemp Decades Ago
Photo courtesy of Bhumjaithai Party.