Federal Marijuana Cases Continue To Decline, With Fewer Than 1,000 Cannabis Charges In 2021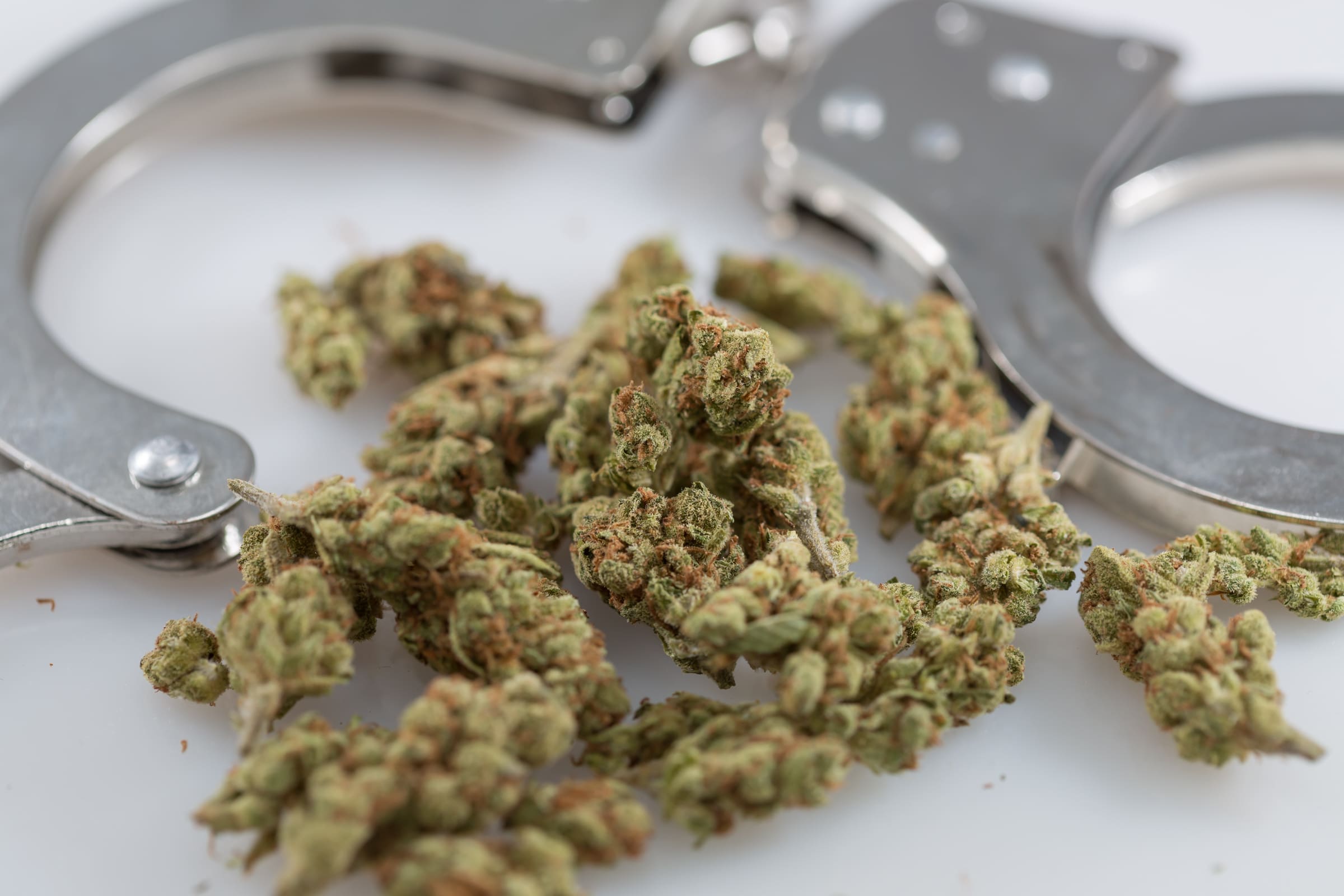 Federal prosecutions over marijuana dropped again in 2021, with fewer than 1,000 people charged in cannabis trafficking cases—yet another sign that the plant is becoming a lower enforcement priority as the legalization movement scores wins in more states.
There were 996 federal marijuana trafficking cases last year, according to an analysis from the federal U.S. Sentencing Commission (USCC). Those cannabis busts account for 5.7 percent of the total drug-related cases that when through the federal justice system in fiscal year 2021.
Methamphetamine was the most common drug type involved in federal drug cases (48% up from 42.2% last year). The federal courts saw a 50% increase in fentanyl cases (to 1,658). Fentanyl cases were 9.5% of federal drug cases—now the fifth most common drug type. pic.twitter.com/WsV58Rgf0a

— SentencingCommission (@TheUSSCgov) March 16, 2022
This represents a continuation of a trend that's been playing out in recent years, especially as more states have move to legalize cannabis and federal officials have seemingly adopted policies placing less emphasis on going after people over marijuana. In 2020, USCC documented 1,118 cannabis cases.
Federal prosecutions of drug-related crimes overall increased in 2019, but cases involving marijuana dropped by more than a quarter, according to an end-of-year report released by Supreme Court Chief Justice John Roberts that year.
In contrast, USCC reported that there were more than 7,000 federal marijuana cases in 2012, the year when voters in two states approved adult-use legalization initiatives at the ballot. At that point, marijuana topped the list of drugs that were involved in federal cases; now cannabis is at the bottom of that list.
"Although Congress has failed to amend federal cannabis laws, clearly the attitudes and priorities of federal prosecutors have shifted in the era of state-level marijuana legalization," NORML Deputy Director Paul Armentano said. "Now it's time for federal lawmakers to codify these changes in priorities by descheduling marijuana."
Also, the USCC report found that the average sentence for a marijuana trafficking case was 30 months—about half of that typically imposed for busts involving cocaine, fentanyl and heroin. Meth-related charges resulted in the highest average sentence at 90 months.
"Despite this downward trend in federal marijuana prosecutions, America's outdated federal laws are still having a significant and unnecessary impact on real people's lives," NORML Political Director Morgan Fox said. "Congress has the opportunity to change that."
"Lawmakers must continue to build momentum to end our failed marijuana prohibition policies and help those who have been unjustly hurt by them," Fox said. "We urge House Speaker Nancy Pelosi to hold a floor vote on the Marijuana Opportunity, Reinvestment, and Expunge Act immediately, and sincerely hope that Senate Majority Leader Chuck Schumer sticks to his planned April introduction of the Cannabis Administration and Opportunity Act."
In general, people who faced drug charges accounted for 31 percent of all federal cases last year, which is five percentage points higher compared to 2020. About half of those who faced drug charges last year were for methamphetamine trafficking.
Despite the decrease in the overall caseload, many offense types saw an increase (drug trafficking cases increased by 7.4%; firearms by 8.1%; sex abuse by 20.5%; and child pornography by 18.8%) (see Table 4).

— SentencingCommission (@TheUSSCgov) March 16, 2022
Advocates have argued that the year-over-year decline in marijuana cases corresponds with the growing number of states that have implemented legalization and provided consumers with legal outlets to purchase the product, and it also reflects a federal deprioritization of pursuing cannabis cases despite ongoing prohibition as the war on marijuana continues to lose voter support.
A study released by the Cato Institute in 2018 found that "state-level marijuana legalization has significantly undercut marijuana smuggling."
Data from the FBI that was released in late 2020 showed that, for the first time in four years, cannabis arrests declined nationally.
While there might not be a single factor contributing to these trends, it seems likely to continue—both because more states are working to end prohibition and because the federal Justice Department is being led by an attorney general who has repeatedly said that low-level marijuana enforcement is a waste of resources.
At the same time, congressional lawmakers are also taking steps to legalize at the federal level.
Senate leaders are asking fellow lawmakers to weigh in on the provisions of a bill to federally legalize marijuana that they plan to file in the coming weeks that "aims to right the wrongs of the past and ensure that the federal government is matching the advancements made in states across the country."
Senate Majority Leader Chuck Schumer (D-NY) has faced criticism from some advocates over the time it's taken to get to this stage. But at a press conference last month, he announced that the "goal" is to formally introduce it in April.
Meanwhile, on the House side, there's a federal legalization bill sponsored by Judiciary Committee Chairman Jerrold Nadler (D-NY), which passed the chamber last session and advanced through his committee again in September. It remains to be seen whether it will move to the floor again before Schumer's bill is filed.
A bipartisan coalition of House lawmakers recent sent a letter to congressional leadership, demanding that the reform legislation be "expeditiously" taken up by Congress.
Also, in November, several Republican members of Congress introduced a separate bill to federally legalize and tax marijuana as an alternative to pending far-reaching Democratic-led reform proposals and scaled-down GOP cannabis descheduling legislation.
California Activists Drop 2022 Psilocybin Legalization Ballot Initiative After Falling Short Of Signature Requirement