Congress Removes Military Veteran Medical Marijuana Provision From Funding Bill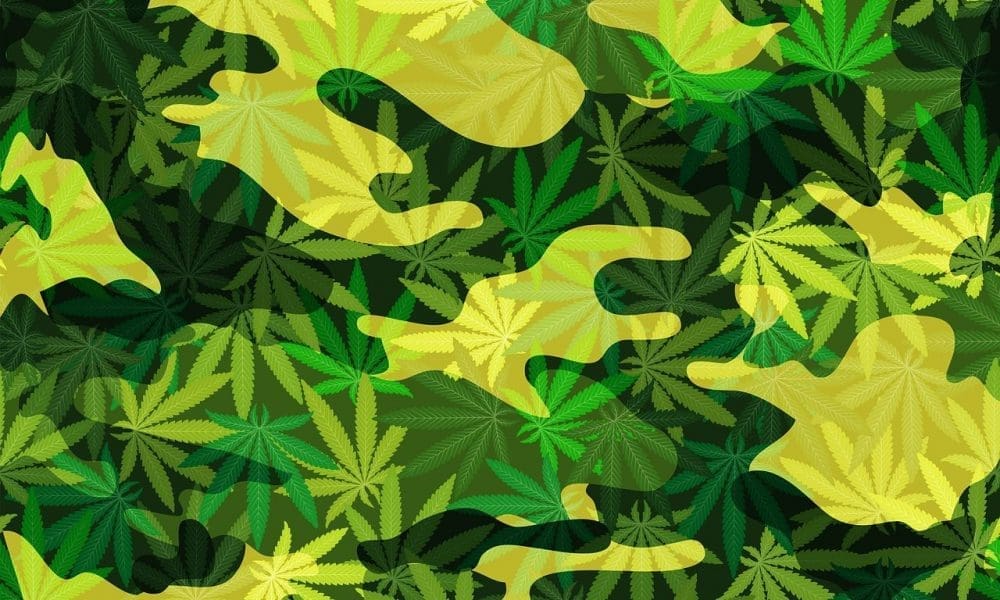 A congressional conference committee negotiating the final details of funding legislation for the U.S. Department of Veterans Affairs (VA) has decided against including a Senate-passed provision that would have allowed military veterans to receive medical marijuana recommendations from their government doctors.
Under a bill to fund the VA for Fiscal Year 2019 that was approved by the Senate with an 85-to-5 vote in June, the department would not have been able to spend any money enforcing its own internal prohibition on VA doctors filling out medical cannabis forms for veterans in states where it is legal.
But, because House Republican leaders blocked their colleagues from even being able to vote on including such language in their chamber's version of the legislation, the issue was up for discussion by a bicameral panel that was tasked with merging the proposals into a single bill that can be sent to President Trump for his signature.
The conferees opted not to include the cannabis provision in the final legislation released on Monday.
"Denying veterans the care they need by the doctors they trust is shameful," Rep. Earl Blumenauer (D-OR), who has worked on veterans' medical cannabis legislation for years, said in a statement sent to Marijuana Moment. "The Senate passed this amendment. It has broad bipartisan support in the House. This should have been a no brainer. Yet, Republican leadership has once again stymied progress toward fair and equal treatment for our veterans. Their continued neglect of commonsense and the will of the American people is a disgrace."
Republican leadership continues to stymie much-needed progress. There must be a price to pay this November for denying veterans the care they need by the doctors they trust. https://t.co/lbeneW3Ip7

— Earl Blumenauer (@repblumenauer) September 10, 2018
"Our veterans put their lives on the line for our country, and many come home dealing with visible and invisible wounds," Rep. Tulsi Gabbard (D-HI) said. "To continue limiting their access to quality healthcare through the VA is a disservice to them and the sacrifices they've made."
This isn't the first time that marijuana reformers have been dealt a loss with the VA funding bill after winning initial victories.
In 2016, both the House and Senate approved provisions to let military veterans get medical cannabis recommendations from their VA physicians. But, because the proposals' language differed from one another somewhat, it was a topic up for conference committee consideration. The panel, behind closed doors, decided to strip the issue from the final bill altogether.
"This move by congressional leadership is egregious and constitutes a slap in the face to the heroes who put their lives on the line to defend our country," NORML Executive Director Erik Altieri said of the latest setback. "Continuing to treat veterans who risked it all as criminals when they opt to utilize a safe and effective treatment option like cannabis is immoral and un-American."
Senate Approves Medical Marijuana For Military Veterans And Advances Hemp Legalization
Colorado Governor Touts Marijuana Legalization's Benefits
After the 2012 election, which saw Colorado become the first state to legalize marijuana, Gov. John Hickenlooper (D) said he probably would have reversed the vote if he had a magic wand.
But with the perspective of a few years post-legalization, today he says he'd put that wand "back in the drawer."
"I'm not quite there to say this is a great success, but the old system was awful," Hickenlooper said at a forum hosted by the Economic Club of Chicago on Wednesday.
What's more, "the things that we most feared—a spike in teenage consumption, a spike in overall consumption, people driving while high—we haven't seen them," he said.
"We had a little increase in teenage consumption, but then it went down. We do think that some of the teenage consumers are using it a little more frequently than they were five years ago before legalization. We have in many ways seen no demographic where there's an increase in consumption, with one exception: senior citizens. I leave you to draw your own conclusions."
Hickenlooper, who's been floated as a potential 2020 presidential candidate, described the challenges his administration faced when Colorado voters approved an adult-use legalization measure. Elected officials and advisors were opposed to it, he said, and plus, "it's no fun to be in conflict with federal law."
But he pushed forward with implementation, recruiting the "smartest people" he could find to figure out the best approach to regulation and taxation. And Illinois, which recently elected pro-legalization J.B. Pritzker for governor, will likely be better off if they pursue reform because they can learn from the successes and failures of Colorado's system, Hickenlooper said.
"Ultimately, I haven't come to a final conclusion yet, but I think it's looking like this is going to be—for all of the flaws and challenges we have—a better system than what we had. You guys are going to benefit, I think, having let us make a bunch of the mistakes and deal with it, I think you're going to be able to have a much better system if indeed that is the direction that the state wants to go."
Asked what advice he'd give to Pritzker if Illinois does elect to fully legalize cannabis, Hickenlooper offered three tips: 1) don't overtax marijuana, or else the illicit marketplace will persist, 2) get data from law enforcement on the presence of cannabis metabolites in the blood after highway fatalities to establish "good baselines" for comparison and 3) set limits on THC concentrations in edibles.
"What they're selling now, they tell me it's 10-to-12 times more intense than what allegedly I smoked in high school," Hickenlooper said, pausing before conceding, "I smoked pot in high school and I inhaled, but it was a fraction of the intensity of what these kids are getting now."
Legal Marijuana Would Generate Hundreds Of Millions For Illinois, New Analysis Finds
Photo courtesy of YouTube/Economic Club of Chicago.
The DEA Just Got Scolded Over Its Marijuana Eradication Program
The Drug Enforcement Administration (DEA) got a slap on the wrist from a federal watchdog agency over its management of a multi-million dollar marijuana eradication program.
In a report released on Wednesday, the non-partisan Government Accountability Office (GAO) said the DEA had failed to adequately collect documentation from state and local law enforcement partners that received funds through the federal program. And that lapse could prevent the agency from being able to accurately assess "program performance."
What's more, the DEA "has not clearly documented all of its program goals or developed performance measures to assess progress toward those goals," according to the report.
In other words, the agency expends about $17 million in funds to partners across the U.S. each year to help them get rid of illegal cannabis grows. That includes fully legal states like California, where enforcement efforts are generally limited to public lands—namely national forests. But due to inadequate record keeping, the DEA doesn't really know if that money is serving its purpose.
To fix the problems, the GAO issued four recommendations:
1. The DEA Administrator should develop and implement a plan with specific actions and time frames to ensure that regional contractors are implementing DEA's requirement for collecting documentation supporting participating agencies' Domestic Cannabis Eradication And Suppression Program (DCE/SP) program expenditures in the intended manner.
2. The DEA Administrator should clarify DCE/SP guidance on the eradication and suppression activities that participating agencies are required to report, and communicate it to participating agencies and DEA officials responsible for implementing DCE/SP.
3. The DEA Administrator should clearly document all DCE/SP program goals.
4. The DEA Administrator should develop DCE/SP performance measures with baselines, targets, and linkage to program goals.
The DEA was able to review a draft of the GAO report ahead of its release and, in an October 17 letter, a Justice Department official said the agency concurred with all four of the recommendations and would take steps to address them.
You can listen to a podcast about the GAO report here:
Just because it's the DEA's program doesn't mean it's the only agency dropping the ball on marijuana eradication efforts. In April, a report from the inspector general for the U.S. Department of Agriculture found that agents weren't adequately cleaning up public lands after cannabis busts, which can pose threats to humans, animals and the environment.
Feds Don't Properly Clean Up After Marijuana Raids, Report Finds
Photo courtesy of Chris Wallis // Side Pocket Images.
Here's How Much Legal Marijuana Supporters And Opponents Spent Per Vote In Last Week's Election
Political committees concerned with marijuana law reform in four states have waged an information war over the past year, first to qualify cannabis initiatives for the ballot, and then to support or oppose those measures in the lead-up to last week's midterm elections. In total, over $12.9 million in cash and in-kind services was spent attempting to convince voters about these marijuana ballot measures.
Now that voters have had their say, Marijuana Moment decided to calculate how much each "yes" and "no" vote cost the committees on either side of the debate. Our calculations are based on dollars raised and disclosed before the election, since final totals of actual expenditures won't be available until December or January reports required in the states that voted on cannabis.
Michigan
In Michigan, where voters approved marijuana legalization, our calculations show that the two anti-legalization committees spent about $1.28 per "no" vote, as they raised $2.37 million for the 1.85 million votes against the measure. The proponents spent 19 percent more per vote, or $1.52 for each of 2.35 million "yes" votes.
Missouri
In Missouri, three separate medical cannabis initiatives competed in the run-up to Election Day, resulting in the highest funding levels of the four states we looked at. There, committees raised a total of $5.4 million dollars to influence voters. Across all the committees, the average cost per "yes" vote was $1.82.
Amendment 3, which was supported by Find the Cures PAC, spent $2.91 for each of its 747,977 votes. Proposition C, supported by Missourians for Patient Care, spent $1.44 for each of its 1.03 million votes. New Approach Missouri, which supported winning Amendment 2, which garnered the support of 1.57 million voters, spent the least, at $1.10 per vote. Only Amendment 2 received a majority and was approved.
Given that there were three competing measures on the ballot, vote costs cannot be parsed in the same binary "yes" or "no" on marijuana reform that is possible for initiatives in the other states. A "no" vote for one measure in Missouri was often paired with a "yes" vote for another.
North Dakota
In North Dakota, there were many fewer votes cast on the state's marijuana legalization initiative as compared to cannabis measure elsewhere, a total of 324,550. The two committees that opposed Measure 3 heavily outspent the pro-reform committees, to the tune of $629,648 to $94,308. With 131,585 people voting for the initiative, the cost per "yes" vote was 72 cents. On the opposing side, winning came at a high price: Each "no" vote cost four and a half times as much, or $3.26, the most costly per-vote expense on a marijuana ballot measure in the nation this year.
Utah
In Utah, a relatively state where proponents of medical cannabis measure Proposition 2 were narrowly outspent by opponents, the cost per vote was higher. Votes are still being counted more than a week after Election Day, but preliminary vote totals show opponents spent $908,464, or $1.99 for each of the 455,879 votes against the initiative. The prevailing "yes" committees spent $831,471 for 493,060 votes, or $1.69 each. About 8 percent of precincts are yet to be counted, so both of these figures will decrease as more votes are added to both the support and opposition tallies.
Overall in the three states that had a straight up-or-down vote (Michigan, Utah and North Dakota), the average cost per "no" vote was slightly more than each "yes" vote, with prohibitionist committees spending an average of $1.56 for each "no" vote, versus $1.51 spent on average for each "yes" votes. It should be noted that those costs include millions of dollars in in-kind services. In Michigan, for example, The Coalition to Regulate Cannabis like Alcohol reported $706,900 in in-kind services, or 23 percent of their total fundraising.
Looked at another way, the average per state cost (rather than total votes average) for "yes" votes was $1.31 while "no" votes cost 67 percent more: $2.18. And with the total number of "yes" votes in those states outnumbering "no" votes by 19 percent, it would seem that in the state-by-state marijuana legalization battle, you don't always get what you pay for.