Company Gets Trademark For The Word 'Psilocybin,' Frustrating Decriminalization Advocates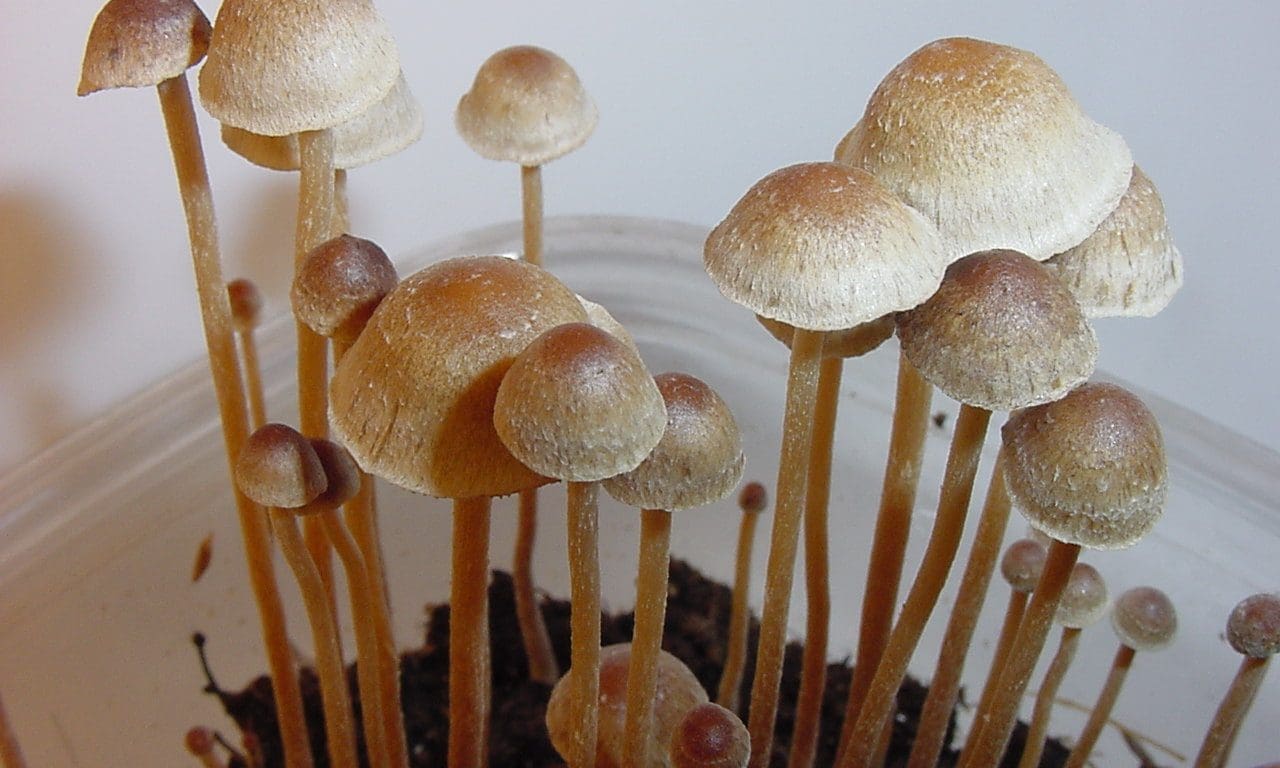 As psychedelics reform efforts pick up across the U.S., there's an increasing weariness among advocates about the potential corporatization that may follow.
That's why many found it alarming when a California-based company announced on Thursday that it had successfully trademarked the word "psilocybin," the main psychoactive constituent of so-called magic mushrooms.
Psilocybin™ is a brand of chocolates that do not contain the psychedelic itself but are meant to "begin educating, enlightening and supporting the community in upgrading their inner vibrations in order to get everything they want of their time here on earth," according to a mission statement.
Soon after founder Scarlet Ravin shared news of the trademark on LinkedIn, advocates raised questions and concerns: What does that mean on a practical level for other psilocybin organizations? Why should one brand get exclusive rights (to a certain legal extent) to the scientific name of a natural substance?
The reality of this particular trademark is more nuanced than it might appear at first glance. While it's true that the company was granted the distinction by the U.S. Patent and Trademark Office, it's specifically for educational materials and it's listed on the supplemental register, rather than the principal register, which means it would be incumbent upon the brand to prove that it has earned distinctiveness of the mark if the issue went to court.
"It's certainly good for her business to have that mark, but I think at the end of the day, it's going to be somewhat weak," Larry Sandell, an intellectual property attorney at Mei & Mark LLP, told Marijuana Moment. He added that this example is "indicative that people are trying to stake early claims to IP."
"Even if they might be somewhat overreaching, people see a potential new market here and they want to stake out their ground," he said. "It's a big next space that people are anticipating a legal market. Maybe it's where cannabis was five to 10 years ago."
Despite those legal limitations, reform advocates view the trademark as emblematic of a bigger issue—that someone would presume to take ownership of a substance that's at the center of a national debate on whether or not to criminalize individuals for using it.
Kevin Matthews, who led the successful campaign to decriminalize psilocybin mushrooms in Denver last year and is the founder of the national psychedelics advocacy group SPORE, told Marijuana Moment that he didn't doubt Ravin had the right intentions—to promote education into the substance—but he said the decision to trademark is nonetheless questionable.
"This being an open-source movement, trademarking the word psilocybin, in some ways it feels like—although I don't think this is her intention—it's lacking perspective," he said. "Does that mean we can't use psilocybin as SPORE because we're an educational non-profit and she's a for-profit branded company? It doesn't make a lot of sense to me. She needs to let go of the trademark."
Ravin said that her goal in trademarking psilocybin was to prevent the substance from being becoming the next cannabis, which she said has been corrupted from its "true spiritual, medicinal benefit" and turned into a corporate commodity.
"Knowing that psilocybin is going to be next [to be legalized] I feel strongly guided by the deepest part of my heart to really offer a sense of education of what could be when you take such a strong, beautiful medicine and to give people an education platform here and now to let them know what's coming, how to receive it, how to get the most benefit from," she told Marijuana Moment in a phone interview.
"We paved the way for this being a medicinal offering and not a consumer, recreational shitshow. That was our intention," Ravin said. "The only way that we are going to have access to mainstream consumers is by having some sort of trademark on the word so that we can use it for something that's not what it actually is."
"With this being something that we can now put into market with a box of chocolates that has no psilocybin in it, but as you can already see, it creates a platform for discussion of what the beauty of this plant can do," she said. "Me and my movement and my team, we don't own the word. We're not going to ever sue anyone who also uses the word—we're opening a doorway for ourselves and anyone that wants to see this educated upon so that we can hit people who are unfamiliar with it now with downloads to actually have this be a safe, successful psychedelic transition."
Asked to react to criticism about the trademark from advocates, Ravin said "we're all here to follow spirit guidance to show love and light, and the visions I had of doing what we're doing now was based upon breaking boundaries and breaking perceptions and allowing people to have an opportunity to sink into being one unit."
"Yeah, it might be coming out, we might be using the platform of psilocybin. We can use any platform to do this," she said. "We can use any platform to come together as a whole, and the longer that people sit in duality and say, 'oh now she's going to have a stronger voice than me is just looking at something not through their heart,' it's looking at it through ego and judgement."
"The more that we describe what we're doing, the more people I think will start to feel our unity and we'll be able to move together as a stronger force than pointing fingers and trying to separate one another," she said. "Those days are done."
Ravin said that once the Psilocybin™ chocolates are ready for market, she plans to contribute 10 percent of profits to the Multidisciplinary Association for Psychedelic Studies (MAPS), which is involved in researching therapeutic benefits of psychedelic substances.
Congressman Backs Ballot Measure To Legalize Psychedelic Mushrooms For Therapeutic Use
Photo courtesy of Wikimedia/Workman.
Illinois Gets More Tax Revenue From Marijuana Than Alcohol, State Says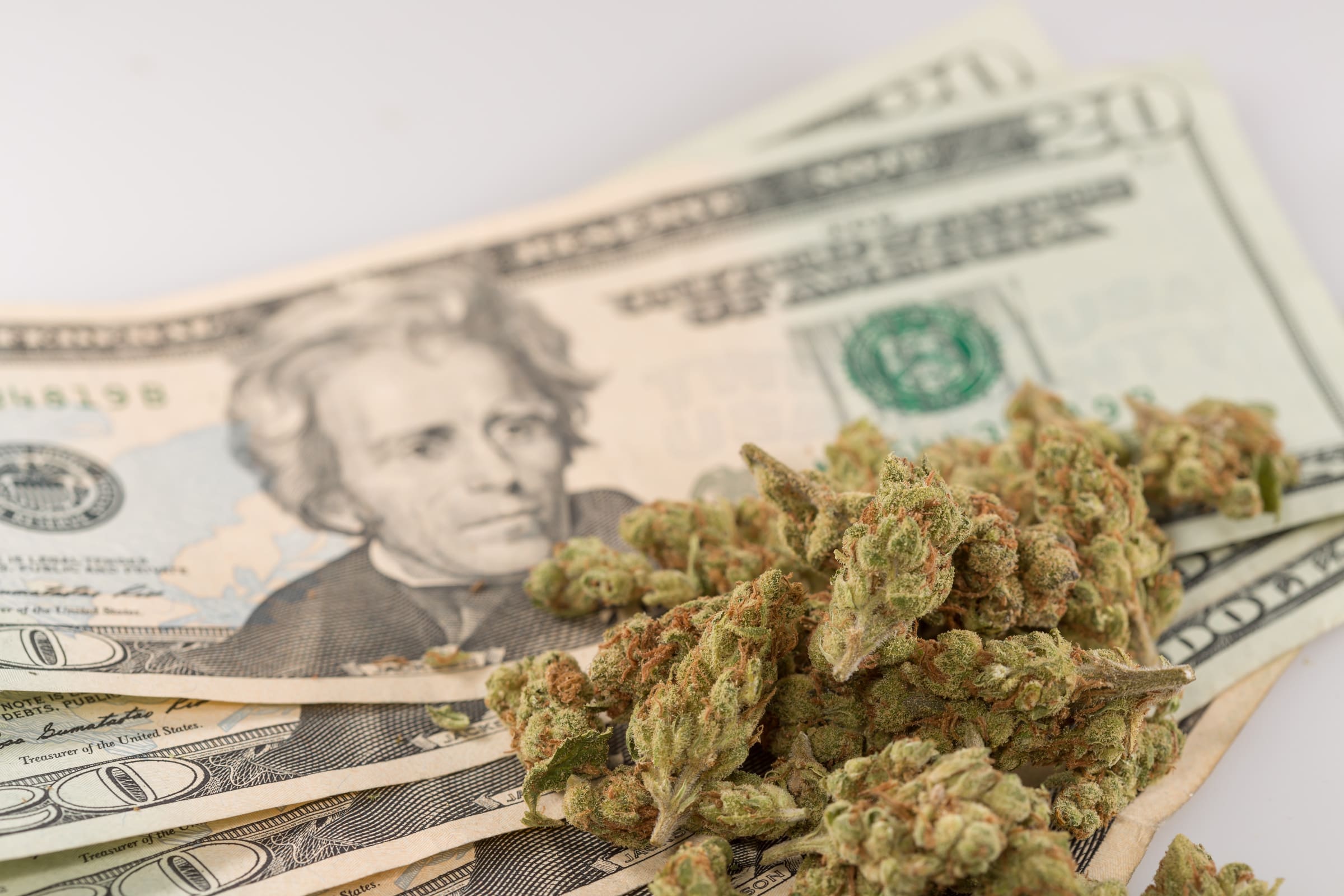 Illinois took in more tax dollars from marijuana than alcohol for the first time last quarter, according to the state Department of Revenue.
From January to March, Illinois generated about $86,537,000 in adult-use marijuana tax revenue, compared to $72,281,000 from liquor sales.
Those following the cannabis market in Illinois might not be entirely surprised, as the state has consistently been reporting record-breaking sales, even amid the pandemic. In March alone, adults spent $109,149,355 on recreational cannabis products—the largest single month of sales since retailers opened shop.
It was in February that monthly cannabis revenues first overtook those from alcohol, a trend that continued into March.
If the trend keeps up, Illinois could see more than $1 billion in adult-use marijuana sales in 2021. Last year, the state sold about $670 million in cannabis and took in $205.4 million in tax revenue.
Officials have emphasized that the tax dollars from all of these sales are being put to good use. For example, the state announced in January that it is distributing $31.5 million in grants funded by marijuana tax dollars to communities that have been disproportionately impacted by the war on drugs.
The funds are part of the state's Restore, Reinvest, and Renew (R3) program, which was established under Illinois's adult-use cannabis legalization law. It requires 25 percent of marijuana tax dollars to be put in that fund and used to provide disadvantaged people with services such as legal aid, youth development, community reentry and financial support.
Awarding the new grant money is not all that Illinois is doing to promote social equity and repair the harms of cannabis criminalization. Gov. J.B. Pritzker (D) announced in December that his office had processed more than 500,000 expungements and pardons for people with low-level cannabis convictions on their records.
Relatedly, a state-funded initiative was recently established to help residents with marijuana convictions get legal aid and other services to have their records expunged.
But promoting social equity in the state's cannabis industry hasn't been smooth sailing. The state has faced criticism from advocates and lawsuits from marijuana business applicants who feel officials haven't done enough to ensure diversity among business owners in the industry.
New Mexico Governor Signs Marijuana Legalization Bill, Making State Third To Enact Reform Within Days
Colorado Marijuana Sales Reached $167 Million In February
Colorado's overall cannabis sales for the first two months of 2021 are $78 million higher than those for January and February of 2020.
By Robert Davis, The Center Square
Total marijuana sales in Colorado reached $167 million in February, the state's revenue department announced on Friday.
The total represents a $20 million decline in sales from the previous month. However, Colorado's overall sales for the first two months of 2021 remain $78 million above the pace set between January and February of 2020.
Marijuana sales are calculated by adding the total sales for both medical and recreational marijuana sales in Colorado's 64 counties.
Denver County led all others in total recreational sales with over $38 million. Arapahoe and Adams counties followed suit with $13 million and $11 million in recreational sales, respectively.
Denver also led the way in medical marijuana sales, bringing in a total of $14 million. El Paso County was a close second, reaping over $10 million in medical sales.
Sales are not automatically accounted for in the state's accounting system. This means the Department of Revenue (CDOR) relies on each county to report their sales before reporting the total. In effect, marijuana sales are reported one month behind tax and fee revenue totals.
Meanwhile, Colorado collected over $33 million in tax revenue in March. This total represents both taxes levied from medical and recreational marijuana sales, as well as license and application fees.
Between February and March, state tax revenue from marijuana sales declined 4 percent, according to CDOR data.
Tax revenue comes from a 2.9 percent state sales tax on marijuana sold in stores, a 15 percent state retail marijuana sales tax, and a 15 percent state retail marijuana excise tax on wholesale sales or transfers of retail marijuana.
This piece was first published by The Center Square.
Colorado Is Auctioning Marijuana-Themed License Plates To Raise Money For People With Disabilities
Uber Will 'Absolutely' Explore Marijuana Deliveries When Federal Prohibition Ends, CEO Says
The CEO of Uber said on Monday that the ride share company will "absolutely" explore adding marijuana deliveries to its services when federal prohibition ends.
Dara Khosrowshahi was asked about the prospect of expanding his business to include cannabis deliveries during an interview with CNBC. He said while the company remains focused on grocery and alcohol deliveries, in addition to its core ridesharing service, that's certainly in the cards if marijuana is federally legalized.
Uber is interested in "the types of deliveries that a high percentage of consumers are going to want delivered fast into their home and are quite frequent," he said. "We think, obviously, food, grocery, pharmacy and alcohol are part of that category," but cannabis also holds potential.
"When the road is clear for cannabis when federal laws come into play, we're absolutely going to take a look at it," Khosrowshahi said. "But right now with grocery, with food, with alcohol, et cetera, we see so much opportunity out there and we're going to focus on the opportunity at hand."
Could you get your weed delivered through Uber? CEO Dara Khosrowshahi discusses the potential business strategy: "When the road is clear for cannabis and federal laws come into play, we're absolutely going to look at it." (via @CNBCTechCheck) https://t.co/6VM454ugka pic.twitter.com/bRjpv7vvhU

— CNBC (@CNBC) April 12, 2021
The tech executive was specially asked about the possible expansion into the cannabis market in light of legalization recently being enacted in New York. And if polling from that state is any indication, Uber would see the demand for deliveries that it's looking for, as 53 percent of New Yorkers said in a survey that they would favor having that option available to consumers.
But for now, the CEO said the business is keeping its eyes on current expansions, which includes its recent acquisition of the alcohol delivery service Drizly. That company did launch an ancillary cannabis delivery service called Lantern—but following the Uber deal, it announced that the two entities would be separated, with Lantern operating independently as a private company.
Of course, as a national corporation, Uber is also making a risk assessment given the ongoing ban on cannabis at the federal level. But a policy change to that end could come sooner than later.
Senate Majority Leader Chuck Schumer (D-NY) has said that a bill to legalize marijuana that he's been working on with Senate Finance Chairman Ron Wyden (D-OR) and Sen. Cory Booker (D-NJ) will be released "shortly."
On the House side, Judiciary Chairman Jerrold Nadler (D-NY) has similarly signaled that his cannabis descheduling bill—the Marijuana Opportunity, Reinvestment and Expungement (MORE) Act—will be reintroduced this session. That proposal passed the House last year but did not advance in the Senate.
With Democrats in control of both chambers and the White House this session, there's renewed hope among advocates that the days of prohibition are soon to be over. Still, questions remain about President Joe Biden's role in the reform, as he opposes adult-use legalization and his press secretary said last month that his position "has not changed" to that end.
In any case, Uber's apparent interest in participating in the market once those federal barriers are lifted is another sign of the industry's potential. That said, many advocates have expressed that small businesses—particularly those operated by people most impacted by cannabis criminalization—should be prioritized in any legalization legislation over large companies.
Four More States Could Still Legalize Marijuana This Year After New Mexico, New York And Virginia