Colorado Lawmakers Approve MDMA Bill While Rejecting Broader Psychedelics Measure As Ballot Initiatives Loom
A Colorado House committee on Tuesday approved a bill aligning state statute to legalize MDMA prescriptions if and when the federal government ultimately permits such use.
Meanwhile, the House Public & Behavioral Health & Human Services Committee also rejected separate legislation to create a psychedelics review panel to study substances like psilocybin and DMT and issue recommendations on possible policy changes.
But that measure's defeat came at the request of its sponsor, who asked members to "kill my bill" to give voters a chance to weigh in on broader psychedelics reform initiatives that activists are actively pursuing for the November ballot.
The MDMA legislation, however, unanimously passed in a 11-0 vote, with technical amendments. It now heads to the floor.
With respect to the broader psychedelics panel proposal, sponsor Rep. Alex Valdez (D) said that advisory boards would already be included in psychedelics reform initiatives if activists collect sufficient signatures and voters ultimately give their approval.
"What I believe in is a democratic process," Valdez said. "And since that is going to be in front of us all its Coloradans to have a vote on this issue, what I would ask is that the committee postpone indefinitely this bill so that we can let the folks of the state of Colorado have their say and then return to help with whatever happens after that."
He said he didn't want to prematurely push legislation that "detracts from the efforts that are being done" by activists.
One campaign is working to collect signatures for a ballot initiative to legalize psilocybin and create licensed "healing centers" where people could use the psychedelic for medical purposes. Another team's effort would allow adults 21 and older to possess, cultivate, gift and deliver psilocybin, psilocyn, ibogaine, mescaline and DMT.
The bicameral review panel bill briefly heard in committee—which was cosponsored by Sen. Joann Ginal (D)—would have taken an incremental approach to reform, simply by establishing "plant-based medicine policy review panel," appointed by legislative leaders and the governor.
—
Marijuana Moment is already tracking more than 1,000 cannabis, psychedelics and drug policy bills in state legislatures and Congress this year. Patreon supporters pledging at least $25/month get access to our interactive maps, charts and hearing calendar so they don't miss any developments.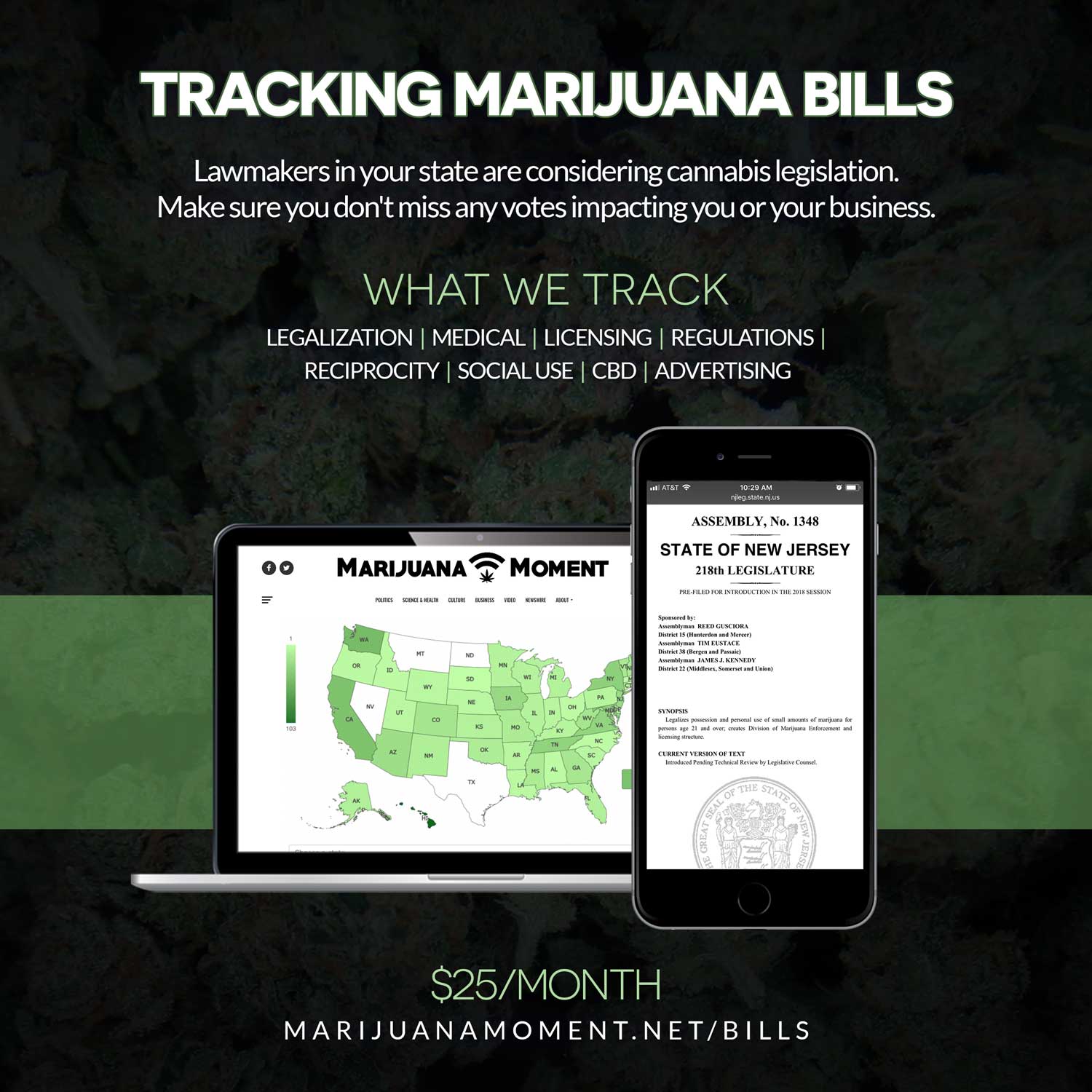 Learn more about our marijuana bill tracker and become a supporter on Patreon to get access.
—
The 17-member panel would have had one year to "study the use of plant-based medicines to support mental health" and then submit a report with its findings and recommendations. Specifically, members would be required to look at the science of psilocybin, psilocyn, DMT and ibogaine.
The legislation says that the panel, at a minimum, would have needed to study and make recommendations on 13 different areas of psychedelics policy.
The final report would have needed to address the potential reclassification of the substances under state statute, the "weight and measurements of plant-based medicines," redefining plant-based medicines, production and distribution of psychedelics, the "proper dosage" of the substances, oversight and regulations for their medical use, employment policy impacts of reform and more.
The governor would have been responsible for making 11 of the appointments to the panel, and the legislation lays out specific requirements for who must be selected. That includes physicians, pharmacists, veterans, psychedelics reform advocates, an indigenous person and harm reduction advocates.
Legislative leaders would have selected six members. They would've needed to choose representatives of law enforcement, criminal defense attorneys, a district attorney and an attorney with "a practice focused on plant-based medicines."
Although that measure was killed, the committee on Tuesday also took up and passed a separate, bipartisan bill from Reps. Patrick Neville (R) and David Ortiz (D) and Sen. John Cooke (R), along with Ginal, that would legalize "prescribing, dispensing, transporting, possessing, and using" MDMA if the U.S. Food and Drug Administration (FDA) approves the substance as a prescription drug.
"The potential breakthrough treatments, using MDMA as the catalyst, to free myself and others [is] something that is really exciting and really meaningful," Ortiz said at the close of Tuesday's hearing. "This could have wide-ranging ramifications—we're just starting to unlock the door, really, in treating mental health and physical health, and I just see this as a step in the right direction."
After members heard testimony, including from a military veteran who said MDMA helped treat his PTSD, the bill was revised with the adoption of two mostly technical amendments.
One of the changes adds language to the findings section of the bill on prior research results on the benefits of MDMA, including by saying it is "highly effective if paired with talk therapy and counseling" and noting that "it is widely expected that the federal Food and Drug Administration will approve MDMA-assisted therapy for prescription use for PTSD as soon as 2023."
The second amendment provides additional clarity around who would be able to lawfully possess MDMA as a prescription drug, pending a federal policy change.
It makes sense that Colorado would become a legislative hub for psychedelics reform. Not only was Denver the first city in the U.S. to locally decriminalize psilocybin mushrooms in 2019, but the state was one of the first to legalize marijuana for adult use in 2012.
Since then, lawmakers have worked to modify the state's cannabis laws in various ways.
Recently, advocates were disappointed when a Colorado House committee defeated a bill that was originally meant to provide protections for workers who use marijuana off the job and allow medical cannabis patients to use their medicine at work—even after significantly scaling the legislation back to remove those protections altogether.
Officials late last week separately announced another round of auctions for ceremonial, marijuana-themed license plates to raise money to support programs for people with disabilities.
Meanwhile, psychedelics activists aren't waiting around for the legislature. There are two competing campaigns hoping to place broad reform on the ballot in November.
A campaign backed by the New Approach PAC went into this election season with several options. Colorado officials have given tentative approval to the ballot language of four psychedelics reform measures that they submitted—all titled the Natural Medicine Health Act—but it was always the plan to pursue only one version.
That one would legalize psilocybin, create a medical system for the use of the psychedelic and provide a pathway for record sealing for prior convictions. It would also eventually allow regulators to decide whether to legalize DMT, ibogaine and mescaline.
A separate campaign headed by Decriminalize Nature Colorado, which has taken issue with the regulations prescribed in the New Approach-backed measures, filed a competing initiative in January that is also making its way through the process of being able to collect signatures.
In general, the Colorado ballot initiatives seek to accomplish something similar to what California activists had been pursuing this year with a proposed ballot initiative to legalize psilocybin mushrooms. However, activists failed to collect enough signatures by a key deadline so that effort has been postponed.
Meanwhile, Michigan activists have launched a mass signature drive to place a measure on this November's statewide ballot to legalize possessing, cultivating and sharing psychedelics while setting up a system for their therapeutic and spiritual use. The state Board of State Canvassers certified the latest version of initiative last month.
Outside of Colorado, state lawmakers across the country are looking at and advancing psychedelics reform this session.
For example, a Maryland House of Delegates panel on Monday took up a Senate-passed bill to create a state fund that could be used to provide "cost-free" access to psychedelics like psilocybin, MDMA and ketamine for military veterans suffering from post-traumatic stress disorder (PTSD) and traumatic brain injury.
Last week, Georgia lawmakers advanced a bipartisan resolution that calls for the formation of a House study committee to investigate the therapeutic potential of psychedelics like psilocybin and make recommendations for reforms.
The governor of Utah last month signed a bill to create a task force to study and make recommendations on the therapeutic potential of psychedelic drugs and possible regulations for their lawful use.
A Missouri House committee also held a hearing last month on a GOP-led bill to legalize a wide range of psychedelics for therapeutic use at designated care facilities while further decriminalizing low-level possession in general.
A Connecticut legislative committee approved a bill last month that would set the state up to provide certain patients with access to psychedelic-assisted treatment with substances like MDMA and psilocybin. Connecticut Gov. Ned Lamont (D) signed a separate bill last year that includes language requiring the state to carry out a study into the therapeutic potential of psilocybin mushrooms. A workgroup has since been meeting to investigate the issue.
The Washington State legislature recently sent a budget bill to the governor's desk that includes a proposal to direct $200,000 in funding to support a new workgroup to study the possibility of legalizing psilocybin services in the state, including the idea of using current marijuana regulatory systems to track psychedelic mushrooms.
Last month, the Hawaii Senate approved a bill to set up a state working group to study the therapeutic benefits of psilocybin mushrooms and develop a "long-term" plan to ensure that the psychedelic is accessible for medical use for adults 21 and older.
Also last month, the Oklahoma House of Representatives passed a bill to decriminalize low-level possession of psilocybin and promote research into the therapeutic potential of the psychedelic.
Rhode Island lawmakers introduced a pair of drug decriminalization bills last month—including one focused on psilocybin and buprenorphine that would authorize doctors to prescribe the psychedelic mushroom.
An Oregon Senate committee also recently advanced a bill to ensure that equity is built into the state's historic therapeutic psilocybin program that's actively being implemented following voter approval in 2020.
A bill to decriminalize a wide array of psychedelics in Virginia was taken up by a House of Delegates panel in January, only to be pushed off until 2023. A separate Senate proposal to decriminalize psilocybin alone was later defeated in a key committee.
California Sen. Scott Wiener (D) told Marijuana Moment in a recent interview that his bill to legalize psychedelics possession stands a 50/50 chance of reaching the governor's desk this year. It already cleared the full Senate and two Assembly committees during the first half of the two-year session.
Washington State lawmakers also introduced legislation in January that would legalize what the bill calls "supported psilocybin experiences" by adults 21 and older.
Meanwhile, a Pennsylvania bill meant to promote research into the therapeutic potential of psilocybin mushrooms for certain mental health conditions may be in jeopardy, with the sponsor saying that the chair of a key House committee is expressing reservations even after the legislation was amended in an effort to build support.
New Hampshire lawmakers filed measures to decriminalize psilocybin and all drugs.
Legislation was also enacted by the Texas legislature last year requiring the state to study the medical risks and benefits of psilocybin, MDMA and ketamine for military veterans in partnership with Baylor College of Medicine and a military-focused medical center.
At the congressional level, bipartisan lawmakers sent a letter to the Drug Enforcement Administration (DEA) in January, urging that the agency allow terminally ill patients to use psilocybin as an investigational treatment without the fear of federal prosecution.
Illinois Marijuana Sales Rebound In March, Reaching $131 Million, State Officials Report
Photo courtesy of Pretty Drugthings on Unsplash.