California Governor Signs Child Welfare Bill Treating Parental Marijuana Use Just Like Alcohol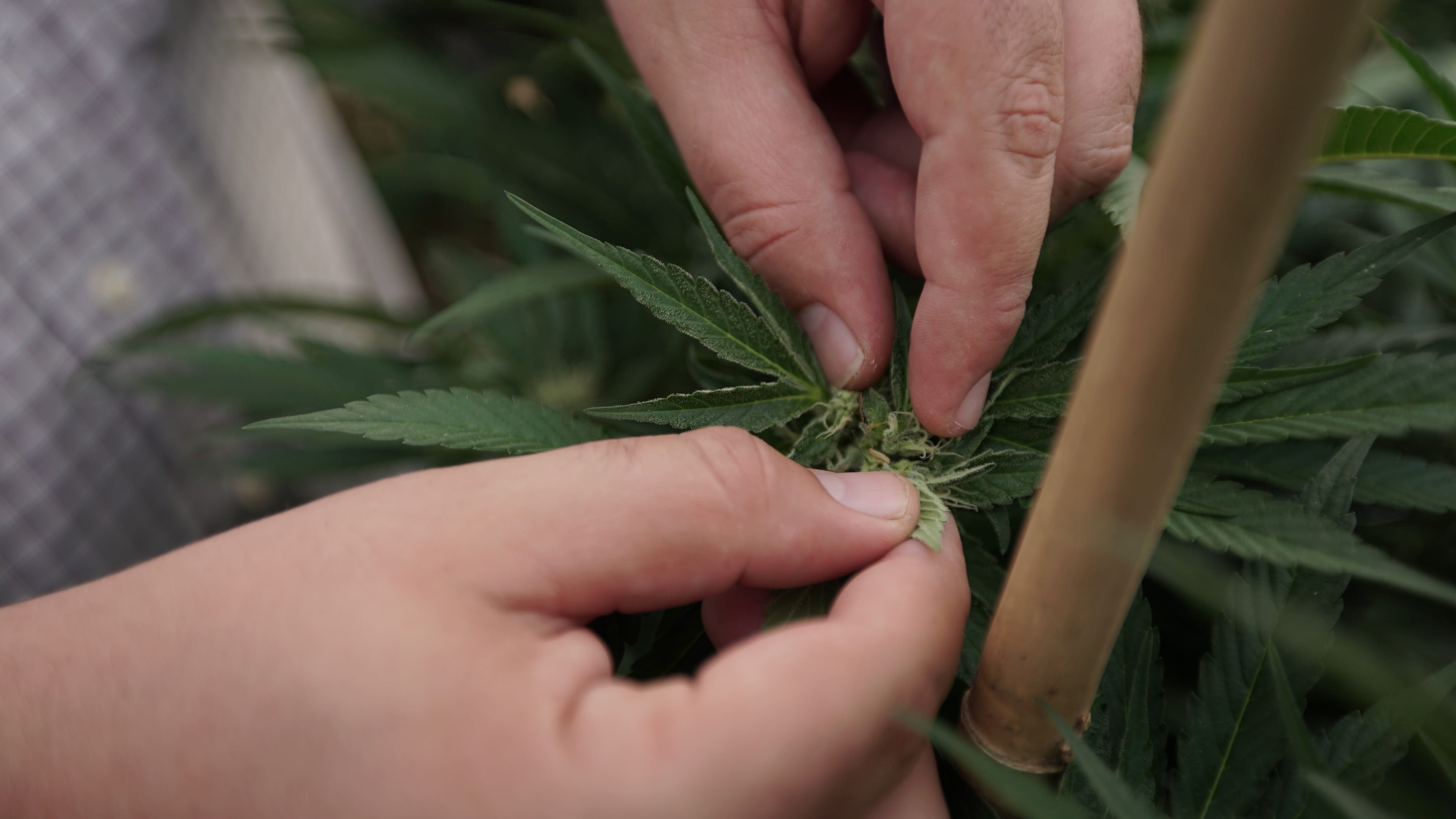 The governor of California signed a bill on Tuesday that includes provisions mandating that social workers who are called to investigate child welfare handle parental marijuana use in the same way that they do for alcohol.
Assemblymember Reggie Jones-Sawyer (D) sponsored the legislation, which is one of about a dozen cannabis-related bills that have been sent to Gov. Gavin Newsom (D) in recent weeks.
Under the now-enacted law, the state Department of Social Services (DSS) is required to update "all regulations, all-county letters, and other instructions relating to the investigation of a minor" to stipulate that "when a social worker is investigating an alleged case of child abuse or neglect, a parent's or guardian's use or possession of cannabis is treated in the same manner as a parent's or guardian's use or possession of alcohol and legally prescribed medication."
In some states, parental marijuana consumption can be used as a justification for removing custody, even if there is no indication of danger to the child.
Jones-Sawyer said in a summary for the bill that "cannabis use alone should not be a basis for state intervention into family life."
"As is the case with alcohol and prescription medication, parents and guardians should be allowed to safely and legally use cannabis without fear of having their children permanently removed from their care, provided there are no other concerns regarding the child's safety," he said.
According to a study published in April, legalizing marijuana for adult use is associated with at least a 10 percent decrease in foster care admissions on average, including reductions in placements due to physical abuse, neglect, parental incarceration and misuse of alcohol and other drugs.
Further, if cannabis was legalized nationally, the study authors estimated that would result in hundreds of millions of dollars in estimated cost savings for foster care systems every year.
Back in California, the state NORML chapter praised the new law.
AB 2595, to require CA DSS to update all regulations and instructions to ensure that a parent's use of #cannabis is treated in the same manner as their use of alcohol or legally prescribed medication has been signed into law. Thank you @JonesSawyerAD59 and all who wrote letters!

— California NORML (@CaliforniaNORML) September 7, 2022
Meanwhile, Newsom signed two other marijuana bills last week, including one that provides protections for medical cannabis patients against discrimination in healthcare. The other legislation amends an existing law that permits registered patients to use medical marijuana products at hospitals.
The governor is also considering a series of other cannabis reform proposals that the legislature passed in recent weeks.
Last week, for example, lawmakers sent the governor a bill that would ensure that medical cannabis patients across the state have access to delivery services, ending the current policy that allows individual jurisdictions to ban any marijuana license types from operating in their area.
Sen. Scott Wiener (D) is the sponsor of that proposal. He and other advocates have argued that the legislation will both improve patient access and help fill voids throughout the state where no cannabis license types have been authorized, causing complications for patients and creating an incentive for illicit suppliers.
Activists were also pleased to see a measure providing employment protections for most workers who use marijuana off the job clear the legislature last week, after earlier versions stalled in committee in past sessions.
Also last month, a key reform to streamline record sealing for people with eligible marijuana-related convictions passed the legislature.
Another passed measure would set the state up to allow interstate cannabis commerce. The sponsor of that legislation, Sen. Anna Caballero (D), said in a statement last week that "California can and should lay the groundwork for a multi-state legal cannabis market, which will benefit our rural economy and our workers and put a dent in the dangerous illicit market.
—
Marijuana Moment is tracking more than 1,500 cannabis, psychedelics and drug policy bills in state legislatures and Congress this year. Patreon supporters pledging at least $25/month get access to our interactive maps, charts and hearing calendar so they don't miss any developments.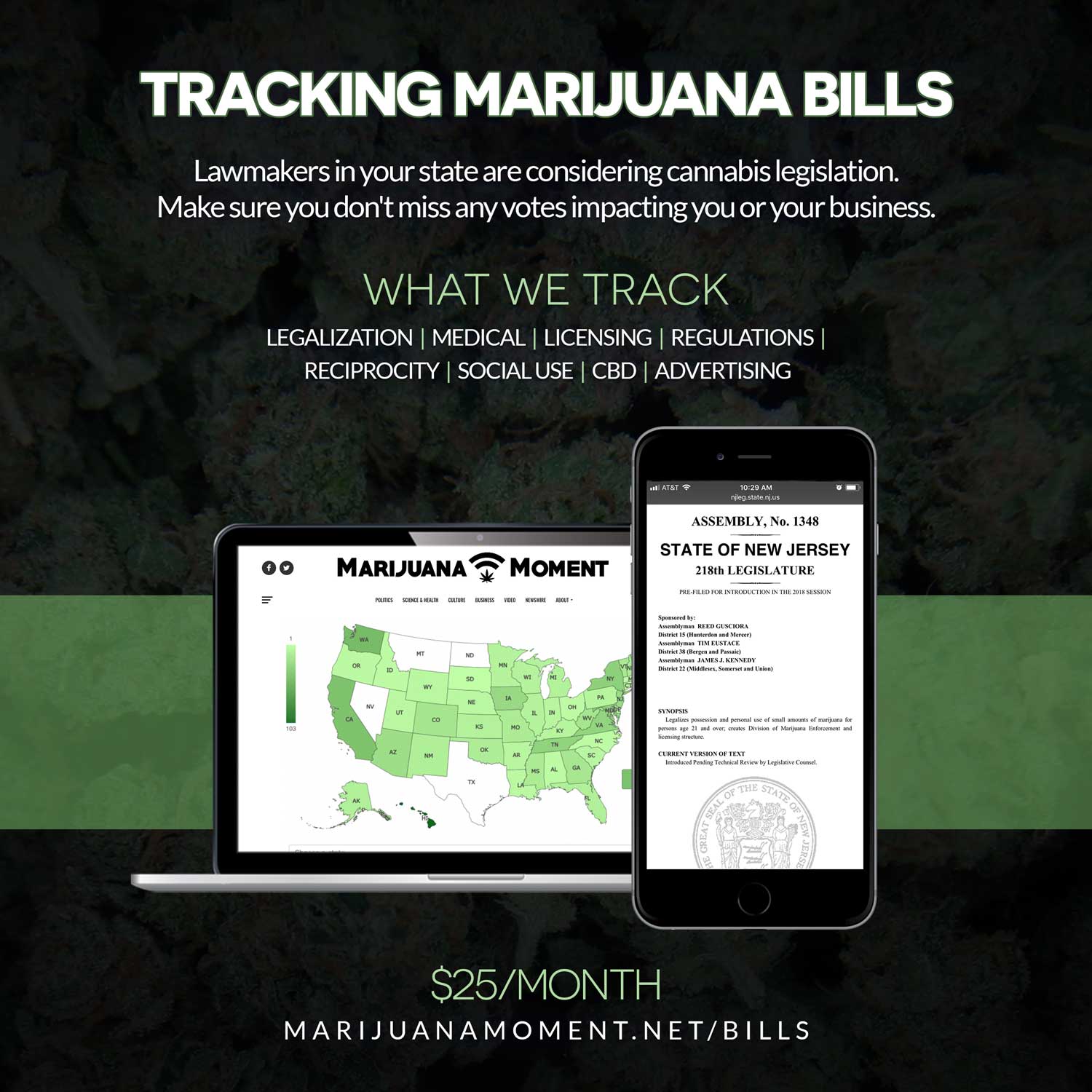 Learn more about our marijuana bill tracker and become a supporter on Patreon to get access.
—
An additional bill that was passed this week and is now moving to the governor would amend the state's medical cannabis law to authorize marijuana products for non-human animals and protect veterinarians who issue cannabis recommendations for pets.
But while these measures have received ample attention from advocates and stakeholders, there are even more reform proposals on the table for action by the governor.
Here's a rundown of other recently passed marijuana bills that Newsom will soon act on: 
SB 1326: Caballero's measure would set the stage to allow for interstate marijuana commerce from California to and from other legal states, contingent on an official assurance that the activity would not put the state at risk of federal enforcement action.
AB 2188: Quirk's bill would "make it unlawful for an employer to discriminate against a person in hiring, termination, or any term or condition of employment, or otherwise penalize a person" solely because of off-duty marijuana use. It would eliminate employment-based THC testing, with exceptions for certain positions, such as federal employees or those working in construction.
SB 1186: The bill from Wiener would "prohibit a local jurisdiction from adopting or enforcing any regulation that prohibits the retail sale by delivery within the local jurisdiction of medicinal cannabis to medicinal cannabis patients or their primary caregivers by medicinal cannabis businesses."
AB 1706: Assemblymember Mia Bonta's (D) legislation is meant to enhance justice reform provisions of the state's marijuana law by mandating the courts to process record sealing and other forms of relief for people with eligible cannabis convictions on their records in a specific timeframe. Courts would have until March 1, 2023 to seal records for qualifying cases that weren't challenged by July 1, 2020.
AB 1885: The bill from Assemblymember Ash Kalra (D) would prohibit regulators from penalizing licensed veterinarians who recommend medical cannabis for animals and revise state law to include definitions for marijuana products intended for animal consumption. The Veterinary Medical Board would also be required to create guidelines for veterinarian cannabis recommendations.
AB 2568: Sponsored by Assemblymember Ken Cooley (D), the bill would "provide it is not a crime solely for individuals and firms to provide insurance and related services to persons licensed to engage in commercial cannabis activity," according to a summary.
SB 1496 This bill that came out of the Committee on Governance and Finance would make a series of changes to the state's cannabis tax policy, including by authorizing regulators to extend the deadline for tax payments by cannabis businesses located in areas affected by an emergency proclamation by the governor.
AB 1646: This bill, sponsored by Assemblyman Phillip Chen (R), would "authorize cannabis beverages to be packaged in containers of any material that are clear or any color."
AB 1894:  Assemblymember Luz Rivas's (D) bill would add advertising and labeling requirements for cannabis vaporizer products, stipulating that they should be properly disposed and would constitute hazard waste if thrown away improperly.
AB 2210: Another bill from Quirk would prohibit state marijuana regulators from "denying an application for a state temporary event license solely on the basis that there is a license issued pursuant to the Alcoholic Beverage Control Act for the proposed premises of the event."
AB 2925: This measure from Jim Cooper (D) would mandate that the State Department of Health Care Services submit reports to the legislature, starting no later than July 10, 2023, that accounts for cannabis tax revenue that has been distributed to the Youth Education, Prevention, Early Intervention and Treatment Account, as required under the state's marijuana law.
Newsom has a long record of supporting marijuana reform and backing the state's market, so he's generally expected to sign these measures. But despite his record, he recently vetoed a key piece of drug policy reform legislation from Wiener that would have authorized a safe drug consumption site pilot program in the state—a move that's prompted widespread criticism from the harm reduction community.
San Francisco officials have since signaled that they're prepared to defy the governor and launch an overdose prevention program regardless of the veto.
In another disappointment for reform advocates, a separate Wiener bill that would have legalized possession of limited amounts of certain psychedelics was recently pulled by the sponsor after its main provisions were gutted, leaving just a study component that advocates say is unnecessary given the existing body of scientific literature on the subject.
Here's an overview of other recent drug policy developments in California:
In July, California officials awarded more than $1.7 million in grants help promote sustainable marijuana cultivation practices and assist growers with obtaining their annual licenses. A total of $6 million will be allotted through the program, which was first announced in August 2021 and will remain open for applications through April 2023.
Regulators also recently announced that they are soliciting input on proposed rules to standardize cannabis testing methods in the state—an effort that they hope will stop marijuana businesses from "laboratory shopping" to find facilities that are more likely to show higher THC concentrations that they can then boast for their products.
Meanwhile, California officials are distributing another round of community reinvestment grants totaling $35.5 million with tax revenue generated from recreational marijuana sales.
The Governor's Office of Business and Economic Development (GO-Biz) announced in July that they've awarded 78 grants to organizations throughout the state that will support economic and social development in communities disproportionately impacted by the war on drugs.
The amount of funding and number of recipients increased from last year's levels, when the state awarded about $29 million in grants to 58 nonprofit organizations through the CalCRG program.
California has taken in nearly $4 billion in marijuana tax revenue since the state's adult-use market launched in 2018, the Department of Tax and Fee Administration (CDTFA) reported in July. And for the first quarter of 2022, the state saw about $294 million in cannabis revenue generated from the excise, cultivation and sales tax on marijuana.
The state collected about $817 million in adult-use marijuana tax revenue during the last fiscal year. That represented 55 percent more cannabis earnings for state coffers than was generated in the 2020-2021 period.
California officials also announced in January that the state had awarded $100 million in funding to help develop local marijuana markets, in part by getting cannabis businesses fully licensed.
San Francisco Lawmakers Unanimously Approve Psychedelics Decriminalization Resolution
Photo courtesy of Chris Wallis // Side Pocket Images.