California Governor Hesitates To Sign Safe Drug Consumption Site Bill Even As Polling Shows Voters Support It
California Gov. Gavin Newsom (D) is reportedly wavering on the idea of signing a bill to create a safe drug consumption site pilot program that was delivered to his desk last week, apparently fearful of possible political fallout despite polling data showing the harm reduction centers enjoy bipartisan voter support.
As the governor has raised his national profile in recent months, generating speculation about a possible run for the Democratic presidential nomination in 2024 if President Joe Biden bows out, he's facing pressure from reform advocates and health officials to put a stamp of approval on the safe consumption site legislation from Sen. Scott Wiener (D).
The bill would authorize San Francisco, Los Angeles, Los Angeles County and Oakland to open harm reduction centers under an initial pilot program, lasting through January 1, 2028. At those centers, people could use currently illicit drugs in a medically supervised environment where staff would be trained to prevent and respond to overdoses and provide treatment resources.
It's exactly the type of bold drug policy reform that advocates hope Newsom will lead on, especially given his record of going out in front of issues like same-sex marriage and marijuana legalization before they enjoyed supermajority voter support across the country. But according to sources close to the governor who spoke with The San Francisco Chronicle in recent days, Newsom is "hesitating" because he's concerned about potential political repercussions.
URGENT – There are rumors that Gov. Newsom may veto #SB57, the lifesaving bill that would open overdose prevention programs in LA, SF, & Oakland. He has until Aug 22 to sign this bill and we need your help to ensure that he does. Sign the petition now: https://t.co/TzLHZAo3El pic.twitter.com/CR0bJtDG0B

— Drug Policy Alliance (@DrugPolicyOrg) August 14, 2022
Yet polling on the issue shows that most of the public is already on board with the harm reduction policy, with 64 percent of Americans saying that they support opening overdose prevention sites. That includes 81 percent of Democrats, 62 percent of independents and a plurality of 49 percent of Republicans.
Around the time that Newsom was advocating for equal rights for same-sex couples as mayor of San Francisco, only 42 percent of Americans were on his side, as the Chronicle noted. While serving as lieutenant governor of California, he was among the most high-profile politicians to back marijuana legalization, denouncing the "abject failure" of prohibition and convening a blue ribbon panel that helped inform the drafting of an adult-use cannabis initiative that voters approved in 2016.
With public support already there for safe consumption sites—and Newsom's decades-long reputation as a critic of the drug war on the line—it becomes difficult to square his apparent indecision on the legislation that's on his desk. He has until August 22 to sign it, veto it or let it take effect without his signature.
Wiener, the bill sponsor, told Marijuana Moment in a phone interview on Monday that he's sure the governor is "evaluating" the proposal, and that he will ultimately make an informed decision that aligns with his reform background.
"This governor has been a strong supporter of progressive drug policy and harm reduction. This bill is right up his alley," the senator said. "All we can do is make the case to the governor that this is a good idea. And that's what we're doing."
Marijuana Moment reached out to Newsom's office for comment, but representatives did not respond by the time of publication.
To advocates, the assumption that there's a significant political risk associated with embracing harm reduction models for drug policy isn't just reductive, it's misconceived. Polling aside, Newsom has proved along the way on his path to the governorship that taking pro-reform positions even before they're widely accepted by the public can result in positive, political payout.
Most people agree that criminalizing people over low-level drug possession is ineffective and that a public health-centered approach to drug-related violations is superior to leaving the issue to the criminal legal system. Newsom has consistently held that position, even before it became a mainstream (and increasingly bipartisan) stance.
"Abject failure" is the term of art that Newsom has used for decades to describe the drug war. As mayor of San Francisco in 2007, he shamed fellow Democrats who refused to concede that point, calling it "laughable" that anyone would claim that criminalizing and incarcerating people over drugs would stamp out crime and addiction.
The war on drugs has been an abject failure…it's been a war on people of color and a war on poor people.

— Gavin Newsom (@GavinNewsom) July 6, 2016
And while he hasn't publicly commented on the specific safe consumption site bill at this point, Newsom has weighed in on the policy before. When San Francisco moved to open such centers, the then-lieutenant governor said in 2018 that he was "very, very open" to the "novel strategy"—unlike his predecessor Gov. Jerry Brown (D) who vetoed a bill to authorize the city to launch a pilot program.
Wiener, for his part, has heavily invested himself in drug policy reform in the legislature. For example, he championed what would have been a historic bill to legalize psychedelics possession by adults that was significantly watered down in an Assembly committee last week before being shelved by the sponsor.
The senator said that, as a generally matter, he understands that legislation that deals with drug use "is always on one level controversial."
However, "we also know that voters have in California and elsewhere have been very consistent in supporting a new approach to drug use and addiction," he said. "I think people overwhelmingly understand that the war on drugs has been an abject failure and waste of money."
"Every politically contentious issue has pros and cons to it. I understand the governor is in a tight spot here. There are people who love this bill and there are people who don't," Wiener said. "But in a way, when you have bill with strong opinions on both sides, it creates space as a policymaker to just do the right thing."
If Newsom signs the bill into law, California wouldn't be the first state to create such a pilot program. Rhode Island Gov. Dan McKee (D) signed a similar harm reduction bill last year. What's more, the first sanctioned overdose prevention sites in the U.S. opened in New York City late last year, and local health officials have affirmed that the programs are saving lives.
In fact, New York City Mayor Eric Adams (D), a retired police officer known for his law-and-order ideology, has proposed keeping the sites open for 24-hours after seeing both the demand for the services and the overdose prevention efficacy.
"That speaks volumes because he knows that these sites have been very successful in New York City in the nearly one year that they've been in effect," Wiener said. "Whatever the controversy, this is an idea that a lot of different people can get behind."
A study published by the American Medical Association (AMA) last month found that the those safe consumption drug sites have, in fact, decreased overdose risk, steered people away from using in public and provided other ancillary health services to people who use currently illicit substances.
The research letter, published in AMA's Journal of the American Medical Association, looked at data the New York City data over the course of two months. It found that trained staff at the sites intervened in 125 instances to mitigate overdose risk, administering naloxone and oxygen and providing other services to prevent deaths.
While New York is allowing the harm reduction centers to operate, federal statute has been interpreted as barring such facilities, and the Justice Department is actively in litigation that started during the Trump administration over a Philadelphia-based non-profit organization's attempt to open a safe consumption site.
However, the White House drug czar recently said that the Biden administration is reviewing broader drug policy harm reduction proposals, including the authorization of supervised consumption sites—and he went so far as to suggest possible decriminalization.
—
Marijuana Moment is tracking more than 1,500 cannabis, psychedelics and drug policy bills in state legislatures and Congress this year. Patreon supporters pledging at least $25/month get access to our interactive maps, charts and hearing calendar so they don't miss any developments.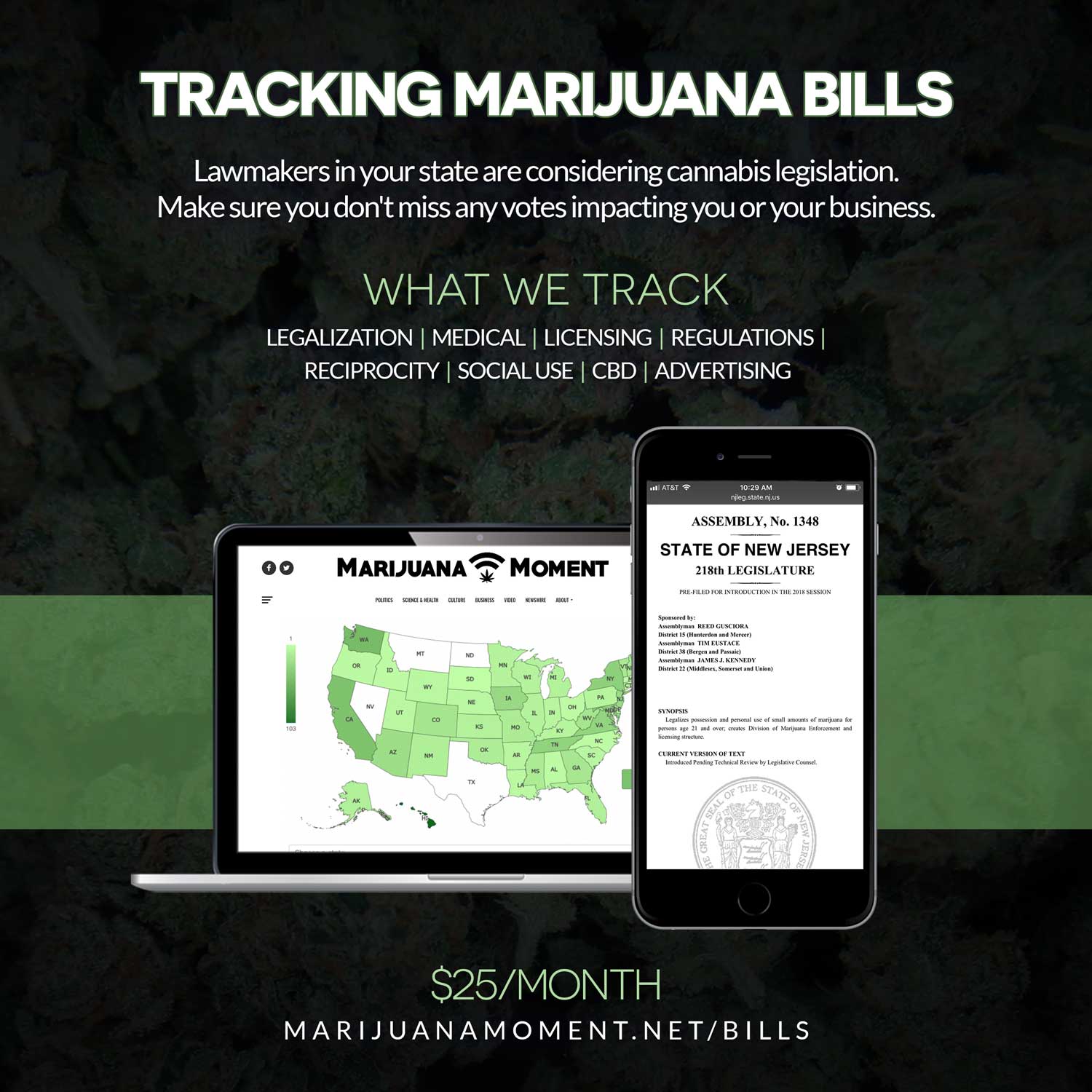 Learn more about our marijuana bill tracker and become a supporter on Patreon to get access.
—
While the Biden administration is still investigating the clinical efficacy of such facilities, Office of National Drug Control Policy (ONDCP) Director Rahul Gupta said that the proposal to lift the existing federal ban is on the table.
DOJ said in February that it is actively "evaluating supervised consumption sites, including discussions with state and local regulators about appropriate guardrails for such sites, as part of an overall approach to harm reduction and public safety."
In October, the Supreme Court rejected a request to hear a case on the legality of establishing the Safehouse facilities, but the case is still before a lower federal court. Safehouse plaintiffs say that they've had "productive" conversations with DOJ in recent months, which is part of the reason why they've mutually agreed to extend the deadline for a federal response in the case several times.
The National Institutes of Health (NIH) put out a pair of requests for applications (RFAs) in December for an effort that will provide funding for efforts to investigate how that and other harm reduction policies could help address the drug crisis.
Gupta previously said that it's critical to explore "any and every option" to reduce overdose deaths, and that could include allowing safe consumption sites for illegal substances if the evidence supports their efficacy.
The secretary of the U.S. Department of Health and Human Services (HHS), Xavier Becerra, has also signaled that the Biden administration would not move to block the establishment safe injection sites, stressing that "we are literally trying to give users a lifeline."
But a department spokesperson later walked those remarks back, stating that "HHS does not have a position on supervised consumption sites" and the "issue is a matter of ongoing litigation." In any case, it would be up to DOJ to decide whether to pursue operators of the facilities under the Controlled Substances Act.
When Becerra served as California attorney general he signed onto a brief with counterparts from other states when the Safehouse case was before a federal appeals court.
"The opioid epidemic has devastated communities throughout our nation. Safe injection sites aim to increase public health and safety by providing comprehensive services to victims of the opioid epidemic, while reducing the public nuisance of drug use in public spaces," he said at the time. "Safe injection sites like Safehouse are an innovative tool to combat the opioid epidemic and drug dependency while reducing overdose death and transmission of diseases. California has always been a trailblazer, and we're committed to doing what it takes to keep our communities healthy and safe."
Meanwhile, a New York Assembly committee also advanced a bill in May to establish a statewide safe consumption site program, allowing regulators to authorize facilities where people could use currently illicit drugs in a medically supervised environment.
In a setback for advocates, however, Vermont's governor vetoed a bill in June that would have simply created a working group tasked with crafting a plan to open safe consumption sites.
North Dakota Voters Will Decide On Marijuana Legalization At The Ballot This November, State Certifies