Biden Says He's 'Changed The Lives Of Thousands Of People' With Marijuana Pardons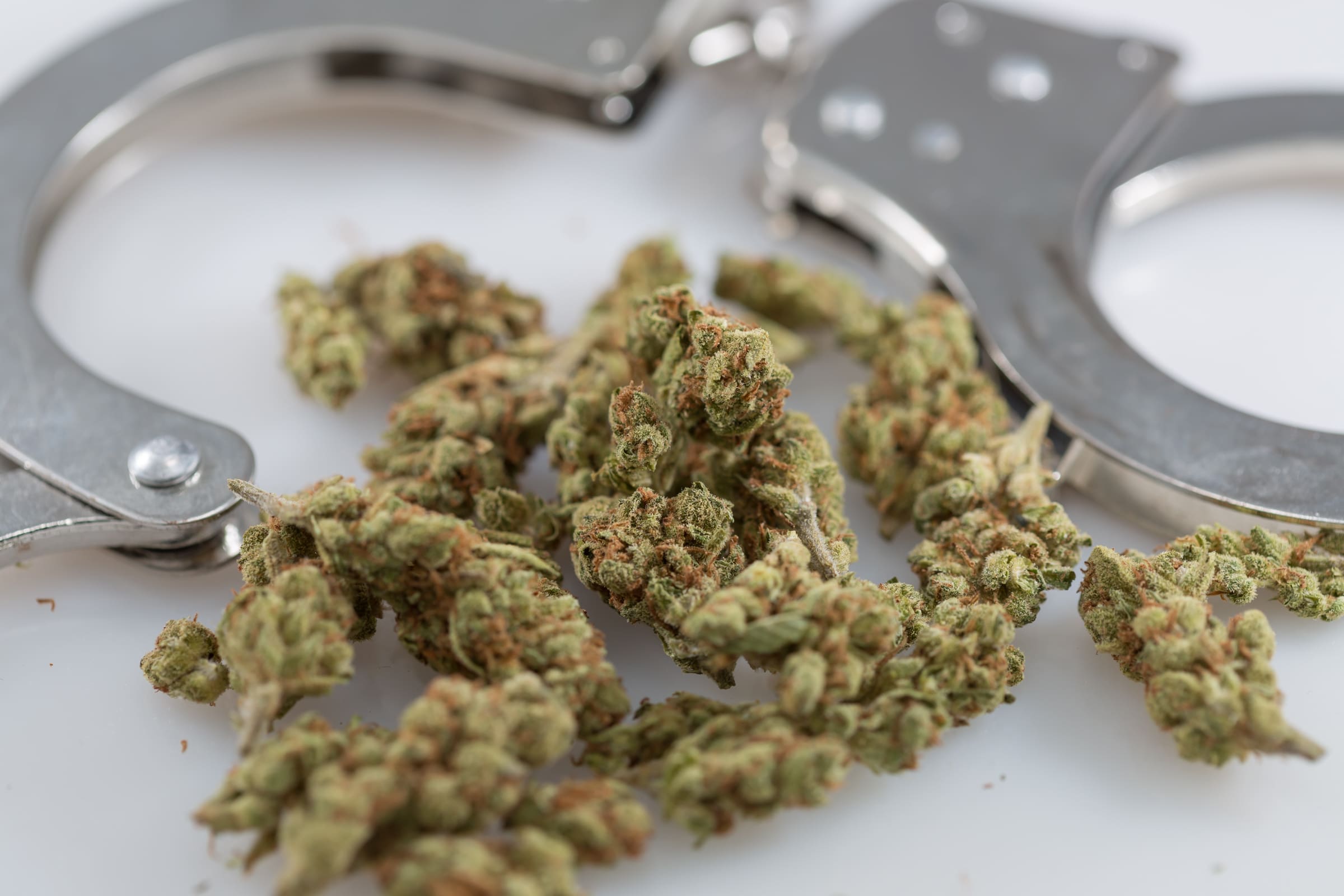 President Joe Biden says that he's "changed the lives of thousands of people" by issuing a mass marijuana pardon for people who've committed federal possession offenses.
But as activists push for further relief, the president seems to be drawing a line in the sand at simple cannabis possession, separately signaling last week that he would not extend pardons to people who sold marijuana.
In a new interview aired by NowThis on Sunday, Biden also pitched an alternative to decriminalization by saying people with drug convictions should be subject to mandatory treatment. However, he also said people in prison for certain drug offenses should have access to treatment while behind bars, sending mixed messages about his position.
In any case, after about a year and a half in office without meaningfully addressing cannabis issues, he's spent the past couple of weeks emphasizing his commitment to modest reform, touting the pardon action and his directive for an administrative review into marijuana scheduling.
At Sunday's town hall, Biden took a question from Jon-Adrian Velazquez, who was wrongfully convicted and incarcerated before receiving a gubernatorial pardon in New York last year.
Velazquez asked the president what can be done to create "clear uniform standards for clemency so that incarcerated people are motivated to change and know what they need to accomplish to show that they're ready to return to their families and communities."
Biden responded that "you can't set the standard for clemency," Biden said.
"You can't write a law saying, 'under these circumstances, the chief executive has authority to grant clemency,' like the governor did for you or that I've just done for everyone who's ever been convicted of like possession of marijuana and/or smoking marijuana," he said. "I can only do it in federal prisons, for example."
"So I've changed the lives of thousands of people because, you know as well as I do, unless you're able to achieve the status that you've received, even after you're released—what do you do?" he said. "You still go around with this stigma."
Even for those who do receive a presidential pardon, the effects are somewhat limited, and there are different interpretations about what the relief actually does. Symbolically, it's an action indicating formal forgiveness from the federal government for the given offenses, but the record isn't expunged and can still be held against people in certain circumstances, as explained in a 2016 Congressional Research Service (CRS) report.
Though there may be underlying debate as to whether a pardon eliminates an individual's guilt for having committed the pardoned offense, courts generally agree that a full presidential pardon restores federal as well as state civil rights to remove consequences that legally attach as a result of a federal conviction (i.e., legal disabilities)," it says.
Biden also talked during the town hall about some of the collateral consequences of that ongoing stigmatization as it applies to housing opportunities and his belief that people who are incarcerated should have access to educational opportunities and other reentry services after they've served out their time.
He also said that instead of being incarcerated, people who commit drug offenses should be forced into treatment.
"If they're in there for a drug offense, they should have drug treatment—and if that's the only crime, it should be mandatory drug treatment, not prison," Biden said.
But a few moments later he seemed to suggest that the forced treatment should occur during—and not instead of—prison sentences.
"Everyone in prison who is there for a major drug offense—they're addicted—they should be in mandatory drug treatment in prison, mandatory in prison."
"What we're trying to do is change the dynamic of what makes society overall safer and what's more fair for the people who have been convicted, rightly or wrongly. It's the wisest thing to do," he said. "The whole idea is how do we reduce violence and crime in America and, at the same time, do it in a way that is also fair to giving people a second chance."
In earlier remarks, on Friday, Biden separately said that he's "keeping my promise that no one should be in jail for merely using or possessing marijuana" and "the records, which hold up people from being able to get jobs and the like, should be totally expunged. Totally expunged."
"You can't sell it," the president added. "But if it's just use, you're completely free."
That's a problem from advocates' perspective. Biden might have pardoned about 6,500 people who've committed marijuana possession offenses at the federal level, plus those who've violated the law in Washington, D.C., but activists say the relief should extend to people with sales convictions.
Activists with Students for Sensible Drug Policy (SSDP), Last Prisoner Project (LPP) and DCMJ staged protests outside of the White House on Monday to call attention to that issue, demanding that Biden release the estimated 2,800 people currently in federal prison for marijuana convictions that aren't limited to simple possession.
Meanwhile, the Justice Department and U.S. Department and Health and Human Services (HHS) have committed to quickly carry out the separate scheduling review the president directed, which could result in a recommendation to place cannabis in a lower schedule or remove it altogether, effectively legalizing the plant under federal law.
HHS Secretary Xavier Becerra has said officials will "work as quickly as we can" to complete the analysis of cannabis scheduling per the president's directive.
The Department of Justice, for its part, "will expeditiously administer the President's proclamation, which pardons individuals who engaged in simple possession of marijuana, restoring political, civil, and other rights to those convicted of that offense," a department spokesperson said.
Labor Secretary Marty Walsh said that officials will be working diligently to ensure that people who received a pardon for federal marijuana offenses under the presidential proclamation are not impeded from future job opportunities.
Vice President Kamala Harris said this month that voters should elect lawmakers who support marijuana reform so that Congress can enact a "uniform approach" to the issue in light of the president's cannabis pardons.
A series of polls have shown that Americans strongly support the president's pardon action, and they also don't think that marijuana should be federally classified as a Schedule I drug.
Activists Stage White House Protest To Push Biden To Release Marijuana Prisoners