Best Music Playlists For Psychedelic Therapy Are Explored In New Johns Hopkins Study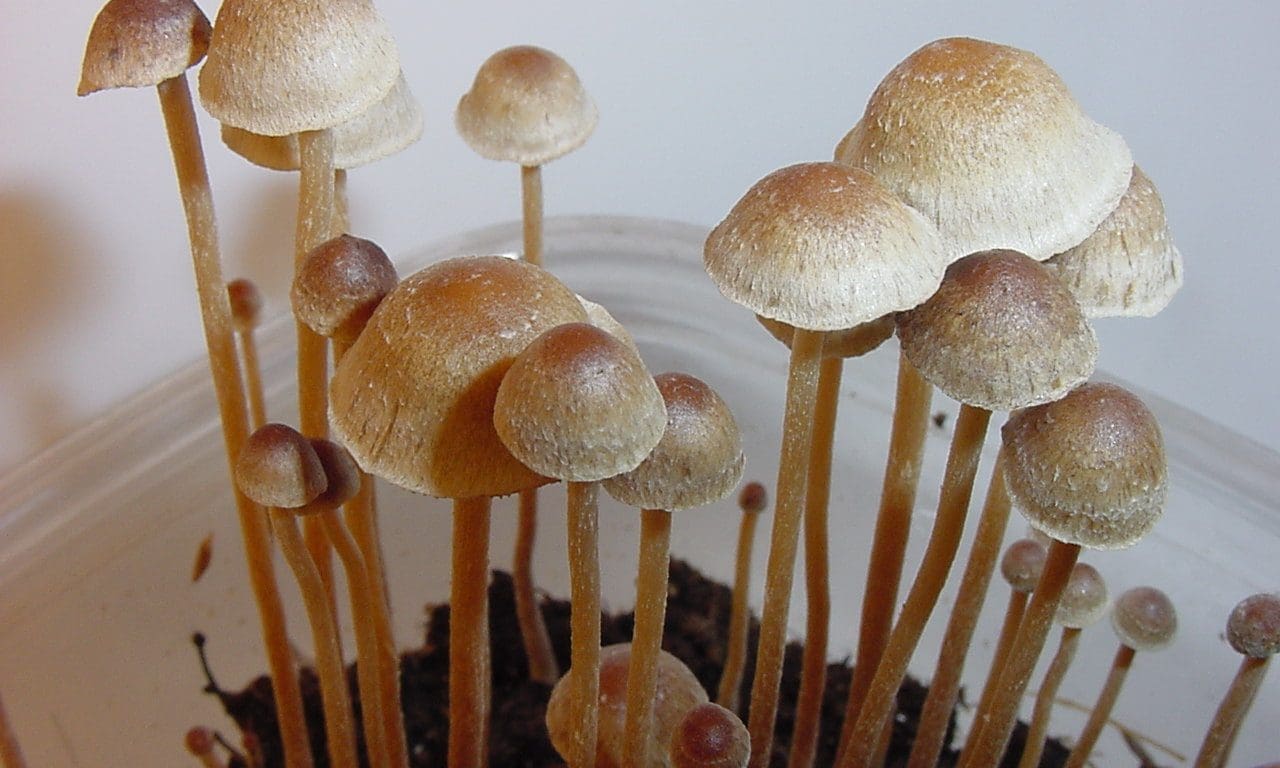 Psychedelic therapy sessions often incorporate music—and typically that music is of the classical genre. But new research out of the Johns Hopkins University School of Medicine suggests there may in fact be no special value in playing a Mozart concerto or Chopin étude for tripping patients.
Gongs could work just as well, if not better, the study found.
"Western classical music has long been assumed to be the standard in psychedelic therapy," researchers wrote in the study, published Tuesday in the American Chemical Society (ACS) journal Pharmacology and Translational Science. "The present data challenge this notion that Western classical music, or for that matter any specific genre of music, is an intrinsically superior form of music to support psychedelic therapy, at least for all people at all times."
Analyzing a 10-person trial involving the use of psilocybin therapy to help people quit smoking tobacco, the Johns Hopkins team compared sessions featuring classical music with those involving overtone-based music, featuring instruments such as gongs, Tibetan singing bowls or the didgeridoo, among others.
"Although we found no significant differences between the two musical genres studied here," the team wrote, "several trends suggested that the overtone-based playlist resulted in somewhat better outcomes and was preferred by a larger portion of this small sample of participants."
Spoiler alert – they did about the same but a hint that the overtone playlist (gong etc.) did a bit better than Western classical. Apparently classical music is not such a sacred cow for psychedelic therapy. With @juststrickland and Albert Garcia-Romeu.

— Matthew W. Johnson (@Drug_Researcher) December 30, 2020
In other words, while the results don't prove that overtone-based music yields better outcomes than classical, the findings nevertheless "call into question whether Western classical music typically played in psychedelic sessions holds unique benefit."
As one of the study's authors, Johns Hopkins researcher Matthew Johnson, put it in a recent tweet: "Apparently classical music is not such a sacred cow for psychedelic therapy."
The researchers said the study "provides the first contemporary and within-subject experimental manipulation of session set and setting factors in psychedelic research" and is the "first fully randomized test of different musical genres supporting psychedelic therapy."
Participants each had three therapy sessions, one featuring classical music, another featuring overtone music and a third session for which they could choose between the two genres. Psilocybin doses were between 20 milligrams and 30 milligrams per 70 kilograms of body weight.
Among the data researchers analyzed were participants' evaluations of their own experiences, including "mystical experiences"—such as feelings of unity and transcendence of time and space—as well as "challenging experiences," such as feelings of panic or losing sanity.
"Visual inspection of individual and average data indicated higher overall scores for overtone-based sessions compared to Western classical sessions," the authors wrote. "This difference was of a medium effect size but was not statistically significant."
As described in the paper there is about 25% overlap with the classic playlist we compared it to, link below. Most of that overlap was near onset and come down. A few tracks on the older classical playlist already fit the overtone-based genre.https://t.co/rKUsd6N005

— Matthew W. Johnson (@Drug_Researcher) December 31, 2020
Researchers also analyzed smoking abstinence outcomes based on the music genre participants selected for their third psychedelic therapy session, after sampling both genres. Participants who chose to listen to overtone music during the third session were more successful at quitting smoking—both immediately after treatment (83.3 percent) and over a period of about 30 months afterward (66 percent). By comparison, half of participants who chose Western classical music quit smoking immediately, and all of those people were still not smoking after 30 months.
Experts have long stressed the role of set and setting in a psychedelic experience, noting how both a person's psychological state as well as their environment can affect the behavioral and clinical effects of entheogenic drugs. "Traditional laboratory contexts that contain overtly 'sterile' stimuli (e.g. white walls and medical equipment," the authors note as one example, "have been suggested to increase the likelihood of negative reactions."
While music is a standard feature of clinical psychedelic therapy, the new study says, the default by therapists to predominantly Western classical playlists is "likely due to recommendations present in early guidelines," which specifically mentioned classical music.
But it may not be music at all, but instead a collection of sounds, that complements the psychedelic experience.
"The lack of superiority of the Western classical playlist is even more interesting considering that some of the overtone-based playlist tracts consisted of sounds without traditionally identifiable melody and/or rhythm and therefore might not be classified as songs or music by some," the study says. "This suggests that the sounds capable of supporting psychedelic therapy sessions may go beyond the bounds of traditionally defined musical genres."
The researchers concluded that the study lends support to the idea that "developing a process for generating patient-specific musical selections rather than providing standardized music may improve therapeutic outcomes."
"For example, future work could evaluate how patient-selected music impacts therapeutic effects or identify individual factors predictive of response to varying musical genres or musical features other than genre to individualize session selections," the wrote. "More broadly, these findings emphasize the need for the parametric study of psychedelic session components to either provide improved standardized conditions, or to individualize conditions to improve the therapeutic effects of psychedelic therapy across diverse and varied populations."
Johns Hopkins University, where the study analysis was done, is widely regarded as a leading institution on psychedelic research. In 2000, it became the first U.S. institution to gain federal approval to reinstitute research into psychedelic drugs using subjects who didn't already have a history of using the drug, and last year it launched the country's first-ever psychedelic research center.
Canada Will Let Health Care Professionals Legally Use Psychedelic Mushrooms, Health Minister Says
Photo courtesy of Wikimedia/Workman
Legal Marijuana States See Reduced Workers' Compensation Claims, New Study Finds
Legalizing marijuana for adult use is associated with an increase in workforce productivity and decrease in workplace injuries, according to a new study partly funded by the federal government.
In a working paper published by the National Bureau of Economic Research, researchers looked at the impact of recreational cannabis legalization on workers' compensation claims among older adults. They found declines in such filings "both in terms of the propensity to receive benefits and benefit amount" in states that have enacted the policy change.
Further, they identified "complementary declines in non-traumatic workplace injury rates and the incidence of work-limiting disabilities" in legal states.
These findings run counter to arguments commonly made by prohibitionists, who have claimed that legalizing marijuana would lead to lower productivity and more occupational hazards and associated costs to businesses. In fact, the study indicates that regulating cannabis sales for adults is a workplace benefit by enabling older employees (40-62 years old) to access an alternative treatment option.
"We offer evidence that the primary driver of these reductions [in workers' compensation] is an improvement in work capacity, likely due to access to an additional form of pain management therapy," the study, which received funding from the National Institute on Drug Abuse, states.
The implementation of adult-use legalization seems to "improve access to an additional channel for managing pain and other health conditions, suggesting potential benefits on populations at risk of workplace injuries," it continues.
The study is based on an analysis of data on workers' compensation benefit receipt and workers' compensation income from
2010 to 2018 as reported in the Annual Social and Economic Supplement of the Current Population Survey.
"Our results show a decline in workers' compensation benefit propensity of 0.18 percentage points, which corresponds to a 20 percent reduction in any workers' compensation income, after states legalize marijuana for recreational use. Similarly, we find that annual income received from workers' compensation declines by $21.98 (or 20.5%) post-[recreational marijuana legalization]. These results are not driven by pre-existing trends, and falsification exercises suggest that observing estimates of this magnitude is statistically rare."
Researchers said that they've found evidence that cannabis use increases post-legalization among the age cohort they studied, but no such spike in misuse. Further, they found a decline in post-legalization prescriptions for medications used to treat chronic pain, indicating that some people are using marijuana as a substitute for traditional painkillers.
"We hypothesize that access to marijuana through [recreational marijuana laws] increases its medical use and, in turn, allows better management of symptoms that impede work capacity—e.g., chronic pain, insomnia, mental health problems, nausea, and so forth," the study says. "Chronic pain management is likely to be particularly important in our context as this is the health condition most commonly reported among medical marijuana users."
Beyond decreasing workers' compensation claims and costs, legalization also is a boon to the economy by adding jobs in legal states.
The cannabis industry added more than 77,000 jobs over the past year—a 32 percent increase that makes the sector the fastest in job creation compared to any other American industry, according to a report released by the cannabis company Leafly last week.
Starting A Business? Study Finds Marijuana May Help—And Hinder
Starting A Business? Study Finds Marijuana May Help—And Hinder
A new study out of Washington State University suggests cannabis may inspire entrepreneurs to come up with big, bold business ideas—but could also lead them down a rabbit hole of wishful thinking.
Researchers found that entrepreneurs who were frequent marijuana consumers came up with business pitches that were more original but less feasible, according to a panel of experts who scored the ideas.
"Beyond their innate creative aptitude, entrepreneurs may attempt to enhance their creativity," says the study, which will appear in the March 2021 issue of the Journal of Business Venturing. "Despite generating more original ideas, we found that cannabis users' ideas were less feasible."
Also important variables, the study found, were an entrepreneur's passion, which may heighten creativity at the expense of feasibility, as well as their past entrepreneurial experience, which tended to increase idea feasibility but rein in creativity.
The findings "provide insight into the creative benefits and detriments associated with being a cannabis user," the study says, "suggesting that cannabis users—especially those who are passionate about exploring new venture ideas or those with relatively little entrepreneurial experience—may benefit from non-users' insights to develop the feasibility of their ideas."
To test the effects of marijuana on business-idea generation, researchers had 254 entrepreneurs come up with "as many new venture ideas as possible" based on virtual reality—a prompt provided by researchers. Participants had three minutes to generate ideas, then selected the idea they believed to be their best. Two "expert raters" then evaluated the chosen pitches for originality and feasibility.
Reachers say their findings support one of the study's core hypotheses: that there are differences between how cannabis users and non-users arrive at business ideas. "Cannabis users are more impulsive, disinhibited, and better at identifying relationships among seemingly disparate concepts," the study proposes. "However, these differences and cannabis users' diminished executive functioning likely detracts from idea feasibility."
Notably, the researchers did not ask participants to consume marijuana in the study setting itself. Rather, to compare cannabis-users to non-users, researchers split participants into two groups: those who had used marijuana less than five times in their lives and never in the past month (non-users) and those who'd consumed more than five times in their life and at least twice in the past month (users).
"Unlike alcohol, where health organizations have established standards for heavy drinking," the study notes, "scholars have yet to reach a consensus on what constitutes a cannabis user versus a non-user."
Because the study was merely observational, it also cannot determine whether marijuana use was in fact the cause of the differences between the two groups' ideas. It may be that some other trait or traits explain both a person's idea generation and their decision to consume cannabis.
The study's cannabis user group comprised 120 people, or 47.2 percent of all participants. Researchers attempted to control for certain other factors, such as gender, age, education and technological familiarity.
While the findings suggest that, overall, cannabis can both inspire originality and limit feasibility, the outcomes were influenced strongly by what researchers described as "entrepreneurial passion for inventing" as well as their "entrepreneurial experience."
"Cannabis users' diminished idea feasibility compared to non-users was significant in those with low entrepreneurial experience," the study's authors wrote, "but not in those with high entrepreneurial experience."
Similarly, "cannabis users' lower idea feasibility was signifiant at high entrepreneurial passion for inventing but not low entrepreneurial passion for inventing," the study found.
"Entrepreneurial passion for inventing appears to play a role in channeling cannabis users toward idea originality but away from idea feasibility," it says. "Conversely, entrepreneurial experience appears to attenuate the positive relationship of being a cannabis user with idea originality and its negative relationship with idea feasibility."
As the study itself acknowledges, many successful business leaders and visionaries have credited the inspirational powers of cannabis. Apple luminary Steve Jobs, for example, "noted that his use of cannabis helped him feel 'relaxed and creative.'" (Biographer Walter Isaacson also quoted Jobs as saying another drug, LSD, was "one of the most important things in my life. … It reinforced my sense of what was important—creating great things instead of making money.")
On the other hand, researchers argue that cannabis use can be a double-edged sword. "Regular cannabis use is associated with numerous detrimental effects, such as the potential for dependence and addiction, risk of motor vehicle accidents, mental and respiratory health problems, as well as memory and other cognitive impairments."
Benjamin Warnick, assistant professor at Washington State University's Carson School of Business and lead author of the study, said in a press release that the research is "the first study we know of that looks at how any kind of drug use influences new business ideation," adding that "there is still much to explore."
"Clearly there are pros and cons to using cannabis that deserve to be investigated further," Warnick said. "As the wave of cannabis legalization continues across the country, we need to shed light on the actual effects of cannabis not only in entrepreneurship but in other areas of business as well."
Best Music Playlists For Psychedelic Therapy Are Explored In New Johns Hopkins Study
Photo courtesy of the Drug Policy Alliance, Sonya Yruel
Areas With More Marijuana Dispensaries Have Fewer Opioid Deaths, New Study Finds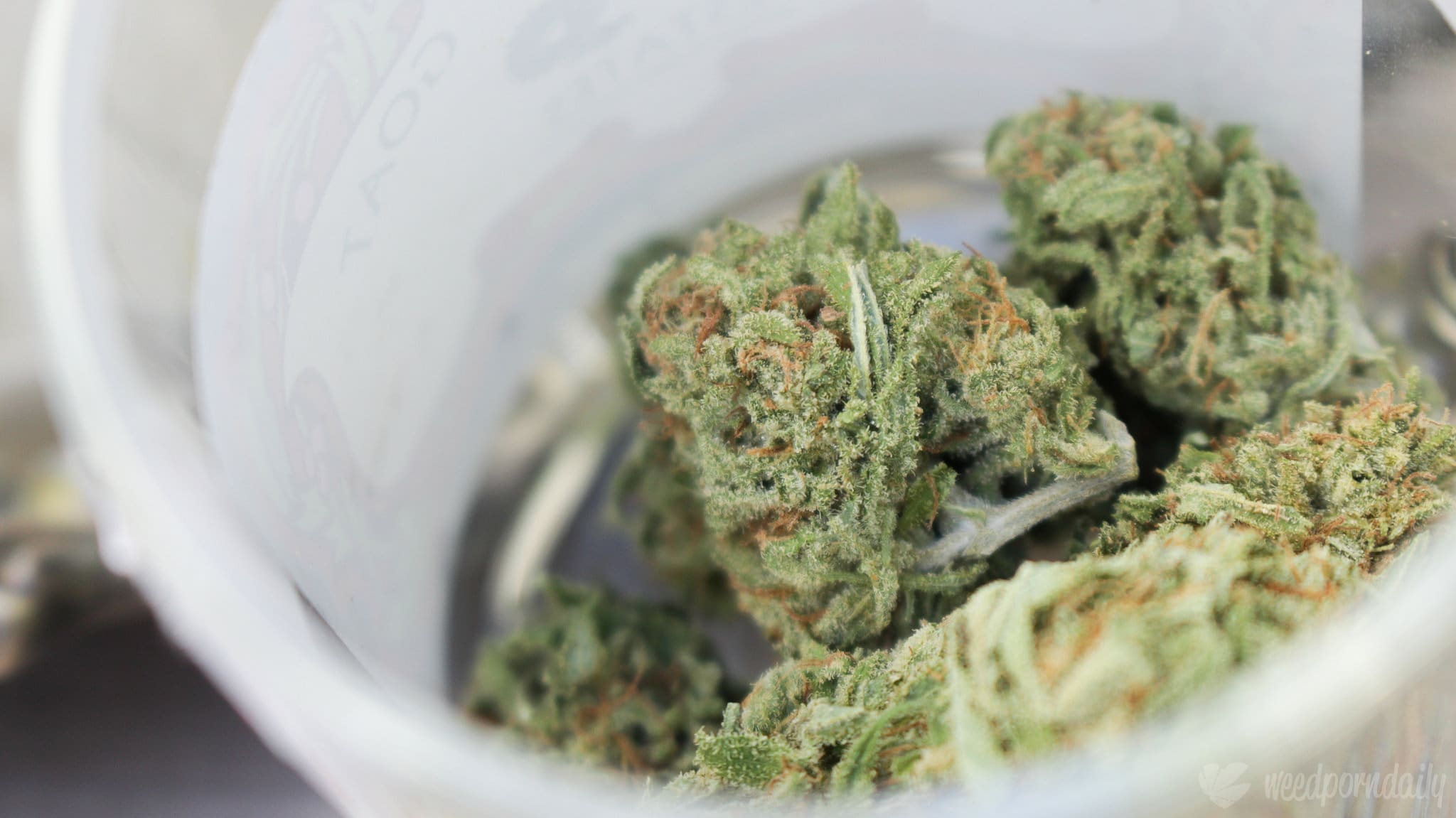 Increasing access to marijuana dispensaries is associated with a significant reduction in opioid-related deaths, according to a new study.
"Higher medical and recreational storefront dispensary counts are associated with reduced opioid related death rates, particularly deaths associated with synthetic opioids such as fentanyl," the paper, published on Wednesday in the British Medical Association journal's BMJ, concluded.
It's a finding that "holds for both medical and recreational dispensaries," the study says.
Researchers looked at opioid mortality and cannabis dispensary prevalence in 23 U.S.states from 2014 to 2018 and found that, overall, counties where the number of legal marijuana shops increased from one to two experienced a 17 percent reduction in opioid-related fatalities.
Increasing the dispensary count from two to three was linked to an additional 8.5 percent decrease in opioid deaths.
Further, the study found that this trend "appeared particularly strong for deaths associated with synthetic opioids other than methadone, with an estimated 21 percent reduction in mortality rates associated with an increase from one to two dispensaries."
"If consumers use cannabis and opioids for pain management, increasing the supply of legal cannabis might have implications for fentanyl demand and opioid related mortality rates overall."
"While the associations documented cannot be assumed to be causal, they suggest a potential association between increased prevalence of medical and recreational cannabis dispensaries and reduced opioid related mortality rates," the researchers wrote. "This study highlights the importance of considering the complex supply side of related drug markets and how this shapes opioid use and misuse."
This is far from the first piece of research to draw a connection between legal cannabis access and reduced harms from opioids. Multiple studies have found that marijuana effectively treats conditions like chronic pain for which opioids are regularly prescribed, and surveys show that many patients have substituted addictive painkillers with cannabis.
"Cannabis is generally thought to be a less addictive substance than opioids," the new study says. "Cannabis can potentially be used medically for pain management and has considerable public support."
"Given the alarming rise in the fentanyl based market in the US, and the increase in deaths involving fentanyl and its analogs in recent years, the question of how legal cannabis availability relates to opioid related deaths is particularly pressing."
"Our findings suggest that increasing availability of legal cannabis (modeled through the presence of medical and recreational dispensary operations) is associated with a decrease in deaths associated with the T40.4 class of opioids, which include the highly potent synthetic opioid fentanyl," it continues. "This finding is especially important because fentanyl related deaths have become the most common opioid related cause of death."
Earlier this month, a separate study determined that medical cannabis use is associated with significant reductions in dependence on opioids and other prescription drugs, as well as an increase in quality of life.
These studies could also provide valuable context to a federal health agency in the U.S. that is conducting a review of studies to learn if marijuana and kratom could potentially treat chronic pain with fewer side effects than opioids.
Hawaii Could Legalize Psychedelic Mushroom Therapy Under New Senate Bill
Photo courtesy of WeedPornDaily.