Ben & Jerry's Uses 4/20 To Promote Marijuana Reform While Other Brands Market Off The Holiday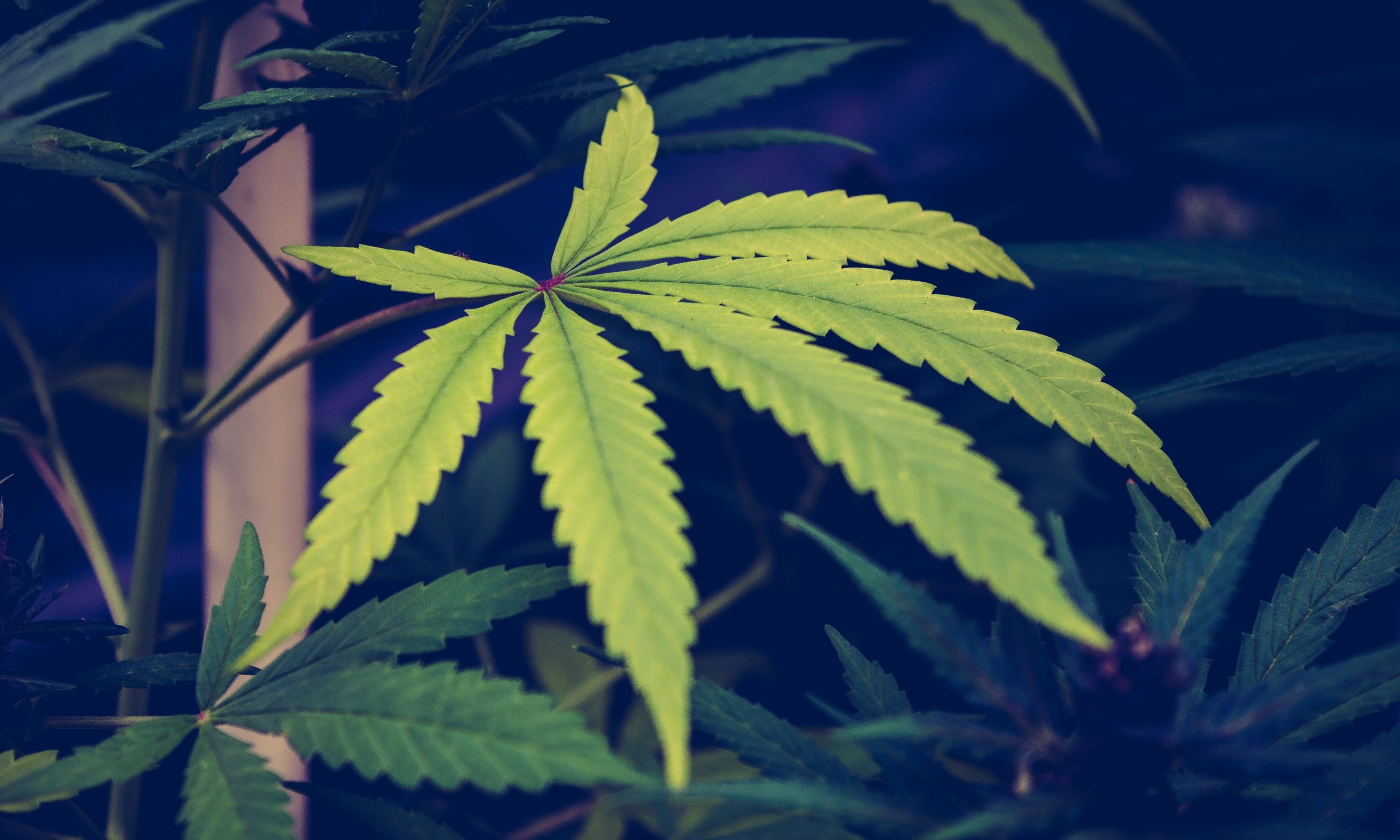 This year, the marijuana holiday 4/20 is being disrupted across the board due to the coronavirus pandemic and resulting social distancing measures.
But while public gatherings and scheduled events are being cancelled—with some organizers offering virtual alternatives—some major businesses are continuing to leverage the occasion to promote cannabis causes and products.
The ice cream company Ben & Jerry's stands out. As in past years, the brand is using 4/20 to highlight the harms of federal marijuana prohibition, particularly for communities of color. In concert with the ACLU, Ben & Jerry's announced on Saturday that it is formally endorsing congressional legislation to deschedule cannabis and push restorative justice.
It's hard for us to get excited about #420 when so many people of color are still being arrested for cannabis. We have to do better. Learn more: https://t.co/cDd2GrE9OT pic.twitter.com/aA8JBFyume

— Ben & Jerry's (@benandjerrys) April 18, 2020
The company said in a blog post that the era of legalization means that people in an increasing number of states do not have to fear being prosecuted over cannabis-related activities—as long as "you're a white person," at least.
"Legalization must have equity at its heart. That's why we're calling on Congress to support the [Marijuana Opportunity, Reinvestment, and Expungement] Act, which would make cannabis legal and (it's an important "and"!) expunge prior cannabis convictions," the post states. "Want to feel really really good this 4/20? Then let's make sure that legalization benefits all of us. That'll turn 4/20 into a day that we all can celebrate."
This #420, we're joining the @ACLU to talk justice. Specifically, justice for the people of color that cannabis legalization has left behind. Get the full scoop and take action now: https://t.co/FolxgtEUgY pic.twitter.com/apz0swYIsr

— Ben & Jerry's (@benandjerrys) April 19, 2020
Ben & Jerry's stressed that while legalization has enabled certain individuals to profit off a burgeoning industry, people continue to be criminalized across the country over marijuana—and even in legal states, racial disparities have persisted. To that end, they will be supporting efforts to federally reform cannabis laws, in part by launching content initiatives and encouraging people to take action individually.
"We have to do more than trade on quirky hippie stoner culture," Christopher Miller, the head of global activism strategy at Ben & Jerry's, told Marijuana Moment in a phone interview. "I think particularly now as there's a lot more money being made as the industry becomes legalized and real, it's incumbent upon all of us—individuals and companies who are trading on this—to step up and ensure that the damage that's been done over the years around the drug is somewhat ameliorated as we move to this phase around marijuana."
Cannabis is legal in 33 states, but hundreds of thousands of people are still arrested for possession every year — a disproportionate number of them Black. This #420, get the facts then join us and @ACLU to take action to pass the MORE Act. Learn more: https://t.co/D3rsTpHaYz pic.twitter.com/PCYC1Z7g1V

— Ben & Jerry's (@benandjerrys) April 20, 2020
The company made a similar point as part of a 4/20 campaign last year, and it emphasized that all of this is part of a multi-year project to support criminal justice reform.
Asked why other private companies decline to take positions on policy issues like legalization, Miller said it's "because it's just not something most companies do."
"Most companies, to the degree that they are involved in policy—and the truth is, most are—they are focused on policies that are in their own narrow self-interest."
While it's rare for businesses outside the marijuana industry to take a public stance on legalization legislation, an increasing number of mainstream companies are leveraging the 4/20 holiday to promote their products. Take BarkBox, for example.
The company got a rave response from the marijuana community after launching a set of doggie joint, bong and cannabis leaf chew toys. In fact, while they planned to keep the campaign going through the 4/20 holiday, they're already sold out.
BarkBox, which is known for cheekily pushing the boundaries of pet products, said they will meet the high demand and have ordered more. In a blog post on Thursday, the company said it was taken aback by the positive reception.
What a JOURNEY this week has been– if you're still looking for some spinach burritos and beakers for your dog, drop your email in this post and we'll let you know when we get them back in stock!! https://t.co/HqHYsL0rVE

— BarkBox (@barkbox) April 17, 2020
"It's no secret that we at BARK are not afraid to make some weird dog toys… And TRULY we don't always make these toys on purpose," BarkBox editor Stacie Grissom wrote. "But yesterday's toys? YEAH we did these on purpose… But we didn't know if you all would think they are as hilarious as we find them."
"We started our promotion of a free oregano tug / spinach burrito / science beaker for your dog on 4/15, intending the promotion to hold out until April 20th," she continued. "You know, April 20th– a normal day in which your dog should get to play with normal toys, made by normal people. Have a good, normal day."
Two national restaurant chains—Del Taco and Blaze Pizza—are offering promotions to mark the cannabis occasion. Del Taco is selling 10 tacos for $4.20 and Blaze will be upgrading orders to the thicker "High-Rise" dough, according to a press release.
Happy 4/20 😉 We're kicking-off the munchie-fest with 10 Value Tacos for only $4.20. 🌮 It's the perfect snack when you're inda-couch. 🛋 Get the offer in the Del App and use it for drive-thru, takeout or delivery, where available. Only valid on 4/20 at participating restaurants. pic.twitter.com/sancKMMQoq

— Del Taco Restaurants (@DelTaco) April 20, 2020
Get High Rise, on us. ⬆️🔥🍕

If you've got the Blaze app, you've got a little something in your account, you know, just because. Hope you're straight up having a good time today. pic.twitter.com/0wOYxJJAJY

— Blaze Pizza (@BlazePizza) April 20, 2020
&pizza also promoted a 4/20 deal on pies.
BREAKING NEWS! For the next 4 hours and 20 minutes, text #420 to 200-03 for a $4.20 pie. pic.twitter.com/tpOWny8kqh

— &pizza (@andpizza) April 20, 2020
The coconut water company Vita Coco joked that "today supposed to be about being chill" and asked followers to reply with stories about their experiences working from home during a time of social distancing due to the pandemic. People who reply with the hashtag "#letsbeblunt" will get "a free case of Vita Coco Infused with Hemp to help you… escape."
Be sure to share your story by tagging @vitacoco and #letsbeblunt. If your story is selected, we'll reply with next steps.

— Vita Coco (@VitaCoco) April 20, 2020
White Castle is urging people to host virtual watch parties with the cannabis cult classic "Harold & Kumar Go to White Castle," and the company said it will try to participate in as many as possible if they're sent an invite.
Our fave craveable comedy 😉 is streaming thru April. Fire up a virtual watch party on 4/20 and toss us an invite at [email protected] We'll do our best to join in! Plus, we'll live tweet along with the movie at 4:20pst on 4/20. Crave on! #partywithwhitecastle pic.twitter.com/AxvcPViibn

— White Castle (@WhiteCastle) April 17, 2020
The bakery company Insomnia Cookies is offering a pack of six cookies for $4.20.
you're not dreaming… $4.20 6-packs all-day long! https://t.co/YcQwrNXVE4 ~available for pickup & delivery. no code needed. add deal to cart to redeem~

&&& for some 4/20 fun, what's your dream cookie flavor? best answer wins a $10 gift card. pic.twitter.com/vtsxhsrW8I

— insomnia cookies (@insomniacookies) April 20, 2020
Panda Express is selling four lunch bowls for $20.
Got a craving? Order 4 Panda bowls online for just $20 starting today.

Order online now: https://t.co/MNrN401ssf pic.twitter.com/kK7RQ1wvIM

— Panda Express (@PandaExpress) April 20, 2020
All single burgers and sandwiches are $4.20 at Smashburger on Monday.
Tend to your buds this 4/20… taste buds! Get any Single Burger or Sandwich (ANY protein) for $4.20 this 4/20. Available for Delivery & Take-Out at https://t.co/6G87qJEIyM! At participating locations only. 🍔 💕 #SmashedIt #420Day pic.twitter.com/KRNFdCPI8Z

— Smashburger (@Smashburger) April 20, 2020
Boston Market said people kept on buying chicken.
it's 4/20. yay. today was completely different than every other day this month.

— Boston Market (@bostonmarket) April 20, 2020
Vegan food producer Impossible Foods tweeted some plant-based solidarity with cannabis enthusiasts.
Burgers? From plants?? Oh $#!T! From our plants to yours… #Happy420! 🌱 pic.twitter.com/x7aXE8QSe2

— Impossible Foods (@ImpossibleFoods) April 20, 2020
The Canadian branches of TurboTax and H&R Block both posted about cannabis and taxes.
With the cannabis industry high in demand (and since it's the highest holiday of the year) we're chatting all things cannabis and taxes, and how medical cannabis is in some cases considered an allowable medical expense. https://t.co/kdm6rBThpt pic.twitter.com/JNvNfpOGj6

— TurboTax Canada (@TurboTaxCanada) April 20, 2020
Puff, puff, tax.
Elevate your potential tax return by learning what you can and can't claim when it comes to cannabis. /bit.ly/3akHzhD pic.twitter.com/QKVYLq5ccd

— H&R Block Canada (@HRBlockCanada) April 20, 2020
FYE wants people to buy marijuana-themed movies.
Alright, alright, alright…check out our 4/20 sale and save on your favorite movies today. https://t.co/wPxOdYUMfz pic.twitter.com/onGmmJggzg

— FYE (@officialfye) April 20, 2020
Over at Netflix, the streaming service released a cannabis-themed cooking show to mark the holiday. "Cooked with Cannabis" features chefs competing to "get the hosts and special guests high on elevated cannabis cuisine with their artful use of leafy herb, THC infusions and CBD sauces," Netflix said.
In our newest culinary competition series, everything is Cooked With Cannabis pic.twitter.com/ufNBdvVWDT

— Netflix (@netflix) April 20, 2020
what's the ultimate 420 movie? pic.twitter.com/2ckhdVSOf3

— NetflixFilm (@NetflixFilm) April 20, 2020
Feeling a little paranoid on 4/20? We've got the perfect playlist of conspiracy theory documentaries for you, from Bob Marley to Ancient Aliens and the Holy Grail. pic.twitter.com/UDQGkeupJ8

— NX (@NXOnNetflix) April 20, 2020
The music streaming company Tidal created a 4/20 playlist, featuring classics like Afroman's "Because I Got High."
Sit back, relax,
and enjoy the ride with these #420 tunes.

▶️: https://t.co/4Xt65S3mqv 💨 pic.twitter.com/Sojjvf9m3T

— TIDAL (@TIDAL) April 20, 2020
After spending four years reviewing about 50 different cannabis vaporizers, The New York Times's Wirecutter blog released its top picks in a post on Monday.
We researched portable cannabis vaporizers in spring 2020 and remain confident in three of our picks: The Airvape X, Grasshopper Stainless, and Firefly 2+. We've moved the Grenco G Pen Elite, our former budget pick, to the "Competition" section. https://t.co/OHpPHQu9lb

— Wirecutter (@wirecutter) April 20, 2020
But while entertainment and discounts will inevitably abound on 4/20 now that marijuana is mainstream, it seems as though Ben & Jerry's is again the outlier in treating the holiday as an opportunity for activism, rather than just consumerism.
"What we know is that consumers, citizens are looking for companies to take a stand on issues and to be agents of change at a time when there's not a lot of trust in government," Miller said. "People are looking for companies to step up in this way."
On 4/20, ACLU Highlights Racist Marijuana Enforcement In New Report
Seth Rogen And Sarah Silverman Partner With Marijuana Businesses To Press Senators For Legalization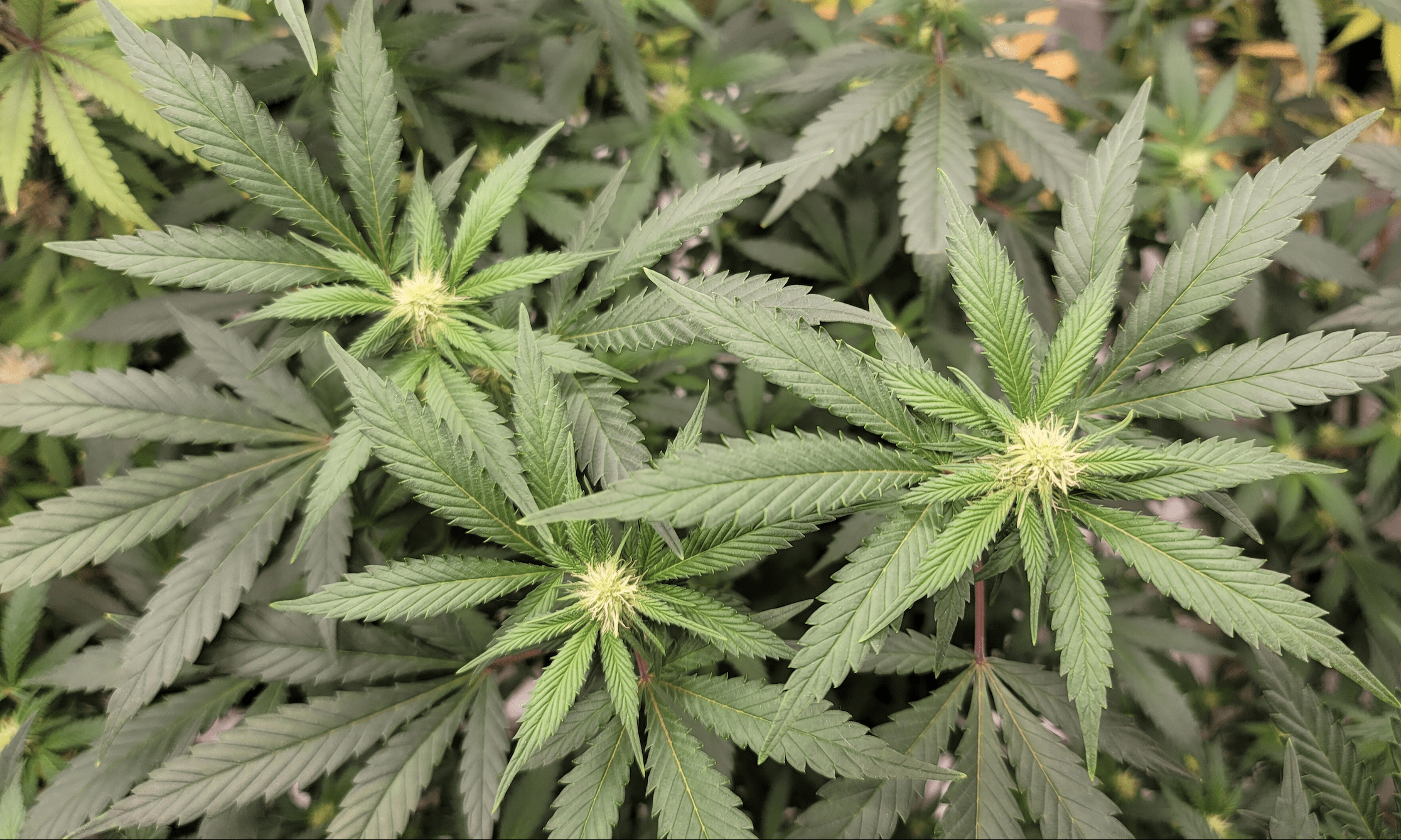 A coalition of marijuana advocacy and industry groups—as well as celebrities like Seth Rogen and Sarah Silverman—launched a campaign on Tuesday meant to encourage voters to reach out to their senators and demand action on legislation to federally legalize cannabis.
The "Cannabis In Common" campaign is being led by the U.S. Cannabis Council (USCC) and HeadCount's Cannabis Voter Project. The organizations teamed up with a slew of major marijuana businesses like Canopy Growth, Columbia Care, Cresco Labs and Weedmaps for the initiative.
In a direct-to-camera video that was produced for the campaign, Rogen said that "despite what you may have heard, Americans can actually agree on something—and that something is weed." He referenced polling that shows strong, majority support for legalization. Recent surveys have found the issue is increasingly bipartisan, too.
"You know who cannot agree on anything though? Politicians," the comedian, who also owns the cannabis business Houseplant, said, adding that fewer than half of U.S. senators have voiced support for reform and others have remained silent on the topic.
"The American people have cannabis in common. It's time for Congress to join us," says @Sethrogen.

We have a shot at legalization right now if we speak up! Visit https://t.co/wUcHivi2rD to contact your reps now. #CannabisinCommon@Cannabis_Voter @HeadCountOrg pic.twitter.com/DXjUu5frZH

— U.S. Cannabis Council (@USCannabisCncl) November 9, 2021
"With the Senate about consider a landmark bill that would legalize cannabis at the federal level and wipe cannabis convictions from thousands of people's records, their silence could end up being the difference," Rogen said. "But here's the thing about elected officials: they actually spend most of their time worrying about getting reelected. So when their inboxes and their phone lines are blowing up with constituents all rallying behind something specific, that is when things actually start to happen."
Senate Majority Leader Chuck Schumer (D-NY), Senate Finance Committee Chairman Ron Wyden (D-OR) and Sen. Cory Booker (D-NJ) have been working that "landmark" legislation—the Cannabis Administration and Opportunity Act (CAOA)—and released a draft version earlier this year. Advocates are eagerly awaiting the final product.
"Legalizing cannabis for good is long past due, but if we make enough noise, we can make it happen," Rogen said. He encouraged people to use a new resource to fill out and submit pre-written emails to their representatives, or call their offices, to push for the end of prohibition.
Silverman, meanwhile, narrated an animated video that made a similar call to action and highlighted the popularity of legalization.
"Americans can't agree on anything, can we? Is it 'gif' or 'jiff'? Are hotdogs sandwiches? Is wrestling a sport?" she said. "Fortunately, there's at least one thing most Americans have in common: more than two-thirds of us agree cannabis should be legalized, and we have a real shot at getting federal legalization done now if we speak up."
There's something we actually agree on these days – cannabis legalization. visit https://t.co/bi4PaKuk0N 
& speak out on this. We have #CannabisInCommon and it's time for Congress to join us! pic.twitter.com/GRIUfHfzo0

— Sarah Silverman (@SarahKSilverman) November 9, 2021
"If we don't make a change soon, we're settling for laws that disproportionately land people of color in prison," Silverman said. "We're leaving hundreds of thousands of jobs on the table and giving up tax revenue that can go toward education and other community investments."
Comedian Jessimae Peluso also participated in the campaign, releasing her own video urging voters to make their voices heard and contact their senators about the pending legalization bill.
Incredible news! Americans actually agree on something! Most of us want cannabis legalized and it's time for Congress to know that. Go to https://t.co/7vsxErZztB to make your voice heard NOW. @Cannabis_Voter #CannabisinCommon

📹: https://t.co/QG17t6YVR6 pic.twitter.com/6ayiNYZMzN

— Jessimae Peluso (@JessimaePeluso) November 9, 2021
"We are thrilled to launch this first-of-its-kind campaign," Steven Hawkins, CEO of USCC, said in a press release. "We are creating a lasting grassroots engagement platform that will harness the collective power of cannabis consumers and advocates. An overwhelming majority of Americans hold our views. It's time for Congress to catch up."
Cannabis businesses that are partnering in the campaign will be taking several steps to encourage their customers to contact their lawmakers about the need for legalization by submitting the pre-written letters, including promoting the call-to-action over social media and email, in-store prompts with QR codes and more.
While advocacy groups like the Marijuana Policy Project and Students for Sensible Drug Policy are listed as partners in the campaign, others like the Drug Policy Alliance (DPA) are weary of aligning with a largely industry-backed initiative.
"For us, it's not just about getting federal legalization over the finish line," DPA's Maritza Perez told The Associated Press. "We have a very specific constituency that we are fighting for, and that's people who have been impacted by prohibition."
Beside the Senate bill, the House Judiciary Committee also recently passed a separate legalization bill, the Marijuana Opportunity, Reinvestment and Expungement (MORE) Act. It cleared the full House last session but was not taken up by the GOP-controlled Senate.
Additionally, a new Republican-led effort to federally legalize and tax cannabis will soon be introduced in the House.
Biden Administration Will Keep Denying Public Housing Over Marijuana Despite Congresswoman's Request
Photo courtesy of Mike Latimer.
Singer Melissa Etheridge And Activist Van Jones Promote Psychedelics Reform As Movement Grows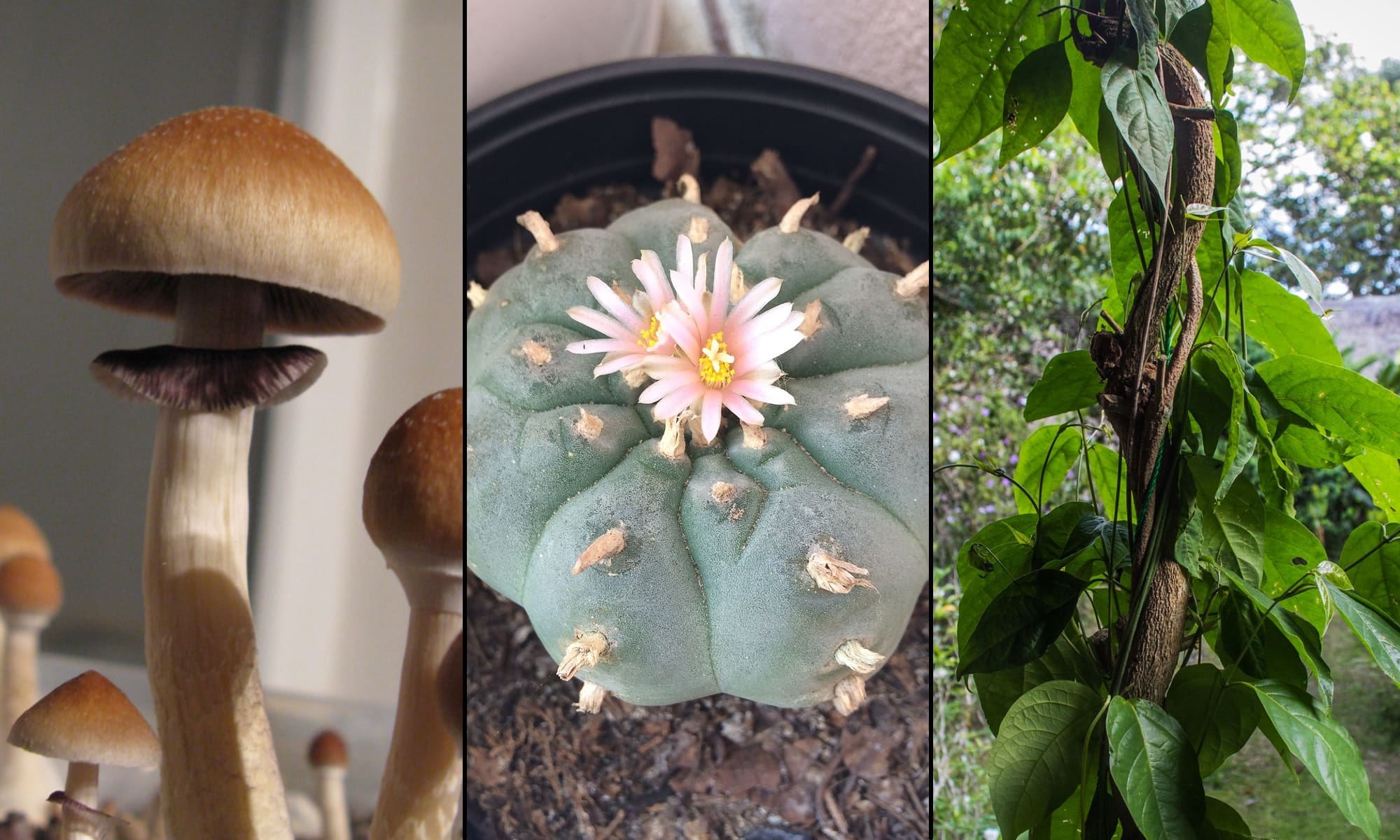 The fight to end the criminalization of psychedelics and give patients access to natural plants and fungi has achieved success in a growing number of cities and states in recent years, and on Thursday the cause got a boost from prominent people in the entertainment and political fields.
Musician Melissa Etheridge and criminal justice reform activist Van Jones spoke at an event hosted by the nonprofit group End Well, which focused on how certain psychedelics can help ease in end-of-life anxiety and other mental health conditions. Both Etheridge and Jones spoke about the need to break with the status quo and allow patients to access alternative treatments.
Etheridge has become an outspoken advocate for marijuana reform in the years since she started using the plant medicinally after being diagnosed with breast cancer in her 40s.
She said at the virtual event that she feels the "discussion of psychedelics and plant medicine is extremely important," and she has "a deep belief that these entheogens—these plant medicines that have been available on Earth since the beginning of time—play a big part and are here for the purpose of helping us humans guide ourselves and our loved ones."
"I truly believe that psilocybin is a real key to helping people through the fear of death," she said in her opening remarks for the End in Mind conference.
Asked by Marijuana Moment about whether she plans to use her influence to similarly advance psychedelics reform as she has with cannabis, Etheridge said she's "feeling very positive about all the state and local psychedelic reforms that are coming."
"I'm definitely going to do what I can to be an advocate for this and maybe help people understand how these plant medicines can play a very important role in our human life and experience," she said.
Jones, meanwhile, stressed that he's not somebody with personal experience using intoxicating substances—even legal products like wine. But he sees the value in ending criminalization, and psychedelics reform is part of the solution.
"When you're trying to solve real problems, you very quickly realize you need big coalitions. Connection is key to that," he said. "I'm not someone with personal experience, but people who I trust and respect have reported to me that some of the most powerful, expansive experiences that they've had have been supported by some of these substances."
Jones might not have a personal history of using psychedelics despite participating in Thursday's event, but as he listed off the various drugs he hasn't tried, he did include a notable caveat in his discussion.
"I am as fair and reasonable a person on this as you possibly can," he said. "I've never—I have not yet—tried ayahuasca, mushrooms, nothing. I am as straight as you can get on this stuff." The operative term there is "yet," though Jones didn't go any further in suggesting he might be open to experimenting with psychedelics at some point.
The criminal justice reform activists also addressed the need for broader drug policy reform beyond psychedelics.
"What I'm saying is that, for some of the intoxicants that have caused a lot of harm, we need a better approach than locking people up for those," he said. "And for those that are more medicinal and that have medicinal uses, we need better access to those."
Activists across the U.S. are working to advance these reforms. Cities across the U.S. have already enacted policies to deprioritize enforcement of laws against certain psychedelics like psilocybin and ayahuasca.
Last week, advocates helped to effectively decriminalize a wide range of psychedelics, with the Arcata City Council unanimously approving the reform. That marked the third California city to decriminalize psychedelics, following similar reforms that lawmakers have enacted in Oakland and Santa Cruz.
In Oakland, the first city in the country where a city council voted to broadly deprioritize criminalization of entheogenic substances, lawmakers approved a follow-up resolution in December that calls for the policy change to be adopted statewide and for local jurisdictions to be allowed to permit healing ceremonies where people could use psychedelics.
A bill to legalize psychedelics in California advanced through the Senate and two Assembly committees this year before being pulled by the sponsor to buy more time to generate support among lawmakers. The plan is to take up the reform during next year's second half of the legislative session, and the senator behind the measure says he's confident it will pass.
California activists are separately collecting signatures for a ballot initiative to legalize psilocybin mushrooms in the state.
Seattle's City Council recently approved a resolution to decriminalize noncommercial activity around a wide range of psychedelic substances, including the cultivation and sharing of psilocybin mushrooms, ayahuasca, ibogaine and non-peyote-derived mescaline.
Detroit could be one of the next to enact a policy change, with voters set to weigh in on a local ballot measure next month to decriminalize entheogenic substances.
At the same time that local advocates are pursuing reform, a pair of Michigan state senators introduced a bill last month to legalize the possession, cultivation and delivery of an array of plant- and fungus-derived psychedelics like psilocybin and mescaline. If voters in the state's most populous city approve the local measure, it could make state lawmakers take a more serious look at broader reform.
Also in Michigan, the Grand Rapids City Council approved a resolution last month calling for decriminalization of a wide range of psychedelics. The Ann Arbor City Council has already elected to make enforcement of laws prohibition psychedelics like psilocybin, ayahuasca and DMT among the city's lowest priorities—and lawmakers recently followed up by declaring September Entheogenic Plants and Fungi Awareness Month.
After Ann Arbor legislators passed that decriminalization resolution last year, the Washtenaw County prosecutor announced that his office will not be pursuing charges over possessing entheogenic plants and fungi, "regardless of the amount at issue."
—
Marijuana Moment is already tracking more than 1,200 cannabis, psychedelics and drug policy bills in state legislatures and Congress this year. Patreon supporters pledging at least $25/month get access to our interactive maps, charts and hearing calendar so they don't miss any developments.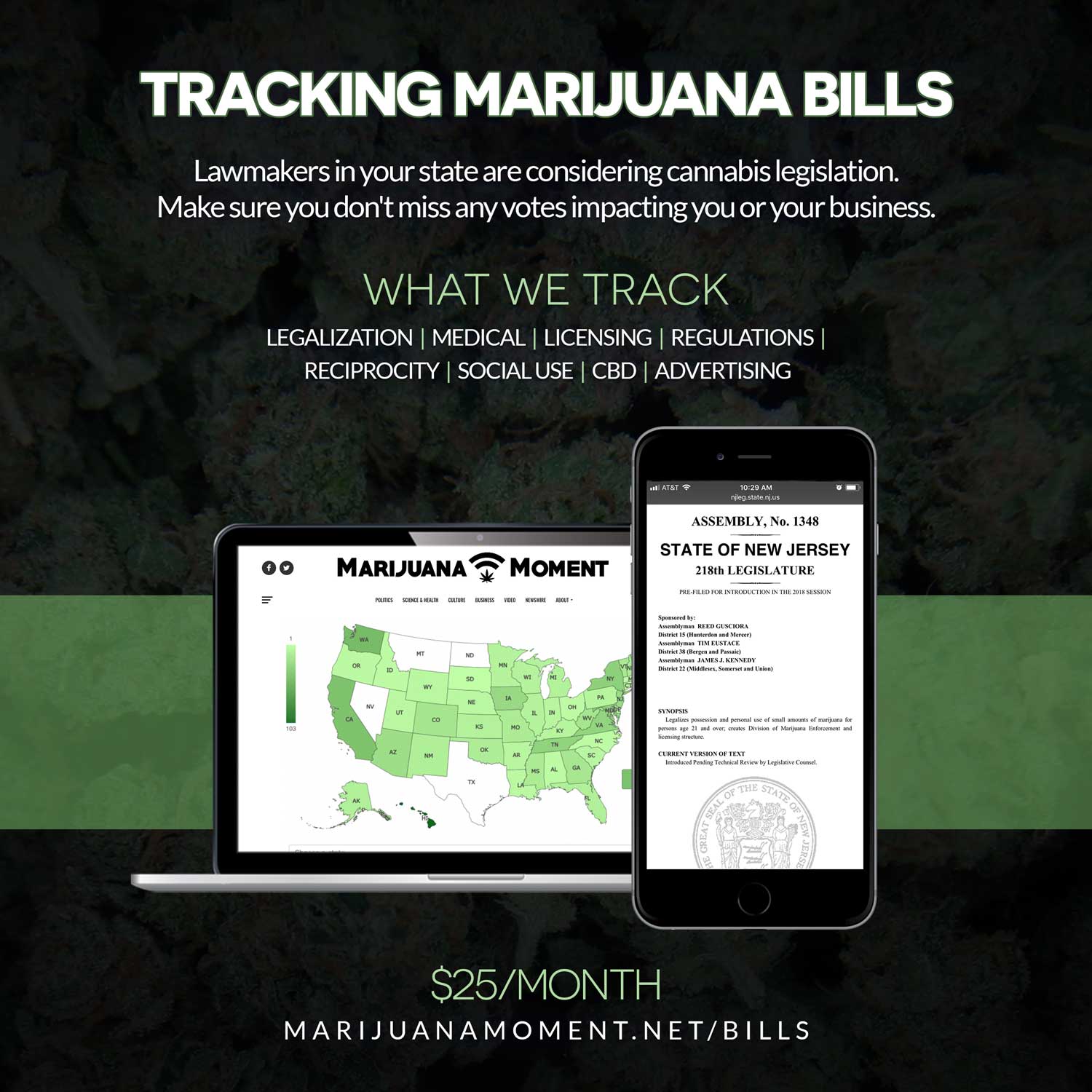 Learn more about our marijuana bill tracker and become a supporter on Patreon to get access.
—
The top Democrat in the Florida Senate filed a bill last month that would require the state to research the medical benefits of psychedelics such as psilocybin and MDMA.
Earlier this year, Texas enacted a law directing state officials to study psychedelics' medical value.
The governor of Connecticut signed a bill in June that includes language requiring the state to carry out a study into the therapeutic potential of psilocybin mushrooms.
Oregon voters passed a pair of initiatives last November to legalize psilocybin therapy and decriminalize possession of all drugs. On the local level, activists in Portland are mounting a push to have local lawmakers pass a resolution decriminalizing the cultivation, gifting and ceremonial use of a wide range of psychedelics.
Washington, D.C. voters also approved a ballot measure last year to deprioritize enforcement of laws criminalizing psychedelics.
In Massachusetts, the Northampton City Council passed a resolution in April stipulating that no government or police funds should be used to enforce laws criminalizing people for using or possessing entheogenic plants and fungi. Somerville and Cambridge have also moved to effectively decriminalize psychedelics.
A New York lawmaker introduced a bill in June that would require the state to establish an institute to similarly research the medical value of psychedelics.
The Maine House of Representatives passed a drug decriminalization bill this year, but it later died in the Senate.
Meanwhile, Denver activists who successfully led the 2019 campaign to make the city the first in the U.S. to decriminalize psilocybin possession have set their eyes on broader reform, with plans in the works to end the criminalization of noncommercial gifting and communal use of the psychedelic. A city panel there is recommending expansion of the decriminalization policy to cover gifting and social use.
In a setback for advocates, the U.S. House of Representatives recently voted against a proposal from Rep. Alexandria Ocasio-Cortez (D-NY) that would have removed a spending bill rider that advocates say has restricted federal funds for research into Schedule I drugs, including psychedelics such as psilocybin, MDMA and ibogaine. However, it picked up considerably more votes this round than when the congresswoman first introduced it in 2019.
Report provisions of separate, House-passed spending legislation also touch on the need to expand cannabis and psychedelics research. The panel urged NIDA to support expanded marijuana studies, for example. It further says that federal health agencies should pursue research into the therapeutic potential of psychedelics for military veterans suffering from a host of mental health conditions.
There was an attempt by a Republican congressman to attach language into a defense spending bill that would promote research into psychedelics therapy for active duty military members, but it was not made in order in the House Rules Committee last month.
For what it's worth, Rep. Earl Blumenauer (D-OR), a longstanding champion of marijuana reform in Congress, said this month that he intends to help bring the psychedelics reform movement to Capitol Hill "this year."
Report provisions of separate, House-passed spending legislation also touch on the need to expand cannabis and psychedelics research. The panel urged NIDA to support expanded marijuana studies, for example. It further says that federal health agencies should pursue research into the therapeutic potential of psychedelics for military veterans suffering from a host of mental health conditions.
NIDA also recently announced it's funding a study into whether psilocybin can help people quit smoking cigarettes.
An official with the U.S. Department of Veterans Affairs also said at a recent congressional hearing that the agency is "very closely" following research into the potential therapeutic benefits of psychedelics like MDMA for military veterans.
In May, lawmakers in Congress filed the first-ever legislation to federally decriminalize possession of illicit substances.
Florida Democratic Candidates For Governor Fight Over Who Supports Marijuana Reform The Most
Photo elements courtesy of carlosemmaskype and Apollo.
Sanjay Gupta Explains His Marijuana Reversal And Discusses 'Very Biased' U.S. Research With Joe Rogan
CNN's chief medical correspondent Sanjay Gupta wasn't always on board with medical marijuana, but things changed when he looked for the science, he said during an interview on the Joe Rogan Experience on Wednesday.
But to find the science that ultimately convinced him of the therapeutic potential of cannabis, he had to look internationally, because there seemed to be a "very biased set of data" in the U.S. that focused almost exclusively on the potential harms rather than benefits.
"If you're just looking at papers—well, this one [says there's] potential long harm, this one possible addiction, this one gateway—you know, you're seeing all those individual studies, but at a broader level, one step upstream, you realize that most of the studies that are getting funded are designed to look for harm," Gupta said.
"When I saw that, that was the first time I thought, 'well, why are the studies that are getting out there, why are they all designed to look for harm?" he said. "Then I started looking at other countries, and some really good research out of places like Israel in particular."
Scientists outside of the U.S. were taking a different approach, investigating potential therapeutic applications for marijuana for conditions like pain and seizures. That—combined with witnessing the measurable impact of cannabinoids for children with severe epilepsy—changed Gupta's mind on the issue. And he took a bold step in 2013 of penning an article for CNN explaining why his perspective had shifted form being a cannabis skeptic to a supporter.
This was at a time when the first states were beginning to legalize marijuana for adult use, forcing people to consider the implications of ending prohibition and giving adults access to the plant. Reading an article from a high-profile practicing physician that challenged the narrative of cannabis being all bad may well have done much to change hearts and minds at a pivotal time.
Prior to writing that op-ed, Gupta also hosted a CNN docu-series called "Weed" that also explored the science and real-world experiences of people who've seen dramatic health benefits from the use of cannabis.
Rogan told Gupta that he "really respected that you made this change of opinion publicly."
"When you were first talking about marijuana, you were talking about it as if it had no medical benefit and it was really just a recreational drug that was possibly or probably harmful," the podcaster said. "But then, upon further examination, you publicly changed your position, and, in doing so, you actually examined all the scientific evidence."
"I really admired that because that takes a lot of courage, because a lot of people, when they have an idea and they proclaim it publicly, they double down and they just [use] confirmation bias and whatever, you know, echo chamber and news sources they can get to sort of confirm their initial position," he said. "You didn't do that, and I thought, 'that's a real, real thinking person who is trying to honestly figure out what's going on instead of just working on being right.'"
Rogan is well known as an advocate for drug policy reform, and he often takes opportunities to discuss issues like marijuana and psychedelics with guests on his podcast.
Tech entrepreneur Elon Musk got himself into hot water after smoking a blunt with Rogan in 2018, and he made another appearance on the show this year where he argued that there's excess hype over CBD, only to be challenged with the science by the host.
In 2019, Rogan reminisced about a time he attended a film premiere with comedian Dave Chappelle, who he said took magic mushrooms from a stranger prior to the feature.
That year, former boxer Mike Tyson spoke with the podcast host about tripping on psychedelics and smoking marijuana.
In 2019, Sen. Bernie Sanders (I-VT) talked to Rogan about his support for marijuana legalization.
Rep. Tulsi Gabbard (D-HI) went on the podcast the prior year and spoke at length about the need to legalize marijuana and reform the criminal justice system. Rogan also took the opportunity to tell her a bit about about the medical benefits of psychedelics.
The podcaster also debated the merits of marijuana legalization with a Republican congressman, Rep. Dan Crenshaw (D-TX), who ultimately conceded that medical cannabis should be federally legal and states should be empowered to set their own legalization policies.
Nevada Sold More Than $1 Billion In Marijuana In One Year, Officials Report